Research article
Open Access
Genome-wide profiling of 24 hr diel rhythmicity in the water flea, Daphnia pulex: network analysis reveals rhythmic gene expression and enhances functional gene annotation
Received: 20 April 2016
Accepted: 5 August 2016
Published: 18 August 2016
Abstract
Background
Marine and freshwater zooplankton exhibit daily rhythmic patterns of behavior and physiology which may be regulated directly by the light:dark (LD) cycle and/or a molecular circadian clock. One of the best-studied zooplankton taxa, the freshwater crustacean Daphnia, has a 24 h diel vertical migration (DVM) behavior whereby the organism travels up and down through the water column daily. DVM plays a critical role in resource tracking and the behavioral avoidance of predators and damaging ultraviolet radiation. However, there is little information at the transcriptional level linking the expression patterns of genes to the rhythmic physiology/behavior of Daphnia.
Results
Here we analyzed genome-wide temporal transcriptional patterns from Daphnia pulex collected over a 44 h time period under a 12:12 LD cycle (diel) conditions using a cosine-fitting algorithm. We used a comprehensive network modeling and analysis approach to identify novel co-regulated rhythmic genes that have similar network topological properties and functional annotations as rhythmic genes identified by the cosine-fitting analyses. Furthermore, we used the network approach to predict with high accuracy novel gene-function associations, thus enhancing current functional annotations available for genes in this ecologically relevant model species. Our results reveal that genes in many functional groupings exhibit 24 h rhythms in their expression patterns under diel conditions. We highlight the rhythmic expression of immunity, oxidative detoxification, and sensory process genes. We discuss differences in the chronobiology of D. pulex from other well-characterized terrestrial arthropods.
Conclusions
This research adds to a growing body of literature suggesting the genetic mechanisms governing rhythmicity in crustaceans may be divergent from other arthropod lineages including insects. Lastly, these results highlight the power of using a network analysis approach to identify differential gene expression and provide novel functional annotation.
Keywords
Biological networksCircadianDielDiel Vertical Migration (DVM)Functional enrichment analysisGene expressionNetwork centralityNetwork clusteringProtein function prediction
Background
As organisms progress through their 24 h day, they experience a daily cycle of environmental changes, including rhythms in temperature, light, predation risk, and resource availability. To respond to these daily environmental changes, organisms modulate their biology in a rhythmic manner driven by both the coordinated action of an endogenous circadian pacemaker or clock, as well as the direct effect of the environmental light:dark cycle (LD cycle) [1–8]. True 'circadian rhythms' are those rhythms that can be observed under constant conditions, as opposed to 'diel' (or diurnal) rhythms that are observed under a LD cycle.
Examples of time-of-day specific biology observed in other organisms include increasing olfactory sensitivity prior to times of foraging [9], rhythmic coordination of detoxification enzymes [10], and time-of-day specific changes in susceptibility to immune challenge [11, 12]. In the disease vector mosquitoes Anopheles gambiae and Aedes aegypti, gene expression data shows that up to 20 % of the transcriptome is regulated in a circadian and/or diel manner [4, 8, 13]. Similarly, under both circadian and/or diel conditions, as much as 5 % of the transcripts expressed in the fruit fly Drosophila melanogaster head and 4 % in the honeybee Apis mellifera head are rhythmically expressed [14–16].
Daphnia
has long been a model for ecological investigation largely because of its cosmopolitan distribution and central role in the trophic cascades of freshwater ecosystems [
17
]. The addition of genome level information to this well studied ecological model makes it a relevant system for investigating 24 h daily rhythmic biology in a non-insect arthropod [
17
–
19
]. Chronobiology research in
Daphnia
has focused primarily on behavioral processes like locomotor activity, daily vertical migration (DVM) through a water column, and mandibular activity ('feeding') [
20
–
22
]. These phenotypes are all rhythmic under environmental diel conditions. We highlight in Fig.
1
many of the daily environmental rhythms experienced by
Daphnia
species, including temperature, ambient light, and risk of exposure to pathogens and parasites. In
Daphnia
, DVM is thought to be primarily a predator and ultraviolet-radiation (UV-R) avoidance behavior [
23
,
24
]. DVM has been observed in some, but not all reports, to persist even in the absence of a LD cycle [
23
,
25
].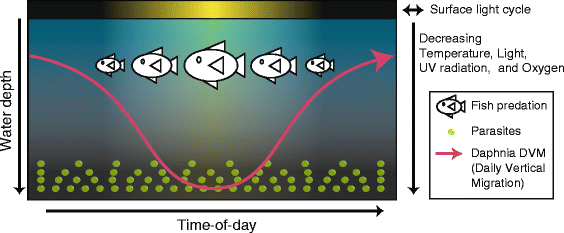 "Preemptive" or "anticipatory" changes in gene regulation and physiology are possible due to the presence of an endogenous cellular molecular circadian clock that provides crucial timing mechanisms in organisms as diverse as cyanobacteria, plants, fungi, insects, and mammals. The circadian clock is cell autonomous and at the molecular level comprises a series of transcriptional-translational feedback loops (TTFLs) whose completion takes approximately 24 h [26]. The genetic underpinning of the metazoan circadian clock is highly conserved [27]. However, even within insects that typically have a conserved genetic construct with regard to their circadian clock, there is some variation in the arrangement of the TTFL components that are found in at least four different functional configurations [28, 29]. As genomic investigations expand into taxonomically diverse arthropods, there is a greater likelihood to find additional variation as well as gain an increased understanding of the genetic basis of rhythmicity.
The investigation of non-model organisms and their genomes is significantly challenged by a lack of functional annotation for many of their protein coding genes. The specific function of many genes, in even well studied organisms, is incomplete. It is not unusual for upward of a third of the genes in any genome to lack functional annotation [30, 31]. This lack of functional annotation is exacerbated in the diverse genomes of many newly sequenced organisms that often contain lineage-specific genes lacking homology with other assembled genomes [19, 31]. The single genome sequence available for the highly diverse lineage of Branchiopod crustaceans is that of the water flea, Daphnia pulex [19]. In excess of one third of the D. pulex genome comprises lineage-specific genes that lack orthologs in other eukaryote genomes and thus lack any functional annotation [19]. These two factors, diverse clocks and unknown genes, present significant challenges in understanding the rhythmic biology of this species.
Here we describe diel transcriptome analysis performed on female D. pulex. Diel as opposed to constant (circadian/ dark:dark) conditions were chosen, as these conditions are more applicable in the context of existing experimental data and indeed natural, real-world environments. This first genome-wide examination of Daphnia transcriptional rhythms allows us to explore a wide breadth of crustacean biochemistry, physiology, and behavior that may be under rhythmic control. In addition to an analysis of cyclic behavior using available statistical software (JTK_CYCLE [32]), we employed a comprehensive network modeling and analysis approach to validate and discover both orthologous and novel rhythmic gene regulation in D. pulex, as follows.
Established approaches to the statistical analysis of gene expression patterns can provide valuable insights into cellular functioning. However, these analyses often ignore the functional relationships among genes and miss the opportunity to leverage the patterns of co-expression that result from shared regulatory machinery or complex linkage in networks of biological processes [33–36]. For this reason, we modeled Daphnia gene expression data as a gene co-expression network, in which nodes correspond to genes and edges link genes with similar expressions [35]. Using the resulting network data, we performed comprehensive computational analyses to search for genes that share topological properties (in the sense that they occupy similar network positions or cluster together) with the rhythmic genes identified by independent analysis of the expression data using JTK_CYCLE. Our goals were to illuminate the transcriptional signature of rhythmicity in a model crustacean and develop a network-based analytical approach to validate rhythmic genes and infer functional relationships for genes lacking functional annotations.
Conclusions
We present genome-wide diel transcriptional profiling of Daphnia under controlled laboratory conditions. Our analysis revealed that Daphnia express a great number and diversity of genes in a highly rhythmic manner, including genes involved in sensory processes, response to oxidative stress, and immune-related genes. It is advantageous for an organism to upregulate its ability to combat or avoid environmental stressors at the times-of-day they are most likely to encounter such risks. We highlighted how during the daytime, Daphnia populations may be at greater risk of oxidative damage (from the Sun), predation (from fish, which locate them visually during the day), and exposure to pathogens (which they encounter at greater frequency at the bottom of the water column in Daphnia populations that migrate downwards during the day-time). It therefore should not be surprising that genes that function in detoxifying oxidative stress, chemoperception, and combating pathogens are rhythmically expressed.
We showed that while D. pulex has a full complement of the core clock genes found in other animals, the expected high amplitude rhythmic expression of these genes is not apparent when examined at the whole animal level. Work in other crustaceans suggests that clock rhythmicity may be limited to a subset of tissues or has anti-phasic expression in various tissues that would obfuscate the expression patterns of these genes in a whole-organism assay. It is also possible that D. pulex has an alternative molecular clock. Our work contributes to a growing understanding that there is less conservation than initially reported in the mechanisms of arthropod clocks and that more investigation is prudent in elucidating the core clock of Daphnia.
Finally, we developed a comprehensive network modeling and analysis approach that complements and enhances the standard statistical analyses of differential expression (e.g., JTK_CYCLE). This network analysis, when built on top of the statistical analyses, revealed additional knowledge about rhythmicity that could not be captured by the statistical analyses alone. Importantly, we demonstrated the usefulness of the network approach to identify novel functional annotations for currently uncharacterized genes. As the number of available arthropod genome sequence assemblies increases, and the taxonomic breadth of these genomes widens, methodological approaches that take into account the patterns of co-expression and network configuration will become vital additions to the process of functional annotation.
Future work may include examining rhythms at the protein and functional level and examining rhythms in specific tissues (especially in regards to clock gene expression). Further, because other Zeitgebers (time-givers), such as temperature rhythms, may enhance observed rhythms [78], their role in governing Daphnia rhythmicity should also be investigated.
Methods
Experimental material, RNA collection, extraction, and microarray hybridization
A D. pulex genotype was collected from a vernal pond in southwestern Michigan (42.31979 N 85.35837 W) on May 1, 2011. This pond, referred to as "Roughwood", has a maximum depth of <2.0 M. Single adult females were isolated in the lab to initiate isoclonal cultures and these lines were maintained through parthenogenetic reproduction. The experimental time course was performed in August of 2011. Stock cultures of this genotype (Roughwood 40-11) were maintained for three generations at 18 °C in 1 quart jars containing COMBO water medium [79] and a 12 L:12D photoperiod (with abrupt transitions). The media, containing resource in the form of algae Scenedesmus acutus culture at a concentration of 200,000 cells/ml, was replaced every second day to maintain a constant level of resource and individuals were culled to maintain a density of 50 individuals per culture. To establish the experimental generation, female offspring from the second or third clutch of second-generation females were collected within 48 h of birth, pooled, and divided into twelve 1 quart jars containing 750 ml of COMBO media and algae and maintained as above with the same feeding regime and 12 L:12D photoperiod. When these third generation females were 10–12 day old the experiment began and replicate pools of 30 animals per jar were collected, rinsed in distilled water, and snap frozen on dry ice every 4 h over a 44 h period.
To assess patterns of gene expression, we used the D. pulex Expression Array 12x135k GEO Accession GPL11278 (See Colbourne et al. [19]). The platform is a high-density NimbleGen (Roche-NimbleGen, Madison, WI) microarray that accommodates 12 experiments per glass slide, with each experiment interrogating 137,000 probes. Each predicted and experimentally validated gene is represented by as many as three probes, whereas the remaining probes are designed from transcriptionally active regions whose gene models are not yet known.
Total RNA was purified from a single pool of animals collected at each time point using TRIzol reagent (Invitrogen, Carlsbad, CA) extraction followed by RNA purification using a Qiagen RNeasy Mini Kit with on-column DNAse treatment to isolate total RNA. RNAsecure (Ambion, Austin, TX) was used after RNA purification to inactivate any remaining RNAases. The quality and quantity of resulting RNA were assessed using a Nano Drop (Thermo Scientific, Waltham, MA) and RNA Nano LabChip for the Bioanalyzer (Agilent Technologies, Santa Clara, CA). Beginning with 1.0 μg of total RNA, a single round of amplification using MessageAmpTM II aRNA kit (Ambion) was performed for each RNA sample. The cRNA (10 μg) was converted to double strand cDNA with random primers using the Invitrogen SuperScript Double-Stranded cDNA Synthesis Kit (Invitrogen). From 1 μg double-stranded cDNA, labeled cDNA was generated with NimbleGen's Dual-colour Labeling Kit (Roche NimbleGen).
RNA from each pooled sample was used to create four technical hybridization replicates. Dual-colour hybridization, post-hybridization washing, and scanning were done according to Roche NimbleGen protocols [80]. Images were acquired using a NimbleGen MS 200 with 2 μm resolution, and GenePix 6.0 software (Molecular Devices, Sunnyvale, CA). The image data from these arrays were processed using NimbleScan v2.5 software (Roche NimbleGen) to extract probe intensity values. These data have been deposited in the NCBI Gene Expression Ominibus and are accessible through GEO accession number GSE67781.
Microarray data analysis
Gene expression values (i.e., gene intensity values) were obtained from a summarization of intensity values of all corresponding probes using the RMA (Robust Multi-array Average) method [81]. The pre-processed microarray data were imported into an in-house analysis pipeline using Bioconductor [82] for normalization and analysis. All genes were quantile-normalized across arrays, samples, and technical replicates [83]. Unless otherwise noted, data presented is normalized, but not log transformed.
JTK_CYCLE analysis of rhythmic gene expression
To determine the patterns of rhythmic gene regulation we first used the JTK_CYCLE algorithm as previously described [32, 37, 38]. JTK_CYCLE is a nonparametric statistical algorithm designed to identify and characterize cycling variables in large datasets. It applies the Jonckheere-Terpstra-Kendall (JT) test and Kendall's tau (rank correlation), to find the optimal combination of period and phase that minimize the p-value of Kendall's tau correction between the experimental time series and each tested cyclical ordering, this being derived from cosine curves. JTK_CYCLE generates period length, phase, and amplitude estimates, as well as corrects for multiple comparisons post hoc. The reported q-value takes into consideration the false discovery rate (FDR) across all genes [84].
Prior to running JTK_CYCLE, genome features on the microarray not mapping to a gene in the D. pulex v1.1 frozen gene set were excluded, as were all probes that failed to exceed background levels in at least one sample. A background fluorescence cutoff value of 136.5 was used as it was a value that excluded >99.8 % of random probes on the arrays. Genes were scored as being rhythmic if they were found using the JTK_CYCLE algorithm to have a q < 0.1 (a commonly used JTK_CYCLE cutoff) and period length of 22–26 h.
Gene annotations followed the 2013–2014 gene annotations from the Department of Energy – Joint Genome Institute Daphnia Genome Browser [85] supported by gene annotations from OrthoDb [48] and euGenes Arthropod 2009.12 annotations [86]. Further gene and gene family identifications were taken from Rivera et al. [54], Colbourne et al. [19], McTaggart et al. [47], Peñalva-Arana et al. [57], KEGG Pathways Database [52], and from 2013 to 2014 Drosophila melanogaster homologs listed on FlyBase [49]. For each gene family mentioned in this paper (e.g., chitinases, putative clock genes, glycolysis, etc.), the identities of all genes considered for that family are provided in Additional file 1.
Hierarchical cluster analysis
We performed hierarchical cluster analysis (Fig. 2) using Cluster 3.0 and visualized the results using Java TreeView. Data were mean centered, normalized across the time course for each gene, and centroid linkage clustering performed [87, 88].
Real-time quantitative RT-PCR (qRT-PCR) analysis
Total RNA (as above) was used for cDNA synthesis using a High Capacity cDNA reverse transcriptase kit (Applied Biosystems, Foster City, CA) primed with random hexamers. PCR thermocycling and qRT-PCR were performed using SYBR green reagents per manufacture's protocol using an Applied Biosystems 7500 Fast Real-Time PCR System. Quantification was based on the generation of standard curves. Dissociation curves to test for primer dimers were generated using dissociation curve software (Applied Biosystems). Normalization of genes was calculated relative to a D. pulex gene deemed constitutively expressed over the 24 h, Alpha tubulin (JGI_V11_301837). See Additional file 3 for primer sequences used.
Cosinor analysis
CircWave v1.4 software, an extension of cosinor analysis, was also used to analyze clock gene expression rhythmicity. This analysis fits a Fourier curve (one sine wave) to the data. The p values reported are the result of F-tests from the software [89].
Network construction
We modeled temporal gene expression data with a gene co-expression network as follows: in the network, nodes are genes, and two nodes are connected by an edge if the corresponding genes show similar expression patterns over time. To measure similarity between expression profiles of two genes, we used one of the following three popular edge weight methods: signed Pearson correlation, absolute Pearson correlation, and mutual information, see Rider et al. [35] for details. Each edge weight method assigned to every pair of genes a score that captures some intuition of how well the genes' expression levels "correlate" over time; then, we constructed a co-expression network by predicting the top K highest-scoring node pairs as edges in the network. We varied K from N (where N is the number of genes in the expression data) to 10 N in increments of N, and we also tested K = 25 N, 50 N, and 100 N, in order to evaluate the effect of the value of parameter K on the resulting network structure. Intuitively, we wanted to choose this value in a way that keeps only significant edges and provides a meaningful representation as well as interpretation of the data [90]. Namely, for each edge weight method, we aimed to construct a network that ideally linked all genes (i.e., has no isolated nodes), in order to include into the network as much information from the data as possible. At the same time, we aimed to construct a network that is not too dense (where density is defined as the number of edges in the network out of all possible edges), in order to mimic the sparse nature of many real-world networks as well as avoid randomness in network topology [90, 91]. Empirically, by studying the number of non-isolated nodes, edges, connected components, and nodes and edges in the largest connected component, we found that as K increases, the number of non-isolated nodes barely increases, while the network density increases drastically. Therefore, since larger values of K increase network density without introducing many new nodes into the networks, which could unnecessarily increase computation complexity of network analysis methods or include "lower-confidence" interactions, we empirically decided to focus on the following networks (i.e., their largest connected components): signed Pearson correlation with top N interactions, absolute Pearson correlation with top N interactions, and mutual information with top N interactions. Also, since edges that are captured by both Pearson correlation as well as mutual information could be of higher confidence, we also studied (largest connected components of) the intersections of absolute Pearson correlation and mutual information with: 1) top 10 N interactions and 2) top 25 N interactions. Thus, we studied a total of five networks.
Network-based prediction of new rhythmic genes – node centrality-based analysis
For a given network and a given centrality measure, i.e., for each of 5×7 = 35 possible cases (where 5 corresponds to the number of studied networks and 7 corresponds to the number of studied centralities), in 11 cases we observed statistically significant differences (p-values below 0.01) between network positions of the rhythmic genes and the remaining genes. Next, for each of the 11 cases, we ranked all genes in the network from the most central to the least central (or vice versa). We took the top K% most (or least) central genes, where we varied K from 1 to 100 % in increments of 1 %. Then, we computed precision (the portion of the top K% genes that are JTK_CYCLE-identified rhythmic genes), recall (the portion of JTK_CYCLE-identified rhythmic genes from the given network that are among the top K% genes), and F-score (which combines precision and recall into a single value that is easier to interpret than the two individual and typically "contradictory" measures). At the value of K where F-score peaks (meaning that the methodology achieves the highest prediction accuracy at that value of K), we measured the enrichment of the top K% genes in the JTK_CYCLE-identified rhythmic genes (with respect to the hypergeometric test). In 10 out of the 35 possible cases, we observed statistically significant enrichments signal (with p-values below 0.05 after Bonferroni correction for multiple hypothesis testing, which was done using p.adjust package in R). In each of the 10 cases, we took the remaining (non-JTK_CYCLE-identified) genes among the top (or bottom) K% genes and predicted them as network-based rhythmic candidates. We recorded how many of the 10 combinations of network type and centrality measure support each prediction, because the more the combinations, the higher the prediction confidence.
Network-based prediction of new rhythmic genes – network clustering-based analysis
We clustered each network with Markov clustering algorithm (MCL) (with the inflation parameter set to 2, because this value gives empirically optimal cluster size distribution, i.e., not too many very small clusters or too few very large clusters). Then, focusing on meaningful clusters (of size at least two and containing at least two JTK_CYCLE-identified rhythmic genes), for each value of K in 1–100 % range, we found all clusters that have enrichment in the JTK_CYCLE-identified rhythmic genes greater than K% (i.e., clusters in which at least K% of the genes are JTK_CYCLE-identified rhythmic genes), and we measured the statistical significance of the enrichment via the hypergeometric test (at a p-value threshold of 0.05 after Bonferroni correction for multiple hypothesis testing). For each of the resulting significant clusters, we predicted the genes in the cluster as network-based rhythmic genes. We took all predictions from all significant clusters and computed the overall prediction accuracy via precision, recall, and F-score measures. Further, in order to ensure that we could not achieve the same prediction accuracy by chance, we randomly clustered the network 100 times and repeated the above steps to compute "randomized" precision, recall, and F-score. Then, we used these randomized results to determine "optimal" K at which to make predictions from the real clusters. Namely, we selected the value of K at which F-score peaks, but only if that F-score value is statistically significantly high compared to the randomized F-score values. For three of our five networks (absolute Pearson correlation with top N interactions, intersection of absolute Pearson correlation and mutual information with top 10 N interactions, and intersection of absolute Pearson correlation and mutual information with top 25 N interactions), results are statistically significantly better from the actual clusters than from the randomized clusters, and we predicted new rhythmic genes from these three networks (and we left out the other two networks from consideration when making predictions). We recorded how many of the three networks support each prediction, as the higher the number of networks, the higher the prediction confidence.
Network-based prediction of novel functional annotations and their validation
To validate the network approach in the context of predicting novel gene-function associations, we used leave-one-out cross-validation, as follows. When considering all genes in any one network, we hid functional information for one gene of interest at a time. Then, we used functional information about all other genes that group with the gene of interest (with respect to either centrality of clustering analysis) to potentially predict function(s) of the gene of interest. Namely, if the given gene group is statistically significantly enriched in a given function (with p-value below 0.05 after Bonferroni correction for multiple hypothesis testing), we annotated the entire gene group with that function, including our gene of interest. We repeated this procedure for all genes and got the set of predicted gene-function associations for each of centrality and clustering analysis. For increased confidence, we considered association predictions that are in the intersection of the two analyses. For the resulting predictions, we measured their accuracy via precision, which is the percentage of associations that we predicted via the network approach which are in the known functional annotation data. Novel predictions are provided in Additional file 1.
Abbreviations
CHT, chitinase; CTL, C-type lectin; DVM, diel vertical migration; FA, fatty acid; GNBP, gram-negative bacteria-binding protein; GO, gene ontology; Gr, gustatory receptor; IMD, immune deficiency; LD, light:dark; MCL, Markov clustering algorithm; PRR, pattern recognition receptor; SIGN N, signed pearson correlation with top N interactions; TCA the citric acid; TEP, thioester-containing protein; TLR, toll-like receptor; TTFL, transcriptional-translational feedback loop; V-ATPase, vesicular-type ATPase
Declarations
Acknowledgements
We thank Sayanty Roy for her assistance in the maintenance of experimental stocks; Michael Hughes for provision of and assistance with the JTK_CYCLE algorithm; Enrique Blair and Cameron Houk for their assistance with data processing, Jacqueline Lopez for her assistance with our GEO submission; and we are especially thankful to Tom Little and Seanna McTaggart for sharing their expertise.
Funding
S.S.C.R. is funded by a strategic award from the Wellcome Trust for the Centre for Immunity, Infection and Evolution (no 095831) and a Royal Society Newton International Fellowship (NF140517); T.M. by the National Science Foundation (NSF) CAREER CCF-1452795 and CCF-1319469 grants; and G.E.D. by the Eck Institute for Global Health and the NIGMS (R01-GM087508). This project was supported by National Institutes of Health (NIH) grant R24-GM078274 to M.E.P. The funding bodies did not have a role in the design of the study, data collection, analysis, interpretation of data, writing the manuscript, nor the decision to publish.
Availability of data and materials
Microarray expression data has been deposited on NCBI Gene Expression Ominibus and are accessible through GEO accession number GSE67781.
Authors' contributions
S.S.C.R., C.D.C.A., G.E.D., and M.E.P. collected and prepared the biological material; M.T.S., E.Z., and C.D.C.A. generated and processed the microarray data. C.D.C.A., S.S.C.R., G.E.D., and G.F.G. generated and processed the qRT-PCR data. S.S.C.R performed the JTK_CYCLE analysis. T.G. and B.Y. performed all network-based analyses of the data. T.M. designed and supervised all aspects of the network-based analyses. G.E.D., T.M., and M.E.P. conceived and designed the study. All authors contributed to the analysis of data and writing of the manuscript and approved the final manuscript.
Competing interests
The authors declare they have no competing interests.
Consent for publication
Not applicable.
Ethics approval and consent for participation
Not applicable.
Open AccessThis article is distributed under the terms of the Creative Commons Attribution 4.0 International License (http://creativecommons.org/licenses/by/4.0/), which permits unrestricted use, distribution, and reproduction in any medium, provided you give appropriate credit to the original author(s) and the source, provide a link to the Creative Commons license, and indicate if changes were made. The Creative Commons Public Domain Dedication waiver (http://creativecommons.org/publicdomain/zero/1.0/) applies to the data made available in this article, unless otherwise stated.
Authors' Affiliations
(1)
Eck Institute for Global Health, University of Notre Dame, Notre Dame, USA
(2)
Department of Biological Sciences, University of Notre Dame, Notre Dame, USA
(3)
Department of Computer Science and Engineering, University of Notre Dame, Notre Dame, USA
(4)
Interdisciplinary Center for Network Science and Applications (iCeNSA), University of Notre Dame, Notre Dame, USA
(5)
Notre Dame Genomics and Bioinformatics Core Facility, University of Notre Dame, Notre Dame, USA
(6)
Notre Dame Environmental Change Initiative, University of Notre Dame, Notre Dame, USA
(7)
Centre for Immunity, Infection and Evolution, Institute of Evolution, University of Edinburgh, Edinburgh, UK
(8)
Institute of Immunology and Infection Research, School of Biological Sciences, University of Edinburgh, Edinburgh, UK
(9)
Present Address: Department of Computer Science, Stanford University, Stanford, USA
(10)
Present Address: Department of Biology, University of South Dakota, Vermillion, USA
(11)
Present Address: Department of Computer Science, University of South Dakota, Vermillion, USA