Research article

Open Access
Unity in defence: honeybee workers exhibit conserved molecular responses to diverse pathogens
Received: 15 November 2016
Accepted: 20 February 2017
Published: 2 March 2017
The Erratum to this article has been published in BMC Genomics 2017 18:256
Abstract
Background
Organisms typically face infection by diverse pathogens, and hosts are thought to have developed specific responses to each type of pathogen they encounter. The advent of transcriptomics now makes it possible to test this hypothesis and compare host gene expression responses to multiple pathogens at a genome-wide scale. Here, we performed a meta-analysis of multiple published and new transcriptomes using a newly developed bioinformatics approach that filters genes based on their expression profile across datasets. Thereby, we identified common and unique molecular responses of a model host species, the honey bee (Apis mellifera), to its major pathogens and parasites: the Microsporidia Nosema apis and Nosema ceranae, RNA viruses, and the ectoparasitic mite Varroa destructor, which transmits viruses.
Results
We identified a common suite of genes and conserved molecular pathways that respond to all investigated pathogens, a result that suggests a commonality in response mechanisms to diverse pathogens. We found that genes differentially expressed after infection exhibit a higher evolutionary rate than non-differentially expressed genes. Using our new bioinformatics approach, we unveiled additional pathogen-specific responses of honey bees; we found that apoptosis appeared to be an important response following microsporidian infection, while genes from the immune signalling pathways, Toll and Imd, were differentially expressed after Varroa/virus infection. Finally, we applied our bioinformatics approach and generated a gene co-expression network to identify highly connected (hub) genes that may represent important mediators and regulators of anti-pathogen responses.
Conclusions
Our meta-analysis generated a comprehensive overview of the host metabolic and other biological processes that mediate interactions between insects and their pathogens. We identified key host genes and pathways that respond to phylogenetically diverse pathogens, representing an important source for future functional studies as well as offering new routes to identify or generate pathogen resilient honey bee stocks. The statistical and bioinformatics approaches that were developed for this study are broadly applicable to synthesize information across transcriptomic datasets. These approaches will likely have utility in addressing a variety of biological questions.
Keywords
Apis mellifera Nosema Varroa destructor DWVIAPVRNA virusMeta-analysisTranscriptomicsCo-expression networkImmunity
Background
Eukaryotes are natural hosts of multiple pathogens. Consequently, host immune systems have evolved efficient responses to threats of a different nature, such as viruses, bacteria or eukaryotic parasites. In vertebrates, adaptive immune mechanisms and antibody-mediated defences confer pathogen-specific responses [1]. Conversely, invertebrates lack these adaptive immune defences and rely primarily on innate immunity; they therefore have long been considered rather non-specific in their immune response. However, as insect immunological research has progressed, the specificity of insect antimicrobial action has become well established [2], with evidence of immune memory [3, 4] and pathogen-genotype to host-genotype interactions demonstrated in insect models [5].
Eusocial insects, including honey bees (Apis mellifera), establish large colonies comprised of thousands of related individuals, living at high density, sharing food in extended interactions and very high nest homeostasis; this lifestyle provides advantages in terms of social immunity [6] but also facilitates microbe transmission within the colony and promotes multiple infections [7]. Additionally, comparative genomics has revealed a loss of canonical immune genes in bees of social and solitary lifestyle compared to other insects such as flies, Nasonia vitripennis and Tribolium castaneum, that questioned the ability of bees' immune system to respond specifically and efficiently to diverse, emerging pathogens [8]. Indeed, parasites and pathogens are considered one of the major factors driving global losses of honey bee colonies [9–11], which in turn threaten plant pollination, which is an important ecosystem service carried out by both managed and wild bees [12]. Key eukaryotic honey bee pathogens include two microsporidian gut parasites: Nosema apis, which primarily infects the Western honey bee A. mellifera, and Nosema ceranae, which was first described as a pathogen of the Eastern honey bee Apis cerana and more recently has become the predominant microsporidial pathogen infecting A. mellifera [13]. Single-stranded RNA viruses represent another key group of honey bee pathogens [14]. Several of these viruses are transmitted by Varroa destructor, an invasive ectoparasitic mite that switched host from A. cerana to A. mellifera in the past half century [15]. The ensuing shift of viruses from oral to vectored transmission by Varroa has modified the epidemiology and potentially increased the virulence of viral diseases such as deformed wing virus, thereby producing a significant threat to honey bee populations [16–18]. Importantly, multiple pathogens and parasites may interact while co-infecting honey bees to modify the dynamic of their infection [19, 20], and potentially increasing host mortality [17, 21].
Understanding the molecular interactions between the honey bee and its pathogens is crucial in revealing their role in host health and, ultimately, colony losses [22]. Recent advances in genome sequencing technologies and improvements in genome annotation of the honey bee have facilitated fine scale mapping of bee immune responses against multiple pathogens and parasites at the genomic level [23]. Several studies examining the transcriptional response of honey bees to their primary pathogens, namely Nosema, Varroa and viruses, have already provided considerable insight into the molecular mechanisms mediating host-parasite interactions [24–29], yet these studies have also revealed idiosyncrasies across datasets.
Analysis of multiple transcriptome datasets provides not only the opportunity to detect subtle changes in gene expression, but also to highlight commonalities in host responses. Recent studies in mosquitoes and humans have demonstrated the power of meta-analyses to reveal key host responses to multiple pathogen infections [30–32]. To comprehensively characterize the interactions between honey bees and their major pathogens and pests, we performed a meta-analysis of the transcriptional responses to Nosema, Varroa and viruses. We collected the gene expression profiles of 7,077 genes across 19 published and new transcriptome datasets of experimentally infected or parasitized honey bees, and utilized statistical and bioinformatics analyses that we newly developed (a 'directed rank product analysis') to perform a synthesis of gene expression patterns from multiple studies and platforms. This resulted in a robust analysis that, (i) identified common genes and pathways regulated in response to different pathogens, (ii) identified genes and pathways uniquely regulated in response to one pathogen in a particular body part or tissue, and (iii) enabled building a gene co-expression network to identify regulatory genes and new gene interactions within the honey bee transcriptome. Our analysis provides new insights into the molecular and physiological mechanisms that underpin the interactions between honey bees and their major pathogens.
Discussion
Similar to other eukaryotes, the honey bee is host to many different types of pathogens and harbours in its genome an immune repertoire to provide a specific immune response to this diversity of pathogens [
35
]. Our meta-analysis of honey bee transcriptional responses to a diverse set of pathogens identified a core set of genes that is common to honey bee anti-pathogen responses, as well as suites of genes that respond specifically to different pathogens and parasites (Fig.
4
).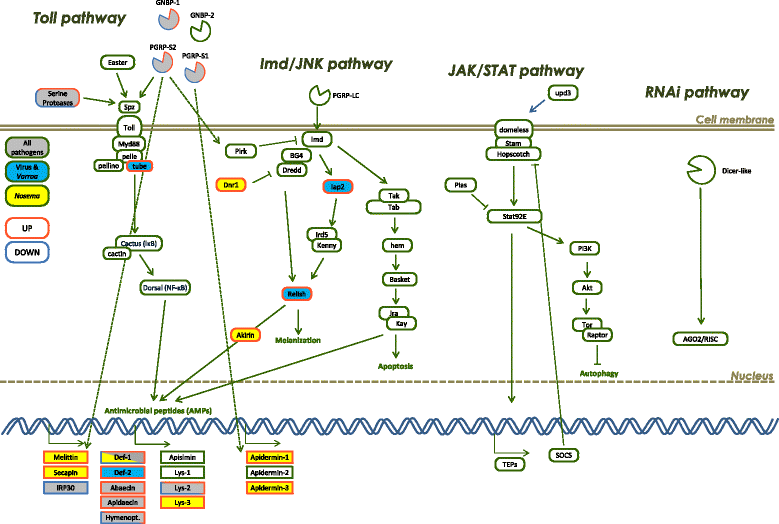 Conclusions
The accumulation of genome-wide studies has provided the opportunity for the analysis of the commonalities and idiosyncrasies in gene expression in host response to pathogen attack. Here, we synthesised 19 transcriptome datasets from experimentally infected honey bees and developed a new bioinformatics method, the directed rank product, to analyse gene expression profiles in order to identify the host specific responses to a diverse set of pathogens, and build a robust co-expression network. Although this method does not account for the amplitude of gene expression changes, using a rank product-based analysis has the advantage of enabling use of data from different platforms (e.g. microarray and RNA sequencing) in a single statistical analysis.
Importantly, our analyses revealed a core set of genes involved in a common host response to phylogenetically distinct pathogens, yet also enabled identification of genes involved in pathogen specific host immune responses. For instance, we showed that conserved pathways are involved in response to multiple pathogens, with the cellular immune response playing a key role in interactions with Nosema in abdominal tissues, while humoral immune pathways seem to have important antiviral activities. This analysis also broadens the definition of honey bee immune response by identifying genes encoding proteins, such as melittin and secapin, which have not been considered part of the canonical immune response. Using a gene co-expression analysis, we also identified potentially important mediators and regulators of anti-pathogen responses, including the Toll-pathway genes Serpin-5 and PGRP-S1, the JAK/STAT modulators Drk and Socs5, and the newly characterized kynurenine/alpha-aminoadipate aminotransferase (LOC724239) and an L-lactate dehydrogenase (LOC411188). Overall, our synthesis helps to pinpoint key host genes and pathways that respond to phylogenetically diverse pathogens. This gene list will likely be an important source for future functional studies and potentially for selecting more resilient honey bee stocks [23, 62]. More generally, the statistical and bioinformatics approaches developed in this study can be broadly applied to synthesize information across transcriptomic datasets to address a wide array of biological questions.
Abbreviations
Ago:

Argonaute
AMP:

Antimicrobial peptide
Apd:

Apidermin
B-gluc1:

Beta-1,3-glucan recognition protein 1
BQCV:

Black queen cell virus
Def:

Defensin
Drk:

Downstream of receptor kinase
DWV:

Deformed wing virus
EF1-alpha:

Elongation factor 1-alpha
fsd:

Full synthesised dataset
GMC:

Glucose-methanol-choline
GO:

Gene ontology
iap2:

Inhibitor of apoptosis 2
IAPV:

Israeli acute paralysis virus
IMD:

Immunodeficiency
IRP30:

Immune-responsive protein 30
JAK/STAT:

Janus kinase/signal transducer and activator of transcription
Lys:

Lysozyme
MAPK:

Mitogen-activated protein kinase
Mrjp:

Major royal jelly proteins
Mvl:

Malvolio
NADH:

Nicotinamide adenine dinucleotide H
NF-kB:

Nuclear factor kappa B
p.i.:

Post infection
PGRP:

Peptidoglycan recognition proteins
rel:

Relish
RNA:

Ribonucleic acid
RNA-seq:

Ribonucleic acid sequencing
rsd:

Restricted synthesised dataset
Serpin:

Serine proteinase inhibitors
Socs:

Suppressor of cytokine signalling
SP:

Serine protease
Vg:

Vitellogenin
Declarations
Acknowledgments
We thank Alexander Gabel for performing the blast search, and Laura Brutscher and Alexander McMenamin for their comments on an earlier version of the manuscript. We would like to thank the anonymous reviewers for their insightful comments which have helped improve the manuscript.
Funding
This article is a joint effort of the working group TRANSBEE and an outcome of two workshops kindly supported by sDiv, the Synthesis Centre for Biodiversity Sciences within the German Centre for Integrative Biodiversity Research (iDiv) Halle-Jena-Leipzig, funded by the German Science Foundation (FZT 118). New datasets were performed thanks to the Insect Pollinators Initiative (IPI grant BB/I000100/1 and BB/I000151/1), with participation of the UK-USA exchange funded by the BBSRC BB/I025220/1 (datasets #4, 11 and 14). The IPI is funded jointly by the Biotechnology and Biological Sciences Research Council, the Department for Environment, Food and Rural Affairs, the Natural Environment Research Council, the Scottish Government and the Wellcome Trust, under the Living with Environmental Change Partnership. The funders had no role in study design, data collection and analysis, decision to publish, or preparation of the manuscript.
Availability of data and materials
Microarray expression data have been deposited on ArrayExpress (Archive of Functional Genomics Data from the European Bioinformatics Institute) under accession numbers E-MTAB-5508 (datasets #4, 11 and 14), and E-MTAB-5070 (#13). RNA-sequencing data (datasets #18 and 19) have been deposited to the Gene Expression Omnibus repository, under the accession number GSE94855.
Authors' contributions
Conceived and designed the analyses: VD, YP, AGD, CeA, ChA, SMB, OCBR, MJFB, JCB, MLF, EG, IG, HLH, DH, HMGL, YLC, FM, DPM, RFAM, FN, ELN, KN, RPvR, RJP, CMG. Performed and analysed new transcriptomes: DA, DAG, EG, SG, DPM, FN, ELN, RJP, CMG. Performed the meta-analysis: VD, YP, AGD, RJP, CMG. Wrote the paper: VD, YP, AGD, RJP, CMG. Commented on the manuscript: CeA, ChA, SMB, OCBR, MJFB, JCB, MLF, EG, IG, HLH, DH, HMGL, YLC, FM, DPM, RFAM, FN, ELN, KN, RPvR. All authors read and approved the final manuscript.
Competing interests
The authors declare that they have no competing interests.
Consent for publication
Not applicable.
Ethics approval
All animals used in experiments reported in this work were obtained in Germany and Italy, and no ethical permits are required in these countries to carry out research on insects. Therefore, all procedures were conducted according to the ethical guidelines of Germany and Italy to ensure ethical appropriateness.
Open AccessThis article is distributed under the terms of the Creative Commons Attribution 4.0 International License (http://creativecommons.org/licenses/by/4.0/), which permits unrestricted use, distribution, and reproduction in any medium, provided you give appropriate credit to the original author(s) and the source, provide a link to the Creative Commons license, and indicate if changes were made. The Creative Commons Public Domain Dedication waiver (http://creativecommons.org/publicdomain/zero/1.0/) applies to the data made available in this article, unless otherwise stated.
Authors' Affiliations
(1)
German Centre for Integrative Biodiversity Research (iDiv) Halle-Jena-Leipzig, Leipzig, Germany
(2)
Centre for Ecology and Conservation, University of Exeter, Penryn, UK
(3)
Institute of Computer Science, Martin Luther University Halle-Wittenberg, Halle (Saale), Germany
(4)
Technische Hochschule Mittelhessen, Gießen, Germany
(5)
INRA, UR 406 Abeilles et Environnement, Avignon, France
(6)
Dipartimento di Scienze AgroAlimentari, Ambientali e Animali, Università degli Studi di Udine, Udine, Italy
(7)
Institute of Life Sciences, University of Agricultural Sciences and Veterinary Medicine, Cluj-Napoca, Romania
(8)
Department of Biology, East Carolina University, Greenville, USA
(9)
Center for Comparative Genomics and Bioinformatics, Pennsylvania State University, State College, USA
(10)
School of Biological Sciences, Royal Holloway University of London, Egham, UK
(11)
Department of Biosciences, Swansea University, Swansea, UK
(12)
Department of Plant Sciences and Plant Pathology, Montana State University, Bozeman, USA
(13)
Department of Entomology, Center for Pollinator Research, Pennsylvania State University, State College, USA
(14)
Department of Molecular Microbiology and Bee Diseases, Institute for Bee Research, Hohen Neuendorf, Germany
(15)
Department of Microbiology and Epizootics, Freie Universität Berlin, Berlin, Germany
(16)
Department of Fisheries, Wildlife, and Conservation Biology, The Monarch Joint Venture, University of Minnesota, St. Paul, USA
(17)
Department of Molecular Biology, Umeå University, Umeå, Sweden
(18)
Institute for Biology, Martin Luther University Halle-Wittenberg, Halle (Saale), Germany
(19)
School of Biological Sciences, Queen's University Belfast, Belfast, UK
(20)
Institute of Biology, Freie Universität Berlin, Berlin, Germany
(21)
Department for Materials and Environment, BAM Federal Institute for Materials Research and Testing, Berlin, Germany
(22)
Department of Entomology and Nematology, University of California, Davis, USA
(23)
Department of Computer Science, TFome Research Group, Bioinformatics Group, Interdisciplinary Center of Bioinformatics, University of Leipzig, Leipzig, Germany
(24)
Paul-Flechsig-Institute for Brain Research, University of Leipzig, Leipzig, Germany
(25)
Department of Medical Microbiology, Radboud Institute for Molecular Life Sciences, Radboud University Medical Center, Nijmegen, The Netherlands
(26)
Present address: MRC IGMM, University of Edinburgh, Western General Hospital, Edinburgh, UK
(27)
Present address: MRC Functional Genomics Unit, Department of Physiology, Anatomy and Genetics, University of Oxford, Oxford, UK
(28)
Present address: International Centre of Insect Physiology and Ecology (icipe), Environmental Health Theme, Nairobi, Kenya