Research article
Open Access
Genome analysis of the thermoacidophilic archaeon Acidianus copahuensis focusing on the metabolisms associated to biomining activities
Received: 21 September 2016
Accepted: 30 May 2017
Published: 6 June 2017
Abstract
Background
Several archaeal species from the order Sulfolobales are interesting from the biotechnological point of view due to their biomining capacities. Within this group, the genus Acidianus contains four biomining species (from ten known Acidianus species), but none of these have their genome sequenced. To get insights into the genetic potential and metabolic pathways involved in the biomining activity of this group, we sequenced the genome of Acidianus copahuensis ALE1 strain, a novel thermoacidophilic crenarchaeon (optimum growth: 75 °C, pH 3) isolated from the volcanic geothermal area of Copahue at Neuquén province in Argentina. Previous experimental characterization of A. copahuensis revealed a high biomining potential, exhibited as high oxidation activity of sulfur and sulfur compounds, ferrous iron and sulfide minerals (e.g.: pyrite). This strain is also autotrophic and tolerant to heavy metals, thus, it can grow under adverse conditions for most forms of life with a low nutrient demand, conditions that are commonly found in mining environments.
Results
In this work we analyzed the genome of Acidianus copahuensis and describe the genetic pathways involved in biomining processes. We identified the enzymes that are most likely involved in growth on sulfur and ferrous iron oxidation as well as those involved in autotrophic carbon fixation. We also found that A. copahuensis genome gathers different features that are only present in particular lineages or species from the order Sulfolobales, some of which are involved in biomining. We found that although most of its genes (81%) were found in at least one other Sulfolobales species, it is not specifically closer to any particular species (60–70% of proteins shared with each of them). Although almost one fifth of A. copahuensis proteins are not found in any other Sulfolobales species, most of them corresponded to hypothetical proteins from uncharacterized metabolisms.
Conclusion
In this work we identified the genes responsible for the biomining metabolisms that we have previously observed experimentally. We provide a landscape of the metabolic potentials of this strain in the context of Sulfolobales and propose various pathways and cellular processes not yet fully understood that can use A. copahuensis as an experimental model to further understand the fascinating biology of thermoacidophilic biomining archaea.
Keywords
Acidianus copahuensis Thermoacidophilic archaeaBiomining genes
Background
Biomining comprises technological processes (bioleaching and biooxidation) that use microorganisms, usually bacteria and archaea, to enhance the recovery of metals from insoluble ores mostly composed of metal sulfides. For the solubilization of sulfides, two conditions are required: an oxidizing agent and an acidic medium to maintain the removed metal cations in solution. Both conditions can be met by acidophilic iron- and sulfur oxidizing microorganisms; they can oxidize ferrous iron to ferric iron (a powerful oxidizing agent), and also oxidize metal sulfides and sulfur compounds to sulfuric acid [1]. Most of the commercial applications are implemented at moderate temperatures, below 50 °C, mainly because the firsts and best characterized bioleaching species are mesophiles. However, a higher operational temperature would be significantly beneficial as it would allow a reduction in the energy used for cooling the system (sulfur oxidation reactions are exothermic, causing a serious increase in temperature in bioreactors and inside the heaps) and would decrease the inconveniencies associated to mineral surface passivation [2]. Probably the most relevant example is the case of chalcopyrite (CuFeS2), a mineral species that accounts for approximately 70% of the world's copper reserves [3] and is highly recalcitrant to chemical or mesophilic biological leaching [4]. In the past few years, several studies have shown that thermoacidophilic archaea are able to obtain faster solubilization rates and higher copper recovery yields than most used mesophilic bioleaching bacteria [5–7].
The physiological, biochemical and genetic characterization of thermoacidophilic archaea, especially the features related to biomining, became a topic of interest some years ago and some advances were made on elucidating the genes and metabolic pathways involved in the oxidation of sulfur compounds and ferrous iron. However, none of them are yet completely understood. The key enzymes for sulfur oxidation in thermoacidophilic archaea, the sulfur oxygenase reductase (SOR) and the thiosulfate quinone oxidoreductase (TQO), have been characterized in Acidianus ambivalens [8]. Regarding iron oxidation, a cluster of genes up-regulated when cultures were grown in ferrous iron was identified in Sulfolobus metallicus; thus this cluster, named fox, was directly linked to ferrous iron metabolism [9]. These genes are not present in other Sulfolobus species that do not oxidize iron. Some other biomining related features were also identified in the genome of Metallosphaera sedula, such as carbon fixation, metal resistance, and adhesion mechanisms [10]. Despite the light that these works shed into the unexplored bioleaching mechanisms of thermophilic archaea, many aspects of their metabolisms remain still unclear. The analysis of new genomes from this group, together with further experimental characterization will undoubtedly bring new insights into the biology of these organisms.
A. copahuensis is a novel thermoacidophilic archaeon from the domain Crenarchaeota and the order Sulfolobales, isolated by our group from the acidic Copahue geothermal area in the Northwest corner of the Cordillera de los Andes in Neuquén province (Argentina). It has shown a great physiological flexibility by growing in a temperature range of 55 °C to 80 °C and pH range from 1 to 5, with optimum conditions at 75 °C and pH 3, respectively [11]. Its metabolic features make it an excellent candidate for biomining of sulfide minerals as it is able to oxidize diverse sulfur compounds (sulfur, tetrathionate and metal sulfides such as pyrite and chalcopyrite), and ferrous irons, either heterotrophically or autotrophically, being the latter a valuable attribute in mining environments, where organic carbon is often limited. We have experimentally shown that A. copahuensis is able to recover a 100% of copper in the bioleaching of a chalcopyrite concentrate [7]. In addition, A. copahuensis can grow in anaerobic conditions using sulfur or hydrogen as electron donors and ferric iron or sulfur as electron acceptors, an essential adaptation for the anoxic conditions found below heaps surface [12]. In the present work we characterized the genome of this remarkable biomining candidate and the genes associated to its capabilities, such as the oxidation and reduction of sulfur and iron compounds, electron transport, carbon fixation, tolerance and resistance to heavy metals and metalloids. We also performed a comprehensive comparison of A. copahuensis genome with all other available genomes from the order Sulfolobales and found that it groups different features that are only found within specific genera of this order.
Results and discussion
Acidianus copahuensis within the order Sulfolobales
A total of 2559 genes were predicted in
Acidianus copahuensis
ALE1 strain (DSM 29038) genome using the RAST annotation server. The comparison to all other available genomes of the order Sulfolobales at the whole genome level using an in silico DDH method showed only a 30% similarity to the closest genome and only 15% to
Acidianus hospitalis
, the other sequenced species within the genus
Acidianus
(Table
1
).
Table 1
Digital DDH estimation in silico of Acidianus copahuensis genome against all other available Sulfolobales genomes
| Query genome | Reference genome | DDH (%) | +/− | Distance | Prob. DDH > = 70% | G + C difference |
| --- | --- | --- | --- | --- | --- | --- |
| Acidianus copahuensis | Sulfolobales Acd1 | 30.1 | 2.45 | 0.1416 | 0.11 | 16.04 |
| Acidianus copahuensis | Sulfolobus tokodaii | 28.2 | 2.43 | 0.1526 | 0.05 | 2.85 |
| Acidianus copahuensis | Sulfolobus solfataricus | 25.3 | 2.4 | 0.1719 | 0.01 | 0.15 |
| Acidianus copahuensis | Sulfolobus acidocaldarius | 23.8 | 2.38 | 0.1833 | 0 | 1.07 |
| Acidianus copahuensis | Sulfolobus islandicus | 21.9 | 2.35 | 0.2007 | 0 | 0.53 |
| Acidianus copahuensis | Metallosphaera sedula | 20.6 | 2.32 | 0.2133 | 0 | 10.59 |
| Acidianus copahuensis | Metallosphaera hakonensis | 19.4 | 2.29 | 0.2263 | 0 | 7.68 |
| Acidianus copahuensis | Sulfolobus metallicus | 19.2 | 2.28 | 0.2294 | 0 | 2.97 |
| Acidianus copahuensis | Metallosphaera cuprina | 18.6 | 2.27 | 0.2368 | 0 | 6.36 |
| Acidianus copahuensis | Metallosphaera yellowstonensis | 17.9 | 2.24 | 0.2453 | 0 | 12.11 |
| Acidianus copahuensis | Acidianus hospitalis | 15.7 | 2.16 | 0.278 | 0 | 1.49 |
| Acidianus copahuensis | Sulfolobales AZ1 | 15.6 | 2.15 | 0.2804 | 0 | 11.35 |
According to a network analysis comparing all proteins from Sulfolobales genomes,
Acidianus copahuensis
is not closer to any particular genus among Sulfolobales (Fig.
1a
). It shares around two thirds (min: 50%, max: 68%, avg.: 64%) of its proteins with each of the other Sulfolobales species (Additional file
1
: Figure S1) and 39% of them (1003) are core proteins present in all genomes (Fig.
1b
, Additional file
2
: Table S1). In fact, the proportion of core proteins would be even higher (62%) if we also consider those proteins that were found in most (≥ 9 of 14) Sulfolobales species (Fig.
1b
, Additional file
2
: Table S1).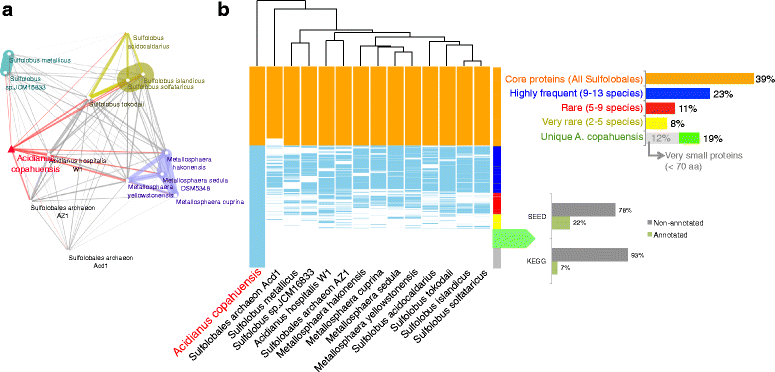 On the other hand, 19% (469) of A. copahuensis proteins were not found in any other available genome, and therefore correspond to unique features of this species (Fig. 1b, Additional file 2: Table S1). However, most of these proteins could not be annotated by either SEED or KEGG systems (Fig. 1b). Among the few that were annotated, we could not find key enzymes of known metabolisms, and therefore further experimental work will be required to determine their metabolic roles. Nevertheless, considering that these genes were likely selected specifically in A. copahuensis, we could hypothesize that they provide advantages to survive under the extreme and particular environmental conditions of Copahue geothermal system where this species naturally grows. Finally, we found that another 19% of A. copahuensis proteins were rarely found in Sulfolobales genomes (only in 2 to 9 of 14 genomes) (Figure 1b, Additional file 1: Figure S1). Some of these proteins are involved in bioleaching activities and are further discussed in the following sections.
All together, these results indicate that A. copahuensis is a novel species distantly related to A. hospitalis and with multiple features that are only found in particular genomes of the order Sulfolobales.
Conclusion
In this work we identified the genetic pathways that are most likely responsible of the biomining metabolic features that we had previously characterized experimentally in Acidianus copahuensis, such as sulfur and iron oxidation, carbon fixation and heavy metals and metalloids resistance. While some of these features are likely common to all Sulfolobales, others are only found in certain lineages (e.g., iron oxidation). Among thermoacidophilic archaea, Acidianus copahuensis seems to be a remarkable candidate for biomining activities as it contains nearly all biomining related features that were previously identified in this group and many other yet uncharacterized genes that are uniquely found in this species. In addition, A. copahuensis seems to be a good candidate for the study of relevant, yet poorly characterized, metabolic pathways such as sulfur compounds oxidation through the DsrE, TusA and Hdr-like complex as well as the role in iron oxidation of the fox cluster and the rusticyanin-like protein in thermoacidophilic archaea. The in-depth genome characterization presented in this work will certainly lead to a better comprehension of the biology of Acidianus copahuensis and Sulfolobales in general, and together with experimental data, to the discovery of novel metabolic functions with biotechnological potential for biomining activities.
Methods
Cultivation of a. Copahuensis and DNA extraction
A. copahuensis ALE1 strain was cultured in 100 mL flasks in MAC medium [64] at initial pH of 3 supplemented with sulfur powder (10 g/L) and yeast extract (1 g/L) at 65 °C in agitation (150 rpm). After 10 days cells were harvested by centrifugation from 10 mL of culture. The pellet was resuspended by vortexing with 20% w/V sucrose solution in TE buffer (10 mM Tris HCl pH 8.0, 1.0 mM EDTA) and then treated with 250 μL of 5 μg/mL lysozyme in TE buffer solution at 37 °C for 1 h. To improve cell lysis 100 μL of solution of protease K 5 mg/mL and SDS 10% in TE buffer were added and incubated 1 h at 37 °C. In order to separate aqueous and organic phases 70 μL sodium acetate 3.0 M (pH 3.4), 100 μL of chloroform and 200 μL phenol–Tris were added and centrifuged 15 min at 13,500 rpm. Aqueous phase was extracted using 100 μL of chloroform and centrifuged 15 min at 13,500 rpm for decanting cellular rests. Cold isopropyl alcohol was used for DNA precipitation in 1 h incubation at −20 °C and 20 min centrifugation at 13,500 rpm using a refrigerated (4 °C) centrifuge. DNA pellet was washed with 70% cold ethanol and air dried. DNA was resuspended in 50 μL of Tris-HCl 10 mM pH 8 buffer and incubated at 60 °C for 1 h. DNA concentration was measured in a NanoDrop spectrophotometer and its integrity was evaluated in a 0.8% agarose gel electrophoresis stained with ethidium bromide.
Bioinformatic analyses
The genome of Acidianus copahuensis was recently published by our group [65] and is publicly available in NCBI under the accession number JFZT00000000, with the corresponding annotation obtained by the NCBI Prokaryotic Genome Annotation Pipeline. We also uploaded the A. copahuensis genome together with all 13 others available from the order Sulfolobales to the RAST server [66] to get an alternative annotation. Sequences from the metabolisms of interest were identified using a combination of annotations from RAST/NCBI and BLASTP analysis against known representative sequences of these metabolisms. For the latter, only hits with very low E-values (< 1e−20) were considered and candidates were validated against the full NCBI Database by BLASTP. Additionally, the adjacent genes to the genes of interest were also analyzed in comparison to closely related genomes to validate the loci genomic organization. All Blast searches against the NCBI nr database were performed in mid 2015.
The digital DDH analysis to compare the 14 available Sulfolobales genomes was performed using the GGDC 2 method [67]. The proteins predicted by the RAST server in all these genomes were compared to each other by BLASTP (all vs. all analysis) and only hits with E-value lower than 1E-20 and at least 65% of the length of both proteins aligned were conserved. Based on these results, for each protein-coding gene in A. copahuensis, it was determined in which other genomes the proteins were found and a presence/absence table was built. These results were visualized with a heatmap analysis (heatmap.2 function) in R using the Euclidean distance for clustering. Network analysis was performed using the EGN software [68] using the same similarity thresholds than for filtering BLASTP results and visualization and plot was made in Cytoscape.
For the cases where genome organization of certain gene complexes were compared between different species (i.e., fox and dsr genes), we performed a de novo ORF prediction using FragGeneScan [69] to get the genome positions, gene orientations and gene sizes. All predicted peptides were then compared by BLASTP to a reference database with the genes of interest and then hits validated by reciprocal best hits between pairs of genomes. The percentages of similarity between proteins were obtained from BLASTP analysis. For phylogenetic analyses we aligned sequences using T-COFFEE [70] with default parameters and constructed Maximum likelihood (ML) trees in MEGA6 software [71]. Best ML substitution model was estimated prior to phylogenetic analysis also in MEGA6. Bootstrap support for the obtained trees was estimated using 1000 repetitions.
Abbreviations
BLAST:

Basic local alignment search tool
DDH:

DNA-DNA hybridization
GGDC:

Genome to genome distance calculator
Hdr:

Heterodisulfide reductase
KEGG:

Kyoto encyclopedia of genes and genomes
NCBI:

National center for biotechnology information
ORF:

Open reading frame
RAST:

Rapid annotation using subsystem technology
SOR:

Sulfur oxygenase reductase
SQR:

Sulfide:quinone oxidoreductase
TQO:

Thiosulfate:quinone oxidoreductase
TTH:

Tetrathionate hydrolase
Declarations
Acknowledgements
MSU would like to personally acknowledge Dr. Alejandra Giaveno, Dr. Camila Castro and Marcela Hipperdinger for the assistance with A. copahuensis cultures.
Funding
Dr. E Donati funded the present work by grants PICT 2012 623 and PICT 2013 0630 from Agencia Nacional de Promoción Científica y Tecnológica (ANPCYT). PICT 2012 623 financed the sequencing of Acidianus copahuensis genome and PICT 2013 0630 financed the writing and publication of the manuscript.
Availability of data and materials
Annotations by the RAST server can be accessed at http://rast.nmpdr.org/rast.cgi (user: guest, pass: guest) under the ID 1160895.6 (The accessions for all other Sulfolobales are: 1,294,123.8, 1,326,980.9, 111,955.3, 1,006,005.3, 1,111,107.3, 79,601.4, 47,303.4, 2287.10, 1,294,262.4, 2285.50, 43,080.25, 399,549.12). The full genome of A. copahuensis is accessible at NCBI with the accession NZ_JFZT00000000. The annotations, genome positions and amino acid and nucleotide sequences of all A. copahuensis genes can be found in the Additional file 2: Table S1.
Author's contributions
MSU cultured Acidianus copahuensis ALE1 strain and carried out the DNA extraction. MSU and NR analyzed the genome and wrote the manuscript. NR performed the comparative analyses between all Sulfolobales species and the phylogenetic analyses. MPV supervised the genome sequencing at INDEAR facility. ED conceived of the study and funded the genome sequencing. All authors read and approved the final version of the manuscript.
Competing interests
The authors declare that they have no competing interests.
Consent for publication
Not applicable.
Ethics approval and consent to participate
Not applicable.
Publisher's Note
Springer Nature remains neutral with regard to jurisdictional claims in published maps and institutional affiliations.
Open AccessThis article is distributed under the terms of the Creative Commons Attribution 4.0 International License (http://creativecommons.org/licenses/by/4.0/), which permits unrestricted use, distribution, and reproduction in any medium, provided you give appropriate credit to the original author(s) and the source, provide a link to the Creative Commons license, and indicate if changes were made. The Creative Commons Public Domain Dedication waiver (http://creativecommons.org/publicdomain/zero/1.0/) applies to the data made available in this article, unless otherwise stated.
Authors' Affiliations
(1)
CINDEFI (CCT La Plata-CONICET, UNLP), Facultad de Ciencias Exactas, Universidad Nacional de La Plata, La Plata, Argentina
(2)
Instituto de Agrobiotecnología de Rosario (INDEAR), CONICET, Predio CCT, Rosario, Argentina
(3)
, Buenos Aires, Argentina