Research article
Open Access
Plasmid composition in Aeromonas salmonicida subsp. salmonicida 01-B526 unravels unsuspected type three secretion system loss patterns
Received: 16 April 2017
Accepted: 4 July 2017
Published: 12 July 2017
Abstract
Background
Aeromonas salmonicida subsp. salmonicida is a ubiquitous psychrophilic waterborne bacterium and a fish pathogen. The numerous mobile elements, especially insertion sequences (IS), in its genome promote rearrangements that impact its phenotype. One of the main virulence factors of this bacterium, its type three secretion system (TTSS), is affected by these rearrangements. In Aeromonas salmonicida subsp. salmonicida most of the TTSS genes are encoded in a single locus on a large plasmid called pAsa5, and may be lost when the bacterium is cultivated at a higher temperature (25 °C), producing non-virulent mutants. In a previous study, pAsa5-rearranged strains that lacked the TTSS locus on pAsa5 were produced using parental strains, including 01-B526. Some of the generated deletions were explained by homologous recombination between ISs found on pAsa5, whereas the others remained unresolved. To investigate those rearrangements, short- and long-read high-throughput sequencing technologies were used on the A. salmonicida subsp. salmonicida 01-B526 whole genome.
Results
Whole genome sequencing of the 01-B526 strain revealed that its pAsa5 has an additional IS copy, an ISAS5, compared to the reference strain (A449) sequence, which allowed for a previously unknown rearrangement to occur. It also appeared that 01-B526 bears a second large plasmid, named pAsa9, which shares 40 kbp of highly similar sequences with pAsa5. Following these discoveries, previously unexplained deletions were elucidated by genotyping. Furthermore, in one of the derived strains a fusion of pAsa5 and pAsa9, involving the newly discovered ISAS5 copy, was observed.
Conclusion
The loss of TTSS and hence virulence is explained by one consistent mechanism: IS-driven homologous recombination. The similarities between pAsa9 and pAsa5 also provide another example of genetic diversity driven by ISs.
Keywords
Insertion sequencePlasmidHomologous recombinationVirulence Aeromonas salmonicida
Background
The bacterium Aeromonas salmonicida subsp. salmonicida is the causative agent of furunculosis, a disease that affects salmonids worldwide. It has a significant economic impact on the fish farming industry [1]. Vaccination and antibiotherapy are the available treatments for furunculosis. However, resistant A. salmonicida subsp. salmonicida strains have emerged [2–7] and vaccination is not always effective [8]. Alternative treatment options against this pathogen would thus be beneficial [8–10] but developing new treatments requires a better understanding of its underlying mechanisms, such as pathogenicity [4, 11].
This ubiquitous waterborne bacterium shows evidence of lateral gene transfer. A. salmonicida subsp. salmonicida strain genomes have been shown to bear a wide array of mobile elements [4, 12], genomic islands [13–15], and transferable plasmids [2, 3, 5, 16]. The close relationship between the mobile elements from this species and those of Salmonella enterica has raised concerns about its ability to act as a reservoir of antibiotic resistance genes, which could transfer to human pathogens [5, 7]. Aeromonas salmonicida subsp. salmonicida is also known for its genomic variability. Different kinds of recombination have formed plasmid and genomic island variants with altered gene contents that result in phenotypic changes [5, 6, 15–19]. This bacterium, beyond mediating gene transfer, could thus provide a new combination of those genes.
In many cases, insertion sequences (ISs) and transposons are responsible for these variations. They were found to participate in plasmid rearrangements, virulence factor inactivation, and the exchange of antibiotic resistance genes [16–20]. It was even suggested that the abundance of ISs (88 copies divided into 10 different types) in the reference genome A449 could maintain the bacterium in a psychrophilic lifestyle to preserve its genomic integrity [21]. Unfortunately, transposable elements also hinder genome sequencing and assembly, which are used to study structural variations [22–25].
One structural variation mediated by ISs that has been studied in A. salmonicida subsp. salmonicida is the loss of its type three secretion system (TTSS). This needle-like apparatus injects proteins named effectors into the host cells [26]. An interesting point for furunculosis management is the fact that the TTSS is essential for the pathogenicity of this bacterium [11, 27]. In A. salmonicida subsp. salmonicida, the TTSS structural components and many effectors are encoded on a plasmid called pAsa5 (also known as pASvirA) [12, 28], which has been found in many strains [12, 27, 28]. This 155-kilobase-pair (kbp) replicon harbours all TTSS structural genes in a single locus, four TTSS effector genes (aopH, ati2, aopN, and aopO), conjugative transfer genes, many uncharacterized open reading frames, and ISs [11, 12]. Interestingly, pAsa5 is a thermolabile plasmid that is known to lose segments, including the TTSS locus, when the cells are exposed to 25 °C and above [28, 29]. The resulting mutants are non-virulent in fish and in model hosts, making the TTSS loss mechanism an interesting target for avirulence-producing treatment development [27, 29–34].
In a previous study, a collection of TTSS-negative mutants were produced by prolonged cultivation at 25 °C of three A. salmonicida subsp. salmonicida parental strains: A449, 01-B526, and 01-B516 [29]. These plasmid-rearranged strains were shown to have two different types of truncated pAsa5.
Plasmids displaying a type 1 deletion profile had lost their TTSS locus, which includes the essential structural proteins, effectors
ati2
and
aopN
, and their respective chaperones (Fig.
1a
). Plasmids with a type 2 deletion profile lost their TTSS locus as well as 40 kbp upstream of it. Both deletion types led to complete virulence loss against an alternative host [
29
].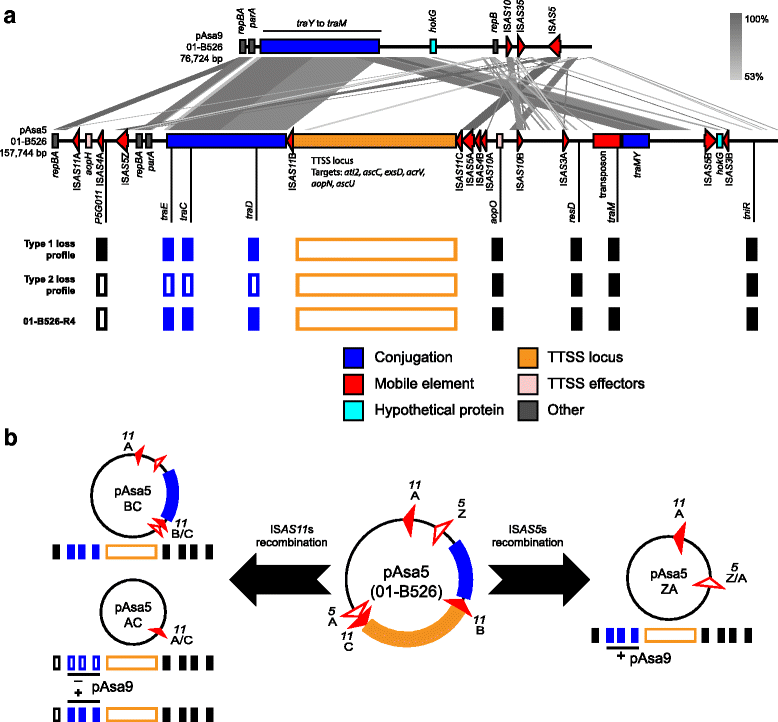 Further work revealed that all type 2 and some type 1 deletions could be explained by the same mechanism based on IS-mediated homologous recombination driven by the copies of ISAS11 found on pAsa5 [17]. However, many strains that show a type 1 deletion profile could not be explained by the known IS recombination [17]. It was thus hypothesized that their plasmids had undergone incomplete or more complex recombinations.
As mentioned before, a better understanding of the genomic content and rearrangements in A. salmonicida subsp. salmonicida would be beneficial for virulence-targeted treatment development and for assessing the contributions of this species to gene flow by horizontal transfers. Different TTSS-loss mechanisms seem to occur in strains 01-B526 and A449. The genome of A449 has been already sequenced and fully assembled [12]. In this study, we combined Illumina and single molecule real-time (SMRT) sequencing for the 01-B526 genome to elucidate its plasmid composition. This helped us to identify another TTSS-loss scenario involved in unexplained pAsa5-rearranged strains.
Discussion
In this study, we used long-read sequencing (PacBio SMRT technology) to uncover a new A. salmonicida subsp. salmonicida plasmid, pAsa9. It would have been impossible to assemble pAsa9 with short-read sequencing information alone, due to its similarity with another well-studied, virulence-essential plasmid called pAsa5 [12, 29, 30]. Even with mate-pair sequencing, which allowed us, with a certain configuration, to assemble the A. salmonicida subsp. salmonicida chromosome in one scaffold [23], the pAsa9 assembly was complicated by its 24 kbp-long repeated sequence with pAsa5.
SMRT sequencing can be used to reduce contig numbers and manual gap filling for most microbial genomes, especially those that have many long repeats; this feature applies to A. salmonicida subsp. salmonicida [38]. Single-read sequencing was previously used to identify and assemble plasmids that shared a common backbone in the same strain [39]. PacBio or other long-read sequencing technologies should be used in future studies to facilitate the discovery of new plasmids in A. salmonicida subsp. salmonicida, especially if they are presumed to share repeats with the rest of the genome. Also, some species in the Aeromonas genus, such as Aeromonas media [40], have complex genomes and would thus benefit from that technology [21].
The newly discovered plasmid, pAsa9, was found in A. salmonicida subsp. salmonicida strains that also bear the genomic island AsaGEI1a. Thus, its presence is limited to North America so far based on the strains analysed. Interestingly, pAsa9 is found concurrently with pAsa5, even though their replication genes (repBA) are similar. Although the discovered plasmid, pAsa9, shares highly similar sequences with pAsa5, its unique content and architecture show that it is not a mere copy.
In fact, we propose that pAsa9 provides information on pAsa5 evolution and gene acquisition. The two plasmids are similar and have syntenic sequences, which suggests they share a common ancestor whose backbone should be closer to pAsa9 than pAsa5. Apart from its last quarter (Fig. 2), which encloses all mobile element-related sequences, pAsa9 is free from IS or sequence duplication. In contrast, pAsa5 has sequence duplications in core genes (replication and transfer) [41], and many ISs. Furthermore, some IS localizations follow TTSS genes.
We thus suggest that ISs were key elements in TTSS-related gene acquisition in pAsa5, which arose on a plasmid backbone close to pAsa9. The discovery of pAsa9 also places pAsa6, another pAsa5-related plasmid, as a pAsa5-like descendant rather than an ancestor, since its structure is closer to the latter (Additional file 2). Together, those results further prove that insertion sequences have a role in A. salmonicida subsp. salmonicida genetic diversity, as proposed earlier [21].
PacBio sequencing also provided new architectural details that allowed us to revisit previous experimental results on pAsa5 recombination and the associated loss of TTSS and virulence. With this information, all pAsa5 deletions that were generated in the study of Daher et al. can be regrouped under a consistent and simple mechanism, which is IS-mediated homologous recombination [29]. These results also allowed us to explain previous observations of pAsa5-rearranged strains that had lost their TTSS locus [17].
For instance, while attempting to produce TTSS-negative mutants, strain 01-B526 was more prone to producing plasmid-rearranged strains than strain A449 [29]. This can be explained by the fact that in 01-B526 pAsa5, another IS (ISAS5Z) can be a target for recombination.
With 2.6 kbp, ISAS5 offers a large span of homologous sequences for recombination to occur, which could explain why ISAS5 rearrangements were observed more frequently in 01-B526-derived strains than ISAS11 rearrangements. ISAS5 was already known as an active insertion sequence in A. salmonicida subsp. salmonicida. It was found to have transposed at multiple locations on pAsal1 [18, 19]. The results thus suggest that ISAS5 is both an insertion sequence capable of transposition, and a target for host-mediated recombination. 01-B526 also gave only one ISAS11A-C recombinant with an atypical genotyping profile, 01-B526-R4, which can now be explained by the presence of pAsa9 and the false positive tra targets it creates (Fig. 1). Thus, PacBio sequencing both provided an explanation for shaded areas left by the previous study, and simplified some cases.
One exception is 01-B526-R19, which has a fusion between its ZA-rearranged pAsa5 and its pAsa9. This merged plasmid is a rarity since it resulted from two sequential recombinations, one between ISAS5Z and 5A, and one with ISAS5ZA and pAsa9 ISAS5. Such double recombinations between ISAS11s were tested in 2012 with no success [17]. This may be due to the fact, as mentioned earlier, ISAS11 is half the size of ISAS5.
The reassignment of derived strains 01-B516–3, 01-B516–11 and 01-B516–30 to 01-B526 leaves 01-B516 without pAsa5-rearranged descendants that would prove the strain is capable of IS-targeted recombination. Difficulties in producing 01-B516 pAsa5-rearranged strains were observed in the original experiment [29]. This problem could be caused either by the structure of 01-B516 pAsa5 or by the lack of suitable recombinase. The Illumina sequencing showed that ISAS11B and ISAS11C are in the correct position relative to each other to mediate the deletion. BC recombination and TTSS loss should thus have been observed. Consequently, the lack of rearrangement in 01-B516 may be due to a missing or inactive recombinase.
Furunculosis management needs new alternative treatments to antibiotherapy and vaccination. Avirulent treatment suppresses essential pathogenicity mechanisms without killing the bacteria, and could be an option against A. salmonicida subsp. salmonicida. However, full understanding of the TTSS loss and the underlying IS-mediated recombination is a prerequisite to finding new ways to attenuate furunculosis-causing strains. Now, factors promoting these events can be investigated in the hopes of finding a specific, aquaculture-compatible condition that would trigger recombination of pAsa5.
Conclusions
Our results showed that PacBio sequencing could provide crucial information for plasmid architecture studies by allowing for proper separation of long repeated regions. In this case, it led to the discovery of a new plasmid, pAsa9, which in turn allowed refinement and completion of the recombination model described for pAsa5 in 2012 [17].
Regrouping all TTSS-loss scenarios under a simple rule was an important step in investigating the mechanism for avirulence-producing treatments. The relationship between the pAsa9 and pAsa5 architectures demonstrates the importance of ISs in producing biologically-relevant genomic diversity in A. salmonicida subsp. salmonicida.
Abbreviations
IS:

Insertion sequence
ORF:

Open reading frame
SMRT:

Single molecule real-time
TTSS:

Type three secretion system
Declarations
Acknowledgments
We thank Mégane Paccaud, Mathilde Goldschmitt, and Romain Chanut for technical support. We also thank the Laboratoire de bactériologie clinique, Faculté de médecine vétérinaire, Université de Montréal (Montreal, QC, Canada), the Félix d'Hérelle Reference Center (Département de biochimie, de microbiologie et de bio-informatique, Université Laval, Quebec City, QC, Canada), M. Reith (National Research Council laboratories, Halifax, Nova Scotia), J. Frey (University of Bern), and R.M.W. Stevenson (University of Guelph) for the A. salmonicida subsp. salmonicida isolates.
Funding
KHT and ATV received scholarships from the Fonds de recherche québécois – Nature et Technologies (FRQNT) and the Natural Sciences and Engineering Research Council of Canada (NSERC). JGER received a scholarship from Ressources Aquatiques Québec. This work was funded by a NSERC grant to SJC (RGPIN-2014-04595) and the Innovamer Program of the Ministère de l'Agriculture, des Pêcheries et de l'Alimentation du Québec. The funders had no role in study design, data collection and interpretation, or the decision to submit the work for publication.
Availability of data and materials
Aeromonas salmonicida subsp. salmonicida strain 01-B526 plasmids pAsa5 and pAsa9 complete sequences were deposited in GenBank with the accession numbers KY555069 (http://www.ncbi.nlm.nih.gov/nuccore/KY555069) and KY555070 (http://www.ncbi.nlm.nih.gov/nuccore/KY555070), respectively. The authors declare that all other data supporting the findings of this study are available within the article and its supplementary information files.
Authors' contributions
KHT conceived, designed, and performed the experiments, analysed the data, prepared the tables and figures, and wrote the manuscript. ATV conceived and designed the experiments, performed the experiments, analysed the data, and contributed substantially to writing the manuscript. JGER conceived, designed, and performed experiments, and analysed the data. MA conceived and designed and performed experiments, and analysed the data. MF analysed the data. SJC conceived and designed the experiments, and analysed the data. Finally, all authors read and commented on the manuscript at various production stages. All authors read and approved the final manuscript.
Ethics approval and consent to participate
No animal material was used in this study. All fish-related information given in this study was provided by each strain's donors (see below) as additional data.
Consent for publication
Not applicable.
Competing interests
The authors declare that they have no competing interests.
Publisher's Note
Springer Nature remains neutral with regard to jurisdictional claims in published maps and institutional affiliations.
Open AccessThis article is distributed under the terms of the Creative Commons Attribution 4.0 International License (http://creativecommons.org/licenses/by/4.0/), which permits unrestricted use, distribution, and reproduction in any medium, provided you give appropriate credit to the original author(s) and the source, provide a link to the Creative Commons license, and indicate if changes were made. The Creative Commons Public Domain Dedication waiver (http://creativecommons.org/publicdomain/zero/1.0/) applies to the data made available in this article, unless otherwise stated.
Authors' Affiliations
(1)
Institut de Biologie Intégrative et des Systèmes (IBIS), Université Laval, Quebec, Canada
(2)
Département de biochimie, de microbiologie et de bio-informatique, Faculté des sciences et de génie, Université Laval, Quebec, Canada
(3)
Centre de recherche de l'Institut universitaire de cardiologie et de pneumologie de Québec, Quebec, Canada
(4)
Department of Bacterial Genetics, Institute of Microbiology, Faculty of Biology, University of Warsaw, Warsaw, Poland
(5)
Groupe de Recherche en Écologie Buccale (GREB), Faculté de médecine dentaire, Université Laval, Quebec, Canada
References
Derome N, Boutin S, Llewellyn M, Gauthier J. Opportunistic pathogens of fish. In: Hurst CJ, editor. The Rasputin effect: when commensals and symbionts become parasitic. New York: Springer; 2016. p. 649. doi:10.1007/978-3-319-28170-4.Google Scholar
Sørum H, L'Abée-Lund T, Solberg A, Wold A. Integron-containing IncU R plasmids pRAS1 and pAr-32 from the fish pathogen Aeromonas salmonicida. Antimicrob Agents Chemother. 2003;47(4):1285–90.View ArticlePubMedPubMed CentralGoogle Scholar
McIntosh D, Cunningham M, Ji B, Fekete FA, Parry EM, Clark SE, et al. Transferable, multiple antibiotic and mercury resistance in Atlantic Canadian isolates of Aeromonas salmonicida subsp. salmonicida is associated with carriage of an IncA/C plasmid similar to the Salmonella enterica plasmid pSN254. J Antimicrob Chemother. 2008;61(6):1221–8.View ArticlePubMedPubMed CentralGoogle Scholar
Piotrowska M, Popowska M. Insight into the mobilome of Aeromonas strains. Front Microbiol. 2015;6:494.View ArticlePubMedPubMed CentralGoogle Scholar
Vincent AT, Trudel MV, Paquet VE, Boyle B, Tanaka KH, Dallaire-Dufresne S, et al. Detection of variants of the pRAS3, pAB5S9, and pSN254 plasmids in Aeromonas salmonicida subsp. salmonicida: multidrug resistance, interspecies exchanges, and plasmid reshaping. Antimicrob Agents Chemother. 2014;58(12):7367–74.View ArticlePubMedPubMed CentralGoogle Scholar
Vincent AT, Emond-Rheault JG, Barbeau X, Attéré SA, Frenette M, Lagüe P, et al. Antibiotic resistance due to an unusual ColE1-type replicon plasmid in Aeromonas salmonicida. Microbiology. 2016;162(6):942–53.View ArticlePubMedGoogle Scholar
Trudel MV, Vincent AT, Attéré SA, Labbé M, Derome N, Culley AI, et al. Diversity of antibiotic-resistance genes in Canadian isolates of Aeromonas salmonicida subsp. salmonicida: dominance of pSN254b and discovery of pAsa8. Sci Rep. 2016;6:35617.View ArticlePubMedPubMed CentralGoogle Scholar
Dallaire-Dufresne S, Tanaka KH, Trudel MV, Lafaille A, Charette SJ. Virulence, genomic features, and plasticity of Aeromonas salmonicida subsp. salmonicida, the causative agent of fish furunculosis. Vet Microbiol. 2014;169(1–2):1–7.View ArticlePubMedGoogle Scholar
Imbeault S, Parent S, Lagacé M, Uhland CF, Blais J-F. Using Bacteriophages to prevent furunculosis caused by Aeromonas salmonicida in farmed brook trout. J Aquat Anim Health. 2006;18(3):203–14.View ArticleGoogle Scholar
Tanaka KH, Frenette M, Charette SJ. IS-mediated loss of virulence by Aeromonas salmonicida: a tangible piece of an evolutionary puzzle. Mobile genetic elements. 2013;3(1):e23498.View ArticlePubMedPubMed CentralGoogle Scholar
Frey J, Origgi FC. Type III secretion system of Aeromonas salmonicida undermining the Host's immune response. Front Mar Sci. 2016;3:130.View ArticleGoogle Scholar
Reith ME, Singh RK, Curtis B, Boyd JM, Bouevitch A, Kimball J, et al. The genome of Aeromonas salmonicida subsp. salmonicida A449: insights into the evolution of a fish pathogen. BMC Genomics. 2008;9:427.View ArticlePubMedPubMed CentralGoogle Scholar
Emond-Rheault JG, Vincent AT, Trudel MV, Brochu F, Boyle B, Tanaka KH, et al. Variants of a genomic island in Aeromonas salmonicida subsp. salmonicida link isolates with their geographical origins. Vet Microbiol. 2015;175(1):68–76.View ArticlePubMedGoogle Scholar
Emond-Rheault JG, Vincent AT, Trudel MV, Frey J, Frenette M, Charette SJ. AsaGEI2b: a new variant of a genomic island identified in the Aeromonas salmonicida subsp. salmonicida JF3224 strain isolated from a wild fish in Switzerland. FEMS Microbiol Lett. 2015;362(13):fnv093.View ArticlePubMedGoogle Scholar
Long M, Nielsen TK, Leisner JJ, Hansen LH, Shen ZX, Zhang QQ, et al. Aeromonas salmonicida subsp. salmonicida Strains isolated from Chinese freshwater fish contain a novel genomic island and possible regional-specific mobile genetic elements profiles. FEMS Microbiol Lett. 2016;363(17):fnw190.View ArticlePubMedGoogle Scholar
Tanaka KH, Vincent AT, Trudel MV, Paquet VE, Frenette M, Charette SJ. The mosaic architecture of Aeromonas salmonicida subsp. salmonicida pAsa4 plasmid and its consequences on antibiotic resistance. PeerJ. 2016;4:e2595.View ArticlePubMedPubMed CentralGoogle Scholar
Tanaka KH, Dallaire-Dufresne S, Daher RK, Frenette M, Charette SJ. An insertion sequence-dependent plasmid rearrangement in Aeromonas salmonicida causes the loss of the type three secretion system. PLoS One. 2012;7(3):e33725.View ArticlePubMedPubMed CentralGoogle Scholar
Trudel MV, Tanaka KH, Filion G, Daher RK, Frenette M, Charette SJ. Insertion sequence AS5 (ISAS5) is involved in the genomic plasticity of Aeromonas salmonicida. Mobile genetic elements. 2013;3(3):e25640.View ArticlePubMedPubMed CentralGoogle Scholar
Attéré SA, Vincent AT, Trudel MV, Chanut R, Charette SJ. Diversity and homogeneity among small plasmids of Aeromonas salmonicida subsp. salmonicida linked with geographical origin. Front Microbiol. 2015;6:1274.View ArticlePubMedPubMed CentralGoogle Scholar
Gustafson CE, Chu SJ, Trust TJ. Mutagenesis of the paracrystalline surface protein array of Aeromonas salmonicida by endogenous insertion elements. J Mol Biol. 1994;237(4):452–63.View ArticlePubMedGoogle Scholar
Vincent AT, Trudel MV, Freschi L, Nagar V, Gagné-Thivierge C, Levesque RC, et al. Increasing genomic diversity and evidence of constrained lifestyle evolution due to insertion sequences in Aeromonas salmonicida. BMC Genomics. 2016;17(1):44.View ArticlePubMedPubMed CentralGoogle Scholar
Charette SJ, Brochu F, Boyle B, Filion G, Tanaka KH, Derome N. Draft genome sequence of the virulent strain 01-B526 of the fish pathogen Aeromonas salmonicida. J Bacteriol. 2012;194(3):722–3.View ArticlePubMedPubMed CentralGoogle Scholar
Vincent AT, Boyle B, Derome N, Charette SJ. Improvement in the DNA sequencing of genomes bearing long repeated elements. J Microbiol Methods. 2014;107:186–8.View ArticlePubMedGoogle Scholar
Beatson SA, Walker MJ. Tracking antibiotic resistance. Science. 2014;345(6203):1454–5.View ArticlePubMedGoogle Scholar
Vincent AT, Tanaka KH, Trudel MV, Frenette M, Derome N, Charette SJ. Draft genome sequences of two Aeromonas salmonicida subsp. salmonicida isolates harboring plasmids conferring antibiotic resistance. FEMS Microbiol Lett. 2015;362(4):1–4.View ArticleGoogle Scholar
Buttner D. Protein export according to schedule: architecture, assembly, and regulation of type III secretion systems from plant- and animal-pathogenic bacteria. Microbiol Mol Biol Rev. 2012;76(2):262–310.View ArticlePubMedPubMed CentralGoogle Scholar
Burr SE, Pugovkin D, Wahli T, Segner H, Frey J. Attenuated virulence of an Aeromonas salmonicida subsp. salmonicida type III secretion mutant in a rainbow trout model. Microbiology. 2005;151(Pt 6):2111–8.View ArticlePubMedGoogle Scholar
Stuber K, Burr SE, Braun M, Wahli T, Frey J. Type III secretion genes in Aeromonas salmonicida subsp. salmonicida are located on a large thermolabile virulence plasmid. J Clin Microbiol. 2003;41(8):3854–6.View ArticlePubMedPubMed CentralGoogle Scholar
Daher RK, Filion G, Tan SG, Dallaire-Dufresne S, Paquet VE, Charette SJ. Alteration of virulence factors and rearrangement of pAsa5 plasmid caused by the growth of Aeromonas salmonicida in stressful conditions. Vet Microbiol. 2011;152(3–4):353–60.View ArticlePubMedGoogle Scholar
Burr SE, Stuber K, Wahli T, Frey J. Evidence for a type III secretion system in Aeromonas salmonicida subsp. salmonicida. J Bacteriol. 2002;184(21):5966–70.View ArticlePubMedPubMed CentralGoogle Scholar
Burr SE, Wahli T, Segner H, Pugovkin D, Frey J. Association of Type III secretion genes with virulence of Aeromonas salmonicida subsp. salmonicida. Dis Aquat Org. 2003;57(1–2):167–71.View ArticlePubMedGoogle Scholar
Dacanay A, Knickle L, Solanky KS, Boyd JM, Walter JA, Brown LL, et al. Contribution of the type III secretion system (TTSS) to virulence of Aeromonas salmonicida subsp. salmonicida. Microbiology. 2006;152(Pt 6):1847–56.View ArticlePubMedGoogle Scholar
Dacanay A, Boyd JM, Fast MD, Knickle LC, Reith ME. Aeromonas salmonicida Type I pilus system contributes to host colonization but not invasion. Dis Aquat Org. 2010;88(3):199–206.View ArticlePubMedGoogle Scholar
Froquet R, Cherix N, Burr SE, Frey J, Vilches S, Tomas JM, et al. Alternative host model to evaluate Aeromonas virulence. Appl Environ Microbiol. 2007;73(17):5657–9.View ArticlePubMedPubMed CentralGoogle Scholar
Siguier P, Gourbeyre E, Chandler M. Bacterial insertion sequences: their genomic impact and diversity. FEMS Microbiol Rev. 2014;38(5):865–91.View ArticlePubMedGoogle Scholar
Siguier P, Perochon J, Lestrade L, Mahillon J, Chandler M. ISfinder: the reference centre for bacterial insertion sequences. Nucleic Acids Res. 2006;34(Database issue):D32–6.View ArticlePubMedGoogle Scholar
Najimi M, Balado M, Lemos ML, Osorio CR. Genetic characterization of pAsa6, a new plasmid from Aeromonas salmonicida subsp. salmonicida that encodes a type III effector protein AopH homolog. Plasmid. 2009;61(3):176–81.View ArticlePubMedGoogle Scholar
Koren S, Harhay GP, Smith TP, Bono JL, Harhay DM, McVey SD, et al. Reducing assembly complexity of microbial genomes with single-molecule sequencing. Genome Biol. 2013;14(9):R101.View ArticlePubMedPubMed CentralGoogle Scholar
Mehdizadeh Gohari I, Kropinski AM, Weese SJ, Parreira VR, Whitehead AE, Boerlin P, et al. Plasmid characterization and chromosome analysis of two netF+ Clostridium perfringens isolates associated with foal and canine necrotizing enteritis. PLoS One. 2016;11(2):e0148344.View ArticlePubMedPubMed CentralGoogle Scholar
Chai B, Wang H, Chen X. Draft genome sequence of high-melanin-yielding Aeromonas media strain WS. J Bacteriol. 2012;194(23):6693–4.View ArticlePubMedPubMed CentralGoogle Scholar
Garcillan-Barcia MP, Alvarado A, de la Cruz F. Identification of bacterial plasmids based on mobility and plasmid population biology. FEMS Microbiol Rev. 2011;35(5):936–56.View ArticlePubMedGoogle Scholar
Hanninen ML, Hirvela-Koski V. Molecular and phenotypic methods for the characterization of atypical Aeromonas salmonicida. Vet Microbiol. 1997;56(1–2):147–58.View ArticlePubMedGoogle Scholar
Dziewit L, Czarnecki J, Wibberg D, Radlinska M, Mrozek P, Szymczak M, et al. Architecture and functions of a multipartite genome of the methylotrophic bacterium Paracoccus aminophilus JCM 7686, containing primary and secondary chromids. BMC Genomics. 2014;15Google Scholar
Bankevich A, Nurk S, Antipov D, Gurevich AA, Dvorkin M, Kulikov AS, et al. SPAdes: a new genome assembly algorithm and its applications to single-cell sequencing. J Comput Biol. 2012;19(5):455–77.View ArticlePubMedPubMed CentralGoogle Scholar
Coil D, Jospin G, Darling AE. A5-miseq: an updated pipeline to assemble microbial genomes from Illumina MiSeq data. Bioinformatics. 2015;31(4):587–9.View ArticlePubMedGoogle Scholar
Overbeek R, Olson R, Pusch GD, Olsen GJ, Davis JJ, Disz T, et al. The SEED and the rapid annotation of microbial genomes using subsystems technology (RAST). Nucleic Acids Res. 2014;42(Database issue):D206–14.View ArticlePubMedGoogle Scholar
Carver T, Harris SR, Berriman M, Parkhill J, McQuillan JA. Artemis: an integrated platform for visualization and analysis of high-throughput sequence-based experimental data. Bioinformatics. 2012;28(4):464–9.View ArticlePubMedGoogle Scholar
Altschul SF, Gish W, Miller W, Myers EW, Lipman DJ. Basic local alignment search tool. J Mol Biol. 1990;215(3):403–10.View ArticlePubMedGoogle Scholar
Galardini M, Biondi EG, Bazzicalupo M, Mengoni A. CONTIGuator: a bacterial genomes finishing tool for structural insights on draft genomes. Source Code Biol Med. 2011;6:11.View ArticlePubMedPubMed CentralGoogle Scholar
Carver TJ, Rutherford KM, Berriman M, Rajandream MA, Barrell BG, Parkhill J. ACT: the Artemis comparison tool. Bioinformatics. 2005;21(16):3422–3.View ArticlePubMedGoogle Scholar
Carver T, Thomson N, Bleasby A, Berriman M, Parkhill J. DNAPlotter: circular and linear interactive genome visualization. Bioinformatics. 2009;25(1):119–20.View ArticlePubMedGoogle Scholar
Sullivan MJ, Petty NK, Beatson SA. Easyfig: a genome comparison visualizer. Bioinformatics. 2011;27(7):1009–10.View ArticlePubMedPubMed CentralGoogle Scholar
Wheatcroft R, McRae DG, Miller RW. Changes in the Rhizobium meliloti genome and the ability to detect Supercoiled plasmids during Bacteroid development. Mol Plant-Microbe Interact. 1990;3(1):9–17.View ArticleGoogle Scholar
Rutherford K, Parkhill J, Crook J, Horsnell T, Rice P, Rajandream MA, et al. Artemis: sequence visualization and annotation. Bioinformatics. 2000;16(10):944–5.View ArticlePubMedGoogle Scholar
Dautremepuits C, Fortier M, Croisetiere S, Belhumeur P, Fournier M. Modulation of juvenile brook trout (Salvelinus fontinalis) cellular immune system after Aeromonas salmonicida challenge. Vet Immunol Immunopathol. 2006;110(1–2):27–36.View ArticlePubMedGoogle Scholar