Research article

Open Access
Draft sequencing and assembly of the genome of the world's largest fish, the whale shark: Rhincodon typus Smith 1828
Received: 10 January 2017
Accepted: 6 July 2017
Published: 14 July 2017
The Erratum to this article has been published in BMC Genomics 2017 18:755
Abstract
Background
The whale shark (Rhincodon typus) has by far the largest body size of any elasmobranch (shark or ray) species. Therefore, it is also the largest extant species of the paraphyletic assemblage commonly referred to as fishes. As both a phenotypic extreme and a member of the group Chondrichthyes – the sister group to the remaining gnathostomes, which includes all tetrapods and therefore also humans – its genome is of substantial comparative interest. Whale sharks are also listed as an endangered species on the International Union for Conservation of Nature's Red List of threatened species and are of growing popularity as both a target of ecotourism and as a charismatic conservation ambassador for the pelagic ecosystem. A genome map for this species would aid in defining effective conservation units and understanding global population structure.
Results
We characterised the nuclear genome of the whale shark using next generation sequencing (454, Illumina) and de novo assembly and annotation methods, based on material collected from the Georgia Aquarium. The data set consisted of 878,654,233 reads, which yielded a draft assembly of 1,213,200 contigs and 997,976 scaffolds. The estimated genome size was 3.44Gb. As expected, the proteome of the whale shark was most closely related to the only other complete genome of a cartilaginous fish, the holocephalan elephant shark. The whale shark contained a novel Toll-like-receptor (TLR) protein with sequence similarity to both the TLR4 and TLR13 proteins of mammals and TLR21 of teleosts. The data are publicly available on GenBank, FigShare, and from the NCBI Short Read Archive under accession number SRP044374.
Conclusions
This represents the first shotgun elasmobranch genome and will aid studies of molecular systematics, biogeography, genetic differentiation, and conservation genetics in this and other shark species, as well as providing comparative data for studies of evolutionary biology and immunology across the jawed vertebrate lineages.
Keywords
FishWhole genome shotgunWhale shark Rhincodon typus ElasmobranchGnathostomataVertebrate
Background
Until relatively recently, little was known about the biology of the largest shark in the world, the circum-tropical, filter-feeding whale shark,
Rhincodon typus
Smith 1828 [
1
–
4
] (Fig.
1
). Advances in tagging technology, combined with the discovery of several reliable, seasonal, near-coastal aggregations in different parts of the world [
3
,
5
,
6
] have spurred a rapid expansion in whale shark science since 2000. These efforts have been further enhanced by the three International Whale Shark Conferences (the most recent collected at [
7
]), which have served to promote collaboration on what is otherwise a fairly intractable species to study, due to its size and oceanic habits. The maintenance of a collection of whale sharks at Georgia Aquarium has provided research opportunities not previously available in the natural setting of whale sharks, including the ability to collect samples suitable for genome sequencing.
R. typus
is an excellent model for comparative genomic study because cartilaginous fishes form the sister group to the remaining gnathostomes, because it represents a phenotypic extreme in body size among sharks and fishes generally, and because it is a charismatic subject of ecotourism, yet globally vulnerable to extinction.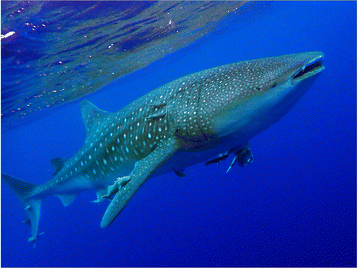 The biology of the whale shark has been previously reviewed [1–4]. The whale shark was first described by Smith in 1828 based on a specimen from South Africa [8]. By far the largest species of fish, the largest confirmed size of a whale shark is 18.8 m in total length [9]. The whale shark is a pelagic filter-feeder and the only member of the family Rhincodontidae, whereas other members of the order Orectolobiformes – to which the species belongs – are benthic, bottom-feeding sharks. The whale shark also has the highest fecundity of any shark, with a single individual found bearing over three hundred developing embryos [10]. This species is primarily found in warm oceanic waters, though it is capable of diving to depths where waters approach freezing temperatures [11]. The whale shark is listed on the International Union for Conservation of Nature's Red List of threatened species as endangered [12], and is a flagship species in marine conservation. Though the whale shark is targeted by fisheries in several countries and is occasionally taken as bycatch, much of the exploitation of whale sharks is for ecotourism around the world, rather than as a food source [3].
There are few publications on the genetics and genomics of whale sharks. Some of the first efforts at discriminating substructure in the global population were based on microsatellite [13] or mitochondrial control loop [14] sequences and failed to detect as much global population structure as might be expected. In a recent review incorporating natural history data, Sequeira et al. [15] concluded that whale sharks are part of a single global metapopulation. These studies have been contradicted by a more recent paper that found distinct genetic differences between Atlantic and Indo-Pacific whale sharks [16] based on additional microsatellite loci. Alam et al. [17] provided the first genomic exploration of the whale shark: the complete mitochondrial genome along with a phylogenomic comparison with representative members of the other major elasmobranch orders. The number of chromosomes in the whale shark genome has not yet been ascertained.
Rhincodon typus and other cartilaginous fishes are members of the Gnathostomata, or jawed vertebrates, a group which arose roughly halfway through the Palaeozoic era, and radiated to produce many of the groups of animals most familiar to the general public: sharks, bony fishes, amphibians, reptiles, birds and mammals, including humans. The transition from jawless to jawed vertebrates included several important adaptations that have defined the success of vertebrate life, including the adoption of antibody-based immune systems [18]. The closest relatives to the gnathostomes are jawless fishes, represented among extant taxa only by hagfish and lamprey [19]. Extant gnathostomes themselves are divided into two major clades: Chondrichthyes (cartilaginous fishes) and Osteichthyes (bony fishes and tetrapods). Cartilaginous fishes consist of holocephalans (ratfishes), and the elasmobranchs (sharks and rays). Comparative studies including cartilaginous fishes thus can provide insight into the origin and evolution of jawed vertebrates. Furthermore, cartilaginous fishes can be important model species for comparative studies of human evolution, including anatomy, physiology and immunology. Venkatesh and co-authors [18, 20–23] have explored the genomic basis of some of these adaptations in the elephant shark, Callorhinchus milii, a cartilaginous fish from the Holocephali; however, no elasmobranch species has had a complete nuclear genome published prior to this study. Mitochondrial phylogenetic analysis of the individual sequenced in this study was previously published [17]. Results recapitulated previously known relationships for the whale shark as a member of the order Orectolobiformes, with all five orectolobiform shark species forming a clade. This was congruent with a prior study with higher taxon sampling and fewer mitochondrial genes that placed the whale shark among orectolobiform sharks as the sister group to a clade formed by two species that represented the families Ginglystomatidae and Stegostomatidae [24].
In this short report we present the preliminary whole genome shotgun sequencing analysis of a R. typus male. The current data set has already been of use to researchers studying shark biology and the evolution of Gnathostomata. In future work, we will present a more complete genome assembly, which is currently in progress.
Conclusions
We pursued a strategy of primarily using cost-effective Illumina short read sequencing to produce a preliminary R. typus genomic dataset. This allowed us to maximize coverage of the genome with high quality data and give estimates of the genome size and extent of bacterial contamination of the source DNA (both unknown at the start of the project), and to provide what we believe is a quite complete, if fragmented, draft of the genome. De novo gene prediction and comparisons with other fish genomes suggest the gene content and phylogenetic relationships of the proteins were generally as expected of a cartilaginous fish. Future work will enhance the whale shark genome assembly using long reads using the Pacific Biosciences technology. The genome assembly will also be further enhanced by incorporating RNA-seq data to aid gene annotation, although technical and ethical constraints on obtaining samples from live animals may limit our work to archived tissues.
The genome sequence of an organism is now perhaps the single most important gateway to understanding its biology. We believe that despite the incomplete nature of the data, the draft sequence presented here will be a resource that can accelerate scientific investigation of the whale shark and of elasmobranchs in general. We have shown that the data encompasses almost all the current publicly-submitted whale shark nucleotide sequences. Although, many genes are likely split over two or more contigs, and the large number of putatively 'missing' proteins probably reflects this reality in the draft sequence. Some caution should therefore be used when concluding that a protein homolog is missing from these data. Nevertheless, the current DNA sequence can be mined for new genotyping tools for population genomics and the protein set can be compared intensively against known functions. The long term goals include understanding the genetic nature of the large body size of the whale shark, its metabolic adaptations to its planktonic diet, and the evolution of its immune system in a comparative context within the gnathostomes.
This public data set is not only for research but can also be a teaching tool. We used an intramural version of the Galaxy server in a basic bioinformatics analysis course for undergraduates at Emory University (three of whom are on this author list). Students were inspired to improve their bioinformatic skills by the opportunity to explore the vast dataset of this wonderful organism. There are surely many important discoveries that will come from further careful analysis of the genome sequence.
Abbreviations
COG/KOG:

Core ortholog group
JTT:

Jones-Taylor-Thornton (amino acid substitution matrix)
ML:

maximum likelihood
TLR:

Toll-like receptor
Declarations
Acknowledgements
We gratefully acknowledge the help and support of current and past members of the zoological operations and veterinary care teams at Georgia Aquarium, particularly Dr. Tim Mullican, Dr. Greg Bossart, Chris Coco, Chris Schreiber, Dr. Tonya Clauss, Helen Ellis, Tim Binder, Ray Davis, and Dr. Bruce Carlson. We also wish to acknowledge the valuable input of Jessica Peterson, Megan Cole, and Karin Fredrikson. Special thanks to Lex Nederbragt for serving as unofficial peer-reviewer.
Funding
The major funding from this project came from the Georgia Aquarium, with additional resources provided by Division of Infectious Diseases development funds to TDR. Coca Cola Inc. contributed towards establishing the Galaxy web server. Funding for equipment used at the Emory Genome Center was provided by the Georgia Research Alliance, Emory School of Medicine, Department of Human Genetics and the Atlanta Clinical and Translational Sciences Institute. The funders played no role in the scientific direction of the study or writing of the manuscript.
Availability of data and materials
The datasets generated and analyzed during the current study are publically available, including: the raw reads on the NCBI Short Read Archive (accession number SRP044374); genome assembly and proteome prior to exclusion of contigs below 200 bp on a Galaxy bioinformatic server; the genome assembly on GenBank (accession number LVEK00000000.1); the proteome on FigShare [53]; and additional scripts and supporting information have been placed on a public GitHub site [55].
Authors' contributions
TDR, RW, and ADMD conceived and designed the experiments. CPH performed the experiments. TDR, MT, RAP, SJJ, MTA, MA, RB, and JSV analyzed the data. HW and ADMD contributed reagents, materials, and analysis tools. TDR, ADMD, and MT wrote the manuscript. TDR, MT, SJJ, and ADMD prepared the figures. TDR, RAP, SJJ, MA, RB, JSV, CPH, MT, and ADMD reviewed drafts of the paper. All authors read and approved the final manuscript.
Ethics approval
Not applicable. Tissue samples were opportunistically collected in 2007 postmortem, prior to the start of the present study. No ethics approval or permissions were sought and received from Georgia Aquarium for collection, as they were unnecessary.
Consent for publication
Not applicable.
Competing interests
The authors declare that they have no competing interests.
Publisher's Note
Springer Nature remains neutral with regard to jurisdictional claims in published maps and institutional affiliations.
Open AccessThis article is distributed under the terms of the Creative Commons Attribution 4.0 International License (http://creativecommons.org/licenses/by/4.0/), which permits unrestricted use, distribution, and reproduction in any medium, provided you give appropriate credit to the original author(s) and the source, provide a link to the Creative Commons license, and indicate if changes were made. The Creative Commons Public Domain Dedication waiver (http://creativecommons.org/publicdomain/zero/1.0/) applies to the data made available in this article, unless otherwise stated.
Authors' Affiliations
(1)
Department of Medicine, Division of Infectious Diseases, Emory University School of Medicine, Atlanta, USA
(2)
Department of Human Genetics, Emory University School of Medicine, Atlanta, USA