Research article

Open Access
Identification of fasciclin-like arabinogalactan proteins in textile hemp (Cannabis sativa L.): in silico analyses and gene expression patterns in different tissues
Received: 7 April 2017
Accepted: 31 July 2017
Published: 20 September 2017
Abstract
Background
The fasciclin-like arabinogalactan proteins (FLAs) belong to the arabinogalactan protein (AGP) superfamily and are known to play different physiological roles in plants. This class of proteins was shown to participate in plant growth, development, defense against abiotic stresses and, notably, cell wall biosynthesis. Although some studies are available on the characterization of FLA genes from different species, both woody and herbaceous, no detailed information is available on the FLA family of textile hemp (Cannabis sativa L.), an economically important fibre crop.
Results
By searching the Cannabis genome and EST databases, 23 CsaFLAs have been here identified which are divided into four phylogenetic groups. A real-time qPCR analysis performed on stem tissues (isolated bast fibres and shivs sampled at three heights), hypocotyls (6-9-12-15-17-20 days-old), whole seedlings, roots, leaves and female/male flowers of the monoecious fibre variety Santhica 27, indicates that the identified FLA genes are differentially expressed. Interestingly, some hemp FLAs are expressed during early phases of fibre growth (elongation), while others are more expressed in the middle and base of the stem and thus potentially involved in secondary cell wall formation (fibre thickening). The bioinformatic analysis of the promoter regions shows that the FLAs upregulated in the younger regions of the stem share a conserved motif related to flowering control and regulation of photoperiod perception. The promoters of the FLA genes expressed at higher levels in the older stem regions, instead, share a motif putatively recognized by MYB3, a transcriptional repressor belonging to the MYB family subgroup S4.
Conclusions
These results point to the existence of a transcriptional network fine-tuning the expression of FLA genes in the older and younger regions of the stem, as well as in the bast fibres/shivs of textile hemp. In summary, our study paves the way for future analyses on the biological functions of FLAs in an industrially relevant fibre crop.
Keywords
Fasciclin-like arabinogalactan proteins
Bast fibres
Cell wall
RT-qPCR
Cannabis sativa
Background
Arabinogalactan proteins (AGPs) are cell surface glycoproteins belonging to the hydroxyproline-rich glycoprotein superfamily ([1] and references therein) which are involved in many aspects of plant development, i.e. pattern formation, phytohormone interaction, tissue differentiation, reproduction, response to (a)biotic stresses, cell expansion and secondary cell wall deposition [2, 3]. These heavily glycosylated proteins are subdivided into four main classes: classical AGPs, AG peptides, Lys-rich AGPs, fasciclin-like AGPs (FLAs) [3–6].
FLAs are characterized by the occurrence of one or two AGP domains, as well as one or two fasciclin (FAS) domains [7]. FAS domains were first identified in the fruit fly Drosophila melanogaster and later found in many other organisms, from bacteria to higher plants to animals [5]. Although a consensus sequence for the FAS domains is lacking, two regions are highly conserved, named H1 and H2 (of ca. 10 amino acids) [5]. Additionally, most FLAs show an N-terminal signal peptide and a C-terminal glycosylphosphatidylinositol (GPI) membrane anchor [5, 7], mediating attachment to the cell surface.
FLAs constitute multigene families in plants: for example, 21 FLAs have been identified in thale cress, 24 in rice, 35 in poplar, 34 in wheat, 19 in cotton, 33 in chinese cabbage and 18 in eucalypt [5, 7–11]. Molecular studies focused on FLAs are important, since they increase our understanding of the molecular functions of this protein family: the available literature on the topic has shown that FLAs in plants are not only related to tissue-specific functions, but also involved in generalized responses to environmental constraints, both biotic and abiotic [3, 7, 11, 12].
Additionally, a strong body of evidence in the literature has highlighted the importance of FLAs in regulating aspects linked to cell wall biosynthesis and, more generally, to stem mechanics in both herbaceous and woody species, as well as fibre growth. For instance, in Arabidopsis, insertional mutants of Atfla11 and Atfla12 and Atfla11/fla12 double mutants show modified stem mechanics, due to a decrease in cellulose, arabinose and galactose in secondary cell walls [12]. Likewise, in Eucalyptus, FLAs belonging to the subgroup A [5, 12] are involved in stem mechanics [11]: in particular EgrFLA2 is linked to cellulose microfibril angle. In poplar, antisense expression of PtFLA6 alters secondary cell wall composition in the xylem, by affecting the biosynthesis of lignin and cellulose [13]. In cotton, GhFLA1 is involved in fibre initiation and elongation: its overexpression increases fibre length, while its silencing results in shorter fibres with an altered primary cell wall composition [14]. In the fibre crop flax, some FLAs were shown to be upregulated at the snap point, a physical region marking the transition from elongation to cell wall thickening, hence confirming the potential function of these genes in the regulation of fibre development [15, 16].
Textile hemp (
Cannabis sativa
L.) is an economically important bast fibre-producing crop, with several applications in industry, namely the biocomposite, textile, construction sector [
17
]. This plant is not only important as a multi-purpose crop, but also useful for fundamental studies centered on cell wall biosynthesis/remodeling [
18
], because its stem tissues show strong differences in cell types and cell wall composition [
19
,
20
]. The core of hemp stems (a.k.a hurd/shiv) is indeed woody, while the cortex harbors long gelatinous fibres, the bast fibres, with a high content in crystalline cellulose and poor in lignin [
21
]. The different stem heights correspond to distinctive stages of bast fibre development (from intrusive growth to thickening; Fig.
1a
). It is hence possible to study the mechanisms involved in the development of cellulosic and woody fibres by separating the stem tissues of the same plant. The cortex can be peeled from the hurds and the bast fibres can be separated from the surrounding parenchymatic cells with the use of 80% ethanol, a mortar and a pestle [
20
,
22
,
23
].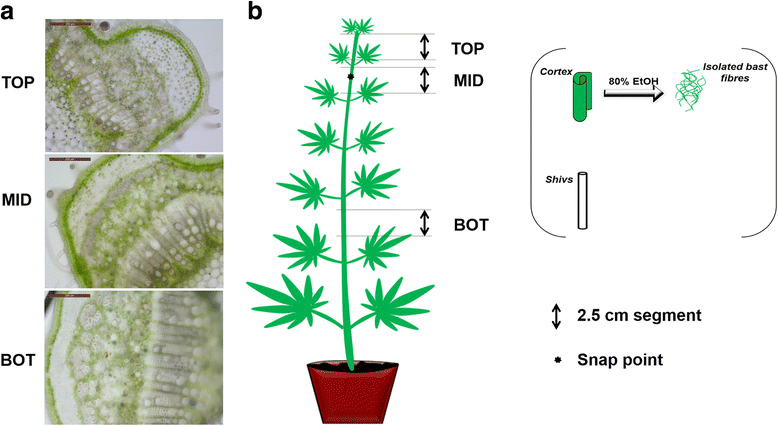 The molecular steps involved in the regulation of bast fibre initiation, development and intrusive growth comprise many still unexplored aspects [24–26]; hence an increased knowledge in these mechanisms would favor the development of biotechnological tools focused on bast fibre improvement.
In the light of the above-mentioned relationships between FLAs and cell wall-related processes and considering the industrial applications of C. sativa, we here sought to identify and study the expression patterns of hemp FLA genes in the different stem tissues, as well as in other organs. By using bioinformatics coupled to RT-qPCR, we show that some FLA genes are highly expressed in bast fibres. Moreover, we identify groups of FLAs, upregulated either at the top or the bottom of the stem, which share putative conserved elements in their promoters. Our study therefore lays the foundation to further molecular analyses on a unique family of proteins in an important herbaceous crop.
Discussion
The FLAs identified in C. sativa group into the previously described four phylogenetic classes (Fig. 2) [5]. A nomenclature of CsaFLAs is hereby also proposed which follows the Arabidopsis classification (i.e. when the phylogenetic tree highlighted clustering of a CsaFLA proteins with a specific AtFLA, the same number was assigned to C. sativa).
Within class A, the largest, it is possible to observe a separate clade represented by CsaFLA3-12-13-15-16-18-19 which is highly expressed at the snap point and in the older stem regions, both in the bast fibres and the shivs (Fig. 3). A subset of class A genes (CsaFLA3-9-11-13) was more expressed in the old hypocotyls (peaking at H17 with high values at H15 and H20). As previously shown [18], the hypocotyl undergoes secondary growth in H9 and later time-points. The phylogenetic position of this cluster of FLAs, together with their common expression pattern, might indicate a specific role in secondary growth. This group of genes may indeed represent hemp-specific single FAS domain FLAs specialized in secondary growth, in a manner analogous to what was previously shown in eucalypt and thale cress [11, 12]. Hemp is unfortunately recalcitrant to transformation, therefore homologous testing, as previously performed on e.g. eucalypt FLAs [11], is cumbersome. However heterologous testing in a more amenable system, e.g. Nicotiana tabacum, can confirm or refute the hypothesis.
It is here worth discussing also the phylogenetic position of CsaFLA11 in a clade grouping AtFLA11, EgrFLA2b and EgrFLA3b (Fig. 2). These genes were shown to affect stem mechanics, as well as cell wall architecture [11, 12]. The AtFLA11 transcript was detected in the xylem and interfascicular fibres in inflorescence stem, preceding the lignification of those two tissues [37]; CsaFLA11 also shows a gradual increase in expression towards the older regions of the stem and it is slightly more expressed in the older hypocotyl too (Fig. 5). This FLA represents another interesting candidate putatively involved in cell wall-related processes in textile hemp.
Within class C, CsaFLA4 and CsaFLA1 group together with the characterized orthologs from thale cress. AtFLA4 (SOS5) is involved in cell expansion [38] and AtFLA1 was shown to regulate root and shoot development in tissue culture [39]. CsaFLA8 was more expressed in the TOP region of the stem, as well as in H6, suggesting a role in elongating tissue. However, it remains to be shown whether the hemp genes are involved in the same regulatory networks as in Arabidopsis.
The expression of the 23 CsaFLAs was first investigated in the different tissues of the stem, because we wanted to identify those genes specifically associated with a tissue-type and a stem region. Among them, we would like to draw the reader's attention on the first group of genes, represented by CsaFLA2-6-24, because they show a different expression profile in the bast fibres and the shivs. The expression in the shivs shows a decrease from the top to the bottom of the stem, while in the bast fibres their expression peaks at the snap point. This is quite interesting if we consider that the snap point is the region marking a shift in the stem mechanical properties, as it determines the transition from cell elongation to thickening [27]. It was shown that the young stem regions of hemp at the vegetative stage of growth are characterized by the presence of ca. 66% glucose, while older regions have about 82%: this result confirms that during their transition from elongation to thickening, bast fibres require great amounts of glucose for the synthesis of cellulose [40]. The 3 FLAs may therefore be involved in cell wall-related processes occurring during this transition. Additionally, this is in agreement with the flax microarray data showing upregulation of certain FLAs around the snap point [15] and with the increased expression of poplar FLAs in tension wood, which, like bast fibres, is composed of a cellulosic G-layer [41, 42]. As previously discussed for poplar tension wood, specific FLAs with a GPI-anchor might be involved in the cytoskeleton-cell wall connections during fibre expansion/elongation [41]. This would be the case of CsaFLA2 and CsaFLA6, which possess a GPI-anchor (Additional file 5). In the hypocotyl, CsaFLA2 was significantly more expressed in H6 (Fig. 5). FLAs might also be involved in triggering a cellular signal inducing the formation of the G-layer, via the cleavage of their GlcNAc oligosaccharides by the action of chitinases [22, 41]. It was shown that in flax stems, specific chitinases are highly expressed in bast fibres and may regulate G-layer formation in these cell types [22]. Therefore, it is reasonable to assume that the concerted action of specific FLAs and chitinases may be involved in the transition from elongation to G-layer formation in hemp.
In group II and V are FLAs which, in the bast fibres, show a gradual decrease from the apical to the basal part of the stem and an increase in expression, respectively. A similar trend was observed in the hypocotyls: CsaFLA8 (belonging to the stem group II) was more expressed in H6; CsaFLA13 (belonging to the stem group V) was more expressed in H15, H17 and H20 (Fig. 5). In addition, the hypocotyl expression pattern of CsaFLA3 was similar to the one of CsaFLA13. Our study therefore identified specific FLAs likely involved in bast fibre elongation during intrusive growth (CsaFLA1-4-7-8-10-20-23) and others involved in secondary cell wall deposition during the thickening stage (CsaFLA3-12-13-15-16-18-19).
The expression of hemp FLAs was also investigated in other tissues, notably leaves, roots, male/female flowers and in seedlings (Fig. 4).
The genes belonging to group III in stem tissues (Fig. 3) are highly expressed in roots: within this cluster of FLAs are the orthologs of AtFLA7 and AtFLA11 (Fig. 2) for which a higher number of ESTs was retrieved in the roots of thale cress [5].
In reproductive organs, the RT-qPCR results show that some genes are highly expressed in male and female flowers. This suggests that some FLAs are involved in hemp inflorescence formation.
In seedlings, two genes showed higher expression, i.e. CsaFLA2 and 24 (Fig. 4). Notably, CsaFLA2 is the ortholog of AtFLA2 (Fig. 1), whose EST number is higher in Arabidopsis flower buds [5].
In order to investigate whether specific regulatory elements occurred in the promoters of the genes showing specific expression patterns in the stem tissues, we analyzed the genes from group I-II and V (Fig. 3). While for group I no conserved motifs could be obtained, 2 conserved sequences were found for group II and V (Table 2). A conserved motif recognized by the MADS box transcription factor SOC1 could be identified in the promoters of the genes upregulated in the apical stem regions: this finding suggests that they may be involved in a developmental program regulating the transition from vegetative to reproductive growth and/or the response to hormonal regulation (e.g. via gibberellin). In this respect it is noteworthy that in A. thaliana SOC1 was shown to control the annual growth habit [43]: soc1 ful mutants show indeed woody growth reminiscent of the perennial lifestyle. Hence the FLAs upregulated at the top of the stems might belong to a regulatory circuit controlling elongation and suppressing secondary growth.
The genes in group V show the presence of a conserved motif putatively recognized by MYB3, which is an R2R3 MYB transcriptional repressor belonging to subgroup S4 together with the characterized AtMYB4 [44]. MYB4 negatively regulates phenylpropanoid biosynthesis (more specifically, in thale cress it is a negative regulator of hydroxycinnamic acid metabolism and it exerts its silencing function by displacing the activators binding to the MYB motifs present in many promoters of genes involved in the phenylpropanoid metabolism; [44]). It is therefore possible that the identified element is involved in the coordination of phenylpropanoid biosynthesis in bast fibres and might regulate the hypolignification observed in these cells [45, 46]. In our recently-published transcriptomic dataset [47], we observed an upregulation of the SOC1 gene at the top (4-fold induction with respect to the bottom and 1.3-fold induction with respect to the middle) and MYB4 at the bottom (1.7-fold induction with respect to the top and 4.6-fold induction with respect to the middle). This result therefore strengthens the existence of a putative regulatory circuit (controlling, among other genes, the expression of CsaFLAs) at the top and bottom of adult hemp plants.
Conclusions
In conclusion, our work has identified (at least) 23 genes coding for FLAs in textile hemp, some of which specific to distinct stages of bast fibre development. Bioinformatics has highlighted the occurrence of conserved motifs in the promoters of genes upregulated either at the top or at the bottom of the stem. This finding points to the existence of a fine regulatory network controlling bast fibre elongation and cell wall composition. Future functional analyses carried out on heterologous systems will shed more light on the functions of the identified genes.
Declarations
Acknowledgements
The authors wish to thank Aude Corvisy and Laurent Solinhac for their technical support.
Funding
The Fonds National de la Recherche, Luxembourg, (Project CANCAN C13/SR/5774202), is gratefully acknowledged for financial support. The funding agency had no role in the design of the study, in the collection, analyses, or interpretation of data, in the writing of the manuscript, and in the decision to publish the results.
Availability of data and materials
All data generated or analysed during this study are included in this published article and its supplementary information files.
Authors' contributions
GG conceived and designed the experiments; LM-P performed the experiments; MB contributed to the RT-qPCR and bioinformatics analyses; KSS performed protein modeling; GG, LM-P, SL, MB, St.L, KSS and J-FH analyzed the data; GG, LM-P, SL, MB, St. L, KSS and J-FH wrote the paper. All authors read and approved the final manuscript.
Ethics approval and consent to participate
Not applicable.
Consent for publication
Not applicable.
Competing interests
In March 2017, GG has filed a patent ("Genetically engineering of plant fibres and plant thereof") describing the promoters of the FLA genes in hemp, which might potentially pose a competing interest. The patent is owned by the Luxembourg Institute of Science and Technology that has no affiliation to any commercial entity. The protection procedures of the associated intellectual property do not alter the adherence to BMC Genomics policies on sharing data and materials.
Publisher's Note
Springer Nature remains neutral with regard to jurisdictional claims in published maps and institutional affiliations.
Open AccessThis article is distributed under the terms of the Creative Commons Attribution 4.0 International License (http://creativecommons.org/licenses/by/4.0/), which permits unrestricted use, distribution, and reproduction in any medium, provided you give appropriate credit to the original author(s) and the source, provide a link to the Creative Commons license, and indicate if changes were made. The Creative Commons Public Domain Dedication waiver (http://creativecommons.org/publicdomain/zero/1.0/) applies to the data made available in this article, unless otherwise stated.
Authors' Affiliations
(1)
Environmental Research and Innovation (ERIN) Department, Luxembourg Institute of Science and Technology (LIST), Esch/Alzette, Luxembourg
(2)
Present address: Institut National de la Recherche Agronomique, Université de Lorraine, UMR 1136, Interactions Arbres-Microorganismes, Champenoux, France
(3)
Groupe de Recherche en Physiologie Végétale, Earth and Life Institute-Agronomy, Université catholique de Louvain, Louvain-la-Neuve, Belgium
(4)
Life Sciences Department, King Fahd University of Petroleum and Minerals (KFUPM), Dhahran, Saudi Arabia