Research article
Open Access
Temporally distinct transcriptional regulation of myocyte dedifferentiation and Myofiber growth during muscle regeneration
Received: 29 May 2017
Accepted: 23 October 2017
Published: 9 November 2017
Abstract
Background
Tissue regeneration requires a series of steps, beginning with generation of the necessary cell mass, followed by cell migration into damaged area, and ending with differentiation and integration with surrounding tissues. Temporal regulation of these steps lies at the heart of the regenerative process, yet its basis is not well understood. The ability of zebrafish to dedifferentiate mature "post-mitotic" myocytes into proliferating myoblasts that in turn regenerate lost muscle tissue provides an opportunity to probe the molecular mechanisms of regeneration.
Results
Following subtotal excision of adult zebrafish lateral rectus muscle, dedifferentiating residual myocytes were collected at two time points prior to cell cycle reentry and compared to uninjured muscles using RNA-seq. Functional annotation (GAGE or K-means clustering followed by GO enrichment) revealed a coordinated response encompassing epigenetic regulation of transcription, RNA processing, and DNA replication and repair, along with protein degradation and translation that would rewire the cellular proteome and metabolome. Selected candidate genes were phenotypically validated in vivo by morpholino knockdown. Rapidly induced gene products, such as the Polycomb group factors Ezh2 and Suz12a, were necessary for both efficient dedifferentiation (i.e. cell reprogramming leading to cell cycle reentry) and complete anatomic regeneration. In contrast, the late activated gene fibronectin was important for efficient anatomic muscle regeneration but not for the early step of myocyte cell cycle reentry.
Conclusions
Reprogramming of a "post-mitotic" myocyte into a dedifferentiated myoblast requires a complex coordinated effort that reshapes the cellular proteome and rewires metabolic pathways mediated by heritable yet nuanced epigenetic alterations and molecular switches, including transcription factors and non-coding RNAs. Our studies show that temporal regulation of gene expression is programmatically linked to distinct steps in the regeneration process, with immediate early expression driving dedifferentiation and reprogramming, and later expression facilitating anatomical regeneration.
Keywords
TranscriptomeRNA-sequencingCell reprogrammingZebrafishStem cellPolycombFibronectinChromatinEpigenetic
Background
The goal of regenerative medicine is to replace lost tissue with fully functional regenerated tissue following trauma or disease. Given their highly-specialized structure and function, skeletal muscles are particularly prone to tissue loss following disease or injury, with devastating effects on function and quality of life [1, 2]. Although humans do not have extensive muscle regeneration capabilities that persist beyond the embryonic stage, tissue regeneration is observed in other vertebrate lineages and has been well studied in both amphibian and piscine models [3–5].
Regeneration of lost muscle requires the generation of an adequate number of myocytes to match the lost tissue and provide replacement function. Accumulation of such a regenerative cell mass can occur via proliferative expansion of resident tissue stem cells (i.e. satellite cells; [6, 7]), recruitment of cells from outside the damaged tissue area, or dedifferentiation of residual cells into progenitor cells capable of robust proliferation and redifferentiation [8, 9]. Blastema formation is observed in both urodele amphibian leg regeneration models and fish fin regeneration models [10, 11] and appears to utilize all three regenerative pathways [3]. On the other hand, regeneration of zebrafish retina, bone, cartilage, heart, liver, and extraocular muscles (EOMs) primarily utilizes dedifferentiation of residual cells [8, 9, 12–15]. The ability to reprogram "post-mitotic" cells into dedifferentiated proliferating progenitor cells represents a particularly potent approach for adult tissue regeneration and an alternative or complementary method to stem cell-based techniques [16].
Zebrafish EOMs regenerate rapidly following tissue loss, with myocyte dedifferentiation leading to myoblast proliferation by 20–24 h post injury (hpi), and anatomic muscle regeneration followed by functional recovery within 8–10 days post injury (dpi) [8]. In order to understand the biological events that lead to reprogramming of a highly-specialized cell such as a "post-mitotic" multinucleated syncytial myocyte, we focused on temporally altered transcriptional events that occur at time points (9 and 18 hpi) ending just prior to cell cycle reentry by dedifferentiated myoblasts, which is observed at 20–24 hpi [8]. Aided by the relatively homogenous population of dedifferentiating cells within the remaining muscle and utilizing these pre-proliferative time points, we performed a comprehensive transcriptome analysis. We were particularly interested in the broad, network-like interactions expected to occur within the dynamic biological landscape of reprogramming cells [8, 17, 18].
We report that following a partial myectomy, genes encoding muscle differentiation and morphogenic programs are downregulated over time. At the same time, cellular metabolism is rewired to accommodate the new needs, while new protein synthesis, along with lysosomal and ubiquitin ligated proteolysis, is upregulated to reshape the cellular proteome. Programs related to DNA replication, repair, and chromosome condensation are similarly upregulated and prepare the cell to reenter the cell cycle. The rapid activation of epigenetic regulators of transcription likely reflects the genomic regulatory changes driving myocyte dedifferentiation. Based on this functional analysis, we formulated and tested the hypothesis that early-activated genes would be important for the early events of myocyte cellular reprogramming and dedifferentiation, while late-activated genes would regulate the later anatomic regeneration of the muscle but would not affect the initial reprogramming events. The results of our in vivo experiments reveal that myocyte dedifferentiation appears to depend on transcriptional and epigenetic regulation, with key roles for early-activated genes such as the Polycomb group factors ezh2 and suz12a. On the other hand, late-activated genes, such as fn1 (encoding fibronectin - an extracellular matrix protein involved in cell migration), are not required for cell reprogramming yet are necessary for tissue growth/elongation. These separate processes, and their distinct regulatory networks, provide critical insights into the regenerative process and could provide differential targets for harnessing de novo tissue regeneration therapeutically.
Discussion
Differentiated cells are marked by an epigenetic program that determines which genes are to be expressed or repressed in a genome-wide fashion [29–31]. The myocyte program involves expression of genes encoding sarcomeric proteins and repression of cell cycle genes and those associated with different, non-muscle tissue types (e.g. liver). Reprogramming a differentiated cell into a different identity, whether or not of similar cell lineage, would involve reprogramming every aspect of that cell's biology – its transcriptome, metabolome, and proteome. Myocytes are among the most specialized of cells and are considered "post-mitotic." Yet, in zebrafish EOMs, catastrophic muscle injury triggers rapid myocyte reprogramming (within 20 hpi) resulting in a large population of proliferating dedifferentiated myoblasts that repopulate and de novo regenerate the absent muscle [8, 19, 32]. This surprising discovery has provided a unique opportunity to study limited cellular reprogramming that maintains lineage restriction yet is capable of regenerating skeletal muscle de novo.
In order to understand the mechanism of myocyte reprogramming, we utilized a deep sequencing approach to characterize the early transcriptional changes that occur as post-mitotic myocytes reprogram into dedifferentiated myoblasts capable of proliferation. Two parallel strategies, GAGE analysis (KEGG pathways and GO terms) or K-means clustering followed by Panther GO term enrichment analysis, were used to functionally annotate all 6596 DEGs (Additional file 5: Figure S1). Broadly speaking, both strategies gave similar results, conferring reliability to our analyses. Our results reveal that myocyte dedifferentiation is marked by downregulation of muscle-specific programs, such as the sarcomeric apparatus and calcium homeostasis. Additionally, both parallel GO term analyses (GAGE and Panther enrichment analysis) revealed a downregulation of terms more broadly related to cellular differentiation and tissue or organ morphogenesis. The downregulation of pyruvate metabolism, oxidative phosphorylation, TCA cycle pathways, pyruvate metabolic processes, proton-transporting ATP synthase complexes, and mitochondrial ATP synthesis reflects a decrease in the need for mitochondrial oxidative capacity in dedifferentiating cells. This is similar to the processes of somatic and oncogenic cellular reprogramming to a pluripotent state in which reprogrammed cells undergo metabolic "rewiring" that reduces both mitochondrial content and oxidative phosphorylation capacity [33–37]. Interestingly, autophagy activation reduces mitochondrial content early in reprogramming [38] and, although our analysis did not find any significant autophagy-specific KEGG pathways or GO terms, we have previously shown that autophagy plays a key role in zebrafish muscle regeneration [32]. The absence of significant autophagy-specific KEGG pathways or GO terms is not surprising since, in this model, autophagy is regulated mainly at the protein level [32]. Notably, we found a consistent upregulation of terms related to lysosomal protein degradation – the last step of the autophagy process – including the lysosome KEGG pathway and the GO terms cysteine-type peptidase activity and lysosome organization.
In addition to the already discussed pathways and terms, enrichment analysis of unbiased k-means clustering expression profiles revealed several interesting GO terms. Enriched GO terms within "G: Late Upregulation" genes included DNA replication, chromosome condensation, and DNA biosynthesis, all of which are consistent with reprogramming cells preparing to reenter the cell cycle. The timing of upregulation within this profile (i.e. 18 hpi) correlates well with our published results showing that cell proliferation (EdU incorporation into DNA) begins by 20–24 hpi [8]. A recent bioinformatic analysis of zebrafish heart regeneration identified similar changes in energy metabolism, amino-acid biosynthesis and DNA replication linked to the initial proliferative response [39], indicating shared molecular mechanisms between these regenerative processes. The reacquisition of proliferative potential, importantly, represents the most fundamental aspect of the reprogramming process. Supporting this finding, pharmacological inhibition of the cell cycle with either bortozemid or 5-fluorouracil (Additional file 27: Figure S16) blocks the muscle-to-mesenchymal transition that drives EOM regeneration [8].
Terms related to mRNA processing, mRNA transport, and protein translation and modification were enriched in "C: Persistent Upregulation" genes (Fig. 4c) which were upregulated at 9 and 18 hpi. Additionally, genes only upregulated at 9 hpi ("F: Transient Upregulation", Fig. 4f) were related to transcription, rRNA maturation, tRNA processing, and epigenetic regulation of transcription. These findings indicate that the cells are preparing to synthesize a new set of proteins that, in conjunction with broad protein degradation, would allow the cell to perform the drastic cellular proteome changes that reprogramming requires [40]. Interestingly, the GO term "fin regeneration," enriched in "C: Persistent Upregulation" genes (Fig. 4c), was upregulated at 9 and 18 hpi, and included hdac1 (histone deacetylase 1) and smarca4a (SWI/SNF related, matrix associated, actin dependent regulator of chromatin, subfamily a, member 4a). These genes, along with GO terms related to epigenetic regulation of transcription, confirm the importance of chromatin-dependent gene expression changes during the reprogramming process.
Based upon functional annotations, we hypothesized that important initiators of dedifferentiation would belong to expression profile "F: Transient Upregulation", which peak at 9 hpi and return to control levels at 18 hpi, and that morpholino knockdown of these genes would both interfere with cell cycle reentry and impair the anatomic EOM regeneration. Profile "F: Transient Upregulation" candidates were ezh2, encoder of Polycomb group protein that broadly regulate epigenetic states [27]. Although delayed anatomic regeneration following Ezh2 knockdown supported the regulatory importance of profile "F: Transient Upregulation" genes, the true test remained the ability to affect cell cycle reentry within dedifferentiated myoblasts. Knockdowns of Ezh2 reduced the proportion of proliferating myoblasts, thus bolstering the importance of these and other dynamically expressed profile "F: Transient Upregulation" genes as "switch"-like regulators of EOM dedifferentiation leading to regeneration. In line with our results, mammalian EZH2 promotes proliferation by modifying chromatin conformation in models of pancreas [41], liver [42], and dental pulp regeneration [43]. Importantly, knockdown of the Ezh2 Polycomb partner Suz12a replicated Ezh2 knockdown results, thus confirming the relevance of epigenetic regulation in myocyte reprogramming. In addition to the discussed role in promoting cell cycle reentry, PCR2 factors may play an additional transient role repressing muscle identity since PRC2 factors maintain the chromatin state of muscle genes in a repressive conformation and must be degraded to allow myogenic differentiation [44].
We further hypothesized that genes with later activation (18 hpi) would affect post-reprogramming processes. Profile "G: Late Upregulation" included the ECM factor fn1a (fibronectin) whose knockdown, unlike those in profile "F: Transient Upregulation", resulted in a robust defect in anatomic regeneration with no effect on proliferation. Our results are supported by reports showing that fn1a was required for zebrafish heart regeneration but not for cardiomyocyte dedifferentiation and subsequent proliferation [45]. It was also found to be upregulated in microarray analyses of zebrafish heart [39, 46] and fin [47] regeneration, validating this transcriptomic assessment and suggesting the existence of common features among tissue regeneration models. Interestingly, fn1a was also identified in a correlation of fin regeneration genes with melanoma markers [48], highlighting again the similarities between regeneration and cancer. The data supports the hypothesis that while the regeneration process may take days, the transcriptional template for the entire process is determined at the outset of the regeneration process: early activated genes regulate initial reprogramming events, while late response genes regulate tissue growth. These findings reveal the temporal relationship that correlates transcriptional regulation with biological function.
Conclusion
We describe a transcriptome analysis of an in vivo dedifferentiation process during which myocytes reprogram to become myoblasts that regain the capacity to proliferate. Our analysis reveals a complex and coordinated process (Fig.
7
) that begins with downregulated expression of genes that confer muscle identity, significant changes in metabolic programs, coordinated activation of protein degradation that clears the sarcomere and other muscle-specific protein complexes, and the synthesis of new proteins that reshape the proteomic cellular profile. Simultaneously, activation of programs related to DNA replication, repair, and chromosome condensation, as well as of genes required for the G-to-S transition, ultimately leads to cell cycle reentry by reprogrammed myocytes and the formation of dedifferentiated myoblasts. The early and temporally regulated activation of genes related to epigenetic regulation of transcription likely drives the broad programmatic genomic changes required for myocyte dedifferentiation. We propose a mechanistic overview of the temporal orchestration of pathways involved in cellular reprogramming. We also assess the importance of early-activated chromatin remodeling factors (Ezh2 and Suz12a) during the dedifferentiation and cell cycle reentry of "post-mitotic" myocytes. On the other hand, late activated genes, like
fn1a
(encoding an extracellular matrix interacting protein), would regulate the anatomic growth of regenerating muscle tissue following cellular reprogramming.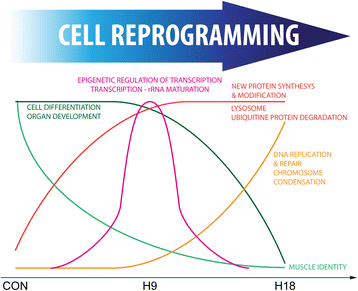 Understanding the molecular mechanism of cellular reprogramming that leads to lineage-restricted proliferating progenitor cells carries particular importance to the field of de novo tissue regeneration. Furthermore, the similarities between tissue regeneration and cancer (for example, cell reprogramming and dedifferentiation, proliferation and migration) may suggest a similar relationship between genes that control "stemness" and those that regulate metastasis. Future research will aim to uncover greater details of these similarities and relationships.
Abbreviations
Dpi:

days post injury
EdU:

5-ethynyl-2′-deoxyuridine
EOM:

Extraocular muscle
Hpi:

Hours post injury
LR:

Lateral rectus
MO:

Morpholino oligonucleotide
Declarations
Acknowledgments
We thank Leonard Zon, Max Wicha, Peter Hitchcock, and Brian Magnuson for helpful discussions. We thank Amy Stevenson, Amy Robbins, Alyssa Benson, and Chitra Parthasarathy for their expertise in zebrafish husbandry, Kevin Wheelock for his assistance with testing RNA isolation methods, Christina Tingle for her critical reading of the manuscript, and the UM DNA Sequencing and Bioinformatics Core for technical advice.
Funding
This study was supported by a Physician-Scientist Award from RPB and grant R01 EY022633 from the NEI of the NIH (AK). This research utilized the Vision Research Core (P30 EY007003) and the Cancer Center Research Core (P30 CA046592) at the University of Michigan. AK is supported by the Mrs. William Davidson Emerging Scholar Award from the A. Alfred Taubman Medical Research Institute. The Zebrafish International Resource Center is supported by grant P40 RR012546 from the NIH NCRR. Funders had no role in study design, data collection and analysis, decision to publish, or manuscript preparation.
Availability of data and materials
The sequencing data from this study have been submitted to the NCBI Gene Expression Omnibus (GEO; http://www.ncbi.nlm.nih.gov/geo/) under accession number GSE92489.
Authors' contributions
AS-V, PEK and AK conceived the study. KWL and AS-V supervised processing of raw RNA-seq reads and initial RNA-seq analysis. KWL, AS-V and PEK were responsible for bioinformatics analysis and interpretation of RNA-seq data. KWL performed the phenotypic validation experiments. PEK adapted the decalcification protocol to zebrafish heads and was responsible for the laser microdissection of experimental tissue and RNA isolation for sequencing. KWL and AS-V contributed to tissue collection. JAC contributed to data analysis and interpretation, and to the writing of the manuscript. KWL, AS-V, PEK and AK were responsible for data analysis, interpretation, and writing the manuscript. All authors read and approved submission of this manuscript.
Ethics approval
All animal experiments were performed in compliance with the Association for Research in Vision and Ophthalmology Statement for the Use of Animals in Ophthalmic and Vision Research and approved by the University of Michigan Committee on the Use and Care of Animals, protocol 06034.
Consent for publication
N/A – no human participants.
Competing interests
The authors declare no competing financial interests.
Publisher's Note
Springer Nature remains neutral with regard to jurisdictional claims in published maps and institutional affiliations.
Open AccessThis article is distributed under the terms of the Creative Commons Attribution 4.0 International License (http://creativecommons.org/licenses/by/4.0/), which permits unrestricted use, distribution, and reproduction in any medium, provided you give appropriate credit to the original author(s) and the source, provide a link to the Creative Commons license, and indicate if changes were made. The Creative Commons Public Domain Dedication waiver (http://creativecommons.org/publicdomain/zero/1.0/) applies to the data made available in this article, unless otherwise stated.
Authors' Affiliations
(1)
Department of Ophthalmology and Visual Sciences, Kellogg Eye Center, University of Michigan, Ann Arbor, USA
(2)
Department of Biologic and Materials Sciences, School of Dentistry, University of Michigan, Ann Arbor, USA
(3)
Department of Environmental Health Sciences, School of Public Health, University of Michigan, Ann Arbor, USA
(4)
University of Michigan Comprehensive Cancer Center, Ann Arbor, USA
(5)
Department of Nutritional Sciences, School of Public Health, University of Michigan, Ann Arbor, USA