Research article
Open Access
De novo transcriptome assembly, annotation and comparison of four ecological and evolutionary model salmonid fish species
Received: 12 June 2017
Accepted: 11 December 2017
Published: 8 January 2018
The Correction to this article has been published in BMC Genomics 2018 19:448
Abstract
Background
Salmonid fishes exhibit high levels of phenotypic and ecological variation and are thus ideal model systems for studying evolutionary processes of adaptive divergence and speciation. Furthermore, salmonids are of major interest in fisheries, aquaculture, and conservation research. Improving understanding of the genetic mechanisms underlying traits in these species would significantly progress research in these fields. Here we generate high quality de novo transcriptomes for four salmonid species: Atlantic salmon (Salmo salar), brown trout (Salmo trutta), Arctic charr (Salvelinus alpinus), and European whitefish (Coregonus lavaretus). All species except Atlantic salmon have no reference genome publicly available and few if any genomic studies to date.
Results
We used paired-end RNA-seq on Illumina to generate high coverage sequencing of multiple individuals, yielding between 180 and 210 M reads per species. After initial assembly, strict filtering was used to remove duplicated, redundant, and low confidence transcripts. The final assemblies consisted of 36,505 protein-coding transcripts for Atlantic salmon, 35,736 for brown trout, 33,126 for Arctic charr, and 33,697 for European whitefish and are made publicly available. Assembly completeness was assessed using three approaches, all of which supported high quality of the assemblies: 1) ~78% of Actinopterygian single-copy orthologs were successfully captured in our assemblies, 2) orthogroup inference identified high overlap in the protein sequences present across all four species (40% shared across all four and 84% shared by at least two), and 3) comparison with the published Atlantic salmon genome suggests that our assemblies represent well covered (~98%) protein-coding transcriptomes. Thorough comparison of the generated assemblies found that 84-90% of transcripts in each assembly were orthologous with at least one of the other three species. We also identified 34-37% of transcripts in each assembly as paralogs. We further compare completeness and annotation statistics of our new assemblies to available related species.
Conclusion
New, high-confidence protein-coding transcriptomes were generated for four ecologically and economically important species of salmonids. This offers a high quality pipeline for such complex genomes, represents a valuable contribution to the existing genomic resources for these species and provides robust tools for future investigation of gene expression and sequence evolution in these and other salmonid species.
Keywords
SalmonidsTranscriptomeRNA-seqAnnotationBLASTGene Ontology (GO) analysisBUSCOOrthoFinder
Background
Salmonid fishes are globally recognised for their economic and ecological value. Several species, particularly from the genera Salmo, Onchorhynchus and Salvelinus, contribute significantly to the economy through aquaculture, wild stock fisheries and recreational fishing, and to the environment via their promotion of ecosystem function and biodiversity [1, 2]. In addition, salmonids exhibit exceedingly high levels of diversity in their life histories, behaviour, morphology and physiology, with patterns of trait variation often replicated within and across species, as well as across different freshwater systems [3–7]. This makes salmonids particularly interesting in the context of fundamental and applied research on intra- and inter-specific diversity in morphology, physiology and ecology.
To drive this research forward, we need to understand the genetic basis associated with ecological and evolutionary processes in salmonids. Genetic studies of salmonids are complicated by a whole genome duplication (WGD) event that occurred in their common ancestor approximately 80–100 Mya (Fig.
1
; [
8
–
12
]). Nevertheless, several important resources have been established through the efforts of consortia such as cGRASP (Consortium for Genomic Research on All Salmonids Program,
http://www.sfu.ca/cgrasp/index.html
), ICSASG (International Collaboration to Sequence the Atlantic Salmon Genome), and SalmonDB (
http://salmondb.cmm.uchile.cl
). These include expressed sequence tag (EST) databases, microarray gene expression platforms, and SNP arrays. Consortia efforts have generated extensive EST databases for Atlantic salmon (
Salmo salar
) and rainbow trout (
Oncorhynchus mykiss
) [
13
–
18
], as well as on a smaller scale for other salmonid species such as chinook salmon (
Oncorhynchus tshawytscha
), sockeye salmon (
Oncorhynchus nerka
) and lake whitefish (
Coregonus clupeaformis
) [
13
]. cGRASP have also generated dense microarray (44 K oligo array) and SNP-chip (~130 K) platforms for Atlantic salmon [
19
–
23
].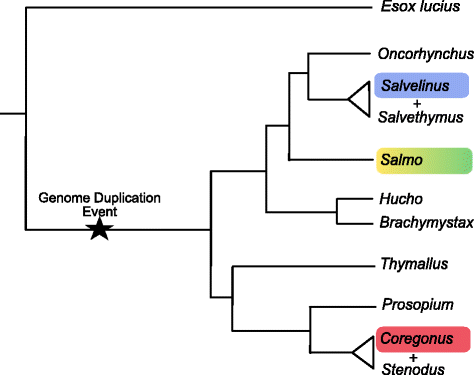 A further major advance in salmonid genomic research, promoted by consortia efforts, is the recent publication of reference genomes for rainbow trout [10] and Atlantic salmon [12]. The release of these reference genomes presents exciting opportunities for tackling key topics in ecological, evolutionary and fisheries research. In addition, they provide a solid platform for generating genomic resources for other salmonid species. The latter point forms the primary objective of the FAASG (Functional Annotation of All Salmonid Genomes), a recent initiative developed by the ICSASG, which aims to generate functionally annotated resources for nine species of salmonids and integrate data generated from within the wider research community [24]. Rapid advances in next-generation sequencing (NGS) technologies and with significant reductions in cost have made high-throughput RNA sequencing of salmonids more accessible. RNA-Seq methods allow genome-wide investigation of the transcriptome, providing an in-depth overview of transcript sequence and expression profiles [25–28]. Improved de novo assembly methods enable robust generation of a reference transcriptome and offer an important alternative to genome reference mapping [28–30]. Thus data generated as part of small-scale projects, such as the four species transcriptome resources presented in the current study, provide a valuable contribution to the development of community resources.
Given that there is currently no reference genome available for the vast majority of salmonids, transcriptomes are key to facilitating research on genomic variation and expression. Efforts by independent salmonid research groups have generated de novo transcriptome assemblies for Kokanee salmon (Oncorhynchus nerka: 11,085 transcripts, [31]), lake whitefish (Coregonus clupeaformis: 77,797 transcripts [32]), coho salmon (Oncorhynchus kisutch: 43,228 transcripts [33]), and Arctic charr (Salvelinus alpinus: 34,690 transcripts [34]). Furthermore, the recent release of the PhyloFish database (http://phylofish.sigenae.org/index.html) represents another major contribution, with the generation of transcriptomic resources for 15 fish species, of which six are salmonids: grayling (Thymallus thymallus), lake whitefish (Coregonus clupeaformis), European whitefish (Coregonus lavaretus), brown trout (Salmo trutta), rainbow trout (Oncorhynchus mykiss) and brook trout (Salvelinus fontinalis), with 66,996 to 78,415 transcripts per species [35]. The high number of transcripts often assembled for salmonids may be due to the additional whole genome duplication event that occurred in salmonids but it is also possible that redundant or fragmented transcripts inflate some assemblies [33, 34]. Assembly filtering methods are key to generating high-quality transcriptomic references because this will in turn optimise subsequent analyses, such as differential gene expression, allele-specific expression, SNP calling, and sequence evolution [36].
In the current study, we generate comprehensive reference transcriptomes for four salmonid species: Atlantic salmon (Sm. salar), brown trout (Sm. trutta), Arctic charr (Sv. alpinus) and European whitefish (C. lavaretus) (Fig. 1). We assembled our transcriptomes using well established de novo methods to avoid any bias in the initial construction that might have been introduced by a genome-guided approach, given the varying degrees of phylogenetic divergence of our focal species to the two salmonid species for which reference genomes are currently available, rainbow trout [10] and Atlantic salmon [12]. We also conduct a thorough comparison of the de novo assemblies generated for these four species, providing valuable insight into the level of sequence similarity and divergence between salmonids of varying phylogenetic proximity. Furthermore, by comparing across four closely related taxa we were able to robustly distinguish the presence of orthologous and paralogous sequences in our transcriptomes. Finally, we apply several methods to assess assembly completeness, including a comparative analysis of the current assemblies against the published reference genome for Atlantic salmon, and other reference transcriptomes available. The new salmonid transcriptomes we present and characterise here make an important contribution to the currently available genomic resources for salmonids, facilitating future analyses and downstream applications of genome annotation, gene expression, and sequence evolution.
Conclusions
This study presents the release of new protein-coding transcriptomes for four ecologically and economically important salmonids; Atlantic salmon, brown trout, Arctic charr and European whitefish. As such, this research represents an important contribution to the existing genomic resources for salmonid taxa. Furthermore, we provide a comprehensive overview and characterization of the generated transcriptomes, as well as presenting a comparison across these four species. The marked level of continuity and completeness of the transcriptomes is highly supported by several methods of quantitative and qualitative assessment. The thorough optimisation performed will facilitate more efficient and accurate future analyses and downstream applications on gene expression and sequence evolution. Therefore, the current transcriptomes provide robust resources for future genomic investigation in these species, and additionally provide valuable tools, which can be used to inform comparisons on other salmonid species of evolutionary, ecological and economic interest.
Abbreviations
BLAST:

Basic local alignment search tool
bp:

base pair
BUSCO:

Benchmarking set of Universal Single-Copy Orthologs
GO:

Gene ontology
NCBI:

National Centre for Biotechnology Information
ORF:

Open reading frame
RIN:

RNA integrity number
WGD:

whole genome duplication
Declarations
Acknowledgements
We thank Alex Lyle, Stuart Wilson, Simon McKelvey, and Oliver Hooker for their valuable contributions to generating, rearing and sampling of the specimens used in this study. This research was funded by the BBSRC-Westbio DTP studentship awarded to MC with CEA and KRE (BB/J013854/1), Wellcome Trust-Glasgow Polyomics ISSF Catalyst to KRE (Wellcome Trust [097821/Z/11/Z]), and Marie Curie CIG 321999 to KRE.
Availability of data and materials
The final transcriptome assemblies are available from the NCBI transcriptome shotgun assembly (TSA) database. Raw sequence data are available through the NCBI sequence read archive (SRA) database. TSA and SRA accessions number for the four assemblies are given in Additional file 1: Table S1.
Authors' contributions
MC reared and sampled the specimens used in the study, executed the bioinformatics pipelines, performed data analysis and drafted the manuscript. AY contributed to the bioinformatics analysis and advised on the project. JJA assembled the sequence data and constructed the initial assemblies. CEA contributed to experimental design, acquired and/or collected samples, and led fish rearing. KRE acquired and /or collected samples. PH generated RNAseq data and assessed quality and contributed to making the initial assemblies. KRE and PH conceived and supervised the study. AY and KRE contributed to drafting the manuscript. All authors read, commented on and approved the final version of the manuscript.
Ethics approval
The experiment was conducted under Animal (Scientific Procedures) Act 1986 under Home Office licence PPL 60/41/91 granted to CEA for which ethical approval was granted from the University of Glasgow Ethics Committee. Killing of vertebrates using a "Schedule 1" methods does not need specific additional ethical approval in the UK.
Consent for publication
Not applicable.
Competing interests
The authors declare that they have no competing interests.
Publisher's Note
Springer Nature remains neutral with regard to jurisdictional claims in published maps and institutional affiliations.
Open AccessThis article is distributed under the terms of the Creative Commons Attribution 4.0 International License (http://creativecommons.org/licenses/by/4.0/), which permits unrestricted use, distribution, and reproduction in any medium, provided you give appropriate credit to the original author(s) and the source, provide a link to the Creative Commons license, and indicate if changes were made. The Creative Commons Public Domain Dedication waiver (http://creativecommons.org/publicdomain/zero/1.0/) applies to the data made available in this article, unless otherwise stated.
Authors' Affiliations
(1)
Institute of Biodiversity, Animal Health & Comparative Medicine, College of Medical, Veterinary & Life Sciences, University of Glasgow, Glasgow, UK
(2)
Glasgow Polyomics, Wolfson Wohl Cancer Research Centre, University of Glasgow, Glasgow, UK
(3)
Scottish Centre for Ecology and the Natural Environment, University of Glasgow, Rowardennan, UK
(4)
Present Address: Fios Genomics Ltd., Nine Edinburgh Bioquarter, Edinburgh, UK
(5)
Institute of Molecular, Cell & Systems Biology, College of Medical, Veterinary & Life Sciences, University of Glasgow, Glasgow, UK