Research article

Open Access
Slow darkening of pinto bean seed coat is associated with significant metabolite and transcript differences related to proanthocyanidin biosynthesis
Received: 1 November 2017
Accepted: 14 February 2018
Published: 16 April 2018
Abstract
Background
Postharvest seed coat darkening in pinto bean is an undesirable trait resulting in a loss in the economic value of the crop. The extent of darkening varies between the bean cultivars and their storage conditions.
Results
Metabolite analysis revealed that the majority of flavonoids including proanthocyanidin monomer catechin accumulated at higher level in a regular darkening (RD) pinto line CDC Pintium than in a slow darkening (SD) line 1533–15. A transcriptome analysis was conducted to compare gene expression between CDC Pintium and 1533–15 and identify the gene (s) that may play a role in slow darkening processes in 1533–15 pinto.
RNAseq against total RNA from RD and SD cultivars found several phenylpropanoid genes, metabolite transporter genes and genes involved in gene regulation or modification to be differentially expressed between CDC Pintium and 1533–15.
Conclusion
RNAseq analysis and metabolite data of seed coat tissue from CDC Pintium and 1533–15 revealed that the whole proanthocyanidin biosynthetic pathway was downregulated in 1533–15. Additionally, genes that encode for putative transporter proteins were also downregulated in 1533–15 suggesting both synthesis and accumulation of proanthocyanidin is reduced in SD pintos.
Keywords
Pinto bean
Postharvest seed coat darkening
Proanthocyanidins
Transcriptome
Phenylpropanoids
Background
Postharvest darkening of seed coat is a concern for dry bean (Phaseolus vulgaris L.) producers worldwide. The seed coat of many beans such as pinto, cranberry and red beans darken during aging which affects their visual quality, leading to a decrease in consumer preference due to which the common bean producers, exporters and vendors encounter significant loss in crop value. Studies have indicated that the postharvest darkening phenomenon is attributed to a combination of environmental factors such as elevated temperatures, humidity, exposure to light [1, 2] as well as crop genetics [3, 4]. There are at least 3 phenotypes of bean seed coats that respond differently to aging as identified by various common bean breeding programs: regular darkening (RD), slow darkening (SD) and non-darkening (ND) [3].
Among the market classes of dry beans, postharvest seed coat darkening has been a major issue in pintos. CDC Pintium (RD) and 1533–15 (SD) are two pinto bean cultivars released by the Crop Development Centre at the University of Saskatchewan. These two pinto lines have been used in several studies to investigate the phenomenon of seed coat darkening. The seed coat of CDC Pintium turns from creamy white to brown within six months of normal storage whereas the seed coat of 1533–15 turns from creamy white to a stable light brown over the same duration of time (Fig.
1
). Arabidopsis mutants with changes in seed coat color and cranberry beans with susceptibility to postharvest darkening show alteration in proanthocyanidin content [
5
,
6
]. Proanthocyanidins are oligomeric flavonoids composed primarily of catechin and epicatechin units (Fig.
2
). Synthesis of proanthocyanidin shares the flavonoid pathway with anthocyanins until leucocyanidin/cyanidin. Genes involved in the conserved flavonoid pathway have been well characterized in Arabidopsis using
transparent testa
(
tt
) mutants [
7
,
8
]. A study comparing seed coat flavonoids in aged and non-aged seeds of CDC-Pintium and 1533–15 found significantly higher levels of proanthocyanidins in CDC-Pintium compared to 1533–15, where kaempferol was the main flavonol monomer in the aged and non-aged seed coats of both lines [
9
]. A kaempferol-catechin adduct was also identified, whose content increased during aging in CDC Pintium, suggesting that it is formed during the process of oxidation. These results were extended by a segregation analysis for RD and SD traits in recombinant inbred lines (RIL) developed from a cross between CDC Pintium and 1533–15 [
10
]. The SD phenotype was found to be significantly associated with reduced levels of kaempferol and polyphenol oxidase activity, the latter of which is responsible for the oxidation of polyphenols.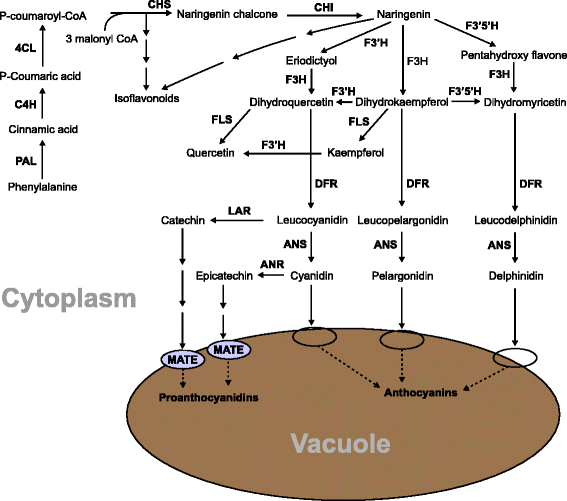 An attempt to study the genetics of postharvest seed coat darkening has suggested that this trait is controlled by at least two unlinked genes in dry beans. The J locus determines the tendency to darken such that a homozygous recessive (jj) results in an ND phenotype. The gene J is epistatic to a second major gene Sd, that determines how rapidly a seed coat will darken [3]. A simple sequence repeat (SSR) assay in a RIL mapping population generated from CDC Pintium and 1533–15 placed the Sd gene between the SSR markers Pvsd-1157 and Pvsd-1158 on chromosome 7 [11]. However, the possibility of this trait being regulated by a number of other genes cannot be overlooked. These genes could either be present on the same chromosome as the SSR markers or on different chromosomes. A detailed study of the seed coat transcriptome across seed developmental stages could shed light on the genetic factors affecting seed coat darkening.
Here we apply a transcriptomic analysis to identify genes that are expressed differentially in CDC Pintium and 1533–15 during seed coat development and investigate their potential role in the active accumulation of proanthocyanidins and/or their regulators. Genes that might have roles in the translocation of proanthocyanidin monomers/oligomers from cytoplasm to vacuoles or vacuoles to apoplast have also been identified, which potentially provides further insight into seed coat darkening and assists in the selection of candidate genes. Our study identifies several phenylpropanoid and transporter genes that are differentially expressed (DE) between RD and SD cultivars and may be key genes in determining postharvest seed coat darkening in pinto beans.
Conclusion
Our analysis of flavonoids in pinto bean immature seed coat showed that kaempferol and catechin were produced at significantly higher levels in CDC Pintium (RD) compared to 1533–15 (SD) line. The transcriptome analysis of developing seed coats in these pintos identified several highly DE phenylpropanoid and transporter genes. As shown in Fig.
8
, our combined analysis of metabolic and transcriptome data suggests a down-regulation of metabolic flux for reduced production of proanthocyanidin monomers and their transport in 1533–15 compared to CDC Pintium. However, these phenylpropanoid genes are not located on chromosome 7 and, therefore, are not the candidate
Sd
gene, except for the MATE transporter, which is outside of the interval defined by the SSR markers. It is possible that differential expression of structural genes or regulators was not detected due to developmental stage specific expression. Analysis of gene expression of the candidate genes during multiple stages of seed coat development may help identify the
Sd
gene if it is involved in flavonoid regulation. However, it is more likely that the regulator was not identified in RNAseq due to the lack of differential expression. Additionally, the potential role of the MATE transporter can be investigated to study how it affects the transport and accumulation of proanthocyanidin precursors into the vacuoles, thus affecting overall proanthocyanidin accumulation in RD and SD pinto bean lines.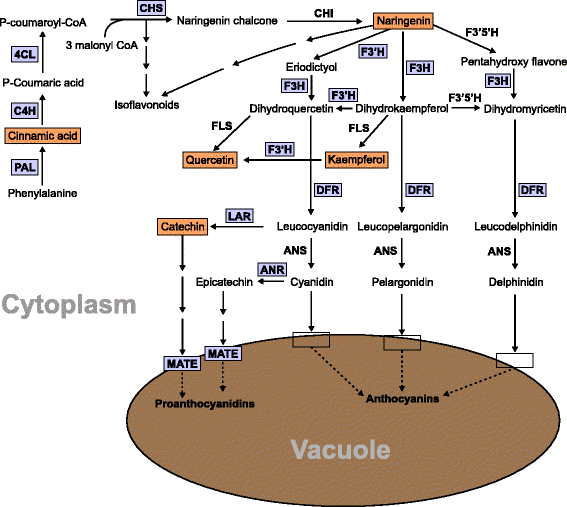 The dataset generated in this study provides a significant resource for further molecular and biochemical studies of postharvest seed coat darkening in pinto beans.
Abbreviations
CHS:

Chalcone synthase
DE:

Differential expression
GO:

Gene ontology
RD:

Regular darkening
SD:

Slow darkening
Declarations
Acknowledgements
The authors thank Ling Chen, Aga Pajak, Nishat Shayala Islam and Alex Molnar for technical assistance.
Funding
This research was supported by Agriculture and Agri-Food Canada's Abase grant to SD. Funding authority was not involved in both experimental design and execution of this study.
Availability of data and materials
All data generated during this study are included in this published article and its supplementary additional files. RNAseq data are available in the European Nucleotide Archive with the accession number PRJEB22986.
Authors' contributions
KD and RSA conducted the experiments, analyzed the data and wrote the draft manuscript, HRM conducted qPCR experiments, analyzed the data and involved in draft manuscript preparation, KB provided the germplasms and contributed to manuscript preparation, FM contributed to experimental design and manuscript preparation, and SD conceived and designed experiments, supervised all aspects of the project and prepared final draft manuscript. All authors have read and approved the manuscript.
Ethics approval and consent to participate
Pinto bean seeds used in this study was supplied by Dr. K. Bett, University of Saskatchewan. Plants were grown in the growth room for sample collection. The research conducted in this study required neither approval from an ethics committee, nor involved any human or animal subjects.
Consent for publication
Not applicable.
Competing interests
The authors declare that they have no competing interests.
Publisher's Note
Springer Nature remains neutral with regard to jurisdictional claims in published maps and institutional affiliations.
Open AccessThis article is distributed under the terms of the Creative Commons Attribution 4.0 International License (http://creativecommons.org/licenses/by/4.0/), which permits unrestricted use, distribution, and reproduction in any medium, provided you give appropriate credit to the original author(s) and the source, provide a link to the Creative Commons license, and indicate if changes were made. The Creative Commons Public Domain Dedication waiver (http://creativecommons.org/publicdomain/zero/1.0/) applies to the data made available in this article, unless otherwise stated.
Authors' Affiliations
(1)
London Research and Development Centre, Agriculture and Agri-Food Canada, London, Canada
(2)
Department of Biology, University of Western Ontario, London, Canada
(3)
Department of Plant Sciences, University of Saskatchewan, Saskatoon, Canada
References
Junk-Knievel DC, Vandenberg A, Bett KE. An accelerated postharvest seed-coat darkening protocol for pinto beans grown across different environments. Crop Sci. 2007;47(2)Google Scholar
Park D, Maga JA. Dry bean (Phaseolus vulgaris) color stability as influenced by time and moisture content. J Food Process Preserv. 1999;23(6):515–22.View ArticleGoogle Scholar
Elsadr HT, Wright LC, Peter Pauls K, Bett KE. Characterization of seed coat post harvest darkening in common bean (Phaseolus vulgaris L.). Theor Appl Genet. 2011;123(8):1467–72.View ArticlePubMedGoogle Scholar
Junk-Knievel DC, Vandenberg A, Bett KE. Slow darkening in pinto bean (Phaseolus vulgaris L.) seed coats is controlled by a single major gene. Crop Sci. 2008;48:189–93.View ArticleGoogle Scholar
Debeaujon I, Peeters AJ, Leon-Kloosterziel KM, Koornneef M. The TRANSPARENT TESTA12 gene of Arabidopsis encodes a multidrug secondary transporter-like protein required for flavonoid sequestration in vacuoles of the seed coat endothelium. Plant Cell. 2001;13(4):853–71.View ArticlePubMedPubMed CentralGoogle Scholar
Freixas Coutin JA, Munholland S, Silva A, Subedi S, Lukens L, Crosby WL, Pauls KP, Bozzo GG. Proanthocyanidin accumulation and transcriptional responses in the seed coat of cranberry beans (Phaseolus vulgaris L.) with different susceptibility to postharvest darkening. BMC Plant Biol. 2017;17:89.View ArticlePubMedPubMed CentralGoogle Scholar
Shirley BW, Kubasek WL, Storz G, Bruggemann E, Koornneef M, Ausubel FM, Goodman HM. Analysis of Arabidopsis mutants deficient in flavonoid biosynthesis. Plant J. 1995;8(5):659–71.View ArticlePubMedGoogle Scholar
Schoenbohm C, Martens S, Eder C, Forkmann G, Weisshaar B. Identification of the Arabidopsis thaliana Flavonoid 3'-Hydroxylase gene and functional expression of the encoded P450 enzyme. Biol Chem. 2000;381, 749Google Scholar
Beninger CW, Gu L, Prior DC, Junk A, Vandenberg A, Bett KE. Changes in polyphenols of the seed coat during the after-darkening process in pinto bean (Phaseolus vulgaris L.). J Agric Food Chem. 2005;53(20):7777–82.View ArticlePubMedGoogle Scholar
Marles MAS, Vandenberg A, Bett KE. Polyphenol oxidase activity and differential accumulation of polyphenolics in seed coats of pinto bean (Phaseolus vulgaris l.) characterize postharvest color changes. J Agric Food Chem. 2008;56(16):7049–56.View ArticlePubMedGoogle Scholar
Felicetti E, Song Q, Jia G, Cregan P, Bett KE, Miklas PN. Simple sequence repeats linked with slow darkening trait in pinto bean discovered by single nucleotide polymorphism assay and whole genome sequencing. Crop Sci. 2012;52(4):1600–8.View ArticleGoogle Scholar
Bruneau L, Chapman R, Marsolais F. Co-occurrence of both l-asparaginase subtypes in Arabidopsis: At3g16150 encodes a K+−dependent l-asparaginase. Planta. 2006;224(3):668–79.View ArticlePubMedGoogle Scholar
Schmutz J, McClean PE, Mamidi S, Wu GA, Cannon SB, Grimwood J, Jenkins J, Shu S, Song Q, Chavarro C, et al. A reference genome for common bean and genome-wide analysis of dual domestications. Nat Genet. 2014;46(7):707–13.View ArticlePubMedGoogle Scholar
Li H, Durbin R. Fast and accurate short read alignment with burrows–wheeler transform. Bioinformatics. 2009;25(14):1754–60.View ArticlePubMedPubMed CentralGoogle Scholar
Li H, Handsaker B, Wysoker A, Fennell T, Ruan J, Homer N, Marth G, Abecasis G, Durbin R, Subgroup GPDP. The sequence alignment/map format and SAMtools. Bioinformatics. 2009;25(16):2078–9.View ArticlePubMedPubMed CentralGoogle Scholar
Anders S, Huber W. Differential expression analysis for sequence count data. Genome Biol. 2010;11(10):R106.View ArticlePubMedPubMed CentralGoogle Scholar
Hu J, Huang Y, Xiong M, Luo S, Chen Y, Li Y. The effects of natural flavonoids on lipoxygenase-mediated oxidation of compounds with a benzene ring structure—a new possible mechanism of flavonoid anti-chemical carcinogenesis and other toxicities. Int J Toxicol. 2006;25(4):295–301.View ArticlePubMedGoogle Scholar
Sakakibara H, Honda Y, Nakagawa S, Ashida H, Kanazawa K. Simultaneous determination of all polyphenols in vegetables, fruits, and teas. J Agric Food Chem. 2003;51(3):571–81.View ArticlePubMedGoogle Scholar
Elsadr HT, Marles MAS, Caldas GV, Blair MW, Bett KE. Condensed tannin accumulation during seed coat development in five common bean genotypes. Crop Sci. 2015;55(6):2826–32.View ArticleGoogle Scholar
Kitamura S, Matsuda F, Tohge T, Yonekura-Sakakibara K, Yamazaki M, Saito K, Narumi I. Metabolic profiling and cytological analysis of proanthocyanidins in immature seeds of Arabidopsis Thaliana flavonoid accumulation mutants. Plant J. 2010;62(4):549–59.View ArticlePubMedGoogle Scholar
Zhao J, Pang Y, Dixon RA. The mysteries of proanthocyanidin transport and polymerization. Plant Physiol. 2010;153(2):437–43.View ArticlePubMedPubMed CentralGoogle Scholar
Morita Y, Kodama K, Shiota S, Mine T, Kataoka A, Mizushima T, Tsuchiya T. NorM, a putative multidrug efflux protein, of Vibrio parahaemolyticus and its homolog in Escherichia coli. Antimicrob Agents Chemother. 1998;42(7):1778–82.PubMedPubMed CentralGoogle Scholar
Otsuka M, Matsumoto T, Morimoto R, Arioka S, Omote H, Moriyama Y. A human transporter protein that mediates the final excretion step for toxic organic cations. Proc Natl Acad Sci U S A. 2005;102(50):17923–8.View ArticlePubMedPubMed CentralGoogle Scholar
Marinova K, Pourcel L, Weder B, Schwarz M, Barron D, Routaboul J-M, Debeaujon I, Klein M. The Arabidopsis MATE transporter TT12 acts as a vacuolar flavonoid/H(+)-antiporter active in proanthocyanidin-accumulating cells of the seed coat. Plant Cell. 2007;19(6):2023–38.View ArticlePubMedPubMed CentralGoogle Scholar
Rogers EE, Guerinot ML. FRD3, a member of the multidrug and toxin efflux family, controls iron deficiency responses in Arabidopsis. Plant Cell. 2002;14(8):1787–99.View ArticlePubMedPubMed CentralGoogle Scholar
Diener AC, Gaxiola RA, Fink GR. Arabidopsis ALF5, a multidrug efflux transporter gene family member, confers resistance to toxins. Plant Cell. 2001;13(7):1625–38.View ArticlePubMedPubMed CentralGoogle Scholar
Hahlbrock K, Scheel D. Physiology and molecular biology of phenylpropanoid metabolism. Annu Rev Plant Physiol Plant Mol Biol. 1989;40:347–69.View ArticleGoogle Scholar
Sanchez-Valdez I, Acosta-Gallegos JA, Ibarra-Perez FJ, Rosales-Serna R, Singh SP. Registration of 'pinto Saltillo' common bean. Crop Sci. 2004;44(5):1865–a-1866.View ArticleGoogle Scholar
Singh S, Terán H, Lema M, Dennis MF, Hayes R. Registration of slow darkening pinto bean germplasm line SDIP-1. Crop Sci. 2006;46(6):2726–7.View ArticleGoogle Scholar
Yin F, Pajak A, Chapman R, Sharpe A, Huang S, Marsolais F: Analysis of common bean expressed sequence tags identifies sulfur metabolic pathways active in seed and sulfur-rich proteins highly expressed in the absence of phaseolin and major lectins. BMC Genomics 2011, under review.Google Scholar
Hirsch CD, Springer NM, Hirsch CN. Genomic limitations to RNA sequencing expression profiling. The Plant journal : for cell and molecular biology. 2015;84(3):491–503.View ArticleGoogle Scholar