Research article
Open Access
Analysis of fine-scale mammalian evolutionary breakpoints provides new insight into their relation to genome organisation
Received: 26 February 2009
Accepted: 24 July 2009
Published: 24 July 2009
Abstract
Background
The Intergenic Breakage Model, which is the current model of structural genome evolution, considers that evolutionary rearrangement breakages happen with a uniform propensity along the genome but are selected against in genes, their regulatory regions and in-between. However, a growing body of evidence shows that there exists regions along mammalian genomes that present a high susceptibility to breakage. We reconsidered this question taking advantage of a recently published methodology for the precise detection of rearrangement breakpoints based on pairwise genome comparisons.
Results
We applied this methodology between the genome of human and those of five sequenced eutherian mammals which allowed us to delineate evolutionary breakpoint regions along the human genome with a finer resolution (median size 26.6 kb) than obtained before. We investigated the distribution of these breakpoints with respect to genome organisation into domains of different activity. In agreement with the Intergenic Breakage Model, we observed that breakpoints are under-represented in genes. Surprisingly however, the density of breakpoints in small intergenes (1 per Mb) appears significantly higher than in gene deserts (0.1 per Mb).
More generally, we found a heterogeneous distribution of breakpoints that follows the organisation of the genome into isochores (breakpoints are more frequent in GC-rich regions). We then discuss the hypothesis that regions with an enhanced susceptibility to breakage correspond to regions of high transcriptional activity and replication initiation.
Conclusion
We propose a model to describe the heterogeneous distribution of evolutionary breakpoints along human chromosomes that combines natural selection and a mutational bias linked to local open chromatin state.
Keywords
Open ChromatinBreakpoint RegionSynteny BlockHigh Transcriptional ActivityEvolutionary Breakpoint
Background
An important aspect of chromosome evolution is concerned with the maintenance of syntenies and with changes in the order of DNA fragments. Rearrangements that shuffle a chromosome organisation happen because of double-strand breaks and of the joining of double-stranded DNA ends, resulting in new conformations of the molecules. If the molecular bases of DNA damage and repair mechanisms that control these genetic instabilities at the cellular level are well described [1, 2], the biophysical forces and selection constraints at work on an evolutionary timescale still need to be fully understood. For example, it remains mostly unexplained why the rate of chromosomal changes, estimated by the analysis of comparative maps between chicken and a number of mammals, is extremely variable (more than one order of magnitude of variation) both along evolutionary time and across different lineages [3, 4]. In fact, despite recent progress made in this field of research, it remains an open question simply to design a model that would account for the observed positions of rearrangement breakpoints [5].
In 1984, Nadeau and Taylor [6] analysed the locations of 83 homologous loci between the human and mouse autosomes and observed that the length distribution of 13 conserved segments between these two genomes fits the distribution of a Poisson process, that is, rearrangement breakpoints are independently and uniformly distributed. This is referred to as the Random Breakage Model (RBM). Since then, the resolution of comparative maps has regularly improved. The number of delineated conserved segments between these two species increased by more than an order of magnitude [7–9]. This demonstrated the robustness of the main Nadeau and Taylor argument [10, 11], at least for the large conserved chromosomal segments. The improved resolution also allowed to observe that the number of small conserved segments appears to be larger than predicted by the RBM [8, 12–14], suggesting that the latter is not valid at a small scale (≲ 1 Mb). By comparing the number and size of breakpoints to the minimum number of rearrangements that can explain the structural differences between two genomes (each rearrangement event likely breaking the genome twice), Pevzner and Tesler [11] estimated that breakpoint regions are intensively reused in mammalian history. The validity of this argument has been criticised [15–18], further defended [19, 20], and remains uncertain. Nevertheless, multi-species comparative maps pointed to the fact that, during bird and mammal evolution, breakpoints appear to have occurred in the same region over independent lineages more often than expected under the RBM [21–24]. Those breakpoint hotspots would then correspond to evolutionarily-stable fragile regions. The correlation between the localisations of breakpoints in these lineages and the distribution of several other genomic features such as segmental duplications [25, 26], various repeated elements [27], experimental fragile sites [28, 29], high GC content and CpG island density [24] provided further evidence suggesting that the distribution of breakpoint regions should be analysed in the context of a genome organisation. In this regard, Peng et al. [19] and Becker & Lenhard [5] proposed the Intergenic Breakage Model (IBM), where rearrangement breakages happen uniformly at random on the genome but are deleterious in genes, their regulatory regions, and in-between. The argument for the IBM is the simple fact that rearrangements that would break functional regions of the genome are selected against, which has since received some support from a functional analysis of vertebrate genomes [30]. If there seems to be strong evidence for the existence of some particular breakage hotspots, it remains unclear to which extent the model of evolution may deviate from the RBM, and what the alternative model would be.
Taking advantage of recent progress in the detection of rearrangement breakpoints in mammalian chromosomes that allowed us to locate them with a finer precision than obtained before [31], we propose some advances on the analysis of their distribution along the human genome relatively to the positions of genes and to the isochore organisation. Our results provide a direct comparison of the observed heterogeneous distribution of breakpoint regions with the predictions of the Intergenic Breakage Model, and bring new insight into the relationship between mammalian genome evolution and genome organisation. We further discuss these findings in terms of chromatin accessibility and elaborate on the necessity to take into account a mutational bias towards regions of replication initiation and of high transcriptional activity when deriving breakage models.
Results
Delineating mammalian evolutionary Breakpoint Regions
A Breakpoint Region (BPR) on the human genome is defined as a region that underwent at least one large chromosomal structural change, or is orthologous to such a region in a non-human lineage. We applied the method described in [
31
] to do pairwise comparisons between the genome of human and those of five other mammals (chimpanzee, macaque, mouse, rat, and dog). We thus obtained the positions on the human genome of all breakpoints differentiating the genome organisation of human from the genome organisation of each of the other five species. Mapping the whole set of BPRs from all lineages on the human genome, each group of intersecting BPRs was replaced by the intersection of all BPRs in the group when they could be explained by a unique rearrangement event, and by the union of all BPRs otherwise (see Methods). This procedure resulted in a data set of 622 non-intersecting BPRs with sizes spanning a wide range from 1 nucleotide (there is no ambiguity on the breakpoint location) to 2 887 673 nucleotides. The BPR size distribution is strongly skewed toward small values (Fig.
1
): the BPR median size is 26.6 kb while 78% (483/622) of the BPRs have a length smaller than 100 kb. The BPRs are not uniformly distributed along the human chromosomes (Fig. S1 in Additional File
1
) and this resolution allows us to compare their localisation with small scale genomic features such as genes.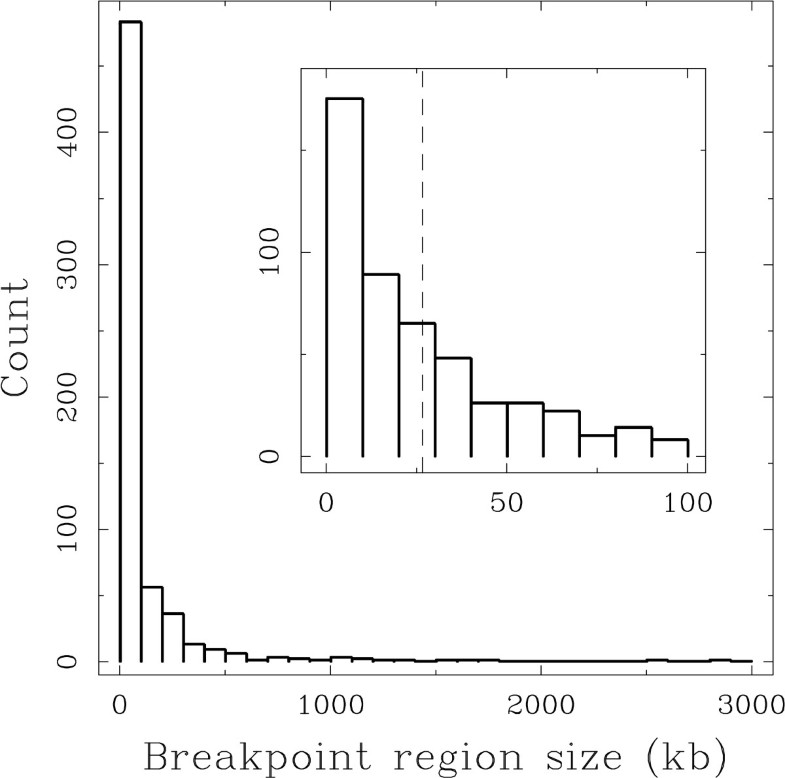 Several rearrangements that break the DNA molecule at close loci may result in a single BPR because we may be missing some homologous markers between the breakpoints, or because intersecting BPRs from several lineages were grouped into one. In particular, large BPRs are more likely to contain several independent breakage events. To control for this effect in our analysis, every estimation of breakpoint density (see Methods) was performed with two modellings of the number of breakpoints within each BPR:
• Model M1: All BPRs contain exactly one breakpoint.
• Model M2: A BPR of length L (kb) contains a number of breakpoints n = max(1, L/100) i.e. when L ≤ 100 kb, a BPR contains one breakpoint, while for L > 100 kb, BPRs are regions with 1 breakpoint per 100 kb.
Model M2 supposes that more than one breakpoint have aggregated (possibly in different lineages) inside large BPRs. The aggregation density parameter is not supposed to model the real number of breakages, but is meant to provide a control that the results are not biased due to an under-estimation of the number of breakage events in large BPRs. This choice of one breakage every 100 kb along large BPRs should be ample enough to test for this possible bias since it is one order of magnitude larger than the largest breakpoint density (1 per Mb) observed in this work using model M1 and 50-fold larger than the average breakpoint density over the complete genome (Table
1
). As all our conclusions turn out to be valid for the two models, hence demonstrating that they are not subject to the biases mentioned above, all figures with breakpoint density estimates are presented for model M1 while the corresponding figures using model M2 are systematically provided as supplementary material in Additional file
1
. Unless otherwise indicated, model M1 will therefore be implicitely assumed from now on.
Table 1
BPRs are preferentially intergenic.
| Modelling | Average | Intergenes | Genes |
| --- | --- | --- | --- |
| M1 | 0.22 ± 0.01 | 0.28 ± 0.01 | 0.13 ± 0.01 |
| M2 | 0.35 ± 0.01 | 0.43 ± 0.02 | 0.23 ± 0.02 |
Remark: We mapped the positions of BPRs on the human genome while they do not necessarily concern evolutionary events that happened in the human lineage. In fact, the majority of them actually account for rearrangements in the rodent genomes (318/622, or 51%). For these events, a BPR on the human genome means that the rodent genome presents a breakage at the orthologous position. It therefore gives evidence for a susceptibility to breakage in the human region, that we may confront with evolutionarily stable genomic features such as isochores.
BPRs are preferentially intergenic
Rearrangements are expected to be selected against if they break genes. It is the first basic assumption of the Intergenic Breakage Model [5, 19]. Therefore BPRs are likewise expected to lie preferentially outside genes. To test whether genic content is avoided by BPRs, we compared the breakpoint density (see Methods) along genic and intergenic regions and averaged over the whole human genome (Table 1). The results correspond to the expectations: for the two modellings of the BPR data set, we observed that the intergenic (resp. genic) density is larger (resp. smaller) than the average genome density, with a twofold difference between intergenic and genic densities. We performed the same analysis for 1000 simulated BPR data sets with randomised positions. None of these simulations reproduced density differences as large as the observed, thus confirming that they are significantly larger than expected by a Random Breakage Model (P < 0.001). These results agree with an intergenic breakpoint model, where breakpoints occur at random but are selected against in genic regions of a genome.
At first glance, the difference between intergenic and genic breakpoint densities suggests a rather weak effect of natural selection against breakage inside genes. However, when a BPR intersects a gene, that does not necessarily mean that the gene has been broken and become non functional. In fact, the major part of the genic breakpoint density is accounted by BPRs that overlap both genic and intergenic regions so that the breakpoints may have occurred outside the genes. Indeed, among the 265 BPRs that overlap a gene, only 57 are fully genic. The genic density can therefore simply be an effect of the lack of precision of our BPRs. The apparent breakage inside 57 genes may have different explanations, from bad annotation of the gene borders to the possible duplication of a broken region, that may or not have a relation to the rearrangement itself, leaving at least one functional copy of the concerned gene. For example, the human gene FAIM (Ensembl identifier ENSG00000158234) contains a BPR due to a rearrangement in the mouse lineage. A duplication in the mouse genome, probably linked to the rearrangement, yielded two annotated functional orthologs of the "broken" gene located on both sides of the rearranged region in the mouse genome (Ensembl identifiers ENSMUSG00000032463 and ENSMUSG00000079413). Hence, our genic breakpoint density is likely providing a somewhat misleading underestimation of the strength of natural selection. An accurate estimation of natural selection against breakages in genes would require an individual investigation of the evolutionary history of each gene/BPR pair, which is beyond the scope of the present study on the overall breakpoint distribution relatively to large-scale features of genomic organisation.
Rearrangement breakpoints are over-represented in small intergenes
Under a random model, or an intergenic model where genic regions are avoided, we expect the breakpoint density to be independent of the size of the intergenic regions. Moreover, selection may not only discard the breakage in genes, but also between genes and their regulatory regions, as hypothesised by Peng et al. [
19
], or in gene regulatory blocks, as hypothesised by Becker & Lenhard [
5
]. Under this "Intergenic Breakpoint Model", we thus expect the breakpoint density to grow with the size of the intergenic regions, since breakage in small intergenes, which necessarily lie close to a gene, should be avoided for their possible importance in gene regulation. Surprisingly, we observed that intergenic density actually negatively correlates with intergenic size (Fig.
2
), the breakpoint density decreasing by more than one order of magnitude from 1 breakpoint per Mb in small intergenes (
L
< 20 kb) to 0.07 Mb
-1
for the largest intergenes (
L
> 300 kb). In comparison, we performed the same analysis for 1000 simulated BPR data sets with randomised positions and, as expected under an RBM, we did not observe any dependency of the intergenic breakpoint density with the intergenic size for these control data sets (Fig.
2
). When using model M2 of the BPR data set, these results remained unchanged: breakpoint density is significantly higher in small intergenes than in large ones (~ tenfold; see Fig. S2 in Additional File
1
).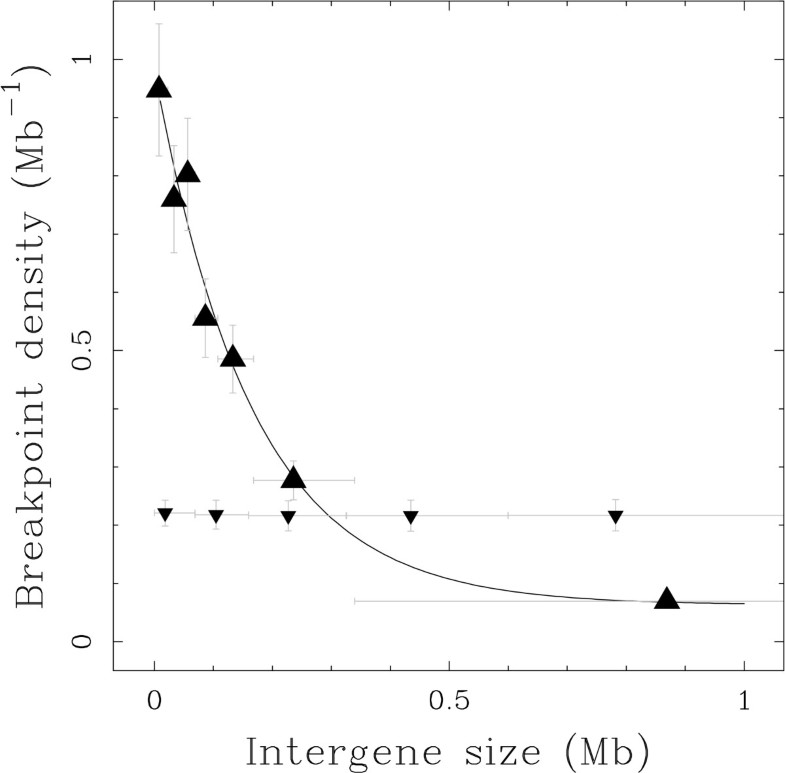 In mammalian genomes, it is known that the gene distribution is highly heterogeneous and is linked to the organisation of the genome into isochores. Thus, small intergenes are concentrated inside regions of high GC-content, also referred to as heavy isochores [
32
–
34
]. Correspondingly, we found a higher breakpoint density in GC-rich regions of the genome (0.6 Mb
-1
) than in GC-poor regions (0.1 Mb
-1
) (Fig.
3
; Fig. S3 in Additional File
1
). These results suggest a model of evolution where the breakage probability depends on the genomic organisation. GC-rich regions, which exhibit small intergenes, seem to have a higher breakage probability along evolutionary time. In this study, isochores are observed in the human genome, whereas the breakages may have occurred in any mammalian lineage. However, isochores of mammalian genomes at this evolutionary scale are conserved [
35
–
38
]. This allows us to relate the breakage to an ancestral configuration of the genome, and thus to suppose that the breakage and the genomic organisation are contemporary.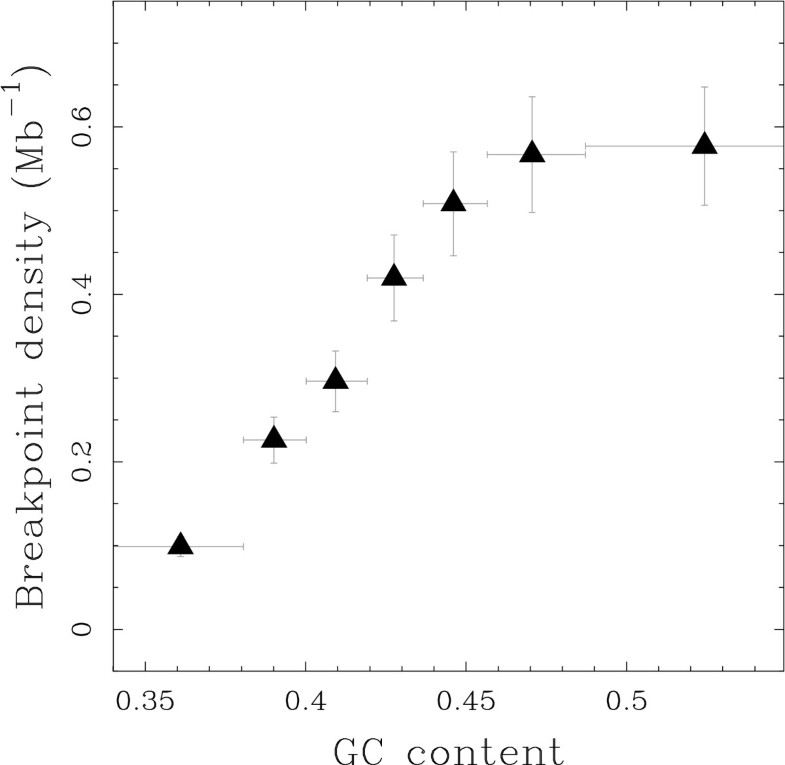 Since intergene size correlates with GC content, it may be difficult to ascertain which of these two parameters best describes the positions of the BPRs. In order to disentangle the two, we analysed one while fixing the other. First, for five classes of GC content, we compared the median sizes of intergenes containing observed BPRs and randomised ones. For each class, we found that intergenes containing observed BPRs were two to three times smaller than intergenes corresponding to the randomised data set. These size differences are significant except for the class of highest GC content (
>
53%) due to its small size (Table
2
). We then performed the reciprocal test to control for the effect of intergene size when correlating the BPR density with GC content. We did not find any significant difference in the median GC-content between BPRs and the simulated data set when considering classes of intergene size (see Table
1
in Additional File
1
). It thus appears that the correlation between intergene size and BPR density cannot be fully explained by their respective correlation to the GC content, so that intergenic size comes out to be the appropriate parameter to describe susceptibility to breakage.
Table 2
BPRs lie in small intergenes.
Median intergene size (kb)

GC content (%)

BPRs

randomized regions

p-value

GC < 37

655 (n = 37)

1473 (n = 104)

4.7e-07

37 ≤ GC < 41

151 (n = 121)

514 (n = 147)

7.3e-11

41 ≤ GC < 46

84 (n = 172)

184 (n = 78)

6.5e-07

46 ≤ GC < 53

64 (n = 121)

90 (n = 45)

2.7e-02

GC ≥ 53

19 (n = 25)

54 (n = 6)

0.90
Discussion
We used a comparative genomics method based on the approach proposed by Lemaitre et al. [31], that allowed us to delineate a data set of 622 small regions of the human genome, the BPRs, that were modified by large structural mutations in one of the analysed mammalian genomes. On the one hand, we were able to quantitatively verify the hypothesis that rearrangements are selected against if they break genes (Table 1), thanks to the high resolution of the BPR data set (Fig. 1). On the other hand, contrary to what is expected under the Intergenic Breakage Model [5, 19], the negative selection of rearrangements that break functional regions does not explain the observed heterogeneity of the BPR distribution. We showed that there is a significant preferential localisation of BPRs in small intergenes (Fig. 2). Correspondingly, BPR enrichment is also observed within GC-rich regions (heavy isochores) (Fig. 3), which are known to be gene dense and to be correlated with many other genomic features [32–34, 39].
Our results are consistent with some previous observations in studies made at a lower resolution [22, 40]. Also, in more specific studies, these observations were made by looking at restricted parts of some genomes, for example when human/chicken evolutionary breakpoints were compared [24] between two chicken chromosomes (11 and 28), when human-dog orthologs were studied in high GC regions [41], or a whole set of human/gibbon or human/cattle breakpoints [42, 43]. In the latter case, the presence of many translocation breakpoints in gene rich regions was interpreted as positive selection acting on those genes. In the present work, we observed that GC content does not fully explain the decrease of breakpoint density with increasing intergene size. We propose that the heterogeneous distribution of breakpoints may be explained by the open state of the chromatin at the BPR positions. The regions of open chromatin are thought to be those of high transcriptional activity, early replication, accessibility to DNAse, and subject to DNA hypomethylation.
Conclusion
In this paper, we analysed the relation between evolutionary breakpoint density and the organisation of the genome. This study shows that the susceptibility to breakage is highly heterogeneous along human chromosomes. Even though it is difficult to be definite on which parameter best describes the positions of BPRs since they all correlate with one another due to the organisation of the human genome into isochores, the results reported in this work reveal the importance of intergene size. The high breakpoint density in small intergenes can not be simply explained by the current model of structural genome evolution, namely the Intergenic Breakage Model, and we suggest a DNA accessibility-driven scenario, supported by data on methylation, transcriptional activity, replication initiation and experimental DNAse sensitivity, to explain this surprising result. If the proposition is correct, it would constitute the first evidence for a mechanistic explanation at a local scale (50 kb) without obvious relationship to natural selection whose influence is nevertheless clearly perceived on the systematically lower breakpoint density found in genic as compared to intergenic regions. Altogether our results enlighten the susceptibility of open chromatin regions to breakage as a third force to add to the evolutionary rearrangement description proposed by Becker & Lenhard [5] where positive selection is rare and negative selection protects some loci.
Declarations
Acknowledgements
This work is funded by the Agence Nationale pour la Recherche (ANR), projects REGLIS (NT05-3_45205), Genomicro (JC05_49162), HUGOREP (NT05-3_41825) and CoGeBi (ANR-08-GENM-036-01), by the Action de Recherche Coopérative (ARC), project IBN from the INRIA, and by the Action Concertée Incitative Informatique, Mathématiques, Physique en Biologie Moléculaire (ACI IMPBio) 2004, project ReplicOr. L.Z. acknowledges funding from the Centre Nationale de la Recherche Scientifique (CNRS). We thank Vincent Daubin, Laurent Duret and Claude Thermes for interesting discussions. Computing facilities from the Pôle Rhône Alpes de Bioinformatique were used.
Authors' Affiliations
(1)
Centre de Bioinformatique – Génomique Fonctionnelle Bordeaux, Université de Bordeaux, Bordeaux, France
(2)
Université de Lyon, Lyon, France
(3)
Laboratoire Biométrie et Biologie Evolutive, CNRS, Université Lyon 1, Villeurbanne, France
(4)
Équipe BAMBOO, INRIA Rhône-Alpes, Montbonnot Saint-Martin, France
(5)
Laboratoire Joliot-Curie et Laboratoire de Physique, CNRS, Ecole Normale Supérieure de Lyon, Lyon, France
Copyright
© Lemaitre et al; licensee BioMed Central Ltd. 2009
This article is published under license to BioMed Central Ltd. This is an Open Access article distributed under the terms of the Creative Commons Attribution License (http://creativecommons.org/licenses/by/2.0), which permits unrestricted use, distribution, and reproduction in any medium, provided the original work is properly cited.