Research article

Open Access
Computational prediction of the osmoregulation network in Synechococcus sp. WH8102
Received: 28 September 2009
Accepted: 10 May 2010
Published: 10 May 2010
Abstract
Background
Osmotic stress is caused by sudden changes in the impermeable solute concentration around a cell, which induces instantaneous water flow in or out of the cell to balance the concentration. Very little is known about the detailed response mechanism to osmotic stress in marine Synechococcus, one of the major oxygenic phototrophic cyanobacterial genera that contribute greatly to the global CO2 fixation.
Results
We present here a computational study of the osmoregulation network in response to hyperosmotic stress of Synechococcus sp strain WH8102 using comparative genome analyses and computational prediction. In this study, we identified the key transporters, synthetases, signal sensor proteins and transcriptional regulator proteins, and found experimentally that of these proteins, 15 genes showed significantly changed expression levels under a mild hyperosmotic stress.
Conclusions
From the predicted network model, we have made a number of interesting observations about WH8102. Specifically, we found that (i) the organism likely uses glycine betaine as the major osmolyte, and others such as glucosylglycerol, glucosylglycerate, trehalose, sucrose and arginine as the minor osmolytes, making it efficient and adaptable to its changing environment; and (ii) σ38, one of the seven types of σ factors, probably serves as a global regulator coordinating the osmoregulation network and the other relevant networks.
Keywords
Trehalose
Betaine
Glycine Betaine
Hyperosmotic Stress
Phylogenetic Profile
Background
Osmotic stress refers to the stress on a cell induced by sudden changes in impermeable solute concentrations around a cell that affect the equilibrium with the solution inside the cell. When this happens, water molecules will move in and out of cells by diffusion via the lipid bilayer or the aquaporin channels to regain the equilibrium. The induced water flow across the cell membrane will tend to cause changes in the cell volume, specifically in the cytoplasmic volume, and will induce a number of cellular responses to maintain the homeostasis of the cell's water content [1]. When the solute concentration inside a cell is higher than around the cell, i.e., when under hypoosmotic stress, water molecules will flow inwards, potentially causing animal cells to swell and increasing the turgor pressure in plant and bacterial cells. Alternatively when the impermeable solute concentration inside a cell is lower, i.e., when under hyperosmotic stress, water will flow outwards, hence shocking the cell. In this paper, we focus on the response system to the hyperosmotic stress caused by salt shock knowing that the general knowledge about the hypoosmotic-stress associated response system in prokaryotes is very limited. Throughout this paper osmoregulation refers to osmoregulation in response to the hyperosmotic stress caused by salt shock.
During evolution, all organisms have developed mechanisms to respond to osmotic stresses (or shocks) through tightly regulating a cell's osmolarity so it stays constant, a vitally important condition for cells to survive under changing environments. This regulation process is called osmoregulation. Prokaryotes are known to use two basic osmoregulation mechanisms: (i) the salt-in-cytoplasm mechanism involves adjusting the salt concentration in the cytoplasm according to the environmental osmolarity, and (ii) the organic-osmolyte mechanism involves accumulating uncharged, water-soluble organic compounds to maintain an osmotic equilibrium with the surrounding medium [2]. Previous studies have found that most of the known prokaryotes use the second mechanism [2], that is to use organic osmolytes such as polyhydric alcohols, sugars, free amino acids and their derivatives, and combinations of urea and methylamines [3] to adjust a cell's osmolarity. It has been observed that the least salt-tolerant organisms tend to use disaccharides as the osmolytes, whereas the more halo-tolerant and halophilic species use sugar-polyols and nitrogen-containing solutes [2].
Typically when a cell is under hyperosmotic stress, Na+ and Cl- quickly move into the cell cytoplasm within several seconds; the excessive toxic Na+ are actively exported by Na+/H+ antiporters and the nontoxic K+ are also actively transported into the cell from the environment through its K+ antiporters or symporters to maintain the osmolarity needed by the cell in the first hour; and then transport some compatible osmolytes into the cell from the environment or synthesize them in the cell to replace the K+ surplus within the following several hours [4]. To date, osmoregulation has been well studied in Bacillus subtilis, Escherichia coli and yeast, but very little is known about how osmoregulation works in marine cyanobacteria such as Synechococcus and Prochlorococcus. Synechococcus sp. strain WH8102 is a model organism for organisms that are known to play a key role in global carbon fixation. Since osmolytes represent an important fraction of the fixed carbon, understanding its allocation among different compounds is useful in building a predictive model of these microorganisms.
We have recently carried out a computational study aiming to predict the osmoregulation network in WH8102 by extending and applying a computational protocol for biological network prediction that our group previously developed [5]. This prediction capability consists of three key steps for network prediction, namely (i) construction of template network models for related (model) organisms that have substantial experimental data and possibly known information about the target network, (ii) prediction of operons and functional relatedness among genes in the target genome, and (iii) mapping the template network models to the target genome through orthologous gene mapping that is consistent with the predicted operons and gene associations. This computational protocol has been used to predict the phosphorus assimilation network, the carbon fixation network and the nitrogen assimilation regulatory network in WH8102[5–7]. By adapting this protocol to our target model, we have constructed a (partial) osmoregulation network for each of five selected organisms, i.e., Aphanothece halophytica (A. halo), Corynebacterium glutamicum ATCC 13032 (C. glut), Escherichia coli K12 (E. coli), Persephonella marina EX-H1 (P. mari), Synechocystis sp. PCC6803 (PCC6803), that have available experimental data related to osmoregulation; made computational prediction of operons as well as of gene functional relatedness in WH8102; and then predicted a model for osmoregulation in WH8102 through mapping the template models to WH8102 in conjunction and validating some of these predictions with experimental data.
Our study has led to a number of new discoveries about osmoregulation in WH8102, including identification of key transporters, synthetases, signal sensor proteins and transcription regulator proteins involved in WH8102 osmoregulation. Through analyses of the predicted regulatory network, we have gained a number of new insights about WH8102: (i) WH8102 likely accumulates and uses glycine betaine as the major osmolyte, and glucosylglycerol, glucosylglycerate, trehalose, sucrose and arginine as the minor osmolytes; and (ii) σ38, one of the seven types of σ subunits of the RNA polymerase, probably serves as a global regulator in the osmoregulation network in WH8102. To the best of our knowledge, this is the first published study on construction of the osmoregulation network using computation methods for cyanobacteria or any prokaryote.
Conclusions
From our predicted model, we found that (i) WH8102 likely accumulates and uses glycine betaine as the major osmolyte, and glucosylglycerol, glucosylglycerate, trehalose, sucrose and arginine as the minor osmolytes; and (ii) σ38, one of the seven types of σ subunits of the RNA polymerase, probably serves as a global regulator in the osmoregulation network in WH8102. We believe that this working model provides useful information to experimental biologists in their research design for further studying the osmoregulation process in WH8102. To the best of our knowledge, this model represents the first published study on construction of the osmoregulation network using computation methods for cyanobacteria or any prokaryote.
Methods
Mapping of template networks
We used the P-MAP program [27] with E-value ≤ 10-6, in conjunction with BLAST [28] with E-value ≤ 10-20, to map template networks to WH8102. The mapping results from different organisms were then merged, which gives the initial network model. When different functional roles are assigned to the same gene or one functional role is assigned to different genes based on different templates, we resolved the conflict by assessing the information of evolutionary distance of organism, the conservation of protein domain architectures, and available gene expression values (see below).
Expansion of initial network
We downloaded the predicted operons of WH8102 from the DOOR database [30] and the protein-protein interactions from http://www.cs.uncc.edu/~zcsu/pathways/nitrogen/nitrogen.
We have predicted the σ
38
regulon in
WH8102
based on the following observation: σ
38
candidate (SYNW1621) in
WH8102
has high sequence similarity as well as domain architecture and 3D protein structure similarities with its counterpart b2741 (σ
38
) in
E. coli
(see Figure
5
). So we assume that the two regulons, the one in
E. coli
and the one in
WH8102
, have similar sets of components, and hence we have mapped the σ
38
regulon of
E. coli
to
WH8102
.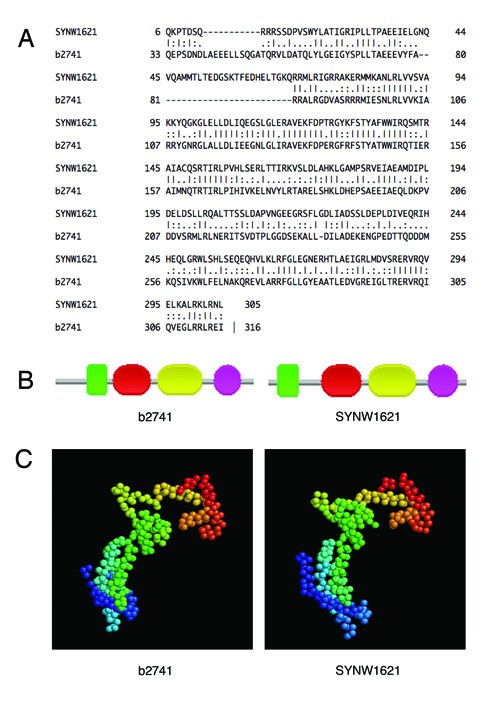 The functional relatedness among
WH8102
genes is assessed based on the similarities of their phylogenetic profiles calculated against
n
= 810 bacterial genomes. A
phylogenetic profile
of a
WH8102
gene in reference to the
n
genomes [
G
1
,...,
G
n
] is a binary string
a
1
, ..., a
n
with
a
i
= 1 if the gene has a detectable ortholog in
G
i
and
a
i
= 0 otherwise [
34
]. Let
m
j
be the number of
WH8102
genes having an ortholog in the
j
th
reference genome. Traditionally, the functional relatedness between two genes has been estimated using the Euclidean distance between the phylogenetic profiles of the two genes. Our initial analysis indicates that this is not a very effective way for measuring the functional relatedness of genes so we have modified it as follows. We define the
likelihood
of the
i
th
gene of
WH8102
,
LH
i
, having orthologs across all the reference genomes as

, with
p
j
=
m
j
/n
if the gene has an ortholog in the
j
th
reference genome and
p
j
= 1 −
m
j
/n
otherwise. The
functional relatedness
between genes,
g
i
and
g
j
, is defined as
with

, d H is the Hamming distance between the phylogenetic profiles of gi and gj, α is a weighting factor (the default is α = 2), and h is the number of genomes that have orthologs of both gi and gj.
Using this measure, we can define for each WH8102 gene its functionally most related genes. For each gene g in our initial model, we recruit all genes into the model, which are more closely related to g than any gene already in the initial model.
Genome-wide search for domain architecture similarity
We used the Pfam database [38] as the source of protein domain definitions, and the InterproScan program [39] to identify all protein domains in the template genomes and the target genome. To measure the similarity between two given domain architectures, we implemented a domain-architecture similarity score, which was originally defined by Lin et al[40] as a linear combination of three different indices: the Jaccard index, which measures the number of common domains that the two architectures contain; the Goodman-Kruska γ function, which estimates the similarity of the arrangement of the distinct domains shared by the two architectures; and the domain duplicate index, which assess the similarity among the duplicated domains in the two architectures. The related scripts can be downloaded from http://csbl.bmb.uga.edu/~xizeng/research/osmoregulation.
Prediction of differentially expressed genes
We implemented a script based on BioRuby http://bioruby.org to calculate the average fold-change of expression levels for each gene under two conditions if microarray data is available, otherwise we have collected genes from published papers, which were found to be differentially expressed (see Additional file 12). We have used fold-change = 2.0 and 0.5 as the cutoffs for calling a gene up- or down-regulated, respectively, and no change for values in-between.
DNA microarray transcriptional profiling for WH8102
Microarray data was obtained using a whole-genome microarray, design of which was described previously [41]. Cultures of Synechococcus sp. strain WH8102 were grown in synthetic ocean water-based media with supplemented nutrients as described previously [6]. This medium is 75% seawater salinity. Triplicate cultures were grown to mid-exponential at which point RNA was extracted from half of each culture and designated as control RNA; and 0.125 M NaCl was added to the other half of each culture bringing its salinity up to approximately that of seawater. After two hours RNA was extracted from the remaining half of the culture. RNA was harvested using a Trizol-based method and purified with a Qiagen RNeasy kit according to the manufacturer's specifications. Microarray hybridization was performed as described previously [6]. Briefly, an indirect labeling method was used to label cDNA with Cy3 (control samples) or Cy5 (treated samples), samples were then pooled and hybridized to the same array. This was done in duplicate for each biological replicate. Additionally, reverse labelling was performed for each biological replicate, resulting in three total technical replicates per biological replicate. Following hybridization, slides were promptly scanned at a 10-μm resolution using an Axon 4000B scanner with GenePix 4.0 software. Processing of the TIFF images from hybridized arrays was performed using TIGR-Spotfinder http://www.tigr.org/software, and the datasets normalized by applying the LOWESS algorithm, using block mode and a smooth parameter of 0.33, available in the TIGR-MIDAS package http://www.tigr.org/software. Statistical analysis was performed on the mean of log2-transformed signal ratios of the replicate spots using the Statistical Analysis of Microarrays (SAM) algorithms [42] with a false discovery rate (FDR) of less than 1%.
P-value calculation based on microarray data
We use the following hyper-geometric distribution to estimate the cumulative probability that our predictions may happen by randomly drawing genes from all the differentially expressed genes:
where N is the number of all genes in the genome, and A is the number of differentially expressed genes under hyperosmotic stress; K is the number of genes in our network; and V is the number of predicted genes in our network that are differentially expressed under hyperosmotic stress.
Pathway enrichment analysis
Pathway enrichment analysis can usually give biological insights about the genes showing differential expressions under two conditions [43, 44]. We used the KOBAS program [36] to identify significantly enriched pathways by genes in our predicted osmoregulation network against all known genes in WH8102 as the background. KOBAS maps interested genes onto known KEGG pathway [45] using BLAST with E-value ≤ 1e-5 and rank ≤ 10, and then uses hyper-geometric distribution to calculate the statistical significance of each pathway populated by the interested genes with respect to all the genes encoded in the whole genome as the background. The relevant formulas have been well described in previous work [36].
Declarations
Acknowledgements
This work was supported in part by the National Science Foundation (DBI-0542119 to YX and BP, DEB-0830024) and the DOE BioEnergy Science Center grant. We thank all the members of the comparative genomics group of the CSBL Lab at UGA, especially Dr. Fenglou Mao for the help with the P-MAP program and operon prediction. We thank Mr. Bingqiang Liu for helpful discussions about orthology mapping, and Dr. Huiling Chen for discussions about structure prediction, Dr. Xiaojia Tang for discussions about phylogenetic profile analysis. We also thank Dr. Zhengchang Su and Ms. Shan Li of the University of North Carolina at Charlotte for providing programs for phylogenetic analysis and data published in the previous work.
Authors' Affiliations
(1)
Computational Systems Biology Lab, Department of Biochemistry and Molecular Biology and Institute of Bioinformatics, University of Georgia, Athens, USA
(2)
College of Computer Science and Technology, Jilin University, Changchun, China
(3)
The Institute for Genomic Research and the J. Craig Venter Institute, Rockville, USA
(4)
Scripps Institution of Oceanography, University of California, San Diego, La Jolla, USA
Copyright
© Mao et al; licensee BioMed Central Ltd. 2010
This article is published under license to BioMed Central Ltd. This is an Open Access article distributed under the terms of the Creative Commons Attribution License (http://creativecommons.org/licenses/by/2.0), which permits unrestricted use, distribution, and reproduction in any medium, provided the original work is properly cited.