BLAST Ring Image Generator (BRIG): simple prokaryote genome comparisons
Received: 10 April 2011
Accepted: 8 August 2011
Published: 8 August 2011
Abstract
Background
Visualisation of genome comparisons is invaluable for helping to determine genotypic differences between closely related prokaryotes. New visualisation and abstraction methods are required in order to improve the validation, interpretation and communication of genome sequence information; especially with the increasing amount of data arising from next-generation sequencing projects. Visualising a prokaryote genome as a circular image has become a powerful means of displaying informative comparisons of one genome to a number of others. Several programs, imaging libraries and internet resources already exist for this purpose, however, most are either limited in the number of comparisons they can show, are unable to adequately utilise draft genome sequence data, or require a knowledge of command-line scripting for implementation. Currently, there is no freely available desktop application that enables users to rapidly visualise comparisons between hundreds of draft or complete genomes in a single image.
Results
BLAST Ring Image Generator (BRIG) can generate images that show multiple prokaryote genome comparisons, without an arbitrary limit on the number of genomes compared. The output image shows similarity between a central reference sequence and other sequences as a set of concentric rings, where BLAST matches are coloured on a sliding scale indicating a defined percentage identity. Images can also include draft genome assembly information to show read coverage, assembly breakpoints and collapsed repeats. In addition, BRIG supports the mapping of unassembled sequencing reads against one or more central reference sequences. Many types of custom data and annotations can be shown using BRIG, making it a versatile approach for visualising a range of genomic comparison data. BRIG is readily accessible to any user, as it assumes no specialist computational knowledge and will perform all required file parsing and BLAST comparisons automatically.
Conclusions
There is a clear need for a user-friendly program that can produce genome comparisons for a large number of prokaryote genomes with an emphasis on rapidly utilising unfinished or unassembled genome data. Here we present BRIG, a cross-platform application that enables the interactive generation of comparative genomic images via a simple graphical-user interface. BRIG is freely available for all operating systems at http://sourceforge.net/projects/brig/.
Keywords
Draft GenomeDraft Genome SequenceCoverage GraphBlast MatchDraft Genome Assembly
Background
With the dramatic improvement of next-generation sequencing technologies over the last five years, there has been a corresponding increase in the amount of publicly available genomic data. As of February 2011, Entrez Genome Projects [1] catalogued 6,071 bacterial and archaeal genome projects. Of these, 1,444 had complete genome sequences, 42 percent of which were released within the last three years. In addition, 3,872 on-going genome projects were registered with the database; 1,734 of which had a draft sequence publicly available. These projects do not include the ten terabase-pairs of sequence data across more than 6,500 entries currently available in the Short Read Archive, the public repository specifically for raw data from next-generation sequencing [2]. Current genome visualisation and data analysis methods are struggling to keep up as it becomes a routine requirement for biologists to compare a new genome to scores, if not hundreds, of other genomes at once.
Genome visualisation methods use linear or circular representations. Linear representations, like those that can be generated using Artemis Comparison Tool (ACT) [3], Genome2D [4], Combo [5], VISTA [6], Mauve [7], BugView [8] and Genomorama [9], have advantages in showing insertions and deletions between genomic sequences and certain programs, like Mauve and ACT, can show genome rearrangements. However, it is difficult to summarise large datasets using these tools. Programs that generate circular figures, like Microbial Genome Viewer [10] and Genome Projector [11], are designed to annotate a single chromosome and have no support for whole genome comparative data. These programs are restricted to published genomes and do not let users analyse their own genomic sequences. DNAPlotter [12] allows the user to input their own genome sequences and can show genome comparisons, but only by generating this information separately and loading it in as custom annotation tracks.
There are comparative circular genome visualisation alternatives available online, such as CGView Server [13] and GeneWiz browser [14], which allow users to upload their own sequences and provide a similar service, although GeneWiz browser can display mapped read data, whereas CGView Server cannot. However, both of these tools are only available as internet resources and limit the number of genome comparisons that can be shown on a single image. Command-line based alternatives and imaging libraries also exist, which require users to prepare all data and customisation through text files, such as Circos [15], CGView [16], Genome Diagram [17] and BLASTAtlas [18]. While these programs are very powerful, they require command-line manipulation and scripting to use, putting them out of reach of many biologist end-users.
To address these issues, we present the BLAST Ring Image Generator (BRIG); an easy-to-use, cross-platform desktop application that enables rapid visualisation of BLAST comparisons to one or more central reference sequences using complete, draft or unassembled genome data.
Implementation
The BLAST Ring Image Generator (BRIG) is a cross-platform desktop application written in Java 1.6. It uses CGView [
16
] for image rendering and BLAST [
19
] for genome comparisons. It has a graphical user interface, programmed on the Swing framework, which takes the user step-by-step through the generation of a circular image. The settings used to generate a particular image can be saved for re-use with different genome data, or the entire session can be bundled and saved for later. The image can be generated in JPEG, PNG, SVG or SVGZ format. An example of BRIG's output can be seen in Figure
1
. A user guide describing step-by-step tutorials for several visualisation tasks and accompanying example files are provided at
http://sourceforge.net/projects/brig/files/
.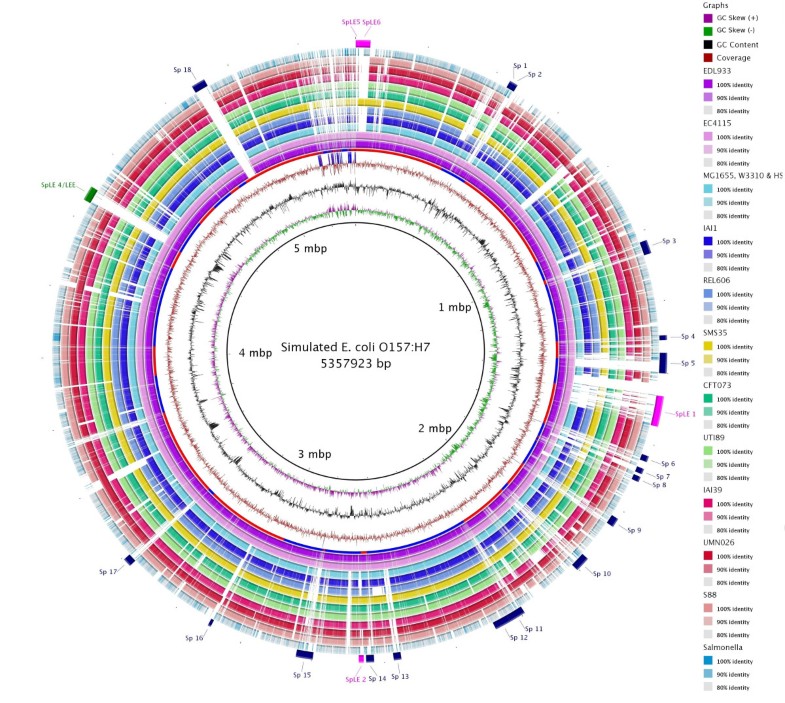 Discussion
There are already a number of resources that produce circular representations of prokaryote genomes; each with their own unique features and advantages. Table
3
shows a comparison between the major features of BRIG and other GUI or internet based applications that produce circular images for prokaryote genomes. Of these resources, CGView Server [
13
], GeneWiz Browser [
14
] and DNAPlotter [
12
] bear the most resemblance to BRIG.
Table 3
GUI and internet-based applications that produce circular comparison images for prokaryote genomes
| | BRIG | DNAPlotter[12] | CGView Server[13] | GeneWiz Browser[14] | Microbial Genome Viewer[10] | Genome Projector[11] |
| --- | --- | --- | --- | --- | --- | --- |
| Supports custom annotations | X | X | X | X | | X |
| Search and load annotations from existing files (e.g. Genbank, EMBL) | X | X | | | | |
| Allows users to use their own genome data | X | X | X | X | | X |
| Use Multi-FASTA as reference sequences | X | X | | | | |
| Internally handles multiple genome comparisons | X | | X1 | X1 | | |
| Provides percentage identity and e-value filtering for BLAST | X | | X | X | | |
| Supports read mapping and visualisation | X | | | X | | X |
| Natively supports contig and scaffold visualisation | X | | | | | |
| Visualises Clusters of Orthologous Genes (COGS) functional grouping. | | X | X | X | X | X |
| Can produce linear images | | X | | | X | X |
| Shows an interactive image | | X | | | X | X |
BRIG presents a solution to visualising prokaryote genome comparisons for a large number of genomes. Unlike DNAPlotter, BRIG does not show a preview of the image as the user edits it and only produces an image after the user has specified all of their settings. This is a common drawback of other genome comparison applications, including Circos [15], GeneWiz Browser and CGView Server. To address this, image templates are available in BRIG to help first time users to gauge appropriate settings for image aesthetics and scaling. Furthermore, the ability to save template files at any point during a BRIG session enables users to return to previous versions and modify images as needed.
Unlike BRIG, similar tools generally limit the number of genome comparisons that can be shown on a single image and they do not offer the option to collate multiple sequences into a single lane (Table 2). These drawbacks prevent the use of these resources in large-scale genome comparisons that are increasingly necessary as the number of publicly available genome sequences increase. BRIG has been designed with the task of draft genome analysis in mind. GeneWiz Browser, like BRIG, supports mapping and visualising short read sequences onto a reference genome; however, it does not explicitly support easy visualisation of contig boundaries within a reference sequence.
Standard BRIG comparisons rely on BLAST, so an understanding of BLAST parameters and behaviours is required in order to produce informative images. A common pitfall for first time users is the low-complexity filters, which is active by default in BLAST. These filters mask repetitive and low complexity sequences that could cause spurious low-scoring matches when searching large datasets. In BRIG, filtering often results in short (~30 base pairs long) blank regions spanning all query sequences, which may be misinterpreted as unique regions in the reference genome. Filtering can be turned off in the BLAST options field in BRIG. In addition, BLAST comparisons will often produce overlapping hits, which are difficult to visualise on a static flat image. To address this, BRIG was implemented to sort BLAST results so that the highest scoring hits are drawn last by CGView and displayed on top of other lower-scoring matches. As a result, high scoring matches are prominent over low scoring ones.
BRIG is actively maintained with a manual that includes step-by-step tutorials and sample data providing walk-throughs of all the major features. In future we plan to develop support for genome comparisons generated by programs like MUMmer [23] and for BRIG to calculate the co-ordinates of major regions of difference between genomes 'on-the-fly' for use in downstream analyses.
Conclusions
Here we report the development of the BLAST Ring Image Generator (BRIG), a user-friendly desktop application for comparing and visualising prokaryote genomes using BLAST. BRIG is highly versatile; it can visualise information derived from draft genome data, including contig boundaries, read coverage or read mapping data; it can display the presence, absence or variation of a user-defined set of reference sequences in multiple datasets simultaneously, including unassembled next-generation sequencing reads; and it can display several types of custom graphs and annotations. All facets of the program are customisable through an easy-to-use graphical user interface bringing comparative genome visualisation well within the reach of any user.
Availability and requirements
Project name: BLAST Ring Image Generator (BRIG)
Project home page: http://sourceforge.net/projects/brig/
Operating system(s): Platform independent
Programming language: Java
Other requirements: Java 1.6 or greater
Licence: GNU GPLv3
Any restrictions to use by non-academics: None.
Declarations
Acknowledgements and Funding
The authors would like to Kirstin Hanks-Thomson, Nathan Bachmann, Makrina Totsika and Mark Schembri for their feedback in testing and development. This work was supported by a grant from the Australian National Health and Medical Research Council (511224). SAB is the recipient of an Australian Research Council Australian Research Fellowship (DP0881347).
Authors' Affiliations
(1)
Australian Infectious Diseases Research Centre, School of Chemistry and Molecular Biosciences, The University of Queensland, Brisbane, Australia
Copyright
© Alikhan et al; licensee BioMed Central Ltd. 2011
This article is published under license to BioMed Central Ltd. This is an Open Access article distributed under the terms of the Creative Commons Attribution License (http://creativecommons.org/licenses/by/2.0), which permits unrestricted use, distribution, and reproduction in any medium, provided the original work is properly cited.