Research article

Open Access
Searching ChIP-seq genomic islands for combinatorial regulatory codes in mouse embryonic stem cells
Received: 12 April 2011
Accepted: 20 October 2011
Published: 20 October 2011
Abstract
Background
To facilitate deciphering underlying transcriptional regulatory circuits in mouse embryonic stem (ES) cells, recent ChIP-seq data provided genome-wide binding locations of several key transcription factors (TFs); meanwhile, existing efforts profiled gene expression in ES cells and in their early differentiated state. It has been shown that the gene expression profiles are correlated with the binding of these TFs. However, it remains unclear whether other TFs, referred to as cofactors, participate the gene regulation by collaborating with the ChIP-seq TFs.
Results
Based on our analyses of the ES gene expression profiles and binding sites of potential cofactors in vicinity of the ChIP-seq TF binding locations, we identified a list of co-binding features that show significantly different characteristics between different gene expression patterns (activated or repressed gene expression in ES cells) at a false discovery rate of 10%. Gene classification with a subset of the identified features achieved up to 20% improvement over classification only based on the ChIP-seq TFs. More than 1/3 of reasoned regulatory roles of cofactor candidates involved in these features are supported by existing literatures. Finally, the predicted target genes of the majority candidates present expected expression change in another independent data set, which serves as a supplementary validation of these candidates.
Conclusions
Our results revealed a list of combinatorial genomic features that are significantly associated with gene expression in ES cells, suggesting potential cofactors of the ChIP-seq TFs for gene regulation.
Keywords
Embryonic StemEmbryonic Stem CellMouse Embryonic Stem CellFeature ScoreAssociation Score
Background
A set of core transcription factors (TFs) have been reported to regulate the self-renewal and pluripotency of mouse embryonic stem (ES) cells. Oct4 has long been regarded as one of the master regulators in ES cells. Oct4-deficient embryos fail to produce pluripotent inner cell mass [1]. Furthermore, while repression of Oct4 allows trophectoderm development, a less-than-twofold increase in Oct4 expression drives differentiation into primitive endoderm and mesoderm [2]. Together with Oct4, Sox2 explains the first three lineages present in preimplantation development; both factors are essential to epiblast formation, and in their absence trophec-toderm is formed [3]. Nanog, another master factor, can bypass leukemia inhibitory factor (LIF)/STAT3 to maintain ES cell self-renewal [4, 5], and Nanog-deficient ES cells lose pluripotency and differentiate into extraembryonic endoderm lineage [5].
In addition to the three master TFs, implications of the regulatory roles of a few other TFs in mouse ES cells have been obtained via experimental efforts. LIF signal pathway can sustain self-renewal of the cells by activating STAT3 [6]; BMPs collaborate with LIF for the maintenance of self-renewal via triggering the phosphorylation of Smad1 to induce Id genes [7]. Myc and Klf4 are two of the four factors that can reprogram somatic cells to pluripotent cells [8]. Esrrb is required for efficient self-renewal of ES cells in vitro; it is required to block differentiation into mesoderm, ectoderm and neural crest cells [9]. Depletion of Zfx impairs self-renewal of ES cells while over-expression of the factor can facilitate the self-renewal [10].
To reconstruct the regulatory network in mouse ES cells, genome-wide binding data of these important TFs have been generated by ChIP-seq/chip experiments [
11
–
13
]. In particular, Chen et al. [
11
] made available ChIP-seq data of the following 12 TFs in mouse ES cells: Oct4, Sox2, Nanog, STAT3, Smad1, Myc, Klf4, Zfx, Esrrb, Mycn, Tcfcp2l1, and E2f1. We refer to them as
main factors
. The authors showed that the binding of these factors is correlated with retinoic-acid-induced gene expression profiles [
9
]. Furthermore, Ouyang et al. [
14
] built statistical models upon the ChIP-seq data, which can explain substantial variation in gene expression in mouse ES cells [
15
,
16
]. However, the following problem remains to be investigated: Whether other TFs that bind together (or co-bind) with main factors, referred to as
cofactors
, can further explain expression patterns? In this study, with the ChIP-seq data in [
11
] and the expression data in [
16
], we attempt to answer this question by exploring association between the gene expression and binding sites of potential cofactors on genomic islands co-occupied by groups of main factors. We intend to evaluate whether the association is different between different expression patterns, and according to the evaluation, we recommend a small set of cofactors for future follow-up experimental validation. To this end, we perform the following analyses (Figure
1
) and report their results in this article.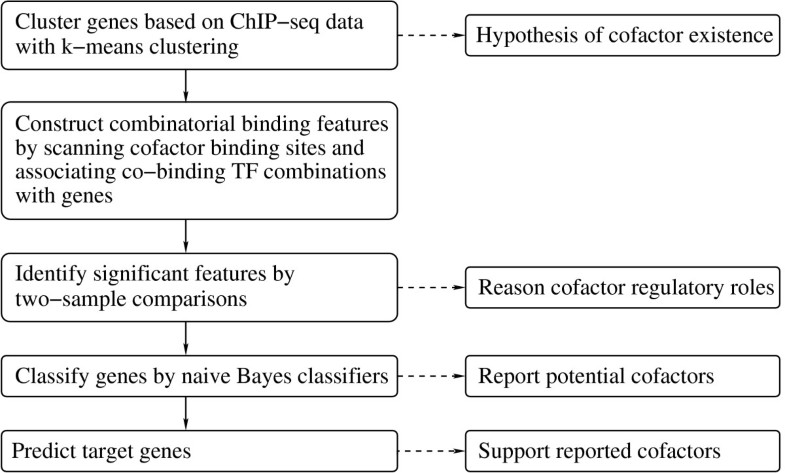 1.

Clustering analysis of the ChIP-seq data and the gene expression profiles revealed that genes sharing similar binding patterns of the main factors may still have distinctive expression patterns, leading to our hypothesis of existence of cofactors. The k-means clustering was employed in this step.

2.

We then constructed features characterizing co-binding effects of main factors and a cofactor candidate on their potential target genes. In order to integrate genomic information of cofactor candidates with the main factor binding data, we scanned genome regions defined by the ChIP-seq coordinates with a set of known TF motifs to identify co-localization of binding sites of main factors and a cofactor candidate in the genome; next, we computed a feature score for a gene and a feature--a combination of (co-localized) main factors and a cofactor candidate--such a score intends to quantify association strength between a gene and a co-binding combination, giving a numerical summary of the genomic sequence information and the ChIP-seq data for the gene.

3.

Through hypothesis tests, we identified features which have significantly different distributions between ES-up genes and ES-down genes representing genes up- and down-regulated in ES cells, respectively (see Results for their definitions). By checking expression profiles of a cofactor candidate involved in a feature, we reasoned its regulatory role based on test results. Two-sample proportion test and the Wilcoxon rank-sum test were used, with the false discovery rate (FDR) controlled by the Benjamini-Hochberg procedure [17].

4.

Regarding ES-up and ES-down genes as two classes of genes and significant features identified in the last step as predictors, we adopted gene classification with naïve Bayes classifiers to further choose a small subset of features, which suggest cofactor candidates through involved TF combinations.

5.

Finally, we predicted target genes of TFs involved in selected features by perturbing learned classifiers and examining change in classification. We reported consistent evidence supporting our prediction from another independent data set. The purpose of this practice is to provide supplementary validation of cofactor candidates revealed by selected features via the target prediction.
For brevity, we refer to cofactor candidates as cofactors.
Discussion
Although the classification improvement of our approach for the Oct4 cluster and the Myc cluster comparing to the other methods in Table 3 is substantial and encouraging, the absolute CV errors are quite high. Such results could be due to the following reasons. First, as shown in Table 1, there are more significant features than what has been enumerated under our search strategy. Some of them are biologically meaningful in explaining gene expression, and thus have the potential to further reduce classification errors. For example, the neuronal repressor REST is involved in the ES-down feature Oct4.Smad1.M00325_NRSE_B (with P- value = 2.07 × 10-5) for the Oct4 cluster, which suggests REST collaborating with the key TFs Oct4 and Smad1 for gene down-regulation at ES stage. In line with its repressor role, this cofactor has been shown to maintain self-renewal and pluripotency in mouse ES cells through suppression of the microRNA miR-21 [31]. Thus, this ES-down feature may be worth further investigation. However, one challenging question is how features like this can be discovered; simply increasing the number of top features in NB classifiers may include many noisy features and thus degrade classification performance according to our experience. Therefore, procedures with stronger selective power are needed. Second, sophisticated learning methods such as boosting and Bayesian additive regression trees (BART) may have better classification performance (as Zhou and Liu [32] demonstrated in TF-DNA binding problems), but these methods may have difficulties in interpretation of their results. In the framework we employed, not only do the statistical tests help reduce search space by focusing on significant features for feature selection in classification, but they also provide ground for biologically meaningful interpretations of features as we have discussed in the section of feature significance. Third, although in this study we focused on TF regulatory control, TF binding is only one way of gene regulation. Other mechanisms such as DNA methylation are also involved in regulating gene expression. Lack of their information may lead to low classification accuracy. Thus, readers should treat our report in this study as intermediate results--further investigation of this challenging classification problem is needed.
In the current framework, we consider features involving only one cofactor and up to two main factors. Further extension to more cofactors and main factors is possible, and the extension may gain additional capacity to differentiate the gene expression patterns. However, with more and more specific TF combinations, the support (that is, genes that are regulated by the involved TFs) may become less and less, and thus the gained capacity may not be detected. On the other hand, the extension will lead to combinatorial explosion. For example, including one more cofactor will bring ~100 times more features into consideration. This will result in much more tests for each feature type, which may cause high FDR for the current data size. In addition, following the logic of combinatorial regulatory codes, another kind of features would be a pair of main factors without considering a cofactor in our framework. Alternatively, one could treat one main factor as a cofactor of the other main factor. We explored this possibility and found that little improvement can be made in gene classification. This may be because classification happens within each gene cluster and collaborative efforts among main factors have already been captured by clustering.
Besides ES genes, other genes with less substantial fold change, referred to as ES-neutral genes, may also be informative. If the function of a TF combination is only to activate genes in ES cells, we expect that the contrast in the feature between ES-up and ES-down genes may be more significant than the contrast between ES-up genes and ES-neutral genes. The reason is that the TF combination may have a lower chance to randomly occupy regulatory elements of an ES-down gene (and thus would up-regulate it at ES stage) than an ES-neutral gene, which may be activated but has insignificant fold change. Similarly, focusing on ES genes may be helpful for detecting a TF combination as a pure ES repressor. On the other hand, if a particular combination works as either an activator or a repressor in ES cells depending on other cellular context or targets, a feature may then be strongly associated with both ES-up and ES-down genes, leading to insignificant test results and defeating detection. In this case, the ES-neutral gene set, containing genes that are not regulated by the combination, may provide a better contrast for detecting such a combination. The detection may be conducted in the same framework with one of ES gene sets replaced by ES-neutral genes. In summary, many possible directions can be explored based on this study.
Conclusions
This study suggests a list of TF combinations which may play important regulatory roles in ES cells based on computational analyses. They serve as top candidates for experimental evaluation. We provided computational evidence of the finding from three aspects: 1. The features involving identified TF combinations show strong statistical significance; 2. the classifiers based on them have the optimal performance in classifying gene expression and also achieve substantial improvement over classifiers utilizing only main factor information; 3. their predicted target genes (based on classification) in another independent data set show expected fold change as in our prediction. In addition to the above evidence, existing literatures provide support for reasoned regulatory roles of some identified cofactors. In summary, this study effectively reveals combinatorial co-binding patterns which involve potential regulators in mouse ES cells.
Declarations
Acknowledgements
This work was supported by NSF grant DMS-0805491 and NSF CAREER Award DMS-1055286.
Authors' Affiliations
(1)
Department of Statistics, University of California, Los Angeles, USA
Copyright
© Chen and Zhou; licensee BioMed Central Ltd. 2011
This article is published under license to BioMed Central Ltd. This is an Open Access article distributed under the terms of the Creative Commons Attribution License (http://creativecommons.org/licenses/by/2.0), which permits unrestricted use, distribution, and reproduction in any medium, provided the original work is properly cited.