Research article
Open Access
The association of DNA damage response and nucleotide level modulation with the antibacterial mechanism of the anti-folate drug Trimethoprim
Received: 12 August 2011
Accepted: 28 November 2011
Published: 28 November 2011
Abstract
Background
Trimethoprim is a widely prescribed antibiotic for a variety of bacterial infections. It belongs to a class of anti-metabolites - antifolates - which includes drugs used against malarial parasites and in cancer therapy. However, spread of bacterial resistance to the drug has severely hampered its clinical use and has necessitated further investigations into its mechanism of action and treatment regimen. Trimethoprim selectively starves bacterial cells for tetrahydrofolate, a vital cofactor necessary for the synthesis of several metabolites. The outcome (bacteriostatic or bactericidal) of such starvation, however, depends on the availability of folate-dependent metabolites in the growth medium. To characterize this dependency, we investigated in detail the regulatory and structural components of Escherichia coli cellular response to trimethoprim in controlled growth and supplementation conditions.
Results
We surveyed transcriptional responses to trimethoprim treatment during bacteriostatic and bactericidal conditions and analyzed associated gene sets/pathways. Concurrent starvation of all folate dependent metabolites caused growth arrest, and this was accompanied by induction of general stress and stringent responses. Three gene sets were significantly associated with the bactericidal effect of TMP in different media including LB: genes of the SOS regulon, genes of the pyrimidine nucleotide biosynthetic pathway and members of the multiple antibiotic resistance (mar) regulon controlled by the MarR repressor. However, the SOS response was identified as the only universal transcriptional signature associated with the loss of viability by direct thymine starvation or by folate stress. We also used genome-wide gene knock-out screen to uncover means of sensitization of bacteria to the drug. We observed that among a number of candidate genes and pathways, the effect of knock-outs in the deoxyribose nucleotide salvage pathway, encoded by the deoCABD operon and under the control of the DeoR repressor, was most informative.
Conclusion
Transcriptional induction of DNA damage response is an essential feature of the bactericidal effect of trimethoprim. Either the observation of the transcriptional response or DNA damage itself, or both, is made possible by thymine starvation when other folate-dependent metabolites are not limited. The effect of DNA damage by the drug takes place prior to its bactericidal effect, at the beginning of the lag stage of the treatment. Mutations in the deoxyribose nucleotide salvage pathway can affect duration of the lag as well as the rate of killing. This information can be used to postulate certain mechanistic differences between direct thymine starvation in thymidylate synthase deficient mutants and thymine starvation by anti-folate inhibitors.
Keywords
ThymineKeio CollectionThymine StarvationThymineless DeathReplication Fork Arrest
Background
2,4,-diamino-5-(3', 4', 5'-trimethoxybenzyl)-pyrimidine (Trimethoprim, TMP) is a folate analog that inhibits the reduction of dihydrofolate to tetrahydrofolate (THF) by competitively binding the active site of the enzyme dihydrofolate reductase (DHFR) [1, 2]. The drug is highly specific against bacterial and malarial enzymes [3], has a wide antibacterial spectrum and, despite emerging resistance [4–7], has been extensively used against urinary and respiratory tracts infections and against enteric pathogens and methicillin resistant S. aureus[8].
Trimethoprim treatment reduces the pool of 5,6,7,8-tetrahydrofolate (THF) by inhibiting DHFR, encoded by the
folA
and
folM
genes in
E. coli
(Figure
1
). THF is methylated during the synthesis of glycine from serine and gets converted to 5,10-methylenetetrahydrofolate (CH
2
-THF), which is a major one-carbon donor in the cell for the synthesis of methionine and S-adenosylmethionine (SAM), purines, N-formylmethionine-tRNA (fMet-tRNA) and thymidylate (dTTP) [
9
,
10
]. Thus TMP treatment leads to the loss of THF pools to dihydrofolate because of thymidylate synthesis. This causes concomitant starvation of glycine, methionine, purines, dTTP (folate dependent metabolites) and fMet-tRNA, with some metabolites being depleted faster than others [
11
,
12
], and results in nearly complete cessation of DNA, RNA and protein synthesis [
11
,
13
,
14
]. Other pathways affected due to depletion of SAM, a major methyl group donor, include synthesis of cofactors, fatty acids and polyamines. Starvation of cells for purines and amino acids is usually bacteriostatic; starvation of dTTP alone leads to loss of viability and is known as "thymineless death" [
15
–
17
]. Therefore, cellular outcome of TMP treatment depends on the balance of folate dependent metabolites in the cell and on the media supplementation conditions; cell death depends upon the right combination of supplementation regimes resulting, in part, in thymine starvation [
15
,
16
]. Thus in controlled environment in the laboratory, the outcome of TMP treatment can in principle be correlated with the composition of the growth medium. However, despite a general understanding of the drug mechanism, the following key aspects of the antibacterial activity of TMP remains unknown: i) what is the molecular nature of folate stress induced by the drug?; ii) what is the relationship between the folate stress and media composition?; iii) what are the similarities and differences between bacateriostatic and bactericidal signatures of the TMP effects.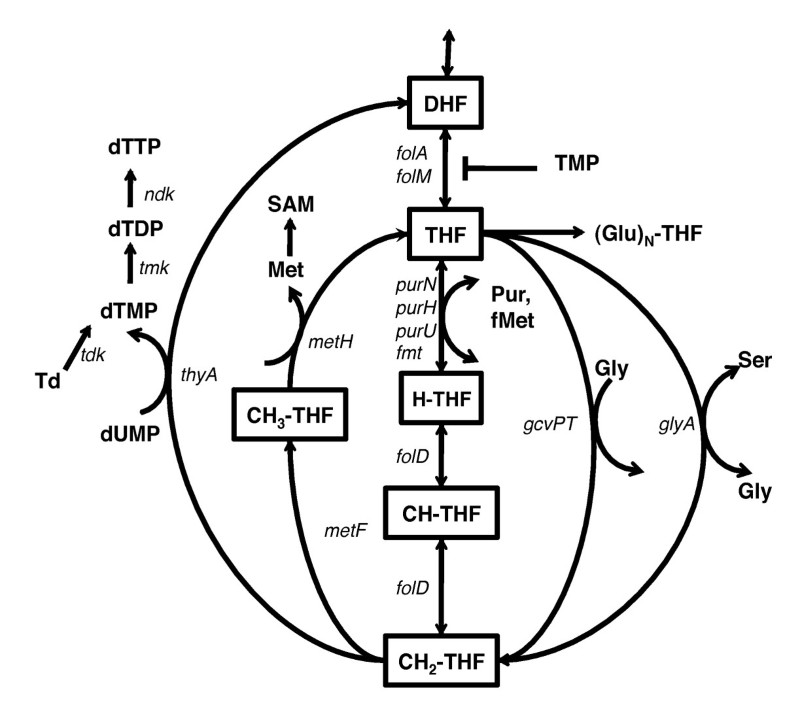 To answer these and related questions, we treated Escherichia coli with TMP in a variety of media and supplementation conditions and tracked global transcriptional responses using microarrays. We also applied a genome-wide genetic screen to identify gene knock-out mutants with decreased or increased susceptibility to TMP in rich media. We observed that the drug treatment, either in minimal medium supplemented with requisite amino acids and adenine or in complex medium (LB), resulted in the loss of viability and this loss was correlated with the induction of DNA damage repair genes. Under limited supplementation conditions (only amino acids or purines) in minimal media, the primary signature was that of stress response, but when both were added in absence of thymine, the stress response signature was not observed. Addition of individual supplements (amino acids or purine) also led to the repression of the respective biosynthetic genes, even in the presence of TMP. We also identified a signature of gene set activity, including induction of DNA damage response, pyrimidine nucleotide biosynthesis and antibiotic stress responsive MarR targets to be most associated with cell lethality in minimal media. However, only the SOS response was associated with the bactericidal outcome across all tested nutrient conditions, including thymine starvation in a thymine auxotroph.
Using a genome-wide collection of knock-out mutants to screen for genetic, rather than environmental, factors that can affect TMP susceptibility, we found that the deoxyribose nucleotide salvage pathway has the capacity to modulate and mediate the effect of the drug. The deoA and deoC gene knock-out mutants were found to be resistant to TMP in complex medium, whereas the loss of their transcriptional repressor deoR rendered bacteria more sensitive to the drug. However, this relationship was reversed in minimal medium with supplements. This reversal was also observed at the transcriptional level wherein the deoCA genes were down-regulated during TMP treatment in LB medium and up-regulated in M9 minimal medium. Using this data and other available information we propose that the nucleotide salvage pathway encoded by deoCABD genes is a critical modulator of physiological outcomes of the TMP treatment in E. coli.
Conclusion
Treatment of E. coli bacteria with the antibiotic Trimethoprim results in regulatory responses that can be associated with the drug mechanism as well as treatment conditions. Depending on the treatment condition, the drug can have bacteriostatic or bactericidal effect. The DNA damage response can be used to discriminate between the bacterial killing, which is preceded by the damage response, and the bacteriostasis, during which the damage response does not develop. The drug induces DNA damage at the beginning of the characteristic lag stage of the treatment. Mutations in the deoxyribose nucleotide salvage pathway can affect duration of the lag as well as the rate of killing. The duration of the lag is likely determined by the capacity of the cells to buffer the effect of thymine starvation caused by the drug, e.g., through dTTP pools. The rate of killing, however, is determined by the distribution of drug sensitivities across a bacterial population. The sensitivity of individual cell in turn should be determined by its stage in the replication and division cycles. We speculate that Trimethoprim, by affecting replication and possibly division cycles, makes uracil incorporation into DNA an important source of the offending lesion in the drug-induced thymine starvation.
Declarations
Acknowledgements
We thank Drs. Hirotada Mori for the gift of a knock-out library, Friedrich Srienc for financial support, Patrick Higgins for the gift of P1 phage. This work was supported in part by grant GM066098.
Authors' Affiliations
(1)
Lewis-Sigler Institute for Integrative Genomics, Princeton University, Princeton, USA
(2)
Department of Biochemistry, Molecular Biology and Biophysics, University of Minnesota, Saint Paul, USA
(3)
Biotechnology Institute, University of Minnesota, Saint Paul, USA
(4)
Metabolix Inc., Cambridge, USA
Copyright
© Sangurdekar et al; licensee BioMed Central Ltd. 2011
This article is published under license to BioMed Central Ltd. This is an Open Access article distributed under the terms of the Creative Commons Attribution License (http://creativecommons.org/licenses/by/2.0), which permits unrestricted use, distribution, and reproduction in any medium, provided the original work is properly cited.