Research article

Open Access
De novo sequencing and characterization of Picrorhiza kurrooa transcriptome at two temperatures showed major transcriptome adjustments
Received: 22 September 2011
Accepted: 31 March 2012
Published: 31 March 2012
Abstract
Background
Picrorhiza kurrooa Royle ex Benth. is an endangered plant species of medicinal importance. The medicinal property is attributed to monoterpenoids picroside I and II, which are modulated by temperature. The transcriptome information of this species is limited with the availability of few hundreds of expressed sequence tags (ESTs) in the public databases. In order to gain insight into temperature mediated molecular changes, high throughput de novo transcriptome sequencing and analyses were carried out at 15°C and 25°C, the temperatures known to modulate picrosides content.
Results
Using paired-end (PE) Illumina sequencing technology, a total of 20,593,412 and 44,229,272 PE reads were obtained after quality filtering for 15°C and 25°C, respectively. Available (e.g., De-Bruijn/Eulerian graph) and in-house developed bioinformatics tools were used for assembly and annotation of transcriptome. A total of 74,336 assembled transcript sequences were obtained, with an average coverage of 76.6 and average length of 439.5. Guanine-cytosine (GC) content was observed to be 44.6%, while the transcriptome exhibited abundance of trinucleotide simple sequence repeat (SSR; 45.63%) markers.
Large scale expression profiling through "read per exon kilobase per million (RPKM)", showed changes in several biological processes and metabolic pathways including cytochrome P450s (CYPs), UDP-glycosyltransferases (UGTs) and those associated with picrosides biosynthesis. RPKM data were validated by reverse transcriptase-polymerase chain reaction using a set of 19 genes, wherein 11 genes behaved in accordance with the two expression methods.
Conclusions
Study generated transcriptome of P. kurrooa at two different temperatures. Large scale expression profiling through RPKM showed major transcriptome changes in response to temperature reflecting alterations in major biological processes and metabolic pathways, and provided insight of GC content and SSR markers. Analysis also identified putative CYPs and UGTs that could help in discovering the hitherto unknown genes associated with picrosides biosynthesis.
Keywords
MevalonateGene expression2-C-methyl-D-erythritol 4-phosphateNext generation sequencingPhenylpropanoid Picrorhiza kurrooa PicrosidesTranscriptome
Background
Picrorhiza kurrooa Royle ex Benth. is a medicinally important endangered plant species of family Scrophulariaceae. The species is distributed between 3,000-5,000 m above mean sea level in the Himalayan region [1]. P. kurrooa is widely used in traditional as well as modern system of medicine for the treatment of liver disorders, fever, asthma and jaundice [2, 3]. Indiscriminate and extensive harvesting and lack of organized cultivation has threatened the status of this plant in nature and is listed as "endangered species" by International Union for Conservation of Nature and Natural Resources [4]. Due to narrow distribution range, small population size and high use, the species appears among the 37 identified as top priority species for conservation and cultivation in western Himalaya.
The biological activity of P. kurrooa is attributed to the presence of iridoid glycosides mainly picroside I and picroside II. Studies have shown that temperature plays an important role in the biosynthesis and accumulation of picrosides [5]. A temperature of 15°C favored picrosides accumulation as compared to 25°C and this was in agreement with the expression of 1-deoxy-D-xylulose-5-phosphate synthase (DXS) and 3-hydroxy-3-methylglutaryl-coenzyme A reductase (HMGR), the genes associated with picrosides biosynthesis. However, the progress in unraveling the molecular response of P. kurrooa at these temperatures has been impeded by the dearth of transcriptomic resources. Transcriptome sequencing is an efficient way to understand global molecular response by the plant in response to a cue [6]. Expressed sequence tags (ESTs) played a significant role in accelerating gene discovery, expression analysis, improving genome annotation, identifying splice variants, and identification of molecular markers [7–9]. Transcriptome sequencing through next generation sequencing technology provides extensive data in much shorter time period with enormous depth and coverage to facilitate understanding of major change in the metabolic processes as well as contribute to comparative transcriptomics, evolutionary genomics and gene discovery [10–15]. Illumina genome analyzer based sequencing technology (Illumina, USA) yields huge amount of short reads with high coverage. Assembling such short reads is a challenging task, more so in the absence of reference sequences. A few bioinformatics tools have been developed for de novo assembly using short-read sequence data [16, 17], which vary in their success and application, and depends upon data specific strategies.
The present study describes the first global analysis of P. kurrooa transcriptome under two temperature regimes, which would serve as a blueprint of gene expression profile. The work reports a strategy for de novo assembly of transcriptome using short-read sequence data generated by Illumina RNA-Seq method. Read per exon kilobase per million (RPKM) based comparative expression profiling study was done to systematically characterize the mRNAs at two temperatures and to identify the differentially regulated genes including those involved in picrosides biosynthesis. Data on in silico gene expression was validated by reverse transcriptase-polymerase chain reaction (RT-PCR) as well using a set of 19 genes.
Results and Discussion
Transcriptome represents the expressed portion of the genome and offers an overall view of the transcribed genes. It is a powerful tool in gene discovery and in understanding the biochemical pathways involved in physiological responses. Various techniques such as microarray, serial analysis of gene expression and massively parallel signature sequencing emerged for high throughput gene expression profiling in the past and to allow for simultaneous interrogation of gene expression on a genome-wide scale [18]. However, these techniques are time consuming and become expensive, particularly for the analysis at global level. Also, biases are introduced by the inevitable cloning step [19].
With the advent of next generation sequencing technology, transcriptome analysis takes lesser time, cost and labour, and at the same time provides major sequence coverage and depth [8]. The technology has been used with success for the analysis of transcriptomes of several plant species including Cajanus cajan[20], Arabidopsis thaliana[21, 22], Medicago truncatula[23], Zea mays[24], Hordeum vulgare[25], Lycopersicum esculentum[26], Camellia sinenis[27], and Cicer arietinum[28].
The present work was carried out on de novo transcriptome sequencing of P. kurrooa, de novo assembly of short reads, annotation of assembled sequences at 15°C and 25°C and validation of RPKM based expression analysis by RT-PCR using selected genes. P. kurrooa is a medicinally important and endangered plant species. Medicinal properties are attributed to the monoterpenoids, picroside I and picroside II, which are associated with hepatoprotective activity as one of the major activities [2].
Conclusions
In this study, transcriptome for leaf tissue of P. kurrooa was generated and analyzed for the plants kept at 15°C and 25°C with a total of 74,336 assembled sequences. PE read data along with optimized parameters and suitable multiple assembling and clustering approaches were used to find out non-inflated number of assembled transcript sequences with high coverage and average length. The similarity and overlap based similarity search and assembling might result into inflated number of assembled sequences, many of which could be either from different parts of the same gene or the isoforms. The dissimilar sequence clustering approach used in the present work helped to overcome the above problems to a large extent and reduced over-representation of assembled sequences. GO, KEGG and EC based tools and scripts were used for sequence annotation. Transcriptome data exhibited GC content representative of a dicot genome and also abundance of trinucleotide SSR markers was evident. RPKM based expression analysis by comparing transcriptomes at two temperatures showed major adjustments reflecting changes in major biological processes and metabolic pathways including the pathways associated with picrosides biosynthesis. A number of novel candidate genes involved in picrosides biosynthesis, including CYPs and UGTs were also identified, which could serve as a source of hitherto uncharacterized genes associated with picrosides biosynthesis. Transcriptome data generated in the present work has immense implications in understanding plant response at two temperatures, marker assisted selection, and metabolic engineering in an economically important, medicinal and endangered plant species P. kurrooa.
Methods
Plant Material
Plants of P. kurrooa were collected from its natural habitat at Rohtang pass (4,000 m altitude, 32°23' N, 77°15' E, India) and maintained at the Institute at Palampur (1,300 m altitude; 32°06' N, 76°33' E, India) as described previously [5]. After three months at Palampur, these were shifted to plant growth chambers (Percival Scientific, USA) maintained at 15°C and 25°C with a 16-h photoperiod. Plants were adequately watered and the sampling was done on day 6 at the two temperatures. Third leaf (position with respect to the top apical leaf designated as first leaf) was harvested for various experiments, frozen in liquid nitrogen and stored at -80°C for further use.
Extraction and estimation of picrosides
Picrosides were estimated as described previously [94] except that Ultra Performance Liquid Chromatography (UPLC) system consisting of Acquity UPLC (Waters, Millford, USA) equipped with binary solvent manager, sample manager, photodiode array detector (PDA) and a BEH workflow Shield C18 (1.7 μm particles, 2.1 × 100 mm) analytical column (Waters Corp., Manchester UK) was used. After extraction, samples were filtered through 0.22 micron filter (Millipore, USA) and injected into the chromatographic system. The mobile phase consisted of formic acid (0.05%) in water and methanol:acetonitrile (1:1) in 70:30 ratio. Isocratic elution was carried out at a flow rate of 0.250 ml min-1 with injection volume of 5 μl. Picrosides were monitored at 270 nm and quantified using picroside I and picroside II as standards (ChromaDex™, USA). Four separate biological replicates were used for each estimation.
Preparation of cDNA and transcriptome sequencing
Total RNA was extracted as described by Ghawana et al. [95]. Quality and quantity of RNA was determined using a Nanodrop 1000 (NanoDrop Technologies, USA) and a Bioanalyzer Chip RNA7500 series II (Agilent Technologies, USA). Total RNA was used to purify poly (A) mRNA using Oligotex mRNA midi prep kit (QIAGEN, Germany) followed by repurification using mRNA-Seq 8 sample prep kit (Illumina, USA). This was used to prepare a non-directional Illumina RNA Seq library. Quality control and quantification of library was performed with a Bioanalyzer chip DNA 1200 series II (Agilent Technologies, USA). Each library had an average insert size of 200 bp. PE 36 bp sequences were generated on Illumina genome analyzer IIx following manufacturer's instructions.
De novo assembly and sequence clustering
The assembled transcript sequences, the filtered read data, transcript grouping for similar genes, are available at
http://scbb.ihbt.res.in/Picro_information
. Entire computational analysis was carried out on CentOS based 48 cores 2.2 Ghz AMD processors based HPC server with 256 GB random access memory (RAM) as well as Ubuntu Linux based workstations with 8 cores 2.5 Ghz Intel processors with 24 GB RAM. Using CASAVA package GERALD tool, provided by Illumina, PE sequence reads were generated in fastq format. For each lane, PE reads of length 36 were generated, with total 72 bp. Last three base pairs from each read were removed in order to minimize the sequencing error, which is usually higher in the 3' end of reads. An in-house developed tool, filteR, was used to filter out poor quality reads. FilteR was developed using C++ to detect adapter sequence contamination as well as poor read quality. In its back-end it applies the quality scoring scheme provided by Illumina. It also provides an option, Recommender, which allows the user to decide the suitable cut-off to perform read screening by calculating average read quality positionally. This allows selective trimming of the reads instead of discarding the entire read. To attain fast processing and take advantage of multicore processors, concurrency has been introduced in it using openMP. Besides this, it also provides a user friendly GUI implemented using Qt C++ library. FilteR has been made freely available for the community at
http://scbb.ihbt.res.in/SCBB_dept/filter.php
. K-mer frequency measurement was performed to filter out reads with lower k-mer frequency for default value, which could be a result of sequencing error.
De novo
assembling of high quality reads was performed using SOAPdenovo program which applies de Bruijn graph algorithm and a series of stepwise strategies [
15
]. The cleaned reads were first split into smaller pieces, the 'k-mers', for assembly in order to produce contigs, using the de Bruijn graph. K-mer size of 23 achieved the best balance between the number of contigs produced, coverage and average sequence length attained. PE option of assembling with distance of 200 bp was applied to assist more effective assembling with information of paired reads. The same information was also used to build the scaffold sequences by merging two contigs into single scaffold sequence, sharing the read pairs. Figure
12
shows the protocol used in
de novo
assembling and transcript analysis of assembled sequences for a given sample. Sequence redundancy was removed by searching similar sequences with minimum similarity cut-off of 95% using CD-HIT-EST [
96
]. CD-HIT was used for further clustering with 90% similarity cut-off. The algorithms for various clustering programs differed in their approach of clustering and combined use of such clustering tools with different algorithms fetched better results [
97
]. For the same reason clustering process was supplemented with TGICL-CAP3 clustering [
98
] based on terminal region matching for at least 40 bp and 90% identity. The resulting singletons and consensus contigs were merged to get the final list of assembled transcripts. A set of script was developed to detect contigs/scaffolds that had no sequence similarity but belonged to same gene's different regions. These were clustered together to represent as a single transcript. The best BLASTX hits for all contigs were looked for common NR database ID for a particular gene/peptide and all associated contigs showing highest similarity to the same sequence but its different regions, were assigned to the same ID group.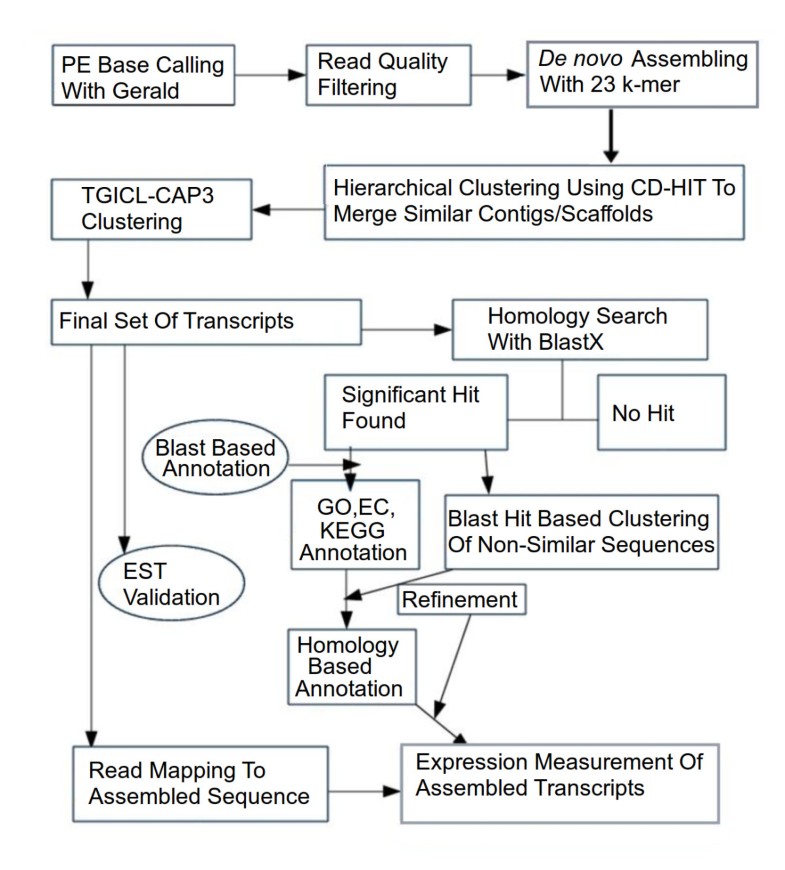 Assembly validation and similarity search for assembled transcripts
In order to assess the reliability of assembly, 500 experimentally validated EST sequences available at dbEST NCBI of P. kurrooa were used (Additional file 5). A BLASTN analysis was performed for each reported EST against the set of assembled sequences at E-value threshold of 10-5.
For similarity search, the assembled and filtered transcript sequences obtained after hierarchical clustering were scanned against NR protein database [99] through BLASTX with the E-value threshold of 10-5.
Sequence annotation
Assembled transcripts of P. kurrooa were blasted against UniProt databases [100] and associated GO [101], KEGG [102] and EC with a cut-off E-value of 10-1. It was observed that high stringent cut-off missed out either the right candidate and valid annotations and sometimes no hit was reported. GO terms were assigned for each unigene based on the GO terms annotated to its corresponding homologue in the UniProt database. For every query transcript sequence multiple hits were observed. Using in-house developed scripts, the best hit observed for each given sequence was selected based on highest bitscore and E-value. Majority of GO, EC and KEGG based annotation and statistics was done using Annotation tool, Annot8r [103]. Plant transcription factor database [104] hosts large number of plant specific TFs, their classification, corresponding nucleic acids and protein sequences. In the current study, data for all the 29,474 TFs reported in the database, version 3.0, were downloaded. The assembled transcript sequences were searched against this database using BLASTX with an E-value threshold of 10-5. Only the top bit-scoring significant hit for each sequence was considered. GO term enrichment analysis was performed using Bingo tool [105] for hyper-geometric test, with Bonferroni Family-wise error rate correction [106]. This enrichment analysis was performed to evaluate the enrichment of various GO categories for the transcripts having expression level 2 fold or above at 15°C and 25°C.
Functional domains search for unknown sequences
The assembled sequences which did not return any homologous sequence hit through BLASTX, were converted into six longest ORFs, which were scanned against the functional domain databases like Conserved domain database, using RPS-BLAST [107] using UNIX version of RPS-BLAST [108, 109].
Comparative similarity search for assembled sequences for different environmental conditions
In order to find the common transcripts between sets of assembled sequences for P. kurrooa at 15°C and 25°C, the assembled transcript sequences for both the conditions were search against each other using BLASTN with E-value threshold of 10-5. Transcripts returning best hits were identified as the common transcripts.
Read mapping and transcript abundance measurement
Applying the approach adopted by Mortazvi et al. [110] the expression level of each assembled transcript sequence can be measured through RPKM values. RPKM level measurement is a sensitive approach to detect expression level, that measures expression of even poorly expressed transcripts using read count as the fundamental. For RPKM measurement, we first mapped back the filtered reads to various assembled transcripts, estimated total mapped reads, uniquely mapped reads assigned to each assembled transcript, with maximum two mismatches allowed. SeqMap [111] was used for read mapping and rSeq [112] was applied for RPKM based expression measurement. Expression data from both the sample were collected for each of the transcripts. Similar sequences across the samples were searched and their differential expression was measured by calculating the ratio of expression at 15°C and 25°C. Assembled sequences were used as the reference sequence to map back short reads and to measure RPKM for all assembled transcripts as suggested by Mortazavi et al. [110] and Jiang and Wong [111]. Based on the above mentioned dissimilar sequence clustering, having homologous sequences in database, for each such cluster, the longest sequence was considered as the representative sequence for the unique gene it represented. The associated GO terms and Ids were parsed for each of such sequence and their corresponding RPKM values for the two different temperature conditions were calculated along with fold increment.
GC content analysis and SSRs identification
GC content of the sequences was measured using Emboss GeeCee tool, while sequences were scanned for SSR markers using MISA [113].
Gene validation and expression analysis
Results of gene expression were validated by RT-PCR. RNA was pretreated with RNase-free DNase I (Invitrogen, USA) to remove any contaminating DNA followed by first strand cDNA synthesis with 1 μg of total RNA using superscript III (Invitrogen, USA) according to the manufacturer's instructions. PCR conditions including primer details for RT-PCR are mentioned in Additional file 16. Cycling conditions were optimized to obtain amplification within the exponential phase. Amplicons were quantified using Alpha DigiDoc gel documentation and image analysis system (Alpha Innotech, USA). Triplicates of each reaction were performed, and 26 s rRNA was chosen as an internal control for normalization [92].
Declarations
Acknowledgements
We acknowledge the financial support provided by the Council of Scientific and Industrial Research (CSIR) through networking projects entitled "Exploratory study on climate change and adaptation of species complexes NWP020" and "Pathway engineering and system biology approach towards homologous and heterologous expression on high-value phytoceuticals (artemisinin, taxanes, picroside, morphine, withanolides) NWP008". RS thanks CSIR for MLP0037 internal funding for Bioinformatics infrastructural support raised. We are thankful to Hue Jiang, Stanford University, for providing us rSEQ, a tool to measure RPKM as well as helpfully discussing the process of RPKM calculation for interpreting transcript abundance. PG thanks ICMR, India, for awarding Junior Research Fellowship; HRS, NS, AK gratefully acknowledge CSIR for providing assistantship; VC is thankful to DST for INSPIRE-JRF fellowship. The manuscript represents IHBT publication number 3183.
Authors' Affiliations
(1)
Biotechnology Division, CSIR-Institute of Himalayan Bioresource Technology (Council of Scientific and Industrial Research), Palampur, India
(2)
Studio of Computational Biology & Bioinformatics, CSIR-Institute of Himalayan Bioresource Technology (Council of Scientific and Industrial Research), Palampur, India
Copyright
© Gahlan et al; licensee BioMed Central Ltd. 2012
This article is published under license to BioMed Central Ltd. This is an Open Access article distributed under the terms of the Creative Commons Attribution License (http://creativecommons.org/licenses/by/2.0), which permits unrestricted use, distribution, and reproduction in any medium, provided the original work is properly cited.