Research article
Open Access
A comparative transcriptomic, fluxomic and metabolomic analysis of the response of Saccharomyces cerevisiae to increases in NADPH oxidation
Received: 19 May 2012
Accepted: 28 June 2012
Published: 17 July 2012
Abstract
Background
Redox homeostasis is essential to sustain metabolism and growth. We recently reported that yeast cells meet a gradual increase in imposed NADPH demand by progressively increasing flux through the pentose phosphate (PP) and acetate pathways and by exchanging NADH for NADPH in the cytosol, via a transhydrogenase-like cycle. Here, we studied the mechanisms underlying this metabolic response, through a combination of gene expression profiling and analyses of extracellular and intracellular metabolites and 13 C-flux analysis.
Results
NADPH oxidation was increased by reducing acetoin to 2,3-butanediol in a strain overexpressing an engineered NADPH-dependent butanediol dehydrogenase cultured in the presence of acetoin. An increase in NADPH demand to 22 times the anabolic requirement for NADPH was accompanied by the intracellular accumulation of PP pathway metabolites consistent with an increase in flux through this pathway. Increases in NADPH demand were accompanied by the successive induction of several genes of the PP pathway. NADPH-consuming pathways, such as amino-acid biosynthesis, were upregulated as an indirect effect of the decrease in NADPH availability. Metabolomic analysis showed that the most extreme modification of NADPH demand resulted in an energetic problem. Our results also highlight the influence of redox status on aroma production.
Conclusions
Combined 13 C-flux, intracellular metabolite levels and microarrays analyses revealed that NADPH homeostasis, in response to a progressive increase in NADPH demand, was achieved by the regulation, at several levels, of the PP pathway. This pathway is principally under metabolic control, but regulation of the transcription of PP pathway genes can exert a stronger effect, by redirecting larger amounts of carbon to this pathway to satisfy the demand for NADPH. No coordinated response of genes involved in NADPH metabolism was observed, suggesting that yeast has no system for sensing NADPH/NADP+ ratio. Instead, the induction of NADPH-consuming amino-acid pathways in conditions of NADPH limitation may indirectly trigger the transcription of a set of PP pathway genes.
Keywords
NADPHPentose Phosphate PathwayAcetoinIntracellular MetaboliteNADPH Oxidation
Background
Redox homeostasis is a fundamental requirement for the maintenance of metabolism. Intracellular redox potential is determined principally by the ratio of NADH/NAD+ and NADPH/NADP+ cofactors, which are involved in about 200 reactions in Saccharomyces cerevisiae[1]. These metabolites are interconnected by many different pathways. Any change to intracellular redox balance therefore has far-reaching effects on the metabolic network. Redox engineering strategies thus often have wide-ranging effects on metabolism [2–4]. A better understanding of the way in which yeast efficiently adjusts its metabolic fluxes in response to genetic or environmental redox changes is therefore essential for the prediction and control of these effects.
We recently investigated the response to increases in NADPH oxidation using a biological system in which NADPH demand can be specifically and gradually modified [
5
]. This system involves the culture of a strain overexpressing an engineered NADPH-dependent Bdh1p enzyme in the presence of acetoin (Figure
1
). We analyzed the effect of four levels of NADPH demand (obtained by adding 0 to 300 mM acetoin to the medium) on intracellular flux, through the use of a constraint-based approach based on
DynamoYeast
, a dedicated stoichiometric model of
S. cerevisiae
during fermentation [
5
]. The pentose phosphate pathway (PP pathway) and the acetate synthesis pathway (
via
the action of the NADP
+
-dependent acetaldehyde dehydrogenase Ald6p) satisfied 80 and 20%, respectively, of the NADPH demand when this demand was increased to up to 22 times the anabolic requirement. If demand was increased still further (40 times the anabolic demand), the PP pathway was saturated and our model predicted a role for the glycerol-DHA cycle, which exchanges NADP
+
and NADH for NAD
+
and NADPH, at the expense of one ATP molecule (Figure
1
).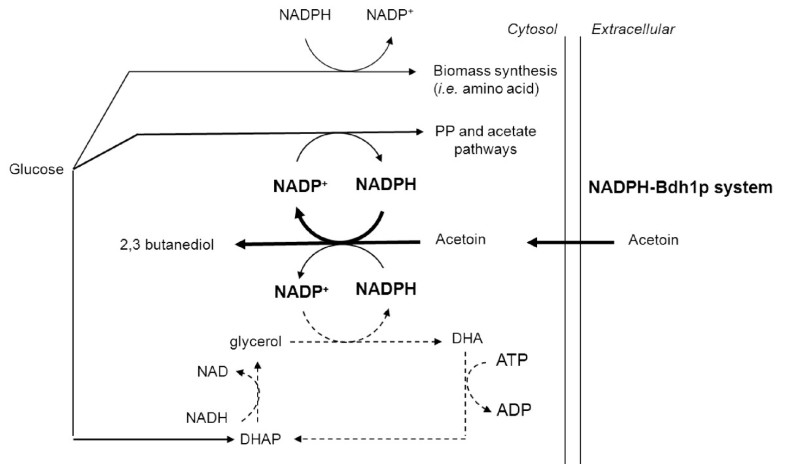 Despite these significant advances in our understanding of NADPH metabolism, little is known about the mechanisms regulating NADPH homeostasis. It is generally thought that the pentose phosphate pathway is controlled principally at the enzymatic level, with NADPH and ATP competitively inhibiting both the glucose-6 phosphate dehydrogenase Zwf1p and the 6-phosphogluconate dehydrogenase Gnd1p [6]. The coordinated regulation of genes involved in NADPH metabolism, including most of PP pathway genes, has been reported in conditions of oxidative stress. The activation of NADPH-dependent genes involves Stb5p, a zinc-binding factor [7], which also represses the expression of PGI1, encoding the phosphoglucose isomerase at the junction between glycolysis and the PP pathway. This transcription factor plays a key role in rerouting carbon flux to provide the additional NADPH required for the response to oxidative stress, as demonstrated by the greater susceptibility of the stb5 Δ mutant to several chemicals and oxidants [7, 8] and by the greater resistance to diamide of a strain overexpressing STB5[9]. Stb5p was also recently shown to be essential for acetaldehyde tolerance [10] and, under anaerobic conditions, to play a major role in the maintenance of basal flux through the PP pathway [11].
High-throughput experiments and metabolic modeling are powerful approaches for studying the global response of cells to environmental changes and identifying the regulatory mechanisms involved in the rerouting of the metabolic network. We analyzed the transcriptome, extracellular and intracellular metabolites and metabolic fluxes, to identify the regulatory mechanisms involved in the response of yeast cells to various increases in NADPH oxidation. We found that redox homeostasis was maintained principally through metabolic control, with regulation of the transcription of certain genes of the PP pathway occurring at higher levels of NADPH demand. We also observed a general increase in the expression of genes involved in amino-acid synthesis, particularly those involved in the synthesis of sulfur-containing amino acids, as an indirect response to the lower availability of NADPH.
Discussion
We investigated the molecular processes involved in the maintenance of intracellular NADPH homeostasis, by studying the fluxomic, metabolic and transcriptional responses to increases in NADPH oxidation in S. cerevisiae. The biological system used, which was based on the overproduction of an NADPH-dependent Bdh1p enzyme and the use of acetoin as an electron acceptor, made it possible to impose unprecedented levels of redox disturbance on yeast cells, corresponding to 22 times the anabolic demand for NADPH [5].
We previously showed using constraint based metabolic flux analysis (dMBA for dynamic Mass Balance Analysis, [5]) that (i) yeast responds to increases in NADPH demand by increasing the flux through the two main NADPH-producing pathways (the PP and acetate pathways) (ii) for NADPH demands of more than 22 times the anabolic demand, the PP pathway was saturated and additional NADPH was produced through the glycerol-DHAP cycle, involving exchanges of the NADH and NADPH redox cofactors. In this study, we characterized the mechanisms involved in flux rerouting for two moderate (100 and 200 mM acetoin) and one large (300 mM) increase in NADPH, corresponding to 8, 12 and 22 times the anabolic NADPH demand, respectively. In these conditions, little effect on growth was observed only for the two highest levels of NADPH demand, consistent with a decrease in biomass synthesis due to a lack of NADPH.
Conclusion
This study highlights the remarkable robustness of yeast to changes in NADPH demand, based on efficient mechanisms for the reprogramming of metabolic flux to produce large amounts of NADPH. In line with previous studies [22, 34], we observed that fluxes are controlled by both metabolic and transcriptional regulation. However, the contribution of these mechanisms varies in function of the NADPH demand. Metabolic control was involved in the adaptation to increases in NADPH demand to up to eight times the anabolic demand. At higher levels of NADPH demand, transcriptional regulation of several genes also contributes to the rerouting of carbons towards the PP pathway.
Methods
Strains and culture conditions
The strains used in this study were derived from the S. cerevisiae haploid strain 59A [35]. Strains NADH-Bdh and NADPH-Bdh were obtained by overexpressing the BDH1 gene encoding the NADH-dependent 2,3-butanediol dehydrogenase (Bdh1p) or a mutated version of this gene [36] encoding an NADPH-dependent Bdh1p [5]. Overexpression was achieved by replacing the chromosomal BDH1 promoter with the TDH3 promoter and, for NADPH-Bdh, by replacing the native ORF with the mutated ORF.
S. cerevisiae strains were maintained and grown at 28 °C on YPD medium (1% Bacto yeast extract, 2% Bacto peptone, 2% glucose). An aliquot of each culture was mixed with glycerol to a final concentration of 20%, frozen and stored at −80 °C.
Fermentation medium and growth conditions
Batch fermentations were performed in one-liter bioreactors equipped with fermentation locks for the maintenance of anaerobiosis, at 28 °C, with continuous stirring (500 rpm). Fermentation experiments were carried out in 2X SD minimal medium (13.4% yeast nitrogen base without amino acids, 100% glucose). The SD minimal medium was supplemented with 1.25 mg/l ergosterol, 0.164 g/l Tween 80, and 0.35 mg/l oleic acid, to satisfy the lipid requirements of the yeast cells during anaerobic growth. Acetoin was added at various concentrations (from 0 to 300 mM) at the start of fermentation, as previously described by Celton et al.[5]. Bioreactors were inoculated to a final OD600 of 0.05, with cells from a YPD preculture in 50 ml of medium in a 250 ml flask, which had been incubated at 28 °C, with shaking. Fermentations were performed at 28 °C. CO2 release was determined by automatic measurements of fermentor weight loss at 20-minute intervals [37]. Fermentation experiments were performed in triplicate.
Analytical methods
Yeast growth was monitored by measuring the optical density of the culture at 600 nm (OD600). Glucose and acetate were determined by high-performance liquid chromatography (HPLC) with an Aminex HPX-87 H ion exchange column. Volatile compounds were determined by GC-FID analysis, with a headspace autosampler and a BP20 (SGE).
Microarray analysis
Gene expression was analyzed from three independent cultures of each studied strain: 59A, 59A NADH-Bdh 200 mM, 59A NADPH-Bdh 100 mM, 200 mM and 300 mM. Aliquots of 1x109 cells were sampled from the fermentation medium when CO2 production reached 6 g/l/h. Cells were collected by centrifugation at 1000 g for 5 min at 4 °C and the cell pellets were washed with DEPC-treated water and frozen in methanol at −80 °C. Total RNA was extracted with Trizol reagent (Gibco BRL, Life Technologies) [38] and purified with the "RNA Cleanup kit" (Qiagen). We checked the quantity and quality of the extracted RNA by spectrometry (NanoDrop 1000, Thermo Scientific). The DNA microarrays were manufactured at the Biochip platform of Toulouse–Genopole, on dendrislides [39], with 70-mer oligonucleotides covering 99% of the yeast genome (Operon Inc.; a list of the corresponding genes is available from http://biopuce.insatoulouse.fr/oligosets/). Fluorescent cDNAs were synthesized from 5 μg of total RNA with the CleanUP System (Promega). Labeled cDNA was purified with the Pronto Purification kit (Promega). Microarrays were hybridized in static conditions for 16 h in 42 °C in a hybridization chamber (Corning), with the Pronto Universal Hybridization Quick kit.
Transcriptomic data acquisition and statistical analysis
Hybridization signals were detected with a GenePix 4000B laser scanner (Axon Instruments). Array images were acquired and quantified with integrated GenePix software version 3.0. Statistical analysis was done with R.2.11.1 software [40]. The limma package [41–43] was used to normalize the microarray data (by the print-tip-loess method for normalization within the array followed by the quantile method for normalization between arrays). Differential expression between two sets of experimental conditions was detected by carrying out a modified t-test, with a significant threshold of p < 5 x 10-2, applying the Benjamini and Hochberg false discovery rate to correct for multiple testing [44]. Only genes displaying a fold-change of at least 1.5 (positive or negative) in expression level were considered. Genes displaying differential expression were grouped according to Gene Ontology (GO) process terms, with the database for annotation, visualization and integrated discovery (DAVID), beta version 6.7 [45]. The complete data set is available through the Gene Expression Omnibus database (accession number GSE34810).
Extraction and determination of intracellular metabolites
Sampling from two independent replicates of each studied strain (NADPH-Bdh 100 mM, 200 mM and 300 mM acetoin) and carried out when CO2 production reached 6 g/l/h. Cells (0.5 to 1.95 x 108) were added to 5 ml of methanol solution (40% vol/vol) to quench their metabolism. They were then collected by centrifugation (15000 g, 1 min, -10 °C) and stored at −80 °C. Extraction and quantitative analysis by isotope dilution mass spectrometry using uniformly 13 C-labeled cell extracts as internal standards [46] were carried out at the MetaToul Platform, Toulouse. Ethanol (5 μl of a 75% v/v solution) was added to the cell pellets and metabolites were extracted by incubating the mixture for three minutes at 80 °C. The samples were cooled on ice and centrifuged at 15000 g for 10 minutes. Ethanol was removed by evaporation and the metabolites were resuspended in 250 μl ultra-pure H2O and centrifuged at 20000 g for two minutes. Intracellular metabolites were analyzed by high-pressure anion exchange chromatography in a Dionex ICS 2000 machine (Dionex, USA) equipped with an AS11 analytical column (2 x 50 mm). Mass spectra were acquired with a QTrap 4000 electrochemical detector (Applied Biosystems) equipped with a Sciex Turbo V MSD (Toronto) for ESI electrospray ionization and MRM (Multiple Reaction Monitoring) in detector mode.
13 C-flux analysis
Cells were grown in penicillin vials filled with 10 ml 2X SD minimal medium supplemented with 1.25 mg/l ergosterol, 0.164 g/l Tween 80, 0.35 mg/l oleic acid and with 100 mg.l-1 of a mixture of labeled (40% 1-13 C-glucose) and unlabeled glucose and 1.4 mg.l-1 of NH4Cl as the sole nitrogen source. At an OD600 of 3.0, corresponding to mid-exponential growth phase, the concentration of extracellular metabolites (glucose, glycerol, organic acids) was measured in the supernatant (these data will be used to constrain the stoichiometric model, as described below). Cells were harvested and hydrolyzed overnight with 6 M HCl for the determination of amino acids labeling patterns. One glucose derivative (glucose pentacetate) and two amino-acid derivatives (ethyl chloroformate (ECF) and dimethyl formamide dimethyl acetal (DMFDMA)) were analyzed by GC-MS [47], as previously described by Gombert et al. [48]. From the raw GC-MS data, the summed fractional labeling (SFL) of each fragment was calculated as follow: SFL = 100 × [(1.m 1 + 2.m 2 + …. + n.m n) × (m 0 + m 1 + m 2 + … + m n)-1, with m o the fractional abundance of the lowest corrected mass and mi > 0 the abundance of molecules with higher corrected masses. The labelling data are available in request.
The data set used for 13 C-flux analysis included the 25 SFLs calculated from labeling experiments and 22 measured fluxes, including the drain of metabolic intermediates to biomass and the formation of seven metabolites, giving a total of 47 items of experimental data. The distribution of carbon in central carbon metabolism (CCM) was estimated with the metabolic model described by Gombert et al.[48], modified to take into account features specific to fermentation [49]. The network used is described in additional file 2. Flux calculations (60 reactions) were carried out with Matlab 7, as previously described [47,48]. Differences between experimental and simulated SFLs and between experimental and simulated fluxes were minimized by an iterative procedure. Calculations were carried out 100 times and the fluxes reported are the means of the convergent solutions (Additional file 2).
Declarations
Acknowledgments
We thank Lindsay Peyriga of the MetaSys (Functional Analysis of Metabolic Systems Platform), Toulouse, France, for the extraction and analysis of intracellular metabolites. We also thank Pierre Delobel for assistance with microarray analysis. This study was supported by the INRA AgroBi 2006–2008 program and by the BIOFLAVOUR Cost Action FA0907.
Authors' Affiliations
(1)
INRA, UMR1083 SPO, Montpellier, France
(2)
INRA, MIG, Jouy-en-Josas, France
Copyright
© Celton et al.; licensee BioMed Central Ltd. 2012
This article is published under license to BioMed Central Ltd. This is an Open Access article distributed under the terms of the Creative Commons Attribution License (http://creativecommons.org/licenses/by/2.0), which permits unrestricted use, distribution, and reproduction in any medium, provided the original work is properly cited.