Research article

Open Access
Efficient assembly and annotation of the transcriptome of catfish by RNA-Seq analysis of a doubled haploid homozygote
Received: 1 March 2012
Accepted: 9 August 2012
Published: 5 November 2012
Abstract
Background
Upon the completion of whole genome sequencing, thorough genome annotation that associates genome sequences with biological meanings is essential. Genome annotation depends on the availability of transcript information as well as orthology information. In teleost fish, genome annotation is seriously hindered by genome duplication. Because of gene duplications, one cannot establish orthologies simply by homology comparisons. Rather intense phylogenetic analysis or structural analysis of orthologies is required for the identification of genes. To conduct phylogenetic analysis and orthology analysis, full-length transcripts are essential. Generation of large numbers of full-length transcripts using traditional transcript sequencing is very difficult and extremely costly.
Results
In this work, we took advantage of a doubled haploid catfish, which has two sets of identical chromosomes and in theory there should be no allelic variations. As such, transcript sequences generated from next-generation sequencing can be favorably assembled into full-length transcripts. Deep sequencing of the doubled haploid channel catfish transcriptome was performed using Illumina HiSeq 2000 platform, yielding over 300 million high-quality trimmed reads totaling 27 Gbp. Assembly of these reads generated 370,798 non-redundant transcript-derived contigs. Functional annotation of the assembly allowed identification of 25,144 unique protein-encoding genes. A total of 2,659 unique genes were identified as putative duplicated genes in the catfish genome because the assembly of the corresponding transcripts harbored PSVs or MSVs (in the form of pseudo-SNPs in the assembly). Of the 25,144 contigs with unique protein hits, around 20,000 contigs matched 50% length of reference proteins, and over 14,000 transcripts were identified as full-length with complete open reading frames. The characterization of consensus sequences surrounding start codon and the stop codon confirmed the correct assembly of the full-length transcripts.
Conclusions
The large set of transcripts assembled in this study is the most comprehensive set of genome resources ever developed from catfish, which will provide the much needed resources for functional genome research in catfish, serving as a reference transcriptome for genome annotation, analysis of gene duplication, gene family structures, and digital gene expression analysis. The putative set of duplicated genes provide a starting point for genome scale analysis of gene duplication in the catfish genome, and should be a valuable resource for comparative genome analysis, genome evolution, and genome function studies.
Keywords
Transcriptome AssemblyIron Responsive ElementProtein Query SequenceAverage Contig LengthCatfish Genome
Background
Recent advances in next-generation sequencing enabled an array of whole genome sequencing or re-sequencing projects in both model and non-model species. Such efforts have produced a wealth of genome resources. However, thorough genome analysis thereafter is essential to associate genome sequences with biological meanings [1, 2]. An important step in genome analysis is to decipher the complete protein coding sequence (CDS) region of each gene. In eukaryotes, prediction of CDS regions in genomic sequence is complicated by the intron interruptions and the low proportion of protein coding regions in the genome. It is still problematic at present to predict the correct distribution of CDS regions solely based on genomic sequences [3]. To obtain information about the portion of a genome that is transcribed as RNAs and then translated into proteins, a comprehensive set of full-length transcripts is needed [4].
In teleost fish, genome annotation is further seriously hindered by genome duplication. Because of gene duplications, it's unable to establish orthologies simply by homology comparisons. Rather intense phylogenetic analyses or syntenic analyses of orthologies are required for the identification of genes. To conduct phylogenetic analysis and orthology analysis, full-length coding regions of transcripts are essential. Furthermore, the nature of highly diversified and duplicated genome of fish species hindered sequence assembly and complicated the genome annotation as well as SNP identification. Previous efforts aiming at SNP discovery for catfish rendered the issue about discrimination of false positive SNPs derived from paralogous sequences and multisite sequences (PSVs/MSVs) [5].
Obtaining large numbers of full-length transcripts is not an easy task. In most cases, full-length transcripts were obtained by Sanger-based sequencing of full-length cDNA clones. This strategy works well for many highly abundantly expressed and short transcripts because in such cases: 1) clones containing full-length transcripts can be readily identified, and 2) complete sequencing can be achieved through sequencing from both ends of the clones. However, such a task for rarely expressed genes and large transcripts can be troublesome because the identification of full-length cDNA containing clones is itself a huge challenge, and even if the clones are identified, complete sequencing of long inserts using Sanger sequencing can still be time-consuming and expensive. Recently, next-generation sequencing has been recognized as one solution for transcriptome sequencing at a reasonable cost [6, 7]. High-throughput sequencing of cDNA (RNA-Seq) does not rely on prior knowledge, enabling interrogation of all transcripts including potentially novel transcripts uncaptured in Sanger-based sequencing [8]. RNA-Seq can provide sufficient sequencing coverage on whole transcriptome scale to ensure the precision of each single base and integrality of full-length transcripts [7, 9]. However, huge amount of short reads generated from RNA-Seq make the transcriptome assembly difficult, which is not only impeded by repeats but also by alternatively spliced transcripts. Moreover, while genomic sequencing coverage is generally uniform across the genome, transcriptome sequencing coverage is highly variable, depending on gene expression levels, excluding the use of coverage information to resolve repeated motifs [10]. Since a transcriptome assembly with good quality is essential for all the downstream analysis, extra efforts are required to improve the transcriptome assembly. An optimized assembly strategy can be obtained by combinatory use of different assembly softwares, especially the ones using multiple k-mers to resolve the problem of biased coverage of transcriptome sequencing. A higher k-mer length will theoretically results in a more contiguous assembly of highly expressed transcripts. On the other hand, poorly expressed transcripts will be better assembled if lower k-mer lengths are used [10]. Therefore, multiple k-mer approach can be used to increase the assembly sensitivity and contiguity. With the fast development of assemblers able to efficiently handle a greater number of sequence reads [10, 11], short-reads can be of considerable utility for assembling transcriptomes of non-model organisms [9, 12, 13]. The most significant issue with RNA-Seq for the assembly of transcriptome, however, is the allelic variation. Most vertebrate species are diploid organisms and therefore two sets of chromosomes are involved in the generation of transcripts. Even if only one individual is used for RNA-Seq, the assembly of related transcripts from the two sets of chromosomes creates "haplotypes" that do not exist, and this alone prohibits assembly of full-length transcripts from multiple sequences. To overcome this huge problem, the ideal approach is to create an individual with doubled haploid genome and therefore there are no allelic variations such that the short reads from RNA-Seq can be assembled, not only technically feasible by the software packages, but also biologically meaningful as they are transcribed from the same sequences.
In catfish, years of efforts have resulted in nearly 500,000 quality ESTs [14], but a limited number of full-length transcripts were obtained through the traditional clone-by-clone approach using Sanger sequencing [15]. Recent efforts using RNA-Seq allowed the identification of a large number of transcripts in catfish [4], but the assembly of full-length transcripts was hindered by the reasons discussed above. In order to circumvent this problem and generate a large set of full-length coding sequences to support the genome sequencing and annotation in catfish, doubled haploid catfish was produced that has been demonstrated to harbor two sets of homozygous chromosomes [16]. Such homozygous catfish is ideal material for the generation and assembly of full-length transcripts using RNA-Seq. Here we report deep sequencing of catfish transcriptome by RNA-Seq using this gynogenetic homozygous catfish. The two main objectives of this study were to develop a comprehensive set of reference transcript sequences for genome-scale gene discovery and expression studies in catfish; and to obtain a large number of full-length transcripts for whole genome annotation, duplicate gene identification, and facilitating detection of false SNPs derived from PSVs/MSVs.
Discussion
The transcriptome sequencing enables various structural and functional genomic studies of an organism. Although a lot of Sanger-based EST sequencing projects had been carried out for comprehensive characterization of transcriptomes, expressed sequence data are still limited resources, specifically in non-model species. The next-generation sequencing technologies provide a low cost, labor-saving and rapid means for transcriptome sequencing and characterization. However, the de novo assembly of short reads without a known reference is still difficult [47]. High throughput 454 sequencing which generates longer reads has been widely used in many transcriptome sequencing studies in non-model species previously [48, 49]. Recently, more and more studies have shown the feasibility of transcriptome assembly by using Illumina short reads [12], especially with the combination of paired-end reads sequencing technology to facilitate the assembly. However, the differential gene expression results in variable coverage in transcriptome sequencing, the choice of a single k-mer value usually used in genome assembly cannot generate an assembly with emphasis on both transcript diversity and contiguity. Performing multiple assemblies with various k-mer lengths and to retain the best part of each one to form the final assembly has been shown effective for de novo transcriptome assembly [50]. Furthermore, as each assembler utilizes different approaches to deal with sequencing errors and paired-end information, the assemblers may differ in their abilities to capture different portions of the transcriptome with accuracy. It is reasonable that merging assemblies from multiple assemblers might yield a combined assembly with higher accuracy. More comprehensive transcripts would be obtained with combinatory use of several de novo assemblers.
In this study, we reported an efficient assembly and annotation of the catfish transcriptome by applying several combined strategies. Firstly, we took advantage of a doubled haploid channel catfish to reduce the complexity of transcriptome. Most importantly, the doubled haploid allows biologically meaningful assembly of transcripts without artificially creating "haplotypes" that do not exist in nature. The sequence assembly was facilitated since there are no allelic variations. Various tissues were collected with the aim to cover a comprehensive transcriptome. The paired-end reads were generated to resolve the assembly problem caused by repetitive regions. Secondly, we generated a final assembly with a combinatory use of three different widely used de novo assemblers. Multiple k-mer method was also used to enable the assembly sensitivity and contiguity. A higher N50 length and average length are considered as a benchmark for better assembly on contiguity. Our results showed that N50 length and average length of contigs varied greatly as a function of k-mer length, and also varied greatly between different assemblers. To get the optimum results, the validation of different assembly programs was conducted by comparing sequence similarity with closely related species. The ABySS generated contigs with higher N50 length and average length indicating its strength in generating assembly with better contiguity, while the Velvet generated sequences with more number and percentage of contigs showed significant similarity with zebrafish proteins. The CLC Genomics Workbench performed as intermediate between ABySS and Velvet according to both contiguity and sensitivity. The final assembly obtained by merging all these three sets of assembly provided a more comprehensive and accurate assembly.
We believe that the sequencing depth was sufficient to cover the vast majority of transcripts. To assess the depth of sequencing obtained for transcriptome assembly in this work, three lanes of sequencing was conducted with one of which being sequenced for around one fourth yield of a whole lane (Table
1
) and the sequence datasets were resampled into several sub-datasets with various read depths (Additional file
7
). The
de novo
assemblies of these sub-datasets were generated using CLC Genomics Workbench to determine the effects of read depths on the transcriptome assembly. The summary of assembly statistics was given in Addition file
6
. The number of contigs with minimum length of 200 bp and 1 kb were collected as two benchmarks for the assembly sensitivity and continuity. As shown in Figure
10
A, with the increase of sequencing depth, the number of contigs with minimum length of 200 bp increased. A significant increase of transcriptome coverage (assembly sensitivity) was observed from 48M to 124M. Relatively slight increase was observed when the number of reads increased from 258M to 308M, but nonetheless the number of assembled contigs with sizes greater than 200 bp or 1 kb continues to grow as the sequence depth increased. This was somewhat outside of our expectation, perhaps due to the segmented assemblies. We therefore decided to determine if the percentage of gene hits continue to increase with the increase of sequencing depth.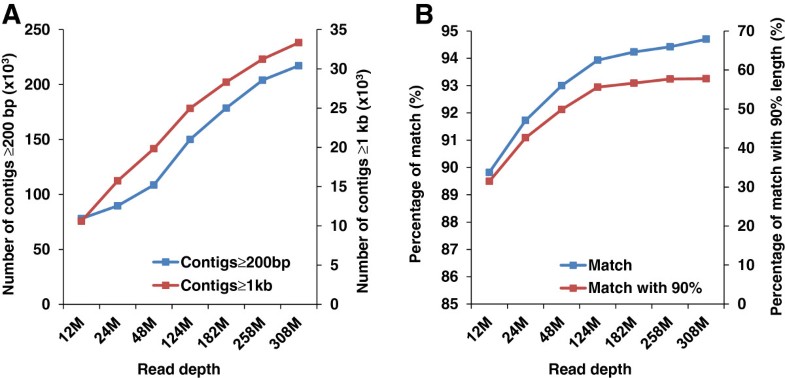 The transcriptome coverage and completeness achieved by these sub-assemblies were then evaluated by matching with annotated known genes. Due to the limited number of catfish genes in the public database, we used the zebrafish RefSeq protein sequences in the NCBI database to conduct this evaluation. There are a total of 27,239 zebrafish annotated protein sequences available which were searched against the assembled catfish contigs for homologous match using TBLASTN. The numbers of detected zebrafish proteins at different levels of sequencing depth are presented in Additional file 8. There were 25,795 zebrafish proteins observed in the catfish RNA-Seq assembly accounting for 94.7% of all annotated proteins in the database. As shown in Figure 10B, the number of observed genes increased almost linearly with lower sequencing depth. However, the number of observed genes started to plateau when the sequencing depth reached 124 million reads. From 124 million reads to 308 million reads, the percent of gene hits increased from 94% to 95%; while the percentage of gene hits with greater than 90% length homology stayed essentially unchanged, suggesting that the sequencing depth was sufficient to provide a good coverage of the transcriptome.
The analysis of sequence conservation comparing with other model fish species helps in transfer of knowledge from model species to catfish for both structural and functional genomic studies. A large number of catfish transcripts showed significant similarity with model fish at protein level as expected, suggesting that their function might also be conserved. Interestingly, a large number of the transcripts did not show significant homology with any other reference sequences, which may be novel and transcribed from catfish-specific genes. The study of these genes will be very important to dissect the species-specific cellular process, 'catfish-specific' gene duplication and divergence and study evolutionary processes of speciation and adaptation.
The doubled haploid fish used in this work provided an opportunity to evaluate genome-scale gene duplication in catfish. There were a total of 2,659 unique genes detected as putative duplicated genes. Ultimately, duplicated genes will have different genome coordinates as to their locations. However, the catfish genome sequencing is still in progress. Nonetheless, the evaluation based on the catfish preliminary genome assembly (unpublished) supported that the majority of these genes had duplicate copies. Clearly, the use of doubled haploid catfish was not only important for the transcript assembly, but also important for the initial identification of putative gene duplications in catfish. Additional analysis and validation are needed to demonstrate that the putative duplicated genes are indeed duplicated in the future.
Conclusions
In conclusion, we have demonstrated the use of short-reads sequence data to efficiently and comprehensively characterize a draft transcriptome of an organism without sequenced genome. The strategy of de novo assembly described here can be potentially used for other species. The advantages offered by the use of a homozygote are applicable to most teleost species where doubled haploid can be made. Our study contributed a significant non-redundant set of 370,798 transcripts including 14,240 full-length transcripts in catfish. The detailed analyses of these sequences has provided several important features of catfish transcriptome such as length distribution, sequence patterns around translation initiation and termination codons, conserved regulatory motifs, conserved genes across fishes, and functional annotation. It is anticipated that the results from this study will contribute significantly towards assembly and annotation of the catfish genome. Such resources will likely be important for structural and functional genomics studies in other teleosts and related species as well.
Declarations
Acknowledgements
This project was supported by Agriculture and Food Research Initiative Competitive Grant no. 2009-35205-05101 and 2010-65205-20356 from the USDA National Institute of Food and Agriculture (NIFA). The authors want to thank Ludmilla Kaltenboeck for lab assistance during RNA preparation. Thanks are also given to Alabama Supercomputer Center for providing the computer capacity for the bioinformatic analysis. Shikai Liu is supported by a scholarship from the China Scholarship Council (CSC) for studying abroad.
Authors' Affiliations
(1)
The Fish Molecular Genetics and Biotechnology Laboratory, Department of Fisheries and Allied Aquacultures and Program of Cell and Molecular Biosciences, Aquatic Genomics Unit, Auburn University, Auburn, USA
(2)
The Shellfish Genetics and Breeding Laboratory, Fisheries College, Ocean University of China, Qingdao, P.R. China
(3)
USDA, ARS, Catfish Genetics Research Unit, Stoneville, USA
(4)
College of Veterinary Medicine, Mississippi State University, Stoneville, USA
Copyright
© Liu et al.; licensee BioMed Central Ltd. 2013
This article is published under license to BioMed Central Ltd. This is an Open Access article distributed under the terms of the Creative Commons Attribution License (http://creativecommons.org/licenses/by/2.0), which permits unrestricted use, distribution, and reproduction in any medium, provided the original work is properly cited.