Research article
Open Access
Transcriptome analysis of Cymbidium sinense and its application to the identification of genes associated with floral development
Received: 31 October 2012
Accepted: 15 April 2013
Published: 24 April 2013
Abstract
Background
Cymbidium sinense belongs to the Orchidaceae, which is one of the most abundant angiosperm families. C. sinense, a high-grade traditional potted flower, is most prevalent in China and some Southeast Asian countries. The control of flowering time is a major bottleneck in the industrialized development of C. sinense. Little is known about the mechanisms responsible for floral development in this orchid. Moreover, genome references for entire transcriptome sequences do not currently exist for C. sinense. Thus, transcriptome and expression profiling data for this species are needed as an important resource to identify genes and to better understand the biological mechanisms of floral development in C. sinense.
Results
In this study, de novo transcriptome assembly and gene expression analysis using Illumina sequencing technology were performed. Transcriptome analysis assembles gene-related information related to vegetative and reproductive growth of C. sinense. Illumina sequencing generated 54,248,006 high quality reads that were assembled into 83,580 unigenes with an average sequence length of 612 base pairs, including 13,315 clusters and 70,265 singletons. A total of 41,687 (49.88%) unique sequences were annotated, 23,092 of which were assigned to specific metabolic pathways by the Kyoto Encyclopedia of Genes and Genomes (KEGG). Gene Ontology (GO) analysis of the annotated unigenes revealed that the majority of sequenced genes were associated with metabolic and cellular processes, cell and cell parts, catalytic activity and binding. Furthermore, 120 flowering-associated unigenes, 73 MADS-box unigenes and 28 CONSTANS-LIKE (COL) unigenes were identified from our collection. In addition, three digital gene expression (DGE) libraries were constructed for the vegetative phase (VP), floral differentiation phase (FDP) and reproductive phase (RP). The specific expression of many genes in the three development phases was also identified. 32 genes among three sub-libraries with high differential expression were selected as candidates connected with flower development.
Conclusion
RNA-seq and DGE profiling data provided comprehensive gene expression information at the transcriptional level that could facilitate our understanding of the molecular mechanisms of floral development at three development phases of C. sinense. This data could be used as an important resource for investigating the genetics of the flowering pathway and various biological mechanisms in this orchid.
Keywords
Floral developmentFlowering timeDigital gene expressionTranscriptome Cymbidium sinense
Background
The Orchidaceae is one of the largest and most widespread families of flowering plants, with more than 250000 species [1]. Cymbidium, a very important economically flowering genus with the Orchidaceae, has nearly 55 species throughout the world and is widespread in tropical and subtropical Asia, reaching as far south as Papua New Guinea and Australia [2]. Cymbidium sinense is a perennial terrestrial species native to China and has more than a thousand years of cultural history. It holds a strong position in traditional flower markets in China, Japan, Korea, and Southeast Asia. It is of great horticultural value as an ornamental plant because of its elegance, its upright leaves, and beautiful and fragrant flowers. C. sinense blooms in winter from January to March and is usually regarded as a Spring Festival flower. Although C. sinense is a valuable orchid, its flowering pathway is not clearly understood. Variation in environmental conditions, including light, temperature and hormones, is likely to regulate flowering time and flower quality. Flowering regulation technology for C. sinense is currently scarce on the market, which seriously hinders the development of the orchid industry and also reduces the economic value of C. sinense.
The transition from vegetative growth to flowering is very importance because flowering is the first step of sexual reproduction [3]. In Arabidopsis thaliana, flower initiation takes place via four (gibberellin, autonomous, vernalization, light-dependent) genetic pathways. These processes are integrated by the function of the FLOWERING LOCUS D (FD), FLOWERING LOCUS E (FE), FLOWERING WAGENINGEN (FWA), PROTODERMAL FACTOR2 (PDF2), SUPPRESSOR OF OVEREXPRESSION OF CO 1(SOC1), and FLOWERING LOCUS T (FT) genes. The integrated signal of floral induction is transmitted to the floral meristem identity genes LEATY (LFY) and APETALA1 (AP1), after which floral morphogenesis takes place [4]. Currently only a few flowering genes have been cloned from orchids. DOH1 and DOMADS1 were isolated and identified from Dendrobium Madame. DOH1 plays a negative regulatory role in floral formation while DOMADS1 is a marker gene specifically expressed in the shoot apical meristem during floral transition. DOH1 is a possible upstream regulator of DOMADS1 and inhibits its expression [5, 6]. Some MADS-box function genes were also isolated from Dendrobium crumenatum. They include APETALA2 (AP2), PISTILLATA (PI)/GLOBOSA (GLO), APETALA3 (AP3) /DEFIENCE (DEF)-like, AGAMOUS (AG) and SEPALLATA (SEP) genes, which play an important role in the early regulation of the conversion to flowers [7]. OMADS3 was isolated and characterized from Oncidium Gower Ramsey with a function similar to a functional gene regulating flower formation as well as floral initiation [8]. OMADS1 from O. Gower Ramsey promoted flower transition and formation by acting as an activator for FT and SOC1 in Arabidopsis. OMADS1 was able to strongly interact with OMADS3, which influenced flower formation and floral initiation [9].
Compared with other orchids, very little research exists on the role of flowering genes in the regulation of the vegetative-to-flowering transition and flower initiation in Cymbidium. Few reports investigating the functions of flowering time genes of Cymbidium exist. Genomic resources available for the species are also scarce. Together with the nucleotide sequences obtained by NCBI searches, 60 Cymbidium expressed sequence tags (ESTs) are, however, available. Nevertheless, this genetic data is insufficient for elucidating the molecular mechanism of floral regulation in C. sinense.
In recent years, Illumina sequencing techniques have provided fascinating opportunities in life sciences and dramatically improved the efficiency of gene discovery. However, the entire transcriptome of C. sinense has not been sequenced. In this study, RNA-seq and digital gene expression (DGE) were performed using Illumina technology. Illumina sequencing provided comprehensive information about gene expression at the transcriptional level that could facilitate our understanding of the molecular mechanisms of C. sinense floral development. Such data for C. sinense could also be used as an important resource to investigate the flowering pathway and various other biological mechanisms in other orchid species.
Conclusion
The combination of RNA-seq and DGE analysis based on Illumina sequencing technology provided comprehensive information on gene expression. Candidate genes on flowering time genes, MADS-box genes and COL genes were rapidly identified by this approach. This data could be used as a tool to investigate the flowering pathway and various other biological pathways in C. sinense.
Methods
Plant materials and growth conditions
C. sinense
'Qi Jian Bai Mo' plants used in this study were grown and maintained in pots in a greenhouse of the South China Botanical Garden at a day/night temperature of 28/25°C with a 12-h period. The cDNA libraries were prepared from the entire plant of
C. sinense
at vegetative and reproductive stages. The vegetative phase (VP) samples were collected from a non-pseudobulb shoot (Figure
10
A). The floral differentiation phase (FDP) samples were collected from the entire adult plant which had developed floral buds at the base of the pseudobulb (Figure
10
B). The reproductive phase (RP) samples were collected from entire adult plants which had developed a peduncle with floral organs at the base of the pseudobulb (Figure
10
C).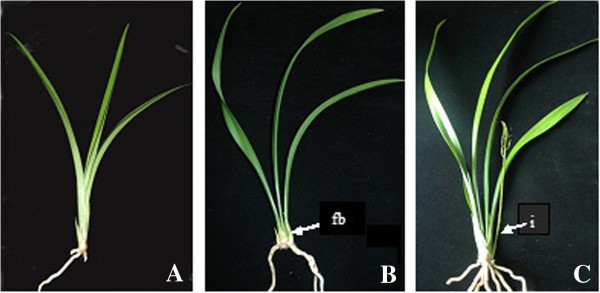 Fresh samples were used to extract total RNA immediately.
cDNA library preparation and Illumina sequencing for transcriptome analysis
Total RNA was extracted using Column Plant RNAout2.0 (Tiandz, Inc. Beijing, China) according to the manufacturer's protocol. To obtain complete gene expression information, a pooled RNA sample including roots, leaves, pseudobulbs, flower buds, young and mature inflorescences was used for transcriptome sequencing analysis. According to the Illumina manufacturer's instructions, poly(A)+ RNA was purified from 20 mg of pooled total RNA using oligo(dT) magnetic beads. Fragmentation buffer was added to interrupt mRNA to short fragments. Using these short fragments as templates, a random hexamer-primer was used to synthesize the first-strand cDNA. Second-strand cDNA was synthesized using 10×buffer, 25 mM dNTPs, 20-60 U/μl RNaseH and 5 U/μl DNA polymerase I. Short fragments were purified with the QiaQuick PCR extraction kit and resolved with EB buffer for end reparation and for adding poly(A). Thereafter, the short fragments were connected with sequencing adapters. After agarose gel electrophoresis, suitable fragments were selected for PCR amplification as templates. Finally, the library was sequenced using Illumina HiSeq™ 2000. All raw transcriptome data were deposited in the GeneBank Short Read Archive (Accession SRA058042).
Analysis of Illumina sequencing results
Raw reads from the image data output from the sequencing machine were generated by base calling. After filtering raw reads, de novo assembly of the transcriptome was carried out with a short reads assembling program – Trinity [64]. Trinity connects the contigs and obtains sequences defined as unigenes.
The generated unigenes were used for BLASTX and annotation against protein databases, including non-redundant (nr), SwissPort, COG, KEGG, and GO protein database, with a cut-off E-value of 0.00001. GO (http://www.geneontology.org) has three ontologies: molecular function, cellular component and biological process. With nr annotation, we used the Blast2GO program [65] to obtain the GO annotation of unigenes. After obtaining the GO annotation for every unigene, we used WEGO software [66] to perform GO functional classification for all unigenes and to understand the distribution of gene functions. KEGG is a major public pathway-related database [67] that is able to analyze a gene product during a metabolic process and related gene function in cellular processes. With the help of the KEGG database, we can further study genes' biological complex behaviors, and by KEGG annotation we can obtain pathway annotation for unigenes. The KEGG pathways annotation was performed using Blastall software against the KEGG database.
Digital gene expression (DGE) library preparation and sequencing
Total RNA was extracted from VP, FDP and RP using Column Plant RNAout2.0. mRNA was enriched by using oligo(dT) magnetic beads. After adding the fragmentation buffer, the mRNA was interrupted to short fragments (about 200 bp). Then the first strand cDNA was synthesized by a random hexamer-primer using the mRNA fragments as templates. 10×buffer, 25 mM dNTPs, 20-60 U/μl RNaseH and 5 U/μl DNA polymerase I were added to synthesize the second strand. The double-stranded cDNA was purified with a QiaQuick PCR extraction kit and washed with EB buffer for end repair and single nucleotide A (adenine) addition. Finally, sequencing adaptors were ligated to the fragments. The required fragments were purified by agarose gel electrophoresis and enriched by PCR amplification. The library products were ready for sequencing analysis via Illumina HiSeq™ 2000. Three raw DGE data (VP, FDP and RP) were deposited in the GeneBank Short Read Archive (accession SRA058974, SRA058977, SRA058978, respectively).
Analysis and mapping of DGE tags
To map the DGE tags, the sequenced raw data were filtered to remove low quality tags (tags with an unknown nucleotide "N"), empty tags (no tag sequence between the adaptors) and tags with only one copy number (which might result from sequencing errors). For the annotation of tags, clean tags containing CATG and 21-bp tag sequences were mapped to our transcriptome reference database using SOAPaligner/soap2 [68]. Mismatches of no more than two bases were allowed in the alignment.
Screening of differentially expressed genes (DEGs)
To compare the differences in gene expression at different developmental stages, the tag frequency in the different DGE libraries was statistically analyzed according to the method described by Audic and Claverie [14]. The false discovery rate (FDR) was used to determine the threshold P-value in multiple tests. We used FDR < 0.001 and an absolute value of the log2 ratio >1 as the threshold to determine the significant difference in gene expression. The differentially expressed genes were used for GO and KEGG enrichment analyses according to a method similar to that described by Xue [69]. GO terms, which take the corrected P-value ≤ 0.05 as a threshold, are significantly enriched in DEGs. KEGG pathways with a Q-value ≤ 0.05 are significantly enriched in DEGs.
Genes with similar expression patterns usually mean functional correlation. We perform cluster analysis of gene expression patterns with cluster [70] software and Java Treeview [71] software. In Figure 8, each column represents an experimental sample (e.g. VP, FDP and RP), each row represents a gene. Expression differences are shown in different colors. Red means high expression and green means low expression.
Quantitative real-time PCR (qRT-PCR) validation
Total RNA was extracted as described for the DGE library preparation and sequencing. Each RNA sample was treated with RNase-free DNase (Promega) following the manufacturer's protocol in an effort to remove any residual genomic DNA (gDNA). DNase-treated RNA (2 mg) was subjected to reverse transcriptase reactions using oligo-dT primer and PrimeScript™ Reverse Transcriptase (Takara) according to the manufacturer's protocol.
The sequences of the specific primer sets are listed in Additional file 11. The actin gene of C. sinense (ACC NO. GU181353) was used as an internal gene. qRT-PCR was performed using the SYBR Premix Ex Taq Kit (TaKaRa) according to the manufacturer's protocol. The results were normalized to the expression level of the constitutive actin gene. A relative quantitative method (DDCt) was used to evaluate the quantitative variation.
Abbreviations
DGE:

Digital gene expression
GO:

Gene ontology
KEGG:

Kyoto encyclopedia of genes and genomes
AP1:

Apetala1
AP2:

Apetala2
AP3:

Apetala3
AG:

Agamous
CAL:

Cauloflower
CCA1:

Circadian clock associated 1
CHS:

Chalcone synthase
CO:

Constans
COL:

Constans-like
DEF:

Deficiens
ELF3:

Early flowering 3
EST:

Expressed sequence tag
EMF2:

Embryonic flower 2
FD:

Flowering locus D
FE:

Flowering locus E
FT:

Flowering locus T
FLC:

Flowering locus C
FWA:

Flowering wageningen
GI:

Gigantea
GLO:

Globosa
LHY:

Late elongated hypocotyl
LFY:

Leafy
PDF2:

Protodermal factor2
PIF3:

Phytochrome interacting factor 3
PI:

Pistillata
SEP:

Sepallata
SOC1:

Suppressor of overexpression of co 1
TFL1:

Terminal flower 1
TOC1:

Timing of cab expression 1
VIN3:

Vernalization insensitive 3
VRN1:

Vernalization 1
UFO:

Unusual floral organs.
Declarations
Acknowledgments
This study was supported by the National Natural Science Foundation of China (CNSF31101572 and CNSF31170654), the Science and Technology Project Foundation of Guangdong Province (2011A020201001 and 2012B091100255), Knowledge Innovation Program of the Chinese Academy Sciences (Y021121001) and the Foundation of Key Laboratory of Plant Resources Conservation and Sustainable Utilization, South China Botanical Garden, Chinese Academy of Sciences (201222ZS).
Authors' Affiliations
(1)
Key Laboratory of South China Agricultural Plant Genetics and Breeding, South China Botanical Garden, The Chinese Academy of Sciences, Guangzhou, China
(2)
Key Laboratory of Plant Resources Conservation and Sustainable Utilization, South China Botanical Garden, Chinese Academy of Sciences, Guangzhou, China
(3)
Faculty of Agriculture and Graduate School of Agriculture, Kagawa University, Miki-cho, Japan
(4)
Guangdong Key Laboratory for Innovative Development and Utilization of Forest Plant Germplasm, South China Agricultural University, Guangzhou, China
(5)
School of Life Sciences, Guangzhou University, Guangzhou, China
(6)
Guangzhou Genedenovo Biotechnology Co.,Ltd, Guangzhou, China
Copyright
© Zhang et al.; licensee BioMed Central Ltd. 2013
This article is published under license to BioMed Central Ltd. This is an Open Access article distributed under the terms of the Creative Commons Attribution License (http://creativecommons.org/licenses/by/2.0), which permits unrestricted use, distribution, and reproduction in any medium, provided the original work is properly cited.