Research article

Open Access
Coexpression analysis of large cancer datasets provides insight into the cellular phenotypes of the tumour microenvironment
Received: 2 January 2013
Accepted: 25 June 2013
Published: 11 July 2013
Abstract
Background
Biopsies taken from individual tumours exhibit extensive differences in their cellular composition due to the inherent heterogeneity of cancers and vagaries of sample collection. As a result genes expressed in specific cell types, or associated with certain biological processes are detected at widely variable levels across samples in transcriptomic analyses. This heterogeneity also means that the level of expression of genes expressed specifically in a given cell type or process, will vary in line with the number of those cells within samples or activity of the pathway, and will therefore be correlated in their expression.
Results
Using a novel 3D network-based approach we have analysed six large human cancer microarray datasets derived from more than 1,000 individuals. Based upon this analysis, and without needing to isolate the individual cells, we have defined a broad spectrum of cell-type and pathway-specific gene signatures present in cancer expression data which were also found to be largely conserved in a number of independent datasets.
Conclusions
The conserved signature of the tumour-associated macrophage is shown to be largely-independent of tumour cell type. All stromal cell signatures have some degree of correlation with each other, since they must all be inversely correlated with the tumour component. However, viewed in the context of established tumours, the interactions between stromal components appear to be multifactorial given the level of one component e.g. vasculature, does not correlate tightly with another, such as the macrophage.
Keywords
Cancer
Transcriptomics
Coexpression
Disease networks
Clustering
Modules
Gene signatures
Stroma
Background
In recent years the field of cancer research has seen an increasing number of large gene expression studies of primary human tumours. Analysis of these datasets has tended to focus on the identification of markers able to divide disease samples into prognostically relevant classifications [1–5]. In the seminal paper by Alizadeh et al.[6] they were able to subdivide lymphomas on the basis of their gene expression profiles and thereby associate specific genes with the tumour's clinical characteristics. Subsequently, numerous studies have attempted to classify other tumour types based on their gene expression profiles and others to stratify patients into the most appropriate treatment group. The latter whilst not yet driving therapeutic options, clearly has potential implications for individualised patient therapy [4, 7]. These studies have generally focused on the identification of groups of differentially expressed genes that can be used to divide tumours into subgroups using statistical approaches. Such predictive gene signatures are frequently composed of genes with no obvious shared biological function. Indeed, there may be a number of signatures derived for essentially the same purpose that share few if any genes in common [8].
An alternative approach is to generate signatures that reflect a specific biological process or outcome [9–11] or sets of coexpressed genes based upon correlation matrices [12–14]. One issue complicating analysis of any cancer gene expression data is the heterogeneity of samples. The tumour cells themselves differ not only in the nature of the mutation(s) that have driven them, but also the genotype of the patient and the treatment that they have received. A significant proportion of a tumour mass is comprised of stromal cells [15]; these non-transformed cells forming the microenvironment in which tumour cell growth is contained and supported. Indeed, the tumour stroma is increasingly seen as an alternative target for therapeutics with potential treatments targeting angiogenesis [16, 17], the extracellular matrix [18] or immune cells [16, 19].
One approach to analysis of the cancer versus the stromal components in a tumour is to employ laser capture microdissection e.g. [
20
]. Here we present an
in silico
approach to dissecting the expression profiles of individual cell types in the tumour stroma, as well as the cancer cell component. We have developed a computational framework and associated tool that now supports visualization and clustering of very large correlation networks derived from microarray expression data [
21
,
22
]. The approach takes advantage of the heterogeneity of tumour samples. The underlying premise of this approach is that the expression of genes specifically associated with a given cell type or pathway will increase or decrease with the relative abundance or activity of those cells/pathways within a given sample, either because of genuine biological variation or random sampling of different regions of the tumours (Figure
1
). The relative significance of correlation increases with the size of the dataset, as the probability of coexpression occurring by chance decreases. Modelling these associations as a graph brings together groups of functionally associated genes which share similar expression profiles such that they form cliques of high connectivity in a graph. We have recently confirmed this hypothesis through the meta-analysis of large collections of expression data derived from many different populations of mouse cells [
23
,
24
], pig tissues [
25
] and clinically derived samples [
26
]. Here we demonstrate using individual cancer datasets that global expression patterns can be divided into biologically meaningful clusters defining tumour cell and stromal elements, and also that many of these gene signatures are conserved across multiple unrelated human cancer datasets.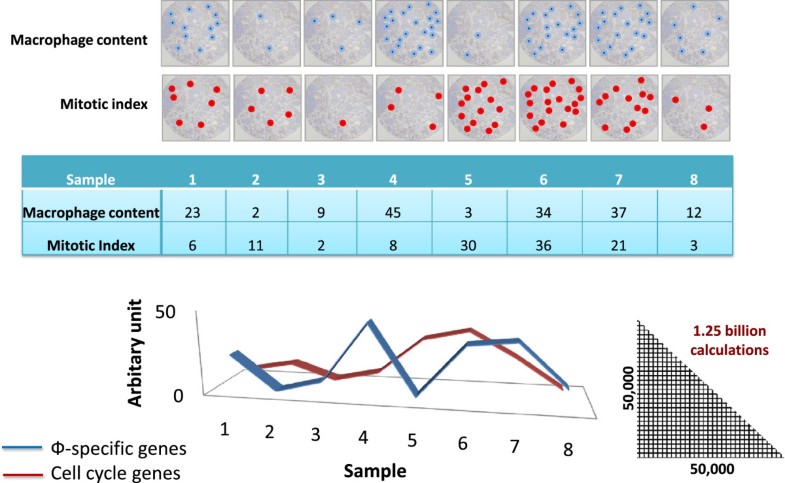 Conclusion
In summary, we have demonstrated a unique approach to phenotyping cell types and identifying pathways within cancer without the need for technologies such as microdissection. The approach is related to the views of pathways, interaction and functional relationship that can be derived from analysis of introduced genetic variation in yeast [67]. The core signatures we report provide a tool to aid the analysis of further datasets, and using the tool BioLayout Express3D they can readily be overlaid on to other data as an aid to the interpretation of other large-scale expression data. In considering therapeutic approaches to cancer, our approach identifies sets of genes that are common to a range of tumour types, and to the stromal components, and which might therefore be potential targets. It also identifies candidate markers for assessing the mechanism and efficacy of therapeutic intervention.
Declarations
Acknowledgements
This work was funded by Leukaemia Research and The Roslin Institute is supported by a BBSRC Institute Strategic Programme Grant. Central to this work has been BioLayout Express3D, and we would like to take this opportunity to thank the other members of the BioLayout Express3D team for all their efforts over the years and the BBSRC whose funding has made it possible (BB/F003722/1, BB/I001107/1).
Authors' Affiliations
(1)
Centre for Inflammation Research, University of Edinburgh, The Queen's Medical Research Institute, Edinburgh, UK
(2)
Department of Pathology, Lothian University NHS Trust, Western General Hospital, Edinburgh, UK
(3)
The Roslin Institute, R(D)SVS, 741 University of Edinburgh, Scotland, UK
Copyright
© Doig et al.; licensee BioMed Central Ltd. 2013
This article is published under license to BioMed Central Ltd. This is an Open Access article distributed under the terms of the Creative Commons Attribution License (http://creativecommons.org/licenses/by/2.0), which permits unrestricted use, distribution, and reproduction in any medium, provided the original work is properly cited.