Research article

Open Access
Transcriptome deep-sequencing and clustering of expressed isoforms from Favia corals
Received: 12 December 2012
Accepted: 3 August 2013
Published: 12 August 2013
Abstract
Background
Genomic and transcriptomic sequence data are essential tools for tackling ecological problems. Using an approach that combines next-generation sequencing, de novo transcriptome assembly, gene annotation and synthetic gene construction, we identify and cluster the protein families from Favia corals from the northern Red Sea.
Results
We obtained 80 million 75 bp paired-end cDNA reads from two Favia adult samples collected at 65 m (Fav1, Fav2) on the Illumina GA platform, and generated two de novo assemblies using ABySS and CAP3. After removing redundancy and filtering out low quality reads, our transcriptome datasets contained 58,268 (Fav1) and 62,469 (Fav2) contigs longer than 100 bp, with N50 values of 1,665 bp and 1,439 bp, respectively. Using the proteome of the sea anemone Nematostella vectensis as a reference, we were able to annotate almost 20% of each dataset using reciprocal homology searches. Homologous clustering of these annotated transcripts allowed us to divide them into 7,186 (Fav1) and 6,862 (Fav2) homologous transcript clusters (E-value ≤ 2e-30). Functional annotation categories were assigned to homologous clusters using the functional annotation of Nematostella vectensis. General annotation of the assembled transcripts was improved 1-3% using the Acropora digitifera proteome. In addition, we screened these transcript isoform clusters for fluorescent proteins (FPs) homologs and identified seven potential FP homologs in Fav1, and four in Fav2. These transcripts were validated as bona fide FP transcripts via robust fluorescence heterologous expression. Annotation of the assembled contigs revealed that 1.34% and 1.61% (in Fav1 and Fav2, respectively) of the total assembled contigs likely originated from the corals' algal symbiont, Symbiodinium spp.
Conclusions
Here we present a study to identify the homologous transcript isoform clusters from the transcriptome of Favia corals using a far-related reference proteome. Furthermore, the symbiont-derived transcripts were isolated from the datasets and their contribution quantified. This is the first annotated transcriptome of the genus Favia, a major increase in genomics resources available in this important family of corals.
Keywords
K-mer
Contig
Open reading frame
Fluorescent protein
Blast
Clustering
High-throughput sequencing
Illumina paired-end
Coral
Background
With the advent of Next-Generation Sequencing (NGS) technology, genomic data acquisition has become much easier, especially for non-model organisms [1]. The generation of transcriptomes from non-model organisms has also benefitted from NGS advances. Transcriptomic datasets can facilitate genome annotation, single-nucleotide polymorphism (SNP) analysis [2], marker development for population genetic and adaptive evolutionary studies [3], as well as functional classification [4] in non-model species. The application of transcriptome deep sequencing in metabolic pathway reconstruction and gene marker development has already shown great promise in Camellia sinesis[5], Cicer arietinum[6], Sphenodon punctatus[7], and Anopheles funestus[8].
This method is also valuable for relatively understudied species, such as Favia corals. Though corals are high in economic and ecological value, limited genomic resources are available, largely because samples are difficult to obtain. Because NGS requires only small amounts of animal tissue, it is possible get large amounts of information from very small samples (1–2 coral polyps). Recently, anthropogenic threats such as climate change, metal pollution and oceanic acidification [9] have led to rapid declines in worldwide coral populations, lending increased urgency to the need for genomic data. Detailed understanding at the genomic and transcriptomic level will allow for the development experimental studies to assess how the intensity and frequency of disturbances affects coral health and abundance.
Several studies have reported NGS long reads transcriptome sequencing of coral species such as Acropora millepora[10, 11] and Pocillopora damicornis[12]. In addition, other recent studies have used the Short Sequence Reads (SSR) platform [13], or combined SSR and long reads approach to explore whole transcriptome modulation in response to low pH in adult Pocillopora damicornis[13], and in early life stages of Acropora millepora[14]. Yet, these coral clades are quite phylogenetically divergent from Favia[15].
This Favia genus is one of the most widely and uniformly distributed of all coral genera and is phenotypically presented as massive, dome-shaped and flat. In many cases Favia species exhibit cryptic species complexes and their phylogeny has been parodied as being a "Bigmessidae" [16]. Favia are in the Faviidae family that contains twenty-four genera, more than any other coral family [17]. Faviidae is one of the highly fragmented families and Indo-Pacific members appear to be distinct from Atlantic counterparts. Therefore, adding more molecular markers to resolve their phylogeny will add further resolution to coral systematics.
We sequenced and assembled 58 Mbp of Illumina cDNA reads from two coral
Favia
samples, termed "
Fav1
" and "
Fav2,
" that were collected at 65 m in the northern Red Sea (Figure
1
). Reads were assembled into contigs and annotated to: 1) identify protein family clusters using the proteome of
Nematostella vectensis
as a reference; 2) assign functions to the protein family clusters using
Nematostella vectensis
GO, InterPro and KOG functional annotation
;
3) identify homologous proteins in
Acropora digitifera
using sequence-based similarity searches; 4) identify symbiont-derived contigs in our assembly; and 5) conduct phylogenetic assessment using three molecular markers (Cytb, COI, 28S) and eleven full-length fluorescent proteins. The resulting data provide a valuable resource for future studies in
Faviids
and other corals.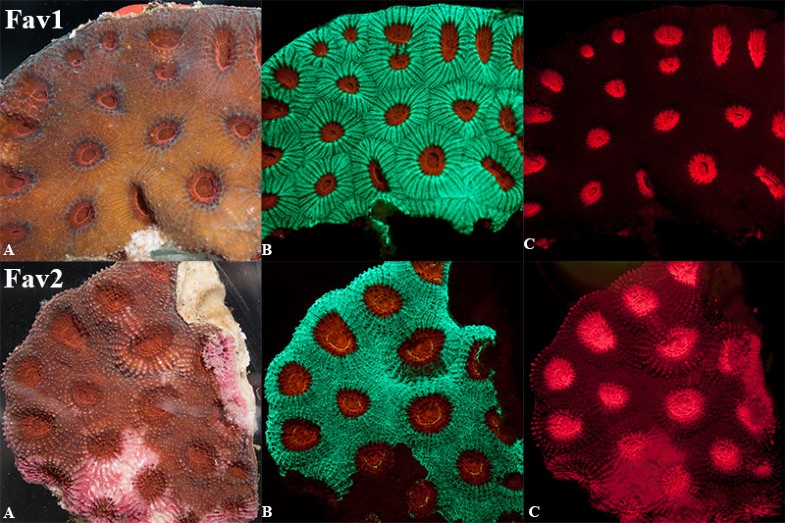 Conclusions
In this study, we demonstrate a gene clustering strategy and utilize this in conjunction with NGS contig assembly, sequence conservation measurements, annotation and expression quantification for de novo assembled transcriptomic data. Working with two uncharacterized Faviid corals, we report 120,000 non-redundant transcripts to a genus whose sequence data was previously limited to 496 in public databases. These results provide greatly enhanced access to the expressed genes in Faviidae reef building corals, a potentially valuable resource of genetic/functional markers for population structure and functional genomic studies. We also took advantage of the optical properties of these corals expressed fluorescent proteins to validate our annotation methods to show that these sequences were indeed bonafide fluorescent protein genes. These methods reported in this study are available via Open Source software programs as well as our provided scripts.
Declarations
Acknowledgments
We thank Timor Katz and Tali Mass of the Interuniversity Institute of Eilat for their technical diving assistance in the collection of coral samples. Coral sample collections in this study have complied with the current laws of Israeli Natural Parks Authority; permit 2010/38008. Funding was provided by NSF grant # 0920572 and via a Baruch College Travel Grant to DFG.
Authors' Affiliations
(1)
The Graduate Center, Molecular, Cellular and Developmental Biology, City University of New York, New York, USA
(2)
American Museum of Natural History, Sackler Institute of Comparative Genomics, New York, USA
(3)
Department of Psychiatry and Human Behavior, Division of Biology and Medicine, Warren Alpert Medical School, Brown University, Providence, USA
(4)
John B. Pierce Laboratory, Cellular and Molecular Physiology, Yale University, New Haven, USA
(5)
Marine Biology Department, The Leon H. Charney School of Marine Sciences, University of Haifa, Mount Carmel, Israel
(6)
Department of Natural Sciences, City University of New York, Baruch College, New York, USA
Copyright
© Pooyaei Mehr et al.; licensee BioMed Central Ltd. 2013
This article is published under license to BioMed Central Ltd. This is an Open Access article distributed under the terms of the Creative Commons Attribution License (http://creativecommons.org/licenses/by/2.0), which permits unrestricted use, distribution, and reproduction in any medium, provided the original work is properly cited.