Research article
Open Access
Transcription-factor occupancy at HOT regions quantitatively predicts RNA polymerase recruitment in five human cell lines
Received: 13 May 2013
Accepted: 4 October 2013
Published: 20 October 2013
Abstract
Background
High-occupancy target (HOT) regions are compact genome loci occupied by many different transcription factors (TFs). HOT regions were initially defined in invertebrate model organisms, and we here show that they are a ubiquitous feature of the human gene-regulation landscape.
Results
We identified HOT regions by a comprehensive analysis of ChIP-seq data from 96 DNA-associated proteins in 5 human cell lines. Most HOT regions co-localize with RNA polymerase II binding sites, but many are not near the promoters of annotated genes. At HOT promoters, TF occupancy is strongly predictive of transcription preinitiation complex recruitment and moderately predictive of initiating Pol II recruitment, but only weakly predictive of elongating Pol II and RNA transcript abundance. TF occupancy varies quantitatively within human HOT regions; we used this variation to discover novel associations between TFs. The sequence motif associated with any given TF's direct DNA binding is somewhat predictive of its empirical occupancy, but a great deal of occupancy occurs at sites without the TF's motif, implying indirect recruitment by another TF whose motif is present.
Conclusions
Mammalian HOT regions are regulatory hubs that integrate the signals from diverse regulatory pathways to quantitatively tune the promoter for RNA polymerase II recruitment.
Keywords
Transcription factorChIP-seqHOT regionGene regulation
Background
Transcription factors (TFs) are proteins that regulate the expression of genes by binding the DNA at their regulatory elements (promoters or enhancers) and either preventing or facilitating the recruitment, in eukaryotes, of the transcription preinitiation complex (PIC). The PIC in turn recruits RNA polymerase II (Pol II) to the transcription start site (TSS) to synthesize an RNA transcript. This is a primary mechanism for the regulation of gene expression in response to environmental stimuli or developmental programs.
Promoters must integrate a multitude of signals that converge on them in the form of activating or repressing transcription factors. In invertebrates, some regulatory regions ("high-occupancy target", or HOT, regions) are occupied by a large number of transcription factors [1–6]. However, less is known about the interactions among TFs at HOT regions and how these interactions contribute combinatorially to the regulation of transcription, and until recently, insufficient data existed to search for HOT regions in human cells.
The ENCODE data set [7, 8] provides the first opportunity to study a large group of TFs together in human cells. These data come from the chromatin-immunoprecipitation sequencing (ChIP-seq) protocol: chromatin is crosslinked to preserve DNA-protein and protein-protein bonds, then a target-specific antibody is used to capture the DNA proximally associated with a given protein, and this DNA is sequenced and aligned to a reference assembly to create a genome-wide map of protein occupancy [9]. At each genome site occupied (though not necessarily bound directly) by a protein, ChIP-seq produces a tight cluster of read alignments, which can then be detected by software with high resolution.
Previous ChIP-seq analyses have generally considered a single experiment at once, and have treated TF occupancy as a binary signal—present vs. absent. However, the particular strength of the signal at any given site may represent important biological information, such as the persistence of occupancy within a cell or frequency across all cells in the sample. We developed a new software package, UniPeak, to analyze these data accordingly.
Using UniPeak to discover and quantify HOT regions, we performed a comprehensive analysis of these regulatory hubs. In particular, we characterized HOT regions with regard to other known markers of gene activity. We also compared the occupancy profiles of different TFs to predict novel interactions, and used mechanistic evidence to infer which complex members directly bind DNA. Finally, we quantified the relationship between TF occupancy and several measures of gene expression at HOT promoters.
Conclusions
We present a quantitative analysis of a large volume of ChIP-seq data, constituting the genome-wide occupancy profiles of a large number of TFs in five human cell types, from the ENCODE consortium [8]. The new software package UniPeak facilitates the comparison of binding profiles from an unlimited number of samples at a consistent set of genome regions, eliminating the difficulty of reconciling many independent lists of peak calls and producing a regions × samples matrix of signal strengths, similar to those generated by microarray experiments. Here we bring matrix analysis and sample clustering back to the forefront of a high-throughput genomics investigation. Since we view DNA-associated protein occupancy as a fundamentally quantitative phenomenon, which may have quantitative functional effects [2], we avoid applying premature thresholds and dequantification of the peak intensities. Our approach may become even more useful as improved technology allows greater sequencing depths and therefore higher quantitative precision, and perhaps also as new molecular protocols increase the signal-to-noise ratio of protein-associated DNA capture [67].
Assessing the relevance of this study to our understanding of transcriptional regulation, we found that about 40% of variance in initiating Pol II occupancy at HOT promoters can be explained by the entire set of available TF occupancy data in the cells with the most experiments. The predictive value is higher for PIC subunits, and much lower for elongating Pol II and transcript abundance. These results are also consistent with our knowledge of biological mechanisms, because there are many additional regulatory interactions between PIC recruitment and the production of an elongated, mature, stable transcript that do not involve TFs. It is important to note that these models would have shown a better fit if we had surveyed all promoters instead of just those occupied by many TFs, because the inclusion of inactive promoters would add many points near the origin (no TFs bound, no gene expression), which would make the trend more linear [7, 68–70]. Finally, this analysis represents fewer than 50 TFs tested in any individual cell line, compared with the 1,400–1,900 TFs estimated to exist in the human genome [71]; in that context, 40% of variance explained represents substantial explanatory power.
Regions occupied by many different TFs are common in the human genome. Even our strictest definition finds several thousand HOT promoters, likely a considerable fraction of the active genes in any given cell line. Especially since there are far too few known DNA sequence motifs to account for all the TF occupancy at these sites, we propose that TFs collaborate combinatorially through protein-protein interactions to regulate Pol II recruitment (Figure
8
), concordant with similar evidence from
Drosophila
enhancers [
72
]. Interactions of this nature have not previously been examined on such a large scale, due to the greater challenges of high-throughput peptide assays compared to high-throughput nucleotide assays.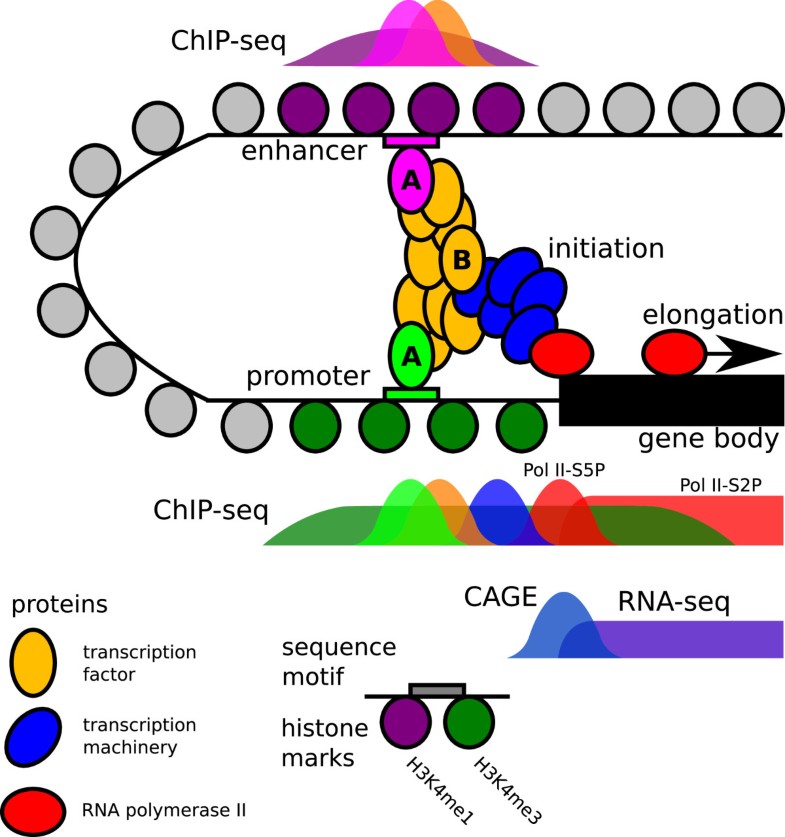 This analysis yields several hypotheses that may be validated by future experiments. Based on the similarity of their occupancy profiles, reproduced independently in multiple cell lines, we infer that ATF3 and USF1/USF2 may be part of a novel protein complex; furthermore, since DNA sequence motifs associated with USF1/2 are predictive of ATF3's occupancy but not vice versa, we predict that USF1 or USF2 is the subunit of this complex that directly binds the promoter, while ATF3 is a cofactor recruited by USF1/2 despite having its own DNA-binding domain that is used in other complexes. By the same logic we also predict that SIX5 and ZNF143 are members of a novel complex in which ZNF143 is the DNA-binding subunit. In both cases, previous experimental evidence shows the two partners are not capable of binding each other alone, suggesting that a chaperone is required to enable binding, or that these interactions require both proteins to bind to a common intermediate or complex of intermediates. On the other hand, we find that in HOT promoters, FOS seems only rarely to perform its well-known role in the AP-1 heterodimer with JUN, generally supplanted by a FOSL or ATF protein, though of course FOS is known to have several alternate cofactors [34].
It should not be surprising that a TF with a functional DNA-binding domain and even a well-demonstrated sequence motif might often be recruited as a cofactor by some other protein. Indeed, this is true of TBP, the so-called TATA-binding protein, which is required for the assembly of the preinitiation complex at all loci even though only 10–24% of human promoters have a TATA box [73, 74]. One possible paradigm for gene-regulatory evolution might be the emergence of a DNA-binding TF that uses protein-protein interactions to recruit other TFs to its own recognition sites, harnessing their existing regulatory pathways without sequence motifs for the other TFs. Over evolutionary time, this additional layer of regulatory interactions between the steps of protein-DNA binding and recruitment of polymerase might remove the constraint of requiring the "downstream" TFs' sequence motifs in new regulatory elements or even conserving them in existing elements, so that TFs capable of autonomously binding DNA and recruiting the PIC become primarily cofactors for other TFs with more specialized target loci and finer regulatory control. Thus the large TF complexes, or interchangeable interactions, that we observe at HOT regions might represent multiple levels of gene regulation and therefore of evolutionary history.
Materials and methods
Read alignment
ChIP-seq nucleotide sequence reads and base qualities were obtained from the ENCODE database, and truncated to the first 25 nt, the shortest length in the data set, to prevent biases in mapping due to different read lengths. BWA 0.6.1-r104 [75] was used to map reads to the hg19 reference assembly. Unique best hits were filtered to confident alignments with posterior probability ≥ 0.9.
Density profiles
Similarly to the robust
QuEST
algorithm [
10
], a smooth density profile was created using the frequency of 5
′
read starts per reference base as the input to kernel density estimation (KDE), so that the density at any given position
i
on one strand was given by
where is the Epanechnikov (quadratic) kernel density function, h is the kernel bandwidth, and C(j) gives the number of 5′ read starts at position j.
Enriched region calling
Any region where the smooth density profile exceeded a fixed threshold, relative to the uniform background of the total confident read count divided by the genome size, was considered enriched. 5′ read starts were then counted inside each region. The kurtosis of the distribution of 5′ read starts within each region was calculated, and leptokurtic regions were filtered out to remove technical artifacts.
Strand shift estimation
To estimate the shift between enrichment maxima from the forward and reverse strands flanking each binding site, a byproduct of 5′ end-directed sequencing and the genomic fragment size, KDE was performed separately on each strand, and preliminary enriched regions were called from the sum of the two density profiles. Among the regions containing the highest read counts, the Pearson correlation between the strand-specific density profiles was calculated for each of a spectrum of 5′ to 3′ shift values. The distribution of correlation-maximizing shift values across the top regions was smoothened with a small bandwidth and the global maximum was chosen as the sample-wide shift value. Density profiles from opposite strands were shifted by this value and added together for a unified, strand-independent profile. Regions with a low Pearson correlation between the two strands' density profiles were discarded as artifacts.
UniPeak workflow
The new software package UniPeak was written to automate the steps above. Starting with confidently aligned reads, strand shift was estimated independently for each sample (with the exception of negative controls, whose shift was inferred from corresponding ChIP samples, as they did not yield enough preliminary enriched regions to estimate a shift value), using the top 1,000 regions called with smoothing bandwidth 50 nt, region-calling fold-enrichment threshold 25X, kurtosis threshold 50, minimum strand correlation 0.3, minimum shift 25 nt each strand, maximum shift 150 nt each strand, and correlation vs. shift smoothing bandwidth 5 nt. The samples were then shifted accordingly and kernel smoothing was performed with bandwidth 100 nt to capture binding sites in close proximity to each other; density profiles from both strands of all samples were summed and enriched regions were called and filtered as before. Enriched regions on sex chromosomes and the mitochondrial genome were removed, along with those overlapping false-positive genome regions identified by ENCODE and those greater than 500 bp in size.
Normalization
The read-count matrix from UniPeak 1.0 was normalized by the variance-stabilizing transformation in DESeq 1.7.7 [11], determining the dispersion-mean relationship with local fitting, pooling all samples to estimate a single empirical dispersion value per analysis, and using only the fitted dispersion-mean relationship values. Replicate experiments from different laboratories were treated as separate classes.
Clustering analysis
Clustering was performed on normalized data as described above. Distances were calculated with the Pearson metric (1-r). Rooted, ultrametric trees were generated by hierarchical clustering with UPGMA as implemented in the fastcluster 1.0.4 package in R 2.12.1 [76]. Unrooted trees were generated by neighbor-joining [27] as implemented in RapidNJ 2.1.0 [77].
Comparison with annotations and independent data
Initiating RNA polymerase II ChIP-seq data were treated in the same manner as TF data, but independently from that analysis, with 50 nt smoothing bandwidth for region calling and no region size filter. A TF-enriched region was matched to a Pol II-S5P-enriched region if the maxima of the regions' respective density profiles were within 500 bp of each other; when more than one Pol II-S5P site was near a TF site, the nearest Pol II-S5P site was used.
Transcription start site coordinates for the hg19 reference assembly were obtained from the RefSeq database [20]. A TF-enriched region was matched to a RefSeq TSS if the TSS was within 500 bp of the local maximum of the density profile within the region; when more than one TSS fell within this range, the nearest was used. Single-end, 75 nt RNA-seq reads from the ENCODE database were aligned to the hg19 RefSeq transcriptome by DNAnexus, which computed the count per transcript [78]. Elongating RNA polymerase II ChIP-seq reads were aligned to the hg19 genome, and for each annotated TSS, reads were counted between 100 bp upstream of the TSS and 100 bp downstream of the TES for the longest isoform.
CAGE reads were obtained from the ENCODE database after alignment to hg19 with Delve (T Lassmann, in prep.). CAGE-enriched regions were called via UniPeak in the same manner as TF binding sites, using 50 nt smoothing bandwidth, separate strands, and no shifting. CAGE regions were matched with TF regions in the same manner as Pol II-S5P regions.
Evolutionary constraint within a region was calculated as the proportion of positions with a rejected substitution (RS) score greater than 2, according to GERP++ [22].
From ENCODE's database we retrieved 226 sequence motifs that were both inferred de novo from ChIP-seq data and matched to similar motifs in other databases, such that there was a variably sized set of motifs annotated to each individual TF. These were aligned to reference sequence in a 201 bp window centered at each HOT region peak by MAST 4.6.0 [79]. A HOT region peak was considered to have a hit for a given TF's motif set if any motif in the set had a MAST hit of E < 10.
Modeling gene regulation
For each cell line, we constructed a model of the general form
where the Y terms form a matrix of the individual replicates of the dependent variables, normalized together by DESeq as before: preinitiation-complex occupancy within the region, histone-mark occupancy within the region, Pol II occupancy at the nearest UniPeak site, CAGE signal at the nearest UniPeak site, and RNA-seq signal for the gene corresponding to the nearest RefSeq TSS; and the X terms form the matrix of all the individual replicates of TF occupancy scores plus the signal from negative-control samples (input, IgG, reverse-crosslinked chromatin) within the regions, normalized together. Since both the independent and depent variables were highly multicollinear, we used the pls 2.3-0 package in R 2.12.1 [80] to reduce this model to latent variables by partial least-squares regression. The number of LVs used in each model was determined as the first LV plus all subsequent LVs that subtracted at least 0.01 from the average RMSEP (Additional file 1: Figures S8, S9). Cross-validation used the leave-one-out method: the R2 values were calculated by validating with each UniPeak region after re-training the model on the remainder of the data.
Declarations
Acknowledgements
We thank Cheryl Smith, Ed Grow, Noah Spies, and Erik Lehnert for critical reading of this manuscript. We are also grateful to Anshul Kundaje and Phil Lacroute for invaluable technical advice. This work was supported by the Stanford Genome Training Program (NIH/NHGRI T32 HG000044), a subcontract to ENCODE grant HG004695, and a KAUST AEA grant.
Authors' Affiliations
(1)
Department of Genetics, Stanford University, Stanford, USA
(2)
Douglas Mental Health University Institute, McGill University, Verdun, Canada
(3)
Department of Pathology, Stanford University, Stanford, USA
Copyright
© Foley and Sidow; licensee BioMed Central Ltd. 2013
This article is published under license to BioMed Central Ltd. This is an Open Access article distributed under the terms of the Creative Commons Attribution License (http://creativecommons.org/licenses/by/2.0), which permits unrestricted use, distribution, and reproduction in any medium, provided the original work is properly cited.