Research article
Open Access
Integrated transcriptomics and metabolomics decipher differences in the resistance of pedunculate oak to the herbivore Tortrix viridanaL.
Received: 25 June 2013
Accepted: 17 October 2013
Published: 28 October 2013
Abstract
Background
The interaction between insect pests and their host plants is a never-ending race of evolutionary adaption. Plants have developed an armament against insect herbivore attacks, and attackers continuously learn how to address it. Using a combined transcriptomic and metabolomic approach, we investigated the molecular and biochemical differences between Quercus robur L. trees that resisted (defined as resistant oak type) or were susceptible (defined as susceptible oak type) to infestation by the major oak pest, Tortrix viridana L.
Results
Next generation RNA sequencing revealed hundreds of genes that exhibited constitutive and/or inducible differential expression in the resistant oak compared to the susceptible oak. Distinct differences were found in the transcript levels and the metabolic content with regard to tannins, flavonoids, and terpenoids, which are compounds involved in the defence against insect pests. The results of our transcriptomic and metabolomic analyses are in agreement with those of a previous study in which we showed that female moths prefer susceptible oaks due to their specific profile of herbivore-induced volatiles. These data therefore define two oak genotypes that clearly differ on the transcriptomic and metabolomic levels, as reflected by their specific defensive compound profiles.
Conclusions
We conclude that the resistant oak type seem to prefer a strategy of constitutive defence responses in contrast to more induced defence responses of the susceptible oaks triggered by feeding. These results pave the way for the development of biomarkers for an early determination of potentially green oak leaf roller-resistant genotypes in natural pedunculate oak populations in Europe.
Keywords
RNA sequencingTranscriptomicsMetabolomicsDefence response Quercus robur Tortrix viridana
Background
Plants suffer constantly from herbivore pressure, and their defence responses are therefore highly evolved and tightly regulated. With more than 200,000 secondary metabolites, plants directly resist microbial and insect attacks, animal predation [1, 2], and multiple environmental stresses [3, 4]. The suite of secondary metabolites in plants is composed both of metabolites that are constitutively expressed in different plant tissues and of inducible compounds that complete the overall armament of plants in response to herbivore feeding [5, 6].
To ensure optimal defence responses, plants must be able to up- and down-regulate primary and secondary metabolic pathways at every level to exert temporal and spatial control in an effective and efficient way, thereby minimising damage and ensuring vegetative growth and reproduction [7]. For this purpose, plants have evolved constitutive and induced defence mechanisms. Preformed molecular [8], chemical, and physical mechanisms may reduce the accessibility or availability of the plant resources to herbivorous insects. For example, one of the most important groups of constitutive defence compounds that act against herbivores and pathogens are the condensed tannins (proanthocyanidins; PA) [7, 9]. These are polyphenolic compounds synthesised via the flavonoid biosynthetic pathway. Analyses of specific PAs have been performed in many tree species, such as poplar and oaks (e.g., [10, 11]) and in herbaceous plants (e.g., [9]). In oak foliage, for example, different levels of condensed tannin content in combination with nitrogen content seem to be essential in determining the susceptibility to herbivorous insects [12, 13]. In addition to the condensed tannins, the so-called hydrolysable tannins (i.e., gallotannins, ellagitannins) are also important and have only recently become a focus of research into the defence response [14]. Interestingly, insect specialists prefer lower tannin content than do insect generalists [9].
Inducible defence reactions involve a broad range of molecules whose synthesis is temporally controlled [7]. We know of at least two types of inducible defence responses: the direct defences that inhibit the growth or development of herbivorous insects and the indirect defences that include the plant volatiles, which may, for example, attract the parasitoids and predators of the herbivore [15, 16].
Transcript profiling using DNA microarrays has significantly improved our understanding of the regulatory and transcriptional networks of gene activation/inactivation in plants during plant-insect interaction [17–19]. However, while this technology is restricted to profiling transcripts that are represented by corresponding DNA probes on the microarray, recent developments in RNA sequencing (RNAseq) allow the genome-wide profiling and quantification of transcripts, and these approaches can be used to study plant defence responses in more comprehensive detail [20–22]. To date, the use of RNAseq in studies of herbivory has been rare. Gilardoni et al.[23] analysed the Nicotiana attenuata transcriptome using SuperSAGE and 454 sequencing after elicitation with fatty acid-amino acid conjugates known to act as elicitors in Manduca sexta herbivory.
As transient or constitutive end products of the cascade that begins with gene activation, the constituents of the metabolome define the biochemical phenotype of an organism. Thus, quantitative and qualitative measurements of the plant metabolome during herbivory can provide a wide overview of the biochemical status of the plant and essential information regarding the influence of metabolite levels on the phenotype [24].
In the present work, we applied RNAseq and non-targeted metabolome analysis, performed using Fourier Transform Ion Cyclotron Mass Spectrometry (FT-ICR-MS) [25], to examine the transcriptional and metabolomic differences in pedunculate oak (Quercus robur L.) varieties that differ in their degree of defoliation and susceptibility to herbivory by the green oak leaf roller (Tortrix viridana L., Lepidoptera: Tortricidae). T. viridana is a specialist herbivorous insect that feeds only on species of the genus Quercus[26, 27]. In Central Europe, the perpetual outbreak of the green oak leaf roller is one reason for oak decline events reported during the last century. During a past outbreak episode in Germany in the years 2003–2005, in which T. viridana caused almost the complete defoliation of oaks in a selected forest stand in North Rhine-Westphalia, we observed that a few individual oaks were remarkably less defoliated than neighbouring trees. We defined these less-defoliated individuals as resistant ('T-oaks') and the heavily defoliated trees as susceptible ('S-oaks') [28]. In recent work, we demonstrated that the resistance of T-oaks to herbivore attack by T. viridana is related to the amount and scent of herbivory-induced plant volatiles (HIPVs). In the same study, we showed that the T- and S-oaks differed in their polyphenolic leaf constituents [29].
To unravel the underlying molecular mechanisms related to the resistance and susceptibility of oaks towards herbivory by T. viridana, we performed controlled laboratory experiments to identify candidate genes that exhibited induced differences in their expression patterns after insects feeding. Moreover, analysing the unfed control plants aided in the identification of candidate genes that exhibit constitutive expression differences between the oak types. To complete our systems biological approach, we comparatively analysed the metabolome of T- and S-oaks to correlate gene expression patterns and metabolite profiles. Moreover, this analysis provided the opportunity to identify the overall metabolomic differences between T- and S-oaks in addition to the local and systemic changes induced by T. viridana feeding or by developmental alterations in plant metabolite patterns.
Discussion
In the present study, we aimed to discover the underlying genetic and metabolic basis for the differing susceptibilities of T- and S-oaks to T. viridana feeding.
Plant defence responses to herbivory are driven by both herbivore-induced factors (e.g., elicitors, effectors, wounding) and plant signalling (e.g., phytohormones and plant volatiles; Figure
10
) [
32
]. Figure
10
summarizes the constitutive and induced transcriptomic and metabolomic differences in T- and S-oaks responding to green oak leaf roller herbivory. The transcript levels of cell wall degrading enzymes (CWDE) are constitutively high in T-oaks (Figure
10
A) but were found to be more inducible in S-oaks (Figure
10
B). Changes in hormone signalling are likely to occur via the CDPK (Ca
2+
-dependent protein kinases) and MAPK (mitogen-activated protein kinase) cascades. Moreover, transcriptional changes at transcription factor genes are most likely responsible for the eventual activation of several defence response genes, such as those involved in the synthesis of volatiles and pathogen-related genes (Figure
10
). The activated cascade results in a different response in T- and S-oaks mainly characterised by transcriptomic and metabolomic differences in the biosynthesis of tannins, flavonoids and terpenes (which is discussed in detail below).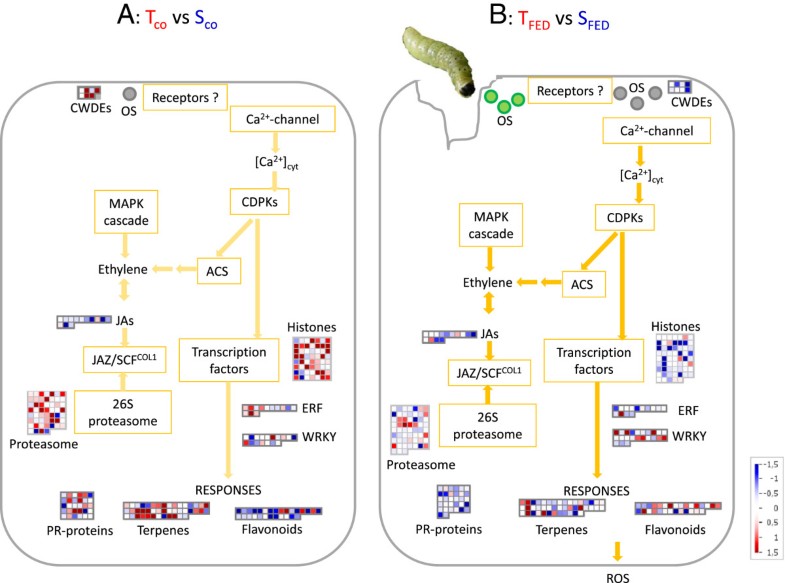 Conclusions
The transcriptomic and metabolomic differences identified in this study, together with our previous physiological and behavioural results, deepen our understanding of plant defence responses to specialist herbivore attack. Our data provide valuable information that paves the way for the identification of molecular and biochemical biomarkers. We identified several promising candidate genes in the functional groups 'protein', 'secondary metabolism', 'DNA', and 'cell'. These sequences, together with transcripts of other functional groups, will be checked for SNPs and InDels that may explain the differences in defence between the two oak types. Additionally, further tests will be performed for the development of biochemical markers. The knowledge gained from this study provides the basis for developing a method for the early selection of potentially green oak leaf roller-resistant genotypes in natural pedunculate oak populations.
Methods
Plant and insect material
During an outbreak of Tortrix viridana L. (Lepidoptera, Tortricidae) in forest stands of North Rhine-Westphalia in 2003 to 2005, individuals of Quercus robur L. were classified as heavily defoliated and defined as susceptible ('S-oaks') or were classified as only slightly defoliated and defined as resistant ('T-oaks') using standard pictures to estimate the degree of defoliation [70]. These trees belonged to three genetically different populations (named 'Asbeck', 'Muenster' and 'Warendorf') aged between 150 and 180 years (details on the oak stands were reported previously) [71]. We selected late and early bud-bursting individuals among both resistant and susceptible oaks. Among all forest stands analysed, the selected individuals of T- and S-oaks from the population 'Asbeck' showed the most obvious differences in defoliation rate. In July 2008, 100 branches from eight individuals from the two tree groups were cut out the canopy and grafted onto Q. robur saplings to provide manageable oak material for our experiments [28].
Hybridisation between Q. robur and Q. petraea is quite common in natural oak populations, and the hybrids are often difficult to distinguish based on morphology [72]. Therefore, the selected individuals were tested for their species purity using eight microsatellite markers located in five different linkage groups [73]. Five of the eight grafted individuals were pure Q. robur. Thus, all experiments were carried out using these five pure clones of Q. robur-grafted plants (T-oaks: ASB2a, ASB14a, ASB17a; S-oaks: ASB13b, ASB47b). More detailed information about these oak clones and the rearing of the insects has been given previously [29].
Preparation of the oak material for RNA analysis
At the end of April 2009, one 3rd or 4th instar larva of T. viridana was placed on each of 10 totally unfed grafted oaks per clone (the above-mentioned three T-oak clones and two S-oak clones). The experiment was performed within a phytochamber with the light switched on during the 16 h the experiment lasted. These 50 trees and 50 additional oaks without larvae (uninfected control plants) were covered with gauze to prevent larvae from breaking out and, for the control plants, to have the same experimental conditions. After 16 h of rearing, the larvae were removed and both fed and unfed leaves from treated (FED) and control plants (CO) were individually frozen in liquid nitrogen immediately after the experiment.
Because the budburst of the five clones differed slightly, the experiment was performed during a time span of 14 days, so the leaves used for the experiments were at the same developmental stage for all clones.
RNA isolation
Because of the high levels of phenolic compounds in oak leaves, which are known to hamper RNA extraction, a method based on the protocol originally published by Boom et al.[74] and modified by Hahn [75] was used. The only further modification was storage of the RNA at -70°C instead of -20°C.
RNAseq analysis
For the T-oak fed sample, RNA was prepared from three clones with three individuals per clone. For the S-oak fed sample, RNA was prepared from two clones with three individuals each. The RNA samples were pooled for each tree sample and used for sequencing. Two separate cDNA libraries were created from 1 μg RNA of each of the two samples by oligo-dT priming (GATC Biotech AG, Konstanz, Germany). Both libraries were sequenced by GATC Biotech AG (Konstanz, Germany) using an Illumina/Solexa Genome Analyser to create single-end reads of 36 bp length (12.5 million reads for T-oaks and 12.3 million reads for S-oaks; Solexa reads available at the Short Read Archive (SRA) at EMBL-EBI [EMBL: ERP002577]). Sequencing of unfed control plants was performed using the two above mentioned T-oak clones and two of the above-mentioned S-oak clones with 1 and 2 individuals per clone, respectively. Two separate cDNA libraries were created from 1 μg RNA and sequenced by GATC Biotech AG (Konstanz, Germany) using an Illumina/Solexa Genome Analyser to create single-end reads of 101 bp length (80.5 million reads for T-oaks and 124.8 million reads for S-oaks; Solexa reads available at the SRA at EMBL-EBI [EMBL: ERP002577]).
Bioinformatic analyses of the RNAseq data
cDNA synthesis and semi-quantitative PCR
For semi-quantitative PCR experiments, RNA was isolated from the five oak clones as described previously, and cDNA was synthesised by oligo-dT priming based on the SMART PCR cDNA Synthesis KIT (Clontech Laboratories, USA; Protocol No. PT3041-1).
For validation of the expression value results for candidate genes by semi-quantitative PCR, cDNAs were pooled from the same number of individuals per clone as for the RNAseq analysis. Following a standard protocol, PCR reactions contained appropriate amounts of template cDNA (2 to 10 ng), 50 mM KCl, 20 mM Tris–HCl (pH 8.4), 1.8 mM MgCl2, 200 μM dNTPs, 1 unit Taq polymerase, and 0.4 μM of each primer (detailed primer information is given in Additional file 7) in a total volume of 25 μl. PCR was carried out in a Biometra Personal Thermocycler (Göttingen, Germany) with a pre-denaturation step at 94°C for 4 min, followed by 25 cycles of 93°C for 1 min, incubation at a suitable annealing temperature for each primer combination (50°C to 60°C) for 45 sec, and 72°C for 1 min, followed by a final elongation at 72°C for 5 min. PCR amplification products were checked on a 1.2% agarose gel in 0.5 x TBE buffer stained with RotiSafe (Carl Roth GmbH + Co. KG, Karlsruhe, Germany). SmartLadder (Eurogentec, Cologne, Germany) was used as the size standard.
PCR was conducted with (i) different cycle numbers (25, 30 and 32) and (ii) different template cDNA concentrations to validate the linearity of the measured expression values.
Description of the material for the metabolomic analyses
Metabolomic analysis was performed from the same leaf material as used for RNAseq. In addition, all leaf material collected for the physiological and behavioural experiments described in Ghirardo et al.[29] was analysed covering metabolomic changes 32 h after onset of insect feeding. Details of materials and methods can be found in Ghirardo et al.[29]. In brief, plants were fed by 3rd or 4th instars of T. viridana under controlled conditions inside a phytochamber (16/8 h light/darkness). Shoots of T- and S-oaks were separately enclosed into Perspex glass cuvettes and grown for 48 h (16 h unfed followed by 32 h feeding) at 19°C and 50–150 μmol photons m-2 s-1 PAR (bottom-top). Harvested leaves of fed plants were separated between (i) T-oaks ("T" leaves) and S-oaks ("S" leaves), (ii) leaves, directly damaged by larvae ("D" leaves) and intact ("I" leaves; untouched leaves randomly selected - 4 leaves for each plant - of the same fed plants), (iii) plants with a leaf stage of development that naturally experience the larvae feeding; i.e. 2–4 weeks after bud break ("Y" (young) leaves) and plants start to host the oviposition process of adult female moth of T. viridana; i.e. 6–8 weeks after bud break ("O" (old) leaves). Individual experiments were performed with 4 different clones (T-oaks: ASB17a, ASB2a; S-oaks: ASB47b, ASB13b) and 4–5 biological replicates for each clone.
Non-targeted metabolomics
Non-targeted metabolome analysis was achieved by molecular mass assignment of high-resolution mass spectra obtained using a Fourier Transform Ion Cyclotron Resonance Mass Spectrometer (FT-ICR-MS, APEX Qe, Bruker, Bremen, Germany) equipped with a 12-Tesla superconducting magnet and an Apollo II electrospray (ESI) source.
Metabolites were extracted from 20 mg of each sample with 500 μL CH3OH:H2O solution (1:1, v:v) for 15 min in ultrasonic bath. After centrifuging for 10 min. at 10,000 rpm, 400 μL of supernatant was further diluted with 500 μL of CH3OH:H2O (75:25, v:v). Samples were kept at 4°C and introduced at a flow rate of 2 μL min-1 into the ionization source (ESI), run in negative operation mode and therefore generating mono-charged ions. The spectra were acquired with a mass-to-charge ratio (m/z) range of 120–1,000 and a time domain of 1 Megaword. Spectra were internally calibrated using both primary and secondary metabolites; calibration errors were always below 0.05 ppm. Peak lists were obtained exporting peak mass intensities of FT-ICR ESI (-) spectra with a signal to noise (S/N) ratio of two. Peak lists of different samples were aligned into a single matrix within a precision of > 0.7 ppm.
Analysis of the metabolomic data
Data were analysed using a multivariate data analysis (MDA) approach using the software package 'The Unscrambler' (v. 8.0, CAMO A/S, Norway). First, data were analysed by PCA, using the peak list as X-variable, logarithmically transformed with X = log2X. The PCA was calculated after centering the data and weighting the data with 1 s.d.-1 (unit variance). Significant discriminant masses between T- and S-oaks (T vs. S), systemic and local responses (I vs. D), and developmentally different leaves (O vs. Y) were searched by partial least square regression (PLSR) and Martens' test [83]. In the PLSR, Y-values described either the genotype, (with T = 1 and S = 0), or the systemic responses (with D = 1 and I = 0), or the age of the leaves (with O = 1 and Y = 0) and the X-values contained the matrix of mass intensities with a threshold of 6.37e5. For identification of significant discriminant masses, annotation was automatically achieved via the portal MassTRIX3 [84, 85], by using KEGG/API [86]. For the annotation we used KEGG combined with Human Metabolome Database (HMDB) [87] and with expanded lipids from LipidMaps (LMPK; version 06–2011: As reference organism we selected Populus trichocarpa because species of the genus Quercus are not included so far) [88]. In addition, the structure of uncertain annotated metabolites was confirmed with ChemSpider [89]. Next, the results were filtered manually with a maximal mass error acceptance of 1.3 ppm, the error caused by spectra alignment. Finally log2 ratios of mass spectra intensities were calculated for T/S, O/Y, D/I in order to visualise in HeatMaps up- or down- regulation of the different metabolites grouped into the main metabolic pathway according to KEGG [31].
Mapping of transcriptomic and metabolomic data to KEGG pathways
The web-based functional annotator KAAS (KEGG Automated Annotation Server) [51, 90] was used to map the transcript identifiers to KO numbers thus assigning the transcripts to KEGG pathways (single bidirectional best hit-method using the representative set for genes at KAAS; default blast score of 60). All metabolites were included in the pathway mapping, which showed statistically significant discriminant masses between T- vs. S-oaks after feeding (see above). The selected masses were mapped to specific metabolites in KEGG pathway displays using MassTRIX3 [84, 85]. Log2 fold ratios of mapped transcripts and metabolites were displayed onto the KEGG pathways in color code.
Abbreviations
BINs:

MapMan functional categories
CDPK:

Calcium-dependent kinases
DMNT:

Homoterpene 4,8-dimethylnona-1,3,7-triene
FA:

Fatty acids
FT-ICR-MS:

Fourier Transform Ion Cyclotron Resonance Mass Spectrometer
GDB:

Growth-Differentiation Balance hypothesis
HIPVs:

Herbivory-induced plant volatiles
HPLC:

High-performance liquid chromatography
JA:

Jasmonic acid
MDA:

Multivariate data analysis
MAPK:

Mitogen-activated protein kinase
MEP pathway:

2C-methyl-D-erythritol 4-phosphate pathway
ODT:

Optimal Defence Theory
PA:

Proanthocyanidins
PCA:

Principal components analysis
PLSR:

Partial least squares regression
RAH:

Resource Availability Hypothesis
RNA-seq:

RNA sequencing
ROS:

Reactive oxygen species
RPKM-value:

Reads per kilobase of exon model per Million mapped reads
S-oak:

Susceptible oak type
TA:

Traumatic acid
T-oak:

Resistant oak type
Declarations
Acknowledgements
This project is financially supported by the 'Deutsche Forschungsgemeinschaft' (DFG, no. FL 263/19-1), Bonn, Germany [91]. We thank our technical assistants Susanne Jelkmann (vTI) and Ina Zimmer (EUS) for their excellent laboratory work and we like to give special thanks to our students Stefanie Thomsen and Franziska Orgel for care and breeding of the insects. Doreen Pahlke (GabiPD [92] team) is acknowledged for submitting sequence data to EMBL-EBI.
Authors' Affiliations
(1)
Thünen Institute of Forest Genetics, Grosshansdorf, Germany
(2)
Helmholtz Zentrum München, Institute of Biochemical Plant Pathology, Research Unit Environmental Simulation, Neuherberg, Germany
(3)
Helmholtz Zentrum München, Research Unit Biogeochemistry and Analytics, Neuherberg, Germany
Copyright
© Kersten et al.; licensee BioMed Central Ltd. 2013
This article is published under license to BioMed Central Ltd. This is an open access article distributed under the terms of the Creative Commons Attribution License (http://creativecommons.org/licenses/by/2.0), which permits unrestricted use, distribution, and reproduction in any medium, provided the original work is properly cited.