Research article

Open Access
Genomic selection accuracies within and between environments and small breeding groups in white spruce
Received: 12 June 2014
Accepted: 19 November 2014
Published: 2 December 2014
Abstract
Background
Genomic selection (GS) may improve selection response over conventional pedigree-based selection if markers capture more detailed information than pedigrees in recently domesticated tree species and/or make it more cost effective. Genomic prediction accuracies using 1748 trees and 6932 SNPs representative of as many distinct gene loci were determined for growth and wood traits in white spruce, within and between environments and breeding groups (BG), each with an effective size of N e  ≈ 20. Marker subsets were also tested.
Results
Model fits and/or cross-validation (CV) prediction accuracies for ridge regression (RR) and the least absolute shrinkage and selection operator models approached those of pedigree-based models. With strong relatedness between CV sets, prediction accuracies for RR within environment and BG were high for wood (r = 0.71–0.79) and moderately high for growth (r = 0.52–0.69) traits, in line with trends in heritabilities. For both classes of traits, these accuracies achieved between 83% and 92% of those obtained with phenotypes and pedigree information. Prediction into untested environments remained moderately high for wood (r ≥ 0.61) but dropped significantly for growth (r ≥ 0.24) traits, emphasizing the need to phenotype in all test environments and model genotype-by-environment interactions for growth traits. Removing relatedness between CV sets sharply decreased prediction accuracies for all traits and subpopulations, falling near zero between BGs with no known shared ancestry. For marker subsets, similar patterns were observed but with lower prediction accuracies.
Conclusions
Given the need for high relatedness between CV sets to obtain good prediction accuracies, we recommend to build GS models for prediction within the same breeding population only. Breeding groups could be merged to build genomic prediction models as long as the total effective population size does not exceed 50 individuals in order to obtain high prediction accuracy such as that obtained in the present study. A number of markers limited to a few hundred would not negatively impact prediction accuracies, but these could decrease more rapidly over generations. The most promising short-term approach for genomic selection would likely be the selection of superior individuals within large full-sib families vegetatively propagated to implement multiclonal forestry.
Keywords
Genomic selection
Genotype-by-environment interactions
Relatedness
Somatic embryogenesis
Spruce
Background
Genomic selection GS, [1] has been proposed as an alternative to conventional pedigree-based selection (PS), where pedigree information is replaced with dense genetic marker information to estimate the genetic worth of each individual. In GS, thousands of markers are modeled simultaneously and the marker effects are summed, in order to compute the genomic (GEBV) equivalent of estimated additive genetic (breeding) values (EBV). GS allows small-effect loci to be captured, obviating significance testing in association and linkage studies. PS has been very effective at capturing the parent average component of the EBV, but cannot capture variation in the proportion of genome shared by pairs of relatives due to Mendelian sampling in the absence of an individual's own phenotypic record or those of its descendants [2, 3]. Conversely, GS can theoretically capture the Mendelian sampling component in the absence of recorded phenotypes because at an appropriate marker density, all loci that explain some of the phenotypic variation are presumably tagged.
Theoretical [4–6] and empirical studies in breeding populations of forest trees [7–9] and other long-generation plant species [10, 11] have shown that substantial genetic gains can be achieved through GS. It came out that the main advantage of GS over conventional breeding in long-lived species was the possibility to reduce the generation time through the selection based on marker effects before phenotypes are available. Thus, any (possible) loss of EBV precision could be compensated for by completing additional (faster) cycles of recurrent selection. However, less attention has been paid to the effect of relatedness between cross-validation (CV) training and testing sets, choice of model and/or the possibility of predicting in new, unknown environments.
The main assumption of GS is that marker coverage is sufficiently dense so that linkage disequilibrium (LD) between markers and causal loci will not be considerably broken up following recombination/meiotic events. One way to increase the chance that markers are in LD with causal loci is to reduce the effective population size (N e ), as it is easily controlled by the plant and tree breeders [4]. It has been shown that the increase in prediction accuracy with a reduction of N e is striking at lower marker densities, but minor at higher marker densities [4]. Thus, one could expect that when working with a population of small effective size, a small number of markers might be sufficient to capture the LD and obtain high prediction accuracies. However, reducing N e also increases within-population relatedness, and because markers, even at low density coverage, can capture close relatedness between individuals in the training (estimation) and testing (validation) sets, EBV predictions in CV testing sets can be non-zero despite the absence of LD [12]. Indeed, empirical studies removing relatedness between training and testing sets at the level of the population (breed) [13], subpopulation [14] or family [15–17] levels, including a previous study on white spruce [18], found predictive abilities to be drastically reduced or to fall to zero. Similarly, it was suggested that predictive accuracy was driven by markers tracing family relatedness in pine [19, 20]. This stresses the importance of designing training and testing sets appropriate to the conditions under which GS might be used [17] so that correct conclusions can be drawn and, also, so that marker densities that make it possible to capture not only relatedness but also LD can be used.
Model choice may be important insofar as it must align with the genetic architecture of the trait. Ridge regression (RR) [21, 22] is a model appropriate for traits controlled by a large number of small-effect loci, such as growth and wood traits e.g. [23–25], closely resembling assumptions of the infinitesimal pedigree-based (polygenic) model. Methods such as BayesA/BayesB [1] or least absolute shrinkage and selection operator (LASSO) [26] are more relevant for traits controlled by few(er) genes of large(r) effect and are supposedly better at zeroing out (shrink) loci of negligible effect [27]. The simpler, more parsimonious RR is widely used in GS as it often performs as well as more complex models e.g. [9, 28], even though RR is known to better capture relatedness [12], which complicates the interpretation of its effectiveness.
So far, GS prediction accuracy has mostly been evaluated within single environments. However, as reforestation programs take place on a variety of sites, genotype-by-environment (GE) effects can be substantial and should be considered. It has been shown that a multivariate model, where traits measured on different sites are treated as different correlated traits, could improve predictive ability (correlation between observed and predicted phenotype) for lines tested in one environment but not in the other, thus capitalizing on correlated information between environments [29]. However, this model was less powerful for a line not tested in any of the two environments, with predictions drawn solely from information on relatives [29]. Similarly, univariate prediction accuracies dropped when marker effects estimated in a given environment were used to make predictions in different environments [7, 14], although a recent study on white spruce in eastern Canada showed that prediction accuracy could only be slightly reduced in such situations [18]. Thus, given species-specific considerations and the potential variability of the reforestation landscape, it appears important to determine whether the estimated marker effects have accurate predictive value in the different reforestation environments.
The objectives of this study were 1) to evaluate how type of model, relatedness between training and testing sets, marker subsets, and across-environment predictions affect model fit or prediction accuracy for wood and growth traits, 2) to estimate the relative efficiency of marker-based versus pedigree-based models, and 3) to discuss implications for the use of GS in the context of spruce improvement and its long breeding cycles.
Methods
Data
Phenotypes
Genetic material was sampled from a larger test series (E952) designed to assess the genetic merit of first-generation selections, which had been subdivided into breeding groups delineated by their provenance or geographic region [30]. Crosses were made using a partial diallel mating design within each of six distinct breeding groups (BG) or sublines [31], which were designed to limit future inbreeding to within group. Each parent was used in crosses 1–3 times, giving rise to a mixture of full- and half-sib families within breeding groups. Genetic tests were established in 1997 from 2-year-old nursery-grown seedlings near Asselin Township (S1-C, located in the balsam fir–yellow birch ecological zone; cool weather), and St. Casimir (S2-D, located in the maple–basswood ecological zone; warm weather), Québec, Canada, in a randomized complete block design. Trees were assigned to row-plots of five trees/plot (2 m × 2 m spacing).
For the current study, the base population (n = 39) consisted of 19 parents in a first breeding group (BG1) and 20 parents in a second (BG2) with 27 and 32 full-sib crosses (59 total) made within each group, respectively. The sampled trees were drawn from 16 blocks over the two sites and 25–33 individuals were sampled per full-sib cross.
In 2012, wood cores were extracted from 17-year-old trees with a diameter at breast height (DBH17) ≥ 5 cm on both sites for determination of wood density (ADEN) and microfibril angle (AMFA). AMFA was measured by scanning the radial face of the last complete growth ring closest to the bark with a D8 Discover X-ray diffractometer (Bruker AXS, Madison, WI, USA). Diffraction profiles of a few samples were first calibrated by comparison with values obtained using compound light microscopy before the complete population of samples was scanned. Density was determined by scanning increment cores from pith to bark along the radial face at a resolution of 25 μm in the QTRS-01X Tree Ring Analyzer (Quintek Measurement Systems Inc., Knoxville, TN, USA). A weighted mean density trait was obtained by summing the product between annual density measures and the ratio of respective radial areas to total radial area. Before collecting wood cores, trees were measured for age 17 height (HT17) and diameter (DBH17) growth. Phenotypes outside ±3 phenotypic standard deviations following adjustment for fixed block effects were considered as outliers and set to missing. A total of 1,748 offspring, with at least one non-missing record among the four traits, were retained after cleaning the genotype data (see below); i.e. 851 and 897 from sites S1-C and S2-D, 841 and 907 from breeding groups BG1 and BG2, respectively (Table
1
).
Table 1
Number of sampled trees across test sites (S) and breeding groups (BG)
| Site* | BG1 | BG2 | Total |
| --- | --- | --- | --- |
| S1 | 411 | 440 | 851 |
| S2 | 430 | 467 | 897 |
| Total | 841 | 907 | 1,748 |
Genotypes
Parents (n = 39) and progeny (n = 1,748) were genotyped with the white spruce Infinium SNP array PgLM3 [32] at a rate of about one SNP per target gene locus. SNP loci were cleaned by removing those loci that failed; they were monomorphic, displayed a call rate < 0.85, had a minor allele frequency (MAF) < 0.005 (less than 10 heterozygous individuals), or a mismatch with both parental genotypes. A total of 6,932 high quality SNPs with a mean MAF = 0.20 were retained for GS analyses. These SNPs were distributed among 6,918 distinct gene loci. Individual genotypes with call rates < 0.80 were removed. Missing genotypes (~ 2.7%) were imputed from the binomial distribution, with success probabilities given the observed allele frequencies.
In order to test for population structure and control for relatedness as an alternative to the numerator relationship matrix (NRM) for association testing, an identity by state (IBS), allele-sharing, realized genomic relationship matrix (GRM,
K
) was constructed as:
where M is an n × m (individuals × loci) matrix of SNPs coded as 0, 1 and 2 for genotypes 11, 12 and 22, respectively, and P is an n × m matrix with columns containing the frequency of the second allele p m (here the minor allele) at locus m. Subtracting P from M gives Q, which sets mean values of the allele effects (and thus BVs) to zero. Finally, dividing QQ T by k = tr (QQ T )/m (i.e. the mean of the diagonal) normalizes the GRM to a scale analogous to elements in the A matrix [33]. To test for population structure, the K matrix (= VDVT) was decomposed spectrally with the eigen() function in R v2.15.2 [34], where D is a diagonal matrix of eigenvalues and columns of V are the corresponding eigenvectors of K. Spectral decomposition of the K matrix made it possible to estimate the variation captured by the first eigenvector, which helped determine the extent of the population structure among the breeding groups.
Statistical models
Univariate polygenic model
The univariate, individual tree ("animal") mixed model for each trait (
t
) was:
where y t is a vector of phenotypic measurements at age 17, b is a vector of fixed block effects, a i is the vector of additive genetic (breeding) values (EBVs), e is the vector of residual error effects, and X and Z are incidence matrices linking phenotypic records (y) to estimates of effects. Expectation of the model is E(a), E(e) = 0 and E(y) = Xb, with additive genetic and error effects distributed as and where A is the NRM describing the additive genetic relationships among individuals and I is an identity matrix.
Bivariate polygenic model
To test the assumption that a trait measured in different environments is affected by the genotype-by-environment interaction (GEI), the univariate model can be extended to its bivariate counterpart by stacking up the vectors for the two traits as:
where the total vectors of random effects have covariance structures var[(
α
1
, 
α
2
)
T
] = 
G
 = 
C
⊗
A
and var[(
e
1
, 
e
2
)
T
] = 
R
 = 
E
⊗
I
for the additive genetic and residual effects, respectively, where
⊗
is the direct (kronecker) product and
C
and
E
are matrices containing the additive genetic and residual (co)variance parameters to be estimated as:
which indicates that there is a genetic covariance across sites (with information flowing through A) but that the residual covariance across sites is zero because measures took place on different individuals in different environments.
Model parameters were sampled from the posterior distribution using the MCMCglmm v2.16 package [35] in R v2.15.2 [34]. Each model was run for 260,000 iterations with a burn-in of 60,000 and thinning interval of 200, resulting in 1,000 samples saved per chain. Fixed-effect priors were drawn from the default normal distribution with large (108) variance. Weak, proper priors drawn from the inverse-Wishart distribution were set to the phenotypic variance divided by the number of random effects in the model with the degree of belief parameter set to 1 and 2 for uni- and bivariate models, respectively. Mixing and stationarity of the chains was assessed with trace plots of samples from the posterior distribution using the coda package [36]. Posterior distributions of the parameters were summarized using the mode and the highest probability density (HPD) interval (95%) with the MCMCglmm and coda packages. Posterior distributions of heritability (h2) and genetic correlations between traits (r12) were calculated as and respectively. Estimated breeding values ((EBVs; â i ) obtained from the bivariate analyses were stored on the site where phenotypes were observed and were subsequently used to determine prediction accuracies with univariate SNP-based GEBVs (see next).
Following bivariate analyses, phenotypes were adjusted for fixed block effects and scaled by within-site phenotypic standard deviation in order to account for (small) differences in phenotypic variation for traits on different sites. No differences in genetic means between the breeding groups were detected. Phenotypes were then combined across sites for use in marker regressions, assuming that traits on different sites were a single trait with a genetic correlation equal to unity.
Marker regression models
In multiple-marker regression, many SNPs are simultaneously estimated as random effects in the individual tree model:
where y s is a vector of adjusted and standardized phenotypic measurements at age 17, 1 is a vector of ones, μ is an intercept, a i is the vector of additive genetic (breeding) values, u k is a vector of random marker effects with the n x m incidence matrix containing marker covariates coded as Z ki  = (0, 1, 2) so that the sum of marker effects approximates the individual (additive) genomic estimated breeding value (GEBV) and e i is the vector of residual error effects. Additive genetic (polygenic) and error effects were assumed to be distributed as in eq. 2. The intercept was assigned a flat (uninformative) prior, whereas variance components were assigned a scaled inverse- χ2 prior density with degrees of freedom (df) and scale (S) parameters set to for the error, additive genetic and marker effects, respectively, as recommended in [37].
Two types of marker regression were performed that differ in the prior distribution of SNP effects. In ridge regression (RR), all SNP effects are assumed to have a common variance by assigning a Gaussian prior as . Under this assumption all marker coefficients are shrunk to the same extent, which is appropriate for traits controlled by many genes of small effect, similar to the assumptions of the infinitesimal pedigree-based (polygenic) model. In contrast, the LASSO allows for marker-specific shrinkage effects, making it appropriate for traits thought to be under control of fewer genes of moderate to large effect. In the LASSO, the distribution of SNP effects are assigned a double exponential (DE) prior as which states that the marker-specific prior is Gaussian, with marker-specific shrinkage of effects depending on τ2, which is in turn controlled by the prior distribution of the regularization parameter (p(λ)) [37]. The regularization parameter (λ), which allows the degree of shrinkage to be estimated from the data, was assigned a prior Beta distribution as outlined in [37], with parameters shape = 0.52 and rate = 1 × 10−4 yielding λ = 57.5 for our data. Large values of λ produce more informative (sharper) priors on marker effects [26], which will shrink (truly) small effects towards zero to a greater degree than in RR. Pedigree-based (A) best linear unbiased prediction (BLUP), ridge regression (RR) BLUP, and LASSO (L) regression were performed using the BLR package [38] in R v2.15.2 [34].
Single-marker regression (SMR; association testing) was also conducted to test the hypothesis that individual marker loci were in partial or complete linkage disequilibrium with a causal gene and to delineate subsets of markers for further marker regressions. Marker effects were treated as fixed effects (unlike in eq. 5) in SMR and relatedness structure was controlled using the numerator (A) or genomic relationship (K) matrix using the EMMAX algorithm [39] in the rrBLUP (v4.1) package [40] in R (v2.15.2) [34]. Variance components are estimated only once in a base model without SNPs using EMMAX and, subsequently, each SNP is added to the model in turn, equations are solved, and a F-test is constructed for each SNP to test the hypothesis that the SNP effect u k  ≠ 0.
Traits were modeled using 1) all individuals with all SNPs and/or the pedigree and 2) subpopulations of individuals with all or subsets of SNPs and/or the pedigree in cross-validation (CV). SNP subsets for CV were retained for reevaluation using RR in five different ways. First, the SNPs with the largest absolute effects (P < 0.05) using SMR were retained, controlling for relatedness with A or K. Next, the 600 SNPs with largest absolute effects were retained from the full model (all individuals and SNPs) using RR and pedigree information (FM-RRA), which approximated the maximum number of significant SNPs from SMR. SNP effects were estimated in a subpopulation (see below) and subsequently re-evaluated using RR in the same (e.g. BG1) or complementary subpopulation (e.g. BG1 → BG2). In the former case, SNP effects treated as fixed effects in SMR may be biased when estimated and validated in the same non-independent data [41, 42]. Finally, as controls, two sets of 600 SNPs were built by selecting SNPs randomly or by selecting those with the highest observed minor allele frequencies. For each of these controls, the selected SNPs remained the same across traits and subpopulations.
For cross-validation (CV) analyses, individuals (CV1) or full-sib families (CV2) were assigned to 10 folds randomly. In each of 10 rounds of CV, 9 folds acted as the training set in which SNP effects were estimated in order to predict the genetic values of individuals in the remaining fold, whose phenotypes had been withheld. For models tested across subpopulations (BG1 → BG2 or S1 → S2), that is training the models in one subpopulation and testing them in the other one, each CV round used 9 of 10 folds as the training set from subpopulation 1, with a different fold used as the testing set for each round of CV from subpopulation 2. Prediction accuracies were calculated as the correlation (cor (ĝ, â)) between the sum of CV SNP estimates (ĝ) or GEBVs and the additive genetic (breeding) value (â) or EBVs estimated using the bivariate, pedigree-based model and all phenotypic data, which was considered the best estimate of the "true" breeding value.
Subsets of individuals with mean training and testing set sizes of 787 and 87 individuals, respectively, were used to perform marker regressions and test prediction accuracy four different ways:
BG1 (or BG2) – within-breeding group CV simulates a situation where related individuals have already been phenotyped on both (or similar) sites, as BG members were distributed across sites. GEI could lower prediction accuracy if present.

BG1 → BG2 – between-breeding group CV removes all known relatedness between CV sets, establishes baseline accuracy due to (short-range) LD and thus tests if the model is transferable beyond the study material. As members of both BGs are present in both environments, GEI could have an impact.

S1 (or S2) – within-site CV simulates a situation where models are trained by pooling individuals across BGs, with no known relatedness between BG. Evaluation occurs within site, thus GEI cannot affect the results.

S1 → S2 – between-site CV simulates a situation where no phenotypes have been observed on related individuals in the second environment, testing the assumption that the traits on different sites have a genetic correlation of one.
Results
Univariate heritabilities (not shown) were similar to their bivariate counterparts (Table
2
), suggesting homogeneous phenotypic variance across sites. Although the genetic correlation (
r
12
) was not equal to 1 across sites (Table
2
), it was moderately high (for growth traits;
r
12
 = 0.73), to high (for wood quality traits;
r
12
= 0.83). This implied that, biologically, the GEI was not strong enough to warrant the more complex (bivariate) model for wood traits (less so for growth traits) and that data might be pooled across sites and considered as a single trait.
Table 2
Bivariate heritabilities ( h 2 ), genetic correlations ( r 12 ), and highest probability density interval (95%) for wood quality and growth traits considered as correlated traits when measured on different sites
| Site* | | ADEN† | AMFA | HT17 | DBH17 |
| --- | --- | --- | --- | --- | --- |
| S1 | h 2 | 0.33 (0.251, 0.585) | 0.30 (0.169, 0.516) | 0.39 (0.229, 0.640) | 0.39 (0.172, 0.542) |
| S2 | h 2 | 0.34 (0.181, 0.494) | 0.32 (0.183, 0.510) | 0.57 (0.378, 0.816) | 0.32 (0.185, 0.561) |
| S1//S2 | r 12 | 0.83 (0.548, 0.919) | 0.83 (0.570, 0.948) | 0.73 (0.432, 0.879) | 0.73(0.432, 0.879) |
Spectral decomposition of the
K
matrix revealed that < 5% of the variation was captured by the first eigenvector. This indicated that population structure was not important among the breeding groups and that
A
or
K
was sufficient to capture the relatedness among individuals. The lack of phenotypic differences observed between the two breeding groups, BG1 and BG2, supported this lack of structure. The
K
matrix captured a low level of relatedness between the two BGs (Figure
1
), implying that some pedigree errors or cryptic relatedness between groups was present. The elements in
K
underestimated the corresponding non-zero, expected relationship values in
A
, with median (first and third quartiles: range) values for half- and full-sibs of 0.20 (0.15, 0.25; −0.12 – 0.90) and 0.44 (0.38, 0.49; −0.09 – 1.05), respectively.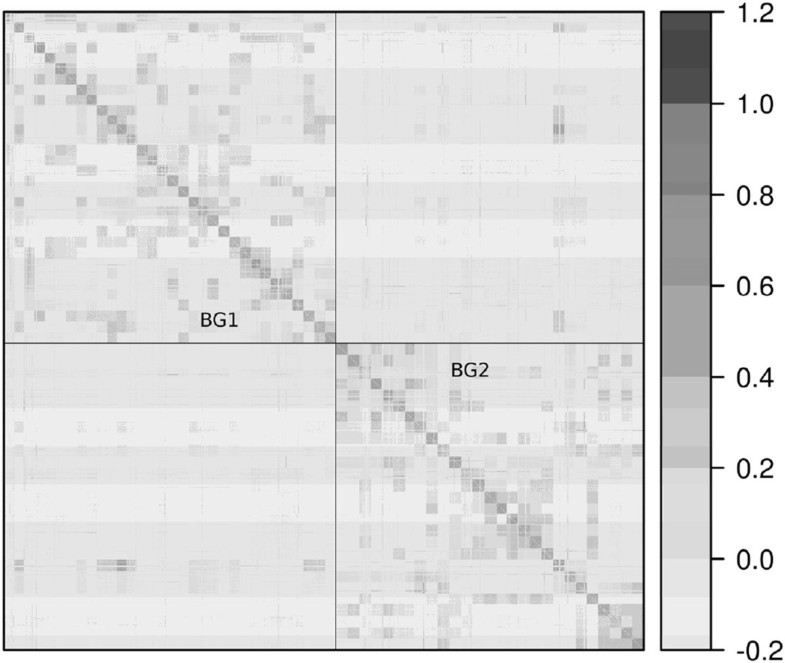 Conclusion
In the short term, genomic selection would be most useful to select superior individuals within large full-sib families. These individuals would be reproduced by vegetative propagation techniques such as somatic embryogenesis (SE), or a mix of SE and rooted cuttings, in order to develop a multivarietal forestry program. With regard to genomic selection for recurrent selection at current marker densities in spruce populations, its efficiency would depend on the presence of close relatives in order to exploit the capture of relatedness and supposedly long-range LD. Thus, a simple marker-based approach that aim to uncover relatedness when pedigrees have not been recorded or are only partially known would seem to be the most cost-effective application of this technology. For such a scenario, the total number of SNPs required would be only a few hundreds to a few thousands. In the longer term, superior marker-over pedigree-based predictions may be achievable in descendant generations of closed populations as short-range LD increases and pedigrees provide less information. However, to achieve this goal, denser marker arrays, more individuals per family, and more sophisticated experiment designs and genomic selection models [17] than those used in the current study will likely need to be considered. A step towards achieving this goal in forest genetics might also be the estimation across generations in order to better evaluate the persistency of marker effects.
Declarations
Acknowledgements
We thank D. Plourde and É. Dussault (Natural Resources Canada) for site maintenance and data collection, S. Blais, F. Gagnon (Univ. Laval) and S. Clément (Natural Resources Canada) for managing the genotype data, A. Beaumont, R. Gagné (Natural Resources Canada), M.-H. Galibois and P. Lenz (Univ. Laval) for data collection, S. Mansfield (Univ. British Columbia) for determination of density profiles and MFA data, the team of A. Montpetit (Univ. McGill and Génome Québec Innovation Centre) for performing the Infinium genotyping assay, and I. Lamarre (Natural Resources Canada) for editing work. We are also grateful to Dr. Dario Grattapaglia (EMBRAPA Genetic Resources and Biotechnology, Brazil) for reading the manuscript and providing insights. This study was made possible through funding from the Natural Resources Canada Genomics R&D Initiative and the Canadian Wood Fibre Centre to JBe and JBo, and from Génome Québec and Genome Canada to JM, JBo and JBe.
Authors' Affiliations
(1)
Natural Resources Canada, Canadian Forest Service, Canadian Wood Fibre Centre, Quebec City, Canada
(2)
Canada Research Chair in Forest and Environmental Genomics, Institute for Systems and Integrative Biology, Université Laval, Quebec City, Canada
(3)
Ministère des Forêts, de la Faune et des Parcs du Québec, Direction de la recherche forestière, Quebec City, Canada
Copyright
© Beaulieu et al.; licensee BioMed Central Ltd. 2014
This article is published under license to BioMed Central Ltd. This is an Open Access article distributed under the terms of the Creative Commons Attribution License (http://creativecommons.org/licenses/by/4.0), which permits unrestricted use, distribution, and reproduction in any medium, provided the original work is properly credited. The Creative Commons Public Domain Dedication waiver (http://creativecommons.org/publicdomain/zero/1.0/) applies to the data made available in this article, unless otherwise stated.