Research article
Open Access
Comparative genomics reveals molecular features unique to the songbird lineage
Received: 2 October 2014
Accepted: 9 December 2014
Published: 13 December 2014
Abstract
Background
Songbirds (oscine Passeriformes) are among the most diverse and successful vertebrate groups, comprising almost half of all known bird species. Identifying the genomic innovations that might be associated with this success, as well as with characteristic songbird traits such as vocal learning and the brain circuits that underlie this behavior, has proven difficult, in part due to the small number of avian genomes available until recently. Here we performed a comparative analysis of 48 avian genomes to identify genomic features that are unique to songbirds, as well as an initial assessment of function by investigating their tissue distribution and predicted protein domain structure.
Results
Using BLAT alignments and gene synteny analysis, we curated a large set of Ensembl gene models that were annotated as novel or duplicated in the most commonly studied songbird, the Zebra finch (Taeniopygia guttata), and then extended this analysis to 47 additional avian and 4 non-avian genomes. We identified 10 novel genes uniquely present in songbird genomes. A refined map of chromosomal synteny disruptions in the Zebra finch genome revealed that the majority of these novel genes localized to regions of genomic instability associated with apparent chromosomal breakpoints. Analyses of in situ hybridization and RNA-seq data revealed that a subset of songbird-unique genes is expressed in the brain and/or other tissues, and that 2 of these (YTHDC2L1 and TMRA) are highly differentially expressed in vocal learning-associated nuclei relative to the rest of the brain.
Conclusions
Our study reveals novel genes unique to songbirds, including some that may subserve their unique vocal control system, substantially improves the quality of Zebra finch genome annotations, and contributes to a better understanding of how genomic features may have evolved in conjunction with the emergence of the songbird lineage.
Keywords
SongbirdNovel gene family expansionEvolutionVocal learningZebra finch
Background
Passeriformes are the largest tetrapod order, with over 5,700 species found across the globe [
1
]. The vast majority of these are oscine passerines, or songbirds (suborder: Passeri), with far fewer species of suboscines (suborder: Tyranni) and just 2 extant species of basal New Zealand wrens (suborder: Acanthisitti) (Figure
1
A). Passerines are distinguished by a number of traits including their distinctive foot anatomy adapted for perching, an altricial pattern of offspring growth, and an exceptionally high metabolic rate [
2
,
3
]. Unique to songbirds is the complex syringeal morphology and underlying brain circuitry for vocal learning, the ability to imitate a tutor's song transmitted across successive generations [
4
,
5
]. Vocal learning provides the basis for human speech acquisition, and is exceedingly rare in the animal kingdom [
6
,
7
]. Aside from humans, it has been convincingly found in few other mammalian groups (bats [
8
,
9
], cetaceans [
10
,
11
], and possibly elephants [
12
] and pinnipeds [
13
,
14
]), where the underlying brain circuitry and mechanisms are unknown, and just 3 of more than 30 extant orders of birds (songbirds, parrots, and hummingbirds [
6
,
15
]). Notably, interconnected forebrain circuitry involved in the perception and production of learned vocalizations has been discovered in all three avian vocal learning groups [
16
–
24
]. Best studied in songbirds, this circuitry includes cortical-like, basal ganglia, and thalamic nuclei (Figure
1
B, for reviews see [
6
,
25
,
26
]).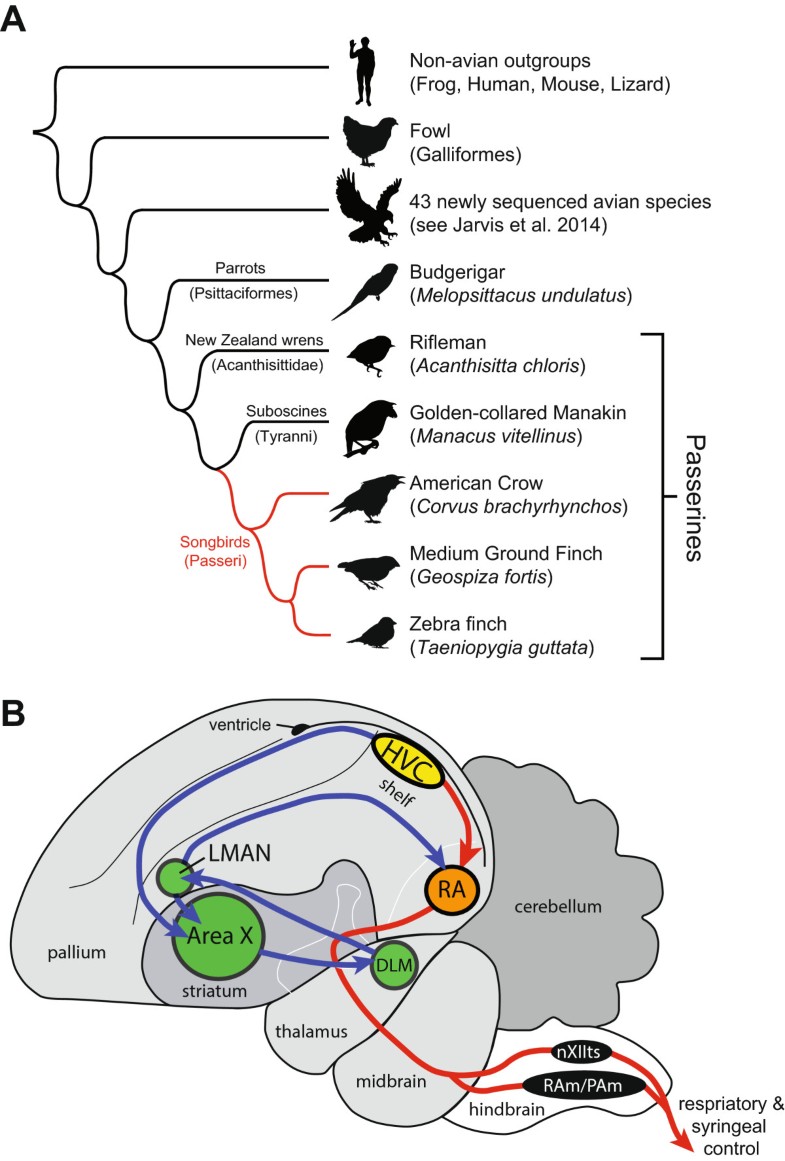 The Zebra finch (Passeriformes: Taeniopygia guttata), a songbird native to Australia, has been an important model for understanding the neurobiology of sensorimotor integration, memory, and sexual differentiation, among other functions, as well as being the primary model for studying the neural basis of vocal learning. The completion of the Zebra finch genome [27] made it possible to search for genomic features that might be unique to songbirds. The emergence of novel genes has been shown to provide a genetic substrate for lineage-specific adaptations and the evolution of new functional traits [28, 29]. It is thus possible that novel genes might also be associated with the evolution of characteristic songbird traits like vocal learning. The initial comparative analysis between Zebra finch and chicken (Galliformes: Gallus gallus), a previously sequenced, non-learning species [30], led to the identification of candidate novel gene duplications and expansions in Zebra finches [27]. However, without additional genomes that span the large phylogenetic distance between Galliformes and Passeriformes, it was impossible to conclude whether these features are specific to Zebra finch, or originated more basally in finches, oscines, Passeriformes, or elsewhere within Neoaves. Moreover, it has not been determined whether these genomic features are associated with vocal learning and related circuitry, or with other phenotypic differences between oscines and non-oscines. In the few cases where this question has been examined, there is only very limited evidence of regional or differential gene expression in the brain [27, 31].
A requirement for accurate comparative genomics are well-curated sets of 1-to-1 orthologs among the organisms being compared. Obtaining the true set of orthologs is an ongoing problem, and many genomes remain partial and/or insufficiently annotated, in part due to errors by ab initio gene predictive algorithms to identify all exons of a given ortholog, even when these are present in the genome assembly [32]. These issues have led to erroneous annotations of Zebra finch models as novel, non-detection of orthologs that are in fact present in the assembly, and erroneous conclusions about gene duplications and expansions [33]. Thus, the search for genomic features unique to Zebra finches, or more broadly to songbirds, and that may relate to their distinct traits, is still very incomplete.
Here, we have curated the Zebra finch Ensembl gene models annotated as novel or duplicated, as well as several previously identified novel expansions in the Zebra finch genome (Supplementary Figure Three in [27]), and then determined their presence or absence in 45 recently sequenced, high-coverage (30–120X) genomes spanning the avian phylogeny (phylogeny and genomes described in [34, 35]). As a result, we have identified a set of genes that are clearly novel in songbirds, and provide evidence for chromosomal rearrangement as a potential mechanism for their origin. We also show that some of these genes are expressed in the brain, and that a small subset are differentially expressed in song nuclei relative to surrounding areas, representing molecular specializations of the songbird vocal control system; others are expressed in various non-neural tissues. In contrast, we found that several hundred putative previously reported novel songbird gene models represent artefacts, previously known genes, or genes that are present in non-songbird species. Our results provide an approach for improved genome annotation, as well as identifying novel targets for investigating genes unique to a lineage or trait, including vocal learning and its associated brain circuitry in songbirds.
Results
We implemented a comprehensive and exhaustive annotation pipeline to identify genes that evolved in songbirds subsequent to their divergence from all other birds. Specifically, we first focused on the best-annotated songbird species, the Zebra finch, retrieving all Zebra finch Ensembl gene models annotated as novel, duplicated, or expanded (>7,000 models, e59), and removing models Ensembl considered to have orthologs in other species (n = 5,459), as well as those mapped to chromosome Unknown (n = 1,179), which were likely to represent allelic variants. The mRNA and protein sequences of the remaining models (n = 876) were BLAT-aligned to chicken, currently the best-annotated avian species, and Zebra finch, and synteny for all hits of sufficiently high score was verified to identify conserved orthologs. Loci present in Zebra finch but not chicken were then aligned to additional genomes—turkey (Meleagris gallopavo), lizard (Anolis carolinensis), frog (Xenopus tropicalis), Zebrafish (Danio rerio), mouse (Mus musculus), and human (Homo sapiens)—to distinguish songbird novel genes from losses in the galliform lineage (i.e. chicken and turkey).
We found a distinct group of putatively novel or duplicated genes in Zebra finch that do not present an ortholog in Ensembl (e75) and NCBI databases (n = 61). This included several expanded gene sets located on various Zebra finch chromosomes, suggesting that they do not represent local assembly artefacts. We added to this group a set of genes (n = 13) previously reported as expanded in Zebra finch (Supplementary Table Three in [27]), and an additional set of duplicated loci that lack a predictive model (n = 17), detected in the course of BLAT-alignments during the candidate novel gene curation analysis.
To determine whether these genes represented true novel genomic features unique to and shared across songbirds, we conducted BLAST searches of the genomes of 48 avians, including 45 newly sequenced species, representing a broad sampling that covers all major extant radiations of avian diversity (complete list of species and genome assembly in [34, 35]). This provided initial confirmation of the existence of songbird-unique genes, but as the BLAST output was to unannotated scaffolds, putative songbird novel gene sets were analysed in more detail using custom optimized BLAT-alignment algorithm and syntenic analysis in the IGV browser (see Methods) in a subset of these new avian genomes that are of direct comparative interest to our goal of identifying songbird-specific genes: two additional songbirds, the Medium ground finch (Geospiza fortis) and the American crow (Corvus brachyrhynchos); a suboscine passerine, the Golden-collared manakin (Manacus vitellinus); a basal passerine, the Rifleman (Acanthisitta chloris); and the Budgerigar (Melopsittacus undulatus), a parrot, the sister taxon to Passeriformes. This analysis allowed us to discard spurious hits from the BLAST search. In some cases it also allowed for the identification of the "parent" gene, shown through syntenic conservation to be orthologous between songbirds and non-songbirds, and which underwent duplication to give rise to the novel genes. Confirmed novel genes were categorized into several subsets based on their presumed phylogenetic origin (Figure 1).
We discovered 10 genes that are present in the 3 songbird species studied and absent in all 45 avian non-songbird and 4 non-avian organisms examined, thus representing novel genes that are unique to songbirds. These included 7 cases of gene duplication resulting in a single novel paralog unique to songbirds and 1 case where the gene duplication resulted in two songbird-specific novel paralogs (Table
1
; paralogs more generally conserved in passerines or unique to Zebra finch are also included). In some cases the parent gene is known (novel gene names have a terminal 'L'), in others the parent gene could not be established (gene names have a dash and number). We also identified one entirely novel gene which appears to have arisen
de novo
in songbirds. Altogether, the parent genes and the expanded and
de novo
novel loci comprise a total of 38 genes (Table
1
). We describe here their characterization, followed by further details on the general curation effort.
Table 1
Novel genes exclusive to songbirds
Gene name¥

Phylogeny

Ensembl ID

Gene location

SD site

Brain-derived ESTs

Non-brain ESTs

Non-brain RNA-SEQ

A4GALT-related*

A4GALT-1

SONGBIRDS†

ENSTGUG00000012139

chr1A:65,194,903-65,195,964

YES

No

No

None

A4GALT-2

SONGBIRDS†

ENSTGUG00000018227

chr1A:65,202,780-65,203,835

YES

No

No

None

A4GALT-3

SONGBIRDS†

ENSTGUG00000018451

chr1A:65,210,658-65,211,719

YES

No

No

None

CASC1-related

CASC1-1

SONGBIRDS†

ENSTGUG00000012133

chr1A:65,157,078-65,159,677

FE723736√, DV948439

JV165872, JV165873

Embryo, spleen, testes

CASC1-2

SONGBIRDS†

ENSTGUG00000012243

chr1A:66,373,778-66,384,478

YES

DV948439

JV184784, JV165872, JV165873

Embryo, liver, muscle, testes

FN3KRP-related

FN3KRP

ALL BIRDS‡

ENSTGUG00000007633

chr18:6,574624-6,580,544

DV959265√

No

Embryo

FN3KRPL1

SONGBIRDS

No model

chrZ:24,858,422-24,862,943

No

No

Embryo, liver, skin

FN3KRPL2

PASSERINES

ENSTGUG00000006787

chrZ:69,583,022-69,590,574

YES

DV955139√, FE727948√, DV955139√

JV168705√, JV168706√, JR864904√

Embryo, liver, spleen, testes

HYDIN-related*

HYDIN

ALL BIRDS‡

No model

chr11:5,451,491-5,475,997

No

No

Liver, muscle, skin, spleen

HYDINL1

SONGBIRDS

ENSTGUG00000009150

chr11:16,377,691-16,404,553

No

JV172391

Muscle, skin, spleen

HYDINL2

PASSERINES

No model

chr11:16,633,304-16,663,944

YES

No

No

Liver, muscle, testes

HYDINL3

ZEBRA FINCH

ENSTGUG00000009256

chr11:17,005,696-17,033,616

YES

No

No

Muscle, testes

HYDINL4

ZEBRA FINCH

No model

chr11:18,229,584-18,238,051

YES

No

No

None

HYDINL5

ZEBRA FINCH

ENSTGUG00000009737

chr11:19,907,326-19,914,490

No

JV172391

Testes

NOVEL (TMRA)

TMRA

SONGBIRDS

ENSTGUG00000012248

chr1A:66,486,182-66,494,397

YES

CK302958√

JV159445√, JV159451√

Embryo, liver, muscle, spleen, testes

RIOK2-related

RIOK2

ALL BIRDS‡

ENSTGUG00000001223

chrZ:24,872,816-24,883,105

DV956882√

JV172474√, JR863880√

Embryo, liver, muscle, skin, spleen, testes

RIOK2L

SONGBIRDS

No model

chrZ:69,578,247-69,578,886

YES

No

No

Skin

RNF4-related*

RNF4

ALL BIRDS‡

ENSTGUG00000010518

chr4:62,477,216-62,484,738

DV951366√

JV183872√, JR867734√

Liver, skin, testes

RNF4L1

SONGBIRDS

No model

chr4:8,201,210-8,201,765

No

No

None

RNF4L2

PASSERINES

ENSTGUG00000018516

chr4:20,660,938-20,751,958

No

No

None

RNF4L3

PASSERINES

ENSTGUG00000018370

chr4:22,411,072-22,433,579

No

No

Embryo, muscle, skin, spleen

RNF4L4

ZEBRA FINCH

ENSTGUG00000018547

chr4:22,445,102-22,478,943

No

No

Testes

RNF4L5

ZEBRA FINCH

ENSTGUG00000018338

chr4:22,507,187-22,517,977

No

No

Muscle, spleen

RNF4L6

ZEBRA FINCH

ENSTGUG00000018226

chr4:22,538,729-22,547,838

No

No

None

RNF4L7

PASSERINES

No model

chr4:41,650,214-41,650,348

No

No

None

URB1-related

URB1

ALL BIRDS‡

ENSTGUG00000013442/ no model

chr1:97,555,543-97,592,096/ chr1_random:362,665-365,267

YES

FE722167√

No

Embryo, liver, muscle, skin, testes

URB1L1

ZEBRA FINCH

ENSTGUG00000011753

chr1A:60,924,812-60,941,816

YES

CK301434, CK303889, DV957700

No

Embryo, liver

URB1L2

ZEBRA FINCH

No model

chr1A:63,520,638-63,528,208

CK301434, CK303889

No

None

URB1L3

SONGBIRDS

No model

chr5:4,764,796-4,772,823

YES

CK301434, CK303889, DV957700

No

Skin

URB1L4

ZEBRA FINCH

No model

chr7:1,064,071-1,065,024

No

No

None

URB1L5

ZEBRA FINCH

No model

chr23:2,319,460-2,335,606

YES

DV957700

No

Liver, muscle, spleen, testes

YTHDC2-related*

YTHDC2

ALL BIRDS‡

No model

chrZ:21,509,497-21,511,474

YES

No

No

None

YTHDC2L1

SONGBIRDS

ENSTGUG00000014232

chr2_random:378,730-383,125

CK309358√

No

None

YTHDC2L2

ZEBRA FINCH

ENSTGUG00000014992

chr3_random:766,156-785,803

No

No

None

YTHDC2L3

PASSERINES

ENSTGUG00000000643

chrZ:10,792,293-10,809,782

YES

No

JV174477, JV177272

Embyro, liver, muscle, spleen

YTHDC2L4

ZEBRA FINCH

No model

chrZ:29,309,810-29,332,222

No

No

Embryo, liver, muscle, skin, spleen, testes

YTHDC2L5

ZEBRA FINCH

ENSTGUG00000003755

chrZ:55,988,800-56,020,229

DV947064√

JV174477√

Embryo, liver, muscle, skin, spleen, testes

YTHDC2L6

ZEBRA FINCH

ENSTGUG00000004173

chrZ:57,443,052-57,444,728

YES

No

No

Embryo
Discussion
Our analysis identifies with high certainty several songbird-unique genes, and drastically reduces the number of genes misannotated as novel by automated detection algorithms [46, 47]. In addition to significantly extending and improving upon previous lists of songbird novel genes [27, 31], this effort demonstrates the necessity of a systematic curation pipeline that incorporated synteny analysis in order to accurately predict gene identity, and establishes a template for using comparative genomics to identify novel genes in any genome. The pipeline is particularly effective in eliminating false positive novel gene annotations by identifying orthologs undetected by automated gene prediction algorithms due to gene model incompleteness. This effort also illustrates how analysis of a large number of genomes can enable the discovery of genomic features unique to specific groups and possibly associated with group-specific traits, a strategy that will become increasingly feasible as larger collections of genomes from other animal groups become available.
Although we have focused on the contribution of novel genes to the evolution of the songbird lineage in this study; other factors are likely to have played a role as well; including differential gene substitution rates, chromosomal rearrangements, retrotransposon-related events, and modification of regulatory regions. Several of these are being explored in companion papers to this study [34, 35].
Lineage-specific expansions have been reported in Zebra finch versus chicken [27], but the incorporation of 45 newly sequenced, high-coverage (30–120X) avian genomes as well as representative non-avian genomes allows us to identify the specific set of duplications that arose following the divergence of ancestral oscine passerines from their closest living relatives (i.e. suboscine passerines, ~32 mya), but before the songbird crown radiation which includes both finches and crows (~20 mya) [34]. We note that this represents a high-confidence set: if these genes were not unique to songbirds, and their absence in non-songbirds a consequence of incomplete sequencing, we would expect them to be randomly distributed across the 45 non-songbird genomes sequenced. Instead, we find them only in songbirds, and in none of the non-songbird species examined. Due to our strict criteria, our list of songbird-unique genes is likely an underestimate, as we have excluded loci not mapped to a known chromosome, due to the possibility that these represent alleles rather than actual paralogs, as well as gene sets annotated by Ensembl as one-to-many orthologs, which require further analysis to establish exact orthology. In addition to identifying genes uniquely present and shared among songbirds, this analysis also reveals further sets of lineage-specific genes which characterize finches, passerines, neoavian birds, or Galliformes. The identification of gene sets common to these avian clades represents a significant advance for identifying genomic innovations whose emergence may be linked to some of the characteristic traits of these groups.
Our identification of SDs that emerged following evolutionary divergence of Galliformes (e.g. chicken) and Neoaves (e.g. Zebra finch) substantially improves on previous studies [27, 36] by refining the location of SD sites, identifying breakpoints on chrs 11–28 and Z, and distinguishing SDs present in Zebra finch only, thus possibly specific to songbirds, from those present in chicken only, and thus possibly specific to Galliformes. The fact that the majority of novel genes, both those unique to songbirds as well as those present in other avian groups, are located within or immediately adjacent to SDs suggests that chromosomal rearrangement is a major mechanism for the emergence of novel genomic features in passerines and other avian groups, as found in other lineages [48, 49]. This corroborates previous reports establishing non-allelic homologous recombination following inter- or intra-chromosomal rearrangement as an essential mechanism for genome evolution [50, 51]. Of note, songbird chromosomes 1 and 1A are known to have undergone significant rearrangement, having split from chicken chromosome 1 [52], which our findings suggest has had repercussions for novel gene evolution: a single rearrangement on Chr1A can be associated with multiple novel genes; another SD on Chr1 harbours the previously described growth hormone gene duplication (GHL) [53], which we conclude to be passerine-specific. Related to these rearrangements, avian SDs have been previously associated with a high occurrence of repetitive elements [36], which are thought to provide a substrate for non-allelic homologous recombination and genomic instability [54, 55]. It is also possible that some of the genes reported here, as well as others containing repetitive elements, may have arisen through retrotransposon-mediated duplication mechanisms [56].
A major outcome of this study was the discovery that most of the novel songbird genes are transcriptionally active, with both EST and RNA-seq data supporting differential tissue expression of parent genes and songbird novel loci, indicating a diversification of function following duplication. Compellingly, some novel genes' brain expression indicates an association with songbirds' neural system for learned vocalizations, suggesting that their evolution could be related to the emergence of this characteristic songbird trait. Although other studies have identified gene enrichments in song nuclei [57–59], this is the first report that genes found only within the songbird lineage are transcriptionally active in these nuclei. This suggests that certain novel genomic features of songbirds may have evolved to support the function of the circuitry dedicated to vocal learning behavior. For other novel genes, transcriptional evidence suggests that their function is associated with other, non-neuronal tissues, including skin, muscle, liver, and testis. Although more targeted experimental approaches involving gene manipulations will be required to establish the exact functions of songbird novel genes, we discuss potential implications in the context of their predicted protein domain architecture and selective tissue expression.
The multiple copies of A4GALT are complete, thus this gene expansion might represent an increase in molecular function, or a diversity of functions if accompanied by divergent expression patterns. Although we found no evidence of expression of these genes, in other organisms A4GALT has been implicated in glycosylation of surface antigens related to the P blood group system, indicating that this gene and its expansion are likely related to organs and systems outside of the range of tissues explored in our analyses [60].
Several other gene expansions (RIOK2, RNF4, URB1, HYDIN) are predicted to encode much shorter proteins that lack specific domains compared to the parent genes, sometimes even lacking a recognizable ORF. For these genes, there are indications of differential expression in non-brain tissues by RNA-seq, although we cannot unequivocally demonstrate brain expression due to cross-alignment of cDNAs to multiple loci (Table 1). These truncated genes could act as partial competitive inhibitors of the parent gene, as seen with the human specific duplication of the SRGAP2 gene, which in turn causes slower brain development in humans relative to other mammals [29]. It is also possible that these might represent pseudogenes resulting from a complete duplication followed by a degradation of the coding sequence and loss of transcriptional activity of one paralog. A notable exception was FN3KRP, a gene related to deglycation of proteins and thus possibly protective against hyperglycemia [61]. FN3KRPL2, which is shared by all passerines and complete in terms of coding domains, has even gained complexity in the form of multiple 3'UTR variants. We also note that in some cases we found evidence of brain expression of the parent gene only (e.g. RIOK2 and RNF4, both low to undetectable by in situ but with associated cDNAs) or of the parent gene and its duplicates (FN3KRP, URB1). While the patterns were broad and uniform, thus uninformative with regards to regional specializations, they establish a link to basic, non-specialized aspects of brain function. Intriguingly, we note that two songbird novel genes exhibit exclusive expression in skin (RIOK2L, URB1L3), a finding without clear precedent that points to potential unexplored molecular specializations of songbirds.
There is significant sequence divergence between CASC1-1 and CASC1-2, which, along with the differential expression patterns detected, suggests a divergence of molecular function. The restricted expression of the CASC1-1 in the ventricular zone is intriguing, given that the parent gene is related to the control of cell proliferation [62], and the subventricular region adjacent to the ventricles is a site of continued proliferation of neuronal precursor cells in adulthood [63, 64]. The other transcript is broadly expressed but cannot be unambiguously linked to either paralog. One possible interpretation is that the two paralogs have very distinct expression patterns. In this regard, the chromosomal rearrangement that gave rise to this duplication (Figure 8) likely disrupted the regulatory promoter of CASC1-1, leading to differences in expression patterns. Alternatively, the two transcripts analysed might be variants of CASC1-1, with CASC1-2 representing a pseudogene. In either scenario, further studies of the CASC1 duplication are worth pursuing, and analysis of additional genes in the proximity of genomic rearrangement sites could lead to further insights into evolving patterns of gene regulation in the avian brain.
The YTHDC2 gene expansion clearly illustrates a divergence of function across paralogs, which differ in both structure and expression. YTHDC2 is predicted to encode a protein capable of binding to RNA (through its YTH domain [65]) and inducing conformational changes (through its RNA helicase activity [66]). Although the functionally complete copy YTHDC2L5 is expressed broadly in the brain and other tissues, the songbird-unique copy YTHDC2L1 is expressed solely in song learning nucleus LMAN in the brain, and is highly truncated relative to the parent gene, retaining only the HA2 and OB-fold domains associated with RNA helicase activity regulation [67]. This indicates a neofunctionalization of songbird paralog YTHDC2L1, and suggests that it may play a role in RNA regulation in LMAN, a conclusion that will await targeted experimental confirmation.
It is unclear how the complete TMRA arose in songbirds, but given the presence of a short, exonic segment in the correct syntenic position in falcon and trogon, two clades recently shown to be closely related to songbirds [34], TMRA appears to represent a de novo gene gain in songbirds with ancestral non-coding origins, as shown previously for genes which originated de novo in human from non-coding sequences in chimp [68]. TMRA is a remarkable marker of song nucleus RA, suggesting a role related to the neural coding of learned vocalizations, as RA represents the cortical output for vocal-motor control and is essential for the production of learned vocalizations [16, 43]. TMRA is a member of the CLEC family of transmembrane protein genes, with a function likely associated with cell surface recognition processes required for cell-cell and/or cell-substrate interactions [69]. Although one cannot exclude the possibility that TMRA may play a role in response to pathogens, as occurs for other members of the lectin family [70], we note that members of some gene superfamilies related to immune system function (e.g., N-CAM) also play major roles in the nervous system, modulating cell-cell adhesion and interactions with extracellular matrix that are critical for neural development and function [71].
The discovery of novel songbird genes expressed specifically in the vocal control system provides evidence that some molecular specializations unique to this group may be associated with vocal learning. This trait evolved in three avian lineages (songbirds, parrots, and hummingbirds), all possessing dedicated circuits for this behavior with marked similarities in their neuroanatomical organization [6, 21, 24]. Given these parallels, one might expect convergent similarities in the molecular organization of these circuits. Recent evidence supports a much closer relationship between parrots and passerines than previously recognized [34, 72], leading to the intriguing possibility that some molecular specializations of their vocal learning circuits may have evolved in a common ancestor. Indeed, recent studies have identified a number of shared molecular specializations in analogous vocal control nuclei across avian vocal learners [59]. Our demonstration that songbird novel genes have been incorporated into their unique vocal control nuclei suggests that in addition, these lineages also possess unique molecular specializations related to their particular vocal learning circuits. These specializations could relate to neuronal populations and connections unique to songbirds. For example, the songbird direct pre-vocal motor cortical projection to the basal ganglia, HVC-to-Area X, is absent in parrots [73], and possibly also in hummingbirds (Mello et al., unpublished). Alternatively, the roles played by songbird-unique genes could be subserved by functionally analogous genes in parrots and hummingbirds. Further study of avian vocal learners may reveal further group-specific specializations, as well as shared molecular features that may represent fundamental requirements for vocal learning.
Conclusions
Our efforts resulted in: 1) A well-curated list of novel Zebra finch gene models, allowing for the identification and analysis of songbird-unique genes as well as improving the annotation of the Zebra finch genome by establishing orthology for hundreds of genes previously reported in error as being novel; 2) a refined map of synteny disruption sites likely representing chromosomal breakpoints in songbirds in comparison with non-songbird avian species and other vertebrates; 3) a set of songbird-unique genes that are transcriptionally active with expression patterns that diverge from those of parent genes, likely associated with unique aspects of songbird biology; and 4) a subset of songbird-unique genes that are specialized in nuclei of the vocal control system. These findings provide novel information on molecular processes that operate at the level of brain circuitry involved in vocal control, and represent prime candidate targets for gene manipulations of vocal learning.
Declarations
Acknowledgements
We thank Partha Mitra at Cold Spring Harbor Laboratories for capturing high-quality images of the in situ hybridization data reported. This work was supported by NIGMS grant GM092842 to CVM. EDJ was supported by HHMI.
Authors' Affiliations
(1)
Department of Behavioral Neuroscience, Oregon Health & Science University, Portland, USA
(2)
Department of Neurobiology, Howard Hughes Medical Institute and Duke University Medical Center, Durham, USA
Copyright
© Wirthlin et al.; licensee BioMed Central Ltd. 2014
This article is published under license to BioMed Central Ltd. This is an Open Access article distributed under the terms of the Creative Commons Attribution License (http://creativecommons.org/licenses/by/4.0), which permits unrestricted use, distribution, and reproduction in any medium, provided the original work is properly credited. The Creative Commons Public Domain Dedication waiver (http://creativecommons.org/publicdomain/zero/1.0/) applies to the data made available in this article, unless otherwise stated.