RECLU: a pipeline to discover reproducible transcriptional start sites and their alternative regulation using capped analysis of gene expression (CAGE)
Received: 16 January 2014
Accepted: 4 April 2014
Published: 25 April 2014
Abstract
Background
Next generation sequencing based technologies are being extensively used to study transcriptomes. Among these, cap analysis of gene expression (CAGE) is specialized in detecting the most 5' ends of RNA molecules. After mapping the sequenced reads back to a reference genome CAGE data highlights the transcriptional start sites (TSSs) and their usage at a single nucleotide resolution.
Results
We propose a pipeline to group the single nucleotide TSS into larger reproducible peaks and compare their usage across biological states. Importantly, our pipeline discovers broad peaks as well as the fine structure of individual transcriptional start sites embedded within them. We assess the performance of our approach on a large CAGE datasets including 156 primary cell types and two cell lines with biological replicas. We demonstrate that genes have complicated structures of transcription initiation events. In particular, we discover that narrow peaks embedded in broader regions of transcriptional activity can be differentially used even if the larger region is not.
Conclusions
By examining the reproducible fine scaled organization of TSS we can detect many differentially regulated peaks undetected by previous approaches.
Keywords
CAGEPeak findingReproducibilityHierarchical stability
Background
The production of specific mRNAs by RNA polymerase II is regulated in most phases of homeostasis, growth, differentiation and development in eukaryotes. Measuring the transcription initiation events comprehensively will enable us to characterize aberrant expression patterns in human diseases and therefore aid in the identification of causative genes. The transcription start site (TSS) of a gene is defined by the first nucleotide that is copied at the 5' end of the corresponding mRNA [1]. For the analysis of TSSs, sequencing-based methods have been developed prominently including the cap analysis of gene expression (CAGE) [2, 3]. Mapping CAGE reads back to the genome identifies the active TSSs in a particular biological context while counting the number of reads at each site allows for quantification of the downstream RNAs. Multiple studies using CAGE technology have revealed the relationship between TSSs and core promoters, a broader region which collects multiple TSS events, the distribution of TSSs (TSSD) and transcription factor binding motifs around them, and the properties of each promoter class classified by the distribution of TSSs [1, 4, 5]. A challenge for the data analysis is to assemble nearby TSS into larger units representing co-regulated biological events. Frith et al. [6] demonstrated that CAGE peaks are composed of a hierarchy of overlapping peaks. The fine structure of peaks is largely determined by the local nucleotide composition of the genome, while broader regions of activity are likely to be determined by epigenetic effects [7]. To conduct the analysis, Frith et al. [6] developed a parametric clustering algorithm implemented in the program Paraclu which reports genomic intervals containing many more CAGE reads than surrounding regions. These regions can be contained within each other giving rise to a hierarchy of peaks. We used this program in the recent ENCODE study to define 82,783 transcriptional start regions in 15 cell lines [8].
However, in all previous studies only a single level of the peak hierarchy was used in the downstream analysis. For example, in the ENCODE study we collapsed the hierarchy by excluding all peaks contained within others. This is clearly unsatisfying from a biological standpoint as peaks at different scales may actually represent different events such as broad regions of open chromatin, narrower alternative promoters and finally individual TSS events.
This study was designed to understand structures of transcription initiation events using the CAGE technology. To achieve this goal we developed a pipeline discovering reproducible TSS peaks with multiple scales based on Paraclu and detect their alternative usage. We modified the original clustering approach in three ways to overcome the limitations mentioned above. First, we used the tag density as the cutoff value instead of the number of tags in a cluster to discard weakly expressed clusters and detect moderately expressed and narrow peaks. Secondly, we hypothesize that using reproducible peaks at different levels of the hierarchy is important in understanding changes in expression levels. Thus, we replaced collapsing clusters with extracting both the lowest peaks (termed "bottom") and the highest peaks (termed "top"). Finally, the original Paraclu by Frith et al. [
6
] calculates a stability criterion for each cluster. In brief, Paraclu defines clusters as maximal scoring segments which are found by varying a density parameter
d
. Clusters with a low
d
are large and have sparse tags, and ones with a high
d
tend to be small and dense. Paraclu finds all possible maximal scoring segments and annotates each segment with the minimum and maximum values of
d
where it is maximal scoring. If a particular segment is maximal scoring over a large range of values for
d
, it is intuitively a "stable" cluster. Thus, the stability of each cluster is defined as max
d
/min
d
. Since we are interested in extracting reproducible clusters across replicas rather than excluding clusters with low stability, we simply added the stability of broad peaks to the ones of all peaks they contain to assess their responsibility and called it hierarchical stability. Based on these hierarchical stabilities in multiple replicates we used the irreproducible discovery rate (IDR) [
9
] analysis to evaluate the accuracy of each peak. The IDR analysis is used for quantitatively measuring the consistency between replicas and for selecting reproducible signals. We summarized the differences between the original Paraclu and our pipeline, RECLU in Table
1
.
Table 1
Differences between two clustering methods
| | Original Paraclu | RECLU |
| --- | --- | --- |
| Threshold to discard clusters | Number of tags in the cluster | Tag per million (TPM) per base |
| Algorithm to calculate stabilities | Ratio of the maximum d to the minimum d | Sum of stabilities of accumulated clusters at the site |
| Evaluation of reproducibility | NA | IDR |
| Consensus cluster | Extracting the largest cluster at each site | Clusters at the top and bottom of the hierarchy |
We implemented our approach as a complete analysis pipeline that firstly constructs the set of reproducible regions among related samples and in a second step detects significant changes between samples. Applying our approach to the FANTOM5 dataset [10] comprising 156 human primary, HeLa and THP-1 cells [11], whose properties are described in Additional file 1, reveals complex patterns of alternative peak usage. By including peaks at different levels in the hierarchy we can detected many additional differentially expressed alternative start sites compared to a previous approaches. We conclude that our pipeline is an effective tool to automatically discover alternative peaks and their differential usage among samples. This work is part of the FANTOM5 project. Data downloads, genomic tools and co-published manuscripts are summarized here [12].
Implementation
The RECLU pipeline starts with the analysis of previously mapped CAGE data (Figure
1
, pink box). The core steps include the clustering of individual TSS using a modified version of the Paraclu algorithm, merging overlapping peaks in different replicas and applying the irreproducible discovery analysis (IDR) [
9
]. We will describe the key steps and materials and methods below.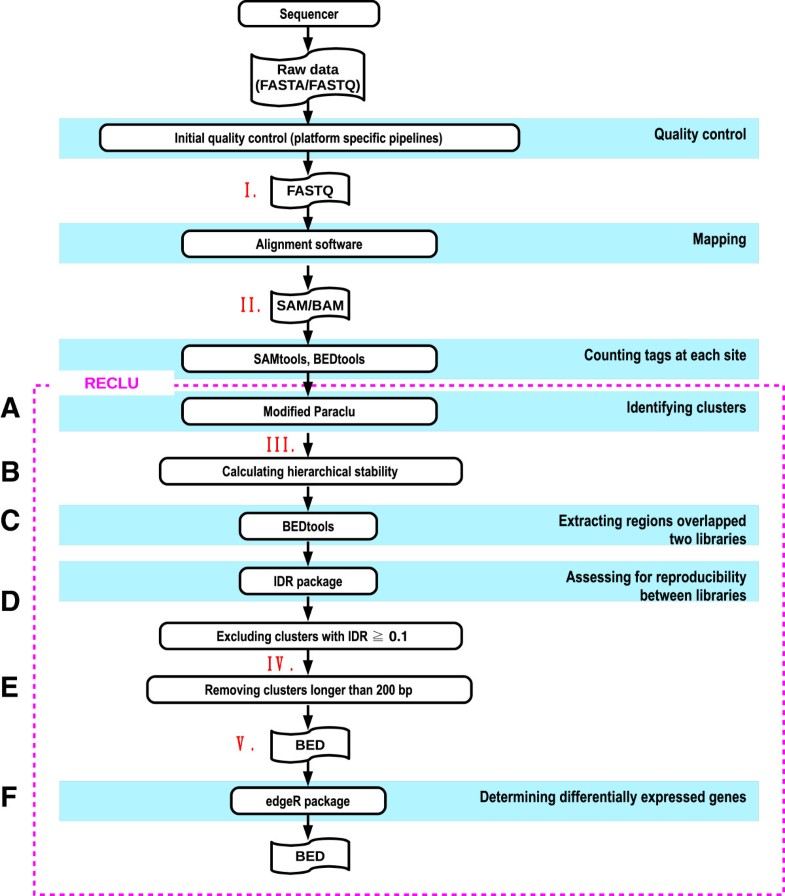 Clustering CAGE tags
One strength of CAGE technology is that tags mapped to the genome show both the location and intensity of transcription [3, 5]. Therefore, we need to reflect these characteristics of the CAGE dataset, and we adopted the Paraclu program [6] for clustering the tag counts. To apply the paraclu methods to CAGE datasets the mapped reads have to be converted into the CAGE defined transcriptional start sites (CTSS) format. In brief a CTSS counts the number of CAGE reads whose mapping start at a single nucleotide in the reference genome. We used SAMtools [13] (version 0.1.18) to count the reads at each site.
Modified paraclu
The clustering method provided by Frith et al. [6] defines TSS regions with arbitrary sizes as well as identifying peaks embedded in other peaks. To make this approach applicable to our study we modified the algorithm in two ways. Firstly, the original algorithm discarded lowly expressed peaks based on raw read numbers. Since we are interested in analyzing reproducible peaks and this filtering might discard some short clusters with a moderate tag counts density, we need to account for different sequencing depths in biological replicas. Therefore we use a normalized tag per million (TPM) [14] per base threshold and omit clusters with < 0.1 TPM per base instead of the total tag count.
Secondly, the original algorithm calculates a stability criterion for each peak defined by the ratio between the maximal and minimal clustering parameter d giving rise to that peak. Clusters with a stability < 2.0 are discarded. Since we are less concerned with the stability of clusters within a single sample than the reproducibility across samples, we simply add the stability of broad peaks to the stability of peaks they contain. This hierarchal stability is an effective way of including the fine structure at promoters in the downstream steps while discarding spurious intergenic signals.
Selecting reproducible peaks
Since we perform the clustering of CAGE data independently in each replica we need to integrate these results before being able to compare different biological samples. Our goal is to find a reproducible set of peaks in each biological condition. We use two tools to obtain such a set. Firstly, we simply compare the genomic coordinates of peaks and retain those with an reciprocal overlap of over 90 percent between any two replicas using BEDtools [15] (version 2.12.0). The genomic coordinates of the retained peaks cover only the overlapping regions and extensions in an individual replica are discarded. Secondly we verify if the signal in replicated regions is reproducible using the irreproducible discovery rate (IDR) package [9] (version 1.1). We only keep clusters with an IDR < 0.1, the same threshold as used by Derrien et al. [16]. Finally we exclude all reproducible clusters longer than 200 bp from the downstream analysis.
By definition, all clusters only found in one replica are discarded by our method. However since we apply our method to replicas corresponding to different cell types independently, it is common to discover highly reproducible clusters in one cell type which are completely absent in the other.
Data sources
We used two CAGE datasets. The first was the human CAGE data with replicates set for 156 primary cells sequenced on a HeliScope sequencer and mapped to the hg19 genome assembly in the FANTOM5 project [10]. All primary cell data and ethics application numbers are described in the FANTOM5 main paper [10]. In brief the majority of primary cell samples were purchased from commercial suppliers while the remainder were obtained through collaborating institutes from patients who provided informed consent. The other was the triplicate human CAGE dataset for HeLa and THP-1 samples sequenced on a HeliScope sequencer and mapped to the hg18 genome assembly by Kanamori-Katayama et al. [11].
Parameters used to run the original Paraclu program
In parallel we applied the original Paraclu program (version 4) on the CAGE datasets to compare the results. Clusters with < 30 tag counts, < 2 stability, or longer than 200 bp were discarded.
Differential expression analysis
We used the edgeR package [17] (version 2.5.3) to perform the exact test for differential expression analysis in our pipeline. Since it is known that the variance of the distribution for expression level across samples tends to exceed the mean of the distribution at considerably many loci, which is called overdispersion, and the negative binomial distribution fits to the data better than Poisson [18], the edgeR package is widely used.
Gene ontology analysis
We interrogated the GO terms in the GOTERM_BP_FAT category using the DAVID Bioinformatics resource [19] for differentially expressed genes for all pairwise comparisons of 11 blood cells by the FANTOM5 project [10] and the comparison between the HeLa and THP-1 cells by Kanamori-Katayama et al. [11]. Firstly, we extracted highly expressed genes in a cell type compared with the other ones (up-regulated), and vice versa (down-regulated), based on the clustering by the original Paraclu and our pipeline, respectively. Next, we picked out the commonly up-regulated/down-regulated genes in both clustering methods and performed GO analysis by using these genes. We adopted GO terms with FDR < 0.05 as significant terms. Likewise, we also performed the GO analysis using differentially expressed genes identified by only our pipeline.
Motif discovery analysis
We performed motif discovery analysis by using clusters with differential expression. First, we classified the clusters with an absolute log fold change > 2.0 into 4 groups; up-regulated (i.e., higher expression in the HeLa cells than in the THP-1 cells) at the top peaks, down-regulated at the top peaks, up-regulated at the bottom peaks, and down-regulated at the bottom peaks. Then, we extracted the top 100 clusters with the highest log concentration from each group to make target datasets, and we randomly selected 500 clusters from the sets not significantly differentially expressed as a control dataset. We used the same control dataset for all analyses. For all datasets, we use the region of ± 500 bp relative to the TSS. We executed Dispom [20] (version 1.5), which discovers de novo motifs significantly over-represented at the promoter region of target genes using a learning process to infer the parameters, 20 times for each dataset and discarded the results with a P-value > 1e-4 or those whose distance between the 75 and 25 position distribution percentile is > 50 bp. We then compared standard motif representations in the JASPAR core database [21] using the Tomtom program [22] (version 4.8.1) measuring the similarity between motifs, and extracted those with a P-value < 1.0e-4.
Results
To evaluate our pipeline we used a large set of primary cells sequenced in biological replicates as well as a previously published dataset comparing the cell lines HeLa and THP-1 [11]. Although we focus here on the application of the pipeline to the human CAGE datasets, the pipeline can also be applied to CAGE data from other organisms.
Discussion
The objective of this study was to develop a clustering pipeline producing reproducible peaks at multiple scales to understand the fine structures of transcription initiation events. We modified the clustering algorithm by Frith et al. [6] in the following way. Firstly, we adopted the tag density for a threshold instead of the raw tag counts to identify narrow peaks. As a result, RECLU detected numerous clusters with from one to five bp length (Figure 5), and the original Paraclu identified a cluster whereas RECLU discovered a lot of peaks in the same region (Figure 8), implying that RECLU can identify individual TSSs in a promoter region that are missed by the original Paraclu program. Secondly, we used two classes of clusters; the top and bottom peaks, for the downstream analyses to interpret properties of clusters with multiple scales. Consequently, we found that the structure of clusters was highly complex and hierarchic (Figure 2). An illustrative example is the P2RY6 promoter (Figure 8). While the overall expression level is similar between THP1 and HeLa cells there is a clear shift in the fine scale TSS usage. The latter is undetected by the original paraclu algorithm. Therefore, our hypothesis about the importance of considering the hierarchy of clusters was demonstrated. In addition, we showed the hierarchy and complexity of promoter regions by investigating the structure of TSSs (Additional file 4). Finally, we used IDR analysis to assess the reproducibility for each cluster based on the hierarchical stability. Here the stability is defined as the ratio between the maximum and minimum density parameter in the cluster [6], in other words it is the slope of change. Since we are interested in the entire strength of the structure of clusters rather than stability of individual clusters, we added stabilities of the broader clusters to the stability of the cluster which they contained and called it hierarchical stability. Since IDR was designed to assess quantitatively reproducibility across replicates and permit an arbitrary scale, the method can be used for a variety of experimental datasets [9]. In our pipeline the IDR analysis tends to evaluate clusters with high hierarchical stability as reproducible (Figure 3). In addition, many lowly expressed peaks are found to be reproducible (Figure 4) highlighting that the IDR analysis does not simply discard lowly expressed clusters. As a result of these improvements, we discovered many additional significantly differentially expressed genes compared to those found by the original Paraclu method. We demonstrate that additional peaks discovered by RECLU can improve downstream analyses including GO term enrichment analysis. On the basis of these results, we conclude that RECLU is well suited to detect the complex structures of transcriptional initiation events.
Different methods to identify and classify TSSs measured by CAGE have been developed [1, 5, 35]. However, these studies have only used non-overlapping peaks. RECLU detects overlapping peaks and detects alternative TSSs usage at a fine scale (Figure 6, and 8). This is important when moving to downstream analyses including the analysis of transcriptional regulatory networks and GO term enrichment analysis (Figure 7, Additional file 5). We have not yet examined the association between transcription initiation events and underlying genomic sequence features in depth. Doing so may reveal the combinations of DNA bindings motifs, and thereby transcription factors, gives rise to specific architectures of RECLU peaks present at individual genes.
Finally, and in contrast to previous approaches, RECLU considers the biological reproducibility to define peaks boundaries. Clinical studies, including the evaluation of response to treatment, discovering prognostic factors for early diagnosis and biomarker development to determine therapeutic strategies, will require robust analyses using highly reproducible expression peaks due to the necessity of accurate identification. Thus, assessment of reproducibility of clusters is crucial, and RECLU can be applied in clinical settings.
Conclusions
To understand the manner and mechanisms of transcription initiation by RNA polymerase II, we propose a clustering and quality control pipeline to detect TSSs on a genome-wide scale from the CAGE sequence tags. The new framework clusters CAGE data at multiple scales and adopts the IDR to measure reproducibility between replicates of each cluster. Our pipeline reveals that genes have complicated structures of transcription initiation events and discovers novel peaks which were difficult to detect by previous approaches. We demonstrate that the additional peaks are differentially used among primary cells. Further work is needed to understand the biological role of these additional events.
Availability and requirements
Abbreviations
TSS:

Transcription start site
CAGE:

Cap analysis of gene expression
TSSD:

Transcription start site distribution
IDR:

Irreproducible discovery rate
TPM:

Tags per million
CTSS:

CAGE transcription start site
GO:

Gene ontology
LINE:

Long interspersed nuclear element
SINE:

Short interspersed nuclear element
LTR:

Long terminal repeat elements
lincRNA:

Long intergenic non-coding RNA
miRNA:

Micro RNA
snRNA:

Small nuclear RNA
lncRNA:

Long non-coding RNA.
Declarations
Acknowledgements
FANTOM5 was made possible by a Research grant for RIKEN Omics Science Center from Ministry of Education, Culture, Sports, Science and Technology (MEXT) to Yoshihide Hayashizaki and a Grant of the Innovative Cell Biology by Innovative Technology (Cell Innovation Program) from the MEXT, Japan to YH. We would like to thank all members of the FANTOM5 consortium for contributing to generation of samples and analysis of the dataset and thank GeNAS for data production. Additionally, this study was supported by DNAFORM Unit Genomic analysis. We thank the RIKEN Integrated Cluster of Clusters (RICC) at RIKEN for the computer resources used for the calculation.
Authors' Affiliations
(1)
RIKEN Center for Life Science Technologies (CLST), Division of Genomic Technologies, RIKEN Yokohama Institute, Tsurumi-kuYokohama, Japan
(2)
RIKEN Advanced Center for Computing and Communication, Preventive Medicine and Applied Genomics Unit, Tsurumi-kuYokohama, Japan
(3)
Department of Cell and Molecular Biology (CMB), Karolinska Institute, Stockholm, Sweden
(4)
Sequence Analysis Team, Computational Biology Research Center, National Institute of Advanced Industrial Science and Technology (AIST), Koto-kuTokyo, Japan
(5)
RIKEN Preventive Medicine and Diagnosis Innovation Program (PMI), RIKEN Yokohama Institute, Tsurumi-kuYokohama, Japan
(6)
Bioinformatics Centre, Department of Biology, University of Copenhagen, Copenhagen N, Denmark
Copyright
© Ohmiya et al.; licensee BioMed Central Ltd. 2014
This article is published under license to BioMed Central Ltd. This is an Open Access article distributed under the terms of the Creative Commons Attribution License (http://creativecommons.org/licenses/by/2.0), which permits unrestricted use, distribution, and reproduction in any medium, provided the original work is properly cited.