Research article

Open Access
Comparative genome sequencing reveals chemotype-specific gene clusters in the toxigenic black mold Stachybotrys
Received: 18 January 2013
Accepted: 3 July 2014
Published: 12 July 2014
Abstract
Background
The fungal genus Stachybotrys produces several diverse toxins that affect human health. Its strains comprise two mutually-exclusive toxin chemotypes, one producing satratoxins, which are a subclass of trichothecenes, and the other producing the less-toxic atranones. To determine the genetic basis for chemotype-specific differences in toxin production, the genomes of four Stachybotrys strains were sequenced and assembled de novo. Two of these strains produce atranones and two produce satratoxins.
Results
Comparative analysis of these four 35-Mbp genomes revealed several chemotype-specific gene clusters that are predicted to make secondary metabolites. The largest, which was named the core atranone cluster, encodes 14 proteins that may suffice to produce all observed atranone compounds via reactions that include an unusual Baeyer-Villiger oxidation. Satratoxins are suggested to be made by products of multiple gene clusters that encode 21 proteins in all, including polyketide synthases, acetyltransferases, and other enzymes expected to modify the trichothecene skeleton. One such satratoxin chemotype-specific cluster is adjacent to the core trichothecene cluster, which has diverged from those of other trichothecene producers to contain a unique polyketide synthase.
Conclusions
The results suggest that chemotype-specific gene clusters are likely the genetic basis for the mutually-exclusive toxin chemotypes of Stachybotrys. A unified biochemical model for Stachybotrys toxin production is presented. Overall, the four genomes described here will be useful for ongoing studies of this mold's diverse toxicity mechanisms.
Keywords
Stachybotrys Comparative genomicsSecondary metabolismTrichothecene biosynthesisToxinsSatratoxinsAtranonesWhole-genome sequencing
Background
Stachybotrys is a genus of filamentous fungi found in soil worldwide [1]. It can also inhabit damp buildings. It is mainly a saprophyte that feeds by degrading cellulose and other dead plant matter. However, it is related to cellulolytic plant pathogens including Fusarium and Myrothecium, and there is a report of soybean invasion [2]. Stachybotrys has never been reported to infect animals. However, it does produce a variety of toxins that have killed livestock and sickened humans after contact with contaminated feed (reviewed in [3]).
Some recent studies have suggested links between Stachybotrys-infested damp buildings and poor health. For example, Stachybotrys infestation was correlated with a cluster of infant hemosiderosis in Cleveland in the 1990s [4], and several case studies have found relationships between mold-infested buildings and poor health (reviewed in [3]). However, as yet there is no consensus on specific symptoms associated with long-term low-level exposure to Stachybotrys, and any environmental study of its impact is difficult. One reason for this is that Stachybotrys rarely infests buildings in isolation, but rather is found with other toxigenic and allergenic mold species [3]. Another is that Stachybotrys can produce potentially beneficial compounds such as the antiviral stachyflins [5] and a cyclosporin immunosuppressant [6]. In addition, Stachybotrys products have been shown in vitro to include both proteins, e.g., proinflammatory proteases [7] and antigenic proteins [8], and also secondary metabolites [9].
The two most well-known classes of secondary metabolite toxins are the trichothecenes and the atranones (Figure
1
). Both are terpenoids, but they are not otherwise related in structure. The more toxic class, trichothecenes, is further divided into two subclasses, simple and macrocyclic trichothecenes, with the latter subclass including the highly-toxic compounds called satratoxins (intranasal LD
50
 ~ 1 mg/kg in rodents [
1
]). Of the ~200 strains of
Stachybotrys
that have been tested, all can make simple trichothecenes [
10
]. However, only a third of these strains can make macrocyclic trichothecenes (
e.g., satratoxins
). Of the other two-thirds, most can make the less-toxic atranones. In fact, these strains are the only known atranone-producing organisms. A strain of
Stachybotrys
that makes both satratoxins and atranones has never been observed, suggesting that these chemotypes are mutually exclusive. The hypothesis of the current study was that these two divergent phenotypes are due to the presence of strain-specific secondary metabolite gene clusters in
Stachybotrys.

To determine the genetic basis for the two chemotypes of Stachybotrys and to compare Stachybotrys to other trichothecene toxin producers including Fusarium and Trichoderma, the genomes of four cultured Stachybotrys strains were sequenced and assembled de novo. Two of these strains make atranones, and the other two make satratoxins. Some global properties of these genomes are reported, most notably their richness of polyketide synthase (PKS) genes. The core trichothecene cluster (CTC) of Stachybotrys is presented and shown to diverge significantly from the CTCs of other trichothecene producers, with a genomic context that appears to be chemotype-specific. Finally, comparative methods are used to support the hypothesis that the toxin chemotype in Stachybotrys may arise from the presence of strain-specific secondary metabolite biosynthesis gene clusters, including three satratoxin chemotype-specific clusters and a novel 35-kbp locus that has been named the core atranone cluster (CAC).
Conclusions
The findings of this study are summarized with a unified genetic model for atranone and satratoxin biosynthesis (Figure
7
) that also incorporates much previous work by biochemists [
11
,
12
,
14
,
30
]. Some aspects of this model are speculative, such as the location of the boundary between trichothecenes produced by atranone strains and those produced by satratoxin strains. Although atranone strains are known to make trichodermol, it is unknown whether they can make early macrocyclic trichothecene intermediates such as trichoverrols and trichoverrins. Due to the presence of the chemotype-independent PKS gene
TRI17
within the CTC, it is speculated that atranone strains can produce trichoverrols, though perhaps not trichoverrins. An assay of this chemotype in atranone-producing strains will be critical to more precisely determine the functions of the putative satratoxin chemotype-specific enzymes identified in this study.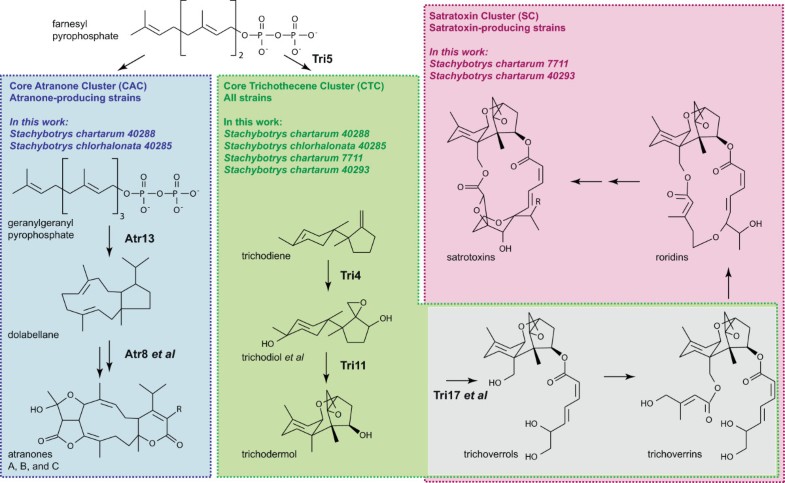 Methods
Stachybotrysculture, DNA extraction, and library construction
Stachybotrys strains were kindly provided by Kristian F. Nielsen (Center for Microbial Biotechnology, DTU, Denmark). Fungus was grown on potato dextrose agarose to establish monoclonal populations by single-spore selection. These monoclonal populations were used for all subsequent procedures. Strain identities were verified by PCR-based sequencing of TRI5[15]. For sequencing libraries, hyphae were grown in 3-ml tubes of potato dextrose broth at 25°C in the dark for 1–2 weeks until confluent. Genomic DNA for sequencing libraries was obtained by a method based on cetyltrimethylammonium bromide (CTAB) disruption and phenol-chloroform extraction [41]. Fresh hyphae were drained of media and pulverized in liquid N2. The sample was added to a tube containing hot 2x CTAB buffer and n = 3 5-mm glass beads, and then bead-beaten on a vortexer for 1 mn. DNA was extracted with 25:24:1 phenol:chloroform:isoamyl alcohol, treated with Riboshredder (Epicentre) for 30 minutes at 37°C, and precipitated with isopropanol.
Multiplexed Illumina DNA fragment libraries were constructed as follows. For each strain, 500–1000 ng genomic DNA was sheared by sonication (Bioruptor, Diagenode) to ~500 bp. Fragments were end-repaired (NEBNext End Repair Module, NEB), dA-tailed (NEBNext dA-Tailing Module, NEB), and ligated (NEBNext Quick Ligation Module, NEB) to custom Y-adapters that included strain-specific 4- or 5-bp barcodes. Each reaction product was purified with Agencourt AMPure XP beads (Beckman). Ligated product was size-selected to 350 bp (nominal) by electrophoresis on 2% agarose, excision, and gel extraction (MinElute Gel Extraction kit, Qiagen) overnight at room temperature. Following size selection, each library was amplified by PCR (Phusion High Fidelity PCR Master Mix with GC Buffer, NEB) using the standard Illumina primers, with 3 ng template, 0.5 μM primers, 12 PCR cycles per reaction, and other reagents and reaction parameters per NEB's instructions. All PCRs in this study were performed on a PCR Express thermal cycler (Thermo Hybaid). PCR product was size-selected as above to remove unreacted primer and adapter dimers. The four libraries were then pooled to 2.5 nM each and submitted to the UT Southwestern Genomics Core for sequencing on a single lane of an Illumina HiSeq 2000.
Genome assembly and resequencing of specific loci
Base-calling of reads from intensity data was accomplished with AYB 2.11 [42]. This yielded 394 million paired reads, 72% of which passed purity filtering. Pure reads were demultiplexed and sequencing artifacts, including reads containing adapter and primer sequence, were removed using custom scripts. The remaining reads were end-trimmed to quality 20 or higher. Reads were spectrally corrected with Quake 0.3.0 [43] and then assembled de novo into contigs and scaffolds with SOAPdenovo 1.05 [16] and AbySS 1.3.4 [20]. For each strain and assembler, n = 27 (SOAPdenovo) or n = 10 (AbySS) separate assemblies were produced, in each case iterating K from 31 to 81. A single assembly with a subjectively good combination of total size and N50 length was then selected as the representative final assembly; these two parameters were generally robust over a wide range of K values. The final SOAPdenovo assemblies had the following K values: strain 40285, K = 43; strain 40288, K = 53; strain 40293, K = 45; and strain 7711, K = 51.
Two loci discussed in Results are each split over two different sequences in the assemblies: the CTC of strain 40293 and the CAC of strain 40288. Sanger sequencing of PCR amplicons verified that each of these regions is in fact a single contiguous locus, although in each case the two flanking regions are separated by an estimated 50—100 bp repeat that has not proven possible to sequence by either the parallel or the Sanger method. The PCR primers used were as follows. For CTC, primer pair 1: forward TTGGTCGTCTCTTGAGATTCACTGGC, reverse CCAAAGTGGAAGGTTCATGGTTGAGC; primer pair 2: forward TTCCCTTGCTTCCGTACCTTATTCCC, reverse TTATTCCCATCCTTTGTCCGGAGTGG. For CAC, primer pair 1: forward AAGTCTCATCTTGCCTCGGAATCAGG, reverse AGTTCAACCTTCTCTCAGGAACAGGG; primer pair 2: forward CCTGATCTTGGACATTGCTATTCCGC, reverse TTTGCATGAGCTAAACACACCGGG. The CTC was amplified in a 50 μl reaction including 5 μl Accuprime Pfx reaction mix, 0.4 μl Accuprime Pfx DNA polymerase, 0.3 μM each primer, and 3 ng genomic DNA from strain 40293. The CAC was amplified in a 100 μl reaction including 10 μl Accuprime Pfx reaction mix, 0.8 μl Accuprime Pfx DNA polymerase, 0.3 μM each primer, and 3 ng genomic DNA from strain 40288. PCR parameters included 30 (CTC) or 35 (CAC) cycles of denaturation at 95°C for 15 s, annealing at 55°C (CTC) or 58°C (CAC) for 30 s, and extension at 68°C for 60 s. Before sequencing, both products were gel purified (Minelute Gel Extraction Kit, Qiagen), reamplified with the same PCR parameters as were used for the first reaction, and repurified (Wizard SV kit, Promega).
Proteome assembly
For proteome assembly (i.e., protein annotation), MAKER 2.26 [17] was used. MAKER incorporated both homology-based (BLAST 2.2.26 and Exonerate 2.2.0) and de novo methods (GeneMark 2.3e and Augustus 2.6.1) and output only transcript models that were supported by both types of evidence. For each strain, MAKER was run twice. The second pass was run in reannotation mode, and included as homology targets all four proteomes output by the first pass. On both passes, the other homology targets included the Swissprot database (20 Aug 2012 build) and the three Fusarium proteomes [19]. Full input parameters for MAKER are listed in Additional file 7.
For the comparison shown in Table 1, features of the F. graminearum genome were obtained from the Fusarium graminearum Genome Database [44].
Genetic nomenclature of Stachybotrysand data availability
In naming Stachybotrys genes and proteins, the conventions in use for E. coli and Fusarium were followed. All gene and protein names are three letters followed by a number. Gene names are all-uppercase and italicized, e.g., "TRI5". Corresponding protein names are capitalized and in standard face, e.g., "Tri5".
Protein and rRNA phylogenies
To construct Figures 2B and 6, proteins were downloaded from NCBI using the accessions listed in the cited references. Following protein alignment with the L-INS-i method of mafft 6.903b [34], any position containing a gap was discarded. Protein phylogenies were inferred with PhyML 20120412 [35], using 100 bootstrap replicates and otherwise default parameters.
Proteome comparisons and SMB cluster inventory
To obtain groups of homologous proteins, OrthoMCL 2.0 [22] was run on nine proteomes using default parameters, including a BLAST E-value cutoff of 1e-5. Proteome identities were calculated between each pair of genomes by finding the pairwise sequence identities of all 2,177 proper orthologs, i.e., OrthoMCL groups that contained exactly one orthologous sequence from each of the proteomes.
Protein domains were identified by searching the nine proteomes with RPS-BLAST 2.2.26 against the NCBI Conserved Domain Database (CDD; 2 Aug 2012 version), and then filtering results using the NCBI Specific Hits algorithm [25]. Domain enrichment analysis is described in the caption to Additional file 1. All domain identifiers mentioned in the Results are the unique "domain short names" assigned by CDD. To identify SMB clusters in the assemblies and to verify the custom alignment-based method of finding chemotype-specific gene clusters, antiSMASH 2.0 [28] and SMURF [45] were run via the authors' Web servers, using the default parameters. A putative Stachybotrys PKS was defined as any predicted protein that includes all three of the CDD domains PKS, PKS_AT, and either PKS_PP or PP-binding.
Identification of chemotype-specific gene clustersA chemotype-specific gene cluster was defined as a locus containing at least three genes, all of which are both chemotype-specific and contiguous. This definition implies that a cluster's boundaries (or flanks) correspond to the end of the region specific to both strains in the chemotype. Chemotype-specific gene clusters were identified by collating OrthoMCL homolog sets with chemotype-specific loci found by whole-genome alignment with Mugsy 1r2.2 [32]. Initially a custom Python script (available at <http://prodata.swmed.edu/jrs/maf-stachy2/>) was run on the whole-genome alignment to identify all candidate clusters. A candidate cluster was defined as a subalignment of at least 100-bp that was either (1) present in both satratoxin strains but in neither atranone strain ("satratoxin-specific"), or (2) present in both atranone strains but in neither satratoxin strain ("atranone-specific"). After identification of candidate clusters, OrthoMCL results were manually inspected to exclude those regions that were not chemotype-specific gene clusters as defined above and to manually adjust the boundaries of clusters that did meet this definition. For example, Mugsy sometimes failed to align local regions that had repetitive sequences, thus incorrectly splitting some chemotype-specific alignments. These regions were joined manually, and they were then verified to be chemotype-specific by a local BLASTN search. Conversely, at the boundaries of chemotype-specific loci, Mugsy sometimes included regions that were not in fact chemotype-specific, as judged by the OrthoMCL results. Thus, the boundaries of these loci were manually adjusted to include only chemotype-specific genes.
Declarations
Acknowledgements
Thanks to Birgitte Andersen and John Taylor for advice on culturing Stachybotrys, Betsy Goldsmith for use of her culture room, Robert Proctor and Susan McCormick for sharing unpublished data, Carson Holt for assistance with MAKER, Raquel Bromberg for help with editing the manuscript, and Lisa Kinch and Qian Cong for helpful discussions. This work was supported in part by the National Institutes of Health (GM094575 to NVG) and the Welch Foundation (I-1505 to NVG). The funders had no role in study design, data collection and analysis, decision to publish, or preparation of the manuscript.
Authors' Affiliations
(1)
Molecular Biophysics Program and Medical Scientist Training Program, University of Texas Southwestern Medical Center, Dallas, USA
(2)
Departments of Biophysics and Biochemistry, University of Texas Southwestern Medical Center, Dallas, USA
(3)
Howard Hughes Medical Institute, University of Texas Southwestern Medical Center, Dallas, USA
Copyright
© Semeiks et al.; licensee BioMed Central Ltd. 2014
This article is published under license to BioMed Central Ltd. This is an Open Access article distributed under the terms of the Creative Commons Attribution License (http://creativecommons.org/licenses/by/2.0), which permits unrestricted use, distribution, and reproduction in any medium, provided the original work is properly credited.