Molecular analysis of the benthos microbial community in Zavarzin thermal spring (Uzon Caldera, Kamchatka, Russia)
BMC Genomics
2014
15(Suppl 12):S12
Published: 19 December 2014
Abstract
Background
Geothermal areas are of great interest for the study of microbial communities. The results of such investigations can be used in a variety of fields (ecology, microbiology, medicine) to answer fundamental questions, as well as those with practical benefits. Uzon caldera is located in the Uzon-Geyser depression that is situated in the centre of the Karym-Semyachin region of the East Kamchatka graben-synclinorium. The microbial communities of Zavarzin spring are well studied; however, its benthic microbial mat has not been previously described.
Results
Pyrosequencing of the V3 region of the 16S rRNA gene was used to study the benthic microbial community of the Zavarzin thermal spring (Uzon Caldera, Kamchatka). The community is dominated by bacteria (>95% of all sequences), including thermophilic, chemoorganotrophic Caldiserica (33.0%) and Dictyoglomi (24.8%). The benthic community and the previously examined planktonic community of Zavarzin spring have qualitatively similar, but quantitatively different, compositions.
Conclusions
In this study, we performed a metagenomic analysis of the benthic microbial mat of Zavarzin spring. We compared this benthic community to microbial communities found in the water and of an integral probe consisting of water and bottom sediments. Various phylogenetic groups of microorganisms, including potentially new ones, represent the full-fledged trophic system of Zavarzin. A thorough geochemical study of the spring was performed.
Keywords
Microbiology
metagenome
Zavarzin thermal spring
Uzon Caldera
Kamchatka
Background
Microbial communities in geothermal areas are of great interest in a variety of fields, including ecology, microbiology and medicine. They have the potential to answer fundamental questions, as well as those with practical benefits [1–4]. The microbiology of these geothermal habitats has been studied during the last few decades [5, 6]. Classical microbiology techniques can only be used to study microorganisms that can be cultured; however, many microbial species, including those from thermal habitats, cannot be cultured in the laboratory. There is a growing realization that uncultured microbiota are untapped resources for basic and applied research. Modern molecular biology techniques have revealed a species richness of microbial systems that has far surpassed that which was expected based on the use of traditional microbiological techniques. The earliest studies of microbial communities in Yellowstone National Park (USA) using analyses of 16S rRNA genes resulted in the detection of many novel, unculturable microorganisms that are active at high temperatures [7, 8].
Microbial communities in Kamchatka (Russia) thermal springs have been studied since the 1960s using traditional microbiology methods based on morphology, physiology and biochemistry of the indigenous microorganisms [9].
Subsequent studies of the microbial communities in Kamchatka used more modern molecular biological approaches [10–15] Thus, numerous phylogenetically diverse microorganisms were found in the waters of Zavarzin spring (caldera of the Uzon volcano in the Kronotsky Nature Reserve). Zavarzin is prominent among the Uzon thermal springs. It is a large, deep pool with fine blue sediment and thick layers of sulphur deposits, and microbial communities have developed along its creek [16, 17].
Water samples from the Zavarzin thermal spring have only recently been characterized [16]. A metagenomic study of integral water and sediment samples collected from two thermal outlets of the Uzon caldera, Arkashin Shurf and Zavarzin thermal spring, has been performed [17]. The composition of water samples from Zavarzin thermal spring has recently been determined by pyrosequencing [16].
Our aim here was to study the metagenome of the Zavarzin benthic microbial community by 16S rRNA pyrosequencing, and to compare the microbial communities found in the water and the benthos in Zavarzin.
There are two major thermal outlets in Kamchatka, the Uzon caldera and the Geyser Valley. We performed our studies in the Uzon caldera. The Uzon-Geyser depression is located in the centre of the Karym-Semyachin region of the East Kamchatka graben-synclinorium. Uzon caldera is located in the western part of the depression. The caldera of the Uzon volcano is a 150-km2 depression about 10 km in diameter. One of the largest craters made by a volcanic eruption in Kamchatka, which resulted in the formation of Dalneye Lake, is 1.65 km in diameter and is situated in the eastern part of the caldera. This part of the caldera is swampy; several lakes are located there, of these Dalneye is the largest. Multiple springheads of the Shumnaya River flow through the caldera.
Uzon caldera is filled with lake sediments and pumice. Lake sediments are represented by aleuropelitic tuffs and various pumice sands formed at the bottom of volcanic lakes. Dacite extrusions formed at the same tame as lake sediments; the closest extrusion to the Uzon thermal anomaly is Belaya Mountain. Glacial moraines formed during the last glaciation, and peatbog deposits are Holocene deposits. Talus-proluvial gravel-pebble deposits are also found there [18].
In Uzon, recent hydrothermal activity is manifested by outlets of overheated water that produces a zone of local surface warming in its northeastern part. This is the most depressed and swampy part of the caldera. Thermal activity is confined to several regions of various sizes, scattered over an area of about 15 km
2
. There are five thermal fields in the Uzon caldera: South, West, North, Orange and East (Figure
1
). The East thermal field is the largest of the five. All types of surface hydrothermal activity are found there: hot springs, water and dirt pools, dirt volcanoes, fumaroles, etc. The field is 1.5 km long, and the heated zone is 200-400 m wide [
19
]. The field may be divided into three sectors.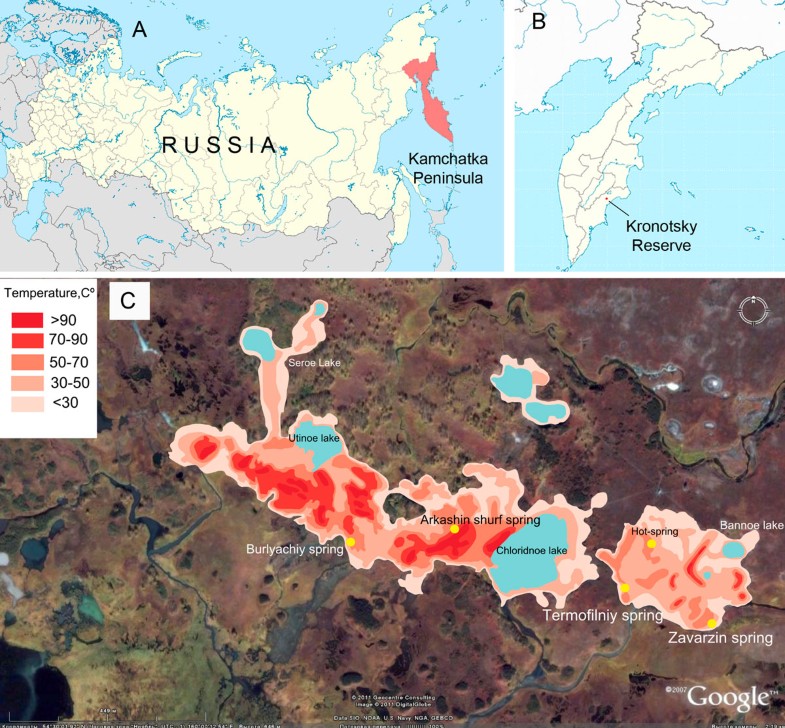 All water types characteristic of recent volcanic hydrothermal fields are found in the Uzon caldera. Overheated chloride-sodium solutions are discharged in sector II of the East thermal field (Figure 1), which is characterized by high concentrations of boron, arsenic, antimony, mercury and lithium. The main ore body, consisting mostly of realgar, orpiment, antimonite, pyrite, cinnabar and metacinnabar, is located within sector II [18–20]. The others water types (chloride-sulphate, sulphate-chloride, sulphate and bicarbonate) are believed to be formed by complex processes of the differentiation of highly mineralized chloride-sodium solutions, as well as by its mixing with acid solutions formed by the oxidation of sulphide material and surface hydrocarbonate water. The water of Zavarzin thermal spring located in the extreme south of sector I of the East thermal field, far from the discharge of the main thermal solutions, is precisely the product of such a mixing.
Conclusions
Pyrosequencing of the benthic mat of Zavarzin allowed us to study the composition and structure of microbial communities of Zavarzin, the distribution of some of its components, as well as some of their functional characteristics. The Zavarzin community is a full-fledged trophic system containing various phylogenetic groups of microorganisms, including some potentially new ones. Geochemistry dramatically influences the structure and metabolism of microbial communities, as both are directly associated with the environment and depend on strict conditions. Therefore, in contrast to the water of the spring, only sessile microorganisms with particular metabolism types, adapted to strict anaerobic conditions and able to live on certain substrates can inhabit the benthic microbial mat of Zavarzin.
Geothermal systems that exist in areas of recent volcanism are characterized by common geochemical parameters, e.g., high temperature, lack of oxygen, presence of sulphides and many rare and trace metals, etc. However, despite extreme conditions, these ecosystems harbour a great diversity of microorganisms [53]. The fact that DNA sequences belonging to microorganisms of various taxa, including new phylogenetic groups, have been found in Zavarzin, and other extreme ecosystems as well, indicates that the microbial population of our planet is insufficiently studied, and suggests that extensive speciation may take place in areas of recent volcanism.
It is noteworthy that some elements accumulated in this benthic community, such as Br and Se, are enriched by three orders of magnitude in comparison with the water of this spring, while others, such As, Cu and Sb, and Hg, are enriched by four, five, and six orders of magnitude, respectively. These elements may be adsorbed either actively or passively with subsequent fixation as sulphide minerals. This fact may dramatically influence the composition and structure of the community, and may also enhance the potential mutagenic effects of some of these elements.
A multitude of new microorganisms, including those having unique metabolic pathways, have recently been described, and many biotechnologically important genes and enzymes have been cloned [54]. With this in mind, it is hoped that this ecosystem will continue to give insights into microbial biodiversity. However, studying these ecosystems remains important for biodiversity, conservation and biotechnology. We are planning further studies of various hydrothermal outlets in Kamchatka.
Methods
Sampling and microscopy
Mat pieces were collected using a sterile sampler and placed into sterile containers and stored at 4°C. Some samples were fixed using 4% formalin or 50% ethanol. Mat samples were studied using light and fluorescence microscopy (Axioskop A1; Axioimager Z1, Carl Zeiss, Germany) in the Microscopy Centre (IC&G SB RAS, Novosibirsk).
Chemical analysis of water and the benthic mat
Unstable water parameters were analysed in situ: O2 content (commercial test, Merck, Germany) and pH and Eh ("Anion 4100" calibrated using standard solutions). The basic absolute error of pH measurement was ±0.1. Temperature was determined using an electronic thermometer. Water was filtered through a 0.45-μm membrane filter, and 2 ml of distilled HNO3 were added per 0.5 l of water for metal content analysis. Samples for basic ion content measurements were kept without preservation.
Water composition and trace element concentrations were determined using a set of methods that enabled cross-checking of the results. Atomic emission spectrometry with inductively coupled plasma (ICP-AS) (Optima 4300 DV), capillary electrophoresis, ICP-MS, and atomic absorption methods were used. Inorganic and organic carbon in solutions were measured using a Total Organic Carbon Analyzer, TOC-VCSH (Shumadzu, Japan). Mercury content was determined using atomic absorption spectrometry by the cold steam method (analyst Zh.O. Badmaeva).
The samples of the microbial community and bottom sediments were analysed via the SR-XRF method (K, Ca, Ti, V, Cr, Mn, Fe, Ni, Cu, Zn, Ga, Ge, Se, Br, Rb, Sr, Y, Zr, Nb, Mo, Ag, Cd, Sn, Sb, Te, Cs, As, Pb, Th and U).
The SR-XRF method was used at the element analysis station VEPP-3 at the synchrotron emission Siberian Centre of the Nuclear Physics Institute SB RAS. An energy-dispersive X-ray optical SR-XRF scheme was applied in two modes of the primary monochromatic emission, 23 and 36 KeV [55]. Processing of the spectra was conducted using the program AXIL. The contents of the elements were calculated using standard samples: BIL-1 (Baikal silt), 1633A (fly ash, National Bureau of Standards, USA), soil-7 (IAEA standard). For determining some of the elements, the instrumental neutron activation method was used.
The LEO 1430VP scanning electron microscope was used to examine the micromorphology and to determine the contents of minerals formed in the microbial communities.
PCR amplification of metagenomic DNA
Metagenomic DNA extracted from the Zavarzin benthic microbial community was used as a template for amplification of bacterial 16S rRNA genes with universal primers: U341F (5'-CCTACGGGRSGCAGCAG-3', where R is A or G, S is G or C) and U515R (5'-TTTCCGCGGCKGCTGVCAC-3', where K is G or R, R is A or G, V is A, G, or C). Reagents for PCR (DMSO, PCR buffer, polymerase, nucleotide triphosphates) were products of Agilent Technologies, USA. 50 μl of PCR mix contained 1× Herculase buffer, 10 μM of each dNTPs, 10 pmoles of forward and reverse primers, 100 ng of DNA, and 2.5 u of Herculase. The following amplification profile was used: 3 min at 95°C; 6 cycles of 15 s at 95°C, 15 s at 50°C, and 30 s at 72°C; 35 cycles of 10 s at 95°C, 10 s at 55°C, and 30 s at 72°C; and an additional elongation phase of 5 min at 72°C. Amplified products were purified using commercial kits (Fermentas, Lithuania) and used for an additional PCR reaction with primers containing marker sequences that were designed for the "One-Way Reads" sequencing protocol, according to the manufacturer's instructions (Roche, Switzerland). Reamplification was performed using the same profile as for the initial amplification. The obtained PCR fragments were purified by electrophoresis in 1% agarose gels.
Pyrosequencing
Pyrosequencing of the variable V3 region of the 16S rRNA gene was performed on a GS Junior System sequencer (Roche) using the "ONE-WAY READS AMPLICON SEQUENCING" protocol at the Engelhardt Institute of Molecular Biology RAS by Dr. A.V. Kudriavtseva.
Sequence analysis
A preliminary, quality filtering of 847 short nucleotide sequences (reads) was done with the PRINSEQ tool [56]. Then, 16S rRNA gene sequence reads with a mean length of about 187 bp were filtered, de-noised and processed by the QIIME software package [57] using the USEARCH sequence analysis tool [58] implemented into the QIIME. The pipeline, including 11 steps, was performed. In the first step, sequences were sorted by length. In the second step, sequences were de-replicated, and the output file had unique sequences only, where each sequence description contained information regarding how many sequences exactly matched the sequence in question. In the third step, de-replicated sequences were sorted by abundance using the information from step 2. In the forth step, sequences were clustered at 97% identity. In the fifth step, de-novo chimera checking using UCHIME [59] was performed. In the sixth step, reference-based chimera checking against the Gold database (http://drive5.com/uchime/gold.fa) was made. In the next two steps, sequences tagged as non-chimeric during steps 6 and 7 were combined and sorted by abundance, and clusters with less than four reads were discarded. In the last three steps, an operational taxonomic units (OTU) picking, with an identity level greater than 0.80, was performed; each non-chimeric read was assigned to the specific OTU identifier to which it belongs. In summation, 834 reads were clustered into 144 OTUs. The representative sequence for each OTU was queried against the GREENGENES database [60] with a make_otu_table.py script from QIIME.
Declarations
Acknowledgements
We are grateful to G.A. Karpov and the staff of the Kronotsky State Natural Reserve for their assistance in the organization of field studies in the Uzon caldera.
This work was financially supported in part by the SB RAS integration projects 92, 93 and 94, Budget Project VI.58.1.3 and RFBR grant 11-05-00717 (financial support of expedition and all the experimental work performed by AVB, EVL, OPT, SMZ, TKM, IAM, ASR, SME and SEP); Russian Science Foundation grant No 14-24-00123 (financial support of all the bioinformatics and statistics analysis performed by TVI and VAI).
Declarations
Publication of this article has been funded by the Russian Science Foundation grant No 14-24-00123.
This article has been published as part of BMC Genomics Volume 15 Supplement 12, 2014: Selected articles from the IX International Conference on the Bioinformatics of Genome Regulation and Structure\Systems Biology (BGRS\SB-2014): Genomics. The full contents of the supplement are available online at http://www.biomedcentral.com/bmcgenomics/supplements/15/S12.
Authors' Affiliations
(1)
Institute of Cytology & Genetics SB RAS, Novosibirsk, Russia
(2)
V S Sobolev Institute of Geology and Mineralogy SB RAS, Novosibirsk, Russia
(3)
Boreskov Institute of Catalysis SB RAS, Novosibirsk, Russia
(4)
Novosibirsk State University, Novosibirsk, Russia
Copyright
© Rozanov et al.; licensee BioMed Central Ltd. 2014
This article is published under license to BioMed Central Ltd. This is an Open Access article distributed under the terms of the Creative Commons Attribution License (http://creativecommons.org/licenses/by/4.0), which permits unrestricted use, distribution, and reproduction in any medium, provided the original work is properly cited. The Creative Commons Public Domain Dedication waiver (http://creativecommons.org/publicdomain/zero/1.0/) applies to the data made available in this article, unless otherwise stated.