Non-random fragmentation patterns in circulating cell-free DNA reflect epigenetic regulation
BMC Genomics
2015
16(Suppl 13):S1
Published: 16 December 2015
Abstract
Background
The assessment of cell-free circulating DNA fragments, also known as a "liquid biopsy" of the patient's plasma, is an important source for the discovery and subsequent non-invasive monitoring of cancer and other pathological conditions. Although the nucleosome-guided fragmentation patterns of cell-free DNA (cfDNA) have not yet been studied in detail, non-random representation of cfDNA sequencies may reflect chromatin features in the tissue of origin at gene-regulation level.
Results
In this study, we investigated the association between epigenetic landscapes of human tissues evident in the patterns of cfDNA in plasma by deep sequencing of human cfDNA samples. We have demonstrated that baseline characteristics of cfDNA fragmentation pattern are in concordance with the ones corresponding to cell lines-derived. To identify the loci differentially represented in cfDNA fragment, we mapped the transcription start sites within the sequenced cfDNA fragments and tested for association of these genomic coordinates with the relative strength and the patterns of gene expressions. Preselected sets of house-keeping and tissue specific genes were used as models for actively expressed and silenced genes. Developed measure of gene regulation was able to differentiate these two sets based on sequencing coverage near gene transcription start site.
Conclusion
Experimental outcomes suggest that cfDNA retains characteristics previously noted in genome-wide analysis of chromatin structure, in particular, in MNase-seq assays. Thus far the analysis of the DNA fragmentation pattern may aid further developing of cfDNA based biomarkers for a variety of human conditions.
Keywords
Fragmentation PatternNucleosome PositionNucleosome OccupancyPeak HistogramResolution Score
Introduction
The most basic structural unit of the chromatin is a nucleosome that is formed by the binding of DNA to histone octamers containing two monomers for each of the four core histones [1]. Within the nucleosome, the DNA encircles the protein core 1.7 times as a coil of approximate 147 base pairs (b.p.) in length [2]. On the DNA strand, the nucleosomes are separated from each other by the "linker" stretches of nucleotides, which can be up to about 80 b.p. long [3].
The nucleosomes play an important role in epigenetic regulation of gene expression programs by competing for binding with transcription factors or by interfering with RNA polymerase positioning and movement [4–7]. A number of studies performed in various model organisms and human cell lines have demostrated that the positioning of the nucleosomes on DNA is somewhat variable, and that they tend to relocate in tissue-specific positions that resemble gene expression programs executed in particular types of cells [8–12]. One of the rules of nucleosome positioning is the nucleosome depletion that accompanies transcription start sites (TSSs) of actively expression genes. Typically, the nucleosome depleted regions (NDRs) are located approximately 50 b.p. upstream of active TSSs and correspond to the displacement of the so-called strictly positioned nucleosome at the "-1" upstream site and the subsequent nucleosome at +1 position downstream of TSS in question, with gradual decresing stringency of nucleosomal location on both ends of TSS. The integrity of nucleosomal organization around TSS is essential for the maintenance of the correct gene expression pattern in a given cell. In particluar, this organization provides a fast and reliable way to recruit transcription complexes for genes that have to steadily produce large amounts of their mRNAs, whereas "weak" or "fuzzy" positioned nucleosomes with larger footprints are assciated with higher plasticity of gene expression that allows for rapid changes in mRNAs levels in response to a specific demand [13].
In healthy patients, cfDNA fractions are mostly derived from apoptosis of various normal cells that generate small fragments of cell-free DNA, whereas the cell-free circulating DNA of cancer patients represents a mix of apotosis, necrosis, autophagy, or mitotic catastrophe [14]. Necrosis produces relatively long fragments of DNA, about 10,000 b.p. in length, while in apoptosis, the activation of endogenous endonucleases lead to the cleavage of chromatin DNA into internucleosomal fragments [15]. This effect is commonly used for the detection of apoptosis in the DNA laddering and TUNEL assays. In the majority of somatic tissues, apoptotic cleavage of DNA results in the formation of fragments roughly 195 b.p. in length and multiples thereof, whereas the fragmentation pattern of the neuronal chromatin is characterized by size of ~165 b.p. As the repeatable length corresponds to single nucleosome size (with degraded DNA linkers), one may expect that the patterns of DNA degradation are guided by nucleosome positioning. Within the nucleosomal core, DNA is protected from nucleases by histones, whereas the linker is vulnerable to digestion, hence, variation in fragment size is explained by variations in linker length. Indeed, back in 1973, Hewish & Burgoyne demonstrated that treatment with endonuclease disrupts the bead-like structures of undigested chromatin in an ordered fashion and produces a typical "laddered" electrophoregram instead of a smear [16–18].
Nucleosome guided patterns of apoptotic DNA fragmentation may have important implications for the analysis of circulating nucleic acids. First, the cfDNA fragment copy number may depend on the nucleosomal positioning at given DNA locus. Therefore, PCR primer systems may need be tuned to the regions that would produce a higher level of DNA amplification. Second, the prevalence of certain DNA fragments may directly reflect nucleosome positioning within certain loci and, therefore, serve as a proxy for gene expression levels. One could imagine cfDNA based quantitative PCR systems that employs nucleosome positioning to approximate expression levels for certain pathogenetically important genes, thus, opening a novel field in biomarker research that we may tentatively call "fragmentomics". Unfortunately, no nucleosome fragmentation pattern studies are so far being focused on cfDNA, so this avenue for cfDNA-based fragmentomics remains unexplored. In this paper, we employ high throughtput sequencing of human cfDNA to analyze the properties of cfDNA fragmentation patterns.
Methods
Data processing
This study was performed on raw sequencing data published by Butler et. al. in their 2015 work of non-invasively sequencing of tumor genome [
19
]. The dataset we used consists of two samples of DNA from two patients: cell-free DNA from plasma of a patient with breast cancer (cfDNA sample 1 or cfDNA1) with paired nuclear DNA from leukocytes (genomic or leukocyte DNA) and cell-free DNA from plasma of a patient with sarcoma (cfDNA sample 2 or cfDNA2) without paired nuclear DNA. Both patients had progressive cancer with multiple metastases. Details on DNA extraction, purification and library preparation are provided by Butler et al. Of note, hybrid capture was conducted using Agilent SureSelectXT Human All Exon V4+UTRs kit. This brought some limitations for downstream analysis, which are mentioned in the text. Also it is important to note, that only leukocyte genomic DNA underwent sonication, while cell-free DNA sample libraries were sequenced without DNA fragmentation, which makes it possible to analyse cell-free DNA fragment distribution. All three libraries underwent 101b.p. sequencing on Illumina HiSeq 2000 instrument. Please refer to paper published by Butler et al. for the in depth information on patients enrollment, patients clinical history, experimental protocols and basic bioinformatics analysis of raw sequencing data. Based on SAM files all samples were anonymized before downstream analysis so only information about reads mapping positions was used. Unpaired reads and fragments with insert size of more then 1000 base pairs were removed. Read pairs were coupled further and resulting fragments were trimmed by 40 b.p. around dyads. For each sample, coverage function was built for each basepair position. Nucleosome position stringencies were calculated essentially as described in Valouev et al, using the software that performs the nucleosome mapping based on the kernel smoothed reads count calculation [
20
]. These nucleosome position stringencies are defined as genome regions between -73 and +73 b.p. positions centered around the mid-point at each nucleosome dyad and would be further refereed as peaks. In samples of cfDNA, 43% and 41% of exome were occupied by nucleosomes, while in leukocyte genomic DNA control, the nucleosome coverage was at 39%. Nucleosome peak calling was performed only for the limited genome regions distinctive by the long (>1000 b.p.) target sequence length. Cumulative length of these regions is 750000 b.p. 2193, 2095 and 1989 peaks were called for the 1st patient cfDNA data, 2nd patient cfDNA data and 1st patient nuclear DNA data. Genome coverage by nucleosomes was measured as the ratio between the cumulative called peak length and the genome length. Mononucleosome read phasograms were obtained as histogram of distances between codirectional reads (Figure
1
). Number of piles indicated that only reads which have another N-1 or higher co-located reads were taken into account. For the analysis only 3-pile read phasograms were used. For the building of mononucleosome read phasograms, reads forming the minor fraction of fragments (with fragment length from 250 to 350) were ignored. Peak histograms are histograms of distance between called nucleosome peaks. For the building of mononucleosome and dinucleosome peak histograms different set of reads were used for the peak calling (which forms the major and the minor fraction of fragments respectively). Read phasograms were calculated based on the whole genome, wheares peak histograms were calculated based on the genome part, nucleosome calling of which was performed.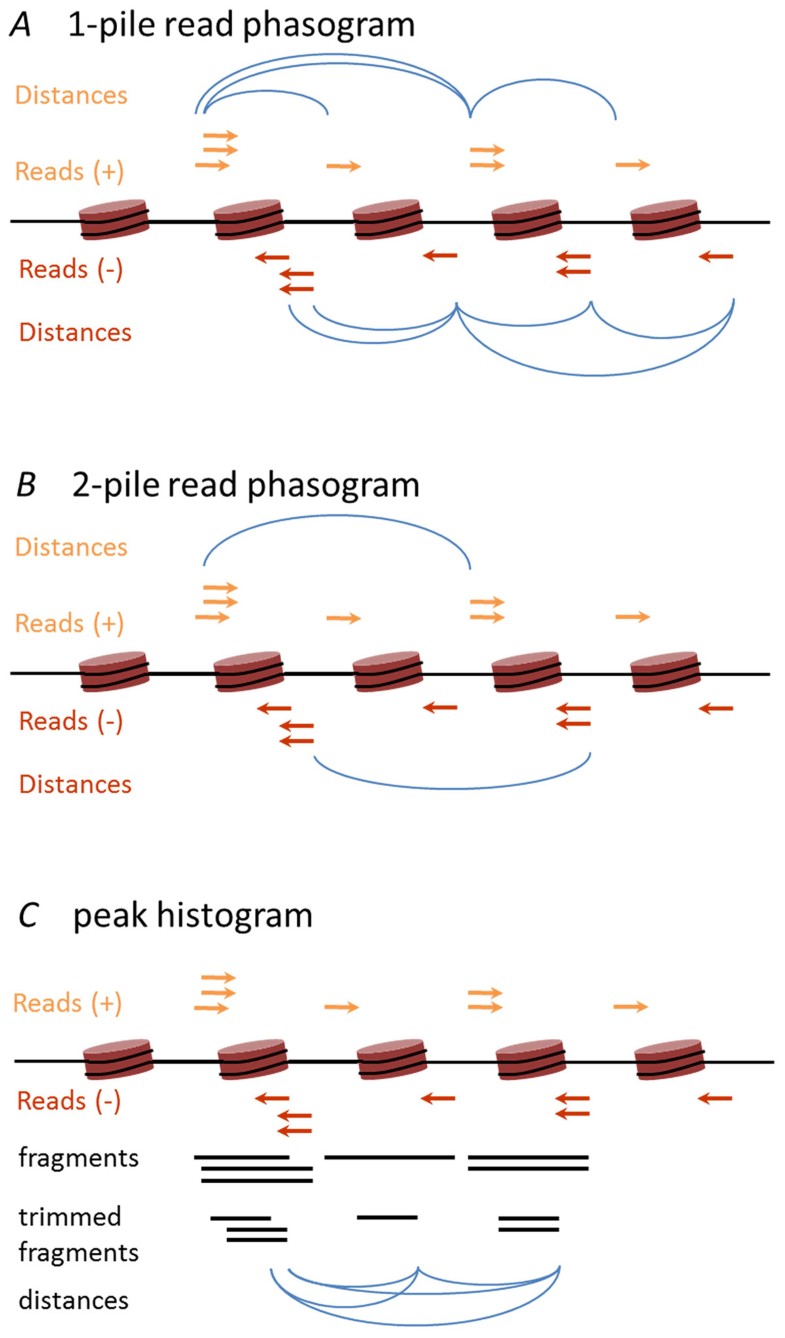 Conclusion
cfDNA have been actively studied recently as a source of different types of diagnostice, predictive and prognostic biomarkers [29–31]. Numerous previous studies have demonstrated signicant differences between normal and cancer cfDNA, including its length, integrity and concentrations [32–35]. Unfortunately, these characteristics are not yet being exploited for biomarker mining. Cancer-specific mutations are being actively studied in cfDNA, though, unfortunately, the sensitivity of their detection in cfDNA is lower than that in tissue biopsy due to the lower concentration of cancer associated DNA [36, 37]. In this study, for the first time, the cfDNA nucleosome fragmentation patterns were analyzed and their potential as a source of novel diagnostic biomakers was demonstrated.
It seems that the cfDNA retains characteristics previously noted in genome-wide analysis of chromatin structure. In particular, the fragment size distribution and the read spacing are similar to that obeserved in MNase-seq assays. Moreover, convincing data indicating an association between particular fragmentation patterns of cfDNA and expression regulation, were collected. Interestingly, in a study of the spacing of dinucleosome fragments, two cfDNA fragment histograms were observed. This feature of cfDNA may be of high interest due to its potential value in various diagnostic applications. It seems that cfDNA patterning reflects a general picture of gene expression. Hence, mapping and mining cfDNA fragment ends may aid in the development of novel biomarkers reflecting pathological changes in chromatin marks. The association of fragment copy number with the expression levels in respective locus may aid in detection of various pathologies, including the presence of different types of neoplasms. It is important to note that measuring the copy number of short nucleotide fragments could be, if necessary, performed by qRT-PCR rather than by more expensive sequencing. It is important to note that measuring the copy number of short nucleotide fragments could be, if necessary, performed by qPCR rather than by more expensive NGS.
Moreover, reproducable waving pattern of cfDNA as well as nuclear DNA with high amplitude drops may be used to fine tune the primer positions to achieve higher amplification yields in PCR detection of point mutations in formalin fixed or otherwise degraded samples.
Conflict of interest
The authors declare that they have no conflict of interest.
Declarations
Acknowledgements
This study was supported by Ministry of Science and Education, Russia (Project no. RFMEFI60714X0098). Authors are grateful to Dr. Birerdinc for editing of the manuscript and valuable advice.
Declaration
Publication of this article has been funded by Ministry of Science and Education, Russia (Project no. RFMEFI60714X0098).
This article has been published as part of BMC Genomics Volume 16 Supplement 13, 2015: Selected articles from the 7th International Young Scientists School "Systems Biology and Bioinformatics" (SBB'2015): Genomics. The full contents of the supplement are available online at http://www.biomedcentral.com/bmcgenomics/supplements/16/S13.
Authors' Affiliations
(1)
Institute of Chemical Biology and Fundamental Medicine, Siberian Branch of the Russian Academy of Sciences, Novosibirsk, Russia
(2)
Atlas Oncology Diagnostics, ltd, Moscow, Russia
(3)
Moscow Institute of Physics and Technology, Dolgoprudny, Russia
(4)
Research Centre for Medical Genetics, Moscow, Russia
(5)
School of Systems Biology, George Mason University, Fairfax, USA
(6)
Knight Cancer Institute, Oregon Health & Sciences University, Portland, USA
(7)
Department of Molecular and Medical Genetics, Oregon Health & Sciences University, Portland, USA
Copyright
© Ivanov et al. 2015
This article is published under license to BioMed Central Ltd. This is an Open Access article distributed under the terms of the Creative Commons Attribution License (http://creativecommons.org/licenses/by/4.0), which permits unrestricted use, distribution, and reproduction in any medium, provided the original work is properly cited. The Creative Commons Public Domain Dedication waiver (http://creativecommons.org/publicdomain/zero/1.0/) applies to the data made available in this article, unless otherwise stated.