Research article
Open Access
Interspecies data mining to predict novel ING-protein interactions in human
Received: 09 August 2008
Accepted: 18 September 2008
Published: 18 September 2008
Abstract
Background
The IN hibitor of G rowth (ING) family of type II tumor suppressors (ING1–ING5) is involved in many cellular processes such as cell aging, apoptosis, DNA repair and tumorigenesis. To expand our understanding of the proteins with which the ING proteins interact, we designed a method that did not depend upon large-scale proteomics-based methods, since they may fail to highlight transient or relatively weak interactions. Here we test a cross-species (yeast, fly, and human) bioinformatics-based approach to identify potential human ING-interacting proteins with higher probability and accuracy than approaches based on screens in a single species.
Results
We confirm the validity of this screen and show that ING1 interacts specifically with three of the three proteins tested; p38MAPK, MEKK4 and RAD50. These novel ING-interacting proteins further link ING proteins to cell stress and DNA damage signaling, providing previously unknown upstream links to DNA damage response pathways in which ING1 participates. The bioinformatics approach we describe can be used to create an interaction prediction list for any human proteins with yeast homolog(s).
Conclusion
None of the validated interactions were predicted by the conventional protein-protein interaction tools we tested. Validation of our approach by traditional laboratory techniques shows that we can extract value from the voluminous weak interaction data already elucidated in yeast and fly databases. We therefore propose that the weak (low signal to noise ratio) data from large-scale interaction datasets are currently underutilized.
Keywords
Pairwise AlignmentTandem Affinity PurificationYeast DataHDAC ComplexYeast Interaction
Background
Protein-protein interactions play vital roles in regulating protein function and can provide valuable insight into the biological activity of proteins and biochemical pathways in which they function. The importance of protein interactions in biology has fueled intense efforts to identify such interactions and a vast repository of data has been accumulated over the years, particularly in relatively simple model organisms that are easier to manipulate genetically and biochemically. A number of bioinformatics-based approaches attempt to predict interactions using various techniques.
The budding yeast, Saccharomyces cerevisiae, is one of the most comprehensively studied eukaryotic organisms and a substantial amount of biochemical and genetic data has been accumulated. After the publication of the S. cerevisiae genome a decade ago [1], high throughput genetic and proteomic screens aimed at identifying novel genetic and protein interactions began complementing more traditional biochemical approaches [2, 3]. We suspected that the voluminous data from yeast genes with human counterparts could be exploited more fully to provide better insights into human protein-protein interactions. Yeast and humans represent extreme ends of the eukaryotic evolutionary spectrum. Therefore the genes they share are often involved in fundamentally important cellular processes and represent an interesting set of genes which warrant further investigation. An example of a shared gene of particular interest to us was ING1.
The founding member of the ING family of type II tumor suppressors (ING1) was discovered using the method of subtractive hybridization aimed at identifying factors that were differentially expressed in normal mammary epithelial cells as opposed to breast cancer cell lines [4]. Ectopic over-expression of ING1 was subsequently observed to promote G1 arrest and suppression of its expression led to transformation in vitro and tumor formation in vivo. Other ING genes (i.e., ING2, ING3, ING4, and ING5) have been subsequently identified in various mammalian genomes [5]. A significant number of tumors, either (i) harbour mutations within the ING genes, (ii) have reduced expression of ING proteins, or (iii) have altered ING protein subcellular localization. A large spectrum of cancers show attenuation of ING expression (reviewed in [6, 7]) and mechanistic studies have implicated the ING family in apoptosis, gene expression, senescence, hormone signaling and angiogenesis among others (reviewed in [8]). The major mechanism through which ING proteins exert their effects is through altering chromatin structure by regulating HAT and HDAC activity [9–11]. This involves binding to differentially methylated histone H3 via the ING PHD domain and also via binding to phosphatidylinositol monophosphates through the polybasic region near the PHD [12–15]. Binding is then believed to target associated HAT or HDAC complexes to chromatin regions, resulting in alteration of local histone acetylation states [10, 12, 14]. Other regions of the INGs have been shown to bind to PCNA, 14-3-3, [16, 17] and cytoplasmic proteins such as liprin [18]. Therefore, we wished to establish a comprehensive list of ING interacting proteins that would aid in the understanding of the complex role of this family of tumor suppressors in regulating diverse cellular functions. ING genes are evolutionarily conserved and members of the ING family have been identified across the animal and plant kingdoms including the yeast S. cerevisiae [5].
Krogan et al. (2006) have described the use of tandem affinity purification (TAP) tagging followed by two different mass spectrometry methods, namely MALDI-TOF and LC-MS/MS, with the aim of assigning interacting partners to each of the yeast proteins [19]. An impressive 72% coverage of the predicted yeast proteome was made possible due to the increased sensitivity of tandem affinity purification followed by mass spectrometry. We have used this study as the initiation point to determine the range of proteins that can interact with the ING family of proteins. Here we attempt to elucidate human ING protein interactions based the recently published yeast interactome data [19], hoping to identify real interactions in the long tail of low probability noisy interactions detected.
Discussion
In this study we have shown that a high degree of conservation of the ING proteins exists between human and yeast based on their interactions with analogous proteins across these species. This is consistent with previous reports showing conservation of ING protein sequence, particularly in specific domains [5], and conservation of function in regulating chromatin structure through associations with HAT and HDAC complexes (reviewed in [8, 47]). In addition to the specific interactions that we have confirmed experimentally, our work highlights the fact that many additional potential and novel interactions may occur between analogous proteins in these two organisms. Over 1,000 proteins were reported to interact with YNGs [19] and of these proteins, we found that 381 had identified homologs in human cells. Based on our MAGPIE analysis and initial examination of three of the proposed interactions, many of the set of 381 proteins are likely to also interact with human INGs. The in silico approach we have designed allowed us to predict new protein-protein interactions for the human INGs with a high degree of success and confirmed many previously elucidated interactions such as those with p21, Karyopherin, HAT/HDAC proteins and histone H3.
Our findings suggest that ING family proteins are involved in a more diverse array of biological processes than are presently suspected from the current literature and some of the interactions suggest possible additional mechanisms that might underlie their tumor suppressor capabilities. The three new interactions we have elucidated and biochemically confirmed here, RAD50, p38MAPK and MEKK4, further link ING1 to DNA damage/stress response pathways [8, 48]. ING interaction with RAD50, an important component of the MRE11-RAD50-NBS1 complex, gives credence to previous reports linking ING proteins to DNA damage signaling and repair pathways via PCNA and GADD45 [16, 49, 50].
In an attempt to understand the connection between the ING, MEKK4, and p38MAPK protein interaction networks, we generated a merged interaction graph (Figure
6
). Several reports have indicated that different forms of stress, such as UV, chemotherapeutic agents and hypoxia affect the function of the ING proteins [
15
,
16
,
51
–
55
]. The mammalian JNK/p38MAP kinase kinase kinase (MEKK4) and the yeast (
S. cerevisiae
) Ssk2p protein are homologous, with MEKK4 being able to replace all of the known functions of Ssk2p in yeast. The stress-activated mitogen-activated protein kinase (SAPK) pathways are integral components of diverse stress signaling pathways such as UV, hypoxia, heat, osmotic shock, pH, oxidative damage, cytokines, pheromones and others [
33
,
56
]. The fact that ING1 can interact with both MEKK4 and p38MAPK is not surprising given the facts that all three proteins are evolutionarily conserved, bear common links to several different signaling pathways, both ING1 and MEKK4 bind to GADD45 [
49
,
57
] and both MEKK4 and p38MAPK are in a well defined stress response pathway [
33
]. This observation is also consistent with reports that ING proteins affect transcription factor activity [
58
,
59
] since the MEKK4/p38MAPK stress activated kinase cascade culminates in the regulation of various transcription factors, some of which are outlined in Figure
6
. Analysis of the effects of altering ING1 activity on MEKK4/p38MAPK signaling under different conditions of extracellular and intracellular stress should serve to better clarify the roles that physical interaction of ING1 with these proteins plays in the mammalian stress response cascades. Since several other ING-interacting partners showed similar degrees of interaction, it is tempting to speculate that further examination of the additional candidate ING-interacting pathways we have identified in multiple model organisms, and particularly in yeast, will shed further light on the function of the ING family of chromatin regulators.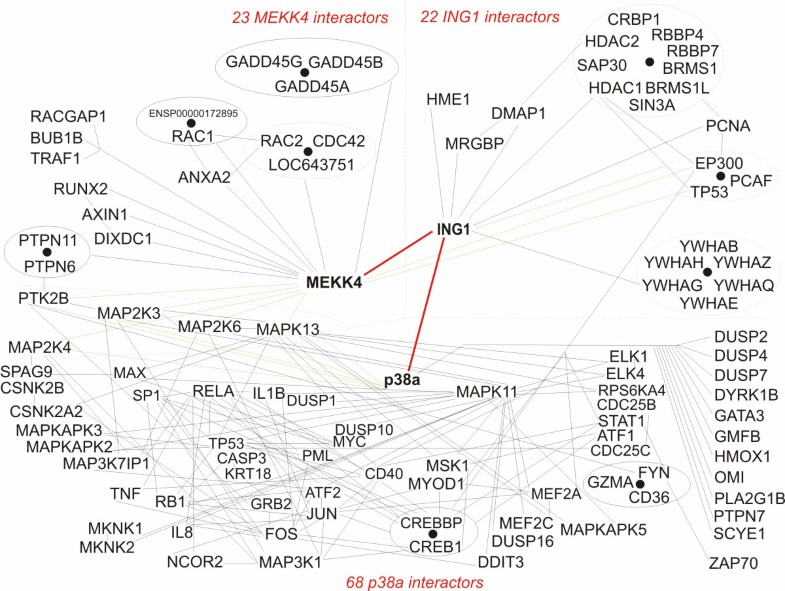 The overall philosophy of the prediction procedure outlined in Figure 1 is to examine the large number of interactions detected in yeast for a given protein, regardless of their probability scores, and then to reduce the list to a few candidates. This reduction is accomplished by successively keeping only the overlap of: 1) domain occurrence, and 2) interaction pairs, in at least three species. This approach stands in contrast to current automated prediction methods based on just one or two species, which often use only relatively high-scoring interaction data to prevent too many false positive predictions. The success of our approach, with the test case of ING1, suggests that the large quantity of low-scoring interaction data available in yeast is currently underutilized.
Our approach is semi-automatable (see Methods), but the researcher must: 1) assist in creating the multiple sequence alignments of domains, and 2) select biologically tenable interactions from the final shortlist generated. The procedure focuses on one gene (or set of closely related genes) at a time, and is not specific to ING proteins, but rather can be applied to any human gene with equivalents in yeast. We expect researchers who concentrate on a specific gene can beneficially use this focused approach to interaction prediction when generalized, large-scale prediction services do not yield good results.
Conclusion
We have developed a method using comparisons in different organisms in which homologs exist, to predict with a high degree of certainty what particular protein interactions found in unfiltered data may occur in vivo and contribute to the activities of, in this case, the ING proteins. This cross-species (yeast, fly, and human) bioinformatics-based approach was used to identify potential human ING1 interacting proteins with higher probability and accuracy than approaches based on screens in a single species. We confirm the validity of this screen and show that ING1 interacts specifically with three proteins tested: p38MAPK, MEKK4, and RAD50. These novel ING-interacting proteins further link ING proteins to cell stress and the DNA damage signaling, providing previously unknown upstream links to DNA damage response pathways in which ING1 participates.
Methods
Computational approach
The process of creating a list of protein interaction predictions consists of 8 broad steps (please refer to Figure 1 for the precise data flow between steps). We assume that the researcher already has a human gene, or closely related set of human genes of interest (GOI) in mind for analysis, which in our case was ING. The first step was to determine if anything resembling ING exists in yeast. This was done using [60] against the full set of S. cerevisiae genes downloaded from the yeast genome database (SGD) [61]. Given good pairwise matches, we determined that it was worthwhile to proceed with step 2: the construction of domain models to provide a quantification of their conservation among species. In step 2, a multiple sequence alignment (MSA) was performed using CLUSTALW [21], and adjusted by hand as required. In step 3, the HMMER software http://hmmer.janelia.org/ was used to build and calibrate Hidden Markov Models (HMMs) from multiple, distinct conserved regions, i.e. potential domains, of the MSA. In step 4, these HMMs were used to search for proteins in other species with the same domains, using a DeCypher hardware-based HMM search (ActiveMotif Inc., Carlsbad, CA), although HMMER software could also be used. The database searched against was Uniprot [62], which provides a non-redundant set of know eukaryotic genes. Each HMM's search results was reviewed by hand, and portions of database sequences deemed matching (primarily those with e-value < 10-5, and few large gaps) were incorporated into the HMM. This searching and extra sequence incorporation was done iteratively (since new sequences in the HMM affect e-value results) until no new matches were found in Uniprot. The end result of step 4 was that for each domain we had an HMM representing the domain's very particular evolution across eukaryotic species. Step 5 was to compare the HMMs against the complete protein sets from model organisms with large amounts of interaction data, namely, worm [63], fly [30] and yeast (SGD). This was once again done using the DeCypher HMM search, and identified model organism genes with the same domains as the ING proteins. Given HMM matches in yeast and at least one more model organism (fly, in our case), we proceeded in step 6: to extract its interacting proteins. The source of the interaction data was either 1) yeast data base [19] or 2) the other model organism database (FlyBase) [30]. Step 7 was to reduce the list of ING-interacting proteins in the model organisms to just those satisfying two conditions: 1) strong pairwise ING-iteracting proteins homology between human, yeast and fly, and 2) having interaction data in both yeast and fly. These filters reduced the list dramatically. Finally, in step 8, we viewed the human homologs of each ING-interacting proteins in the STRING database [64] and assessed the biological relevance of the potential interactions in humans.
We have focused on the use of thorough methods in our approach to maximize the sensitivity of our results. It would be possible to substitute certain methods, such as BLAST [65] for Smith-Waterman, or InterPro models searches [66] for HMM building in these steps, with the caveat of reduced predictive value of the results.
Cell culture
HEK293 (ATCC CRL-1573) cells were maintained in Dulbecco's Modified Eagle's medium (DMEM; Gibco-RBL) supplemented with 10% fetal bovine serum and 100 units/ml of penicillin and 100 mg/ml of streptomycin (Gibco-BRL) in an incubator with 5% CO2 at 37°C. Cells were seeded in 10 cm or 15 cm dishes 24 hrs prior to transfection.
Constructs
The pCI-ING1b plasmid has been described in [16], and the pTP11 (Rad50 with C-terminal his tag), MEKK4 and p38MAPK constructs were kind gifts from Drs. Tanya Paull (Rad50), Steve Pellech (p38MAPK), Richard Vaillancourt (MEKK4) and James Woodgett (p38MAPK).
In vitro transfection and UV-irradiation
HEK293 cells were transiently transfected with the plasmids mentioned above at 60–70% confluence using a standard calcium phosphate protocol. Media was removed after 24 hrs, cells were washed with PBS and either exposed to 40 J/m2 of UV radiation or left untreated. Fresh media was added and cells were incubated for 2 hrs before they were harvested.
Co-immunoprecipitation and western blotting
Transfected and untransfected HEK293 cells were harvested and lysed under non-denaturing conditions in ice-cold RIPA buffer containing protease inhibitors (Complete Mini, EDTA-free protease inhibitor cocktail tablets from Roche Diagnostics). Cell lysates were sonicated on ice and centrifuged at 14,000 × g at 4°C for 15 min. The supernatants thus obtained were precleared by incubation with 20 μl 1:1 slurry of protein G-Sepharose (Amersham) for 30 min at 4°C and then incubated with 5 μg of specific antibody and 40 μl of protein G-Sepharose (1:1 slurry) or an equivalent amount of mouse anti-ING1 preconjugated with 40 μl of protein G-Sepharose (1:1 slurry) at 4°C for 3 hrs on a roller system. The immunocomplexes recovered on beads were washed two times for 5 min with 1 ml of RIPA buffer before the addition of Laemmli sample buffer. Proteins were resolved by sodium dodecyl sulfate-PAGE and transferred to nitrocellulose membranes (Hybond; Amersham). Immunoblotting was performed with a cocktail of four mouse anti-ING1 monoclonal antibodies or with rabbit anti-RAD50 polyclonal (Abcam), anti-p38MAPK (Zymed) or anti-MEKK4 (a gift from Dr. Richard Vaillancourt). Immunoreactive bands were visualized using an enhanced chemiluminescence reagent (Amersham Biosciences).
Declarations
Acknowledgements
We thank Drs. Tanya Paull for Rad50, Steve Pellech and James Woodgett for p38MAPK and Richard Vaillancourt for MEKK4 DNA expression constructs. Bioinformatics work was supported by grants to CWS from Genome Canada through Genome Alberta's Integrated and Distributed Bioinformatics Platform Project, as well as by The Alberta Science and Research Authority, Western Economic Diversification, The Alberta Network for Proteomics Innovation and the Canada Foundation for Innovation. Verification of bioinformatics predictions was supported by grants from the Canadian Institutes of Health Research and the Alberta Cancer Board to KR. MAS is recipient of Alberta Heritage Foundation for Medical Research (AHFMR) and Alberta Cancer Board Studentships, CWS is the iCORE/Sun Microsystems Industrial Chair for Applied Bioinformatics and KR is an AHFMR Scientist.
Authors' Affiliations
(1)
Department of Biochemistry & Molecular Biology, Faculty of Medicine, University of Calgary, Calgary, Canada
(2)
Department of Oncology, Faculty of Medicine, University of Calgary, Calgary, Canada
(3)
Department of Biochemistry, Faculty of Pharmacy, Cairo University, Cairo, Egypt
Copyright
© Gordon et al; licensee BioMed Central Ltd. 2008
This article is published under license to BioMed Central Ltd. This is an Open Access article distributed under the terms of the Creative Commons Attribution License (http://creativecommons.org/licenses/by/2.0), which permits unrestricted use, distribution, and reproduction in any medium, provided the original work is properly cited.