Research article
Open Access
Dissecting an alternative splicing analysis workflow for GeneChip®Exon 1.0 ST Affymetrix arrays
Cristina Della Beffa

1,

Francesca Cordero

2 and

Raffaele A Calogero

1

Email author
Received: 01 August 2008
Accepted: 28 November 2008
Published: 28 November 2008
Abstract
Background
A new microarray platform (GeneChip® Exon 1.0 ST) has recently been developed by Affymetrix http://www.affymetrix.com. This microarray platform changes the conventional view of transcript analysis since it allows the evaluation of the expression level of a transcript by querying each exon component. The Exon 1.0 ST platform does however raise some issues regarding the approaches to be used in identifying genome-wide alternative splicing events (ASEs). In this study an exon-level data analysis workflow is dissected in order to detect limit and strength of each step, thus modifying the overall workflow and thereby optimizing the detection of ASEs.
Results
This study was carried out using a semi-synthetic exon-skipping benchmark experiment embedding a total of 268 exon skipping events. Our results point out that summarization methods (RMA, PLIER) do not affect the efficacy of statistical tools in detecting ASEs. However, data pre-filtering is mandatory if the detected number of false ASEs are to be reduced. MiDAS and Rank Product methods efficiently detect true ASEs but they suffer from the lack of multiple test error correction. The intersection of MiDAS and Rank Product results efficiently moderates the detection of false ASEs.
Conclusion
To optimize the detection of ASEs we propose the following workflow: i) data pre-filtering, ii) statistical selection of ASEs using both MiDAS and Rank Product, iii) intersection of results derived from the two statistical analyses in order to moderate family-wise errors (FWER).
Keywords
Alternative Splice EventRank ProductSummarization MethodSplice IndexMultiple Testing Error
Background
GeneChip® Exon 1.0 ST is a new microarray platform developed and marketed by Affymetrix [1]. This microarray platform changes the conventional view of transcript analysis since it allows the evaluation of the expression level of a transcript by querying each exon component. This enables the study of specific alterations in splicing patterns such as those found in association with cancers [1].
The GeneChip® Exon 1.0 ST microarray platform is based on methods quite different from the 3' IVT arrays expression detection. Whilst the conventional Affymetrix GeneChips feature a probe set consisting of 11–20 probes selected from the 3' end of the mRNA sequence, the new all-exon arrays have 4 probes selected from each putative exonic region. To generate the target, Exon 1.0 ST arrays use T7 linked random hexamers for cDNA synthesis, instead of those of all previous Affymetrix expression arrays, which employed an oligo-dT linked T7 and thus required an intact poly-A tail. Importantly, this new WT Sense Target Labeling Assay generates DNA targets and therefore results in DNA/DNA duplex formation during hybridization, as opposed to DNA/RNA hetero-duplexes in conventional arrays. It has been shown that there is close agreement between the conventional Affymetrix 3'IVT arrays and the new Exon 1.0 ST arrays [2]. Furthermore, Exon 1.0 ST sensitivity of gene expression detection was shown to be in the same range of 3'IVT arrays [3]. Though at gene-level 3'IVT and Exon 1.0 ST show similar behavior, Exon 1.0 ST technology raises some issues about the computational instruments to be used for the analysis of exon-level data. Affymetrix proposed an analysis workflow based on pre-filtering of the expression data (see Affymetrix technical documentation: id_altsplicingevents_technote.pdf), transformation of exon-level intensity data in gene-level normalized values called Splice Index (SI, see Affymetrix white paper: exon_alt_transcript_analysis_whitepaper.pdf) and statistical validation based on an ANOVA based method based on measuring differences between an exon-level signal and aggregated gene level signal called MiDAS (Microarray Detection of Alternative Splicing, see Affymetrix white paper exon_alt_transcript_analysis_whitepaper.pdf).
There has however been no way to date of defining the efficacy of this workflow or of different statistical methods in the detection of alternative splicing events. The ideal instruments to evaluate the effect of data pre-processing and the efficacy of different statistical methods on differential expressions are benchmark spike-in experiments [4], where a limited number of transcripts are spiked-in at various concentrations in a common mRNA background. In spike-in based experiments it is therefore possible to investigate differential expression sensitivity as a function of the false discovery rate (1-specificity). In this study a semi-synthetic exon-skipping experiment, encompassing 268 exon skipping events, was generated starting from the latin-square spike-in experiment of Abdueva [3]. The semi-synthetic exon-skipping data set was used to evaluate the effects of data pre-processing as well as the performance of two statistical methods, MiDAS and Rank Product (RP) [5], on ASEs detection.
Discussion
The availability of a new instrument to study the behaviour of transcription isoforms within a specific biological context, e.g. different cancer isolates, tissues, and differentiation/development stages, creates new opportunities for biologists. However, workflow for the detection of alternative splicing events using this new microarray technology has still to be investigated in order to define the importance of each analysis step and its strength and weakness. Our data point out that a major problem in ASEs detection is due to the multiple testing problem. In statistics, family-wise error rate (FWER) is the probability of making one or more false discoveries (FP) among all the hypotheses when performing multiple pairwise tests. Since FWER controlling procedures are often too conservative in high dimensional screening studies [7], they are rather weak if applied to exon-level analysis where the number of tests increases more than 10 times with respect to gene-level. For example, the human core data set is made of 22011 gene-level probe sets and 287329 exon-level probe sets. A better balance between the raw p-values and the stringent FWER-adjusted p-values may be provided by false discovery rate controlling and related procedures [7]. Benjamini and Hochberg [7] and Benjamini and Yekutieli [7] have developed efficient false discovery rate controlling procedures currently called BH and BY. However, such approaches cannot be used to moderate multiple testing problems in exon-level analysis since, generally, the raw p-value distribution obtained with MiDAS is not uniform in the non significant range. Furthermore, in the case of BH, the assumption that the tests are independent is not fulfilled since exons belonging to the same gene are clearly correlated. On the basis of the impracticality of applying conventional methods to moderate FWER, the reduction (filtering) of the data set size of previous statistical testing is, in our opinion, mandatory. Our data point out that a significant reduction of the data set size can be realized by considering only probe sets associated with at least two alternative spliced isoforms in the ENSEMBL database (multiple RNAs filter). However, this approach limits the strength of the analysis since it cannot be applied in the case of the identification of non-annotated isoforms. If a study focuses on the discovery of non-annotated isoforms, an intensity filter, e.g. DABG p-values filter, can be used although its effect is not as strong as that based on annotation (Table 1). In this case, it would be necessary to clean the results of the large amounts of false positives, validating data by using alternative technologies such as the high-throughput re-sequencing techniques, e.g. Solexa (Illumina, USA) or Solid (Applied Biosystems, USA). These would however increase the complexity of the analysis due to the high computational demands of these techniques. We also investigated the performance of two statistical methods, one based on linear model analysis (MiDAS), developed by Affymetrix for the detection of ASEs, and another non-parametric (RP). Both methods, applied at exon-level and thus not taking into consideration the association of an exon to a specific gene, perform quite well in the detection of the true exon skipping events embedded in our data set (Fig. 3). The amount of FPs associated to an arbitrary p-value threshold of 0.05 is in both cases very high (Table 2) and the application of a more stringent p-value threshold reduces the number of FPs but also impacts negatively on TP rate (data not shown). However, since the two statistics used for ASEs detection are based on completely different assumptions, it is feasible that random events (FPs) contaminating the TPs will not be the same. Therefore, the intersection of the results obtained by both statistics, given an arbitrary p-value threshold, effectively reduces FPs (Table 2). Since at the present time statistics specifically devoted to the detection of ASEs which also address the multiple test problem are not available, our approach represents an efficient temporary solution for moderating FWER.
Conclusion
The semi-synthetic data set presented here represents a suitable instrument for testing the efficacy of new statistics for exon-level analysis. Furthermore, it allowed us to test the efficacy of a basic workflow (Fig.
4
) for ASEs using a GeneChip Exon 1.0 ST platform. However, our data highlights that more work is needed to design powerful instruments for ASE detection which must take into account the multiple testing problem.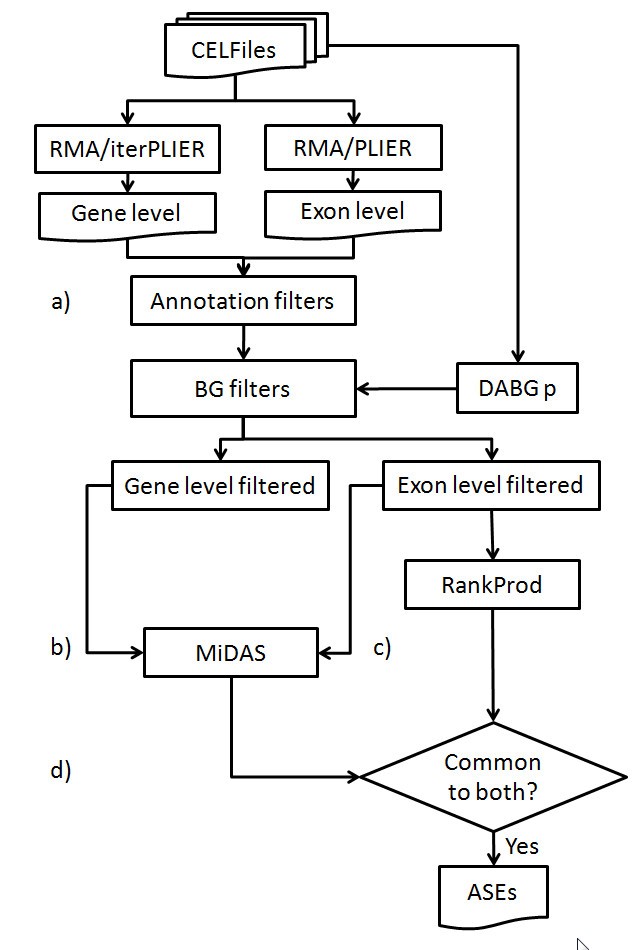 Methods
Exon-skipping events were generated using experimental data kindly provided by Abdueva [3]. MiDAS p-values were calculated using the software provided by Affymetrix in the APT tools http://www.affymetrix.com. Rank Product (RP) is a non-parametric statistics that detects items that are consistently highly ranked in a number of lists and the significance of the detection is assessed by a non-parametric permutation test [5]. RP was coded in R http://www.r-project.org, modifying the available implementation (Bioconductor [8] RankProd package), to be used for ASEs detection. Specifically, in ASEs detection RP is run on the lists made by SIs (RPSI) or intensities (RPI) for all exon data set without considering their association to a specific gene and the significance of the detection is assessed using 500 permutations of those lists. Gene-level implementation of RP, i.e. running RP only on the subset of exons belonging to a specific gene, is computationally demanding and it is characterized by a very poor sensitivity (data not shown).
The modified RP method as well as all the filtering procedures are embedded in Bioconductor oneChannelGUI [9] package. All scripts used for data generation and analysis are available upon request from the authors.
Availability and requirements
Declarations
Acknowledgements
This work was supported by research grants from AIRC, Regione Piemonte and MIUR. CDB is a recipient of a Lagrange Project – CRT Foundation Ph.D. fellowship. FC is a recipient of an "Assegno di Ricerca" (Research grant) granted by Torino University and Regione Piemonte.
Authors' Affiliations
(1)
Department of Clinical and Biological Sciences, University of Torino, Orbassano (TO), Italy
(2)
Department of Information Technology, University of Torino, Torino, Italy
Copyright
© Della Beffa et al; licensee BioMed Central Ltd. 2008
This article is published under license to BioMed Central Ltd. This is an Open Access article distributed under the terms of the Creative Commons Attribution License (http://creativecommons.org/licenses/by/2.0), which permits unrestricted use, distribution, and reproduction in any medium, provided the original work is properly cited.