Methodology article

Open Access
The Sterolgene v0 cDNA microarray: a systemic approach to studies of cholesterol homeostasis and drug metabolism
Received: 20 March 2007
Accepted: 11 February 2008
Published: 11 February 2008
Abstract
Background
Cholesterol homeostasis and xenobiotic metabolism are complex biological processes, which are difficult to study with traditional methods. Deciphering complex regulation and response of these two processes to different factors is crucial also for understanding of disease development. Systems biology tools as are microarrays can importantly contribute to this knowledge and can also discover novel interactions between the two processes.
Results
We have developed a low density Sterolgene v0 cDNA microarray dedicated to studies of cholesterol homeostasis and drug metabolism in the mouse. To illustrate its performance, we have analyzed mouse liver samples from studies focused on regulation of cholesterol homeostasis and drug metabolism by diet, drugs and inflammation. We observed down-regulation of cholesterol biosynthesis during fasting and high-cholesterol diet and subsequent up-regulation by inflammation. Drug metabolism was down-regulated by fasting and inflammation, but up-regulated by phenobarbital treatment and high-cholesterol diet. Additionally, the performance of the Sterolgene v0 was compared to the two commercial high density microarray platforms: the Agilent cDNA (G4104A) and the Affymetrix MOE430A GeneChip. We hybridized identical RNA samples to the commercial microarrays and showed that the performance of Sterolgene is comparable to commercial arrays in terms of detection of changes in cholesterol homeostasis and drug metabolism.
Conclusion
Using the Sterolgene v0 microarray we were able to detect important changes in cholesterol homeostasis and drug metabolism caused by diet, drugs and inflammation. Together with its next generations the Sterolgene microarrays represent original and dedicated tools enabling focused and cost effective studies of cholesterol homeostasis and drug metabolism. These microarrays have the potential of being further developed into screening or diagnostic tools.
Keywords
Drug MetabolismPhenobarbitalCholesterol BiosynthesisCholesterol HomeostasisAffymetrix Array
Background
The level of cholesterol in mammals is tightly regulated by multiple homeostatic mechanisms which affect cholesterol biosynthesis, metabolism and uptake-excretion cycles. This regulation is achieved by different transcriptional factors, including sterol regulatory element-binding proteins (SREBP) and different members of the nuclear receptor superfamily [1, 2]. Under certain conditions (inflammation, high-cholesterol diet, etc.) cholesterol homeostasis is disrupted and can lead to atherosclerosis and other cardiovascular diseases, gallstone formation or neurological disorders. Cardiovascular diseases remain a leading cause of death in the developed world and are therefore an important research area. The central question is how different physiological processes being provoked by endogenous and exogenous sources influence cholesterol homeostasis and what the key targets of these regulations are. These findings are also of crucial importance for the development of novel hypolipidemic drugs.
Each exogenous compound entering the body requires detoxification by drug metabolism enzymes from different families. This process is also regulated by members of the nuclear receptor superfamily [3]. Recent studies have shown important crosstalk between drug metabolism and cholesterol homeostasis through nuclear receptor-mediated pathways [4]. However, this complex regulatory network is still far from being completely understood.
Microarray technology is a powerful tool and has gained broad usage in basic and medical research. It enables systemic studies of gene expression of selected genes or of the entire genome and can lead to the discovery of new genes involved in biological processes. Several commercial and academic DNA microarrays are currently available. Commercially available are often whole-genome arrays, which are not cost-effective for studies of a small number of selected genes [5]. This provides a rationale for developing small-scale arrays, enabling cost-effective studies of a limited number of genes involved in specific biochemical pathways [6–9], thus allowing more detailed studies of specific biological processes. Commercial arrays often do not include genes which may be of a particular interest to specific users [10–12]; neither do they always offer control over probe sequences. In the development process of a small-scale custom array special care is taken in the selection of the studied genes and specifically the position of their probes. The rationale for designing custom arrays is in the ease of their adaptation, e.g. addition of new genes/probes, removal of non-working probes and modification of the geometry. Owing to low production costs and small overhead with annotations the adaptations can be performed on the fly during experimentation, which is unfortunately still not the case with commercially available arrays.
We have developed Sterolgene v0 cDNA microarray as a prototype in a series of Sterolgene/Steroltalk cDNA microarrays. These dedicated arrays enable focused studies of cholesterol homeostasis and drug metabolism in mouse and in human. We have validated the Sterolgene array in studies of experimental disturbances of cholesterol homeostasis by inflammation, diet and drugs in the mouse liver. We compared the results to two commercial platforms: the Agilent cDNA (G4104A) and the Affymetrix MOE430A GeneChip. Within this paper we show that the Sterolgene array performs as well as any of the two commercial platforms in terms of detection of changes in expression of genes of our interest from the cholesterol homeostasis and drug metabolism induced by the studied factors.
Discussion
Systemic studies of cholesterol homeostasis and drug metabolism are still limited. In order to promote the implementation of systems biology approaches to this two research areas, we have developed the Sterolgene array. It is a highly customizable tool that together with its human version allows for detailed studies of the two biological processes in mouse and in human. The main goal of this study was to evaluate the performance of the Sterolgene array in typical studies of cholesterol homeostasis and drug metabolism in comparison with two commercial platforms (Agilent and Affymetrix). Several recent papers discuss the comparative data between different microarrays platforms [12, 17–19, 25]. Many of these studies calculated different correlation coefficients, measured reproducibility, but some have also taken into consideration the biological aspects of the comparison [12, 19, 26]. This approach was also undertaken in our evaluations of the performance of the Sterolgene array.
We have selected different factors, such as diet, drug treatment and inflammation, where scattered information existed about their effect on cholesterol homeostasis and drug metabolism (Figure
6
). We analyzed the data as it is commonly done in microarray experiments. In the experiment where mice were on a high-cholesterol diet, we detected genes from cholesterol biosynthesis as down-regulated using both Sterolgene and Affymetrix arrays. However, with Sterolgene arrays, but not with Affymetrix, we detected
Cyp3a
family and nuclear receptor
Nr0b2
as up-regulated and as previously described in [
23
,
24
]. In the liver of mice treated with phenobarbital, we detected up-regulation of the
Cyp2b
family using both Sterolgene and Affymetrix arrays and as previously described in [
21
]. However, with Sterolgene arrays we additionally detect genes from the
Cyp3a
family,
Cyp2a4
and
Alas1
as up-regulated and as previously described in [
20
,
22
]. Analysis of Affymetrix data using the same p-value cut-off as for the Sterolgene data showed two additional genes (
Abca1
,
Abcg5
) as differentially expressed in cholesterol feeding experiment, which were confirmed by another study [
24
] where also Affymetrix arrays were used. However, we were sill not able to confirm the up-regulation of
Cyp3a11
and
Nr0b2
. In phenobarbital experiment we were able to confirm the up-regulation of
Alas1
and
Cyp2a4
, but not
Cyp3a11
.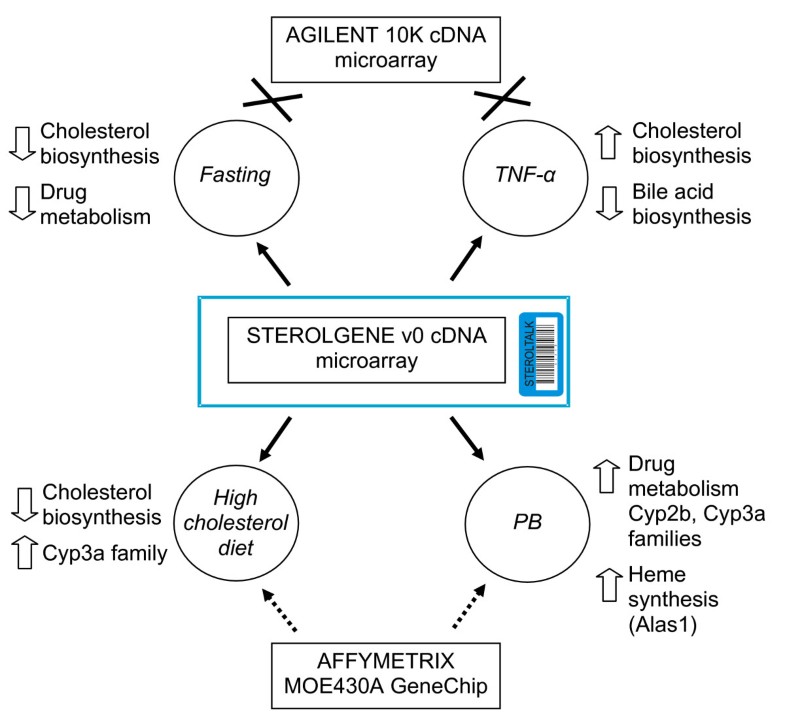 Low agreement was observed between the Agilent and the Sterolgene arrays in detecting changes in gene expression, regardless of the selected p-value cut-off. In fasting and TNF-α/fasted experiments we were able to detect changes in expression of genes related to cholesterol homeostasis and drug metabolism with Sterolgene arrays, but not with Agilent arrays. In fasting experiment, we observed metabolic adaptations to energy-shortage. Energy-consuming processes as are cholesterol biosynthesis and drug metabolism are down-regulated. However, treatment with TNF-α in combination with fasting reverses these adaptations and up-regulation of cholesterol biosynthesis and down-regulation of bile acids synthesis is observed. This results in disrupted cholesterol homeostasis and higher levels of cholesterol present in the mouse liver. All these findings are in agreement with the hypothesis that pro-inflammatory factors such as TNF-α are atherogenic [27].
Cross-platform comparisons using correlation analysis showed correlations comparable to other cross-platform comparison studies [12, 17–19]. This result, together with low correspondence in differential expression (especially observed in Sterolgene-Agilent comparison) provides strong justification for development of small-scale custom arrays. As it turned out with Sterolgene data, small-scale arrays are often more sensitive than whole-genome arrays owing to the special care taken in designing probes.
Though we were able to show some important correspondence between the Steroltalk and both commercial platforms, our comparison has some limitations. First, we were limited by the availability of samples, resulting in low number of biological replicas used for comparisons. Additional samples and other diets/treatments may provide valuable information for the comparison and further insight into the performance of Sterolgene array. Second, we employed t-test based classification of differential expression as this is usually the case in most biologically-oriented studies. This may result in unstable variance (noise) estimation [26]. Other less rigid classification methods were developed, especially for microarray data analysis where we are usually dealing with small number of measurements. Although such methods might result in better correspondence between the platforms, we still decided to use a statistically-based method in order to avoid the biases that alternative approaches often introduce into results. Third, lab/platform effect, which can often be higher than the biological effect [12, 18, 28, 29] must not be disregarded in the Sterolgene-Affymetrix comparison. And most importantly, gene probes are not sequence matched across the compared platforms, which in combination with different approaches to probe design and transcript variant detection can make a major contribution to low agreement [30, 31]. Finally, labeling step and the choice of using amplification also contribute to differences [32, 33].
One of the obstacles in conducting the comparison, but not the reason for low concordance, was the lack of annotation for probes on the commercial platforms. With all the tools available for microarray annotation there is still a large portion of probes whose annotation remain unknown and need a one by one search in the public databases. Well annotated low density microarrays, such as is Sterolgene, facilitate less demanding biological interpretation and confirmation of results. Another problem exposed in early papers on cDNA microarrays is also a high rate of incorrect clones in the cDNA libraries used for their production [17, 34]. For Sterolgene array we have prepared our own cDNA library which we confirmed by sequencing.
An important advantage of small arrays is in the design of the probes. For whole-genome arrays, probes are designed (semi)automatically with a limited attention dedicated to each gene probe. With smaller arrays, more effort and a priori knowledge is invested into their design, thus enabling more accurate detection of changes in gene expression. The costs of producing and using small-scale academic arrays are still low compared to commercial ones. This is especially true for studies where a large number of microarray experiments is planned, e.g. screening process in the development of new drugs.
Conclusion
We have demonstrated that the Sterolgene array is a novel tool in studies of cholesterol homeostasis and drug metabolism and can be used for more focused and cost-effective systemic studies. Limited to our studies, we have shown that its performance is comparable to the two commercial platforms. Its application ranges from basic research of how different factors influence these two biological processes to testing effects of new cholesterol lowering drugs. It is a tool which can be easily adjusted to novel research needs and interests. We are constantly improving the array with new genes and probes; we have recently developed the third version of the array, which contains an expanded list of genes involved in atherogenesis, circadian rhythm, inflammation and metabolism of carbohydrates and lipids, together with its human version consisting of human counterparts of most of the genes, thus allowing analysis of clinical samples.
Declarations
Acknowledgements
The work was supported by the Slovenian Research Agency, Grants J1-6713, P1-0527, and the funds of Lek Pharmaceuticals d.d. Tadeja Režen and Klementina Fon Tacer were supported by the fellowship from the Slovenian Research Agency. The work of Adrian Roth and Urs A. Meyer was supported by the Swiss National Science Foundation. This paper and work it concerns was generated in the context of the STEROLTALK project, funded by the European Community as contract No. LSHG-CT-2005-512096 under 6th Framework Programme for Research and Technological Development in the thematic area of Life sciences, genomics and biotechnology for health. This paper reflects only the author's views and the European Community is not liable for any use that may be made of the information contained therein. We would like to acknowledge Maud Silvain (CGM-CNRS, France) for plasmid sequencing, Nicolas Agier (CNRS-CGM, France) and Anne Peyrat (LIPM-CNRS, France) for technical support. We would also like to acknowledge Nejc Jelen for the help with cloning of the Sterolgene probes and performing initial hybridizations.
Authors' Affiliations
(1)
Center for Functional Genomics and Bio-Chips, Institute of Biochemistry, Faculty of Medicine, University of Ljubljana, Ljubljana, Slovenia
(2)
Artificial Intelligence Laboratory, Faculty of Computer and Information Science, University of Ljubljana, Slovenia
(3)
Lek Pharmaceuticals d.d., Ljubljana, Slovenia
(4)
Genome Scale Biology, Biozentrum, University of Basel, Basel, Switzerland
(5)
CNRS, Gif-sur-Yvette, France
Copyright
© Režen et al; licensee BioMed Central Ltd. 2008
This article is published under license to BioMed Central Ltd. This is an Open Access article distributed under the terms of the Creative Commons Attribution License (http://creativecommons.org/licenses/by/2.0), which permits unrestricted use, distribution, and reproduction in any medium, provided the original work is properly cited.