Research article

Open Access
Comprehensive insights into transcriptional adaptation of intracellular mycobacteria by microbe-enriched dual RNA sequencing
Received: 6 June 2014
Accepted: 22 December 2014
Published: 5 February 2015
Abstract
Background
The human pathogen Mycobacterium tuberculosis has the capacity to escape eradication by professional phagocytes. During infection, M. tuberculosis resists the harsh environment of phagosomes and actively manipulates macrophages and dendritic cells to ensure prolonged intracellular survival. In contrast to other intracellular pathogens, it has remained difficult to capture the transcriptome of mycobacteria during infection due to an unfavorable host-to-pathogen ratio.
Results
We infected the human macrophage-like cell line THP-1 with the attenuated M. tuberculosis surrogate M. bovis Bacillus Calmette–Guérin (M. bovis BCG). Mycobacterial RNA was up to 1000-fold underrepresented in total RNA preparations of infected host cells. We employed microbial enrichment combined with specific ribosomal RNA depletion to simultaneously analyze the transcriptional responses of host and pathogen during infection by dual RNA sequencing. Our results confirm that mycobacterial pathways for cholesterol degradation and iron acquisition are upregulated during infection. In addition, genes involved in the methylcitrate cycle, aspartate metabolism and recycling of mycolic acids were induced. In response to M. bovis BCG infection, host cells upregulated de novo cholesterol biosynthesis presumably to compensate for the loss of this metabolite by bacterial catabolism.
Conclusions
Dual RNA sequencing allows simultaneous capture of the global transcriptome of host and pathogen, during infection. However, mycobacteria remained problematic due to their relatively low number per host cell resulting in an unfavorable bacterium-to-host RNA ratio. Here, we use a strategy that combines enrichment for bacterial transcripts and dual RNA sequencing to provide the most comprehensive transcriptome of intracellular mycobacteria to date. The knowledge acquired into the pathogen and host pathways regulated during infection may contribute to a solid basis for the deployment of novel intervention strategies to tackle infection.
Keywords
Mycobacterium bovis BCGTHP-1 cellsInfectionHost-microbe interactionTranscriptomeDual RNA sequencingMicrobe enrichment
Background
Tuberculosis (TB) is an infectious disease caused by the airborne pathogen Mycobacterium tuberculosis and accounts for 1.3 million fatalities annually [1]. Unlike non-pathogenic microbes that are eliminated inside the maturing phagosome of immune cells such as macrophages, M. tuberculosis brings phagosome maturation to a halt and manages to cope with various host threats including acidification, reactive radicals and nutrient limitation [2]. Studying the transcriptome of intracellular pathogens, in particular M. tuberculosis, during infection remained difficult due to a low bacteria-to-host RNA ratio. For different pathogens the number of organisms per host cell spans several orders of magnitudes ranging from 1 to 10 for M. tuberculosis and up to 1000 for Chlamydia [3,4].
The first insights into the intracellular life of M. tuberculosis provided by comparative microarray analysis, revealed a switch from aerobic to anaerobic respiration, induction of the dormancy regulon dosR and iron scavenging as well as upregulation of β-oxidation of fatty acids upon infection [5]. Similar technologies and quantitative real-time PCR were applied to broaden our understanding of specific aspects of intracellular M. tuberculosis [6-9]. Microarray probes have the disadvantage of unspecific cross-hybridization between pathogen and host [4], and most often such probes are not optimized for minimal cross-reactivity with other species. Cappelli and colleagues [8] estimated that non-specific signals account for up to 12.5% of all signals. Additionally, transcription of non-coding regions and missed or miss-annotated genes often remain disregarded due to a limited array design. Quantitative real-time PCR has mostly been applied to small subsets of genes, since detection of each transcript requires a pair of specific oligonucleotides [6-9].
Dual RNA sequencing (dual RNA-seq) is a relatively novel technique to study gene expression profiles. This technique allows unbiased and simultaneous sequencing of transcriptomes of multiple organisms and therefore is a superb technology to study intracellular pathogens during infection of host cells. The sequencing reads can subsequently be matched in-silico to the respective organism. Without prior knowledge of sample content, its composition can be deduced from dual RNA-seq datasets without targeting specific species [10]. Most importantly, dual RNA-seq captures the transcriptome in its entirety thereby overcoming the limitations of microarrays discussed above. First application of this technology to study M. avium subsp. paratuberculosis during macrophage infection has shed new light on mycobacterial iron acquisition [11].
The attenuated TB vaccine strain M. bovis Bacillus Calmette–Guérin (M. bovis BCG) has been widely used in research as surrogate for pathogenic M. tuberculosis due to a high degree of genome identity [12-14]. In this study, we investigated the transcriptional adaptation of M. bovis BCG 24 hours after infection of the human macrophage-like cell line THP-1 by dual RNA-seq. The underrepresentation of bacterial RNA in preparations of total RNA from infected host cells requires high sequencing depth to gain statistical significance and adequate pathogen coverage, leading to increased costs. Mangan and colleagues developed a method entailing differential lysis with guanidine thiocyanate to enrich for mycobacteria from infected macrophages, thus avoiding massive underrepresentation of bacterial RNA as compared to total RNA preparations of infected cells [15]. This method has been used for in vivo transcriptome studies using microarrays [6,16]. Here we present a strategy that combines bacterial enrichment for bacterial transcripts and dual RNA-seq, which we evaluate against non-enriched samples.
Results
Twenty-four hours post-infection, THP-1 cells were harvested and total RNA was isolated. Additionally, two out of three infected THP-1 samples were enriched for
M. bovis
BCG bacilli, using the procedure described in
Methods
. The analysis of the 50-bp RNA-derived paired-end sequencing data is illustrated in Figure
1
. Two out of the three datasets derived from the non-enriched infections (IF1/2) were compared to a reference sample with uninfected THP-1 cells (THP) and differentially expressed THP-1 genes were identified. For differential
M. bovis
BCG gene and small RNA expression analysis, the datasets derived from enriched infections (IF1/2ER) were compared to a reference culture of exponentially growing
M. bovis
BCG (EGB). A spike-in sample (SPI) was used to estimate the percentage of infected cells and to correlate the reads of spiked-in
M. bovis
BCG with the
M. bovis
BCG culture and the non-enriched THP-1 infections with
M. bovis
BCG. An overview of the primary sequencing data is depicted in Table
1
.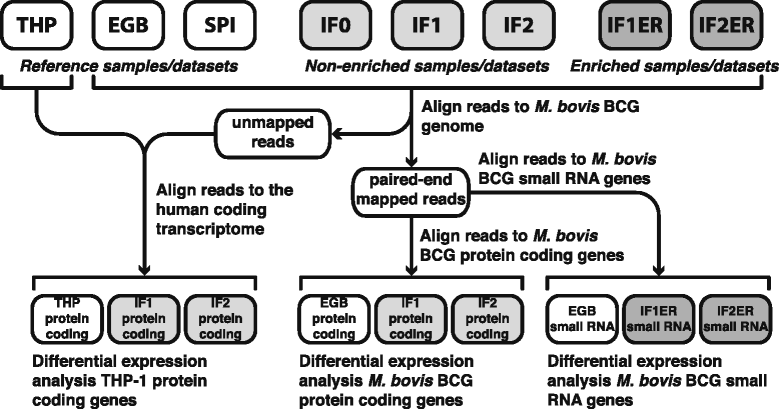 Table 1
Reads (millions and percentages) mapped on the human transcriptome and the M. bovis BCG genome
Human transcriptome

M. bovis BCG genome

Dataset

Description

M of reads

%

M of reads

%

Total

THP

Uninfected THP-1 cells

30.9

100

–

–

30.9

EGB

M. bovis BCG bacilli

–

–

168

100

168

SPI

Mixed THP-1 and M. bovis BCG RNA

31.8

91.0

3.16

9.0

35.0

IF0

Infected THP-1 cells replicate 0

21.5

98.0

0.45

2.0

21.9

IF1

Infected THP-1 cells replicate 1

38.2

96.0

1.57

4.0

39.7

IF2

Infected THP-1 cells replicate 2

28.0

96.3

1.07

3.7

29.0

IF1ER

Infected THP-1 cells replicate 1 enriched for M. bovis BCG bacilli

18.0

74.7

6.09

25.3

24.0

IF2ER

Infected THP-1 cells replicate 2 enriched for M. bovis BCG bacilli

26.0

88.6

3.35

11.4

29.4
Discussion
This study describes a deep sequencing approach towards the elucidation of mycobacterial and host cell gene expression profiles during intracellular infection. Initially we employed standard deep sequencing settings for eukaryotes to resolve the transcriptional profile of intracellular mycobacteria. Although this set-up allowed, to some extent, analyzing gene expression in M. bovis BCG, mycobacterial transcript coverage was insufficient. Increasing the sequencing depth was hindered by high sequencing costs, thereby preventing the method to become a broad application. Thus, we decided to enrich for mycobacteria during sample preparation of infected THP-1 cells. Indeed, the strategy applied greatly increased the coverage of the intracellular M. bovis BCG transcriptome. Although mycobacterial gene expression can be analyzed in non-enriched samples (215 genes, FDR < 0.05), implementation of enrichment greatly expanded the number of reliably identified differentially expressed genes by 71% (367 genes, FDR < 0.05).
Moreover, the sequencing depth simulation (Figure 2B) revealed that enrichment allowed identification of differentially expressed genes that would have been missed otherwise. Repasy and colleagues showed that for an in vivo infection setting with mice and M. tuberculosis the MOI ranges from 1 to 5 [3]. Therefore, when studying an in vivo infection, the enrichment might not be sufficient to obtain a similar sequencing depth as obtained in our in vitro study, for which an MOI of 10 was used. To determine whether enrichment introduced any bias into the datasets, we analyzed non-enriched and enriched samples of two independent biological infection replicates. Although the non-enriched and enriched samples comprised different numbers of intracellular M. bovis BCG reads, the transcriptomes of respective samples of both infection experiments correlated well as indicated by high linearity and correlation coefficients (Additional file 1). Additionally, the correlation of intracellular M. bovis BCG expression between the biological replicates of both enriched datasets was comparable with the non-enriched datasets (0.93 and 0.94, respectively), verifying that the enrichment procedure was repeatable and robust, and did not introduce any bias to the intracellular mycobacterial transcriptome. For host expression we identified a lower correlation between the non-enriched and enriched samples (0.57 for IF1 and IF1ER, and 0.70 for IF2 and IF2ER) (Additional file 1). Hence, the datasets of non-enriched samples were favored for analysis of the host transcripts in order to preserve accuracy of the transcriptional landscape during infection.
Our method is dependent on differential susceptibility to lysis of host and microbial cells and not on a molecular sequence capture or depletion method as previously described [11]. This has the added advantage that small RNAs can be detected and analyzed for differential expression. Additionally, our method is independent of mRNA polyadenylation, as e.g. MICROBEnrich simultaneously captures and removes polyadenylated mRNAs along with rRNAs. We consider this a critical point because previous findings support the existence of polyadenylated tracts in mRNA of mycobacteria [59] and other bacteria [60,61].
It has been shown previously that mycolic acid liposomes are phagocytized by murine macrophages, changing the morphology of the macrophages to foam-like cells accumulating cholesterol [57]. Although the cholesterol degradation pathway is induced at 24 hours post-infection (Figure 3A and Additional file 3), the mce4 gene cluster and hsdD and choD were not induced. Nonetheless, these genes were expressed in both conditions and respective proteins could be already present before infection, ready for a situation when cholesterol becomes available. For hsdD and choD, it is tempting to speculate that alternative genes with a similar function exist, since these genes have been found dispensable for cholesterol degradation in mycobacteria [21].
Gene regulation of mycobacterial cholesterol catabolism involves a complex interplay between KstR, KstR2, and IdeR. KstR and KstR2 are the prime regulators of the genes depicted in Figure 3A. A clear distinction between their targets becomes apparent with KstR regulating the degradation of rings A and B and KstR2 regulating the degradation of rings C and D. In addition, genes in these regulons (fadA5, fadD3, fadE30, echA20) contain IdeR-binding sites in their upstream regions [33] and in some cases a profound overlap between these binding sites was observed. This implies that these genes can only be expressed upon removal of both types of repressors: IdeR under normal iron availability and KstR and KstR2 during cholesterol shortage (Figure 5). The upregulation of IdeR-dependent iron uptake systems can be caused not only by low iron availability inside the macrophage but also as a response to the NO-induced damage caused to iron-containing proteins [5]. HsaC, KshA, and the cytochromes Cyp125 and Cyp142 are iron-containing enzymes (and hence are susceptible to NO-induced damage) and lack of functionality of these enzymes leads to the accumulation of stable toxic catabolic intermediates, such as catechol derivatives and cholest-4-en-3-one [62-65]. The IdeR control of this pathway ensures that it is only expressed when the corresponding repair/replacement systems for iron-containing proteins are in place, therefore minimizing the risk of toxic intermediate accumulation.
It has been shown that aspartate functions as a major nitrogen reservoir in the host [36]. In line with this finding, we observed induction of aspartate utilizing enzymes (Figure 3B). Interestingly, we did not detect induction of the gene encoding the aspartate transporter ansP1, but induction of its homolog, ansP2. Earlier reports demonstrated that an ansP1-KO mutant fails to import aspartate in vitro, but shows wild-type behavior in either resting or activated macrophages, even though aspartate is a major nitrogen source in the host. Moreover, the absence of ansA induction suggests AnsP2 functions as an aspartate importer during infection in addition to its role as asparagine importer [37].
Rodríguez and colleagues cultivated M. tuberculosis H37Rv on even long-chain fatty acids and analyzed the transcriptome by RNA sequencing, observing a dormancy-related phenotype [66]. Although there are similarities between their in vitro model and our results, the induction of cholesterol catabolism, the methylcitrate cycle and aspartate metabolism are not captured using such a method, highlighting the differences between using an in vitro model based on even long chain fatty acids as opposed to studying intracellular infection directly.
Conclusions
Dual RNA-seq allowed elucidation of the complex interplay between M. bovis BCG and THP-1 macrophages. The comparison of non-enriched and enriched ribosomal RNA-depleted sequencing libraries of two biological replicates from identical infection cultures, showed high correlation of sequencing reads without technical bias. Taken together, microbe-enriched dual RNA-seq is a powerful technology that enables the assessment of the global transcriptome of "low-number" intracellular microbes and their host as demonstrated by the simultaneous induction of M. bovis BCG cholesterol degradation genes and host cholesterol synthesis genes.
Methods
Bacterial strains and growth conditions
M. bovis BCG SSI 1331 (American Type Culture Collection, #35733) was grown in Middlebook 7H9 medium (Becton Dickinson) supplemented with 0.05% Tween 80, 0.2% glycerol, 10% albumin-dextrose-catalase supplement (Becton Dickinson) (7H9-ADC) or on Middlebrook 7H11 agar (Becton Dickinson) containing 0.2% glycerol and 10% oleic acid-albumin-dextrose-catalase enrichment (Becton Dickinson). Mycobacterial cultures were grown to the mid-log phase in 1 L roller bottles (450 cm2) at 37°C and 2 rpm. For CFU enumeration, serial dilutions were performed in phosphate-buffered saline containing 0.05% Tween 80 and plated on Middlebrook 7H11 agar. Plates were incubated at 37°C for 3–4 weeks prior to counting.
Infection of the human macrophage-like cell line THP-1
The THP-1 cell line (American Type Culture Collection #TIB-202) was maintained in Roswell Park Memorial Institute medium 1640 supplemented with 10% fetal calf serum, 2 mM glutamine, 1 mM sodium pyruvate and 0.05 mM 2-mercapto-ethanol in a humidified 5% carbon dioxide atmosphere at 37°C. Estimated 4 × 106 cells/well in a 6-well plate were differentiated for 24 h using culture medium containing 40 ng/ml phorbol 12-myristate 13-acetate. Cells were then washed with fresh culture medium and incubated for 48 h. M. bovis BCG was pelleted (3,200 rpm, RT, 10 min), washed twice with phosphate buffered saline and resuspended in THP-1 culture medium. THP-1 cells were infected with M. bovis BCG at a multiplicity of infection of 10. The M. bovis BCG culture medium suspension was added to the differentiated cells, centrifuged for 3 min at 800 rpm and subsequently incubated for 4 h. The infection mix was removed, cells were washed twice with pre-warmed PBS and incubated with fresh culture medium for 20 h prior to RNA extraction.
RNA isolation and mycobacterial RNA enrichment of infected cells
Total RNA from mycobacterial cultures was prepared as previously described [67]. Extraction of total RNA from THP-1 cells was prepared with TRIzol reagent using glycogen as a carrier according to the suppliers' recommendation (Life Technologies). Total RNA from M. bovis BCG infected THP-1 cells was isolated by abrasive particles in a reciprocal shaker with TRIzol [67]. Enrichment of mycobacteria from infected THP-1 cells was carried out by differential lysis of host and mycobacterial cells by guanidine thiocyanate (GITC).
Infected cells were washed with PBS at RT. Cold 4 M GITC was added to the monolayer and the cells were transferred to a 1.5-ml screw cap tube. After centrifugation the pellet was resuspended in residual GITC and mixed with 1 ml TRIzol containing 20 μg/ml linear acrylamide, followed by incubation for 5 min at RT. Bacteria were disrupted by bead beating (FastPrep Instrument; two cycles of 30s at maximum speed with cooling on ice between cycles). The sample was centrifuged for 1 min at 4°C/13,000 rpm and the supernatant was transferred to a 2-ml screw cap tube containing 200 μl chloroform, mixed and incubated at RT for 5 min. After centrifugation at 4°C/13,000 rpm for 10 min, RNA was extracted from the aqueous phase using the Qiagen RNeasy mini kit including an on-column DNase digestion (Qiagen). Quality and quantity of total RNA were assessed using an Agilent 2100 Bioanalyzer (Agilent Technologies) and a NanoDrop 1000 spectrophotometer (Kisker).
Calculation of spike-in concentration
Total RNA of THP-1 cells and M. bovis BCG cultures was determined on the basis of cell counts and RNA isolation yield. As the intracellular copy number for a pathogen varies from species to species we assumed the most minimal infection rate of one mycobacterium per host cell. Therefore a cellular multiplicity of infection of 1:1 was used for mixing host and pathogen RNA, resulting in a ratio of 1000:1 total RNA, derived from the proportion of RNA abundance per cell between host and pathogen.
RNA sequencing
The RNA-seq libraries were prepared according to the TruSeq RNA Sample Preparation v2 Guide (Illumina) without fragmentation and without size selection. Using an Agilent Bioanalyzer high sensitivity DNA kit, we confirmed that the average final library size was already approximately 350 bp without fragmentation; therefore the library insert fragmentation time at 94°C was set to 0 minutes, as no additional fragmentation step was required. Up to 98% of bacterial RNA consists of ribosomal RNA, which can prevent adequate coverage of a bacterial transcriptome, using RNA sequencing [68,69]. Therefore, the Gram-Positive Bacteria Ribo-Zero (Epicentre) rRNA Magnetic Removal Kit was used to remove bacterial rRNA from mycobacterial total RNA. For THP-1 total RNA the Ribo-Zero Magnetic Kit Human/Mouse/Rat was used, while depletion of rRNA from infections without enrichment as well as the spike-in experiment was done by a two-step procedure with both kits. The mycobacterial enriched total RNA preparations of infected cells were depleted with the Ribo-Zero Magnetic Gold Kit Epidemiology. All cDNA libraries were checked for quality using the DNA-1000 kit (Agilent) on a 2100 Bioanalyzer and quantified with the Qubit 2.0 Fluorometer (Life Technologies). Libraries of each consecutive experiment were pooled as 4-plex and on-board loaded with a Hi-Seq 1500 instrument. The sequencing reaction was carried out as Rapid Run using a TruSeq Rapid PE Cluster Kit and a TruSeq Rapid SBS Kit and 2 × 51 cycles including 7 cycles indexing in order to obtain 50-bp paired-end reads.
Data analysis pipeline
A total of eight datasets were created: Uninfected THP-1 cells (dataset: THP), exponentially growing M. bovis BCG (dataset: EGB), a spike-in sample consisting of THP-1 RNA and M. bovis BCG RNA in a 1000:1 ratio (dataset: SPI), M. bovis BCG-infected THP-1 cells with a multiplicity of infection of 10 M. bovis BCG bacilli per THP-1 host cell (dataset IF0), two additional independent biological replicates of M. bovis BCG-infected THP-1 cells (datasets: IF1 and IF2), and two datasets prepared with the enrichment method using the two biological replicates of M. bovis BCG-infected THP-1 cells (datasets: IF1ER and IF2ER).
All 50-bp paired-end reads from datasets IF1/2ER, IF0/1/2, EGB were aligned, using megablast, against the complete genome sequence of M. bovis BCG Pasteur, obtained from the NCBI bacterial genome database (ftp.ncbi.hih.gov/genomes/Bacteria) and to the human transcriptome obtained from the Ensemble database (www.ensembl.org). If both 50-bp reads of a given pair could not be aligned to the human transcriptome, or the M. bovis BCG genome, they were discarded from further analysis. The 50-bp paired-end reads aligning to the M. bovis BCG genome were subsequently aligned to protein-coding genes, ribosomal genes, and small RNA (sRNA) genes. The protein-coding gene sequences and the ribosomal gene sequences were obtained from the NCBI database. The sRNA-coding gene sequences were obtained from the Bacterial Small Regulatory RNA Database [70] and supplemented with sRNA sequences from M. tuberculosis [51].
Gene counting procedure
A single count was assigned to a transcript if a complete pair of reads aligned to the M. bovis BCG genome. If only one read of a pair of reads aligned to a given gene, also a single count was assigned to this transcript, assuming that the other read could align to an intergenic region, or another gene, due to the existence of operons. If a pair of reads would align to two different genes, a count was assigned to both genes, resulting in a total of two counts per pair of reads. For THP-1 cells, all reads assigned to different splice variants of the same gene were counted (one count for each aligned read) and summed.
Differential gene expression analysis
The R package edgeR [71] was used for differential gene expression analysis of M. bovis BCG and THP-1 genes. Gene and protein functions have been extensively studied in M. tuberculosis and therefore the M. tuberculosis (strain H37Rv) orthologs of each M. bovis BCG gene were included. Low expression tags receiving less than 100 counts per million in two or more of the three datasets: EGB, IF1/2ER (or EGB, IF1/2), were excluded from differential expression analysis as described in the edgeR manual. Tags receiving more than 100 counts per million in the EGB dataset and less than 100 counts per million in either one or both replicates of IF1/2ER or IF1/2 were still used to account for large decreases in expression upon infection.
EdgeR is a Bioconductor package designed to identify significant changes between two or more groups, given that at least one of the groups has replicated measurements [71], which is the case for our experimental setup (Figure 1). The edgeR algorithm models the read counts associated to a gene using a negative binomial probability distribution. The variance of this distribution takes into account both the stochasticity of the sequencing process and the variability associated to biological variation. The common Biological Coefficient of Variance (BCV) measures the average dispersion in gene expression values associated to biological variability. We used EdgeR to compute the BCV of the corresponding samples prior to computing differential expression. For the BCG genes, we obtain a BCV of 0.16 from the IF1/2ER samples whereas for the THP-1 genes we obtained a BCV of 0.20 from the IF1/2 samples. We assumed that the BCV in datasets EGB and THP to be smaller than those in datasets IF1/2ER and IF1/2, due to the less stable and controlled conditions arising from infection as compared to standard culturing procedures. To compute differential gene expression for M. bovis BCG and THP-1 cells, we took a conservative approach and assigned the same BCV to datasets EGB and THP as those obtained from IF1/2ER and IF1/2, respectively. Differential expression was then computed for each gene using a pairwise exact testing procedure. The algorithm of Benjamini and Hochberg was used to control false discovery rates [72]. Protein-coding genes and sRNA-coding genes with an FDR < 0.05 were assumed to be differentially expressed.
For THP-1 cells, gene counts from dataset THP were compared to those of datasets IF1/2. Differential gene expression analysis was performed similar to M. bovis BCG. The low expression tags cutoff of 100 counts per million was normalized for the number of genes in the THP-1 genome. Afterwards, we used InnateDB and pathway enrichment analysis to identify induced host pathways [52].
Sequencing depth simulation
Subsets of 50-bp sequencing reads, where both pairs aligned to the complete genome of M. bovis BCG, were taken randomly from dataset EGB and IF1ER. These subsets were of the same size (3.35 M) as the total number of sequencing reads from dataset IF2ER aligning to the M. bovis BCG genome in pairs (Figure 2A). From these two subsets, and from the paired-end sequencing reads of IF2ER aligning to the M. bovis BCG genome, random sets of reads were chosen of different sizes. For each different size, five random sets were generated. Differential gene expression for M. bovis BCG was determined using the method described above (data analysis pipeline) for every set. The mean and standard deviation of the number of differentially expressed genes was calculated (Figure 2B).
Compendium of expression data
A compendium containing 565 two-color microarrays for M. tuberculosis (strain H37Rv) was obtained from literature [73] and most of these (454) captured the effect of 75 drugs targeting metabolic pathways [74,75] whereas 111 captured stress-induced dormancy in the wild-type and in DosR activation genes in KO mutants [76,77].
Quantitative real time PCR
To verify the expression of several genes and small RNA's, their expression was determined using qRT-PCR. For 13 genes, we designed primers (Additional file 4) and quantified their relative expression to the reference gene: rpoB (BCG0716; Rv0667). This gene encodes the RNA polymerase β-subunit and is thought to be a housekeeping gene, which was used as such in previous qRT-PCR studies [78-80]. Fold changes in gene expression (Additional file 5) were calculated using the ΔΔCt, as described previously [81].
Availability of supporting data
Raw sequence read data supporting the results of this article are available in the EMBL-EBI European Nucleotide Archive under the Accession No. PRJEB6552, http://www.ebi.ac.uk/ena/data/view/PRJEB6552.
Declarations
Acknowledgements
The authors thank Doris Lazar, Sabine Jörg, Ina Wagner and Karin Hahnke for technical support and Mary Louise Grossman for editorial assistance. The methodology to enrich bacterial transcripts from infected macrophages has been developed with support from the NIH/NIAID, contract # HHSN272200800059C "A Systems Biology Approach to Infectious Diseases Research". This work has been supported by Framework Program 7 of the European Research Council, SysteMTb Collaborative Project (HEALTH-2009-2.1.1-1-241587) and by the Netherlands Consortium for Systems Biology (NCSB) which is part of the Netherlands Genomics Initiative / Netherlands Organisation for Scientific Research.
Authors' Affiliations
(1)
Laboratory of Systems and Synthetic Biology, Wageningen University and Research Centre, Wageningen, the Netherlands
(2)
Core Facility Microarray/Genomics, Max Planck Institute for Infection Biology, Berlin, Germany
(3)
Department of Microbiology and Immunology, Stanford University School of Medicine, Stanford, USA
(4)
Department of Immunology, Max Planck Institute for Infection Biology, Berlin, Germany
(5)
LifeGlimmer GmbH, Berlin, Germany
(6)
Present address: Department of Microbiology, Yong Loo Lin School of Medicine, National University of Singapore, Singapore, Singapore
Copyright
© Rienksma et al.; licensee Biomed Central. 2015
This is an Open Access article distributed under the terms of the Creative Commons Attribution License (http://creativecommons.org/licenses/by/4.0), which permits unrestricted use, distribution, and reproduction in any medium, provided the original work is properly credited. The Creative Commons Public Domain Dedication waiver (http://creativecommons.org/publicdomain/zero/1.0/) applies to the data made available in this article, unless otherwise stated.