Research article
Open Access
Distinctive expansion of gene families associated with plant cell wall degradation, secondary metabolism, and nutrient uptake in the genomes of grapevine trunk pathogens
Received: 6 February 2015
Accepted: 6 May 2015
Published: 19 June 2015
Abstract
Background
Trunk diseases threaten the longevity and productivity of grapevines in all viticulture production systems. They are caused by distantly-related fungi that form chronic wood infections. Variation in wood-decay abilities and production of phytotoxic compounds are thought to contribute to their unique disease symptoms. We recently released the draft sequences of Eutypa lata, Neofusicoccum parvum and Togninia minima, causal agents of Eutypa dieback, Botryosphaeria dieback and Esca, respectively. In this work, we first expanded genomic resources to three important trunk pathogens, Diaporthe ampelina, Diplodia seriata, and Phaeomoniella chlamydospora, causal agents of Phomopsis dieback, Botryosphaeria dieback, and Esca, respectively. Then we integrated all currently-available information into a genome-wide comparative study to identify gene families potentially associated with host colonization and disease development.
Results
The integration of RNA-seq, comparative and ab initio approaches improved the protein-coding gene prediction in T. minima, whereas shotgun sequencing yielded nearly complete genome drafts of Dia. ampelina, Dip. seriata, and P. chlamydospora. The predicted proteomes of all sequenced trunk pathogens were annotated with a focus on functions likely associated with pathogenesis and virulence, namely (i) wood degradation, (ii) nutrient uptake, and (iii) toxin production. Specific patterns of gene family expansion were described using Computational Analysis of gene Family Evolution, which revealed lineage-specific evolution of distinct mechanisms of virulence, such as specific cell wall oxidative functions and secondary metabolic pathways in N. parvum, Dia. ampelina, and E. lata. Phylogenetically-informed principal component analysis revealed more similar repertoires of expanded functions among species that cause similar symptoms, which in some cases did not reflect phylogenetic relationships, thereby suggesting patterns of convergent evolution.
Conclusions
This study describes the repertoires of putative virulence functions in the genomes of ubiquitous grapevine trunk pathogens. Gene families with significantly faster rates of gene gain can now provide a basis for further studies of in planta gene expression, diversity by genome re-sequencing, and targeted reverse genetic approaches. The functional validation of potential virulence factors will lead to a more comprehensive understanding of the mechanisms of pathogenesis and virulence, which ultimately will enable the development of accurate diagnostic tools and effective disease management.
Keywords
Comparative genomicsComputational Analysis of gene Family Evolution (CAFE)CAZymesPeroxidasesSecondary metabolismP450s
Background
Eutypa dieback, Botryosphaeria dieback, Phomopsis dieback, and Esca are the most important trunk diseases of grapevines (
Vitis vinifera
L.). They are common in vineyards worldwide, where they are responsible for significant reductions in productivity and longevity [
1
–
5
]. The causal fungi are taxonomically-unrelated ascomycete species that infect primarily through wounds (namely pruning wounds) and colonize the permanent woody structure of the vine (trunk, cordons, spurs). Damage to the wood from the localized infection (i.e., wood canker) compromises the translocation of water and nutrients throughout the vine, which eventually leads to death of the shoots or the woody tissues that give rise to new shoots [
6
,
7
]. Some symptoms (Fig.
1
; Table
1
) are shared among different trunk diseases (e.g., cankers; Fig.
1a
), whereas others are unique (e.g., foliar symptoms of Eutypa dieback [
8
], Fig.
1b
; fruit symptoms of Esca [
9
], Fig.
1c
). Fungicides can be applied to protect pruning wounds or pruning can be delayed to a time when wounds are less susceptible, but these approaches are neither effective against all trunk pathogens nor are they economically-feasible for all vineyards [
6
,
10
]. Once a vine is infected, the only means of eradicating a trunk pathogen is by physically cutting out infected tissues and retraining new vines. As vines age, they accumulate wood cankers and yield losses build to the point at which management costs outweigh returns [
3
].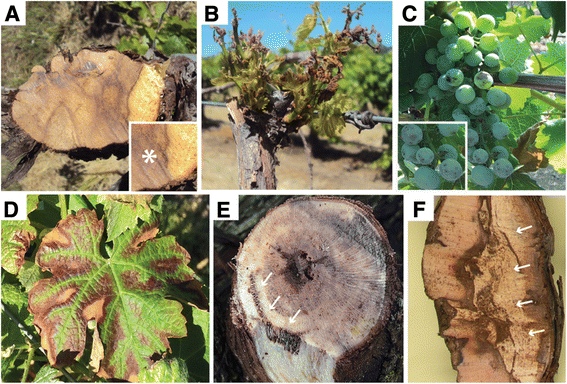 Table 1
Fungal species that cause trunk diseases of grapevine and the symptoms associated with each disease
Species

Disease

Symptoms

E. lata

Eutypa dieback

V-shaped wood cankers in spurs, cordons and/or trunk (Fig. 1a). Stunted shoots with shortened internodes and small, chlorotic, cupped tattered leaves, showing marginal necrosis and dead interveinal tissue (Fig. 1b). Also, causes general canopy symptoms of shoot dieback and dead spurs.

Dip. seriata, N. parvum

Botryosphaeria dieback

V- or irregular-shaped wood cankers in canes, spurs, cordons and/or trunk (Fig. 1a). Also, causes general canopy symptoms of shoot dieback and dead spurs. Can kill buds on infected canes.

Dia. ampelina

Phomopsis dieback

V- or irregular-shaped wood cankers in canes, spurs, cordons and/or trunk (Fig. 1a). Also, causes general canopy symptoms of shoot dieback and dead spurs.

Can kill buds on infected canes.

Phomopsis cane and leaf spot is thought to be a separate disease, but is also caused by Dia. ampelina. The pathogen directly attacks all green tissues of the vine, causing necrotic lesions on the leaves, green stems, and fruit.

T. minima, P. chlamydospora, F. mediterranea, S. hirsutum

Esca disease complex

Black spots (aka "measles") on berries (Fig. 1c).

Interveinal chlorosis and necrosis of the leaves (Fig. 1d). Dark spots that form in concentric rings (appears as dark lines in longitudinal section) in the wood (Fig. 1e).

White-rotted wood, due to secondary infection by basidiomycetes F. mediterranea and S. hirsutum, sometimes co-occurs in the trunks of vines also infected by the Esca pathogens T. minima and P. chlamydospora (Fig. 1f). However, these fungi are not responsible for fruit or leaf symptoms of Esca.
When colonizing the wood, trunk pathogens are thought to rely on their ability to enzymatically digest the plant cell walls and/or produce toxins to overcome the host's preformed and inducible defenses [7, 11–14]. Indeed, the chemical structures of secreted toxins, as well as of the products of cell wall degrading activities, have been described for some trunk pathogens [14–16]. For example, degradation of cellulose and xyloglucans, and secretion of oxidases that might participate in the breakdown of wall-bound lignin, were detected in wood colonized by the Eutypa dieback pathogen Eutypa lata. E. lata is the only trunk pathogen that has been categorized as a wood-decay fungus, specifically a soft-rot, which is the type of wood decay caused by Ascomycetes [14]. Metabolites with phytotoxic properties, such as naphtalenone pentaketides, polyphenols, and extracellular polysaccharides, have been found in the secretomes of Eutypa dieback, Esca and Botryosphaeria pathogens [15]. Although this knowledge is valuable to infer the hypothetical proteins involved in pathogenesis and virulence, there are no documented candidate sequences for any of the potential virulence functions associated with trunk diseases to date. Only scarce molecular genetic information is available for trunk pathogens, compared to other better-studied pathogens of grape (e.g., powdery mildew fungus Erysiphe necator [17, 18], Pierce's disease bacterium Xylella fastidiosa [19]). Given that multiple trunk pathogens often co-occur in mixed infections in the vineyard, coupled with the fact that they are taxonomically unrelated, there is a limited understanding of the mechanisms that each trunk pathogen employs to first colonize wood and then cause symptoms [20, 21].
Recent advances in sequencing and genotyping technologies, along with computational tools, offer an unprecedented capability to rapidly generate genomic and transcriptomic resources for plant pathogens [
22
]. We recently released the first draft genome sequences of the trunk pathogens
E. lata
(causal agent of Eutypa dieback [
23
]),
Togninia minima
(causal agent of Esca [
24
]) and
Neofusicoccum parvum
(causal agent of Botryosphaeria dieback [
25
]). Unique to this study are sequences and analyses of the genomes of other common trunk pathogens (Table
2
):
Diaporthe ampelina
(causal agent of Phomopsis dieback)
, Diplodia seriata
(another causal agent of Botryosphaeria dieback), and a Californian isolate of
Phaeomoniella chlamydospora
(another causal agent of Esca). The analysis of functional annotations of their predicted protein-coding genes provided us with a first glimpse of the complex repertoire of potential virulence functions. We identified many genes associated with lignocellulose degradation, toxin production, and nutrient uptake, some of which are known virulence factors in other plant pathogens [
26
–
30
]. Comparative analyses also revealed a broad range in the number of members of gene families with potential virulence functions.
Table 2
Assembly statistics of the grapevine trunk pathogen genomes analyzed
| Species1 | Disease | Assembly size (Mb) | Scaffolds | Scaffold N50 length (Kb) | Scaffold L50 count | Gene space completeness2 (%) | Reference |
| --- | --- | --- | --- | --- | --- | --- | --- |
| Dia. ampelina (DA912) | Phomopsis dieback3 | 47.4 | 2,392 | 132.3 | 103 | 94.8 | This work |
| Dip. seriata (DS831) | Botryosphaeria dieback | 37.1 | 695 | 304.2 | 39 | 96.0 | This work |
| P. chlamydospora (UCR-PC4) | Esca | 27.5 | 702 | 178.6 | 50 | 95.6 | This work |
| E. lata (UCR-EL1) | Eutypa dieback | 54.0 | 2,334 | 68.3 | 239 | 93.2 | [23] |
| T. minima (UCR-PA7) | Esca | 47.5 | 624 | 334.6 | 45 | 95.2 | [24] |
| N.parvum (UCR-NP2) | Botryosphaeria dieback | 42.6 | 1,297 | 83.6 | 149 | 97.2 | [25] |
| F. mediterranea (MF3/22) | Esca complex | 63.4 | 1,412 | 4,291.5 | 6 | 96.4 | [37] |
| S. hirsutum (FP-91666) | Esca complex | 46.5 | 159 | 1,799.0 | 9 | 96.4 | [37] |
Modifications of gene family size, as a result of the differential duplication and deletion of chromosomal regions, have been shown to provide selective advantages and contribute to adaptation in a variety of organisms, including fungi [31, 32]. Gene duplication can be advantageous by increasing the amounts of protein synthesized [18] or by promoting evolutionary novelty of one of the duplicated genes through subfunctionalization or neofunctionalization [33]. In the case of fungal pathogens, variations in gene family size have been associated with the evolution of virulence functions and host adaptation [31, 34–36]. Differential expansion of gene families involved in host cell wall degradation, transport functions, and melanin biosynthesis has been found in pathogenic fungal lineages [35]. Adaptive gene family expansion has also been associated with the shift in host preference from plants to animals in the Onygenales (Ascomycota; Eurotiomycetes) fungi [36].
In this study we employed a stochastic birth and death model to discover gene families that have undergone significant expansion/contraction during the evolution of the trunk pathogens. We first generated a time-calibrated phylogeny using a subset of conserved single-copy protein-coding genes [37] and time of origin estimates from fossil records [38]. The resultant tree was then used to identify those gene families whose size significantly diverged from an estimated random birth-death rate expectation. We identified 90 gene families expanded in the ascomycete trunk pathogens. These gene families were also significantly enriched in putative virulence factors, including cell wall degrading enzymes and genes involved in secondary metabolism. We then applied phylogenetically-aware principal component analysis to detect differences and similarities in the repertoires of putative virulence factors from the significantly expanded gene families.
Discussion
In this study we describe the draft genome sequences of three grapevine trunk pathogens, causal agents of Phomopsis dieback, Botryosphaeria dieback and Esca. This genomic information, together with the previously-released draft genome sequences of other important ascomycete trunk pathogens [23–25] and two basidiomycetes associated with Esca [37], provide the genomic resources necessary to begin analyzing the complex repertories of potential virulence profiles of these destructive fungi [20]. All genomes in this study showed a comparable degree of completeness in relation to both genome size estimates, based on k-mer distribution and representation of conserved genes [40]. Genome sizes, as well as number of protein-coding genes and repetitive DNA content, were similar to those of other common plant pathogens with a necrotrophic life style, such as B. cinerea [41] Sclerotinia sclerotiorum [41] and Colletotrichum spp. [74]. As observed in [43], P. chlamydospora has a relatively smaller genome (and gene content) compared to the other species analyzed. The application of third generation sequencing technologies will help improve these draft assemblies that despite their estimated completeness suffer from limitations due to the use of short reads, which in addition to fragmentary assemblies may include chimeric contigs, erroneous copy numbers and collapsed repetitive regions [75, 76]. We cannot rule out that some protein-coding genes may be missing from the final transcriptomes predicted from the shotgun-sequenced genomes because of (i) inaccessibility of certain genomic regions to Illumina sequencing, (ii) incomplete assemblies, and (iii) possible errors in the ab initio gene discovery [76, 77]. Further studies of in planta gene expression using RNA-seq may refine the predicted gene models [78]. The effectiveness of integrating transcriptome sequencing with comparative and ab initio approaches for gene prediction is evidenced in this work by the significant improvement of the predicted genes in the genome of T. minima.
Functional annotations of the genomes of the 8 trunk pathogens confirmed the complex array of virulence factors that these organisms may utilize during colonization of grapevines. We observed remarkable variation in the number of genes assigned to specific functional categories among the trunk pathogens, which in some instances (and with statistical significance) reflected lineage-specific, gene family expansions and contractions. Gene family expansions result from the retention in a fungal population of duplicated genes, which provide adaptive advantage [35, 79]. Gene duplications can arise from events of genome or chromosomal duplications, TE retroposition, or unequal crossing-over [80]. Gene duplication can lead to functional diversification or increase in protein synthesis, which can play a role in fungal adaptive divergence [81]). An increase in the number of paralogous genes in families associated with virulence and nutrient uptake has been described in the case of obligate parasites [35, 82–86]. Larger family sizes of virulence factors were also found in species with broader host ranges, compared to host-specialized pathogens in the Metarhizium genus [87]. Copy number variations (CNVs) within species have also been described not only as a mechanism underlying host adaptation [88–90], but also in the development of resistance to antifungal compounds in fungi [53] (e.g., fungicide resistance in Erysiphe necator [18]). The extent and frequency of adaptive CNV in trunk pathogen populations has not been investigated. Nonetheless, as whole-genome sequences of more isolates of each trunk pathogen species become available, comparative approaches can be applied to scan the genomes for CNV loci and determine whether they encompass any of the genes in the significantly-expanded families we identified.
Because natural selection is the major force behind the differences in gene family size between species [66], focusing on families with faster rates of gene gain can help identify functions that may be associated with host adaptation, pathogenicity, or virulence [31]. Among the ascomycete trunk pathogens, we identified 90 gene families that have undergone significant expansion. The expanded families in the ascomycete trunk pathogens were enriched in genes that, at least based on in silico annotations, are expected to contribute to virulence and nutrient uptake. The overrepresentation of PHI genes, as well as of secreted CAZymes, P450s, and genes involved in secondary metabolism, supports the role of gene duplication and consequent gene family expansion in the evolution of trunk pathogens. Furthermore, results of phylogenetic PCAs of the sizes of expanded families highlighted similarities between pathogens that did not correspond to their phylogenetic relationships. Instead, pathogens were grouped more often according to similarities in disease symptoms, which suggests there is convergent evolution.
The predicted secretomes of all trunk pathogens encompassed functions that can potentially target all components of primary and secondary plant cell walls (Fig. 3). Unlike pathogens that thrive on pectin-rich tissue, such as B. cinerea [49, 91], which possesses high numbers of pectolytic enzymes, overall the ascomycete trunk pathogens showed a wider array of enzymes that target cellulose and hemicellulose, such as endo-β-1,4-cellulases (GH5), β-glucosidases (GH3), xyloglucan transglucosylase/hydrolases (GH16), and β-xylosidases (GH43). As these are wood-colonizing fungi, we might expect their genomes to include a range of genes encoding for wood-degrading enzymes, especially E. lata, which is a known soft-rot fungus, and N. parvum, which colonizes grapevine wood more rapidly than most trunk pathogens [92]. In agreement with the observation that glucose-rich polymers are degraded in wood colonized by E. lata [14], we found significant expansion of genes coding for CAZymes containing the CBM1 domain, a carbohydrate-binding module that strongly binds to crystalline cellulose and that is required for full activity of fungal cellulases. E. lata is a soft-rot fungus and has a similar gene family expansion pattern to the white-rot basidiomycete Phanerochaete chrysosporium, in which expansion of CBM1s was also found [93]. Indeed, cellulose-degrading systems of some soft-fungi are as advanced as those of typical white-rot fungi [94]. In contrast to E. lata, P. chlamydospora underwent the least amount of expansion in secreted CAZymes, which is consistent with past findings of no detection in vitro of xylanase or cellulases and no visible degradation of lignified cell walls in wood colonized by the latter [11].
The predicted secretomes of the ascomycete trunk pathogens were also rich in auxiliary enzymes (AAs), which catalyze oxidative processes that facilitate the enzymatic disassembly by other CAZymes of recalcitrant plant cell wall components, including lignin [50]. Soft-rot fungi degrade lignin, but to a lesser degree even than brown-rot fungi; they can degrade enough lignin to access other cell wall components that are more efficiently degraded (Worrall et al., 1997). The expansion of AA7s was common in all trunk pathogens, with the exception of P. chlamydospora. AA7s are gluco-oligosaccharide oxidases that can oxidize a variety of carbohydrates and can contribute to lignin degradation acting in conjunction with peroxidases [50]. AA3s were expanded the most in N. parvum, and AA9s in E. lata and Dia. ampelina, suggesting that specific oxidative processes are associated with these different dieback pathogens. Indeed, the AA3s -- extracellular hemoflavoenzymes and known components of the secretomes of lignocellulose-degrading fungi [95] -- are involved in degradation of cellulose, hemicellulose, and lignin [96]. AA9s are copper-dependent lytic polysaccharide monooxygenases, previously classified as GH61, and are commonly found in genomes of fungal wood decayers. AA9s enhance the breakdown of lignocellulosic material in combination with cellulolytic enzymes by catalyzing the oxidative cleavage of cellulose, which increases substrate accessibility to other CAZymes [50, 97]. N. parvum together with Dip. seriata also showed expansion of AA1 genes that encode multicopper oxidases, including laccases, which could also participate in lignin breakdown [50].
Secondary metabolites with phytotoxic activity (i.e. toxins) are integral components of the battery of virulence factors of grapevine trunk pathogens [15, 61, 98–102]. Although toxins secreted by some grapevine trunk pathogens have been chemically characterized and tested for virulence, none of the genes involved in their synthesis have been identified to date. In fungi, genes involved in the synthesis and transport of secondary metabolites are typically clustered together with the gene coding for the key biosynthetic enzyme [63, 103]. Large numbers of secondary metabolic clusters were observed in the ascomycete trunk pathogens, mostly associate with the synthesis of (i) polyketides and fatty acid-derived compounds (PKS), (ii) terpenes (TS), and (iii) non-ribosomal peptides and amino acid-derived compounds (NRPS). While NRPS may be responsible for the synthesis of toxic polypeptides [15, 101], clusters centered around the key enzyme polyketide synthase may participate to the production of naphtelenone pentaketide toxins found in T. minima, P. chlamydospora, Dip. seriata and N. parvum [15]. A remarkable expansion of genes associated with non-ribosomal peptides and amino acid-derived compounds was found in N. parvum, while the greatest expansions of families involved in polyketide synthesis (t1PKS) were found in genomes of E. lata and Dia. ampelina. The differences between the Botryosphaeria dieback pathogens N. parvum and D. seriata in gene counts of these secondary metabolite clusters reflect their different rates of wood colonization [104] and the more rapid rate of wood necrosis caused by the former [105].
Our results also showed that grapevine trunk pathogens possess a large number of P450s as found in other wood-rotting organisms [86, 106, 107]. P450s are crucial components of multiple processes ranging from the biosynthesis of secondary metabolites such as toxins and hormones [52, 108] to degradation and detoxification of antimicrobial plant defense compounds [109]. Interestingly, basidiomycetes and ascomycete trunk pathogens show very distinctive expansions of specific CYPs. Of particular interest are the CYP65s which were more abundant in the ascomycete trunk pathogens (e.g. 34 genes in N. parvum and 34 in E. lata) compared to B. cinerea (11) and were not detected in the two basidiomycete analyzed and S. cerevisiae. CYP65s are P450s predicted to participate in pathways of secondary metabolism, including toxin biosynthesis [110].
Conclusions
As part of this study we expanded the currently available genomic resources for grapevine trunk pathogens and incorporated this information with previously released genomes in a comparative analysis to catalogue genes and gene families with putative virulence functions. The draft genomes and their annotated protein-coding genes presented in this paper provide not only the necessary references for in planta expression profiling and whole-genome re-sequencing for genetic diversity and association studies, but also the molecular information required for targeted knock-out mutations, overexpression or gene tagging as protocol for genetic transformation of some of these species are available [111, 112]. Comparisons between in planta and in vitro transcriptomes will define the expression dynamics of the proposed virulence factors during the interaction with the host. Whole genome re-sequencing of multiple isolates will determine the pattern of sequence polymorphisms [113] and structural variations [18] in pathogen populations and their association with pathogen aggressiveness and host range. The functional validation of these potential virulence factors by reverse genetic approaches will ultimately lead to a more comprehensive understanding of the mechanisms underlying the different grapevine trunk diseases, which will enable the development of more accurate diagnostic tools and novel effective control methods.
Declarations
Acknowledgments
This research was funded by the USDA, National Institute of Food and Agriculture, Specialty Crop Research Initiative (grant number 2012-51181-19954). AMC was also partially supported by a Horticulture & Agronomy graduate fellowship (UC Davis), a Horace O. Lanza Scholarship, a Wine Spectator Scholarship, and a The Pearl & Albert J. Winkler Scholarship in Viticulture.
Authors' Affiliations
(1)
Department of Viticulture and Enology, University of California Davis, Davis, USA
(2)
Department of Plant Pathology, University of California Davis, Davis, USA
(3)
Department of Botany and Plant Sciences, University of California Riverside, Riverside, USA
(4)
United States Department of Agriculture - Agricultural Research Service, Crops Pathology and Genetics Research Unit, Davis, USA
Copyright
© Morales-Cruz et al. 2015
This is an Open Access article distributed under the terms of the Creative Commons Attribution License (http://creativecommons.org/licenses/by/4.0), which permits unrestricted use, distribution, and reproduction in any medium, provided the original work is properly credited. The Creative Commons Public Domain Dedication waiver (http://creativecommons.org/publicdomain/zero/1.0/) applies to the data made available in this article, unless otherwise stated.