Research article
Open Access
Differential expression of small RNAs under chemical stress and fed-batch fermentation in E. coli
Received: 28 April 2015
Accepted: 18 November 2015
Published: 10 December 2015
Abstract
Background
Bacterial small RNAs (sRNAs) are recognized as posttranscriptional regulators involved in the control of bacterial lifestyle and adaptation to stressful conditions. Although chemical stress due to the toxicity of precursor and product compounds is frequently encountered in microbial bioprocessing applications, the involvement of sRNAs in this process is not well understood. We have used RNA sequencing to map sRNA expression in E. coli under chemical stress and high cell density fermentation conditions with the aim of identifying sRNAs involved in the transcriptional response and those with potential roles in stress tolerance.
Results
RNA sequencing libraries were prepared from RNA isolated from E. coli K-12 MG1655 cells grown under high cell density fermentation conditions or subjected to chemical stress with twelve compounds including four organic solvent-like compounds, four organic acids, two amino acids, geraniol and decanoic acid. We have discovered 253 novel intergenic transcripts with this approach, adding to the roughly 200 intergenic sRNAs previously reported in E. coli. There are eighty-four differentially expressed sRNAs during fermentation, of which the majority are novel, supporting possible regulatory roles for these transcripts in adaptation during different fermentation stages. There are a total of 139 differentially expressed sRNAs under chemical stress conditions, where twenty-nine exhibit significant expression changes in multiple tested conditions, suggesting that they may be involved in a more general chemical stress response. Among those with known functions are sRNAs involved in regulation of outer membrane proteins, iron availability, maintaining envelope homeostasis, as well as sRNAs incorporated into complex networks controlling motility and biofilm formation.
Conclusions
This study has used deep sequencing to reveal a wealth of hitherto undescribed sRNAs in E. coli and provides an atlas of sRNA expression during seventeen different growth and stress conditions. Although the number of novel sRNAs with regulatory functions is unknown, several exhibit specific expression patterns during high cell density fermentation and are differentially expressed in the presence of multiple chemicals, suggesting they may play regulatory roles during these stress conditions. These novel sRNAs, together with specific known sRNAs, are candidates for improving stress tolerance and our understanding of the E. coli regulatory network during fed-batch fermentation.
Keywords
sRNARNA-seqFermentationChemical stressMicFRybBOmrBCyaRRyhB
Background
Bacteria encode hundreds of small regulatory RNA molecules with typical sizes from 50 to 300 nucleotides that regulate gene expression [1, 2]. Although some sRNAs function by binding to protein targets and sequestering their activities, the majority act via base pairing interactions with target mRNA molecules, thereby affecting their translation and/or stability. The base pairing sRNAs can be divided into cis- and trans-encoded sRNAs that are encoded just opposite or at a different chromosomal location relative to their targets, respectively. The latter group of intergenic sRNAs is characterized by short and imperfect target base-pairing interactions, multiple mRNA targets, and in some bacteria, the requirement of the RNA chaperone Hfq.
The bacterium Escherichia coli has been the model system for the study of sRNAs and it is therefore the organism with the most comprehensive information on sRNA function available [3]. Early approaches for sRNA identification were largely based on high abundance, sequence conservation, and protein co-purification, in particular with Hfq [4]. Systematic screens for sRNAs have focused mostly on intergenic regions and utilized computational methods [5–10], shotgun cloning strategies [11, 12] and high-density oligonucleotide probe arrays [13–15]. In recent years the application of RNA-sequencing (RNA-seq) has led to the identification of hundreds of novel transcripts in diverse bacteria. In E. coli, two studies have used RNA-seq approaches to identify novel sRNAs and detect sRNAs predicted previously with computational methods [16, 17].
Bacterial sRNAs are often expressed in response to changing environmental conditions and function to modulate gene expression. There are a plethora of documented connections between sRNAs and stress, where sRNAs regulate important processes in response to metabolite/nutrient, envelope/outer membrane, oxidative, iron deficiency, anaerobic and pH stress [18, 19]. Chemical stress is routinely encountered during microbial bioprocessing applications due to product toxicity [20–24] because high titers above 100 g per liter are usually required for economically viable production. Despite this, the cellular response and involvement of sRNAs in this process are poorly understood. Biobased production of chemicals is usually performed by high cell density fed-batch fermentation and complete knowledge of regulation of cellular metabolism is critical for achieving improved production. This includes sRNA-derived regulation and its effect on metabolism during the different fermentation phases, such as the fed-batch phase and the transition between exponential and stationary phases. We have used an RNA-seq approach to map the E. coli sRNome during chemical stress and high cell density fermentation with the aim of gaining insights into the chemical stress response and identifying sRNAs with roles in stress tolerance that have potential applications in the design and optimization of future production strains. As significant differences in growth physiology are observed between batch and fed-batch fermentation conditions, we have also studied the expression of sRNAs during these two conditions. Moreover, we have investigated the expression of 462 small RNAs, comprised of previously annotated and 253 novel transcripts, and show that a significant fraction of them are differentially expressed under chemical stress and during high cell-density fermentations.
Discussion
The expression of many hitherto undescribed small RNA transcripts is reported in this study. In relation to the two other RNA-seq studies in E. coli, there is a much greater sequencing depth relative to one study [17] and a comparable sequencing depth to the other study [16]. The former study, with 89395 reads mapping to known sRNAs and 30831 reads mapping to novel sRNAs, employed computational and experimental evidence of transcription initiation combined with RNA-seq data to identify 117 novel intergenic transcripts [17]. The latter study had 3 million reads for annotated sRNAs, 4.3 million reads for novel intergenic regions and reported only 10 novel sRNAs [16]. Although a number of transcripts mapping to intergenic regions with high expression levels were also detected, direct comparison with these is precluded by the fact that only coordinates of entire transcript-containing intergenic regions rather than transcript coordinates are reported [16]. Considering that 117 novel intergenic transcripts were found with low sequencing depth our finding of 253 novel sRNAs with high sequencing depth seems proportionate.
There are many examples of sRNAs with expression changes in the same direction under the studied acid and organic solvent stress conditions (Fig.
6
). Consequently the differential expression of these sRNAs could mediate similar functional outcomes within but also between the two chemical groups (Fig.
7
). For the sRNAs exhibiting differential expression in multiple chemical stress conditions (Fig.
6
) three overall groups emerged. These include groups of sRNAs exhibiting solely upregulation, solely downregulation or mixed directions of differential expression in multiple conditions, respectively.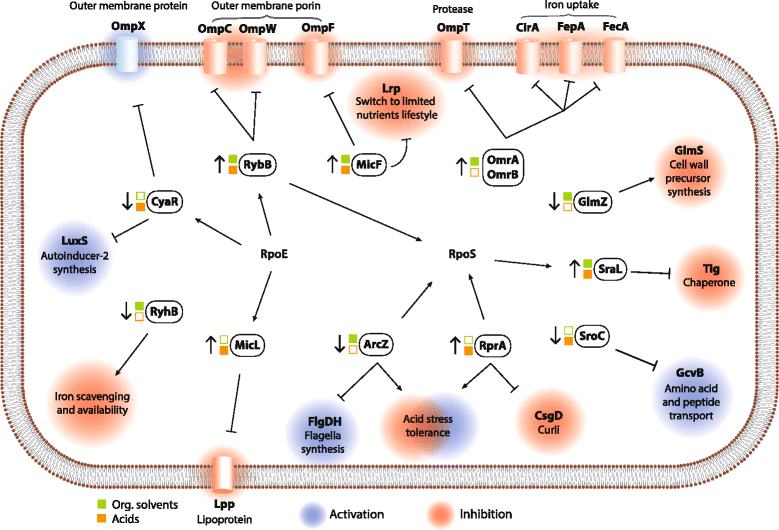 For the group of sRNAs with increased differential expression in multiple stress conditions, several of these are involved in modulating the expression of outer membrane proteins. The MicF and RybB sRNAs are upregulated in nearly all of the 13 tested conditions and modulate the bacterial cell surface by regulating expression of the major outer membrane proteins (OMPs), OmpF and OmpC, which control the transport of molecules into and out of the cell [37]. In particular, RybB is a global regulator that is part of the σE envelope stress response activation network [38–42] and functions to impart repressor functions to the σE regulon to maintain envelope homeostasis [43]. As porins comprise only a subset of its targets, the scope of control by RybB extends well beyond the cell envelope and is connected to other global regulatory systems [43]. The MicF sRNA is also known to bind to other targets including the global transcription factor Lrp, where it indirectly activates genes in the Lrp regulon via antisense base-pairing with the translation initiation region of lrp mRNA [44]. As Lrp is considered to be an activator of genes required during nutrient-poor conditions and a repressor of genes required in nutrient-rich conditions [44], its potential repression by MicF suggests an increase in energy consumption during chemical stress. The OmrA and OmrB sRNAs are upregulated in five and six chemical stress conditions, respectively, and regulate expression of β-barrel family OMPs including gated channels for iron-siderophore complexes (CirA, FecA, FepA) and the protease OmpT [45]. The newly characterized MicL sRNA is upregulated in five chemical stress conditions and is one of the increasing numbers of sRNAs that originate from within protein-coding rather than intergenic regions only [36, 46]. It is part of the σE regulon and regulates expression of the abundant outer membrane lipoprotein Lpp by binding to the lpp mRNA and inhibiting translation [31]. Taken together, the data indicate that a major physiological outcome mediated by sRNAs under chemical stress is the repression of outer membrane protein expression, likely as a defense mechanism potentially limiting the entry of harmful extracellular molecules.
Other sRNAs with increased expression under multiple chemical stress conditions include the RpoS-dependent SraL RNA, the RpoS-targeting RNA RprA, and the protein-binding CsrC RNA (Figs. 6a and 7). SraL targets the ribosome-associated protein folding chaperone, trigger factor, via binding to the translation initiation region of tig mRNA [32]. Upregulation of SraL could function to adjust the level of trigger factor to reduced ribosome and protein synthesis in stationary phase and under chemical stress. RprA activates expression of RpoS by binding to the 5′-UTR of rpoS mRNA in an Hfq-dependent manner [47, 48]. The strong increases in RprA expression observed in the presence of acetate, itaconic acid and succinic acid is supported by documented activation of RprA under conditions of cell envelope stress and acidification [49, 50]. Furthermore, expression of RprA has been shown to confer acid resistance when overexpressed together with other RpoS-activating sRNAs, DsrA and ArcZ [49, 51]. The CsrC sRNA binds to and sequesters the mRNA binding protein CsrA via multiple GGA motifs in the loops of predicted stem-loop structures and thereby competes with mRNAs for CsrA binding. Increased CsrC expression in multiple chemical stresses would serve to relieve the effects of CsrA, which represses stationary phase gene expression and activates genes needed for growth [52].
The sRNAs with decreased expression under multiple chemical stress conditions include the CRP-dependent McaS and CyaR RNAs and the RpoS-targeting RNA ArcZ (Figs. 6a and 7). CyaR represses expression of LuxS, NadE, and OmpX by base-pairing with the translation initiation region of target mRNAs [30]. Downregulation of CyaR and possible de-repression of LuxS suggests an increase in quorum sensing during acid stress. McaS is a dual-function RNA that regulates motility and biofilm formation through base-pairing with target mRNAs and via protein binding to the CsrA protein, a negative regulator of e.g., the expression of exopolysaccharide β-1,6 N-acetyl-D-glucosamine (PGA) biosynthesis genes [28, 53]. ArcZ activates RpoS expression by base pairing to the rpoS mRNA at overlapping positions targeted by the RprA and DsrA sRNAs [54]. In addition to repression of several specific mRNA targets, overexpression of ArcZ results in differential expression of over 750 genes and loss of motility [55].
Other sRNAs show a mixed response, with increased expression in the presence of some chemicals and decreased expression with others. The RyhB and GlmZ sRNAs are involved in iron and glucosamine-6-phosphate homeostasis [56, 57], respectively, and show similar patterns of mixed differential expression with decreases in the presence of organic solvents and increases in acids (Fig. 7). The combination of upregulation of OmrA/B and downregulation of RyhB suggests a reduction of iron availability during organic solvent stress. The strong increase observed in GcvB expression in the presence of threonine is consistent with its role in regulating expression of amino acid transporters and the thrL leader peptide upstream of the threonine biosynthetic operon [58, 59]. A recent investigation has revealed that the SroC RNA functions as an RNA sponge by base pairing with GcvB, triggering its degradation by RNase E, and thereby relieving repression of genes in the GcvB regulon [60]. Their expression is also inversely correlated in the two conditions in which both are differentially expressed.
A number of the sRNAs exhibiting differential expression under chemical stress including OmrA, OmrB, RprA, CsrC, McaS, ArcZ and GcvB are incorporated into complex networks controlling motility and biofilm formation [61, 62]. These regulatory circuits allow sRNAs to integrate extracellular signals to control transcription factor expression and generate appropriate physiological outputs. The mRNAs encoding the RpoS sigma subunit of RNA polymerase and the master regulators of flagella expression (flhDC) and curli synthesis (CsgD) have been shown to be targeted by multiple sRNAs and are thus major hubs for sRNA regulation. The above sRNAs regulate the expression of at least one of these three mRNAs via base pairing interactions with the exception of CsrC that acts indirectly via the RNA-binding protein CsrA [54, 63–66].
Conclusions
In this study, RNA sequencing was used to monitor expression of intergenic small RNAs in the bacterium E. coli during high cell density fermentation and chemical stress conditions. A total of 462 transcripts have been investigated, including 253 hitherto unknown transcripts, thereby more than doubling the number of intergenic small RNAs described in this organism. Differential expression analysis of fermentation samples showed that three-quarters of the eighty-four transcripts with significantly changed expression levels are novel, supporting possible regulatory roles for these transcripts in adaptation during different fermentation stages. Further investigation of these could provide new insight into E. coli regulation during fed-batch fermentation, which is important for a complete understanding of metabolism that often affects biochemical production. The study has identified twenty-nine novel and previously annotated small RNAs that exhibit differential expression in multiple chemical stress conditions. The effects of differentially expressed sRNAs with known function indicate a general downregulation of many outer membrane proteins, of which many are porins, suggesting a decreased influx of molecules into the cell (Fig. 7). Other effects appear to be decreased availability of iron, RpoS upregulation, as well as an increase in quorum sensing. Overall the differentially expressed sRNAs include several that regulate envelope homeostasis and control bacterial lifestyle, underscoring the involvement of specific sRNAs in coordinating the necessary physiological changes to respond to chemical stress. This work provides insights into sRNAs involved in the chemical stress response and their relevance for engineering in biotechnological applications.
Abbreviations
ace:

acetate
but:

butanol
byr:

3-hydroxybutyrolactone
deca:

decanoic acid
diol:

1,4-butanediol
furf:

furfural
ger:

geraniol
ita:

itaconic acid
lev:

levulinic acid
ser:

serine
suc:

succinic acid
thre:

threonine
Declarations
Acknowledgments
We thank María Gómez-Lozano for valuable advice on sRNA sequencing and data analysis and Sheila Ingemann Jensen for advice and material for construction of the overexpression plasmids. Funding from the Novo Nordisk Foundation is gratefully acknowledged.
Open AccessThis article is distributed under the terms of the Creative Commons Attribution 4.0 International License (http://creativecommons.org/licenses/by/4.0/), which permits unrestricted use, distribution, and reproduction in any medium, provided you give appropriate credit to the original author(s) and the source, provide a link to the Creative Commons license, and indicate if changes were made. The Creative Commons Public Domain Dedication waiver (http://creativecommons.org/publicdomain/zero/1.0/) applies to the data made available in this article, unless otherwise stated.
Authors' Affiliations
(1)
Novo Nordisk Foundation Center for Biosustainability, Technical University of Denmark, Hørsholm, Denmark