Research article
Open Access
A transcriptional blueprint for a spiral-cleaving embryo
Received: 27 January 2016
Accepted: 29 June 2016
Published: 5 August 2016
Abstract
Background
The spiral cleavage mode of early development is utilized in over one-third of all animal phyla and generates embryonic cells of different size, position, and fate through a conserved set of stereotypic and invariant asymmetric cell divisions. Despite the widespread use of spiral cleavage, regulatory and molecular features for any spiral-cleaving embryo are largely uncharted. To address this gap we use RNA-sequencing on the spiralian model Platynereis dumerilii to capture and quantify the first complete genome-wide transcriptional landscape of early spiral cleavage.
Results
RNA-sequencing datasets from seven stages in early Platynereis development, from the zygote to the protrochophore, are described here including the de novo assembly and annotation of ~17,200 Platynereis genes. Depth and quality of the RNA-sequencing datasets allow the identification of the temporal onset and level of transcription for each annotated gene, even if the expression is restricted to a single cell. Over 4000 transcripts are maternally contributed and cleared by the end of the early spiral cleavage phase. Small early waves of zygotic expression are followed by major waves of thousands of genes, demarcating the maternal to zygotic transition shortly after the completion of spiral cleavages in this annelid species.
Conclusions
Our comprehensive stage-specific transcriptional analysis of early embryonic stages in Platynereis elucidates the regulatory genome during early spiral embryogenesis and defines the maternal to zygotic transition in Platynereis embryos. This transcriptome assembly provides the first systems-level view of the transcriptional and regulatory landscape for a spiral-cleaving embryo.
Keywords
Spiral cleavageLophotrochozoanAnnelidTranscriptomeMaternal contributionZygotic transcription
Background
Over one-third of all animal phyla belong to the clade Spiralia, which includes annelids like earthworms and leeches, mollusks like snails and clams, flatworms like planarians, and many other smaller, enigmatic phyla [
1
]. Spiralians comprise one of the three major radiations of bilaterian animals, grouped as lophotrochozoans (Fig.
1b
) that originated during the Precambrium utilizing a common mode of early embryogenesis called spiral cleavage [
2
–
5
]. Spiral cleavage refers to a pattern of stereotypic, invariant asymmetric cell divisions that generate cells of different size and fate during early embryogenesis [
1
]. Most obvious after the 4-cell stage, the orientations of mitotic spindles during subsequent cell divisions are tilted and the orientations of the spindles alternate in regard to their positions along the animal-vegetal axis of the embryo, generating daughter cells that assume a spiral arrangement. Each embryonic cell is defined by its position and birth order, and exhibits a distinct cell fate. These patterns, birth orders, and cell fates of embryonic cells are not only invariant within one species, but are also conserved between species of the same phylum and even among species of several spiralian phyla including annelids and mollusks. Thus, this mode of development enables comparisons between individual embryonic founder cells from different phyla, tracing the common origin of individual cells back to the Precambrian age.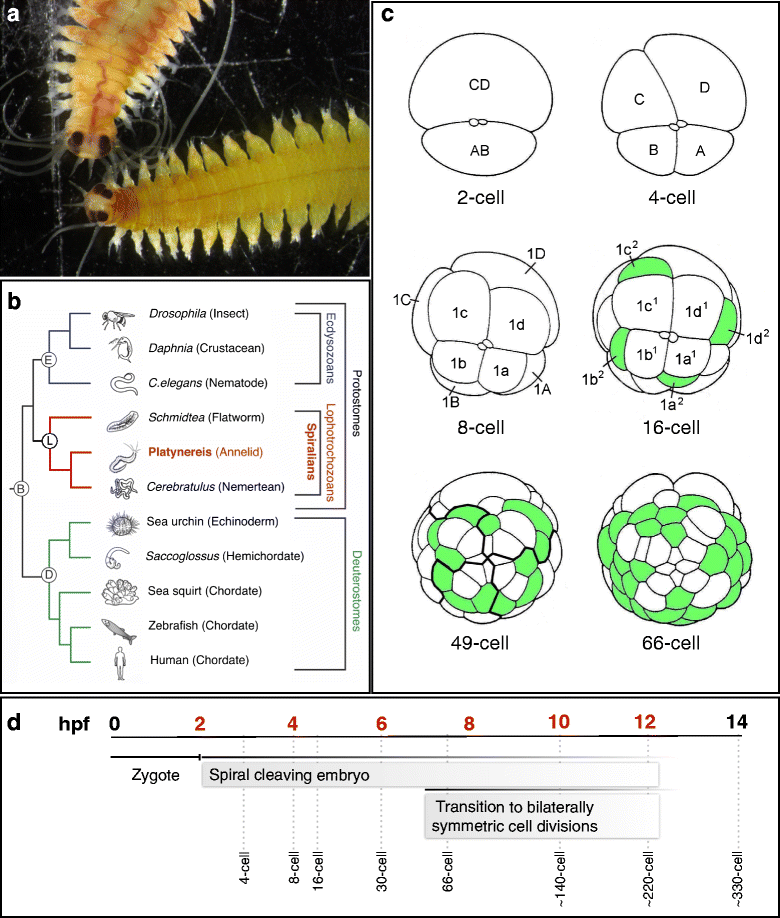 Over the last decade the spiralian Platynereis dumerilii has emerged as an excellent model organism for the study of development, evolution and marine biology (Fig. 1a) [6, 7]. One of the main advantages of this marine annelid is that its body plan and genome has maintained many ancient features [8, 9]. For example, the Platynereis genome has retained ancestral complements for gene families and gene structure, like the wnt family, with 12 of 13 ancient wnt genes conserved in Platynereis [10, 11]. Furthermore, another comparative study analyzing exon-intron structure shows that Platynereis genes are more similar to human genes than to genes from insects and nematodes [12]. This suggests more conserved genomic features between this annelid and vertebrates and an increase in evolutionary changes in insect and nematode lineages (Fig. 1b). Platynereis also exhibits many common features with vertebrates including similar signatures of developmental gene expression during the formation of the brain, central nervous system and eye development, and a similar neuropeptide complement [13–17], features that were lost or strongly modified in the evolutionarily closer model systems Caenorhabditis elegans and Drosophila melanogaster. Although more recent molecular analyses have placed nereids, like Platynereis, into a more derived phylogenetic position within annelids [18, 19], Platynereis has emerged as a prominent model for comparative studies to infer early bilaterian characteristics.
Another important advantage of Platynereis is its accessibility and amenability for experimental analyses. The entire life-cycle of Platynereis can be recreated under laboratory conditions, and its lunar synchronized mating behavior makes it possible to collect thousands of synchronously developing embryos at distinct embryonic stages [6]. Additionally, several experimental avenues have been pioneered in recent years in Platynereis including zygote microinjection, transient and stable transgenesis, and various genome-modifying technologies that allow functional studies [20, 21].
The first 14 h of Platynereis development comprises early embryogenesis, from fertilization to an early protrochophore stage (~330 cells) that has hatched from the vitelline membrane formed shortly after fertilization (Fig. 1c and d) [22–24]. At fertilization and triggered by sperm contact, the fertilized egg completes the meiotic divisions and generates two polar bodies at the animal pole before the zygote enters the first mitotic cell division shortly after 2 h post fertilization (hpf). The first two cell divisions are highly unequal giving rise to four large embryonic founder cells of different size called A, B, C, and D (Fig. 1c). The spiral cleavage mode of embryogenesis is mainly confined to the next four rounds of cell divisions. Each of the four founder cells and their progeny exhibit a similar series of asymmetric cell divisions oriented along the animal-vegetal axis of the embryo, generating animal pole and vegetal pole daughter cells. During consecutive divisions, the orientation of mitotic spindles alternate and generate quartets of daughter cells that are positioned clockwise and counterclockwise when viewed from the animal pole, assuming a spiral arrangement. Each embryonic cell can be identified by its size and position, and has been shown to have a distinct cell fate [24, 25]. The embryonic cells begin to transition to a bilaterally symmetric mode of division after 7hpf, though alternating spindle orientations can still be observed. The bilaterally symmetric pattern of cell divisions generates a pattern of similarly sized cells on the left and right side of the embryo. The larger D-quadrant bears special significance in this transition by creating two large cells, the somatoblast named '2d112', and the mesentoblast named '4d' [22, 24]. Both cells divide symmetrically and perpendicular to the animal-vegetal axis, segregating two founder cells each whose progeny will form the left and right side of the trunk ectoderm and trunk mesoderm [22, 24–26]. Thus, by 7hpf, the founder cells for each germ layer have been segregated, and after 9hpf, the germ cells segregate from the mesodermal cell lineages [27, 28]. Twenty-four embryonic cells have stopped dividing by 12hpf and begin to differentiate into multi-ciliated cell types forming a ciliated ring, the prototroch. By 14hpf, an early protrochophore stage of ~330 cells, Platynereis has hatched and rotates freely [23, 24].
Although the early development of Platynereis has been described and some molecular data for early embryonic stages is emerging [11, 23, 29, 30], a comprehensive transcriptome study for early embryonic stages is lacking. Current transcriptome studies are confined to genes of interests or are focused on later stages [31–33]. Comprehensive sequencing and functional annotation of a developmental Platynereis transcriptome is the first crucial step for understanding the molecular dynamics during early development, including maternal and zygotic contributions, and the complex regulatory networks that lead to the different cell fates. The advent of next-generation RNA-sequencing technologies allows us to not only reconstruct gene models, but also to obtain the precise expression level of every transcript throughout early development.
Here we describe the first comprehensive transcriptome draft during early development in Platynereis using a de novo assembly strategy. We performed mRNA deep sequencing of seven different early developmental stages using Illumina HiSeq sequencing with read lengths ~75–100 bp. 273,087 transcripts were assembled and 51,260 of the transcripts have potential protein-coding regions larger than 100 amino acids. The assembled genes were annotated by comparison of various known protein and pathway databases such as Swiss-Prot [34], Pfam [35], Gene Ontology [36], and KEGG [37]. We identify around 1000 to 2520 differentially expressed genes between adjacent stages with a FDR < 0.001, and our analysis allows for the temporal onset and level of transcription to be described for each of 28,500 genes. Importantly, our data analyses identify maternal contributions and several waves of zygotic transcription during and after the completion of spiral cleavages. This Platynereis transcriptome provides the first in-depth view of the transcriptional and regulatory landscapes for a spiral-cleaving embryo, generates a molecular platform for comparison with vertebrates and other model organisms to identify conserved core biological processes necessary for early animal embryogenesis, and enables insights into plasticity and evolution of early animal development.
Discussion
In this study, we generated the first transcriptomic map of Platynereis dumerilii from more than one and a half billion reads sequenced during seven early developmental stages. Such deep sequencing provides an opportunity to explore gene expression profiles with extremely high resolution. As the reference genome is not available yet, a de novo transcriptome assembly strategy was employed. We evaluated and demonstrated the high quality of our assembly in terms of the number of full-length reconstruction for the known Platynereis dumerilii cDNA sequences as well as homologous genes. The correlation analysis also indicates a high level of reproducibility in our replicates. Our data provides a detailed blueprint of spiralian embryogenesis that will impact future research endeavors in many realms of biology including: (1) fundamental processes of development such as the maternal to zygotic transition and embryonic gene regulatory networks, (2) core cellular processes such as the regulation of cell cycle and asymmetric cell division, (3) comparative analyses of evolution and development such as ancestral reconstruction of maternal contributions to eggs, germ layer specification, and the deciphering of gene regulatory networks that specify lineages and cell type, as well as (4) genome evolution illuminating the content of the ancestral bilaterian transcriptome and genome.
Conclusions
In summary, we have provided the first comprehensive transcriptome study of spiralian embryogenesis for the marine annelid Platynereis dumerilii, reporting the sequence, annotation, and stage-specific expression level for 28,580 genes. The unprecedented depth in sequencing of seven developmental stages identified the dynamic and invariant transcriptional landscape from the one cell zygote to ~330 cell stage, including the maternal contribution of 11,904 genes, the maternal clearance of over 4000 expressed genes, and both the minor and major waves of zygotic expression. Quantifying the expression levels for each expressed gene at each developmental stage analyzed captures the transcriptional input into every biological process during spiralian embryogenesis and outlines the gene regulatory networks specifying cell lineages and germ layers in the Platynereis embryo. Our gene models and functional annotation in this spiralian/lophotrochozoan model system may serve as a valuable resource to further decipher the gene regulatory networks patterning cell lineages and cell fates during early spiralian development, providing crucial systems-level data to infer conserved and novel molecular features of early bilaterian development and evolution.
Abbreviations
BLAST, Basic Local Alignment Search Tool; bp, base pair; CEGMA, Core Eukaryotic Genes Mapping Approach; EST, Expressed sequence tag; FPKM, Fragments Per Kilobase per Million mapped reads; GO, gene ontology; GRN, gene regulatory networks; hpf, hours post fertilization; KEGG, Kyoto Encyclopedia of Genes and Genomes; MCL, Markov Cluster Algorithm; MZT, maternal to zygotic transition; nt, nucleotide; ORF, open reading frame; TMM, Trimmed Mean of M-values; WMISH, whole-mount in situ hybridization
Declarations
Acknowledgements
We appreciate Dr. Volker Brendel's essential support in the initial phase of the project. We would like to thank Edward Letcher, Roy Holmes, Ben Wu, and Kali Levsen for handling the polychaete culture. We would also like to thank the anonymous reviewers for comments on the manuscript.
Funding
Funding for this work was provided by the Roy J. Carver Charitable Trust and the National Science Foundation (Award ID 1455185) to SQS.
Authors' contributions
HCC and SQS conceived of the study. HCC performed the bioinformatics tasks and drafted the manuscript. MMP cloned genes, carried out in situ hybridizations in early stages, and helped to write the manuscript. BRB collected the RNA for sequencing, cloned genes, and performed the phylogenetic analyses. SQS designed and coordinated the study, and wrote the manuscript. All authors read, corrected and approved the final manuscript.
Competing interests
The authors declare that they have no competing interests.
Consent for publication
Not applicable.
Ethics approval and consent to participate
Not applicable.
Open AccessThis article is distributed under the terms of the Creative Commons Attribution 4.0 International License (http://creativecommons.org/licenses/by/4.0/), which permits unrestricted use, distribution, and reproduction in any medium, provided you give appropriate credit to the original author(s) and the source, provide a link to the Creative Commons license, and indicate if changes were made. The Creative Commons Public Domain Dedication waiver (http://creativecommons.org/publicdomain/zero/1.0/) applies to the data made available in this article, unless otherwise stated.
Authors' Affiliations
(1)
Department of Genetics, Development and Cell Biology, Iowa State University, Ames, USA
(2)
Present Address: National Cancer Institute, US National Institutes of Health, Bethesda, USA
(3)
Present Address: Department of Pediatrics, University of Chicago, Chicago, USA