Research article
Open Access
Atlantic salmon populations reveal adaptive divergence of immune related genes - a duplicated genome under selection
Received: 27 February 2016
Accepted: 30 June 2016
Published: 11 August 2016
Abstract
Background
Populations of Atlantic salmon display highly significant genetic differences with unresolved molecular basis. These differences may result from separate postglacial colonization patterns, diversifying natural selection and adaptation, or a combination. Adaptation could be influenced or even facilitated by the recent whole genome duplication in the salmonid lineage which resulted in a partly tetraploid species with duplicated genes and regions.
Results
In order to elucidate the genes and genomic regions underlying the genetic differences, we conducted a genome wide association study using whole genome resequencing data from eight populations from Northern and Southern Norway. From a total of ~4.5 million sequencing-derived SNPs, more than 10 % showed significant differentiation between populations from these two regions and ten selective sweeps on chromosomes 5, 10, 11, 13–15, 21, 24 and 25 were identified. These comprised 59 genes, of which 15 had one or more differentiated missense mutation. Our analysis showed that most sweeps have paralogous regions in the partially tetraploid genome, each lacking the high number of significant SNPs found in the sweeps. The most significant sweep was found on Chr 25 and carried several missense mutations in the antiviral mx genes, suggesting that these populations have experienced differing viral pressures. Interestingly the second most significant sweep, found on Chr 5, contains two genes involved in the NF-KB pathway (nkap and nkrf), which is also a known pathogen target that controls a large number of processes in animals.
Conclusion
Our results show that natural selection acting on immune related genes has contributed to genetic divergence between salmon populations in Norway. The differences between populations may have been facilitated by the plasticity of the salmon genome. The observed signatures of selection in duplicated genomic regions suggest that the recently duplicated genome has provided raw material for evolutionary adaptation.
Keywords
Whole genome duplicationAdaptationAquacultureImmune systemGWASResequencingSelective sweepSNPsSalmo salar
Background
In addition to being one of the most highly prized freshwater fish for recreational fishing, the Atlantic salmon (Salmo salar L.) is one of the most economically important aquaculture species worldwide. Its natural distribution is throughout the North Atlantic, ranging from Long Island Sound to Ungava Bay in the west and from Northern Portugal to the Barents Sea in the east [1]. This distribution is the result of postglacial colonization of ecosystems that became available when the glacial ice retreated about 10,000 years ago [2].
Atlantic salmon is characterised by highly significant, hierarchically structured population genetic divergence, with the largest differences observed between the European and North American lineages [3–5]. This divergence is also observed on a regional scale, presumably as a consequence of the colonization process associated with the retreat of the glacier [6, 7]. Moreover, local scale differentiation exists, for example between neighbouring rivers [8–10] and among tributaries within the same river which might be explained by restricted gene flow, genetic drift and adaptation [11–13].
Atlantic salmon exhibit a relatively complex life history that includes spawning and juvenile rearing in freshwater followed by extended ocean migrations to the feeding grounds [14]. As a consequence, salmon go through several distinct transitions that are characterized by changes in behaviour and physiology [15]. They are also able to adapt to varying local conditions throughout their range of environments [16], exemplified by their ability to inhabit rivers with a wide range of temperatures, from Spain to the colder Arctic latitudes [17]. Previous studies have shown differences in temperature and climate to be associated with genetic differences between salmon populations [7, 18], and latitude also seems to be correlated with allele frequencies of markers relevant to immune response in American and European Atlantic salmon populations, possibly due to temperature induced differences in pathogen-driven selection or other environmental factors [19–21].
In the wild, Atlantic salmon are constantly confronted with a range of pathogens, and have consequently developed numerous innate and adaptive immune mechanisms to overcome infectious challenges [22]. Recent studies suggest that the prevalence of parasites and infectious diseases is increasing in wild populations partly due to global warming [23, 24]. Given the commercial relevance of Atlantic salmon and the recent release of a reference genome [25], particular effort should be made to identify genes targeted by natural selection in wild Atlantic salmon populations that ultimately can lead to optimized aquaculture practices. The potential relevance of these findings for the Atlantic salmon farming industry is exemplified by the identification of Infectious Pancreatic Necrosis (IPN) Virus resistance [26] and age at maturity associated genes [27, 28]. A relatively recent whole genome duplication occurred in the salmonid lineage some 80 million years ago [29], resulting in a partly tetraploid genome undergoing rediploidization. Consequently the genome contains many paralogous regions that could provide raw material for evolution as paralogous genes and regions can diversify and acquire new functions [30].
Based upon the analysis of microsatellite and SNP markers, several studies have demonstrated that there are highly significant genetic differences between Atlantic salmon populations located in the north and south of Norway [31–33]. However, the genomic regions and genes behind the differences have not been investigated in detail, and consequently, the potential adaptive significance of this genetic divergence remains elusive.
Recently, a genome wide association study (GWAS) based upon whole genome resequencing data revealed a selective sweep in Atlantic salmon strongly associated with age of maturation [
27
]. Using a similar methodological approach, the present study aimed to identify genes and genomic regions diverging between Atlantic salmon populations in the north and south of Norway. In order to achieve this objective, salmon populations inhabiting the four rivers Tanaelva, Lakselv, Altaelva and Reisaelva from Northern Norway and the four rivers Gloppenelva, Eidselva, Suldalslågen and Årdalselva from Southern Norway were chosen for resequencing using DNA pools (
n
 = 30 fish per river, Fig.
1
). The major finding in this study was the observation that diversifying natural selection has acted on immune related genes causing adaptive divergence between populations in the north and south of Norway.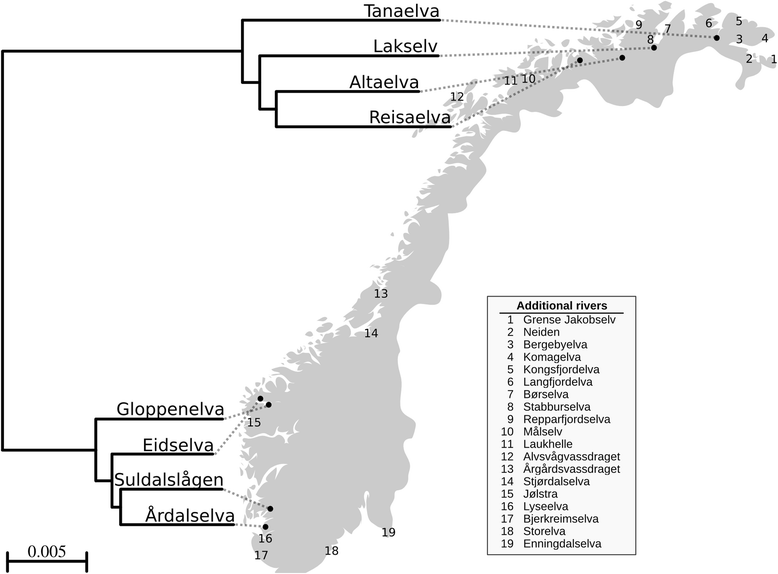 Results and discussion
The second most significant selective sweep was found on Chr 5 (Fig. 2b) and included the stress and immune response transcription factor genes nkrf and nkap; zbtb33 encoding a transcriptional regulator binding to methylated CpG dinucleotides, and a gene with unknown function, sowahc. Both Nkrf and Nkap are transcription factors which regulate the NF-kB pathway in which Nkap activates many cell processes including inflammation, immunity, differentiation, cell growth and apoptosis, while Nkrf mediates transcriptional repression of certain Nkap responsive genes. Since NF-kB signaling pathways activate the immune system in the host, these proteins are key targets for proteases expressed by invading pathogens [40]. Functional studies of the Nkap protein have revealed roles for this protein in T-cell maturation [41] and mRNA splicing [42]. To our knowledge, no previous studies have identified functionally significant SNPs associated with any of the four genes located within this sweep, however one of the SNPs found in nkap is located in a highly conserved region necessary for transcriptional repression. Here the valine is conserved in other species representing the ancestral variant while in Northern Norway methionine is most common (Additional file 1: Figure S2). This finding may be related to differences in immune defense between salmon from these two regions, a suggestion supported by the fact that the NF-kB pathway is differently regulated in IPN resistant salmon [43]. Further studies will reveal how these SNPs modulate the function of NF-kB and virus response or if other functional properties are associated with the selective sweep on Chr 5.
The most significant sweep was found on Chr 25 and contained a cluster of five mx (myxovirus resistance) genes known to be involved in defense against viruses. Three of these mx genes contained missense mutations; mx1-1, mx1-2 and mx2-1 (Fig. 2c). These proteins are dynamin-like GTPases induced upon virus infection through the innate interferon system. It has been shown that they can act broadly against both DNA and RNA viruses and specifically against certain viruses [44] and studies in mouse, human and chicken have shown that single missense mutations in Mx1 and Mx2 can confer such specific responses [45–48]. It is possible that the identified missense SNPs in the mx genes reflect specific adjustments to different viral disease pressures between northern and southern populations of salmon. We identified missense SNPs in all regions of the protein including a SNP in the antiviral specificity domain in exon 13 (Additional file 1: Figure S3). This SNP represents a structurally relevant amino acid substitution, where arginine seems to be the ancestral variant and cysteine the derived variant dominating in the northern population (Chr 25 position: 47,120,121). Likewise, SNPs in this domain have been associated with specific virus resistance in chicken [49, 50] and pig [51]. SNPs in mx genes have also been investigated in another fish species, the turbot [52], however, properties related to protection against viruses were not investigated in this study. In rainbow trout (Oncorhynchus mykiss) genetic variation in mx between strains in exon 3–6, was correlated with susceptibility to infectious hematopoietic necrosis virus (IHNV) [53]. This virus also infects Atlantic salmon and our discovery of a missense mutation in exon 6 suggests that salmon could have adapted to the IHNV (Additional file 1: Figure S3). In addition, different strains of rainbow trout display variable susceptibility to this virus [54]. In this study we cannot elucidate the functional significance of the acquired SNPs in mx in Northern Norway, however, further studies will reveal whether any of these changes have been involved in host-virus adaptation [55].
Atlantic salmon aquaculture involves rearing domesticated fish that originate from commercial breeding programs. Forty wild populations from both the north and south of Norway were sampled when establishing the national breeding programs for salmon [60]. However, analyses of genetic markers demonstrate that there is a dominance of salmon from Southern Norway in the domesticated lines currently in production [61]. Genetic analyses of farmed salmon escapees in Norway have uncovered genetic introgression into native salmon populations in both Northern and Southern Norway, but the biological consequence remains unknown [32, 61, 62]. Consequently the results from the present study, where adaptive genetic divergence between wild salmon from populations located in the north and south of Norway was revealed, it is likely that the potential negative genetic impact of domesticated salmon introgression is greater in populations located in northern regions, since the farmed fish originate mostly from wild Southern Norway populations.
Conclusion
In this study we performed a GWAS by genome resequencing with the aim to screen the Atlantic salmon genome for genetic differentiation between the northern and southern populations in Norway. By investigating eight rivers we uncovered ten particularly striking sweeps including two clusters of immune related genes harboring missense mutations. A feasible interpretation is that different populations of Atlantic salmon have historically been exposed to different selection pressures in the form of pathogens. Some of these adapted alleles could be advantageous for aquaculture production which is currently hampered by a number of diseases, including virus infections [63]. Future studies should include gene editing of immune genes found in these selective sweeps [64, 65] in combination with viral exposure experiments. Within these experiments, viruses relevant to salmon aquaculture should be the primary focus since finding specific resistance alleles can be of significant value to the industry and could also be used for protecting wild fish against high disease pressures posed by open cage aquaculture [66]. Upon finding the protective alleles, selective breeding on individuals with beneficial haplotypes could lead to increased welfare for aquaculture salmon, decreased disease pressure on wild populations and could also be economically favorable for the industry. On the other hand, further studies should investigate the impact of genetic introgression from fertile aquaculture escapees on the adaptive genetic properties in wild populations. To reduce the risk of this unwanted loss of local adaptation and alteration of fitness-related traits, a sustainable solution would be the use of sterile fish in aquaculture, especially in Northern Norway. Future studies should also investigate whether paralogous regions of selective sweeps have undergone positive selection or not, as the latter scenario would suggest an evolutionary mechanism which provides higher adaptive possibilities when a genome is partially tetraploid.
Abbreviations
bp, base pai; Chr, chromosome; FDR, false discovery rate; FST, fixation index; GWAS, genome-wide association study; IHNV, infectious hematopoietic necrosis virus; IPN, infectious pancreatic necrosis; kb, kilo bases; SNP, single nucleotide polymorphism; WGD, whole genome duplication
Declarations
Acknowledgements
Samples were generously supplied by a number of agencies and persons. We wish to thank coastal fishermen in Troms and Finnmark, Norwegian Institute of Nature Research, Statens Naturoppsyn, Rådgivende Biologer AS, Fylkesmannen i Nord-Trøndelag and local fishermen in Enningdalselva for providing samples. We would also like to thank Anne Grethe Sørvik for expert technical assistance.
Funding
This project was financed by the Norwegian research council (NFR) and their HAVBRUK-BIOTEK 2021 program (project number 226221- SALMAT). The funders had no role in study design, data collection and analysis, decision to publish, or preparation of the manuscript.
Availability of data and materials
Genomic sequences from all sequenced pools used in this study have been made available on SRA with Bioproject number PRJNA305872. A list of high quality SNPs has been deposited at http://marineseq.imr.no/northsouth2016/.
Authors' contributions
AW, KAG, VW, CJR and RBE conceived and designed the experiments. FA, EKS and GD conducted laboratory experiments. FA, EKS, TF, CJR, AW and RBE analyzed the data. VW, EN, MO and JPV provided samples for analysis. EKS, FA, KAG, AW and RBE wrote the first draft of the paper. All authors read and approved to the final manuscript.
Competing interests
The authors declare that they have no competing interests.
Consent for publication
Not applicable.
Ethics approval and consent to participate
Scale samples from adult wild salmon in the rivers were collected by recreational anglers. Scale samples of salmon from four of the northern rivers were collected in commercial coastal fisheries for salmon. Thus no permits/licenses regarding the collection of these samples were required. Juvenile samples from other rivers were collected by own efforts or by several cooperating agencies with permits from the County Governor in the respective counties.
Open AccessThis article is distributed under the terms of the Creative Commons Attribution 4.0 International License (http://creativecommons.org/licenses/by/4.0/), which permits unrestricted use, distribution, and reproduction in any medium, provided you give appropriate credit to the original author(s) and the source, provide a link to the Creative Commons license, and indicate if changes were made. The Creative Commons Public Domain Dedication waiver (http://creativecommons.org/publicdomain/zero/1.0/) applies to the data made available in this article, unless otherwise stated.
Authors' Affiliations
(1)
Institute of Marine Research, Bergen, Norway
(2)
Department of Biology, University of Bergen, Bergen, Norway
(3)
Natural Resources Institute Finland, Helsinki, Finland
(4)
Kevo Subarctic Research Institute, University of Turku, Turku, Finland
(5)
Department of Medical Biochemistry and Microbiology, Uppsala University, Uppsala, Sweden
(6)
Association for Water and Environment of Western Uusimaa, Uusimaa, Finland