Research article
Open Access
Global transcriptional analysis suggests Lasiodiplodia theobromae pathogenicity factors involved in modulation of grapevine defensive response
Received: 19 March 2016
Accepted: 19 July 2016
Published: 11 August 2016
Abstract
Background
Lasiodiplodia theobromae is a fungus of the Botryosphaeriaceae that causes grapevine vascular disease, especially in regions with hot climates. Fungi in this group often remain latent within their host and become virulent under abiotic stress. Transcriptional regulation analysis of L. theobromae exposed to heat stress (HS) was first carried out in vitro in the presence of grapevine wood (GW) to identify potential pathogenicity genes that were later evaluated for in planta expression.
Results
A total of 19,860 de novo assembled transcripts were obtained, forty-nine per cent of which showed homology to the Botryosphaeriaceae fungi, Neofusicoccum parvum or Macrophomina phaseolina. Three hundred ninety-nine have homology with genes involved in pathogenic processes and several belonged to expanded gene families in others fungal grapevine vascular pathogens. Gene expression analysis showed changes in fungal metabolism of phenolic compounds; where genes encoding for enzymes, with the ability to degrade salicylic acid (SA) and plant phenylpropanoid precursors, were up-regulated during in vitro HS response, in the presence of GW. These results suggest that the fungal L-tyrosine catabolism pathway could help the fungus to remove phenylpropanoid precursors thereby evading the host defense response. The in planta up-regulation of salicylate hydroxylase, intradiol ring cleavage dioxygenase and fumarylacetoacetase encoding genes, further supported this hypothesis. Those genes were even more up-regulated in HS-stressed plants, suggesting that fungus takes advantage of the increased phenylpropanoid precursors produced under stress. Pectate lyase was up-regulated while a putative amylase was down-regulated in planta, this could be associated with an intercellular growth strategy during the first stages of colonization.
Conclusions
L. theobromae transcriptome was established and validated. Its usefulness was demonstrated through the identification of genes expressed during the infection process. Our results support the hypothesis that heat stress facilitates fungal colonization, because of the fungus ability to use the phenylpropanoid precursors and SA, both compounds known to control host defense.
Keywords
Fungal gene expressionBotryosphaeria dieback Vitis vinifera RT-qPCRGraevine vascular diseasesRNA-seqTranscriptomeMelanin
Background
In recent years, global climate change has had a devastating impact on crop productivity. Drought and heat stress have resulted in an increased tree mortality worldwide [1–3]. This phenomenon could be attributed in part to endophytic fungi. Fungi inhabiting the vascular system of trees can become pathogenic under abiotic stress. In susceptible plant hosts, this results in the development of wood necrosis and cankers, because trees failed to effectively compartmentalize the pathogen. As the fungus colonizes its host, the plant vascular function becomes increasingly impaired. Prolonged abiotic stress conditions and biotic infections lead to tree decline and eventually death [4–6]. Two independent studies have analyzed, at the molecular level, the interaction of trees susceptible to fungal pathogens. Both studies highlighted the adaptation capability of the fungus to metabolize terpenoids and stilbene, the main defensive compounds produced by the host in response to infection, and use them as carbon sources for wood colonization [7, 8]. Both compounds are produced in response to biotic and abiotic stress in plants [9, 10], suggesting that the fungal colonization is favored when plants are under abiotic stress.
Grapes are the world's most economically important fruit crop and have been cultivated in a broad range of environmental conditions [11]. Fungal vascular diseases (a.k.a. Eutypa dieback, Botryosphaeria dieback and Esca) are major factors limiting grape productivity and fruit marketability worldwide [12, 13]. Several taxonomically unrelated fungi are known to cause these diseases. Lasiodiplodia theobromae [teleomorph Botryosphaeria rhodina (Griff. & Maubl., Bull. Soc.Mycol. Fr. 25: 57. 1909)] is one of the causal agents of Botryosphaeria dieback. It is especially predominant in hot climates, and it has been classified as one of the most aggressive vascular pathogen of grapevine [12, 14–16]. Despite its socio-economic impact, there is still little knowledge on its biology and no genome sequence information is currently available. In comparison, Eutypa lata (Pers.:Fr.) Tul. & C. Tul. (syn. E. armeniacae Hansf. and Carter), which causes similar wood symptoms, has been extensively studied and its genome has been sequenced [17–21]. E. lata has the capacity to colonize the host vascular system targeting non-structural carbohydrate (i.e. starch) and structural hemicellulosic cell wall glucans for its metabolism [20].
L. theobromae and related members of the family Botryosphaeriaceae have been recognized as latent pathogens in many hosts [22, 23]. This pathogen was identified as a causal agent of mortality in dogwood tree under drought stress [24]. Similarly, Álvarez-Loayza et al. [25] observed that the disease incidence caused by Botryosphaeriaceae, Diplodia mutila on tropical palm Iriarte deltoidea, had a clear correlation with light availability, higher plant exposure to sunlight results in faster disease progression. Authors suggest that fungal reactive oxygen species (ROS) detoxification and melanin production triggered the imbalance in the endophyte-host interaction.
Biochemical assays have been used traditionally to identify pathogenicity factors produced by grapevine vascular pathogens, including secondary metabolites and plant cell wall degrading enzymes (PCWDEs) [17, 18, 26]. The advent of high throughput (OMICs) technologies have allowed for a better understanding of the complex plant/pathogen interactions in grapevine diseases. For instance, the secretome analysis of Diplodia seriata identified three necrotic inducible proteins, suggesting that fungi induce a hypersensitive-like response in host grapevine cells [27]. Recently, the genomes of grapevine vascular pathogens Neofusicoccum parvum, D. seriata and E. lata were obtained [21, 28, 29]. Through a genomic comparative study, the expansion of dioxygenase (PF00775), pectate lyase (PF03211), major facilitator superfamily (PF07690), carboxylesterase (PF00135) and glucose-methanol-choline oxidoreductase (C-terminal: PF05199 and N-terminal:PF00732) gene families were identified on these pathogens suggesting a role in pathogenicity [29].
The hot and arid viticulture production areas, provide a unique place to study how commensal interaction between an endophytic fungus and grapevine, become pathogenic under extreme heat conditions. This research aim was to evaluate L. theobromae global transcriptional response in both in in vitro and in planta bioassays. In addition, this work was designed to better understand the impact of heat stress at the fungal transcriptional level, and how it affects pathogenicity and the expression of disease symptom in grapevines.
Results
Transcriptome assembly and functional annotations
Sequencing reads varied in number, ranging from 3 to 6 million per sample, with an average of approximately 5 million reads (Additional file
4
: Figure S2), showing PHRED quality scores per base of 36. The
de novo
assembly with Trinity [
37
] produced 29,621 total components (including isoforms), %GC = 56 and N50 = 3,135 bp (details in Table
1
).
Table 1
Main characteristics of Trinity de novo transcriptome assembly
| Parameters | All transcript | Only longest Isoform |
| --- | --- | --- |
| Number of contigs | 29621 | 19860 |
| Contig N10 | 6773 | 5525 |
| Contig N20 | 5345 | 4321 |
| Contig N30 | 4365 | 3572 |
| Contig N40 | 3667 | 2971 |
| Contig N50 | 3135 | 2472 |
| Median contig length | 1242 | 658 |
| Average contig | 1798.4 | 1310.58 |
| Total assembled bases | 53270493 | 27680863 |
From the 29,621 total components, the longest isoforms were selected, rendering 19,860 unique transcripts with N50 = 2,472 bp; the median length was 658 bp and the average contig length was 1,310.58 bp (Table 1). More than 50 % of the assembled transcripts showed at least 80 % full-length coverage as compared to well-annotated proteins, and 33 % showed 100 % coverage, indicating that the assembly fulfills the requirements of quality analysis through ortholog hit ratio [55] which justifies its use to map the reads and analyze gene expression.
When the transcripts were arranged according to the taxonomic information retrieved from BlastX, most hits showed similarity with members of either of the Botryosphaeriaceae family, M. phaseolina (5,800 sequences, 29 %) and N. parvum (3,800 sequences, 19 %), the only two Botryosphaeriaceae genomes available in the NR-NCBI database at the time of analysis, or several other fungi from the Ascomycota phylum (Additional file 5: Figure S3). The high number of L. theobromae sequences homologous to M. phaseolina over N. parvum was supported by previous phylogenetic analyses showing L. theobromae phylogenetically closer to M. phaseolina than to N. parvum [56].
From the 19,860 longest isoforms, 7,547 sequences (38 %) had recognizable functional GO annotation (details of annotation results in Additional file 6: Figure S4). The GO terms associated with each transcript encoded protein were used to associate them according to their function. A wide diversity of functions were identified (details in Additional file 7). Among others, in the Biological process in fourth level of gene ontology classification, most of the transcripts were involved in nitrogen metabolism (684), aromatic (665), organic cycles (689) and heterocycle (676) compounds metabolism. Also there are 589 transcripts involved in oxidation-reduction process.
Based on the importance of genes encoding proteins with extracellular functions in the establishment of the interaction of the fungus with its host, transcripts encoding proteins with N-terminal secretion signal were identified. From 15,981 transcripts that contain at least one ORF, 850 were predicted to be secreted.
On other hand, a total of 399 protein-coding transcripts, showing homology with those included in the Pathogen-Host Interaction database (PHI-base) were identified. PHI-base contains experimentally verified pathogenicity or virulence factors, therefore
L. theobromae
transcripts showing PHI-base hits are predicted to be involved in pathogenicity. Based on functional annotation of PHI-base hits, they were classified according to their gene ontology information, and were identified as being involved in protein modification processes, metabolism of phosphate-containing compounds, hydrolase activity on glycosyl bonds, and oxidoreductase on CHOH groups (Fig.
2
). Additionally, 22 PHI-base hits were predicted to be secreted, and according to their annotation, they could be involved in carbohydrate metabolism, proteolysis and oxido-reduction processes (Additional file
8
).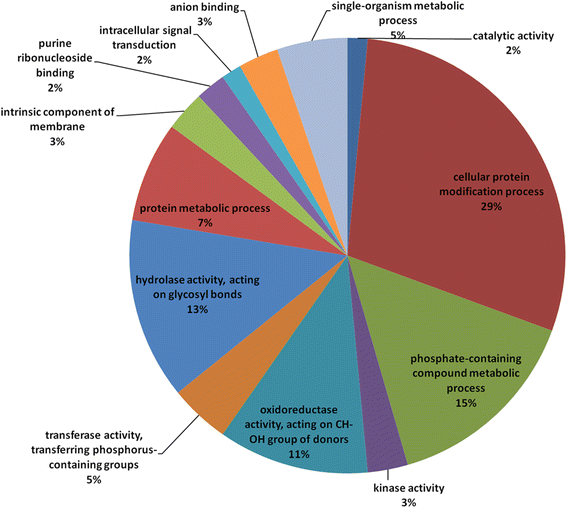 Differential gene expression, co-regulation and functional enrichment
The analysis of RNAseq data indicated that sufficient differences were achieved among treatments and therefore allowed the identification of DEGs (Additional file
9
). In total, 2,386 DEGs (FDR < 0.01) were identified in any of the contrasting conditions tested (Fig.
1
). These corresponded to 12 % of the total number of transcripts. Different numbers of DEGs were obtained for the different contrasting conditions, FWS/F contrast has the highest number (Table
2
and Additional file
10
). All the contrast generate specific unique DEGs not shared with the DEGs from the other contrasts (Additional file
11
: Figure S5). An analysis of their pattern of expression was used to arrange the genes in clusters of co-regulated genes (Fig.
3
and Additional file
12
).
Table 2
Number of differentially expressed genes (DEGs, FDR < 0.01) and enrichment test for secretion for each contrasting conditions
Contrasting conditions

Regulation

Differentially expressed genes (DEGs)

Predicted secreted DEGs

FDR (hypergeometric test for enrichment of secreted proteins)

FWS/F

Up-regulated

905

83

0.156003

Down-regulated

887

74

0.549571

FWS/FW

Up-regulated

173

13

0.707640

Down-regulated

233

17

0.770976

FW/F

Up-regulated

565

61

0.012635

Down-regulated

424

47

0.554427

FS/F

Up-regulated

203

23

0.077195

Down-regulated

366

28

0.738934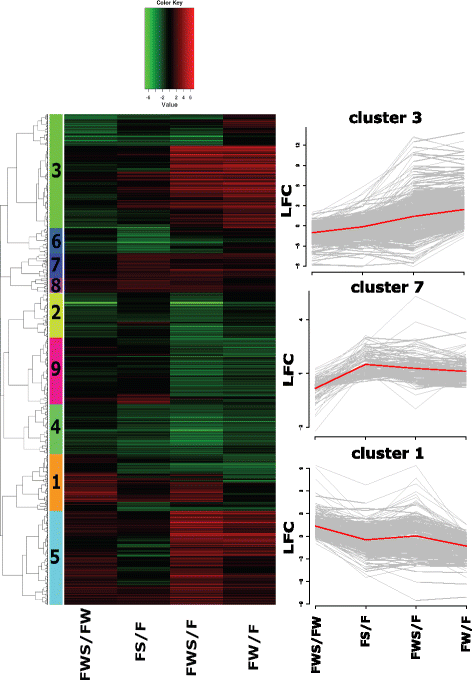 Functional enrichment was obtained in three clusters of co-regulated genes. An enrichment for oxido-reductase activity was obtained for cluster 1 (FDR = 1.2x10−3), and the shared pattern of expression for the putative genes was mainly the induction in FWS/FW and FWS/F, and repression in FW/F (Fig. 3). Cluster 3 showed enrichment in hydrolase activity, mainly involved in the hydrolysis of O-glycosyl compounds (FDR = 2.3x10−8), and showed an inverse pattern of expression compared to cluster 1, with major protein-coding genes up-regulated in FW/F, but down-regulated in FWS/FW and a lower level of induction or down-regulation in FS/F (Fig. 3). Cluster 7 showed an enrichment (FDR < 0.01) in translation processes, GTPase and methyltransferase activities. The shared pattern of expression in cluster 7 was mainly due to the induction in FS/F (Fig. 3).
On the other hand, the presence of GW resulted in repression of genes encoding enzymes with oxido-reductase activity (GO term: GO0016491) and induction of genes coding for O-glycosyl hydrolyzing enzymes (GO term: GO0004553, Fig.
4
and Fig.
5
). In contrast, after HS, the expression pattern was inverse to the fungus growing in GW: genes for oxido-reductase activity were up-regulated while genes coding for O-glycosyl hydrolyzing enzymes were mainly down-regulated (Fig.
4
and Fig.
5
). The genes involved in translation activities (GO terms: GO0008135 and GO0003743) and methyltransferase activity (GO term: GO0008168) showed primarily up-regulation in both contrasting conditions, FW/F and FWS/FW (Fig.
4
), indicating the importance of the translation process in regulating the response to either change.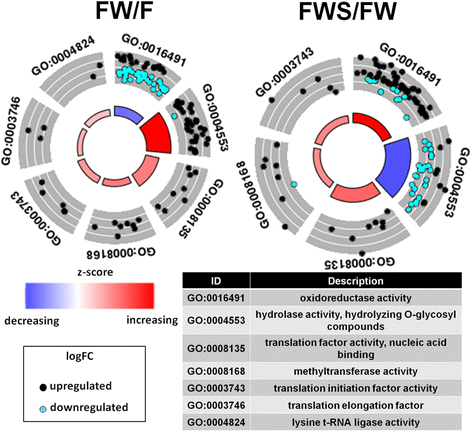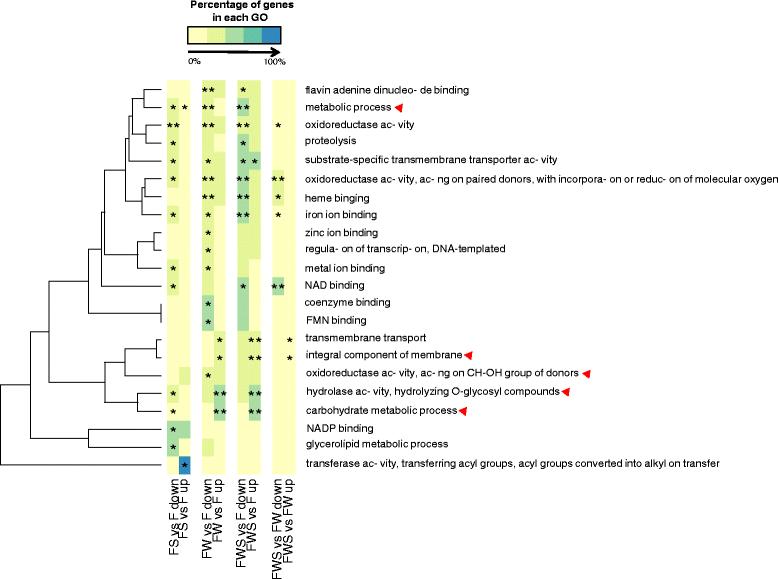 Our results showed that inosine monophosphate (IMP) cyclohydrolase, squalene monooxigenase and protein disulfide monooxigenase GO categories were induced in all the contrasting conditions (Fig.
6
). According to the established functions of these GO categories, it seems that basic metabolism such as purine nucleotide biosynthesis, sterol biosynthesis and post-translational modifications are important both to sustain growth on GW and under HS. Similar basic mechanisms might be required to deal with both conditions, perhaps because oxidative stress is produced in response to HS, and also required for GW degradation. On the other hand, genes involved in tyrosine and L-phenylalanine metabolic processes were only induced in FWS/FW, while they were highly repressed in all other contrasted conditions, suggesting a specific requirement of this metabolic pathway to deal with HS when in contact with wood components (Fig.
6
).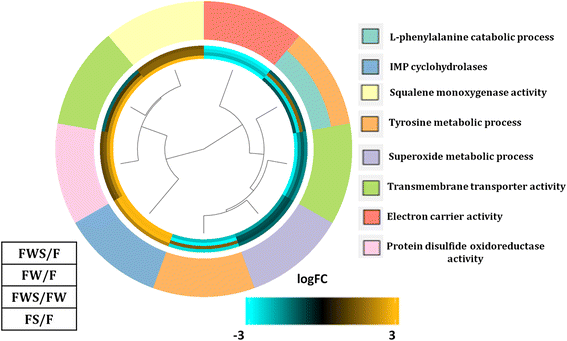 Secreted proteins are more prone to interact with the host; therefore we tested whether an enrichment of genes predicted to encode secreted proteins occurred among the DEGs. Among the upregulated genes in GW condition, there was an enrichment of those enconding for secreted proteins (FDR < 0.05 in Table 2), indicating that the presence of wood promotes the expression of secreted proteins. The list of genes coding for proteins presenting eukaryotic secretion signals, with their respective annotation, and classified in clusters based on co-regulation, is shown in Additional file 13.
L. theobromae gene expression during the interaction with grapevine
Co-regulated clusters (Fig. 3) with functional enrichment indicated a whole fungal transcriptional change when exposed to HS in the presence of GW. Several genes belonging to any of the clusters 1, 3 and 7 (Fig. 3) that were identified as having pathogenicity roles, based on their functional annotation, were selected to evaluate their expression by RT-qPCR. cDNA obtained from in vitro conditions was used for the validation of RNAseq results, and cDNA from in planta conditions in an attempt to elucidate their role in pathogenicity.
The in vitro expression of 7 genes (Additional file 2: Table S1) confirmed the contrasting pattern of expression based on the cluster to which each gene belonged and showed a high correlation with the results obtained through RNAseq (R2 = 0.876 and p-value = 1.9x10−5, Additional file 14: Figure S6).
In general when evaluating the expression
in planta
, a marked regulation of most genes was observed at 7 dpi, and the changes on gene expression were even more defined in stressed plants (Fig.
7
).
L. theobromae
genes with up-regulated expression
in planta
were those enconding an intradiol ring cleavage dioxygenase (IRCD, comp4276_c0_seq1, selected from cluster 1), salicylate hydroxylase (SH, comp12473_c0_seq1, selected from cluster 1) pectate lyase (PL, comp16237_c0_seq1, selected from cluster 3), xylosidase glycoside hydrolase (XGH, comp5761_c0_seq2, selected from cluster 3) and a fumarylacetoacetate hydrolase (FMH, comp14342_c0_seq1, selected from cluster 1). IRCD was up-regulated at all infection times evaluated, in both heat-stressed and non-stressed plants (Fig.
6
). At 7 dpi on stressed plants, SH was up-regulated when compared to infected and non-stressed grapevines (Fig.
7
). In contrast, sugar inositol transporter (SIT, comp8181_c0_seq1), choline dehydrogenase (CHD, comp5526_c0_seq1), homogentisate dioxygenase (HGD, comp8784_c0_seq1), 4-hydroxyphenylpyruvate dioxygenase (HPPD, comp18638_c0_seq1) and glycoside hydrolase family 3 (GH3, comp13725_c0_seq1) did not show differential expression. A putative amylase from glycoside hydrolase family 35 (AML, comp7101_c0_seq1) and multicopper oxidase (MCO, comp7300_c0_seq1, from cluster 3) were highly down-regulated, specially under HS (Fig.
7
).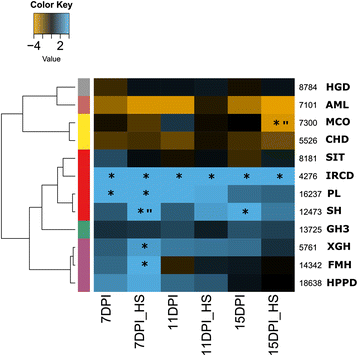 Conclusions
The transcriptome of L. theobromae was established, providing nucleotidic sequences to the scientific community that will help to understand and eventually control this important pathogen. Based on functional annotation, several genes with putative functions in pathogenicity were identified, highlighting those encoding PCWDEs and involved in phenolic metabolism. Genes involved in melanin production were co-regulated with key transcription factors that control carbon and nitrogen usage, suggesting that strong metabolic and morphological changes occurs during fungal heat stress adaptation, in a similar manner to those documented for some fungal mammal's pathogens.
Based on the in vitro L. theobromae global transcriptional regulation under HS, it was possible to identify fungal genes with up-regulation both in planta under optimum conditions and also with distinctive expression under HS, which helped to establish a model of the fungal-plant interaction under stress. These results indicated that HS overall facilitated L. theobromae growth and colonization. We propose that these observations are triggered by the fact that phenylpropanoid precursors increase under heat stress, and that L. theobromae is able to utilize these compounds for its own metabolism Although additional experiments are required to evaluate the robustness of the proposed model, this work provides the foundation to future research in order to understand the complexity of this important grapevine vascular pathogen.
Abbreviations
AML, putative amylase; BZA, benzoic acid; CHD, choline dehydrogenase; CTAB, cetyltrimethylammonium bromide; DEGs, differentially expressed genes; DEPC, dyethylpyrocarbonate; DHN; 1,8-dihydroxynaphthalene; DOPA, L-3,4-dihydroxyphenylalanine; dpi, days post-infection; FC, fold change; FDR, false discovery rate; FMH, fumarylacetoacetate hydrolase; GH, glycoside hydrolase; GH3, glycoside hydrolase family 3; GLM, General Linear Model; GMC, glucose-methanol-choline oxidorreductase; GO term, Gene Ontology functional term; GO, gene ontology; GW, grapevine wood; HGD, homogentisate dioxygenase; HPPD, 4- Hydroxyphenylpyruvate dioxygenase; HS, heat stress; HSP, heat-shock protein; ICP, isocitrate lyase phosphorylmutase; IMP, inosine monophosphate; IRCD, intradiol ring cleavage dioxygenase; MAI, maleylacetoacetate isomerase; MCO, multicopper oxidase; MFS, major facilitator superfamily; MS, malate synthase; NAP, nucleic acid preservation buffer; NCBI, National Center for Biotechnology Information; noHS, no heat stress; ORF, open reading frame; PCW, plant cell wall; PCWDEs, plant cell wall degrading enzymes; PDA, potato dextrose agar; PHI-base, Pathogen-Host interaction database; PL, pectate lyase; ROS, reactive oxygen species; RT-qPCR, reverse transcribed-quantitative PCR; SA, salicylic acid; SH, salicylate hydroxylase; SIT, sugar inositol transporter; TYR, tyrosinase; VMM, Vogel's Minimal Medium; VS, Vogel's salts; XGH, xylosidase glycoside hydrolase
Declarations
Acknowledgements
Marcos Paolinelli Alfonso received a doctoral scholarship from CONACYT (No. 231418) and a 2014–2015 UC MEXUS-CICESE Graduate Student Short Term Research and Non-degree Training. Authors would like to thank Douglas Gubler, Edgar Alfonso López Landavery, Miguel Angel del Río Portilla and Meritxell Riquelme Perez for helping with isolates, protocols or equipment. Sincere acknowledge to Martha Rendón Anaya, Miguel Ángel Hernández-Oñate and Raúl Llera for its helpful advises in bioinformatics analysis. Thanks to Jérôme Pouzoulet for kindly help with in planta experiments. Thanks to Meritxell Riquelme and Kristina Herbert for their critical review of the manuscript.
Funding
Research was funded by 2015 UC MEXUS-CONACyT Collaborative Research Grant, through the project "Interaction of the phytophatogenic fungus Lasiodiplodia theobromae with grapevine plants grown in thermic stress conditions".
Availability of data and materials
The dataset supporting the conclusions of this article is available in the Gene Expression Omnibus (GEO) repository GSE75978.
Authors' contributions
MPA, RHM, CGS, AHE and PR designed the experiments. MPA performed the experiments. MPA, JMVE and JFLH performed the bioinformatic analysis. CGS supervised the RT-qPCR, PR supervised the experiments on grapevine and AHE supervised the RNAseq experiment and bioinformatic analysis. RHM coordinated the experiments. MPA, RHM, PR, AHE and JMVE wrote the manuscript. All authors contributed in data analysis, read and approved the final version of the manuscript.
Competing interests
The authors declare that they have no competing interests.
Consent for publication
Not applicable.
Ethics approval and consent to participate
Not applicable.
Open AccessThis article is distributed under the terms of the Creative Commons Attribution 4.0 International License (http://creativecommons.org/licenses/by/4.0/), which permits unrestricted use, distribution, and reproduction in any medium, provided you give appropriate credit to the original author(s) and the source, provide a link to the Creative Commons license, and indicate if changes were made. The Creative Commons Public Domain Dedication waiver (http://creativecommons.org/publicdomain/zero/1.0/) applies to the data made available in this article, unless otherwise stated.
Authors' Affiliations
(1)
Departamento de Microbiología, Centro de Investigación Científica y de Educación Superior de Ensenada (CICESE), Ensenada, Mexico
(2)
Laboratorio Nacional de Genómica para la Biodiversidad (LANGEBIO), Centro de Investigación y de Estudios Avanzados del I. P. N., Irapuato, Mexico
(3)
Department of Botany and Plant Sciences,University of California Riverside, Riverside, USA
(4)
Departamento de Biotecnología Marina, Centro de Investigación Científica y de Educación Superior de Ensenada (CICESE), Ensenada, Mexico