HiC-bench: comprehensive and reproducible Hi-C data analysis designed for parameter exploration and benchmarking
Received: 6 October 2016
Accepted: 7 December 2016
Published: 5 January 2017
Abstract
Background
Chromatin conformation capture techniques have evolved rapidly over the last few years and have provided new insights into genome organization at an unprecedented resolution. Analysis of Hi-C data is complex and computationally intensive involving multiple tasks and requiring robust quality assessment. This has led to the development of several tools and methods for processing Hi-C data. However, most of the existing tools do not cover all aspects of the analysis and only offer few quality assessment options. Additionally, availability of a multitude of tools makes scientists wonder how these tools and associated parameters can be optimally used, and how potential discrepancies can be interpreted and resolved. Most importantly, investigators need to be ensured that slight changes in parameters and/or methods do not affect the conclusions of their studies.
Results
To address these issues (compare, explore and reproduce), we introduce HiC-bench, a configurable computational platform for comprehensive and reproducible analysis of Hi-C sequencing data. HiC-bench performs all common Hi-C analysis tasks, such as alignment, filtering, contact matrix generation and normalization, identification of topological domains, scoring and annotation of specific interactions using both published tools and our own. We have also embedded various tasks that perform quality assessment and visualization. HiC-bench is implemented as a data flow platform with an emphasis on analysis reproducibility. Additionally, the user can readily perform parameter exploration and comparison of different tools in a combinatorial manner that takes into account all desired parameter settings in each pipeline task. This unique feature facilitates the design and execution of complex benchmark studies that may involve combinations of multiple tool/parameter choices in each step of the analysis. To demonstrate the usefulness of our platform, we performed a comprehensive benchmark of existing and new TAD callers exploring different matrix correction methods, parameter settings and sequencing depths. Users can extend our pipeline by adding more tools as they become available.
Conclusions
HiC-bench consists an easy-to-use and extensible platform for comprehensive analysis of Hi-C datasets. We expect that it will facilitate current analyses and help scientists formulate and test new hypotheses in the field of three-dimensional genome organization.
Keywords
Hi-CChromosome conformationComputational pipelineData provenanceParameter explorationBenchmarking
Background
Nuclear organization is of fundamental importance to gene regulation. Recently, proximity ligation assays have greatly enhanced our understanding of chromatin organization and its relationship to gene expression [1]. Here we focus on Hi-C, a powerful genome-wide chromosome conformation capture variant, which detects genome-wide chromatin interactions [2, 3]. In Hi-C, chromatin is cross-linked and DNA is fragmented using restriction enzymes, the interacting fragments are ligated forming hybrids that are then sequenced and mapped back to the genome. Hi-C is a very powerful technique that has led to important discoveries regarding the organizational principles of the genome. More specifically, Hi-C has revealed that the mammalian genome is organized in active and repressed areas (A and B compartments) [2] that are further divided in "meta-TADs" [4], TADs [5] and sub-TADs [6]. TADs consist evolutionarily conserved, megabase-scale, non-overlapping areas with increased frequency of intra-domain compared to inter-domain chromatin interactions [5, 7]. Despite the fact that Hi-C is very powerful, it is known to be prone to systematic biases [8–10]. Moreover, as the sequencing costs plummet allowing for increased Hi-C resolution, Hi-C poses formidable challenges to computational analysis in terms of data storage, memory usage and processing speed. Thus, various tools have been recently developed to mitigate biases in Hi-C data and make Hi-C analysis faster and more efficient in terms of resource usage. HiC-Box [11], hiclib [9] and HiC-Pro [12] perform various Hi-C analysis tasks, such as alignment and binning of Hi-C sequencing reads into Hi-C contact matrices, noise reduction and detection of specific DNA-DNA interactions. Hi-Corrector [13] has been developed for noise reduction of Hi-C data, allowing parallelization and effective memory management, whereas Hi-Cpipe [14] offers parallelization options and includes steps for alignment, filtering, quality control, detection of specific interactions and visualization of contact matrices. Other tools that allow parallelization are HiFive [15], HOMER [16] and HiC-Pro [12]. Allele-specific Hi-C contact maps can be generated using HiC-Pro and HiCUP [17] (with SNPsplit [18]). TADbit can be used to map raw reads, create interaction matrices, normalize and correct the matrices, call topological domains and build three-dimensional (3D) models based on the Hi-C matrices [19]. HiCdat performs binning, matrix normalization, integration of other data (e.g., ChIP-seq) and visualization [20]. HIPPIE offers similar functionality with HiCdat and allows detection of specific enhancer-promoter interactions [21]. Other tools mainly focus on visualization of Hi-C data (e.g., Sushi [22] and HiCPlotter [23]). Despite the recent boom in the development of computational methods for Hi-C analysis, most of these tools only focus on certain aspects of the analysis, thus failing to encompass the entire Hi-C data analysis workflow. More importantly, these tools or pipelines are not easily extensible, and, for any given Hi-C task, they do not allow the integration of multiple alternative tools (use of alternative TAD calling methods for example) whose performance could then be qualitatively or quantitatively compared. Available tools do not support comprehensive reporting of the parameters used for each task and they do not enable reproducible computational analysis which is an imperative requirement in the era of big data [24], especially given the complexity of Hi-C analyses. The recently released HiFive is an exception as it offers a Galaxy interface [15]. However, use of Galaxy [25] can become problematic for data-heavy analyses, especially when the remote Galaxy server is used.
To facilitate comprehensive processing, reproducibility, parameter exploration and benchmarking of Hi-C data analyses, we introduce HiC-bench, a data flow platform which is extensible and allows the integration of different task-specific tools. Current and future tools related to Hi-C analysis can be easily incorporated into HiC-bench by implementing simple wrapper scripts. HiC-bench covers all current aspects of a standard Hi-C analysis workflow, including read mapping, filtering, quality control, binning, noise correction and identification of specific interactions (Table
1
). Moreover, it integrates multiple alternative tools for performing each task (such as matrix correction tools and TAD-calling algorithms), while at the same time allowing simultaneous exploration of different parameter settings that are propagated from one task to all subsequent tasks in the pipeline. HiC-bench also generates a variety of quality assessment plots and offers other visualization options, such as generating genome browser tracks as well as snapshots using HiCPlotter. We have built this platform with reproducibility in mind, as all tools, versions and parameter settings are recorded throughout the analysis. HiC-bench is released as open-source software and the source code is available on GitHub and Zenodo (for details please refer to "
Availability and requirements
" section). Our team provides installation and usage support.
Table 1
Comparison of HiC-bench with published Hi-C analysis or visualization tools
| Hi-C tasks | HiC-bench | HiFive | Hi-Cpipe | HiCNorm | hiclib | HiTC | HOMER | Hi-Corrector | HiC-Pro | TADbit | HiCUP | HiC-Box | HiCdat | HIPPIE | Sushi | HiCPlotter |
| --- | --- | --- | --- | --- | --- | --- | --- | --- | --- | --- | --- | --- | --- | --- | --- | --- |
| Alignment | x | | x | | x | | | | x | x | x | x | | x | | |
| Filtering | x | x | x | | x | | | | x | x | x | x | | x | | |
| Genome browser tracks | x | | | | | | | | | | | | | | | |
| Quality assessment plots | x | x | x | | | x | | | x | | x | | x | x | | |
| Contact matrices | x | x | x | | x | | x | | x | | | x | x | | | |
| Matrix correction | x | x | | x | x | x | x | x | x | x | | x | x | | | |
| Matrix comparison | x | | | | | | | | | | | | x | | | |
| Boundary scores | x | | | | | | | | | | | | | | | |
| Domains | x | | | | | | | | | x | | | | | | |
| Boundary comparison | x | | | | | | | | | | | | | | | |
| Specific interactions | x | | x | | x | | x | | x | | x | x | x | x | | |
| Annotations | x | | | | | x | | | | | | | x | | | |
| Allele-specific interactions | | | | | | | | | x | | x | | | | | |
| Visualization | x | x | x | | | x | x | | | | | | x | | x | x |
| Integration with ChIP-seq data | x | | | | | | | | | | | | x | x | | |
| Parallelization | x | x | x | | | | x | x | x | x | | | | | | |
| Integration of alternative tools | x | | | | | | | | | | | | | | | |
| Parameter exploration | x | | | | | | | | | | | | | | | |
| Reproducibility | x | x | | | | | | | | | | | | | | |
Results
We used HiC-bench to analyze several published Hi-C datasets and the results of our analysis are presented below. Additionally, we performed a comprehensive benchmark of existing and new TAD callers exploring different matrix correction methods, parameter settings and sequencing depths. Our results can be reproduced by re-running the corresponding pipeline snapshot available upon request as a single compressed archive file (too big to include as a Supplemental file).
Comprehensive reanalysis of available Hi-C datasets using HiC-bench
Our platform is designed to facilitate and streamline the analysis of a large number of available Hi-C datasets in batch. Thus, we collected and comprehensively analyzed multiple Hi-C samples from three large studies [5, 42, 45]. From the first study we analyzed IMR90 (HindIII) samples, from the second we analyzed Hi-C samples from lymphoblastoid cells (GM12878), human lung fibroblasts (IMR90 (MboI)), erythroleukemia cells (K562), chronic myelogenous leukemia (CML) cells (KBM-7) and keratinocytes (NHEK), and from the third one, we analyzed samples from human embryonic stem cells (H1) and all the embryonic stem-cell derived lineages mentioned, including mesendoderm, mesenchymal stem cells, neural progenitor cells and trophectoderm cells. All datasets yielded at least 40 million usable intra-chromosomal read pairs in at least two biological replicates. We performed extensive quality control on all datasets, calculating the read counts and percentages per classification category (Additional file 4: Figure S1), the attenuation of Hi-C signal over genomic distance (Additional file 5: Figure S2), the correlation of Hi-C matrices before and after matrix correction (Additional file 6: Figure S3), the similarity of boundary scores (Additional file 8: Figure S5) and all pairwise boundary overlaps across samples (Additional file 9: Figure S6). In addition, we performed a comprehensive benchmarking of our own and published TAD callers, across all reanalyzed Hi-C datasets. The results of our benchmark are presented in the following sections.
Iterative correction of Hi-C contact matrices improves reproducibility of TAD boundaries
Iterative correction has been shown to correct for known biases in Hi-C [9]. Thus, we hypothesized that IC may increase the reproducibility of TAD calling. We performed a comprehensive analysis calculating the TAD boundary overlaps for biological replicates of the same sample (as described in Methods section), using different TAD callers and different main parameter values for each TAD caller (Fig. 3a). After comparing TAD boundary overlaps between filtered (uncorrected) and IC-corrected matrices, we observed an improvement in the boundary overlap when corrected matrices were used, irrespective of TAD caller and parameter settings (Fig. 3b). The only exception was DI. Careful examination of the overlaps per sample revealed that IC introduced outliers only in the case of DI (in general, the opposite was true for the other callers). We hypothesize that IC may occasionally negatively affect the computation of the directionality index, especially because its calculation depends on a smaller number of bins (1-dimensional line) compared to the rest of the methods (2-dimensional triangles). In addition to the increase in the mean value of boundary overlap upon correction, we observed that the standard deviation of boundary overlaps among replicates decreased (again, with the exception of DI) (Fig. 3c). While this seems to be the trend for almost all TAD caller/parameter value combinations, the effect of correction in variance is more profound in certain cases (e.g., hicintra-max) than others. It is also worth mentioning that increased size of the insulation window (in the case of Crane), the resolution parameter γ (Armatus) or the distance d (hicinter, hicintra-max, hicratio) may result in certain cases in increased boundary overlap (e.g., Armatus), but this is not generalizable (e.g., hicintra-max). Interestingly, increased TAD boundary overlap does not necessarily mean increased consistency in the number of predicted TADs across sample types, as would be expected since TADs are largely invariant across cell types [5]. For example, the TAD calling algorithm which is based on insulation score (Crane), predicted similar TAD overlaps and similar TAD numbers for different insulation windows (ranging from 0.5 Mb to 2 Mb), whereas Armatus performed well in terms of TAD boundary reproducibility (Fig. 3a) but the corresponding predicted TAD numbers varied considerably (Fig. 3d). This may be partly due to the nature of the Armatus algorithm, as it has been built to reveal multiple levels of chromatin organization (TADs, sub-TADs etc.). We conclude that while iterative correction improves the reproducibility of TAD boundary detection across replicates, the number of predicted TADs should be also taken into account when selecting TAD calling method for downstream analysis. The method of choice should be the one that is robust in terms of both reproducibility and number of predicted TADs.
Increased sequencing depth improves the reproducibility of TAD boundaries
After selecting the parameter setting that optimized TAD boundary overlap between biological replicates of the same sample per TAD caller, we also investigated the effect of sequencing depth on the reproducibility of TAD boundary detection. Since some of the input samples were limited to only 40 million usable intra-chromosomal Hi-C read pairs, we resampled 10 million, 20 million and 40 million read pairs from each sample and evaluated the effect of increasing sequencing depth on TAD boundary reproducibility. The results are depicted in Fig.
4a
. We noticed that increased sequencing depth resulted in increased TAD boundary overlap, regardless of the TAD calling algorithm used (Fig.
4a, c
). As far as the TAD numbers are concerned, increased sequencing depth decreased TAD number variability for certain callers (e.g., hicratio) but not in all cases (e.g., Armatus) (Fig.
4b
). In many cases, increased sequencing depth, decreased the variance of TAD boundary overlap among replicates (Fig.
4c
). In summary, based on this benchmark, we recommend that Hi-C samples should be sufficiently sequenced as sequencing depth seems to affect TAD calling reproducibility.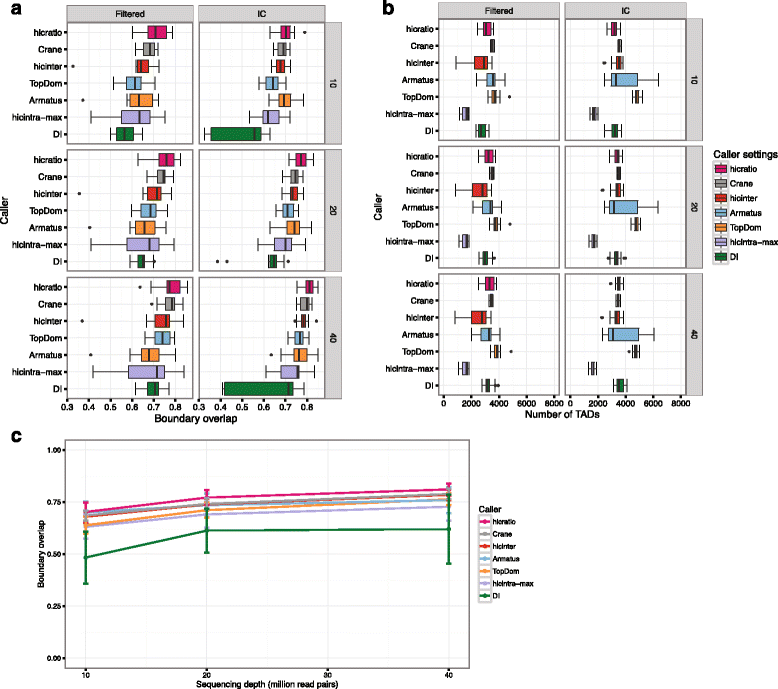 Conclusions
Recently, several computational tools and pipelines have been developed for Hi-C analysis. Some focus on matrix correction, others on detection of specific chromatin interactions and their differences across conditions and others on visualization of these interactions. However, very few of these tools offer a complete Hi-C analysis (e.g., HiC-Pro), addressing tasks which range from alignment to interaction annotation. HiC-bench is a comprehensive Hi-C analysis pipeline with the ability to process many samples in parallel, record and visualize the results in each task, thus facilitating troubleshooting and further analyses. It integrates both existing tools but also new tools that we developed to perform certain Hi-C analysis tasks. In addition, HiC-bench focuses on parameter exploration, reproducibility and extensibility. All parameter settings used in each pipeline task are automatically recorded, while future tools can be easily added using the supplied wrapper template. More importantly, HiC-bench is the only Hi-C pipeline so far that allows extensive parameter exploration, thus facilitating direct comparison of the results obtained by different tools, methods and parameters. This unique feature helps users test the robustness of the analysis, optimize the parameter settings and eventually obtain reliable and biologically meaningful results. To demonstrate the usefulness of HiC-bench, we performed a comprehensive benchmark of popular and newly-introduced TAD callers, varying the matrix preprocessing (filtered or corrected matrices with IC method), the sequencing depth, and the value of the main parameter of each TAD caller, which is usually the window used for the calculation of directionality index or insulation score. We found that the matrix correction has a positive effect on the boundary overlap between replicates and that increased sequencing depth leads to higher boundary overlap.
In conclusion, HiC-bench is an easy-to-use framework for systematic, comprehensive, integrative and reproducible analysis of Hi-C datasets. We expect that use of our platform will facilitate current analyses and enable scientists to further develop and test interesting hypotheses in the field of chromatin organization and epigenetics.
Abbreviations
DI:

Directionality index
IC or ICE:

Iterative correction
PCA:

Principal component analysis
TAD:

Topological domain or topologically associating domain
Declarations
Acknowledgements
Aristotelis Tsirigos was supported by a Research Scholar Grant, RSG-15-189-01 - RMC from the American Cancer Society and a Leukemia & Lymphoma Society New Idea Award, 8007–17. We would like to thank Dennis Shasha and Juliana Freire for inspiring discussions on data flows. We would also like to thank Kadir Caner Akdemir for useful discussions on the usage of HiCPlotter. We also like to thank the NYU Applied Bioinformatics Laboratories for providing bioinformatics support and helping with the analysis and interpretation of the data. This work has used computing resources at the High Performance Computing Facility (HPCF) at the NYU Langone Medical Center.
Funding
The study was supported by a Research Scholar Grant, RSG-15-189-01 - RMC from the American Cancer Society and a Leukemia & Lymphoma Society New Idea Award, 8007–17 to Aristotelis Tsirigos (AT). NYU Genome Technology Center (GTC) is a shared resource, partially supported by the Cancer Center Support Grant, P30CA016087, at the Laura and Isaac Perlmutter Cancer Center.
Availability and requirements
Published Hi-C data were downloaded from Gene Expression Omnibus, using the corresponding accession numbers: GSE35156 [5], GSE63525 [42] and GSE52457 [45].
HiC-bench source code is freely available on GitHub and Zenodo.
Project name: HiC-bench
Project home page: https://github.com/NYU-BFX/hic-bench/wiki
Archived version: https://zenodo.org/badge/latestdoi/20915/NYU-BFX/hic-bench
Operating system: Redhat Linux GNU (64 bit)
Programming language: R, C++, Python, Unix shell scripts
Other requirements: Mentioned in "Software requirements" section and the manual.
License: MIT
Any restrictions to use by non-academics: None.
Authors' contributions
CL performed computational analyses, generated figures and implemented certain wrapper scripts. SK wrote the user manual. PN and IA offered biological insights and helped with the interpretation of Hi-C data. AT designed and implemented the pipeline. CL and AT wrote the manuscript. All authors read and approved the final manuscript.
Competing interests
The authors declare that they have no competing interest.
Consent for publication
Not applicable.
Ethics approval and consent to participate
Not applicable.
Open AccessThis article is distributed under the terms of the Creative Commons Attribution 4.0 International License (http://creativecommons.org/licenses/by/4.0/), which permits unrestricted use, distribution, and reproduction in any medium, provided you give appropriate credit to the original author(s) and the source, provide a link to the Creative Commons license, and indicate if changes were made. The Creative Commons Public Domain Dedication waiver (http://creativecommons.org/publicdomain/zero/1.0/) applies to the data made available in this article, unless otherwise stated.
Authors' Affiliations
(1)
Department of Pathology, NYU School of Medicine, New York, USA
(2)
Laura and Isaac Perlmutter Cancer Center and Helen L. and Martin S. Kimmel Center for Stem Cell Biology, NYU School of Medicine, New York, USA
(3)
Applied Bioinformatics Laboratories, Office of Science & Research, NYU School of Medicine, New York, USA
(4)
Genome Technology Center, Office of Science & Research, NYU School of Medicine, New York, USA
(5)
Department of Biochemistry and Molecular Genetics, Feinberg School of Medicine, Northwestern University, Chicago, USA