Research Article
Open Access
Unsupervised statistical discovery of spaced motifs in prokaryotic genomes
Received: 2 September 2016
Accepted: 9 December 2016
Published: 5 January 2017
Abstract
Background
DNA sequences contain repetitive motifs which have various functions in the physiology of the organism. A number of methods have been developed for discovery of such sequence motifs with a primary focus on detection of regulatory motifs and particularly transcription factor binding sites. Most motif-finding methods apply probabilistic models to detect motifs characterized by unusually high number of copies of the motif in the analyzed sequences.
Results
We present a novel method for detection of pairs of motifs separated by spacers of variable nucleotide sequence but conserved length. Unlike existing methods for motif discovery, the motifs themselves are not required to occur at unusually high frequency but only to exhibit a significant preference to occur at a specific distance from each other. In the present implementation of the method, motifs are represented by pentamers and all pairs of pentamers are evaluated for statistically significant preference for a specific distance. An important step of the algorithm eliminates motif pairs where the spacers separating the two motifs exhibit a high degree of sequence similarity; such motif pairs likely arise from duplications of the whole segment including the motifs and the spacer rather than due to selective constraints indicative of a functional importance of the motif pair. The method was used to scan 569 complete prokaryotic genomes for novel sequence motifs. Some motifs detected were previously known but other motifs found in the search appear to be novel. Selected motif pairs were subjected to further investigation and in some cases their possible biological functions were proposed.
Conclusions
We present a new motif-finding technique that is applicable to scanning complete genomes for sequence motifs. The results from analysis of 569 genomes suggest that the method detects previously known motifs that are expected to be found as well as new motifs that are unlikely to be discovered by traditional motif-finding methods. We conclude that our approach to detection of significant motif pairs can complement existing motif-finding techniques in discovery of novel functional sequence motifs in complete genomes.
Keywords
GenomeSequence motifsMotif-findingBacteriaArchaeaDNA sequence repeats
Background
Genomic DNA sequences contain numerous repetitive motifs or nucleotide sequence patterns that play various roles in the physiology of the cell, including regulation of gene expression, maintenance of DNA and its structure in the cell, recombination and other forms of mutation, and even recognition of DNA fragments for uptake from the extracellular space [1–5]. Repetitive motifs in DNA sequences can also encode functional elements in proteins and RNA. Consequently, a large amount of effort has been devoted to development of computational methods for detection of sequence motifs in DNA and protein sequences.
There are two major types of motif finding algorithms, namely supervised and unsupervised motif finding algorithms. The former methods require a sample of known occurrences of the motif and utilize this information in the search for additional motif occurrences in the analyzed sequence or sequences. The unsupervised methods, sometimes referred to as ab initio approach, do not require any prior knowledge about the motif sequences and detect novel sequence motifs that satisfy specified criteria (generally including unexpectedly high frequency of occurrence and high sequence similarity among different copies of the motif). In this article, we focus on unsupervised motif search. The unsupervised motif finding algorithms can be further classified into two major groups: 1) word-based methods that mostly rely on exhaustive enumeration, i.e., counting and comparing oligonucleotide frequencies and 2) probabilistic sequence models where the model parameters are estimated from sequences. Extensive work has been done on transcription factor binding site (TFBS) prediction during the past decades, driven by the obvious importance of these regulatory motifs in the organism's physiology. Based on the type of DNA sequence information used by the TFBS finding algorithm, the methods could be classified into three major classes: 1) methods that use promoter sequences from coregulated genes from a single genome [6, 7], 2) methods that use orthologous promoter sequences of a single gene from multiple species [8–10] and 3) methods combining 1) and 2) [11, 12]. As a unified portal for online discovery and analysis of sequence motifs, the MEME Suite web server provides various tools in finding motifs representing features such as DNA binding sites and protein interaction domains [13].
While TFBS receive most attention among sequence motifs the repetitive sequence motifs in genomic DNA can have many other functions. We aim to expand the range of types of sequence motifs detected by motif-finding methods by searching for spaced motifs in complete genomes, which could arise, among other mechanism, from repetitive patterns in chromosome structure. The concept of searching for spaced sequence motifs is not new but the previous such methods generally aimed to detect TFBS, where spacing of the conserved segments of the motif is determined by the geometry of the DNA-protein interaction and generally does not exceed 6 or 7 bp (for example, refs [14, 15]). A more general approach implemented in HeliCis [16] allows detection of co-localized periodically spaced motifs, such as binding sites for multiple transcription factors. However, these methods are specifically designed for detection of TFBS in a collection of regulatory regions and are not suitable for scanning complete genomes. In contrast, our methodology is aimed at detection of DNA sequence motifs that can have diverse physiological functions, including regulatory motifs, motifs involved in DNA, RNA, and protein interactions, and motifs related to structural organization of DNA and/or the encoded proteins. Our approach is different from previous methods in that it searches for pairs of motifs that occur at a particular distance from each other significantly more often than expected without requiring that either of the motifs on its own occurs more frequently than expected. The goal is to detect paired motifs where the distance between the two motifs is under selective constraint but the specific sequence of the spacer is variable.
Methods
The motif-finding algorithm
Step 1) consists of recording the total number of times a pair of pentamers A and B is found at the exact mutual distance d. The distance d is counted from the beginning of A to the beginning of B. Pairs with exactly the same spacers are counted only once (pairs with similar but not identical spacers are discounted later in step 5). The motivation for discounting motif pairs with identical or very similar spacers is that they likely arise from sequence duplication of the whole segment containing the motif pair and the spacer, which is not our primary goal; we aim to detect motif pairs where the distance between the motifs arises from selective constraints rather than as a result of sequence duplication events. The main reason we limit the motif spacer distance to 5–89 bp is due to growing computational complexity when ranges of paramters investigated are too large. Similar reasons apply to limiting the investigated motifs to pentamers; the number of possible pairs of hexamers is around 16 million (compared to ~1 million of possible pairs of all pentamers), which is prohibitive when the methodology is to be applied to hundreds of complete genomes as in this study. Another important motivation to use pentamers is related to how prokaryotic DNA-binding proteins, particularly transcription factors, interact with DNA. Many prokaryotic transcription factors interact with DNA in a sequence-specific manner via two alpha-helices that fit into adjacent turns of the major groove in the DNA double helix [18]. Consequently, although the whole binding site is often ~20 nucleotides long, it usually consists of two conserved segments of ~5 nucleotides where the protein directly interacts with the DNA bases, separated by a variable gap [19, 20].
After finding the most abundant distance d for each motif pair in step 2), statistical significance is assessed in step 3). For a given pair of motifs, if no specific distance is preferred, one would expect a uniform distribution of spacer distances within the whole range 5 to 89 bp. The problem of numbers of motif pairs found at different distances is analogous to the classical balls-in-urns problem where motif pairs represent the balls and different distances (spacer sizes) represent the urns. Suppose n balls are allocated to K urns at random, each ball being equally likely to fall into each urn, independently of any other balls. Let fmax denote the largest number of balls in any urn. This situation can be modeled with the uniform multinomial distribution in which there are n trials, each with K possible outcomes of equal probability.
Subsequently, the p-value p = P(fmax > = x) = 1 - P(fmax < x).
The analogy in DNA sequences is straightforward with n being the total number of motif pair occurrences with spacer distance between 5 and 89 bp, K being the number of different distances (89–5 + 1 = 85) and fmax being the maximum number of occurrences of a specific distance within the range. A Bonferroni correction was applied to the p-value cutoff in order to account for multiple hypothesis testing (the test is performed for 410, or ~1 million, different pairs of pentamers):
p-value-cutoff = 0.01 / number of motif pairs = 0.01 / 410 ≈ 10−8.
In Step 4], the steps 1 to 3 are repeated for all possible pentamer pairs. After all pentamer pairs are tested, the most promising candidates are selected for spacer alignment. In Step 1], only identical spacers could be recognized and eliminated but our goal is to discount all motif pairs which likely arose from recent duplication of the whole segment including the motif pair and the spacer. Consequently, sequence alignments are performed with NW-align, which is a simple and robust alignment program based on the standard Needleman-Wunsch algorithm [24], to eliminate potential duplicated spacers. A simple 'greedy' algorithm is applied to eliminate duplicated spacers. The first pair of spacers is aligned. If the nucleotide identity is ≥70%, then fmax is reduced by one and one of the spacers is excluded from further alignments. Additional pairs of spacers are subsequently aligned and excluded if the nucleotide identity exceeds 70%. This is continued until no spacers are more similar than the 70% cutoff. The value 70% was chosen as the lowest cutoff that gives a high confidence the sequence similarity is not coincidental; for example, the probability that two random sequences of ten nucleotides would match at seven positions (70% identity) is less than 0.01 and declines with increasing sequence length. We also performed tests with 65% and 75% cutoffs, which suggested that the cutoff 65% was too conservative whereas majority pentamer pairs identified with the 75% cutoff overlapped motifs detected also with the 70% cutoff (see Additional file 1: Table S1 for details). After this step, a motif pair whose fmax is still above fcut and whose inverse complement is also significant with the same distance is selected for further analysis. The reason for requiring a motif pair's inverse complement also to be significant is that dispersed sequence motifs, which are the primary target of our search, are expected to be distributed in both DNA strands; consequently, both versions of the motif pair—direct and reverse—are expected to be over-represented in the genome. The subsequent analysis of the significant motif pairs is performed with Pattern Locator [25], which provides information on distribution of the motif pairs with respect to adjacent genes. Such information can be helpful in generating hypotheses about the motif pair's possible function. Pattern Locator also reports the percentage of copies of the motif pair found in genes and intergenic regions (Additional file 2: Table S2), which allows easy identification of motifs that are most likely to have regulatory functions (predominantly intergenic motifs) and motifs that could reflect conserved patterns in amino acid sequences of the encoded proteins.
DNA sequences
Annotated nucleotide sequences of complete prokaryotic genomes were downloaded from the NCBI FTP server [26]. We randomly selected only one genome per species when multiple strains of the same species were available. The final dataset included 569 genomes (Additional file 1: Table S1). For genomes consisting of multiple chromosomes the analysis was performed on all chromosomes.
Results
The 569 prokaryotic genomes, each from a separate species, were scanned with the algorithm described above. In the 569 genomes, 3326 motif pairs were identified as significant by our criteria (Additional file
2
: Table S2). The summary statistics for selected characteristics of the significant motif pairs are shown in Table
1
.
Table 1
Summary statistics of 3326 motif pairs identified in 569 genomes
| | Min | 1st Qu. | Median | Mean | 3rd Qu. | Max |
| --- | --- | --- | --- | --- | --- | --- |
| d | 5 | 19 | 43 | 39.9 | 53 | 89 |
| Initial_n | 6 | 41 | 62 | 80.6 | 100 | 644 |
| Reduced_n | 6 | 27 | 44 | 57.8 | 73 | 633 |
| Difference | 0 | 2 | 9 | 22.7 | 26 | 335 |
| Cutoff | 6 | 18 | 31 | 47.8 | 64 | 521 |
| Reduced_n/Cutoff | 1 | 1.06 | 1.16 | 1.33 | 1.42 | 4.93 |
| Gene | 0% | 20% | 81% | 61% | 96% | 100% |
| Intergenic | 0% | 2% | 12% | 35% | 73% | 100% |
| Overlap | 0% | 0% | 2% | 4% | 4% | 100% |
Distributions of some key statistics are further demonstrated in Figs.
2
and
3
. The right panel in Fig.
2
indicates that median percentage of significant pairs found in protein- coding regions is around 80%, which is close to the fraction of protein-coding region in a typical prokaryotic genome; in other words, the significant motif pairs do not show a strong overall bias for protein-coding regions or intergenic regions. In Fig.
3
, the first two plots show that the distributions of motif pairs are bi-modal in both gene and intergenic region. 50 percent of significant motif pairs occurred in genes more than 90% of the time and 25 percent occurred in genes less than 10% of the time, whereas fewer motif pairs are distributed approximately evenly among both genes and intergenic regions. In other words, majority of the significant motifs show a strong preference for either genes or intergenic regions. The same conclusion can be reached upon inspection of the raw data in Additional file
3
: Table S3.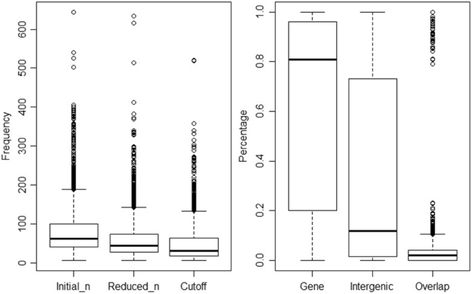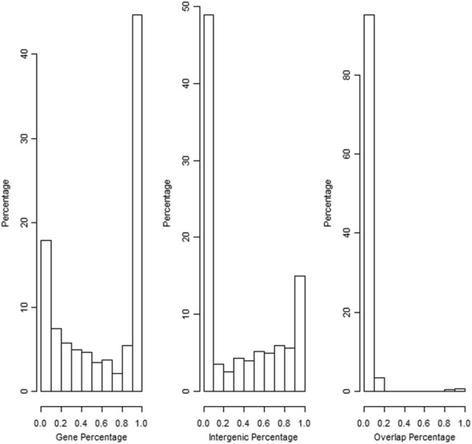 The distribution of the spacer length for the motif pairs is shown in Fig.
4
. There are two peaks—one is around spacer lengths 15 to 20 bp and the other one is around 40 to 50 bp. The reason for the first peak is partly due to a conserved palindromic motif pair (CGAAA and TTTCG with a spacer length of 19 bp), which is widely distributed among a variety of genes of
Mycobacterium
species. In total, approximately 150 motif pairs conforming to this consensus were identified in the analyzed
Mycobacterium
genomes out of 701 motif pairs with spacer length 15 to 20 bp found in all analyzed genomes. The peak at 40–50 bp reflects wide distribution of clustered regularly interspaced short palindromic repeats (CRISPRs) among the analyzed genomes. CRISPRs are arrays of ~30 bp perfect repeats separated by ~30–40 bp variable spacers, which give rise to many significantly overrepresented motif pairs with this spacer size [
27
] (see also below).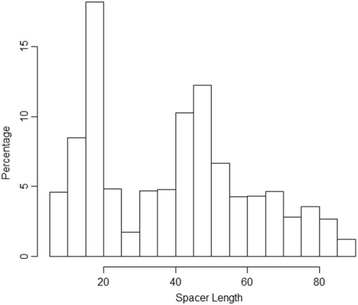 Another noteworthy statistic in Table 1 is the difference between the initial number of copies of a significant motif pair (Initial_n) and the number of copies remaining after elimination of duplicate spacers (Reduced_n). The mean value of Initial_n is 80.6 whereas Reduced_n has mean 57.8, indicating that more than 25% of occurrences of all significant motif pairs in the genomes may have arisen from sequence duplication events. This confirms the importance of removing the "false positives" resulting from sequence duplications when searching for candidate motif pairs whose specific relative positioning is maintain by selective constraints.
All significant motif pairs found in the analyzed genomes are reported in Additional file 3: Table S3. In total, 307 genomes have at least one significant motif pair identified. Among those, Rhodoferax ferrireducens T118 has the highest number of pairs detected, 140 (Additional file 3: Table S3).
Thirty genomes (listed in Additional file 4: Table S4) were selected for in-depth investigation of the identified significant motif pairs. Some of the significant motif pairs were found to be related to previously known motifs such as CRISPR or Shine-Dalgarno sequence whereas others appear to be potentially novel, previously uncharacterized sequence motifs. Majority of the identified motif pairs can be classified in one of the five categories, namely CRISPR-related, Rho-independent transcription terminators, tRNA-related motifs, motifs containing the Shine-Dalgarno sequence, and protein-related motifs.
Discussion
Ab initio detection of candidate functional sequence motifs in complete genomes traditionally relies on word-counting approaches, which follow from a reasoning that selective constraints on a functional sequence motif could lead to statistically significant excess (or deficit) of the motif occurrences in the genome. Consequently, such methods aim to detect specific words (oligonucleotides, substrings…) in DNA sequence that occur significantly more or less often than expected in some null model, generally based on a Markov chain representation of the sequence [33, 44–46]. Other commonly used unsupervised motif-finding methods utilize a probabilistic model of the motif, which allows formulating the motif-finding problem as an optimization task. The optimization is typically solved by one of the Markov chain Monte Carlo (MCMC) class of methods [47–49]. However, the latter methods are generally applied to a collection of relatively short sequences (such as putative promoters) and are not well suited for application to complete genomes.
Our approach is similar to word-counting methods but differs from methods described above in aiming to detect pairs of motifs that exhibit a significant preference for occurrence at a specific distance from each other rather than unexpectedly high occurrence relative to some null model of a random sequence. Another important feature of our algorithm is exclusion of motif pairs that feature identical or similar spacers. This step is designed to filter out motif pairs that arise from duplications of sequence fragments containing the motif pair as well as the spacer sequence, such as those resulting from proliferation of transposons, duplicated genes, or other forms of (large) sequence repeats. Consequently, our method specifically targets motif pairs that are likely maintained by selective constraints acting on the specific relative distance of the motifs, unlike motifs that arise from sequence duplication and may not be functional per se.
The current implementation of the method that was tested in this work is limited to pairs of pentanucleotides and spacer lengths up to 85 nucleotides. These limitations are partially driven by considerations of computational complexity of applying the software for analysis of hundreds of complete genomes. However, the pentanucleotides are also a reasonable choice with respect to DNA-protein interactions, where the sequence-specific bonds form between the exposed amino acid side chains and the base pairs in the DNA major groove, often leading to patterns of four to five adjacent conserved positions [50]. Moreover, pairs of motifs longer than five nucleotides can still be detected as pairs of overlapping pentanucleotides (Tables 2, 3, and 7).
Investigating locations of the detected motif pairs relative to genes and other known functional elements can often provide hints regarding their possible physiological roles or at the minimum help exclude some possible functions. For that purpose, our motif detection pipeline is combined with Pattern Locator, which provides basic statistics on locations of sequence patterns in the genome [17]. Detailed investigation of motif pairs found in 30 selected genomes allowed us to link some of the motif pairs to known biological functions, such as Rho-independent transcription terminators, CRISPR elements, and combinations of the transcription factor binding site and translation initiation site (start codon), which occur at specific distance from each other (Tables 2, 3, and 5). A number of conserved motif pairs were found in genes and we speculate that many of such patterns can arise from constraints on the properties of the encoded proteins, although only some of these patterns are related to previously known protein sequence motifs (Table 6).
A novel motif pair detected in Methanopyrus kandleri is of particular interest due to its location downstream of tRNA genes (Fig. 5). This motif is unlikely to be detected by motif-finding software designed for detection of transcription factor binding sites because this particular motif is located outside the regulatory regions where transcription factor sites generally reside. The word-counting methods that are more suitable for scanning complete genomes for overrepresented sequence motifs are also unlikely to detect such a motif due to their low sensitivity to spaced motif pairs separated by a variable spacer. Due to the unique mechanism of tRNA maturation in M. kandleri [36], we speculate that this motif could be involved in the tRNA maturation process, possibly as a binding site for the maturation enzyme.
It is important to note that the motif pairs listed in Tables 2, 3, 4, 5 and 6 represent only a fraction of the significant motif pairs detected by our methodology, namely those that we were able to link to a likely physiological function. The full set of motif pairs detected in 569 genomes (Additional file 2: Table S2) contains novel motifs that may not be detectable by other methods. Due to the conservative criteria for the detection of motif pairs and filtering of motif pairs with conserved spacers, we proffer that many of the motif pairs listed in Additional file 2: Table S2 arise from selective constraints on the relative positions of the motifs. Such motif pairs could play important physiological roles and at the same time escape detection by standard motif-finding techniques. A subset of selected candidate novel motifs (Table 7) was subjected to additional analysis that allows narrowing down a possible range of functions of these motifs. We conclude that method for detection of significant motif pairs described above is capable of detection of novel functional elements that are unlikely to be discovered by other method and we offer the paired-motif methodology as a tool to complement mainstream motif-finding methods for detection of functional elements in complete genomes.
Conclusions
We present a novel motif-finding method based on detection of pairs of sequence motifs with statistically significant preference for a specific distance from each other. The method is suitable for application to long DNA sequences including complete genomes. Application to 569 prokaryotic genomes yielded a list of 3326 significant motif pairs (pairs of pentamers in the present implementation of the method) including many that are related to sequence motifs of known functions as well as novel sequence motifs. The complete list of all significant motif pairs found in the 569 genomes is available in Additional file 2: Table S2. We propose the methodology as a suitable complement of the set already existing techniques for discovery of functionally significant sequence motifs.
Abbreviations
bp:

Base pairs
SD:

Shine-Dalgarno
TFBS:

Transcription factor binding site
Declarations
Acknowledgements
Not Applicable
Funding
This work was supported by the grant number DBI-0950266 from the National Science Foundation
Authors' contributions
HT designed software, developed statistical methodology, performed data analysis, and drafted the manuscript. PDS developed the statistical methodology, supervised research, and assisted in drafting the manuscript. JM conceived the study, supervised research, and assisted in development of the methodology, data analysis, and drafting the manuscript. All authors read and approved the final manuscript.
Competing interests
The authors declare that they have no competing interests.
Consent for publication
Not Applicable
Ethics approval and consent to participate
Not applicable
Open AccessThis article is distributed under the terms of the Creative Commons Attribution 4.0 International License (http://creativecommons.org/licenses/by/4.0/), which permits unrestricted use, distribution, and reproduction in any medium, provided you give appropriate credit to the original author(s) and the source, provide a link to the Creative Commons license, and indicate if changes were made. The Creative Commons Public Domain Dedication waiver (http://creativecommons.org/publicdomain/zero/1.0/) applies to the data made available in this article, unless otherwise stated.
Authors' Affiliations
(1)
Department of Statistics, University of Georgia, Athens, USA
(2)
Department of Microbiology and Institute of Bioinformatics, University of Georgia, Athens, USA