A clustering-based approach for efficient identification of microRNA combinatorial biomarkers
BMC Genomics
2017
18(Suppl 2):210
Abstract
Background
MicroRNAs (miRNAs) have great potential serving as tumor biomarkers and therapeutic targets. As the rapid development of high-throughput experimental technology, gene expression experiments have become more and more specialized and diversified. The complex data structure has brought great challenge for the identification of biomarkers. In the meantime, current statistical and machine learning methods for detecting biomarkers have the problem of low reliability and biased criteria.
Results
This study aims to select combinatorial miRNA biomarkers, which have higher sensitivity and specificity than single-gene biomarkers. In order to avoid exhaustive search and redundant information, miRNAs are firstly clustered, then the combinations of representative cluster members are assessed as potential biomarkers. Both the criteria for the partition of clusters and selection of representative members are based on Fisher linear discriminant analysis (FDA). The FDA-based criterion has been demonstrated to be superior to three other criteria in selecting representative members, and also good at refining clusters. In the comparison with eight common feature selection methods, this clustering-based method performs the best with regard to the discriminative ability of selected biomarkers.
Conclusions
Our experimental results demonstrate that the clustering-based method can identify microRNA combinatorial biomarkers with high accuracy and efficiency. Our method and data are available to the public upon request.
Keywords
MicroRNA
Biomarker
Clustering
Background
MicroRNAs (miRNAs) play important regulatory roles in many fundamental biological processes for disease development and progression. Especially, tremendous researches have demonstrated that miRNAs can serve as oncogene or tumor suppressor in various cancer types [1, 2]. During the last decade, benefitting from the development of miRNA microarray and small RNA-Seq techniques, miRNA expression data has been widely used in the comparison of diseased samples with control samples, or different subtypes of diseased samples. The miRNAs with most discriminant capacity, regarded as biomarkers, have assisted in diagnosis, prognosis prediction and therapeutic assessment of cancers [3, 4], and sometimes they are even more accurate than coding-gene markers [5, 6].
In order to search biomarkers, the analysis of differential gene expression is performed and genes are ranked according to certain criteria. The evaluation on the quality of biomarkers is mainly based on statistical or machine learning approaches, whose corresponding measurements are statistical significance and classification accuracy, respectively.
Till now, a variety of statistical methods have been applied into the gene expression analysis. Fold change has been used as an initial metric for measuring the significance of change in expression levels between two groups of samples [7], and t-test [8] is a widely-used statistical method to select differentially expressed genes. Besides, researchers have developed many alternatives of t-test, such as ANOVA [9], Wilcoxon test [10], SAM [7], RVM [11], LIMMA [12], VarMixt [13] and SMVar [14]. Most of the present criteria are for univariate analysis. As the rapid development of high-throughput experimental technology, gene expression experiments have become more and more specialized and diversified. Especially, tissue-specific and condition-specific researches have largely been emerged. The single-gene biomarkers are often unreliable or have insufficient ability to distinguish subtypes or different conditions for complex diseases.
In order to increase the sensitivity and specificity of biomarkers, in many studies, the top ranked genes according to some selection metric were put together and used as composite biomarkers. This method is not guaranteed to find optimal biomarkers, since there may be redundant information among the genes because of correlation. And, many genes individually do not show good discriminative ability between different groups, while perform well together with other genes. Therefore, multivariate analysis is necessary to examine the performance of multiple genes as a whole. A common method for multivariate statistical analysis is Hotelling's t-square test [15]. Note that in gene expression analysis, the number of samples is often very limited. As the dimensionality increases, the statistical inference often fails to provide reliable results.
Feature selection is a major branch of methods for screening biomarkers [16]. From a machine learning point of view, biomarkers correspond to the features with most discerning power. A multivariate feature selection method scores feature subsets and rank them, usually by their classification accuracy. For example, in order to select gene combinations, Cui et al. [17] and Xu et al. [18] used support vector machines to separate cancer and normal tissues, and assessed classification accuracy for all the k-gene combinations, for k≤4 and k≤8, respectively. These multivariate analysis methods can avoid feature redundancy but may run into exponential complexity due to the huge search space. Another issue is about the interpretation of computational results. Too complex classifier (often regarded as a black-box) and too many variables/features in the composite biomarkers could be useless, because the results are extremely difficult for biological explanation and validation.
MiRNA expression analysis usually follow the same procedure and approaches as mRNA expression analysis, such as hypothesis test [19], clustering [20] and classification [21] based on machine learning models. Meanwhile, the above mentioned problems also exist in miRNA data. Besides, due to the low intensity on expression level and small difference between miRNA sequences, the selection of miRNA biomarkers becomes more challenging. In this study, instead of screening single miRNAs or large miRNA sets, we aim to find the combinatorial biomarkers, i.e., k-miRNA combinations, where k is a small number. To avoid exponential number of combinations, we propose a clustering-based method to reduce the number of candidate combinations and conduct a highly efficient search. The basic idea is to assess only the combinations consisting of representative members from clusters that are generated based on expression level similarity, rather than all combinations. In order to further reduce the search space, a proper criterion is needed to rank the miRNAs in the clusters, and only the most promising ones can be selected as the representatives of their clusters to form the candidate biomarkers.
Clustering approaches have been extensively used to find co-expressed genes. Genes in the same clusters are usually functionally related. There have been some studies that adopted clustering-based methods for feature selection. For example, Jaeger et al. proposed to use a fuzzy C-means clustering method to pre-filter genes before ranking genes individually [22]. That is, only one representative gene is selected from each cluster and involved in the ranking procedure. A similar approach was proposed by Hanczar et al. [23], who used k-means clustering to select 'prototype genes'. In both of these two methods, the number of clusters needs to be pre-defined. Actually, it is an important issue to find the proper number of clusters. In order to address this issue, Wang et al. developed a novel hybrid approach [24]. They applied hierarchical clustering on these genes to generate a dendrogram, then the optimal number of clusters was determined by a leave-one-out cross-validation (LOOCV) strategy by trying all of the different clusterings by breaking up the dendrogram.
In all of these methods, there is no defined criterion on how to determine the number of clusters or the proper size of clusters, though Wang et al. conducted an empirical analysis of LOOCV [24]. Moreover, these methods typically used genes which are the closest to centers of their clusters as the representative genes, while whether the center gene is the best choice is questionable. In another similar research proposed by Sahu et al. [25], k-means clustering was adopted, while signal-to-noise ratio (SNR score) was used to rank genes in every clusters.
Our approach has two major differences from the previous approaches: i) there is a new criterion to select the most discriminant member in each cluster, ii) there is a defined criterion to determine whether a cluster should be split. And the goal of this study is slightly different from the aforementioned literatures in that we aim to develop efficient method for identifying miRNA combinatorial biomarkers, instead of large feature subsets which are hard to be interpreted in biology. We have conducted a series of experiments to compare different criteria for selecting representative genes from clusters and splitting raw clusters. We also compared the new method with some widely used feature selections methods. The experimental results demonstrate that our proposed method is very effective in screening genes in the clusters. The resulting clusters can greatly reduce the number of combinations to be assessed, and obtain high-quality combinations in the mean time. The selected miRNA combinations have not only high discriminative ability, but also enriched pathways closely related with tumorigenesis. Moreover, many frequently present miRNAs in these combinations have been validated to be associated with breast cancer development in previous literatures.
Methods
The proposed method consists of three major steps. The first step is a pre-screening to remove uninformative miRNAs using Welch's t-test. The second step is a hierarchical clustering on the remaining genes. In the last step, representative miRNAs are selected from every clusters to form miRNA combinations as candidate biomarkers. Both the criteria for assessing the qualities of clustering and selecting representative miRNAs within clusters are defined through a linear discriminant method. The flowchart of the method is shown in Fig.
1
.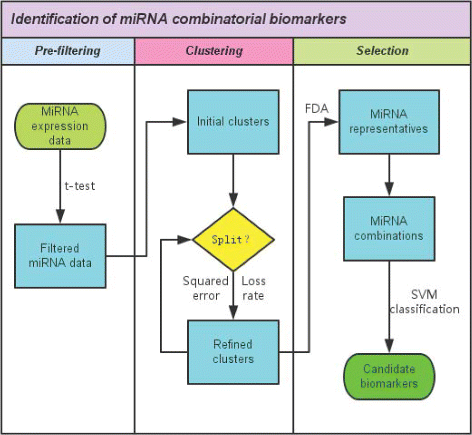 Discussions
In this paper, we propose to identify miRNA combinatorial biomarkers due to the important role that miRNAs play in the development of cancer and also some good properties of combinatorial biomarkers. The reasons for searching biomarkers of miRNA combinations are manifold. Firstly, single-gene biomarkers identified by uni-variate analysis are often unreliable with low specificity for discriminating complex disease properties. Thus, multi-gene biomarkers are in great need. However, the biomarkers containing too many genes, resulted from feature subset selection, are extremely difficult to be interpreted in biomedicine. For instance, if we have identified a
k
-tuple combinatorial biomarker, and we want to validate the overexpress/unexpress rule as well as inter-correlation in this biomarker, the over/under express pattern has a total of 2
k
possibilities. Moreover, correlation coefficient can only be computed between two genes, and now there have been some studies on the conditionally independent properties in triples (3-gene combinations). But there have been no effective means to measure or validate the interconnection among multiple genes yet. Moreover, according to our results, combinations with small
k
have sufficient capability to separate groups of samples. We have also examined the accuracy of using all representative members selected from every clusters (Table
8
), which are much lower than the best
k
-miRNA combinations (
k
≤4), decreasing by about 4% on GSE22220 and 9% on GSE40525. This result further demonstrates the usefulness of small combinatorial biomarkers.
Table 8
Accuracies of different feature subsetsa
Feature subset

Accuracy measure

GSE22220

GSE40525

T-test

FDA

SNR

Center

T-test

FDA

SNR

Center

Alla

Sensitivity

0.874

0.882

0.921

0.906

0.962

0.962

0.962

0.942

Specificity

0.804

0.794

0.770

0.762

0.806

0.781

0.806

0.817

TA

0.792

0.787

0.783

0.768

0.865

0.846

0.865

0.865

Pair

Sensitivity

0.969

0.969

0.929

0.984

0.923

0.923

0.885

0.846

Specificity

0.750

0.750

0.756

0.714

0.923

0.923

0.920

0.917

TA

0.783

0.783

0.773

0.749

0.923

0.923

0.904

0.885

Triple

Sensitivity

0.976

0.976

0.850

0.984

0.942

0.942

0.942

0.904

Specificity

0.775

0.775

0.812

0.714

0.925

0.925

0.925

0.922

TA

0.812

0.812

0.787

0.749

0.933

0.933

0.933

0.913

Quadruple

Sensitivity

0.906

0.906

0.906

0.890

0.942

0.942

0.887

0.923

Specificity

0.833

0.833

0.821

0.819

0.961

0.961

0.940

0.960

TA

0.831

0.831

0.821

0.812

0.952

0.952

0.915

0.942
Conclusions
MiRNA expression files have been widely used in the identification of biomarkers for complex diseases. Due to the low specificity of single-gene biomarker and difficulty in interpretating large gene set, this study aims to develop efficient algorithm for searching miRNA combinatorial biomarkers with high discriminability. We propose a clustering-based method to avoid brute force search, and define two types of criteria for refining clusters and selecting representative members. The former criterion aims to measure the loss during the feature projection by Fisher linear discriminant analysis, and determine whether or not to partition the given clusters. The latter criterion aims to select the most informative miRNAs in the clusters according to their contribution for classification in FDA model. We conducted experiments on two breast cancer miRNA expression profiles. The FDA-based selection method performs the best with regard to average rank of the top searched results and hit ratio on the true top list. The FDA-based cluster splitting rule has also been demonstrated to be effective in refining the clustering results. For the two data sets, k-miRNA combinations with k≤4 have sufficient capacity to discriminate the samples (83% for GSE22220 and 95% for GSE40525). This method can also be applied to the search of combinations with larger k, and mRNA expression data. The top-ranked miRNA combinations are worth further study on their functions as well as interactions of the miRNAs. As an additional computational analysis, the most frequent miRNAs occurring in top 10 pairs and triples have been searched again miRNA-disease database. Among the 15 most frequent miRNAs, 9 miRNAs have supporting literatures of their roles in the development of breast cancer.
Declarations
Acknowledgements
Y. Yang is supported by the Shanghai Municipal Natural Science Foundation (No. 16ZR1448700) and the Scientific Research Foundation for the Returned Overseas Chinese Scholars, State Education Ministry. W. Kong is supported by the National Natural Science Foundation of China (No. 61271446).
Funding
The publication costs for this article were partly funded by the the Shanghai Municipal Natural Science Foundation (No. 16ZR1448700) and the Scientific Research Foundation for the Returned Overseas Chinese Scholars, State Education Ministry.
Availability of data and materials
The datasets analysed during the current study are available in the Gene Expression Omnibus (GEO) repository, https://www.ncbi.nlm.nih.gov/geo/.
Authors' contributions
YY designed the system, NH and LH performed the computational tasks, YY and WK analyzed the results. YY and NH drafted the manuscript. All authors read and approved the final manuscript.
Competing interests
The authors declare that they have no competing interests.
Consent for publication
Not applicable.
Ethics approval and consent to participate
Not applicable.
Open Access This article is distributed under the terms of the Creative Commons Attribution 4.0 International License (http://creativecommons.org/licenses/by/4.0/), which permits unrestricted use, distribution, and reproduction in any medium, provided you give appropriate credit to the original author(s) and the source, provide a link to the Creative Commons license, and indicate if changes were made. The Creative Commons Public Domain Dedication waiver (http://creativecommons.org/publicdomain/zero/1.0/) applies to the data made available in this article, unless otherwise stated.
Authors' Affiliations
(1)
Department of Computer Science and Engineering, Shanghai Jiao Tong University, Shanghai, China
(2)
Key Laboratory of Shanghai Education Commission for Intelligent Interaction and Cognitive Engineering, Shanghai, China
(3)
Department of Computer Science and Engineering, Shanghai Maritime University, Shanghai, China
(4)
Key Laboratory of Systems Biomedicine (Ministry of Education), Shanghai Center for Systems Biomedicine, Shanghai, China