Research article

Open Access
2.7 million samples genotyped for HLA by next generation sequencing: lessons learned
Received: 13 December 2016
Accepted: 9 February 2017
Published: 14 February 2017
Abstract
Background
At the DKMS Life Science Lab, Next Generation Sequencing (NGS) has been used for ultra-high-volume high-resolution genotyping of HLA loci for the last three and a half years. Here, we report on our experiences in genotyping the HLA, CCR5, ABO, RHD and KIR genes using a direct amplicon sequencing approach on Illumina MiSeq and HiSeq 2500 instruments.
Results
Between January 2013 and June 2016, 2,714,110 samples largely from German, Polish and UK-based potential stem cell donors have been processed. 98.9% of all alleles for the targeted HLA loci (HLA-A, -B, -C, -DRB1, -DQB1 and -DPB1) were typed at high resolution or better. Initially a simple three-step workflow based on nanofluidic chips in conjunction with 4-primer amplicon tagging was used. Over time, we found that this setup results in PCR artefacts such as primer dimers and PCR-mediated recombination, which may necessitate repeat typing. Split workflows for low- and high-DNA-concentration samples helped alleviate these problems and reduced average per-locus repeat rates from 3.1 to 1.3%. Further optimisations of the workflow included the use of phosphorothioate oligos to reduce primer degradation and primer dimer formation, and employing statistical models to predict read yield from initial template DNA concentration to avoid intermediate quantification of PCR products. Finally, despite the populations typed at DKMS Life Science Lab being relatively homogenous genetically, an analysis of 1.4 million donors processed between January 2015 and May 2016 led to the discovery of 1,919 distinct novel HLA alleles.
Conclusions
Amplicon-based NGS HLA genotyping workflows have become the workhorse in high-volume tissue typing of registry donors. The optimisation of workflow practices over multiple years has led to insights and solutions that improve the efficiency and robustness of short amplicon based genotyping workflows.
Keywords
Next generation sequencingHLA genotypingHigh resolutionHigh throughputAmplicon PCRDKMSPrimer dimersPCR chimerismNovel alleles
Background
The hyperpolymorphic human leukocyte antigen (HLA) system, spanning about 4 Mb on the short arm of chromosome 6, contains a number of genes that play key roles in the adaptive immune response [1]. Especially the "classical" HLA genes encoding the 6 major antigen-presenting proteins (HLA-A, -B, -C, -DRB1, -DQB1, and -DPB1) play a crucial role in solid organ and haematopoietic stem-cell transplantation (HSCT), where outcome is mostly determined by the genetic concordance of HLA alleles between donors and recipients [2]. With more than 16,000 allelic variants identified today (http://www.ebi.ac.uk/ipd/imgt/hla/stats.html), combinatorial diversity in this region explodes, and the search for a matching unrelated donor can resemble the search for the proverbial needle in a haystack.
Despite 29 million potential unrelated donors for patients in need of an allogenic HSCT being currently registered worldwide (https://www.wmda.info), finding suitably matched donors can be severely hampered by the heterogeneous quality of the available genotyping information [3]. Until recently, unrelated stem-cell donor registries all over the world, which provide the bulk of this information, have utilised different serological and DNA-based HLA typing methods with variable resolution, such as sequence-specific oligonucleotide probes (SSOP), sequence-specific primer (SSP) PCR, or sequence-based typing (SBT) using Sanger sequencing.
However, these technologies are limited in throughput, precision and achievable coverage when compared to next generation sequencing (NGS)-based HLA typing methods [4]. Benefits of NGS-based typing approaches include high throughput through massive parallelisation, clonal sequencing of single molecules, sample multiplexing, and reduced costs per sample [5]. Whilst the extensive allelic diversity of HLA class I and II genes has made, and continues to make, high-resolution HLA typing challenging, the advances in NGS technologies have made ultra-high-throughput, cost-effective and precise HLA typing possible at an unprecedented scale [5–7].
To date, DKMS hosts HLA genotyping data for 7 million registered donors across Germany, Poland, the UK and the USA. Currently all DKMS samples from newly recruited donors are typed at the high-throughput genotyping facility DKMS Life Science Lab in Dresden, Germany. As of 2013, DKMS Life Science Lab successfully replaced a Sanger SBT workflow with a NGS HLA-typing workflow, initially based on Illumina MiSeq and later Illumina HiSeq 2500 amplicon sequencing [
5
]. Rapid advances in laboratory automation and increasing sequencing capacity have led to a dramatic growth from 30,000 donor samples processed every month to currently over 110,000 samples per month over the last three and a half years (Fig.
1
). The total number of donor samples typed by NGS surpassed 2.7 million samples in June 2016 (Fig.
1
), whilst the costs for HLA genotyping have dropped by more than 50% as compared to Sanger-based sequencing.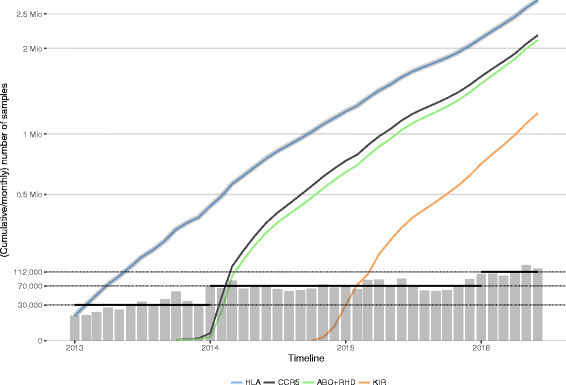 NGS technologies also make it easier to adapt read coverage to the experimental demand at minimal increases in cost. This results in an opportunity to expand the donor genotyping profile with ease and cost effectiveness by adding genes of interest that either may impact clinical outcome after HSCT (e.g., the KIR gene family), or that provide additional information to clinicians selecting the best possible donor (e.g., blood group markers, CCR5). Consequently, these markers were gradually added to the DKMS typing profile, starting with CCR5, ABO and RHD as of 2014 and followed by KIR genes as of 2015.
Using NGS technologies in a highly automated, high-volume production environment with high demands on data quality provides a number of key benefits over traditional Sanger sequencing and enables routine typing operations at an unprecedented scale. At the same time NGS poses a number of novel challenges and introduces complexities of its own. Here, we report on our experiences of using amplicon-based HLA typing by NGS at a massive scale. We present not only the performance metrics of our NGS-based typing approach but also key lessons we learned over a time period of three and a half years typing 2.7 million donors for six HLA loci.
Discussion
In recent years it has been extensively demonstrated that NGS can be applied to allele-level HLA typing with minimal ambiguity, providing benefits such as clonal sequencing to achieve in-phase reads and massive parallelism to enable the expansion of the regions sequenced [5, 6, 18–24]. Many tissue typing laboratories, however, have yet to fully embrace NGS technologies for routine high-throughput operations. DKMS Life Science Lab was one of the first labs to do so and has subsequently accumulated three and a half years of experience with routine HLA typing using an amplicon-based approach on the Illumina platforms. Over that period, more target genes were added (CCR5, ABO, RHD, and KIR) and genotyping data for 2.7 Mio samples was retrieved from 3,642 MiSeq and HiSeq sequencing runs (Fig. 1).
The amplicon-based approach was initially chosen for two major reasons. First, it is applicable to most genomic loci with modest modifications both in the laboratory workflow and the analysis software. This allowed rapidly supplementing the standard HLA typing portfolio with ABO, RHD, CCR5 and KIR typing as straightforward extensions to the core HLA typing workflow [8]. Perhaps equally important for production-scale operations is the simplicity and robustness of a PCR-based approach. Most steps in a PCR-based workflow can be automated using liquid handling robotic stations and high-throughput PCR solutions such as the Fluidigm Access Array System or high-capacity thermocyclers. Moreover, the amplicon-based approach proved highly resilient to the wide range of DNA quantities derived from the primary sources material (Fig. 2), tolerating as little as 2 ng/μl initial template DNA concentration (Fig. 7).
With our large-scale NGS HLA typing strategy we obtained high-resolution genotype assignments for an average of 98.9% of the HLA-A, -B, -C, -DRB1, -DQB1, and -DPB1 loci typed (Table 1). The lowest high-resolution typing rate was achieved for HLA-C (96.8%). HLA-C turned out to be a challenging locus in many regards: In the Fluidigm workflow, before the separation of low- and high-DNA-concentration samples, it showed the highest average primer dimer rate amongst all loci (32.8% ± 14.1% SD; Additional file 6: Figure S5) and, correspondingly, the lowest average numbers of on-target reads (Fig. 8). Exon 3 of HLA-C showed the highest proportion of detected chimeric reads amongst all amplicons (Fig. 6) and HLA-C is amongst the loci with the highest average repetition rates (Fig. 9).
However, many of these issues resolved or improved not only for HLA-C but also other loci when we started to treat low-DNA-concentration samples (<18 ng/μl) and high-DNA- concentration samples differently. Low initial DNA concentrations in conjunction with the nanolitre-scale reaction volumes on 192.24 Fluidigm Access Array chips and the time- and cost-effective single-PCR 4-primer approach caused problems that largely dissipated once standard microlitre reaction volumes and 2-primer PCR setups were used. Alternatively, nanofluidic chips could be used in combination with a conventional 2-primer chemistry, which would probably also resolve issues with primer dimers and PCR artefacts. It should also be noted that the sample repetition rates reported arise from two main cases: a) truly failed amplifications producing insufficient read depths for genotyping and b) results that are largely correct, but get flagged for repeat typing for verification purposes. This includes rare alleles as well as results that may have suffered from PCR drop out due to limited dilution. For low DNA concentration samples applied to the 192 chips, that effect, although still rare, becomes measurable [18]. Therefore, these repeats reflect our extremely high standards with regard to minimal error genotyping.
Whilst the Fluidigm workflow as originally devised [5] has some operational advantages, such as being less complex to automate and having low reagent costs, in our lab it remains a viable option only for high-quality samples. As the DNA concentration effects are relatively subtle, they often only become possible to track down after a large amount of data has accumulated. Thus, we now see clear evidence that sequential 2-primer PCRs should be preferred over 4-primer amplicon tagging workflows especially if increased formation of chimeric reads and primer dimers pose a risk for the intended application. We also suggest that proofreading polymerases should best be used in conjunction with PTO primers unless it is assured that exonuclease activity is effectively inhibited before heat activation. Finally, when low template DNA concentrations cannot be avoided for applications that are sensitive to stochastic dropout of alleles, a standard PCR setup might be a better fit than a nanofluidics platform.
Large-scale NGS-based typing of HLA in the context of donor registries with tens of thousands of samples processed each month requires substantial upfront investments in terms of laboratory automation, IT infrastructure and data analysis capacity. At DKMS Life Science Lab we currently employ 3 custom automatic DNA extraction platforms with a total capacity of more than 25,000 samples/week, 18 robotic liquid handlers, 3 hydrocyclers, 20 Fluidigm cyclers, and 3 HiSeq 2500 instruments for sequencing. On one HiSeq 2500 instrument, up to 10,000 samples can be jointly sequenced within 3 days using "Rapid Run Mode" and a dual flow cell run. Data analysis is performed using custom software [5], currently running on 320 Xeon processor cores and requiring 1.1 TB of storage capacity per month to retain FASTQ files and analysis data. However, for the more common use case of HLA typing in a clinical setting or a diagnostic lab, the requirements are typically much less demanding. Example workflows suitable for low- to medium-throughput HLA genotyping using NGS have been discussed extensively in the literature [4, 18, 20].
The next step in HLA genotyping subsequent to a NGS-based amplicon approach is promised by long-read single molecule sequencing technologies such as offered by sequencing systems by Pacific Biosciences (PacBio) or Oxford Nanopore Technologies (ONT). Combined with long-range PCR they hold the promise of efficient and accurate haplotype sequencing over multiple kilobases, thereby making available exon and intron sequences not covered by the current approach. At present the clinical impact of sequence information outside the peptide binding groove remains unknown except for variations encoding null alleles [25]. Once scalable HLA typing workflows and analysis software become available for these technologies, it would appear short-sighted to dismiss the clinical potential of fully characterised HLA alleles. However, whilst HLA typing is already feasible with PacBio instruments [26, 27], the limited benefit for donor search strategies seems not to justify the five-fold higher sequencing costs in the registry context. An alternative to PacBio-based systems may be provided by ONT's high-throughput PromethION system which promises HiSeq-like throughput rates (https://www2.nanoporetech.com/products/specifications) but at the time of writing has not yet been released to customers.
Conclusions
Although long-read sequencing platforms are likely to deliver the next revolution in HLA typing, they cannot at present truly compete in terms of throughput and costs per sample with the currently available widely applied and proven short-read-based approaches. We expect amplicon-based NGS typing workflows to remain, at least for the next few years, as the workhorse in high-volume targeted typing applications like HLA genotyping for donor registries. Our experience after genotyping more than 2.7 million samples confirms that the short-amplicon-based genotyping approach exhibits the robustness required for everyday routine high-throughput operation. In particular, compared to Sanger sequencing, the NGS based approach has proven to be by far more cost efficient, easier to handle and less error prone. Taking advantage of these lessons learned will help to further increase robustness and efficiency and raise awareness for potential pitfalls, thereby minimising spurious genotyping results. NGS has revolutionised whole genome sequencing and is starting to have a tremendous impact on targeted sequencing applications, enabling projects of a whole new scale and breadth.
Methods
Samples, DNA isolation and quantification
All donor samples analysed here were provided by DKMS and other bone marrow donor centres between January 2013 and June 2016. Primary source material was either whole blood (18%) or two self-administered buccal swabs per donor (82% of all samples). DNA was isolated from 150 μl whole blood or a single buccal swab using the magnetic-bead-based "chemagic DNA Blood Kit special" or "chemagic DNA Buccal Swab kit special" (Perkin Elmer, Baesweiler, Germany), respectively. DNA was eluted in 100 μl elution buffer (10 mM Tris-HCl pH8.0). DNA concentrations were measured by quantitative fluorescence staining (SYBR Green, Biozym, Hessisch Oldendorf, Germany) using the TECAN infinite 200Pro (Tecan, Männedorf, Switzerland) plate reader. Depending on DNA concentrations, typing profile and the time frame, distinct workflows were applied (see below). Samples with concentrations lower than 2 ng/μl were generally excluded from typing. Samples from DKMS-US have only been recently subject to genotyping at the DKMS Life Science Lab and were not included in analyses that compare samples of different provenance.
Amplicon design
Primers were designed to target the core HLA exons 2 and 3 of HLA-A, -B, -C, -DRB1, -DQB1 and -DPB1 as described in Lange et al. [5]. Additional primers were designed to create amplicons spanning exons 2 and 3 to help resolve phase of class I loci. Phasing amplicon sizes range between 580 bp and 720 bp. ABO amplicons were designed for exons 6 and 7 as described in Lang et al. [8]. The blood group locus RHD was amplified for exon 5 and 6 in conjunction with the highly homologous gene RHCE as positive control for RHD negative samples. The CCR5 amplicon encloses a 32-bp deletion that confers high resistance against HIV-1 acquisition when homozygous [28]. For presence/absence typing of KIR genes, amplicons were designed for exons 4, 5 and 7. Amplicon sizes for HLA (excluding the phasing amplicons), blood groups and CCR5 range between 313 bp and 426 bp. PCR primer sequences will be provided to researchers upon request.
PCR amplification
Until November 2015, all samples were processed on 48.48 Fluidigm Access Array chips (2,304 PCR reactions per chip) or on 192.24 Fluidigm Access Array chips (4,608 PCR reactions per chip; Fluidigm Corporation, South San Francisco, USA) using a single-PCR 4-primer protocol (detailed in Lange et al. [5]). These workflows are henceforth both referred to as Fluidigm workflow.
As of 2015-11-20, samples with DNA concentrations lower than 18 ng/μl have been processed with an alternative 2-PCR 2-primer workflow (henceforth referred to as 384 PCR workflow). Samples with DNA concentrations higher than 18 ng/μl have continued to be processed with the Fluidigm workflow.
Briefly, for the Fluidigm workflow amplicons for HLA, ABO, RHD, and CCR5 are generated concurrently on Access Array chips. A single multiplexed PCR setup includes pairs of inner primers with target-specific 3'-tails and 5'-tails complementary to two outer primers carrying molecular identifier (MID) sequences and adaptors for sequencing on Illumina MiSeq or HiSeq 2500 instruments. The amplicons for KIR genes are generated separately on 384-well plates. The loading of the Access Arrays and the 384-well pipetting procedure are performed on TECAN Evo instruments (Tecan, Männedorf, Switzerland). The loading, thermocycling and harvesting of the Access Arrays takes approximately 5 h.
Samples with low-concentrated DNA have an increased risk of allelic dropout [17], increased primer dimer formation (this paper) and decreased average percentage of bases > Q30 across entire MiSeq/HiSeq runs (this paper). As of November 2015, we have therefore been applying a separate workflow (384 PCR) to samples with DNA concentrations <18 ng/μl. In this workflow all loci are amplified in 11 multiplexed primary PCR reactions in separate 384-well plates as detailed in Lang et al. [8] for ABO typing. Thermocycling is performed in hydrocyclers (LGC Genomics, Berlin, Germany) for approximately 2.5 h. Next, all amplicons of each sample are combined using volumes appropriate to maintain a balance of targeted amplicons using a CyBi-Well vario system (Analytik Jena AG, Jena, Germany). The CyBi-Well vario system is also used to setup a subsequent secondary PCR reaction to elongate the amplicons with MIDs and sequencing adapters for Illumina sequencing. Amplicon pooling, secondary PCR setup and thermocycling last about 1 h.
Whilst the Fluidigm workflow has remained technically the same since November 2015, the introduction of the 384 PCR workflow for low-concentration samples changed the average DNA-concentration of samples subjected to the Fluidigm workflow. To distinguish between these cases, we refer to the Fluidigm workflow before and after November 2015 as Fluidigm old and Fluidigm new, respectively.
Amplicon pooling, purification and quantification
PCR products generated on the Access Array system are pooled for post-PCR processing. Several of these pools are subsequently combined in equimolar amounts based on qPCR quantification for sequencing on MiSeq or HiSeq 2500 instruments. Before August 2014, the DNA concentration after PCR was not normalised per sample prior to pooling for reasons of time efficiency and costs. Potentially, this can lead to severely unequal read distributions across samples. For the Fluidigm workflow, empirical analysis of the dependency of final read yield from initial DNA concentration allowed for introducing a novel equilibration strategy in August 2014 that effectively uses initial DNA concentrations for quantification-free post-PCR normalisation (Fig. 7).
Purification of several amplicon pools is then performed in parallel using SPRIselect Beads (Beckman Coulter, Brea, USA) with a ratio of 0.6:1 beads to DNA with a subsequent dilution step for quantification by qPCR. Pooling, purification and dilution for qPCR quantification are performed on Biomek instruments (Beckman Coulter, Brea, USA) within 70 min. For qPCR the Library Quant Illumina Kit (KAPA Biosystems, Boston, USA) with standards in a range from 0.2 fM to 20 pM was used on ECO Real-Time PCR cyclers (Illumina, San Diego, USA) or ABI-StepOnePlus qPCR cyclers (Thermo Fisher, Carlsbad, USA), respectively. Quantification lasts approximately 1 h. Barcoded amplicons are pooled separately for KIR and the other loci.
Library preparation and MiSeq/HiSeq runs
The purified and quantified amplicon pools are mixed in equimolar amounts and prepared as recommended by Illumina (Illumina, San Diego, USA). Libraries are loaded at 6.5 pM to 8 pM onto MiSeq or HiSeq flow cells with 10% PhiX spiked in. Paired-end sequencing is performed at 249, 251 or 260 cycles, respectively. On average, library preparation takes 30 min for a MiSeq and approximately 60 min for a HiSeq library.
Data analysis
All routine genotyping was performed using the in-house developed software neXtype as described elsewhere [5, 8]. For HLA and KIR typing the IMGT/HLA [29] and IPD/KIR [30] databases were used as references, respectively. For ABO and RHD typing a modified NCBI dbRBC database [31] was used as a reference. For CCR5 the sequence for the wildtype without deletion and a 32 bp deletion variant were retrieved from NCBI as reference. The rate of primer dimers is determined by computationally scanning for Illumina adaptor sequences in the forward or reverse reads.
Abbreviations
HLA:

Human leucocyte antigen
HSCT:

Haematopoietic stem-cell transplantation
NGS:

Next generation sequencing
PCR:

Polymerase chain reaction
PD:

Primer dimer
Declarations
Acknowledgements
We gratefully thank all the colleagues at DKMS Life Science Lab who participated in the success of this project by their daily dedicated work, in particular Carmen Schwarzelt and her team, Annett Heidl and her team, and the laboratory technology and automation team.
Funding
No funding for the work presented in this article was received.
Availability of data and materials
The datasets used and/or analysed during the current study are available from the corresponding author on reasonable request.
Authors' contributions
GS analysed the data. GS and VL wrote the paper. KL developed and optimised the assays and primer sets. PQ developed the quantification-free post-PCR normalisation method. JS and JAH developed the typing algorithms for HLA, blood groups and KIR. VL and IB designed the workflows and coordinated implementation. VL, IB, JP and AHS supervised the work. All authors read and approved the final manuscript.
Competing interest
The authors declare that they have no competing interests.
Consent for publication
Not applicable.
Ethics approval and consent to participate
DKMS Life Science Lab is an affiliated company of DKMS and performs HLA typing on behalf of DKMS and other bone marrow donor centres. During registration donors sign an informed consent approving HLA genotyping and other analyses to facilitate or improve donor search for stem cell transplantation. No ethics committee approval was obtained as the described genotyping is within the scope of the consent form signed at recruitment and performed as genotyping service.
Open AccessThis article is distributed under the terms of the Creative Commons Attribution 4.0 International License (http://creativecommons.org/licenses/by/4.0/), which permits unrestricted use, distribution, and reproduction in any medium, provided you give appropriate credit to the original author(s) and the source, provide a link to the Creative Commons license, and indicate if changes were made. The Creative Commons Public Domain Dedication waiver (http://creativecommons.org/publicdomain/zero/1.0/) applies to the data made available in this article, unless otherwise stated.
Authors' Affiliations
(1)
DKMS Life Science Lab, Dresden, Germany
(2)
DKMS, Tübingen, Germany