Research article

Open Access
Sex differences in the molecular signature of the developing mouse hippocampus
Received: 21 July 2016
Accepted: 4 March 2017
Published: 16 March 2017
Abstract
Background
A variety of neurological disorders, including Alzheimer's disease, Parkinson's disease, major depressive disorder, dyslexia and autism, are differentially prevalent between females and males. To better understand the possible molecular basis for the sex-biased nature of neurological disorders, we used a developmental series of female and male mice at 1, 2, and 4 months of age to assess both mRNA and protein in the hippocampus with RNA-sequencing and mass-spectrometry, respectively.
Results
The transcriptomic analysis identifies 2699 genes that are differentially expressed between animals of different ages. The bulk of these differentially expressed genes are changed in both sexes at one or more ages, but a total of 198 transcripts are differentially expressed between females and males at one or more ages. The number of transcripts that are differentially expressed between females and males is greater in adult animals than in younger animals. Additionally, we identify 69 transcripts that show complex and sex-specific patterns of temporal regulation through postnatal development, 8 of which are heat-shock proteins. We also find a modest correlation between levels of mRNA and protein in the mouse hippocampus (Rho = 0.53).
Conclusion
This study adds to the substantial body of evidence for transcriptomic regulation in the hippocampus during postnatal development. Additionally, this analysis reveals sex differences in the transcriptome of the developing mouse hippocampus, and further clarifies the need to include both female and male mice in longitudinal studies involving molecular changes in the hippocampus.
Keywords
Hippocampus
Development
Transcriptomics
Proteomics
Sex differences
Background
The formation and development of the mammalian brain involves neuronal proliferation and axonal growth followed by programmed cell death and pruning of synapses [1]. This tightly regulated process is governed by an ensemble of genes and signaling factors in both prenatal and early post-natal development. Transcriptional regulation of neural development has previously been explored using mouse models with high throughput technologies such as microarrays and RNA-sequencing (RNA-seq) [2–6]. These investigations have focused on a variety of brain regions, including the cerebral cortex [2, 3], hippocampus [6], and cerebellum [4]. One of these studies, an RNA-seq based investigation comparing cortical expression in the mouse embryo with that of animals aged 3–4 months, identified 4,125 transcripts changing expression from embryonic development into adulthood [2]. This finding reveals the substantial role of temporal regulation of the cortical transcriptome during neural development. However, these studies have either used one sex exclusively [2] or not included biological sex as a covariate of interest in data analysis [3–6].
Even prior to gonadal differentiation in utero, female and male brains have distinct patterns of gene expression as a result of chromosomal dosage differences [7, 8]. Additional sex differences in gene expression and brain morphology manifest as a result of the gonadal release of sex hormones both in utero and during postnatal sexual development [9–11]. These sex-specific gene expression signatures persist into adulthood in brains of both mice and humans [12, 13]. Our detailed investigation of sex differences in transcript expression in inbred mouse strains showed that molecular sex differences are influenced by genetic background, revealing tens to hundreds of differentially expressed (DE) transcripts depending on the strain [14], which might suggest that sex differences in humans are population-specific. Neural sex differences in mammals also manifest on the macroscopic scale. MRI and histological studies have identified sex differences in gross neuroanatomical features, such as cortical thickness in both mice and humans [9, 15].
Neural sex differences are also evident in human neurological disorders which have a sex-biased epidemiological profile. Males are more likely than females to be diagnosed with certain neurological disorders such as autism spectrum disorder [16, 17], dyslexia [18], Parkinson's disease [19], and schizophrenia [20]. However, males are less likely to be diagnosed with Alzheimer's disease [21] or major depressive disorder [22] than females of the same age. This is potentially concerning because many model-based molecular and behavioral investigations of these pathologies fail to include both female and male subjects [23]. Thus, important clues to disease cause and severity may be overlooked. The growing body of evidence for sex biases in both basic biology and clinical outcomes underscores the importance of understanding the differences between the molecular architecture of the female and male brain. Recently, this need has resulted in an NIH initiative that encourages the use of both female and male subjects in clinical trials and pre-clinical animal studies [24].
The hippocampus is an important telencephalic structure canonically associated with learning and memory, and is implicated in the pathology of several sex-biased neurological disorders. For example, Alzheimer's Disease affects females more than males [21] and is associated with the loss of neurons in the hippocampus. Furthermore, patients with Major Depressive Disorder (MDD), a female-biased disorder, have reduced hippocampal volume relative to age and sex-matched controls [25]. In addition, the dentate gyrus of the hippocampus is one of only two sites of adult neurogenesis [26, 27], and hippocampal neurogenesis has been reported to be sexually dimorphic in young rats, with males rats producing more neurons with lower average survival rates than females [28]. Hippocampal spine synapse density is also sexually dimorphic in the mouse brain, and varies throughout the female estrous cycle [29, 30]. Taken together, these characteristics make the hippocampus a suitable candidate brain region for the investigation of sex-biased gene expression through development.
We have previously investigated sex differences in the hippocampal transcriptome in a variety of inbred strains [14] at a single age (60 days of age). Here, we expand on these findings by conducting a multi-omic analysis of the mouse hippocampus in postnatal development. In the current study, we document changes in the transcriptome and proteome of the female and male hippocampus in young (1 month old), pubescent (2 month old), and young adult (4 month old) mice using RNA-seq and liquid chromatography-mass spectrometry (LC-MS/MS) based proteomics. We identify: 1) genes that show changed mRNA expression during development, 2) transcripts that are differentially expressed between females and males at one or more stages of postnatal development, and 3) transcripts that have a sex-specific pattern of change through development.
Results
RNA sequencing was used to compare the transcriptional changes that occur in female and male C57BL/6J mice between 1, 2, and 4 months of age. Extracted mRNA was processed into cDNA libraries and sequenced on an Illumina HiSeq 2500, yielding a total of 441,688,394 reads across all 30 samples. Read counts uniquely mapped to a total of 25,520 transcripts, or 68% of the mouse genome (GRCm38).
To visualize gross gene expression differences between samples of different sex and age, we conducted a principal component analysis (PCA) with DESeq2. This analysis was based on transcript expression data in the form of variance stabilized read counts (DESeq2 VST transformation) for the 500 most variant transcripts in the dataset. PCA is a form of dimensional reduction that allows differences between samples to be visualized based on the major sources of variance in the data. The first three principal components contribute 76% of the total variance (32, 25 and 19%, respectively, and are shown in Fig.
1
. The PCA shows a cluster structure that reflects differences in expression attributable to both age and sex (Fig.
1
). Female and male samples at all 3 ages are segregated along the PC1 axis, indicating that the hippocampal transcriptome is distinct between the sexes. Within clusters of female and male samples, mice of different ages and both sexes are further segregated by contributions from both PC2 and PC3, confirming that the hippocampal transcriptome is altered through development in both females and males. Within the cluster of samples from the 4 month-old female mice, none of the principle components account for a substantial portion of the variance that might be attributed to the estrous cycle, and a scatter plot does not reveal any clustering by estrous stage (Additional file
5
Figure S1). This is consistent with a more detailed study in our laboratory (DiCarlo et al., manuscript in preparation).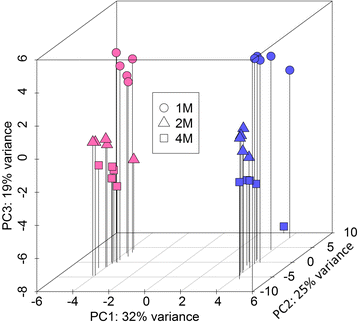 Discussion
This investigation centers on changes in the transcriptome and proteome in the hippocampus as a function of two biological variables: the stage of postnatal development, and biological sex. We build on previous investigations by identifying transcripts that are not only temporally regulated, but that also change through postnatal development in a sexually dimorphic manner. Our analysis indicates that 2699 transcripts change significantly in the hippocampus between 1, 2, and 4 months of age, many of which are associated with known neurodevelopmental processes such as "cell morphogenesis" and "cell projection organization". Among these transcripts are many genes already shown to have changed expression in other brain regions during periods of development, (i.e., Gsn, Mbp) [2, 5]. In supplement to previous findings, we also identify several transcripts which are not known to undergo significant regulation in postnatal development, such as Il33.
Our analysis indicates that most transcripts that display monotonic changes in expression across age points are down-regulated. However there is also a subset of genes that are up-regulated substantially. The significant enrichment of immune system associated GO terms in the comparison of 1 month and 2 month old animals indicates that several immune system associated genes play a role in neural development. Among these is Il33, a known pro-inflammatory cytokine, which displays a profound increase in expression through postnatal development. Indeed, Il33 is the most highly up-regulated transcript through postnatal development in the hippocampus (Figs. 2e, c and e). Il33 is known to be a potent regulator of lymphocyte recruitment. It has also been shown to bind heterochromatin and repress transcription in vivo [60]. Our data suggest that Il33 may play an as yet unrecognized role in down-regulating gene expression in the mouse hippocampus through early postnatal development.
Unlike Il33, a subset of the genes (i.e., Snx10, Kcnh2) display non-monotonic pattern of expression (Fig. 2f and g). We emphasize this minority of genes, as it provides context for the observation that several transcripts found to have changed expression through the ages investigated show the opposite trend in our data relative to that reported in previous investigations of neural development. For example, Mobp is up-regulated by almost 9000-fold from embryonic day 17 to postnatal day 60 in the cerebral cortex [2]. However, in our dataset, Mobp is one of the most down-regulated transcripts through the postnatal development stages that we have analyzed, and decreases by 38% between 1 (P30) and 2 months (P60), and an additional 17% between 2 (P60) and 4 months (P120) of age. Several myelin-associated transcripts, such as Mobp and Mbp, are up-regulated throughout the brain from E18 to P4 [61]. Therefore, the disparity in these observed patterns of gene expression is likely due to the unique set of developmental periods investigated in our study relative to other investigations, as opposed to differences in transcriptional regulation across brain regions. Our data demonstrate that many genes do not increase or decrease uniformly through postnatal development. Therefore, different studies focusing on different sets of developmental periods (such as embryonic day 17 and postnatal day 60 in [2], and P30, P60, and P120 in our study) are likely to reach different conclusions regarding whether genes are up or down-regulated. In early periods of postnatal development, these transcripts are upregulated to provide the molecular constituents of the myelin sheath to enable salutatory conduction. However, our data demonstrate that these myelin-associated genes are subsequently down-regulated in the hippocampus between 1 and 4 months of age, coincident with a period of neural development marked by substantial synapse elimination and axonal pruning. Thus, our data emphasize that mammalian brain development is a complex, multi-phased process associated with wide-spread regulation on the transcriptional level, and that genes that are up or down-regulated at one developmental stage may not retain that pattern of expression in the next.
Most importantly, this study shows that layered on top of the broad changes in gene expression that take place in postnatal development, the transcriptional signatures of the developing female and male hippocampus are distinct. The number of transcripts showing sex biased expression increases from 17, to 32, to 180 at 1, 2, and 4 months of age, respectively. Interestingly, the relatively small number of sex-biased genes in 4 month old animals show high enrichment of a biological process not typically associated with sex differences in neural gene expression: "protein folding". This biological process is enriched in both differential expression analyses focused on sex differences: 1) the pairwise comparison between 4 month old females and males (Fig. 4c) and, 2) The likelihood ratio test identifying transcripts with sex-specific temporal regulation (Fig. 5b). In both sets of DE genes, the transcripts which drive the enrichment of "protein folding" are HSPs (Fig. 5c). These transcripts show stable expression in females across the ages we investigated, but are progressively up-regulated in males, achieving a level that is significantly different from females at 4 months of age. A subset of these differences is also recovered in the LC-MS/MS dataset. Of the 8 HSP transcripts that are differentially regulated between the sexes, 4 were quantified by LC-MS/MS, 3 of which were higher (though not significantly) in males than females, the fourth showing very little difference between the sexes (Table 1).
Heat shock proteins were originally characterized in Drosophila bushii by their increased expression in response to increased temperature [62]. These proteins are known to function as chaperones, promoting the folding of proteins into biologically active states and preventing aberrant folding [63]. The induced expression of several HSPs (such as Hsp70) has been shown to promote the survival of mammalian cells when exposed to heat stress [64]. HSP expression is regulated by a family of transcription factors (Hsf1-5) which in response to various stimuli, bind the heat shock element and induce transcription [55]. Of these five factors, only Hsf1 shows a pattern of sexually dimorphic change in expression through development correlated with that of the differentially expressed heat shock proteins in our data (Fig. 6a). These data suggest that Hsf1 may play a role in inducing HSP expression in the male hippocampus in development, and that HSP expression in the female hippocampus may be less sensitive to induction by Hsf1. To our knowledge, heat-shock proteins are not known to play a substantial role in postnatal hippocampal development, nor are they known to have a sex-biased signature of expression. However, previous investigations using knockout mice show that HSPs may have a role in maintaining dendritic spines [65]. That these chaperones are up-regulated only in males at adulthood presents a candidate mechanism by which excessive protein aggregation could by attenuated in males but not females. If this pattern of sex-biased expression of heat-shock proteins is conserved across mammals, these data may present a candidate molecular correlate for the sex bias observed in Alzheimer's disease, a disease characterized by aggregation of amyloid beta in neurons which is more prevalent in women than men. Future studies focusing on the levels of HSPs in human females and males would be helpful in determining whether: 1) there is a sex difference in HSP expression in the human hippocampus and 2) increased HSP expression is associated with attenuated AD development or progression.
Conclusions
To expand on previous studies of molecular correlates of neural development and sex differences, we performed a transcriptomic investigation of mRNA levels in the developing mouse hippocampus before, during, and after sexual development. This analysis identifies a preponderance of transcriptional regulation through postnatal development, consistent with the findings of previous investigations. Additionally, we identify a host of transcripts that show sex-specific regulation through development, even prior to sexual development. Several of these transcripts are heat-shock proteins, which have previously been shown to promote cell survival, present a possible molecular basis for sex biases in neurodegenerative disorders. These findings clarify the need to consider sex differences in studies that investigate hippocampal development, even in periods prior to sexual maturation. Planned future investigations include targeted molecular investigations of heat shock protein levels in females and males at later time points, as well as the investigation of splice variation through development in the current RNA-seq dataset.
Abbreviations
DE:

Differentially expressed
GO:

Gene Ontology
HSP:

Heat-shock protein
Declarations
Acknowledgements
The authors would like to thank Roger Mercer, Rakesh Singh, and Yanming Yang at the Florida State University College of Medicine Translational Science Laboratory for their help and support in obtaining both the LC-MS/MS and RNA-sequencing dataset. We would also like to think Crystal-Dawn Badger, Amanda Dossat, and Gwen Drake for their help in interpreting cell typology for estrous staging, as well as Lisa DiCarlo for her advice and previous experience on colony management.
Availability of data and materials
The RNA-seq and LC-MS/MS datasets supporting the conclusions of this article are available in the NCBI Gene Expression Omnibus accession #GSE83931, and the ProteomeXchange Consortium via the PRIDE partner repository with the dataset identifier PXD004496, respectively.
Authors' contributions
JLB, RSN, and CV planned and designed experiments, analyzed and interpreted data, and wrote the manuscript together. CV oversaw and advised on the computational analysis of RNA-seq data. JLB performed computational analyses of RNA-seq and proteomics datasets, maintained the mouse colony, collected tissue, and prepared cDNA libraries and protein extracts. All authors read and approved the final manuscript.
Competing interests
The authors declare that they have no competing interests.
Consent for publication
Not applicable.
Ethics approval and consent to participate
All procedures involving animals were approved by the Florida State University Animal Care and Use Committee (protocol #1420).
Open AccessThis article is distributed under the terms of the Creative Commons Attribution 4.0 International License (http://creativecommons.org/licenses/by/4.0/), which permits unrestricted use, distribution, and reproduction in any medium, provided you give appropriate credit to the original author(s) and the source, provide a link to the Creative Commons license, and indicate if changes were made. The Creative Commons Public Domain Dedication waiver (http://creativecommons.org/publicdomain/zero/1.0/) applies to the data made available in this article, unless otherwise stated.
Authors' Affiliations
(1)
Department of Biomedical Sciences, Florida State University College of Medicine, Tallahassee, USA
(2)
Translational Science Laboratory, Florida State University College of Medicine, Tallahassee, USA