Research article

Open Access
Histological and transcriptomic effects of 17α-methyltestosterone on zebrafish gonad development
Received: 28 February 2017
Accepted: 28 June 2017
Published: 24 July 2017
Abstract
Background
Sex hormones play important roles in teleost ovarian and testicular development. In zebrafish, ovarian differentiation appears to be dictated by an oocyte-derived signal via Cyp19a1a aromatase-mediated estrogen production. Androgens and aromatase inhibitors can induce female-to-male sex reversal, however, the mechanisms underlying gonadal masculinisation are poorly understood. We used histological analyses together with RNA sequencing to characterise zebrafish gonadal transcriptomes and investigate the effects of 17α-methyltestosterone on gonadal differentiation.
Results
At a morphological level, 17α-methyltestosterone (MT) masculinised gonads and accelerated spermatogenesis, and these changes were paralleled in masculinisation and de-feminisation of gonadal transcriptomes. MT treatment upregulated expression of genes involved in male sex determination and differentiation (amh, dmrt1, gsdf and wt1a) and those involved in 11-oxygenated androgen production (cyp11c1 and hsd11b2). It also repressed expression of ovarian development and folliculogenesis genes (bmp15, gdf9, figla, zp2.1 and zp3b). Furthermore, MT treatment altered epigenetic modification of histones in zebrafish gonads. Contrary to expectations, higher levels of cyp19a1a or foxl2 expression in control ovaries compared to MT-treated testes and control testes were not statistically significant during early gonad development (40 dpf).
Conclusion
Our study suggests that both androgen production and aromatase inhibition are important for androgen-induced gonadal masculinisation and natural testicular differentiation in zebrafish.
Keywords
Sex differentiation
Gonad differentiation
Androgens
Zebrafish
Background
Natural and synthetic steroid hormones influence gonadal sex differentiation and sex ratios in teleost fish [1–5]. In particular, androgens regulate testicular development, spermatogenesis, male secondary sex characteristics, sexual behaviour and maintenance of male sexual phenotype in teleosts [4, 6–9]. The major natural androgen in teleost fish is 11-ketotestosterone [4], which is converted from androstenedione and testosterone via the steroidogenic enzymes 11β-hydroxylase (Cyp11c1) and 11β-hydroxysteroid dehydrogenase (Hsd11b2) [10–13]. The effects of these androgens are mediated by androgen receptors [10, 14].
Synthetic androgens are structural mimics of the native androgen receptor ligands testosterone and 11-ketotestosterone (11-KT). They include 17α-methyltestosterone (MT), 17α-methyldihydrotestosterone, 17β-trenbolone, mibolerone and mesterolone [15]. Treatment with exogenous androgens at the labile stage during early development triggers testicular development, stimulates precocious spermatogenesis along with phenotypic and behavioural masculinisation, skews sex ratios towards males in gonochoristic fish [16–24] and accelerates female-to-male sex change in protogynous hermaphroditic fish [25–29]. Studies suggest that androgen-induced female-to-male phenotypic sex reversal is functional and persistent [30–33]. Androgen induction of female-to-male sex reversal [15, 34] is routinely used for sex control in aquaculture [35], with MT being the most frequently used androgen for production of all-male populations in commercial settings [15] because of its high masculinising potency [15].
Two hypotheses exist for the mode of action of androgens for induction of testicular differentiation: (1) indirect, via aromatase inhibition which reduces estrogen production [36–38] and (2) direct, via interactions with androgen receptor [36]. Prior studies of androgen-induced gonadal masculinisation in European seabass [39], Japanese flounder [19], groupers [26, 29], Nile tilapia [40] and rainbow trout [41–45] using candidate gene and microarray approaches [46] support the aromatase inhibition hypothesis. The gonadal masculinisation observed in zebrafish following treatment with aromatase inhibitor also strongly supports this hypothesis [38]. However, recent studies in tilapia and grouper implicate androgen receptor in androgen-induced phenotypic masculinisation [36, 47]. Overall, the molecular mechanisms underpinning androgen-induced gonadal masculinisation in fishes remain to be clarified.
Zebrafish (Danio rerio) is a popular toxicological model and has been used extensively to study the effects of endocrine-disrupting chemicals on gonad development and sexual phenotype [24, 30–32, 48–57]. The primary sex determining region present in wild zebrafish strains appear to have largely been lost in laboratory strains through the domestication process [58]. Almost all zebrafish in the world are derived from domesticated strains, with most from the AB strain and its derivatives except for the WIK strain. Domesticated zebrafish use a polygenic sex determination system [59] vulnerable to the effects of high temperature [60, 61], hypoxia [62], rearing density [63, 64], inbreeding, out-crossing [65, 66] and hormones [30]. Zebrafish is a juvenile hermaphrodite, wherein all individuals initially develop a non-functional 'juvenile ovary' [67–70]. Oocytes undergo apoptosis in juvenile ovaries of presumptive males during juvenile ovary-to-testis gonadal transformation [71]. In contrast, oocytes continue oogenesis and oocyte maturation in presumptive females [68] via unknown ovarian aromatase (Cyp19a1a)-mediated mechanisms [70]. Depending on the dosage, treatment with exogenous androgens can induce female-to-male sex reversal [24, 30–33] and paradoxical feminisation in zebrafish [72]. The Tg(vas:egfp) zebrafish line exhibits sexually dimorphic expression of green fluorescent protein which facilitates in vivo sex identification during early gonad development [73]. It has been used to study estrogenic effects in zebrafish [74].
Little is known about the direct transcriptional effects of MT during gonad masculinisation. In this study, we treated juvenile Tg(vas:egfp) transgenic zebrafish with 100 ng/L MT from 20 days post fertilisation (dpf) to 40 dpf and 60 dpf. These time points were selected to reflect the onset (20 dpf) and completion (40 dpf) of juvenile ovary-to-testis transformation as well as the onset of female puberty (60 dpf) in zebrafish [68, 69, 75]. RNA sequencing (RNA-Seq) was used to profile global gene expression patterns in MT-treated gonads. The gonadal transcriptomes of MT-treated zebrafish were compared with those of control zebrafish testes and ovaries to provide insights into the molecular basis for MT-induced gonadal masculinisation in zebrafish.
Methods
Ethics statement
This study was approved by the University of Otago Animal Ethics Committee (AEC No. 101/09). All experiments were performed in accordance with the Good Practice Guide for the use of animals in research, testing and teaching.
Zebrafish husbandry
Zebrafish were maintained according to Westerfield [76]. We used larval and juvenile transgenic zebrafish expressing an enhanced green fluorescent protein (EGFP) under the control of the vasa promoter, Tg(vas:egfp), derived from the domesticated Tübingen/AB strains [73]. EGFP expression in Tg(vas:egfp) transgenic zebrafish enables visualisation and isolation of gonads before the gonads can be unequivocally distinguished from other tissues [77]. Higher levels of fluorescence are detected in ovaries than testes [69, 73], which can be used to distinguish the phenotypic sex of the fish.
17α-methyltestosterone treatment
17α-methyltestosterone (MT) was purchased from Sigma Aldrich (Sigma-Aldrich Sweden AB, Stockholm, Sweden) and dissolved in 100% ethanol to prepare stock solutions of 50 mg/L. At 18 to 19 dpf, juvenile zebrafish were transferred from 4 L tanks into petri dishes where they were size-sorted by visual inspection. Zebrafish that were unusually small (<5.5 mm) or large (>8.5 mm) were removed. The remaining juvenile zebrafish (between 5.5 to 8.5 mm in length) were transferred into 4 L tanks containing 3.5 L of system water at a density of 20 individuals per tank.
For the MT exposure, the juvenile zebrafish were exposed to system water containing either 100 ng/L of MT dissolved in 0.0001% ethanol (100 ng/L MT) or 0.0001% ethanol alone (solvent control). Each exposure group consisted of 3 biological replicates comprising 20 juvenile zebrafish each. The exposure was performed continuously under a semi-static system for 20 or 40 days extending from 20 dpf to 40 dpf or 60 dpf. Water with equivalent concentrations of MT and ethanol was used to replace half of the water in each beaker every second day for the MT treatment and solvent control groups respectively.
Determination of gonadal morphology and sex ratios
At the termination of the treatment at 40 dpf and 60 dpf, the juvenile zebrafish were sacrificed via snap chilling in ice water. EGFP expression of each zebrafish was observed under a Leica M205 FA fluorescence dissecting stereo microscope (Leica Microsystems, Bannockburn, Illinois, USA) to determine the gonadal sex of each fish and sex ratios for each exposure group. Between 18 to 24 fish per exposure group (comprising 6 to 8 fish from each of the 3 replicates per time point) were selected for histological analysis to confirm gonadal sex as determined by EGFP expression and to determine the developmental stages of each gonad. Whole zebrafish were fixed overnight in 10% neutral buffered formalin, dehydrated and embedded in paraffin. Haematoxylin and eosin-stained sections were examined under light microscopy to determine gonadal sex. Ovaries were classified as Stage I or Stage II [75], based on the absence or presence of Stage II oocytes containing cortical alveoli, respectively [78]. Testes were categorised into transition gonads, immature testes or mature testes. Gonads with basophilic apoptotic bodies and infiltration of stromal tissue were classified as transition gonads [68]. Testes were classified as immature or mature depending on the absence or presence of spermatozoa [79]. Spermatids differentiate into spermatozoa, through a series of morphological changes inclusive of nuclear compaction and flagellum formation, which are released into the seminiferous tubule lumen at the end of spermiogenesis [80].
RNA isolation
The juvenile zebrafish gonads were dissected and placed into aliquots of RNAlater (Invitrogen, Life Technologies GmbH / ThermoFisher Scientific, Darmstadt, Germany) or Lysis buffer (RLT buffer from an RNeasy Mini kit, Qiagen GmbH, Hilden, Germany or RA1 lysis buffer from a Nucleospin RNA II kit, Macherey-Nagel GmbH & Co. KG, Düren, Germany) and stored at −80 °C for subsequent RNA isolation. The gonads from ten individuals per exposure group were pooled together for RNA extraction. Gonads were homogenized by passing through a 20 gauge needle or using 2 cycles of the TissueLyser II system (Qiagen GmbH, Hilden, Germany) set at 20 Hz for 1 min per cycle.
RNA was isolated using an RNeasy Mini kit (Qiagen GmbH, Hilden, Germany) or a Nucleospin RNA II kit (Macherey-Nagel GmbH & Co. KG, Düren, Germany) and eluted in 53ul of RNase-free water.
Three biological replicates of gonad pools consisting of 10 individuals each were generated for each exposure group (MT exposure and solvent control), sex (male or female) and time point (40 dpf or 60 dpf) (Fig.
1
). The RNA samples were quantified and integrity was assessed using the Agilent 2100 Bioanalyser (Agilent Technologies, Palo Alto, California, USA). RNA samples with RNA Integrity Numbers (RIN) ≥7.0 (majority with RIN ≥ 8.0 to 9.0) were used for RNA sequencing (RNA-Seq).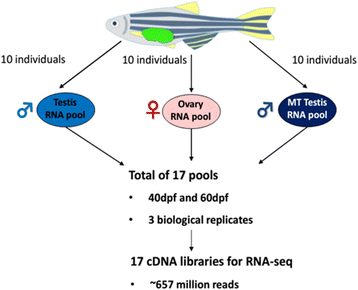 RNA sequencing
The Illumina TruSeq RNA sample preparation kit v2 (Illumina, Inc., San Diego, California, USA) was used with 1 μg of starting total RNA from the gonad pools to generate 100 bp paired end (PE) cDNA libraries in accordance to the manufacturer's instructions. Three biological replicates were generated for each exposure group except for the 40 dpf MT-treated testis group, which was limited to two biological replicates. A total of seventeen gonad tagged cDNA libraries were sequenced: 40CO1–3 (40 dpf control ovary pools 1 to 3), 40CT1–3 (40 dpf control testis pools 1 to 3), 40MT1–2 (40 dpf MT-treated testis pools 1 and 2), 60CO1–3 (60 dpf control ovary pools 1 to 3), 60CT1–3 (60 dpf control testis pools 1 to 3), and 60MT1–3 (60 dpf MT-treated testis pools 1 to 3), on a HiSeq 2000 sequencer (Illumina, Inc., San Diego, California, USA) at the New Zealand Genomics Limited Otago facility (Otago Genomics and Bioinformatics Facility, University of Otago, Dunedin, Otago, New Zealand) (Table
1
). The raw sequencing reads have been submitted to NCBI Sequence Read Archive (SRA;
http://www.ncbi.nlm.nih.gov/sra
) repository under accession number SRP102493.
Table 1
Gonad cDNA libraries generated for RNA sequencing
| Stage | Treatment | Gonad | Replicates | Replicate names |
| --- | --- | --- | --- | --- |
| 40 dpf | Solvent control | Ovary | 3 | 40CO1, 40CO2, 40CO3 |
| 40 dpf | Solvent control | Testes | 3 | 40CT1, 40CT2, 40CT3 |
| 40 dpf | 17α- methyltestosterone | Testes | 2 | 40MT1, 40MT2 |
| 60 dpf | Solvent control | Ovary | 3 | 60CO1, 60CO2, 60CO3 |
| 60 dpf | Solvent control | Testes | 3 | 60CT1, 60CT2, 60CT3 |
| 60 dpf | 17α- methyltestosterone | Testes | 3 | 60MT1, 60MT2, 60MT3 |
Read annotation, mapping, assembly and quantification
The quality of the raw reads was assessed using the FastQC software [81] and the sequencing QC report tool in CLC Genomics Workbench 6.0.2 software (Qiagen Bioinformatics GmbH, Hilden, Germany). CLC Genomics Workbench was used to trim low quality sequences (phred-based error probability threshold of 0.05) and to remove TruSeq adapter sequences from the raw reads. Trimmed reads from each pool were mapped and aligned to the Zebrafish Zv9 reference sequence (ftp://ftp.ensembl.org/pub/current_fasta/danio_rerio/dna/) from the ENSEMBL database. Annotation of the Zebrafish ZV9 reference genome was performed using the respective GTF file (ftp://ftp.ensembl.org/pub/current_gtf/danio_rerio/) using the CLC Genomics Workbench 6.0.2 'Annotate with GFF/GTF' plug-in. In order to correct for differences in transcript length and library size, transcript abundance was normalised using the reads per kilobase per million mapped reads (RPKM) method [82]. Transcripts with RPKM value greater than or equal to 1.0 (RPKM ≥1.0) were regarded as expressed. Transcripts with RPKM value greater than or equal to 5.0 (RPKM ≥5.0) were regarded as reliably expressed.
Identification of differentially expressed transcripts
Differentially expressed transcripts were identified in the zebrafish gonad transcriptomes across different conditions (sex, age, MT treatment and gonad phenotype) using the proportions-based beta-binomial Baggerley's test [83]. The RPKM data was transformed by adding a constant (1.0) and then normalised using a quantile normalisation. Transcripts responsive to MT were identified via pairwise comparisons of MT-treated gonads with age-matched control ovaries and testes. Transcripts were regarded as differentially expressed if they complied with (1) the normalised fold change threshold of greater than or equal to two for upregulated transcripts and smaller than or equal to minus two for downregulated transcripts (≥ 2.0-fold) and (2) a false discovery rate (FDR) corrected p-value of ≤0.05 (p ≤ 0.05) [84].
To investigate the overall gene expression patterns across the treatment conditions and phenotypic sexes, we performed hierarchical clustering using Pearson correlation distance with complete linkage, and Principal Component Analyses (PCA), as implemented and visualised in CLC Genomics Workbench. The sets of differentially expressed transcripts that overlapped or differed between treatments were visualised using Venn diagrams plotted using the Venny software (http://bioinfogp.cnb.csic.es/tools/venny/).
Gene ontology enrichment analysis of differentially expressed genes
Gene Ontology Consortium (GO) [85] functional annotation terms and categories were assigned to the differentially expressed genes with the 'Add Annotations' tool of CLC Genomics Workbench. The GO terms, IDs and annotations were downloaded from the Gene Ontology database in the 20 May 2013 release of the ZFIN Zebrafish GO gene association file (http://www.geneontology.org/GO.downloads.annotations.shtml).
Functional enrichment and network pathway analysis
Biological functions and metabolic pathways significantly overrepresented among the differentially expressed genes were identified using Metacore (GeneGo, Thomson Reuters, Carlsbad, California, USA). This approach utilizes Fisher's exact test with an FDR correction for multiple testing. Differentially expressed genes were defined as genes where (1) the absolute value for normalised fold change was greater than or equal to two and (2) the FDR adjusted p-value was less than 0.05 [84].
Validation of differentially expressed genes using quantitative RT-PCR
Quantitative real-time PCR (qRT-PCR) was conducted on 12 differentially expressed transcripts identified from the RNA-seq data. TaqMan Gene Expression Assays (Applied Biosystems, Thermo Fisher Scientific, Waltham, Massachusetts, USA) specific to our genes of interest were used with a Stratagene Mx3000P (Agilent Technologies, Santa Clara, California, USA) Real Time-PCR thermal cycler. Each qPCR reaction was performed in triplicate. β-actin 1, ribosomal protein L13 alpha (rpl13α) and eukaryotic translation elongation factor 1 alpha 1, like 1 (eef1a1l1) were tested for their utility as the reference genes for this study. Previous studies have shown that the expression levels of these genes remain fairly constant across different developmental periods, treatment conditions, sexes and tissue types in zebrafish [86, 87]. In this study, minor differences in β-actin 1 expression were found between different pooled ovary samples however the expression levels of rpl13α and eef1a1l1 were consistent across different tissue types (adult testes and ovaries) as previously reported [88] (data not shown). eef1a1l1 gave the highest average expression stability values with the geNorm algorithm [89].The comparative CT method (ΔΔCt) was used to determine relative gene expression compared to the reference gene eef1a1l1. The female ovary groups (40CO and 60CO) were used as the calibrator for calculation of relative expression. Relative expression was expressed as fold change (Fold Change = 2 − ΔΔCt). Complete details of the genes selected, TaqMan Gene Expression Assays and qPCR cycling conditions are provided in Additional file 1.
Discussion
In this study, we investigated the effects of MT treatment on zebrafish gonadal transcriptomes during gonadal differentiation. We found that MT treatment masculinises gonadal transcriptomes and is accompanied by morphological changes consistent with male gonad development. MT activated pro-male gene expression (dmrt1, amh and gsdf) and induced steroidogenic enzymes required for production of 11-oxygenated androgens (cyp11c1 and hsd11b2). MT treatment also repressed gonadal expression of pro-female genes cyp19a1a, foxl2, bmp15 and gdf9, particularly during folliculogenesis at 60 dpf. Taken together, our data suggest that MT-induced masculinisation involves both activation of androgen receptor-mediated pathways and inhibition of aromatase.
Conclusion
In conclusion, zebrafish MT-induced gonadal masculinisation involves activation of pro-male gene expression and repression of pro-female gene expression. Steroidogenic enzymes critical for 11-oxygenated androgen production (cyp11c1 and hsd11b2) and estrogen production (cyp19a1a) were among genes differentially expressed in response to MT treatment suggesting that androgen production and aromatase inhibition appear to both be important for zebrafish androgen-induced gonadal masculinisation. MT-induced epigenetic modification of histones and inhibition of estrogen-activated germ cell proliferation via cyp19a1a downregulation may be two of the key mechanisms which mediate female-to-male sex reversal in zebrafish.
Abbreviations
CO:

Control ovary
CT:

Control testis
dpf:

Days post fertilisation
Esr1:

Estrogen Receptor 1
GO:

Gene ontology consortium
MT:

17α-methyltestosterone
PCR:

Polymerase chain reaction
qRT-PCR:

Quantitative real-time polymerase chain reaction
RNA-seq:

RNA sequencing
RPKM:

Reads per kilobase per million mapped reads
Sp:

Specificity Protein transcription factor
Declarations
Acknowledgements
We would like to thank Laszlo Orban for the Tg(vas:egfp) zebrafish and his invaluable feedback on drafts of this manuscript, Judith Rodda and Noel Jhinku for their assistance with zebrafish husbandry and Elizabeth Duncan for her guidance regarding the CLC Genomics Workbench software suite.
Funding
The study was supported by funding to N. Gemmell from the Department of Anatomy, University of Otago. S. Lee was supported by the Department of Anatomy, University of Otago, Postgraduate Award. The funding bodies had no role in the design of the study, data collection and analysis, interpretation of data, and writing of the manuscript.
Availability of data and materials
All data generated or analysed during this study are included in this published article and its supplementary information files.
Authors' contributions
NG, SL, JH, and MB designed the experiments. SL performed the treatments, sample collection and laboratory work. SL analysed and interpreted the RNA-Seq data with the assistance of MB and KR. AF performed the zebrafish histology. SL wrote the manuscript with contributions from JH and NG. All authors read and approved the final manuscript.
Ethics approval
The zebrafish used in this study were derived from the transgenic Tg(vas:egfp) line developed by Krøvel and Olsen 2004. The fish were obtained from Dr. Laszlo Orban of Temasek Life Sciences Laboratory, Singapore, under the New Zealand Ministry of Agriculture and Forestry, Biosecurity New Zealand, permit to import live animals issued on 16 Jun 2010 (Permit No. 2010040155). All animal husbandry and procedures were approved by the University of Otago Animal Ethics Committee (AEC No. 101/09). All experiments were performed in accordance to guidelines for the care and use of animals in research specified by the New Zealand Animal Welfare Act 1999.
Consent for publication
Not applicable.
Competing interests
The authors declare no competing financial interests.
Publisher's Note
Springer Nature remains neutral with regard to jurisdictional claims in published maps and institutional affiliations.
Open AccessThis article is distributed under the terms of the Creative Commons Attribution 4.0 International License (http://creativecommons.org/licenses/by/4.0/), which permits unrestricted use, distribution, and reproduction in any medium, provided you give appropriate credit to the original author(s) and the source, provide a link to the Creative Commons license, and indicate if changes were made. The Creative Commons Public Domain Dedication waiver (http://creativecommons.org/publicdomain/zero/1.0/) applies to the data made available in this article, unless otherwise stated.
Authors' Affiliations
(1)
Department of Anatomy, University of Otago, Dunedin, New Zealand
(2)
Department of Pathology, University of Otago, Dunedin, New Zealand
(3)
Department of Biochemistry, University of Otago, Dunedin, New Zealand