Research article

Open Access
Rapid transcriptional and metabolic regulation of the deacclimation process in cold acclimated Arabidopsis thaliana
Received: 3 May 2017
Accepted: 6 September 2017
Published: 16 September 2017
Abstract
Background
During low temperature exposure, temperate plant species increase their freezing tolerance in a process termed cold acclimation. This is accompanied by dampened oscillations of circadian clock genes and disrupted oscillations of output genes and metabolites. During deacclimation in response to warm temperatures, cold acclimated plants lose freezing tolerance and resume growth and development. While considerable effort has been directed toward understanding the molecular and metabolic basis of cold acclimation, much less information is available about the regulation of deacclimation.
Results
We report metabolic (gas chromatography-mass spectrometry) and transcriptional (microarrays, quantitative RT-PCR) responses underlying deacclimation during the first 24 h after a shift of Arabidopsis thaliana (Columbia-0) plants cold acclimated at 4 °C back to warm temperature (20 °C). The data reveal a faster response of the transcriptome than of the metabolome and provide evidence for tightly regulated temporal responses at both levels. Metabolically, deacclimation is associated with decreasing contents of sugars, amino acids, glycolytic and TCA cycle intermediates, indicating an increased need for carbon sources and respiratory energy production for the activation of growth. The early phase of deacclimation also involves extensive down-regulation of protein synthesis and changes in the metabolism of lipids and cell wall components. Hormonal regulation appears particularly important during deacclimation, with extensive changes in the expression of genes related to auxin, gibberellin, brassinosteroid, jasmonate and ethylene metabolism. Members of several transcription factor families that control fundamental aspects of morphogenesis and development are significantly regulated during deacclimation, emphasizing that loss of freezing tolerance and growth resumption are transcriptionally highly interrelated processes. Expression patterns of some clock oscillator components resembled those under warm conditions, indicating at least partial re-activation of the circadian clock during deacclimation.
Conclusions
This study provides the first combined metabolomic and transcriptomic analysis of the regulation of deacclimation in cold acclimated plants. The data indicate cascades of rapidly regulated genes and metabolites that underlie the developmental switch resulting in reduced freezing tolerance and the resumption of growth. They constitute a large-scale dataset of genes, metabolites and pathways that are crucial during the initial phase of deacclimation. The data will be an important reference for further analyses of this and other important but under-researched stress deacclimation processes.
Keywords
Arabidopsis thaliana Cold acclimationDeacclimationGene expressionMetabolomicsTranscriptomics
Background
Plants native to temperate and boreal climates show natural low temperature acclimation during fall in preparation for winter frost. This process is termed cold acclimation. In spring, plants lose the freezing tolerance acquired during acclimation by deacclimation while they resume growth and development [1]. Cold acclimation has been extensively studied and the low temperature acclimation response is a multigenic, quantitative trait involving massive re-programming of the transcriptome and metabolome (see [2–4] for reviews). Much of the effort in cold acclimation research has focused on the regulation of cold-responsive gene expression and transcript profiling data suggest the induction of multiple transcriptional pathways [5]. Currently, the best understood cold acclimation signalling pathway depends on the C-REPEAT BINDING FACTOR (CBF) family of APETALA2 (AP2) type transcriptional activators. CBF genes appear to be ubiquitous in plants and are almost always present in multiple copies [4–6].
While considerable effort has been directed toward understanding how plants cold acclimate and adapt to low temperature, deacclimation and the persistence of the acclimated state under warm conditions have not attracted much attention. However, the timing and rate of deacclimation may be key determinants of survival during late winter and early spring [7, 8]. The topical interest in climate change further emphasizes the importance of increased knowledge on deacclimation in plants. Global climate models predict an increase in the mean surface air temperature and in the frequency and severity of erratic temperature events [9]. Hence, winters in temperate regions are becoming progressively milder and temperature patterns are becoming increasingly irregular. This increases the frequency of warm spells that may cause premature deacclimation, thereby increasing the risk of subsequent freezing injury [8, 10]. Additionally, shifting phenological patterns, such as an earlier start of the growth season and earlier flowering [11, 12], consistent with climate warming, can increase the risk of tissue damage by subsequent frost. The likelihood of such scenarios is typically high during early spring [13].
Deacclimation, quantified as a reduction in freezing tolerance under controlled conditions, is a fast process leading to substantial decreases in freezing tolerance within a few days. The exact extent and kinetics, however, depend on deacclimation temperature, plant species and genotype [14–17]. A limited number of studies focusing on the metabolic and molecular mechanisms underlying deacclimation have been reported. Most extensively documented is the association between decreasing concentrations of specific soluble carbohydrates and loss of freezing tolerance [15, 17–19]. In addition, two transcriptomic studies on deacclimation have been published [14, 20]. Both were conducted using Arabidopsis thaliana and showed that the abundance of transcripts of almost all cold induced genes is strongly reduced during deacclimation. Using the same species it was recently shown that deacclimation is a tightly regulated process, which includes coordination of the CBF regulon [17] and the plastidic antioxidant system [21]. The CBF signal transduction pathway has also been implicated in deacclimation of Betula pendula, where members of the CBF regulon are down-regulated only after prolonged exposure to warm temperatures, presumably enabling plants to maintain freezing tolerance during short warm spells [22]. However, except for the CBFs, regulators of deacclimation remain largely unknown. Time dependence of transcriptional [14, 17] and metabolic [17, 18] changes during deacclimation has been recognized, but mostly on a time scale of days (transcriptional changes) or days to weeks (metabolic changes), which is insufficient to recognize fast regulatory responses.
Therefore, we have investigated the initial metabolic (gas chromatography-mass spectrometry (GC-MS)) and transcriptional (microarrays, qRT-PCR) responses during the first 24 h after a shift of plants cold acclimated for three days at 4 °C to 20 °C day/18 °C night temperatures. Our analysis reveals that the transcriptome responds more rapidly than the metabolome and that deacclimation involves tightly regulated transcriptional and metabolic responses.
Conclusions
During deacclimation plants rapidly lose the freezing tolerance they had acquired during cold acclimation. This study provides an analysis of the transcriptomic and metabolomic regulation during the first 24 h of this process. The data indicate two inter-related processes that result in a reduction of freezing tolerance and a reinitiation of growth and development (Fig.
5
). Warm temperatures increase biosynthesis and/or bioactive levels of several growth stimulating hormones and induce TFs regulating morphogenesis. Growth resumption is likely fueled by catabolism and interconversion of sugars, amino acids and storage lipids accumulated during cold acclimation. Decreasing levels of sugars and amino acids and down regulation of flavonoid metabolism may cause loss of freezing tolerance. However, warm temperatures also suppress freezing tolerance through down-regulation of the
CBF2
pathway. In addition, the clock appeared to be rapidly reinitiated upon deacclimation. The responses of primary metabolism lagged behind transcriptional responses. However, both metabolites and transcripts approached the non-acclimated state after 24 h of deacclimation. TF genes transiently regulated during deacclimation are on one hand prime candidates as regulators of deacclimation, but they are also prime candidates for being clock regulated. Transient responses not related to circadian regulation were observed, indicating processes that may play an important role in the regulation of deacclimation.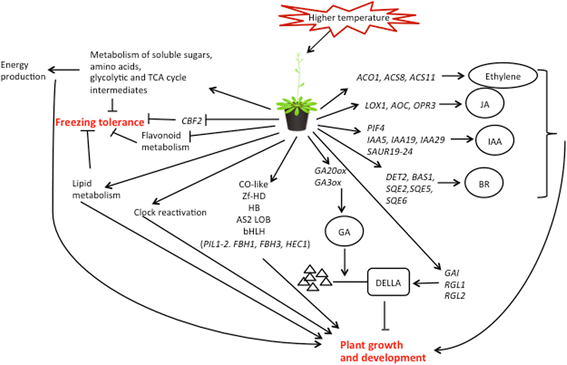 Declarations
Acknowledgements
We would like to thank Ines Fehrle for excellent technical assistance with the GC-MS measurements.
Funding
This work was supported by a grant from the German Research Foundation (DFG) through Collaborative Research Center 973 to DKH. We gratefully acknowledge support through the People Programme (Marie Curie Actions) of the European Union's Seventh Framework Programme (FP7-MC-IEF) under REA grant agreement 328,713.
Availability of data and materials
Microarray hybridization results are available at GEO (http://www.ncbi.nlm.nih.gov/geo) under the accession number GSE86935. All other data generated during this study are included in the supplementary information files.
Authors' contributions
MP, EZ and DKH designed the experiments; MP and JA performed the experiments; AE and JK performed the GC-MS analyses; MP analyzed the data; MP and DKH wrote the manuscript; all authors read the manuscript, edited and commented on it before submission. All authors read and approved the final manuscript.
Ethics approval and consent to participate
Not applicable.
Consent for publication
Not applicable.
Competing interests
The authors declare that they have no competing interests.
Publisher's Note
Springer Nature remains neutral with regard to jurisdictional claims in published maps and institutional affiliations.
Open AccessThis article is distributed under the terms of the Creative Commons Attribution 4.0 International License (http://creativecommons.org/licenses/by/4.0/), which permits unrestricted use, distribution, and reproduction in any medium, provided you give appropriate credit to the original author(s) and the source, provide a link to the Creative Commons license, and indicate if changes were made. The Creative Commons Public Domain Dedication waiver (http://creativecommons.org/publicdomain/zero/1.0/) applies to the data made available in this article, unless otherwise stated.
Authors' Affiliations
(1)
Max-Planck-Institut für Molekulare Pflanzenphysiologie, Potsdam, Germany
(2)
Present address: Chemistry and Bioscience, Aalborg University, Aalborg East, Denmark