Research article
Open Access
Exploring the relationship between intron retention and chromatin accessibility in plants
Received: 1 March 2017
Accepted: 15 December 2017
Published: 5 January 2018
Abstract
Background
Intron retention (IR) is the most prevalent form of alternative splicing in plants. IR, like other forms of alternative splicing, has an important role in increasing gene product diversity and regulating transcript functionality. Splicing is known to occur co-transcriptionally and is influenced by the speed of transcription which in turn, is affected by chromatin structure. It follows that chromatin structure may have an important role in the regulation of splicing, and there is preliminary evidence in metazoans to suggest that this is indeed the case; however, nothing is known about the role of chromatin structure in regulating IR in plants. DNase I-seq is a useful experimental tool for genome-wide interrogation of chromatin accessibility, providing information on regions of chromatin with very high likelihood of cleavage by the enzyme DNase I, known as DNase I Hypersensitive Sites (DHSs). While it is well-established that promoter regions are highly accessible and are over-represented with DHSs, not much is known about DHSs in the bodies of genes, and their relationship to splicing in general, and IR in particular.
Results
In this study we use publicly available DNase I-seq data in arabidopsis and rice to investigate the relationship between IR and chromatin structure. We find that IR events are highly enriched in DHSs in both species. This implies that chromatin is more open in retained introns, which is consistent with a kinetic model of the process whereby higher speeds of transcription in those regions give less time for the spliceosomal machinery to recognize and splice out those introns co-transcriptionally. The more open chromatin in IR can also be the result of regulation mediated by DNA-binding proteins. To test this, we performed an exhaustive search for footprints left by DNA-binding proteins that are associated with IR. We identified several hundred short sequence elements that exhibit footprints in their DNase I-seq coverage, the telltale sign for binding events of a regulatory protein, protecting its binding site from cleavage by DNase I. A highly significant fraction of those sequence elements are conserved between arabidopsis and rice, a strong indication of their functional importance.
Conclusions
In this study we have established an association between IR and chromatin accessibility, and presented a mechanistic hypothesis that explains the observed association from the perspective of the co-transcriptional nature of splicing. Furthermore, we identified conserved sequence elements for DNA-binding proteins that affect splicing.
Keywords
Intron retentionChromatin accessibilityDNase I hypersensitive sites
Background
Alternative Splicing (AS) is a regulatory phenomenon that allows a gene to generate multiple transcripts, and has important roles in an organism's development, growth, and response to stress [1, 2]. Recent studies using RNA-seq data show that AS is widespread in both plants and animals. The primary forms of AS are exon skipping, intron retention (IR) and alternative 5' and 3' site splicing. These forms of AS have different frequency of occurrence in plants and animals: exon skipping is the most prevalent form of AS in animals whereas IR is the most prevalent in plants [3]. This difference can be attributed to a number of differences in the architecture of plant and animal genes. For instance, plant introns are much shorter than those in animals. The splicing signals which are found at the 5' and 3' boundaries of introns, the polypyrimidine tract and the branch point sequence alone are insufficient for efficient splicing [4]. Another layer of splicing regulation occurs through Splicing Regulatory Elements (SREs), either exonic or intronic. These are binding sites for trans-acting splicing regulatory proteins that can either suppress or enhance splicing; SREs are known to have an important role in alternative and constitutive splicing [1, 4–6], and are usually 6- 10 nucleotides long [7].
There is an ongoing effort to understand how alternative splicing is regulated and the factors that contribute to it. Some of these factors include AU-rich and U-rich sequences in plant introns [8–10], the role of GC content in exons for efficient splicing [11], and AG-rich exonic element promoting downstream 5' splice site selection [12]. Braunschweig et al. [13] have recently compiled a draft "splicing code": a predictive model of IR in mammals based on around a hundred and fifty features likely to be associated with the process. SREs are an important aspect of any splicing code, and while in mammals many SREs have been experimentally identified [5, 14, 15], not much is known in plants, except for a few computationally predicted exonic splicing enhancers in arabidopsis [3, 16].
The fact that splicing can happen co-transcriptionally suggests that chromatin state is relevant for splicing [17, 18]. One of the primary tools for genome-wide exploration of chromatin is through exposure of DNA to Deoxyribonuclease I (DNAse I), which is an enzyme that cleaves DNA; sites that are sensitive to its action—DNase I hypersensitive sites (DHSs)—have been used as an indicator of regions in the DNA that are accessible in-vivo. DHSs have been used to identify several types of regulatory elements such as, promoters, silencers, enhancers, and insulators [19, 20]. It has been shown that when a protein binds a region of DNA, it protects it against the action of DNase I [21] and leaves a footprint which can be identified using DNase I-seq data [22, 23]. The ENCODE consortium has shown that DHSs identified in the human genome are robust markers for several genetic regulatory phenomena, including histone modifications, early replication regions, transcription factor binding sites, and transcription start sites [24].
When it comes to AS, Mercer et al. [25] have shown an association between DHSs and exon-skipping, reporting that higher numbers of DHS-containing exons are alternatively spliced. Furthermore, this study claims that DHS exons with promoter and enhancer-like features have a higher fractional overlap with AS. Specifically related to this work, the cross-talk between chromatin organization and IR has been studied in mammals [13]. They explore the co-transcriptional regulation of splicing reporting higher chromatin accessibility in retained introns and how polymerase II elongation speed affects IR and vice-versa. DNase I-seq has been used in plants [26, 27], but the data has not been analyzed in the context of AS.
Our goal is to shed light on the regulation of IR from the perspective of chromatin organization. First we test the association between DHSs and IR using DNase I seq data in arabidopsis and rice, and find that DHSs have a highly significant association with IR; we then look for evidence at the DNA level for the footprints of protein binding and find a large collection of hexamers that are conserved across arabidopsis and rice, and likely function as SREs. Finally, we discuss how these observations are consistent with current models that describe the interaction between transcription, splicing, and chromatin organization.
Results
DHSs are enriched in IR events
Our first goal is to investigate the relationship between IR and chromatin accessibility. For this task we analyzed existing DNase I-seq data in both arabidopsis and rice for which RNA-seq data for the same samples is also available [
26
,
27
]. First, we used the RNA-seq data to identify events where an intron is retained (IR), and events where there is no evidence for IR, which we refer to as intron excision (IE). Note that we do not use the term "constitutive splicing", as other alternative splicing events could be occurring. The DNase I-seq data associated with those samples were then used to identify peaks representing DHSs. We observe that IR events tend to overlap DHSs to a much greater degree than IE events: 13.3- 26.5% of IR events overlap a DHS compared to 2.1- 5.2% for IE, a difference that is highly statistically significant (see Table
1
, Fig.
1
, and Additional file
1
: Table S2 and S4 for details). Since expressed genes typically exhibit a large peak in DNAse I-seq coverage in their promoter region (see Fig.
2
), we excluded IR/IE events in the first intron of a gene. Consistent with the above results and the higher chromatin accessibility of the first introns, they exhibit significantly higher rates of IR than other introns in both arabidopsis and rice with a
p
-value of 5.90×10
−89
in arabidopsis and a
p
-value of 8.93×10
−25
in rice using the Fisher exact test.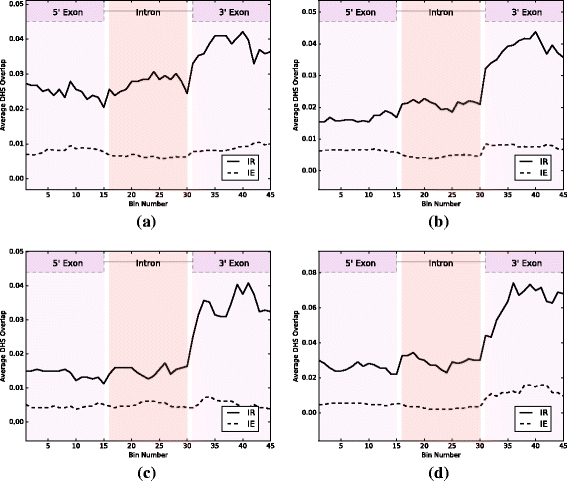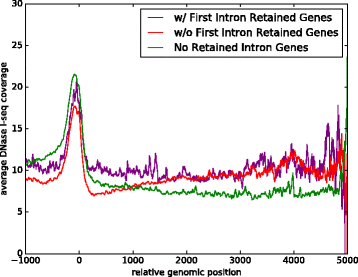 IR events exhibit higher chromatin accessibility than IE events
As a complement to the analysis of DHSs detected using peak calling, we compared IR and IE events on the basis of raw DNase I-seq read depth (see Additional file
1
: Figure S1). In agreement with the higher proportion of DHSs associated with IR, we observe that IR events have a much higher mean DNase I-seq coverage than IE events (
p
-value of 1.22×10
−56
in arabidopsis, and a
p
-value of 5.25×10
−100
in rice using the Mann–Whitney U test [
28
]), demonstrating that chromatin is more open in IR events than in IE events. As further evidence we analyzed methylation profiling data in arabidopsis and rice, and found that IR events exhibit lower methylation levels in the 3' exon (see Fig.
3
). This is consistent with the results we reported using DNase I-seq data, as DNA methylation has been reported to have an inverse correlation with chromatin accessibility [
29
].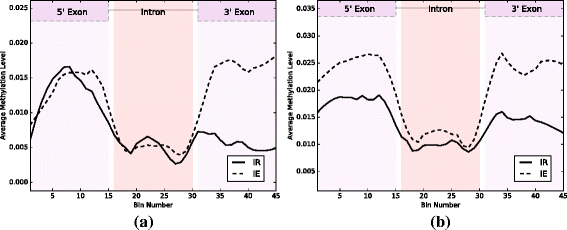 Protein footprint analysis
Many of the hexamers we identified are conserved in arabidopsis and rice: In the 3' exon 246 hexamers were common between the two species, while 19 are conserved in the intronic region of IE events. This level of overlap is highly statistically significant (p-values of 2.25×10−165 and 2.10×10−32 respectively, in a hypergeometric test). This level of conservation is strong support for the functional importance of these hexamers. We note that for finding conserved hexamers we used a looser threshold for footprint calling, as the requirement of conservation provided an additional level of filtering of potential false positives. Manual inspection of the detected hexamers showed that all of them exhibited valid footprints.
Most of the hexamers and motifs associated with IR events occur in the 3' exon; the majority of them (6/10) are AT-rich, and some of the rest (3/10) are GC-rich. Both sets of motifs exhibit very different positional preferences: the AT-rich motifs tend to occur at the 3' end of the exon, while the GC-rich motifs tend to occur in the 5' end of the exon (see Fig. 5 for the overall positional preferences of those motifs, and Additional file 1: Figure S4 for positional preferences of individual hexamers). We believe that the positional preferences observed reflect different biological roles of these motifs in regulating IR and IE events, as discussed below.
In order to find potential proteins associated with our hexamers we searched the all the arabidopsis hexamers against a collection of 410 transcription factor motifs from the Plant Cistrome Database [30] as described in the Methods section. Out of 280 enriched hexamers, 96 of them had at least one match. The breakdown into the different locations is found in Additional file 1: Table S8. The matching motifs come from a variety of families of transcription factors. The largest number of matches was to the AP2/EREBP family, which is a plant-specific family of DNA-binding proteins [31]. The second-largest number of matches were to Dof proteins through hexamers in the 3' exon that contain mostly A or T nucleotides; this family of transcription factors is also plant-specific [32]. C2H2 DNA-binding proteins are also strongly represented. Interestingly, a vast majority (about 60%) of them have been shown to be involved in the regulation of AS in animals [33], although the effect could be either direct or indirect, through the regulation of splicing regulators. Some of these effects are likely to be direct since DNA-binding proteins, including transription factors, have been shown to bind in gene bodies [34]. Complete details of the matches are found in Additional file 3. These results implicate plant transcription factors in splicing regulation. This is in agreement with recent results in mammals that revealed that more than a third of splicing regulators detected in a high-throughput screen were transcription factors [33].
Discussion
Splicing occurs co-transcriptionally, and there is increasing evidence indicating that chromatin organization involving epigenetic marks and rate of transcription regulate alternative splicing in mammalian systems [17]. However, in plants, virtually nothing is known in terms cotranscriptional regulation of alternative splicing. Here we investigate the role of chromatin architecture and potential DNA elements that may regulate IR.
In our data we observe a greater number of DHSs in IR events compared to IE events, and this is most prominent in the 3' exon. A similar pattern was observed in the raw DNase I-seq data as well. We present two possible hypotheses by which this increase in open chromatin contributes to IR. Splicing is a much slower process than transcription [17], and we hypothesize that the less open chromatin in IE events leads to more PolII pausing (the speed-bump model), which allows for a greater degree of recruiting of splicing factors and hence greater likelihood of intron recognition. Conversely, in retained introns, because of the higher elongation rates, there is less chance of recognizing the splice sites, leading to IR. The fact that retained introns have weaker splice sites [13, 36], makes them more sensitive to the rate of elongation. However, this hypothesis does not take into account that the increased prevalence of DHSs could be due to binding of trans-factors, and also does not account for the much larger number of hexamers with footprints that are associated with IR. For example, in the arabidopsis leaf data we found 118 hexamers with footprints that are enriched in IR, and only 28 in IE.
The increased number of footprints that we observed in IR could be the result of one of two factors: 1. Increased PolII pausing and/or, 2. Binding of other chromatin/DNA-interacting proteins. Braunschweig et al. have recently shown that in mammalian systems retained introns are associated with increased PolII pausing [13]. This pausing may lead to recruitment of splicing suppressors that compete or prevent splicing activators from binding, leading to IR. There is data supporting this hypothesis in non-plant systems [13], and this hypothesis is consistent with the observation that the high rate of DHS occurrence in the 3' exon is coupled with the occurrence of a much higher number of hexamers with footprints that are associated with IR. This suggests a key role for chromatin architecture in the 3' exon in regulating the splicing of the upstream intron. We believe the second mechanism is more likely; however additional work aimed at assaying PollII occupancy in retained vs excised introns is required to help distinguish between these two mechanisms.
Chromatin modifications have recently been associated with IR in humans: Braunschweig et al. have shown that the chromatin activation mark H3K27ac is enriched in retained introns [13]. This observation is consistent with our result showing greater DHS frequency in retained introns: this modification is associated with more flexible chromatin structure, which facilitates the interaction of proteins with IR regulatory elements.
The AT-rich hexamers in IE have a positional preference for the 3' end of the intron, which suggests they are likely associated with the polypyrimidine tract, which in plants is T-rich [1], leading to more efficient recognition of splice sites. In contrast, the hexamers we detected in the introns of IR events, show very different base composition, with virtually no Ts, likely resulting in poor recognition of these introns.
DNA methylation has been shown to regulate alternative splicing, including IR, in plants and animals [37–40]. Part of this regulation could be due to reorganization of chromatin; in support of this, it has been shown that there is an inverse relationship between DNA methylation and open chromatin [29]. In our analysis we found a strong correlation between open chromatin and reduced methylation in IR vs IE events in both arabidopsis and rice. Open chromatin may make the DNA more available to binding by DNA-binding proteins. In our hexamer analysis we found that the majority of those hexamers occur in the 3' flanking exon, which demonstrated the highest level of open chromatin. Interestingly, the motifs in the introns of IR events are either CG- or AG-rich. Hence, it's possible that the hexamers enriched in CG di-nucleotides are the targets of methylation, which in turn could attract splicing suppressors, either directly, or through methylation-binding proteins [37]. Alternatively, proteins bound to methylated regions can modulate the rate of elongation of PolII [37, 41]. Further studies are required in order to confirm or exclude some of these possibilities.
In addition to the matches in the Plant Cistrome Database described above, we identified other transcription factors that have DNA binding motifs that match the hexamers discovered by our pipeline. These include Homeodomain-leucine zipper (HD-Zip) proteins, which are a family of transcription factors unique to plants [42] have DNA binding sequences that match some of the AT-rich hexamers that were detected in our analysis. For example, ATHB9, which is an HD-Zip class II protein, was shown to have affinity for the sequence GTAAT(G/C)ATTAC; the core AAT(G/C)A segment of this sequence matches multiple conserved hexamers detected in the 3' exon of retained introns. HD-Zip class IV proteins bind sequences containing a TAAA core, which is consistent with a large number of hexamers both in IR and IE events.
Although epigenetic changes, including DNA methylation and histone modifications have been shown to be important regulators of AS in animals [37, 43, 44], relatively little is known about their role in AS in plants. This work strongly indicates a role for chromatin organization and DNA methylation in IR. Recently Pajoro et al. [45] have shown that histone modifications alter AS in plants, supporting our conclusion that chromatin state is a critical regulator of AS.
Conclusions
In this work we established a clear correlation between IR and chromatin accessbility and DNA methylation in arabidopsis and rice. We found that chromatin is more open in retained introns, which can be explained using a kinetic model of the splicing process. The observed open chromatin in IR is consistent with the reduced methylation levels we observed in these regions. The more open chromatin in IR also suggests that IR is more highly regulated than constitutive splicing, which is supported by the large number of conserved sequence elements that were discovered in footprints associated with IR. A majority of the discovered sequence elements occur in exons immediately downstream of retained introns, indicating its importance in regulating IR events. Further experiments are required in order to establish the biological function of these sequence elements and to experimentally verify the hypothesized connections between intron retention and chromatin organization.
Abbreviations
AS:

alternative splicing
DHS:

DNase I hypersensitive site
DNase I:

Deoxyribonuclease I
GEO:

Gene Expression Omnibus
HMM:

hidden Markov model
HD-Zip:

Homeodomain-leucine zipper
IR:

intron retention
IE:

intron excision
PolII:

RNA polymerase II
SRE:

splicing regulatory element
Declarations
Acknowledgements
The open access publishing fees for this article have been covered in part by the Colorado State University Libraries Open Access Research and Scholarship (OARS) Fund.
Funding
This study was supported by the DOE Office of Science, Office of Biological and Environmental Research (Grant No. DE-SC0010733) to ASNR and AB. The funders had no role in the study design, data collection and analysis, or preparation of the manuscript.
Authors' contributions
This study was conceived by AB and ASNR; the methods were developed by FU, MH, and AB; FU conducted the experiments, and the results were interpreted by FU, ASNR, and AB. The manuscript was written by FU and AB with help from ASNR. All authors read and approved the final manuscript.
Ethics approval and consent to participate
No plant materials have been directly used in this study.
Consent for publication
Not Applicable.
Competing interests
The authors declare that they have no competing interests.
Publisher's Note
Springer Nature remains neutral with regard to jurisdictional claims in published maps and institutional affiliations.
Open Access This article is distributed under the terms of the Creative Commons Attribution 4.0 International License (http://creativecommons.org/licenses/by/4.0/), which permits unrestricted use, distribution, and reproduction in any medium, provided you give appropriate credit to the original author(s) and the source, provide a link to the Creative Commons license, and indicate if changes were made. The Creative Commons Public Domain Dedication waiver(http://creativecommons.org/publicdomain/zero/1.0/) applies to the data made available in this article, unless otherwise stated.
Authors' Affiliations
(1)
Computer Science Department, Colorado State University, Fort Collins, USA
(2)
Department of Biology, Colorado State University, Fort Collins, USA