Research article

Open Access
Efficiency of different strategies to mitigate ascertainment bias when using SNP panels in diversity studies
Received: 16 June 2017
Accepted: 22 December 2017
Published: 5 January 2018
Abstract
Background
Single nucleotide polymorphism (SNP) panels have been widely used to study genomic variations within and between populations. Methods of SNP discovery have been a matter of debate for their potential of introducing ascertainment bias, and genetic diversity results obtained from the SNP genotype data can be misleading. We used a total of 42 chicken populations where both individual genotyped array data and pool whole genome resequencing (WGS) data were available. We compared allele frequency distributions and genetic diversity measures (expected heterozygosity (H e ), fixation index (F ST ) values, genetic distances and principal components analysis (PCA)) between the two data types. With the array data, we applied different filtering options (SNPs polymorphic in samples of two Gallus gallus wild populations, linkage disequilibrium (LD) based pruning and minor allele frequency (MAF) filtering, and combinations thereof) to assess their potential to mitigate the ascertainment bias.
Results
Rare SNPs were underrepresented in the array data. Array data consistently overestimated H e compared to WGS data, however, with a similar ranking of the breeds, as demonstrated by Spearman's rank correlations ranging between 0.956 and 0.985. LD based pruning resulted in a reduced overestimation of H e compared to the other filters and slightly improved the relationship with the WGS results. The raw array data and those with polymorphic SNPs in the wild samples underestimated pairwise F ST values between breeds which had low F ST (<0.15) in the WGS, and overestimated this parameter for high WGS F ST (>0.15). LD based pruned data underestimated F ST in a consistent manner. The genetic distance matrix from LD pruned data was more closely related to that of WGS than the other array versions. PCA was rather robust in all array versions, since the population structure on the PCA plot was generally well captured in comparison to the WGS data.
Conclusions
Among the tested filtering strategies, LD based pruning was found to account for the effects of ascertainment bias in the relatively best way, producing results which are most comparable to those obtained from WGS data and therefore is recommended for practical use.
Keywords
SNP filtering
Ascertainment bias
LD based pruning
SNP panels
Background
Following the process of animal domestication, evolutionary forces such as selection and genetic drift have played a critical role in animal diversification. Such forces led to genomic alterations such as fixation of favorable alleles within a breed or species and differentiation from the ancestral state due to successful selection programs or adaptation. This concept of domestication and its subsequent impact on diversity of animal species, breeds or strains was well explored by Darwin [1, 2]. So, phylogenetic studies aim to assess these variations.
The wild, unselected native and village chicken populations retain a reservoir of and exhibit more genetic variability [3–5]. Commercial breeds are known for being intensely selected for economic purposes, i.e. meat and egg type production. Successful egg type selection programs within the commercial layers have resulted in a reduced genetic variability within these lines. In Europe, an organized and systematic breeding in chickens was developed during the nineteenth century. Selection programs in this case were based on producing attractive features (for entertainment) in line with the breed standards; because of this, many fancy breeds were heavily selected for their attractiveness. To date such heavily selected breeds exhibit reduced genetic diversity and high average genetic distances to other breeds [3–5]. Major components for the reduced variability within both the commercial and the fancy breeds are due to the fact that the selection was certainly based on small number of founders, small effective population size and/or high degree of inbreeding.
Using whole genome resequencing (WGS) data is considered as the best way of doing association or diversity studies [6, 7]. It provides a high resolution of the genome information capturing most (and even the finer) details underlying genomic variations. However the cost of whole genome sequencing still is high for application in larger sample sets. Additionally, limitations such as infrastructure (e.g. WGS requires good reference genomes), work effort and time poses further constraints. So, generating WGS data for the required sample size in such studies is challenging [6].
Genotyping tools have been developed to overcome these constraints and have made genotype data available in sufficient numbers. Single nucleotide polymorphism (SNP) panels have been widely used in studies of genomic variation within species [8, 9]. For the construction of such SNP sets, a limited number of individuals selected from populations of interest (the so-called ascertainment group) are used as discovery panels. These individuals are sequenced and provide the basis to select polymorphic loci targeted for further genotyping in a larger set of individuals [9, 10]. SNPs are often selected based on quality, with predefined spacing (e.g. equally spaced) and desired frequency distribution [10], among other criteria.
These methods of SNP discovery may introduce ascertainment bias, hindering classical population genetic methods to provide correct results when applied with SNP genotype data [11, 12]. Ascertainment bias is a systematic deviation of population genetic statistics from a theoretical 'true' value, which arises from a non-random selection of set of individuals or biased marker discovery protocols [6, 13].
If the level of ascertainment bias is high, results of population genetic studies could be widely misinterpreted [14]. Thus, exploring the potential systematic effects that the ascertained genotype data can have on the results of diversity studies and finding a way to minimize these effects is crucial.
Differences in the allele frequency distribution between SNP genotype data and WGS data have been commonly used to assess ascertainment bias [6, 11, 15]. An easily verifiable indicator of a potential ascertainment bias is a complete absence of SNPs or an underrepresentation of rare SNPs. Discovery of SNPs is driven by the allele frequency, and with an often small size of the discovery panel, discovering rare SNPs is mostly limited [14]. With the missing rare SNPs, the SNP data may not be an adequate representation of the WGS data. Gorlov et al. [16] argue that missing rare SNPs can lead to loss of valuable information and lessen the ability to detect those rare SNPs in association studies, which may be critical e.g. in the context of rare causal SNPs for rare diseases.
Effects of ascertainment bias on genetic diversity analysis within and between populations have been reported in several studies [9, 13, 17]. One of the assertions is that selection of subpopulations for discovery panels tends to over-represent variability of that ascertainment group. Consequently, effects of ascertainment bias on heterozygosity estimates [18, 19], fixation index (F ST ) values and phylogenetic relationships [9] have been reported. Herrero-Medrano et al. [18] and Albrechtsen et al. [15] observed that ascertainment bias affected some populations more than others when studying their genetic diversity with SNP chip data. McTavish & Hillis [9] concluded that both the F ST and principal components analysis (PCA) estimated from SNP chip data were distorted when ascertainment bias was not accounted for. Principal components analysis is a statistical technique that captures patterns of high dimensional data and projects them into a lower dimensional space, allowing to determine key variables that explain the observations [20, 21]. PCA has been used in many studies to capture genetic structures of populations [22–26]. In contrary to McTavish & Hillis [9], McVean [27] reported that the PCA is less affected by ascertainment bias. He claims that effects of ascertainment bias on PCA are easy to predict and only have little impact on the structuring of populations unless the bias is very severe.
Despite the available proposed schemes and several suggestions made on how to address the issue of ascertainment bias in population genetic analysis [6, 12, 15], there are still challenges on the definite measures to deal with this issue [17]. Clark et al. [14] concluded that it is not always easy to correct for ascertainment bias, success is not guaranteed, and mostly the suggested corrections are not applicable to every study [15]. Most of the suggestions were also tested using simulated data, which may miss out some of the complexities encountered when using real data.
In this study, we tried to assess the impact of ascertainment bias and the efficiency of various strategies to account for it in a chicken diversity panel, which is based on a diverse set of chicken populations for which both pooled WGS data and individual SNP genotype data obtained with a high density SNP array were available. For most of the studied populations, there is no sufficient documentation on the breed history and/or background and we are skeptic that the material used allows to identify the mechanisms causing ascertainment bias. Therefore, we based our primary focus on identifying strategies to mitigate ascertainment bias rather than to do a full analytical (or empirical) study to understand the causes of ascertainment bias. With the SNP genotyping array [10] that was used, the SNP panel was established by selecting a few populations (for details please see the "Methods" section) which are not representative for all the other populations used in our study. In addition, the SNP selection criterion included discarding low minor allele frequency (MAF) SNPs which potentially causes an underrepresentation of SNPs under selection [28]. Criteria used in our study to assess the impact of ascertainment bias and the various strategies to mitigate its effects were similarity of allele frequency spectra, expected heterozygosity, F ST , PCA, distance measures and topologies of phylogenetic trees. In general, the results obtained from the WGS data were considered as the 'reference standard' and strategies to correct for ascertainment bias were considered based on how good the WGS-based results were met.
Results
Assessing allele frequency calling in pool whole resequencing data
We compared the estimated allele frequency for all SNPs in the 'Array_all' data set with the estimates from the pool WGS data at each corresponding locus. The allele frequency spectra of the two data sets were found to be mostly identical (Fig.
1
). The proportion of SNPs in the frequency bin 0.025–0.125 was slightly higher in the WGS than the array data while the proportions of SNPs in the bins 0.150–0.3 were slightly higher in the array than the WGS data. A high correlation was obtained between the allele frequencies of the two sets (
r
 = 0.983), as well as within the different breeds (ranging from
r
 = 0.94 to 0.99).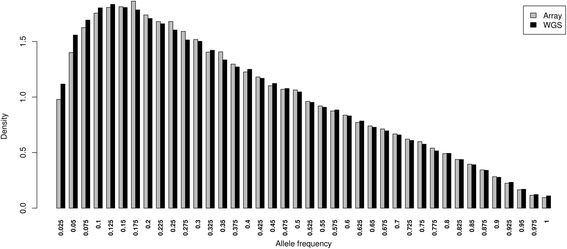 Assessing the potential of ascertainment bias in the array genotype data
For the individual populations (refer to Additional file 1), the most affected in terms of missing rare SNPs were the Marans copper black (MRschk), Araucana black (ARsch) and the wild GGsc; and the least affected were the European fancy bantam (SBsschs, BAsch, FZgpo and ABwa) breeds, the White Leghorn line R11 (LER11), the Asian long tailed (TOgh and OHsh) breeds and the commercial white layers (WL_A). In the latter, these results have shown to be related to the genetic diversity within these breeds (see H e estimates below and the discussion thereof).
The proportion of SNPs was 39.6% and 39.9% in genes and was 0.044% and 0.012% in exons for array and WGS data, respectively (see in Additional file 2: Table S1). Differences in (minor) allele frequencies (in genic and non-genic regions) followed a similar pattern to that observed in Fig. 2 whereby rare variants were underrepresented in the array data. The correlations between MAF proportions in genic and non-genic regions were 0.956 and 0.999 in the array and WGS data, respectively. The minor allele frequency of SNPs differed very little between the genic and non-genic regions with the array and sequence data (Additional file 3: Figure S1). From this we concluded that the selection of SNPs in the array was not biased based on their positions in genic or non-genic region, although, differences between the two sets were found to be in the exonic regions whereby the array set had an overrepresentation of SNPs.
In agreement with e.g. [3], (based on microsatellite data) both the commercial brown (BL_A and BL_D) and white (WL_A) layers displayed reduced genetic diversity within the breed (Additional file 3: Figure S2, estimated using the data with 42 populations). The commercial white egg layers, which emerged from a single parental origin, the White Leghorn breed [5, 54], had very low genetic diversity. The brown layers (BL_A and BL_D) with multi-parental origins of Asian and European background had more genetic diversity compared to white layers. Noting that these commercial breeds were part of the discovery panel, we investigated whether the H e results behaved differently than in other populations when using array data. Unlike the two brown layer lines with elevated H e ranking when using any of the array data, the white layers didn't deviate from the WGS H e ranking when using the array data (Additional file 3: Figure S2). So this makes it difficult to tie the effects of ascertainment bias on H e estimation to the relatedness of the breeds to the discovery panel breeds. Furthermore, the fact that the commercial lines' individuals used in the array data are different to those used in the WGS could also be of impact in this context.
Using the Penny and Hendy method, the mean distances between WGS and all the array sets fell within the distance ranges between 100 WGS replicates (see Fig. 7 and in Additional file 2: Table S4). However, the standard errors for the mean distances for all sets' comparisons were also high. The distances between the WGS and GG, Array_all and their MAF filtered versions were much closer to the median of the 100 replicates. These comparisons of the array and WGS trees based on trees' partitions using the Penny and Hendy method yielded closer relationships between the two data types. These distances confirmed the visual observation whereby the trees show a relative similar clustering of breeds (Fig. 5). Comparisons across the different array versions showed that Array_all is more related to the GG and both of them are distant to the Pruned data (in Additional file 2: Table S5).
Discussion
When assessing allele frequency calling in the pooled WGS data, high correlations were obtained between the allele frequencies estimated with the Array_all' data set and pool WGS data set at each corresponding locus and very slight differences between the allele frequency spectra, we conclude that the estimation of allele frequencies from pooled sequences is sufficiently reliable. When comparing the AFS from the two datasets (not based on corresponding loci), the array dataset severely underrepresented the rare SNPs (Fig. 2). This confirmed the already known findings of other studies on ascertained SNP data e.g. [9, 14, 15] and therefore suggests a risk for an ascertainment bias in array-based analysis of the chicken biodiversity panel.
To investigate the effects of ascertainment bias and strategies to mitigate its effects, we performed further genetic diversity analyses using the different filtered (LD based pruned, SNPs polymorphic to the GGsc and GGg populations and MAF filtering) versions of the array data and the results were compared with that obtained from the WGS data. LD based pruning of SNPs has been used in several studies presumed to produce reasonable genetic diversity comparisons between breeds [25, 55, 56]. The basic idea of LD based pruning is to remove markers which are highly correlated with other markers within a given window, leaving markers in the set with low LD to each other. This is efficient to remove the multicollinearity effects, which may result in overestimation of effects of SNPs due to highly correlated SNPs. For example, pairwise relatedness can be overestimated if the SNPs are highly correlated. LD based pruning is believed to be very effective when estimating differentiation measures between populations e.g. genetic distances, inbreeding coefficient, kinships and PCA [57].
Filtering of SNPs based on being polymorphic in wild populations not used in the SNP discovering process was discussed as a possibility to reduce ascertainment bias effects in the European Union project (supported from the European Commission) "GLOBALDIV" (http://www.globaldiv.eu/) (not published). The idea was to use most original population within the same species or even a closely related species for selecting markers to be used in diversity studies in order to reduce the possible overestimation of diversity in the discovery panel populations.
Filtering of SNPs with less than 5% MAF is a common practice in quality control of SNP data because of concerns about lower genotyping rates, accuracy of genotype calling or perception about statistical conclusions that comes from analyzing such SNPs [58]. This filtering however will have consequences, there might be significant information behind these rare SNPs and removing them might hinder the chance of discovering such information [16].
Herrero-Medrano et al. [18] found that SNP chip data underestimated heterozygosity (both observed and expected) compared to next generation sequencing data. While Clark et al. [14] obtained higher heterozygosity estimates with ascertained HapMap data, the heterozygosity estimates were lowered after correcting for the bias. In our study, using the array data led to a systematic overestimation of the expected heterozygosity compared to WGS data. However, array data provided a very similar ranking of the breeds, as demonstrated by Spearman's rank correlations between 0.956 (for Array_all) and 0.985 (for GG, see Table 3). Pruning SNPs based on LD resulted in a reduced overestimation of H e compared to the other filters and improved the relationship with the WGS results slightly.
Estimating F ST from the raw array data or with filtering for SNPs found in the wild populations resulted in inconsistence (i.e. underestimation of F ST where WGS F ST was low and overestimation the F ST where WGS F ST was high) estimates. These inconsistencies may cause misinformed conclusions on the actual differentiation among the populations. In a related study, ascertainment bias has shown to result in higher F ST values from ascertained SNP data when compared with WGS data [6]. Albrechtsen et al. [15] observed only a small difference in F ST estimates between SNP chip and resequencing data. But when populations were less related to the ascertained panel, the F ST estimates increased due to ascertainment bias. They therefore concluded that the bias is dependent on how the investigated populations are related to the ascertainment sample. The array used in our study was developed using several experimental and commercial broiler and layer lines [10]. Due to the multi-breed background of this discovery panel, it is challenging to relate each population to all of these discovery panel populations (including the ones that we didn't use in this study) in order to come up with a conclusion of whether the relatedness of these populations to the discovery populations affect their F ST estimates. Additionally, similar to what we have observed with the H e comparisons, the two commercial layers which we used in our study, were also affected differently (results not shown). This suggests that the effects of ascertainment bias on F ST estimation in these data sets were very similar independent of whether the populations are more or less related to the discovery panel populations. The LD based pruned SNP data underestimated pairwise F ST values between breeds, however in a consistent manner and thus should still be preferred over the other filtering strategies.
The clustering of populations by using both PCA and NJ trees is less affected by ascertainment bias. Even thou quantifiable measures such as Frobenius distances (for comparing the distance matrices of the two data types) and topological distances (for comparing the NJ trees) showed that the LD pruned data versions had a better relationship with the WGS data, the NJ trees computed from all array sets displayed similar clusters to the one computed with the WGS data. Ascertainment bias is expected to have limited and predictable effects on PCA. This is according to the in-depth explanation of the underlying processes, including migration, geographical isolation, and admixture in interpreting PCA projections explained by Mcvean [27]. Projections of PCA from SNP genotype data are expected to be similar to PCA projections from WGS data unless the SNP discovery panel is very strongly biased [27]. This expectation was proven truthful in our study where all array data versions (even the Array_all) were found to exhibit structures which were visually very close to the ones obtained from WGS data.
In general, MAF filtering had very little or no effect in all comparisons done, and when its effect was noticeable it actually tended to worsen the results. Tabangin et al. [58] oppose discarding low MAF SNPs with the conception that it will inflate false positives results. Our results also discourage the MAF filtering to consequently study diversity.
Quite a number of studies ([6, 8, 9, 11, 12, 59], among others) on ascertainment bias in genetic studies provide a very good background and insight on the topic. However in most of these studies, the conclusions made on ascertainment bias and its effects on genetic analysis were based on simulated or limited real data. When investigating genome-wide genetic diversity in cattle breeds with SNP data, Edea et al. [60] also investigated the effects of ascertainment bias and most of our results are in agreement with their findings. Furthermore we overcame the shortfalls that were not looked into in their study (i.e. we looked at more possible filtering options, we used WGS as a reference standard and our results discourages the MAF filtering). To the best of our knowledge this paper presents so far the largest study on how different filtering strategies accounts for the effects of ascertainment bias in diversity studies, using real SNP genotype and WGS data. Some of our results (e.g. the only marginal difference between PCA from SNP genotype and WGS data) differ from what was claimed based on simulated (ascertained and non-ascertained) data (e.g. [12]).
Limitations of this study are due to the use of pooled WGS data with a limited number of individuals (9–15 per population) and with 20X coverage only. Due to this, low MAF SNPs may still be missed and some measures, like observed heterozygosity and other inbreeding-related metrics, are not available for the WGS data. Nonetheless, the comparisons between the AFS of WGS and array data based on corresponding loci (Fig. 1) has shown that estimated rare SNPs were a bit higher in the pooled sequence data than in array data therefore, implying a better detection of rare SNPs by sequence pooling (which are missed by the array data). Given these limitations, the pooled WGS data may not completely reflect all aspects of the true diversity of the studied breeds in a comprehensive way, but still our results allow a fair assessment of ascertainment bias and potential mitigation strategies for a number of relevant quantities.
Conclusions
Using the array genotype data as it is to study genetic diversity of different populations without any accountability measure for ascertainment bias runs the risk of getting misleading results. This study provides insights of how the effects of ascertainment bias can be minimized through appropriate SNP filtering strategies. A variety of populations were represented in our data, comprising both possibly close and distant to the populations in the discovery panel. The LD based pruning of SNPs has proven to yield consistent results which are highly comparable to those obtained from whole genome sequence data for the various populations used in this study in all the results. So, even though it doesn't fully account for ascertainment bias, the effects remain rather limited and are systematic and, by this, predictable. The other filtering strategies showed to be affected differently with some of the criteria (e.g. F ST values between populations) and therefore may lead to inconsistent conclusions. Overall pruning of SNPs based on LD outperformed the other filtering strategies and is recommended for practical applications.
Abbreviations
AFS:

Allele frequency spectrum
F :

Frobenius
F ST :

Fixation index
H e :

Expected heterozygosity
LD:

Linkage disequilibrium
MAF:

Manor allele frequency
NJ:

Neighbor joining
PC:

Principal component
PCA:

Principal components analysis
SNP:

Single nucleotide polymorphism
SVS:

SNP Variation Suite
Synbreed:

Synergistic Plant and Animal Breeding
WGS:

Whole genome sequence
Declarations
Acknowledgements
We are grateful to all the participated breeders for their assistance in sampling.
Funding
This research was funded by the German Federal Ministry of Education and Research (FKZ 0315528E) through the "Synbreed - Synergistic Plant and Animal Breeding" project. This work is part of DKM's Doctoral programme which is supported financially by the Erasmus Mundus (through the INSPIRE project).
Availability of data and materials
The datasets analyzed during the current study consists of two data types: the SNP array (individual genotype) data and the WGS data. The array data is available at https://owncloud-shib.gwdg.de/index.php/s/yuRx70UYcXNrFN4 as PLINK binary files containing genotype and map information. The WGS data has been uploaded to the European Nucleotide Sequence Database (ENA) and the accession numbers are in Additional file 4.
Authors' contributions
DKM contributed to the conception and design of the study, analyzed and interpreted the data; wrote the final draft and prepared the submitted manuscript. HS supervised the study, substantially contributed to the conception and design of the study as well as the revision and editing of the manuscript. CR contributed to the data analysis, conception and design of the study; and revision and editing of the manuscript. SW contributed to the conception and design of the study, participated in the provision of the data as well as reviewing and editing of the manuscript. AW participated in the provision and preparation/editing of the data. ARS contributed to the revision of the manuscript and performing some statistics. All authors read and approved the manuscript.
Ethics approval
We confirm that the collection of blood samples for this study was performed in accordance with the German Animal Protection Law and was approved by the Committee of Animal Welfare at the Institute of Farm Animal Genetics (Friedrich-Loeffler-Institut) and the Lower Saxony State Office for Consumer Protection and Food Safety (No. 33.9-42502-05-10A064).
Consent for publication
Not applicable
Competing interests
The authors declare that they have no competing interests.
Publisher's Note
Springer Nature remains neutral with regard to jurisdictional claims in published maps and institutional affiliations.
Open AccessThis article is distributed under the terms of the Creative Commons Attribution 4.0 International License (http://creativecommons.org/licenses/by/4.0/), which permits unrestricted use, distribution, and reproduction in any medium, provided you give appropriate credit to the original author(s) and the source, provide a link to the Creative Commons license, and indicate if changes were made. The Creative Commons Public Domain Dedication waiver (http://creativecommons.org/publicdomain/zero/1.0/) applies to the data made available in this article, unless otherwise stated.
Authors' Affiliations
(1)
Animal Breeding and Genetics Group, Department of Animal Sciences, University of Goettingen, Goettingen, Germany
(2)
Institute of Farm Animal Genetics, Friedrich-Loeffler-Institut, Neustadt, Germany