Research article

Open Access
Genome-wide DNA methylation profiling in whole blood reveals epigenetic signatures associated with migraine
Received: 6 April 2017
Accepted: 14 January 2018
Published: 22 January 2018
Abstract
Background
Migraine is a common heritable neurovascular disorder typically characterised by episodic attacks of severe pulsating headache and nausea, often accompanied by visual, auditory or other sensory symptoms. Although genome-wide association studies have identified over 40 single nucleotide polymorphisms associated with migraine, there remains uncertainty about the casual genes involved in disease pathogenesis and how their function is regulated.
Results
We performed an epigenome-wide association study, quantifying genome-wide patterns of DNA methylation in 67 migraine cases and 67 controls with a matching age and sex distribution. Association analyses between migraine and methylation probe expression, after adjustment for cell type proportions, indicated an excess of small P values, but there was no significant single-probe association after correction for multiple testing (P < 1.09 × 10− 7). However, utilising a 1 kb sliding window approach to combine adjacent migraine-methylation association P values, we identified 62 independent differentially methylated regions (DMRs) underlying migraine (false discovery rate < 0.05). Migraine association signals were subtle but consistent in effect direction across the length of each DMR. Subsequent analyses showed that the migraine-associated DMRs were enriched in regulatory elements of the genome and were in close proximity to genes involved in solute transportation and haemostasis.
Conclusions
This study represents the first genome-wide analysis of DNA methylation in migraine. We have identified DNA methylation in the whole blood of subjects associated with migraine, highlighting novel loci that provide insight into the biological pathways and mechanisms underlying migraine pathogenesis.
Keywords
Migraine
Differential
Methylation
Blood
Background
Migraine is a common disabling, episodic brain disorder, typically characterised by recurring, usually incapacitating attacks of severe pulsating headache and associated symptoms such as nausea, vomiting, photophobia and phonophobia (migraine without aura). In about one-third of patients, attacks are associated with neurological aura symptoms (migraine with aura) [1]. The 2015 Global Burden of Disease (GDB) study estimated the global prevalence of "active migraineurs" (i.e., attacks in the past 12 months) at 13.6% (17.7% of women and 9.5% of men), and is the seventh most disabling disorder in terms of years lost to disability [2]. Migraine has a multifactorial molecular background, driven in part by a highly polygenic mode of inheritance. A recent genome-wide association study (GWAS) of 59,674 migraine cases and 316,078 controls, identified 38 genomic regions harbouring 44 common (minor allele frequency, MAF > 0.01) single nucleotide polymorphism (SNP) loci associated with the disorder [3]. However, the mechanistic role of these loci in migraine pathogenesis is unknown because most reside in non-protein coding regions of the genome that contain tens to hundreds of candidate SNPs in strong linkage disequilibrium (LD) with each other. Multiple lines of evidence suggest GWAS risk variants are enriched in regulatory elements of the genome [4, 5] and modify disease susceptibility by altering the expression levels of their target genes [6–9]. Therefore, the study of non-sequence-based regulatory genomic variation may help elucidate additional factors that influence migraine susceptibility.
Epigenetic processes encompass a variety of chemical and structural modifications to chromosomal regions that mediate the effect of genetic, environmental, and stochastic factors on local transcriptional potential [10]. DNA methylation (5-methylcytosine) is a critical epigenetic process that involves the covalent modification of methyl groups to CpG (5′-cytosine-phosphate-guanine-3′) sites distributed throughout the genome. DNA methylation is dynamic but stably preserved or regenerated from parent to daughter cells [11] and may therefore encode long-lasting changes that mediate expression patterns and disease [12]. The introduction of high-throughput methylation-specific microarray and sequencing technologies has enabled the study of DNA methylation patterns between hundreds to thousands of phenotypically affected cases and controls, known as an Epigenome-wide association study (EWAS). This approach is similar to the study of genetic variability in GWAS, and has identified loci robustly associated, possibly casually, with several complex traits [13–15].
Several lines of evidence support a role for DNA methylation in mediating long-term cellular responses to genetic and environmental effects modifying migraine risk. The heritability for migraine is estimated at around 50% [16–19], indicating both genetic and environmental factors play an important role in its development, and a majority of sufferers report at least one (environmental) trigger factor associated with an attack, including, for example, emotional stress, dietary changes, and a lack of sleep [20]. Attacks of migraine generally begin in early adolescence, are highly episodic with variable symptoms, and peak in frequency during the fourth and fifth decades of life—a period during which work, family, and social environmental stress is highest for many people. Notably, peaks of susceptibility coincide with major hormonal changes in females; many women experience their first migraine around the time of menarche and are more susceptible to attacks during menstruation [21]. Thus, it is reasonable to suggest exposure to environmental risk factors may alter DNA methylation patterns in regulatory elements of genes involved in migraine pathogenesis, thereby lowering the threshold for an attack in predisposed individuals. A genome-wide survey of DNA methylation may identify these epigenetic perturbations and therefore identify novel pathways or help characterise existing risk loci underlying migraine susceptibility.
Results
Cohort description and migraine phenotype
We identified migraine case and control subjects from the Brisbane Systems Genetics Study (BSGS) using the clinically validated ID migraine™ screening tool [
25
]. A total of 28 unrelated adults (aged 33–74 years) and 39 unrelated adolescents (aged 12–19 years) screened positive for migraine, and were matched on age and sex with unrelated controls, giving a total sample population of 134 individuals (Table
1
).
Table 1
Demographic information for individuals with DNA methylation data
Number (Female)

Mean age (SE)

Cohort

Cases

Controls

Case

Control

Total

Adults

28 (15)

28 (15)

48.00 (7.90)

46.25 (5.23)

47.12 (6.69)

Adolescents

39 (16)

39 (16)

14.20 (2.36)

14.03 (2.08)

14.12 (2.21)

Total

67 (31)

67 (31)

28.33 (17.63)

27.50 (16.43)

27.91 (16.98)
Association between migraine status and DNA methylation
To assess differential methylation between the migraine case and non-migraine control groups, we fitted generalised linear models for each of the 458,835 residualised (i.e., cell type proportion corrected) methylation probes. No single probe achieved genome-wide significance (
P
 < 1 × 10
− 6
), however a Q-Q plot showed a greater number of small
P
values than expected under than null hypothesis of no association (i.e.,
P
 < 0.05 [log
10
(
P
) > 1.3]; λ = 1.041) (Fig.
1a
). This suggests many of the differentially methylated probes represent true association signals of small effect, consistent with existing knowledge on regulatory methylation changes underlying complex diseases.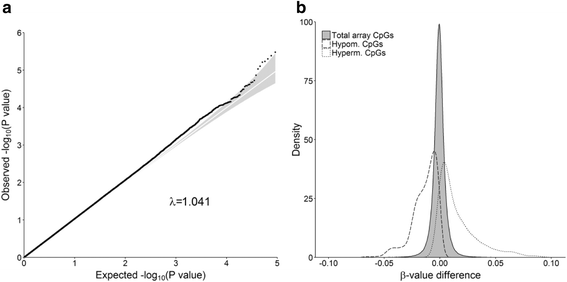 Multiple lines of evidence suggest adjacent methylation values at adjacent CpG sites capture shared regulatory effects [
38
–
40
]. As a secondary analysis, we sought to identify extended regions of differential DNA methylation underlying migraine by implementing a recently developed sliding window approach (see Methods). We identified 692 differentially methylated regions which were collapsed to a non-overlapping set of 62 regions, including 45 hypomethylated regions and 17 hypermethylated regions (FDR < 0.05) (Table
2
; Additional file
1
Table S1). The average differentially methylated region was 2564 bp in length and contained 11 methylation probes. The methylation value difference between cases and controls for individual probes within each region was small, within the range of 0.005–19.2% (Fig.
1b
), but each had concordant effect directions across the length of the region.
Table 2
Ten most significant differentially methylated regions associated with migraine
| Chromosome | Start (bp) | End (bp) | Direction | P value | FDR | No. of Probes | RefSeq gene(s) |
| --- | --- | --- | --- | --- | --- | --- | --- |
| 11 | 20,625,538 | 20,628,781 | Decrease | 2.54 × 10− 17 | 4.16 × 10− 12 | 10 | SLC6A5 |
| 6 | 30,033,321 | 30,046,936 | Decrease | 1.50 × 10− 14 | 1.23 × 10− 9 | 128 | PPP1R11, RNF39 |
| 9 | 124,987,896 | 124,992,432 | Increase | 1.65 × 10− 12 | 8.99 × 10−8 | 13 | LHX6 |
| 3 | 185,911,208 | 185,913,486 | Decrease | 5.28 × 10−12 | 2.16 × 10−7 | 9 | DGKG |
| 13 | 31,506,270 | 31,508,139 | Decrease | 2.15 × 10−11 | 7.04 × 10−7 | 11 | TEX26, TEX26-AS1 |
| 11 | 67,417,958 | 67,419,405 | Decrease | 6.54 × 10−10 | 1.79 × 10− 5 | 13 | ACY3 |
| 5 | 156,886,147 | 156,888,490 | Decrease | 1.26 × 10−9 | 2.95 × 10− 5 | 12 | LOC102724404, NIPAL4 |
| 6 | 74,070,966 | 74,075,136 | Increase | 1.99 × 10−9 | 4.08 × 10− 5 | 16 | KHDC3L |
| 12 | 52,403,511 | 52,405,422 | Decrease | 2.65 × 10−9 | 4.34 × 10− 5 | 6 | GRASP |
| 13 | 31,479,366 | 31,482,184 | Decrease | 2.46 × 10−9 | 4.34 × 10−5 | 13 | MEDAG, TEX26-AS1 |
We identified 9559 candidate DMRs using the bumphunter algorithm, and of these 2683 (28%) had a P value < 0.05. A total of 19 candidate regions overlapped the DMRs identified using the sliding window approach, of which 11 (58%) had P value < 0.05 (Additional file 2 Table S2). When the P values were compared to a null model such that the family-wise error rate < 0.1, no single region remained significant. The bumphunter region with the smallest FWER adjusted P value (FWER = 0.136) was located on chromosome 11, near the gene ACY3 identified using the sliding window method.
A genome-wide map of all autosomal CpGs as a circular ideogram, with concentric circles depicting GRCh37/hg19 coordinates and statistical significance denoted by radial orientation and colours, is displayed in Fig.
2
. For gene annotation, only those genes within or near genome-wide significant differentially methylated regions (FDR < 0.05) are displayed. The most significant region (FDR = 4.16 × 10
− 12
) was hypomethylated and spanned 10 CpGs within the gene body of
SLC6A5
on chromosome 11 (Table
3
). Two other hypomethylated regions overlapped the gene body of solute carrier family-related genes, including
SLC2A9
on chromosome 4 (FDR = 2.59 × 10
− 3
) and
SLC38A4
(FDR = 2.65 × 10
− 3
) on chromosome 12 (Additional file
1
Table S1).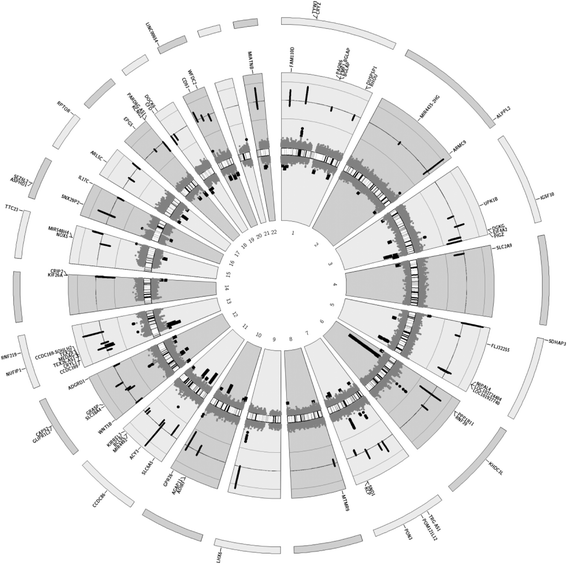 Table 3
Association statistics for methylation probes within the most significant differentially methylated region
Summary statistics

Probe expression

Annotation

Chromosome

Position (bp)

Probe

Coef.

SE

P value

β value

Change

Feature

Gene

11

20,625,538

cg07428491

−1.8326

0.8211

0.0208

0.5062

−0.0168

Shelf

SLC6A5

11

20,625,714

cg15083015

−1.7232

0.6336

0.0021

0.5019

−0.0318

Shelf

SLC6A5

11

20,625,992

cg04968806

−5.1739

1.7130

0.0013

0.5024

−0.0114

Shelf

SLC6A5

11

20,626,133

cg21957058

−1.6045

0.6913

0.0149

0.5045

−0.0209

Shelf

SLC6A5

11

20,626,264

cg09357935

−1.4053

0.4701

0.0009

0.5031

−0.0453

Shelf

SLC6A5

11

20,626,786

cg15828364

−2.1671

0.8315

0.0050

0.5062

−0.0209

Shelf

SLC6A5

11

20,627,025

cg23745839

−1.3968

0.5961

0.0146

0.5042

−0.0229

Shelf

SLC6A5

11

20,627,327

cg18042724

−2.7853

0.8116

0.0000

0.5069

−0.0374

Shelf

SLC6A5

11

20,627,597

cg14524936

−3.6597

1.0867

0.0002

0.5011

−0.0225

Sea

SLC6A5

11

20,627,781

cg19172170

−3.0185

1.0297

0.0016

0.5035

−0.0187

Sea

SLC6A5
Differentially methylated regions overlap with genomic features and biological pathways
We examined the position of differentially methylated regions in relation to CpG islands, RefSeq genes, and various genomic elements involved in the regulation of gene expression. Differentially methylated regions were significantly enriched in CpG islands (
P
 = 0.0120) and shores (
P
 = 6.79 × 10
− 5
), both sites of transcriptional regulation (Fig.
3a
). Hypermethylated regions where enriched in transcription start site sequences located within 1500 bp of RefSeq genes, while hypomethylated regions were enriched in transcription start site sequences located within 200 bp of RefSeq genes. Both hypermethylated and hypomethylated regions were depleted in intergenic regions, with hypermethylated regions also under-represented within gene bodies (Fig.
3b
). We also found enrichment of DNase I hypersensitivity sites within hypomethylated and hypermethylated regions (
P
 = 2.96 × 10
− 11
). Taken together, these data show migraine-associated regions of methylation are preferentially located within regulatory regions of the genome that may affect the transcriptional activity of nearby genes.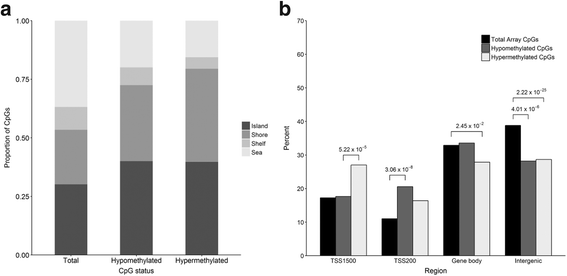 In order to investigate the potential functional consequences of the altered regulatory landscape underlying migraine, we assigned the nearest RefSeq gene(s) to each differentially methylated region and tested for the over-representation of Reactome pathways. While hypermethylated gene lists were not significantly enriched in any biological pathway, genes associated with hypomethylated regions were detected in categories associated with solute transportation (FDR = 0.05; associated genes:
SLC2A9
,
SLC6A5
, and
SLC2A9
) and haemostasis (FDR = 0.084; associated genes:
DGKG
,
KIF26A
,
DOCK6
,
CFD
) (Table
4
).
Table 4
Pathway analysis of hypomethylated DMR-associated genes in migraine
| Reactome pathway | Size | Overlap | FDR | Genes |
| --- | --- | --- | --- | --- |
| SLC-mediated transport | 272 | 3 | 5.00 × 10−2 | SLC2A9, SLC38A4, SLC6A5 |
| Transport of glucose | 102 | 2 | 5.43 × 10−2 | SLC2A9, SLC6A5 |
| Haemostasis | 599 | 4 | 8.84 × 10−2 | DGKG, KIF26A, DOCK6, CFD |
Discussion
We analysed genome-wide DNA methylation data from migraine cases and non-migraine controls with the aim of identifying differentially methylated regions and pathways underlying the disorder. DNA methylation data measured in whole blood samples collected from 134 unrelated individuals showed global evidence for differential methylation, but no single methylation probe reached genome-wide significance. A sliding window-based approach identified 62 non-overlapping differentially methylated regions significantly enriched in regulatory elements of the genome and in close proximity to genes involved in solute transportation and haemostasis.
Our results should be interpreted within the context of several common limitations associated with case-control studies of DNA methylation. Because methylation patterns can change over an individual's lifetime in response to genetic, environmental, and stochastic factors, we cannot causally attribute our observed case-control differences to migraine pathogenesis. This is mainly due to the effect of confounding, where an unobserved factor may explain all or part of the association between DNA methylation and migraine. For example, certain medications, such as antidepressants and analgesics, are used more frequently by migraine sufferers than the general population [41] and may also alter methylation patterns. Because the Brisbane Systems Genetics Study did not collect detailed medication use from study participants, we could not adjust for its potential confounding effect. It should be noted, however, that there is little evidence for methylation loci robustly associated with analgesic and antidepressant use in whole blood [42, 43]. Furthermore, to control for confounding and maximise the amount of information per subject studied, we carefully matched cases and controls on age and sex. Nonetheless, unmeasured confounders may still, at least in part, influence our results.
Different tissues, and indeed cell types in the same tissue or organ, tend to exhibit highly characteristic DNA methylation profiles [44]. The choice of tissue for epigenetic studies is therefore an important consideration, as aberrant DNA methylation patterns and their cellular consequences may only be measured in specific tissues. While brain tissue is arguably a critical substrate for epigenetic studies of migraine, it cannot be sampled from living individuals and there is a lack of high quality and well-phenotyped post-mortem samples for molecular dissection. We therefore used whole blood as a surrogate tissue. Blood can be collected from a large number of individuals in a population-based setting [45], and has been used to identify replicable and biologically informative methylation loci underlying susceptibility to several traits [46]. In addition, integrated analyses of SNP genotype and methylation data have found evidence for the co-localisation of existing disease-associated SNP loci and DNA methylation signals in blood and brain [47]. These studies suggest DNA methylation patterns measured in blood may inform disease processes underlying migraine and characterise existing SNP loci identified through GWA studies.
In addition to tissue-specific epigenetic patterns, DNA methylation analyses must also consider the impact of cell-type proportion heterogeneity on study results. Whole blood, for example, contains varying proportions of leukocytes and thrombocytes that contain highly characteristic DNA methylation profiles [48, 49]. Systematic differences in the proportion of these cell types between case and control samples may therefore introduce unwanted variation in DNA methylation and lead to spurious differentially methylated regions. To address this issue, several methods have been developed for estimating cell composition in whole blood [50, 51]. We used a recently developed algorithm based on sparse principal components analysis to remove (unwanted) variation associated with cell type proportions [29].
After adjusting for common confounding variables, including age, sex, and cell subtype proportion heterogeneity, we observed only modest changes in DNA methylation associated with migraine. Furthermore, these changes occurred at intermediate β-value ranges (i.e., β-values between 40% and 60%), rather than the extremes of the scale (˂20% or > 80%). Epigenome-wide association studies of other complex brain-related disorders have reported similarly small changes in methylation that correlated with significant changes in gene expression [13, 15]. The small change in DNA methylation suggests a mosaic subset of cells may contribute to disease susceptibility [52]. The use of single cell techniques to study DNA methylation [53, 54] may therefore be required to experimentally confirm these associations and identify critical cell types involved in disease pathogenesis.
We used a sliding window approach to identify genomic regions associated with migraine, and compared our findings with regions identified using the bumphunter algorithm. Top ranked differentially methylated regions from each method overlapped one another, however the results from bumphunter did not survive correction for multiple testing. While the statistical and conceptual models behind each of these methods are plausible, a systematic benchmarking study is required to draw conclusions on which approach is best for the analysis of complex traits such as migraine. Nonetheless, if there is a power difference between the methods, our results are as expected. That is, our primary sliding window analysis identified significant differentially methylated regions while bumphunter did not, but the top ranked regions from each method overlap. Therefore, we used results from our sliding window approach to further characterise differential methylation underlying migraine.
Differentially methylated regions were enriched in regulatory elements of the genome, including transcription start sites and DNase I hypersensitivity sites, suggesting epigenetic perturbations in migraine are functionally related to transcriptional activity. We classified regions as either hypomethylated or hypermethylated and performed pathway analysis on their nearest gene(s). While genes mapping to hypermethylated regions were not significantly enriched in any particular pathway, most likely due to the low number of mapped genes, hypomethylated regions mapped to genes involved in solute transportation. Three solute transporters were individually associated with hypomethylated regions: SLC6A5, a pre-synaptic glycine transporter with an important role in regulating pain perception in inflammatory and neuropathic chronic pain states [55]; SLC2A9, a facilitative glucose transporter highly expressed in the kidney cortex with a critical role in regulating blood glucose levels [56]; and SLC38A4, a sodium-dependent neutral amino acid transporter highly expressed in hepatic cells [57]. Solute transporters have been linked to several psychiatric disorders that share a higher than expected co-occurrence with migraine, including depression, post-traumatic stress disorder, and anxiety [58]. Aberrant regulation of solute transporters may therefore underlie the co-morbidity between migraine and these disorders. We also found evidence for the enrichment of haemostasis and factors involved in platelet production, an interesting observation given the hypothesised vascular dysfunction in migraine [59], and its co-occurrence with stroke [60] and cardiovascular disease [61].
We relied on the ID migraine™ tool to identify migraine cases and non-migraine controls. The ID migraine™ tool is a clinically validated screening tool with an estimated sensitivity of 81% and specificity of 75%, and has been shown to positively identify 93–98% of people who were subsequently diagnosed with migraine by headache experts using International Headache Society (IHS) criteria [26]. While we believe the ID migraine™ has sufficient accuracy to examine genome-wide DNA methylation in relation to migraine status, future methylomic variation studies should confirm migraine diagnoses using official (i.e. IHS) diagnostic criteria.
Our study lacked power to implicate individual genome-wide significant (P < 1.09 × 10− 6) CpG sites associated with migraine. For example, power calculations devised by Tsai et al. [31] indicate that at least 100 cases and 100 controls would be required to have 80% power to detect an 11% difference in DNA methylation at genome-wide significance. The recruitment of additional migraine cases and controls would increase power to detect smaller changes in methylation. However, simply increasing sample size within a case-control study design will not mitigate the potential impact of confounding and selection biases on study results. Future studies using alternative study designs may better control these factors. One approach might involve the study of migraine-discordant monozygotic twin pairs, which would remove the influence of common polygenic and many unmeasured environmental factors on the relationship between DNA methylation and migraine. Furthermore, studies of monozygotic twins will improve statistical efficiency by reducing the standard deviation of effect estimates, meaning fewer subjects will be required to detect differential DNA methylation compared to case-control studies. The power and interpretability of future studies may also be improved with the simultaneous measurement of gene expression from the same tissues or cell types, and the integration SNP genotype data from the same individuals. Such an integrated approach may identify the potential cellular consequences of aberrant DNA methylation patterns underlying migraine.
Conclusions
We identified differentially methylated regions underlying migraine susceptibility. Migraine-associated regions were enriched in regulatory elements of the genome and in close proximity to genes involved in solute transportation and haemostasis. Changes in DNA methylation were subtle but concordant within regions, suggesting the accumulation of many small modifications distributed throughout the genome may influence migraine vulnerability, consistent with a complex model of disease susceptibility. Future studies utilising larger samples and design strategies that appropriately control for unobserved confounding factors, as well as the collection of gene expression and SNP genotype data from the same individuals, will improve the interpretability of DNA methylation patterns underlying migraine and aid the discovery of casual mechanisms and biomarkers.
Declarations
Acknowledgements
We acknowledge the participation of the individuals sampled in the Brisbane Systems Genetics Study.
Funding
Dale R Nyholt (613674) and Allan McRae were supported by an Australian National Health and Medical Research Council (NHMRC) Research Fellowship. Research reported in this publication was supported by NHMRC project grants (APP1046880, APP1075175, APP1083405) and by the European Union's Seventh Framework programme (2007–2013) under grant agreement no. 602633 (EUROHEADPAIN).
Availability of data and materials
DNA methylation data are available at the Gene Expression Omnibus under accession code GSE56105.
Authors' contributions
Concept and study design: DRN, GWM, AFM, ZFG. Data acquisition and analysis: DRN, GWM, AFM, ZFG. Drafting the manuscript and figures: DRN, ZFG. All authors have read and approved the manuscript.
Ethics approval and consent to participate
Participants in this study were recruited as part of the Brisbane Systems Genetics Study (BSGS). Written, informed consent was obtained from all participants, including a parent or guardian for those aged under 18 years. This study was approved by the QIMR Berghofer Medical Research Institute Human Research Ethics Committee (HREC) Approval number: P589 and the QUT HREC (Administrative Review approval number 1500000115 (as per QIMR Berghofer Medical Research Institute, Approval number: P589).
Consent for publication
Not applicable.
Competing interests
The Authors declare that there is no conflict of interest.
Publisher's Note
Springer Nature remains neutral with regard to jurisdictional claims in published maps and institutional affiliations.
Open AccessThis article is distributed under the terms of the Creative Commons Attribution 4.0 International License (http://creativecommons.org/licenses/by/4.0/), which permits unrestricted use, distribution, and reproduction in any medium, provided you give appropriate credit to the original author(s) and the source, provide a link to the Creative Commons license, and indicate if changes were made. The Creative Commons Public Domain Dedication waiver (http://creativecommons.org/publicdomain/zero/1.0/) applies to the data made available in this article, unless otherwise stated.
Authors' Affiliations
(1)
Statistical and Genomic Epidemiology Laboratory, Institute of Health and Biomedical Innovation, Queensland University of Technology, Brisbane, Australia
(2)
Institute for Molecular Bioscience, The University of Queensland, Brisbane, Australia
(3)
The Centre for Neurogenetics and Statistical Genomics, Queensland Brain Institute, The University of Queensland, Brisbane, Australia