Research article

Open Access
The iron/heme regulated genes of Haemophilus influenzae: comparative transcriptional profiling as a tool to define the species core modulon
Received: 10 March 2008
Accepted: 07 January 2009
Published: 07 January 2009
Abstract
Background
Haemophilus influenzae requires heme for aerobic growth and possesses multiple mechanisms to obtain this essential nutrient. Although an understanding of the heme acquisition mechanisms of H. influenzae is emerging, significant gaps in our knowledge remain. Unresolved issues include the identities of all genes exhibiting altered transcription in response to iron and heme availability, the fraction of such genes functioning in iron/heme acquisition, and the heterogeneity of this gene set among clinical isolates. Previously we utilized H. influenzae strain Rd KW20 to demonstrate the utility of transcriptional profiling in defining the genes exhibiting altered transcription in response to environmental iron and heme levels. The current study expands upon those observations by determining the iron/heme modulons of two clinical isolates, the type b isolate 10810 and the nontypeable isolate R2866. These data are used to begin to define the core iron/heme modulon of the species.
Results
Microarray studies were performed to compare gene expression on transition from iron/heme-restricted to iron/heme-replete conditions for each isolate. Of 1820 ORFs on the array corresponding to R2866 genes, 363 were significantly differentially expressed: 233 were maximally transcribed under iron/heme-replete conditions and 130 under iron/heme-restricted conditions. Of the 1883 ORFs representing genes of strain 10810, 353 were significantly differentially transcribed: 150 were preferentially transcribed under iron/heme-replete conditions and 203 under iron/heme-restricted conditions. Comparison of the data sets indicated that 163 genes exhibited similar regulation in both isolates and that 74 of these exhibited similar patterns of regulation in Rd KW20. These comprise the putative core iron/heme modulon.
Conclusion
This study provides evidence for a conserved core of H. influenzae genes the transcription of which is altered by the availability of iron and/or heme in the growth environment. Elucidation of this modulon provides a means to identify genes with unrecognized roles in iron/heme acquisition or homeostasis, unanticipated responsiveness to environmental levels of the micronutrients or potential roles in virulence. Defining these core genes is also of potential importance in identifying targets for therapeutic and vaccine designs since products of these genes are likely to be preferentially expressed during growth in iron/heme restricted sites of the human body.
Keywords
Acute Otitis MediumOxyRYersinia PestisInfluenzae StrainInfluenzae Isolate
Background
Haemophilus influenzae is a fastidious, Gram-negative, facultatively anaerobic, opportunistic pathogen, and is found only in man where it is a common commensal in the nasopharynx [1, 2]. H.influenzae is a frequent cause of both invasive and non-invasive diseases including epiglottitis, pneumonia, bacteremia, meningitis, respiratory infections and otitis media (OM) [1, 3–5]. OM due to H. influenzae is principally caused by nontypeable H. influenzae (NTHi) strains [6], while invasive disease can be caused by either encapsulated or unencapsulated strains. Of the six biochemically and antigenically distinct capsular types (a-f), H. influenzae serotype b (Hib) strains accounted for the vast majority of bacteremia and meningitis cases prior to the introduction of vaccines based on the type b capsule [5]. While such vaccines have nearly eradicated meningitis caused by type b strains in the developed world [5], they lack effectiveness against other capsular types [7, 8] and against nontypeable strains [9] which remain a significant public health issue.
H. influenzae has an absolute aerobic growth requirement for heme; since most strains of H. influenzae possess the enzyme ferrochelatase, the requirement is specifically for the immediate heme precursor protoporphyrin IX (PPIX) [10]. In the human host, heme is intracellular in the form of globins or other heme containing proteins, and thus unavailable to invading microorganisms. However, H. influenzae is able to use many potential host derived hemoproteins to satisfy its heme requirements, including hemoglobin, hemoglobin-haptoglobin, myoglobin-haptoglobin, heme-hemopexin, heme-albumin and catalase [11–15]. In addition H. influenzae can grow when supplied with PPIX in the presence of an iron source such as ferri-transferrin [13, 16, 17].
The mechanisms mediating utilization of these various heme and iron sources by
H. influenzae
are complex and highly redundant. Our current understanding of the
H. influenzae
heme and iron acquisition systems is summarized in Figure
1
and has recently been reviewed by Morton and Stull [
18
]. Several of the heme acquisition associated proteins have been shown to be involved in virulence in animal models of both invasive and non-invasive
H. influenzae
disease [
19
–
22
]. Significant gaps remain in our understanding of
H. influenzae
iron/heme acquisition, and the elucidation of the core iron and/or heme (FeHm) modulon of
H. influenzae
will potentially provide additional valuable insights into the mechanisms involved in the utilization of these essential nutrients.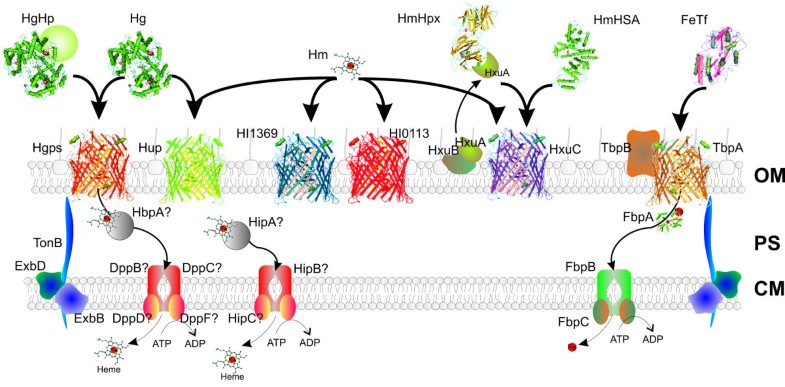 Since iron and heme sources are sequestered within the human host [23], it is likely that the host microenvironment will result in the increased expression of H. influenzae proteins encoded by genes preferentially transcribed during growth in FeHm-restricted media in vitro. Evidence for this is provided by our previous report of transcription of several H. influenzae FeHm-acquisition associated genes in middle ear effusions from patients with OM [24]. Identification of the FeHm regulated genes in H. influenzae would thus potentially further elucidate the FeHm acquisition pathways as well as identify previously unknown virulence determinants.
We previously reported a microarray based study to identify the FeHm-responsive genes of the sequenced H. influenzae isolate Rd KW20 [25]. Both this previous study, as well as the current one, examine the effect of iron and heme together since it is not currently technically possible to separate the effects of these two molecules on transcription [25]. The previous study identified in excess of 80 genes that were significantly upregulated under FeHm restricted conditions. Many of these genes have been previously studied and been associated with FeHm uptake, utilization and/or homeostasis. Other identified genes had defined roles in metabolism while several additional genes were uncharacterized. However, since the type d parent of Rd KW20 was originally isolated over 60 years ago [26, 27] and has undergone extensive passaging on laboratory media, this isolate is unlikely to be representative of clinically important strains and may even be altered in its regulation of gene expression. Indeed, since Rd KW20 is derived from a type d strain and was selected as a rough derivative following loss of the capsule, at least one major genetic event has occurred since primary isolation [26, 27]. Thus, it is important to examine the FeHm modulons of more representative clinical isolates. Two invasive isolates were selected for further microarray analysis, the serotype b isolate 10810 was from a patient with meningitis [28] and the NTHi strain R2866 isolated from the blood of an immunocompetent child with clinical signs of meningitis subsequent to acute OM [29]. The primary goal of these studies is to begin to define the core set of genes preferentially transcribed under FeHm limitation in clinically important isolates of H. influenzae and thereby identify potential therapeutic and vaccine targets expressed broadly across the species.
Conclusion
The current investigation was performed to identify the genes preferentially transcribed under FeHm limitation in two clinically relevant isolates of H. influenzae and, by comparison with previously published observations, to begin to define the core FeHm modulon for this species. Since our focus at the outset was the elucidation of potential targets mediating iron and/or heme uptake, our experimental conditions were optimized by Q-PCR analysis of known FeHm repressible genes. By inference, these conditions were expected to identify other genes with similar transcriptional kinetics.
This study identified a putative core set of 37 FeHm-ve genes that are similarly regulated in three unrelated H. influenzae isolates. This core contains the majority of the known FeHm uptake genes, including the hgp s, the hxuCBA operon, and the tbp operon. All of these are TonB-dependent receptor complexes and the tonB operon was also determined to be FeHm-ve in all isolates examined.
Using the criteria of genes determined to be FeHm-ve with similarity to known TonB-dependent proteins two other genes were identified with a potential role in FeHm uptake; HI0113 and HI369. Both of these genes are subjects of ongoing studies in our laboratory
During the design of the experiments detailed in this manuscript, as well as those previously reported from strain Rd KW20 [25], great care was taken to ensure that each isolate was treated identically to minimize environmental influences other than the FeHm status of the media. Nevertheless, there remain potential strain-specific transcriptional differences observed among the three isolates by microarray. While every effort was taken to ensure that the observed effects result solely from the transition of the culture from FeHm restricted to FeHm supplemented conditions, other environmental stimuli cannot be entirely ruled out. It is possible that in our microarray experiments the removal of a large sample from the culture might perturb oxygen levels in the remaining medium. However, identical control experiments in which smaller samples were removed for Q-PCR analysis (0.5 ml, representing 0.4% culture volume) showed similar regulatory profiles of 94% of the core FeHm genes predicted by microarray. This finding indicates that oxygenation effects due to removal of a large sample volume in the microarray experiments are unlikely to account for the apparent effects of FeHm addition on gene regulation. A second potential environmental condition that could lead to transcriptional changes distinct from the response to FeHm addition is an alteration in the levels of other nutrients between the two time points. The two samples used in the microarray are separated by only a 20 minute period and are drawn from the same culture. This removes any potential flask-to-flask differences. In addition, due to the FeHm restriction, the cultures are growing slowly and are at a relatively low cell density and thus unlikely to be significantly depleting available nutrients during the time period between sampling. A further source of experimentally induced variation may be the temporal separation between individual microarray experiments. To overcome this, the control Q-PCR experiments were performed at the same time, with the same batch of media, under identical conditions. Taken together, these considerations suggest that nutrient depletion is unlikely to play a significant role in the observed outcomes of gene expression analyses. While we propose that the 20 minute period between sampling is too short to observe nutrient related changes in gene transcription in the culture, we have not performed experiments to specifically address this issue and are unable to completely discount this possibility.
Additional File 1 only contains genes for which a fold change >1.5 was determined by microarray in at least one isolate. However, the level of expression of the "unregulated", constitutively expressed FeHm genes (not shown in Additional File 1) is unclear. Are these genes expressed at a low constitutive level or at a level more like upregulated genes? In addition, the independent Q-PCR analysis also emphasize the fact that the reporting of "ns" in Additional File 1 for fold change of a gene is not an indication that that gene is not regulated. Thus, further studies are required to define the actual regulatory status of "ns" genes before the gene may be excluded as part of the core FeHm modulon. These missing pieces of information would have a profound effect on our understanding of the system biology of FeHm uptake and utilization as well as cellular metabolism.
Comparisons of the FeHm responsive genes in the three isolates indicate that NTHi R2866 and Hib10810 are more similar to each other than they are to Rd KW20. This may arise from the fact that the two isolates examined in this study are both recently isolated clinical isolates as opposed to Rd KW20 which has undergone multiple passages on artificial media or it may merely reflect the fact that Rd KW20 has a different mode of regulation than the other isolates. To investigate this aspect further, additional microarray analyses are planned with other genome-sequenced H. influenzae isolates.
In constrast with other model organisms, relatively few studies have been published in H. influenzae that have examined global transcriptional regulatory networks. Comparative genomic analyses have identified putative members of the FNR and CRP regulons [51] and purine, arginine and aromatic amino acid regulons [52]. Knockouts have identified genes whose transcriptional profiles differ upon disruption of a possible regulatory element or co-effector. Included in these studies are the results of disruption of the tfoX (sxy) gene involved in regulating competence genes and the cya gene responsible for production of cAMP [53]. This latter effect would alter regulation patterns of genes within the CRP regulon. Other studies have examined effects of disruption of the arcA and oxyR regulators [32, 33]. Furthermore, transcriptional effects resulting from specific environmental changes have been examined independently [25] or can be derived from the above studies. Thus, we can determine transcription patterns affected by transition between FeHm availability [25], sugar and nucleotide availability [53], and presence of oxidizing agents [33].
As could be expected, the results of our examination of transcriptional patterns altered by FeHm availability possess degrees of overlap with the results from these previous studies. For example, FeHm restriction can be predicted to result in a profound impact on energy generation in the cell. In fact, many genes previously demonstrated to be upregulated during nutrient limitation in a cAMP-dependent manner are also downregulated in this study upon the addition of FeHm. This suggests that the FeHm depleted cultures had elevated cAMP levels. Yet some genes demonstrate the opposite effect. These data show that gene regulatory networks in H. influenzae exhibit complexity beyond mere concurrent activation of independent regulons. For example, the dps gene (HI1427), encoding the DPS ferritin protein, appears to be part of the ArcA and OxyR regulons as well as responsive to FeHm levels. Transcripts from the operon comprising the ornithine decarboxylase and putrescine transporter (HI0591 and HI0592) and the HI0608 gene encoding a probable transport permease are negatively impacted by disruption of the arcA and cya genes compared to the wildtype strain and are also downregulated in response to FeHm addition; yet transcripts the gene encoding lactate permease (HI1218) which decrease in the cya mutant, increase in the arcA mutant and are upregulated in response to FeHm addition. Studies examining targets of particular transcriptional regulators should be performed in parallel with studies examining the effect of a particular stimulating substance(s) as part of a global approach to define gene regulation. However, the lack of sufficient data from H. influenzae makes a thorough examination of iron or heme's affect on independent regulons difficult within the scope of this work.
Overall, the data reveal a core FeHm modulon shared by all of the isolates studied. The core modulon includes genes in known regulons shown to have a role in virulence, such as the ArcA regulon [32]. It is clear that the physiological roles of the genes in the putative core FeHm modulon are broad in the scope of function and may encompass most cellular processes including replication, energy metabolism, solute transport, protection against oxidation and biofilm formation. In addition, several new, previously uncharacterized genes have been identified with a possible role in FeHm metabolism. On the basis of our data it would appear that each of the three isolates may have a distinct set of non-core genes that respond to FeHm availability. Many of these genes are specific to individual isolates (see figure 4). While a common mechanism(s) for coordinated regulation of the core modulon across the species can be postulated, the regulation of the species-specific genes and strain-specific genes pose separate questions.
In summary, the major conclusions of this study are the following. First, the culture, microarray, and Q-PCR methodologies that we previously employed for the analysis of the regulation of gene expression by FeHm in the H. influenzae laboratory strain Rd KW20 were successfully extended to two recently sequenced clinical isolates, strains 10810 and R2866. Second, characterization of growth in vitro and conditions for reproducible transcriptional regulation by FeHm permitted direct comparison of gene expression among these three strains under identical environmental conditions. Third, among these three H. influenzae strains, a core set of genes responsive to environmental FeHm levels had been defined. The rigor and reproducibility of these microarray data were confirmed independently by Q-PCR. Fourth, these studies demonstrate the utility of comparative transcriptional profiling to identify genes shared across the species that are core members of an important modulon. These genes may play a key role in virulence; they are likely expressed during human disease; and thus, may comprise useful targets for potential therapeutic studies. These studies lay the foundation for further investigation of the role played by the FeHm modulon in H. influenzae virulence.
Abbreviations
Hib:

Haemophilus influenzae type b
NTHi:

Nontypeable Haemophilus influenzae
ORF:

Open Reading Frame
OM:

Otitis media
FeHm:

Iron and heme
FeHm-ve:

Iron and heme repressible
FeHm+ve:

Iron and heme inducible
BHI:

Brain Heart Infusion
BHI-NAD:

Brain Heart Infusion supplemented with 10 μg/mlβ-nicotinamide adenine dinucleotide
PPIX:

Protoporphyrin IX
ROI:

Reactive oxygen intermediates
PCR:

Polymerase chain reaction
Q-PCR:

Quantitative-polymerase chain reaction
PBS:

Phosphate buffered saline.
Declarations
Acknowledgements
This work was supported in part by Public Health Service Grant AI29611 from the National Institute of Allergy and Infectious Disease to TLS and by a grant from the Presbyterian Health Foundation to TLS. The authors gratefully acknowledge the support of the Children's Medical Research Institute. The authors thank Ms. Jennifer Springer for technical assistance. The authors thank Drs. Derrick Crook, Derek Hood and Richard Moxon for providing strain 10810 and Dr. Arnold Smith for providing strain R2866.
Authors' Affiliations
(1)
Department of Pediatrics, University of Oklahoma Health Sciences Center, Oklahoma City, USA
(2)
Department of Microbiology and Immunology, University of Oklahoma Health Sciences Center, Oklahoma City, USA
(3)
Department of Biology, Oklahoma Christian University, Oklahoma City, USA
Copyright
© Whitby et al; licensee BioMed Central Ltd. 2009
This article is published under license to BioMed Central Ltd. This is an Open Access article distributed under the terms of the Creative Commons Attribution License (http://creativecommons.org/licenses/by/2.0), which permits unrestricted use, distribution, and reproduction in any medium, provided the original work is properly cited.