Research article

Open Access
Prediction of CpG-island function: CpG clustering vs. sliding-window methods
Received: 26 January 2010
Accepted: 26 May 2010
Published: 26 May 2010
Abstract
Background
Unmethylated stretches of CpG dinucleotides (CpG islands) are an outstanding property of mammal genomes. Conventionally, these regions are detected by sliding window approaches using %G + C, CpG observed/expected ratio and length thresholds as main parameters. Recently, clustering methods directly detect clusters of CpG dinucleotides as a statistical property of the genome sequence.
Results
We compare sliding-window to clustering (i.e. CpGcluster) predictions by applying new ways to detect putative functionality of CpG islands. Analyzing the co-localization with several genomic regions as a function of window size vs. statistical significance (p-value), CpGcluster shows a higher overlap with promoter regions and highly conserved elements, at the same time showing less overlap with Alu retrotransposons. The major difference in the prediction was found for short islands (CpG islets), often exclusively predicted by CpGcluster. Many of these islets seem to be functional, as they are unmethylated, highly conserved and/or located within the promoter region. Finally, we show that window-based islands can spuriously overlap several, differentially regulated promoters as well as different methylation domains, which might indicate a wrong merge of several CpG islands into a single, very long island. The shorter CpGcluster islands seem to be much more specific when concerning the overlap with alternative transcription start sites or the detection of homogenous methylation domains.
Conclusions
The main difference between sliding-window approaches and clustering methods is the length of the predicted islands. Short islands, often differentially methylated, are almost exclusively predicted by CpGcluster. This suggests that CpGcluster may be the algorithm of choice to explore the function of these short, but putatively functional CpG islands.
Keywords
Length Threshold
Alternative Transcription Start Site
Slide Window Algorithm
UCSC Table Browser
Alternative TSSs
Background
The methylation of CpG dinucleotides is an important epigenetic modification of DNA, required in mammals for embryonic development, genomic imprinting and X-chromosome inactivation [1–3]. Around 80% of all CpG dinucleotides are methylated in mammal genomes. The exceptions are short stretches of CpG dinucleotides (CpG islands or CGIs), which are predominantly hypomethylated in healthy tissues [4, 5]. CGIs are thought to be predominantly located in the promoter region of genes; around 70% of all genes have a CGI overlapping its promoter region. Moreover, virtually all housekeeping genes are associated to CGIs, while only half of the tissue specific genes show such association [6]. Given its location in the promoters, CGIs may play important roles in the regulation of gene expression. An example is the aberrant methylation of CGIs observed in many cancer types [7–11]. Moreover, evidence exist that the differential or tissue specific methylation of CpG islands may be involved in the regulation of tissue specific genes [12].
Accurate prediction tools are therefore needed and a considerable effort has been carried out over the last decade to detect CGIs in mammal genomes. Many different algorithms have been proposed, most of them based on the criteria of Gardiner-Frommer [1]. These authors proposed in 1987 thresholds for the detection of CGIs: GC-content (50%), CpG observed/expected (O/E) ratio (0.6) and length (200 bp). Many of the published methods simply readjust these thresholds. However, it has been shown that filtering criteria-based definitions of CpG islands are mathematically incomplete and non-operational, as the sliding window methods frequently fail to identify a large percentage of subsequences that meet the filtering criteria [13].
Recently, methods based on the clustering of CpGs along the genome sequence detect CGIs as a statistical property, thereby not relying on thresholds of GC-content, O/E ratio and length. The first algorithm published in this category was the CpGcluster method [14], which detects the CGIs by means of the distances between CpGs, then assigning a statistical significance to each cluster of CpG dinucleotides. Subsequently, CpGcluster was followed by other methods detecting CGIs by means of the CpG densities [15–18]. In the same way, many other features could also contribute to determine the boundary of individual CpG-islands, such as transcription factors and nucleosome location. The nucleosome code could be an important ingredient of future CGI models, although sequence features will probably remain as the principal component (see, for example, [19]). Epigenetic information may be also of help in detecting CGIs by making use of contextual information [20].
Given the conceptual differences between sliding window algorithms (SWA) using a high parameter space and those detecting CGIs as a statistical property of the CpG clustering in DNA sequences, disagreement exist on the way CGIs should be predicted. Recently, a comparison between islands detected by the window-based Takai-Jones (TJ) program [21] and those detected by CpGcluster was published [22]. The comparison evaluated mainly the co-localization of CGIs and known promoters and concludes an overall advantage for the TJ approach over CpGcluster.
We present here new ways to detect putative function of CGIs, emphasizing the basic difference between CpGcluster and SWA predictions: the statistical significance introduced by CpGcluster instead of the conventional length threshold. We show that the statistical significance assigned to each CpGcluster island is a key criterion to control the overlap with promoter regions, evolutionarily conserved elements and spurious Alu elements. Finally, we show that many short (<200 bp) islands (CpG islets) may be also functional, given its overlap with either promoter or evolutionary conserved regions and the absence of methylation in at least one tissue. As many of these islets are exclusively predicted by CpGcluster, this may be the algorithm of choice for experimental essays aimed to verify the function of these short islands.
Results and Discussion
The way sliding-window approaches and
CpGcluster
detect CGIs are conceptually different. While SWA detect regions above the thresholds of G + C, O/E, min CpG and length,
CpGcluster
predicts statistically significant clusters of CpGs as CGIs. As a first consequence, the statistical properties of the predicted islands are different as well (Figure
1
); e.g. in SWA approaches the distributions of important CGI properties like %G + C and O/E ratio are heavily biased towards the user thresholds.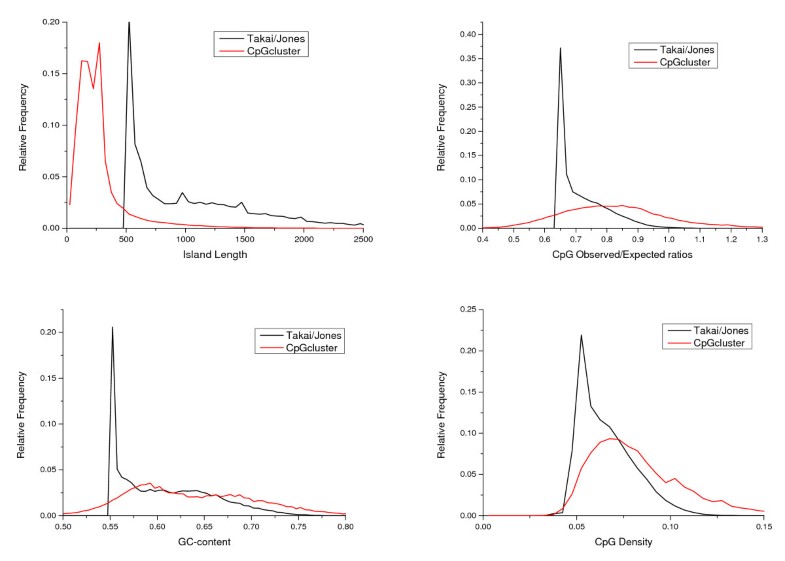 Therefore, the first part of this work is basically aimed to clarify: 1) the differences between the length threshold used by SWA and the statistically significance used by CpGcluster; and 2) the consequences that the differences in the number of predicted islands and the mean length might have on the prediction quality.
Prediction quality has been assigned conventionally by the percentage of overlap with promoter regions and spurious Alu elements. In the original publication of CpGcluster[14] we added the overlap with evolutionarily conserved elements or PhastCons [23] as an indicator of putative functionality. Here, we add several new types of analysis to assess the prediction quality, namely the capability to distinguish between different methylation domains or different alternative Transcription Start Sites (TSSs).
Conclusions
We systematically compared conventional SWA for detecting CGIs to a clustering method, namely the CpGcluster algorithm. We showed than both approaches perform very similar when predicting long, unmethylated regions or polycomb sites. However, we found three scenarios where the CpGcluster algorithm seems to have advantages. First, the statistical significance assigned to each CpGcluster island seems to be a better quality parameter than the window size of conventional finders, as it reduces more efficiently false positive predictions. Second, we have shown that CpGcluster islands co-localize in a more specific way to alternative TSSs and methylation domains. Third, we have shown that many of the small islands predicted by CpGcluster might be functional, given the overlap with conserved elements or promoter regions. Moreover, 30% of the differentially methylated islets are exclusively predicted by CpGcluster, which suggests this method as the option of choice for the experimental verification of islet functionality.
List of abbreviations
CGI:

CpG island
CpG O/E ratio:

Ratio between observed and expected CpG frequencies
CpG:

dinucleotide CG
G + C content:

%G + C: Molecular fraction of guanine and cytosine
PhastCons:

Phylogenetic Conserved Elements
Sn:

The sensitivity of the prediction
PPV:

Positive Predictive Value of the prediction
SWA:

Sliding-window approaches
TJ:

Takai/Jones program or island
TSS:

Transcription Start Site
Declarations
Acknowledgements
We thank Andy Choo and Nicholas Wong, from the University of Melbourne (Parkville, Victoria, Australia), by sharing with us their data on CpG islets. We acknowledge the Spanish Government (Grant No. BIO2008-01353) and the Spanish Junta de Andalucía (Grant Nos. P06-FQM1858 and P07-FQM3163) financial support.
MH acknowledges financial support from the 'Juan de la Cierva' grant from the Spanish Government. GB acknowledges financial support from the 'Programa de formación de investigadores del Departamento de Educación, Universidades e Investigación' grant from the Basque Country Government.
Authors' Affiliations
(1)
Dpto. de Genética, Facultad de Ciencias, Universidad de Granada, Granada, Spain
(2)
Lab. de Bioinformática, Centro de Investigación Biomédica, PTS, Granada, Spain
(3)
Dpto. de Física Aplicada II, E.T.S.I. de Telecomunicación, Universidad de Málaga, Malaga, Spain
(4)
Division of Sleep Medicine, Brigham and Woman's Hospital, Harvard Medical School, Boston, USA
(5)
Dpto. de Ingeniería Mecánica y Minera, EPS Jaén-Universidad de Jaén, Jaén, Spain
(6)
Computational Biology Unit, Bergen Center for Computational Science & Sars Centre for Marine Molecular Biology, University of Bergen, Bergen, Norway
Copyright
© Hackenberg et al; licensee BioMed Central Ltd. 2010
This article is published under license to BioMed Central Ltd. This is an Open Access article distributed under the terms of the Creative Commons Attribution License (http://creativecommons.org/licenses/by/2.0), which permits unrestricted use, distribution, and reproduction in any medium, provided the original work is properly cited.