Research article

Open Access
Transcriptional responses in Honey Bee larvae infected with chalkbrood fungus
Received: 19 November 2009
Accepted: 21 June 2010
Published: 21 June 2010
Abstract
Background
Diseases and other stress factors working synergistically weaken honey bee health and may play a major role in the losses of bee populations in recent years. Among a large number of bee diseases, chalkbrood has been on the rise. We present here the experimental identification of honey bee genes that are differentially expressed in response to infection of honey bee larvae with the chalkbrood fungus, Ascosphaera apis.
Results
We used cDNA-AFLP ®Technology to profile transcripts in infected and uninfected bee larvae. From 64 primer combinations, over 7,400 transcriptionally-derived fragments were obtained A total of 98 reproducible polymorphic cDNA-AFLP fragments were excised and sequenced, followed by quantitative real-time RT-PCR (qRT-PCR) analysis of these and additional samples.
We have identified a number of differentially-regulated transcripts that are implicated in general mechanisms of stress adaptation, including energy metabolism and protein transport. One of the most interesting differentially-regulated transcripts is for a chitinase-like enzyme that may be linked to anti-fungal activities in the honey bee larvae, similarly to gut and fat-body specific chitinases found in mosquitoes and the red flour beetle. Surprisingly, we did not find many components of the well-characterized NF-κB intracellular signaling pathways to be differentially-regulated using the cDNA-AFLP approach. Therefore, utilizing qRT-PCR, we probed some of the immune related genes to determine whether the lack of up-regulation of their transcripts in our analysis can be attributed to lack of immune activation or to limitations of the cDNA-AFLP approach.
Conclusions
Using a combination of cDNA-AFLP and qRT-PCR analyses, we were able to determine several key transcriptional events that constitute the overall effort in the honey bee larvae to fight natural fungal infection. Honey bee transcripts identified in this study are involved in critical functions related to transcriptional regulation, apoptotic degradation of ubiquitinated proteins, nutritional regulation, and RNA processing. We found that immune regulation of the anti-fungal responses in honey bee involves highly coordinated activation of both NF-κB signaling pathways, leading to production of anti-microbial peptides. Significantly, activation of immune responses in the infected bee larvae was associated with down-regulation of major storage proteins, leading to depletion of nutritional resources.
Keywords
Infected Larva
Toll Pathway
Toll Signaling
Major Storage Protein
Storage Protein Expression
Background
The health of managed honey bees is often compromised by a variety of factors including nutritional stress, medications, parasites, and diseases. One such disease is chalkbrood, [1, 2], caused by the fungus, Ascosphaera apis (Maassen ex Claussen) [3, 4]. Although it does not normally kill an entire bee colony, the fungus causes significant mortality of brood, leading to gradual deterioration of the colonies. Since there are still no chemicals approved for control of chalkbrood [1], improved genetic stocks and good management are the most preferred tactics against this disease. Knowledge of molecular mechanisms controlling honey bee immune responses to pathogens would be expected to enhance our capability to further improve genetic stocks.
Recently, most molecular components of the honey bee humoral immune defenses were described by Evans et al. [5], and nearly all of them have dipteran homologues with conserved functions. For the first time, Evans et al. [5] systematically described members of the two principal NF-κB/Rel immune signaling pathways, Toll and the Immune Deficiency (IMD) pathways, providing a unique opportunity for further investigations of host-pathogen interactions in studies of honey bee diseases. As a result, it is now possible to link host innate immune responses to specific diseases.
In this study we attempted to elucidate dynamic changes in bees' transcriptional responses to mycosis using an in vitro bioassay and the natural mode of brood infection with A. apis spores. This research is built on the previous genomic and molecular insect studies that demonstrated that combined cellular and humoral immune responses to various microbes involve a large variety of processes, including proliferation of hemocytes, and activation of proteolytic and immune signaling cascades [6–13]. Phagocytosis and encapsulation are the most common insect anti-fungal defenses [12–17]. In addition, current molecular models suggest that humoral immunity play very important role in arthropods' antifungal defenses and mostly controlled by Toll signaling, leading to production of the antimicrobial peptides (AMPs) [6, 7, 12, 18–20]. The existence of a large number of Toll-like receptors in insect genomes (e.g., 9 in D. melanogaster, 11 in A. gambiae, and 5 in A. mellifera) [5] may be due to redundancy, differential roles in insect development, or other specialized functions. New evidence suggests that some of the AMPs can be activated synergistically by the Toll and IMD-Rel pathways, indicating their cross-regulation [10, 11, 21]. In addition, some evidence indicates that the production of the AMPs can also be mediated by the apoptosis-associated c-Jun N-terminal kinases (JNK) branch of the IMD pathway (IMD-JNK) [22, 23]. This apparent redundancy in immune signaling may provide an additional level of protection against microbial pathogens.
In an effort to identify essential humoral components involved in the honey bee's response to mycosis, we utilize amplified fragment length polymorphism (cDNA-AFLP) technology followed by quantitative real-time PCR (qRT-PCR) to monitor quantitative changes in the expression profile of transcripts. cDNA-AFLP is one of a few methods capable of screening for differentially expressed transcripts (up- as well as down-regulated) and finding genes that have not yet been previously identified or predicted from sequence analysis. However, it should be noted that molecular components that are controlled by posttranscriptional regulation or by posttranslational modification are expected to escape this analysis. Here we have also probed an additional set of previously identified immune-related genes using qRT-PCR to better understand the role of NF-κB signaling and changes in the level of transcripts during progression of the disease.
Methods
Infection Bioassay
One-day old worker bee larvae (mean weight 0.72 mg) were collected for immune challenge assay in a FALCON® 6-Well Non-Tissue Culture treated plate as described by Aronstein and Saldivar, 2005 [24]. One black chalkbrood mummy was crushed in 1.5 ml of mixed larval diet [25] and fed to the experimental groups of larvae (n = 90) at a final concentration of 1×105 spores per larva. A small sub-sample of fungus was analyzed using the PCR approach as described by Murray et al. [26] to confer fungal species. Thirty larvae were placed in each well containing 250 μl of the spore-containing diet. Subsequent feedings were done as needed with pure diet only. Control larvae (n = 90) were treated the same way with the exception that no feedings contained fungal spores. Culture plates were incubated at 95% RH and 33°C as described by Aronstein et al. [27]. Samples of ten larvae were collected from each group (infected and control) at 24 and 36 h time points. Larvae were preserved in RNAlater® (Ambion, Austin TX) and stored at -20°C until further analysis. The bioassay was repeated twice, and samples were analyzed separately by cDNA-AFLP.
RNA isolation and cDNA synthesis
Total RNA was isolated from each sample (pool of ten larvae) using an RNeasy
®
Mini Kit (Qiagen, Valencia CA) following the manufacturer's protocol, which included the removal of DNA from the samples using the gDNA Eliminator spin columns. To test for residual DNA contamination, 1 μl of the total RNA was used as template in PCR, using primers for the defensin gene fragment (Table
1
), which contains a 286 bp intron. Samples that tested positive for the presence of the intron were treated with Ambion's DNA-
free
™ Kit until DNA was not detectable. Isolation of messenger RNA from the total RNA was done using MicroPoly(A)Purist™ (Ambion) following the manufacturer's protocol. A 1.0% denaturing agarose/formaldehyde gel was used to test the integrity and quantity of the RNA. Quantification was verified using an Eppendorf BioPhotometer with samples diluted in TE (10 mM Tris-HCl pH 8.0, 1 mM EDTA) and incubated for 10 min at 60°C. The poly-A RNA (500 ng) was used in the synthesis of double-stranded cDNA using SuperScript™ Double-Stranded cDNA Synthesis Kit (Invitrogen Life Technologies, Carlsbad CA), and oligo-dT primers according to the manufacturer's protocol.
Table 1
List of primers and annealing temperatures (Tm)°C used in qRT-PCR, and NCBI accession numbers
Gene and GenBank number

Tm°C

Forward Primers 5'-3'

Reverse Primers 5'-3'

Abaecin [U15954]

65°C

GGTAGTGATATTTATCTTCGC

TTGAGGCCATTTAATTTTCGG

Defensin-1 [U15955]

65°C

GTTGAGGATGAATTCGAGCC

TTAACCGAAACGTTTGTCCC

Lysozyme-1 [XM_001120995]

67°C

GGAGGCGAGGATTCTGACTCAATG

TGTTGCATATCCCTCCGCTGTG

Hexamerin 70b [XP_392868]

67°C

CCGCTCTTCAAATGTGGTCTAC

GATAGGTAAAAGGTTTGTGGTTC

Vitellogenin [XM_392349]

65°C

TTCTGATAAAGGCGTTGCTCAC

CTCGTCGTCGGTCGGAACTT

Trypsin like Serine protease

[XM_393882]

65°C

TTGTTTACCGGCGAAAAATC

ATGTTCACGACCACATCCAA

Glycosyl hydrolase 18 [XM_397146.3]

67°C

GTGGTGGCAAACAAGCTGAT

CGCTGCAAAATTGTTCCACGA

MyD88

[XM_396644]

65°C

GAGAGGTCTTGCTCATTTATGC

TCTCAAGTTTATCCACCATTTCA

Actin [AB023025]

67°C

GAAATGGCAACTGCTGCATC

GAGATCCACATCTGTTGGAA
Gene expression analysis
Global gene expression profiles of infected vs. uninfected bee larvae were determined using a cDNA-AFLP approach. To limit the number of reactions and subsequent gel runs to a manageable number, only the 24 h time point samples were used in the cDNA-AFLP analysis. Double-stranded cDNA samples were used as templates for AFLP using an AFLP
®
Expression Analysis Kit (LI- COR Biosciences, Lincoln NE) with a slightly modified version of the manufacturer's protocol. Briefly, ~250 ng of double stranded cDNA samples were digested with
Taq
I and
Mse
I restriction enzymes and
Taq
I/
Mse
I adapters were ligated to the fragments. A 10-fold dilution of the ligation reaction was used in a pre-amplification reaction with non-selective primers complementary to the adapter sequences to enrich the templates. This was followed by the selective amplification of the resulting PCR products with sixty-four primer sets
Taq
I (T+2)/
Mse
I (M+2) containing 2 selective nucleotides at the 3' end of each primer. That is, each of the eight T+2 primers (T-AG, T-AC, T-CA, T-CT, T-GA, T-GT, T-TC, T-TG) were used with eight different combinations of M+2 primers. By multiplying the number of unique selective PCR reaction samples by the number of distinguishable fragments seen from a single sample, we estimate that a total of 7400 transcriptionally-derived fragments were detected. We tested two different types of gels to resolve PCR fragments (Fig.
1A-B
): 6.5% polyacrylamide gels run on the NEN Model 4300 DNA Analyzer system (LI-COR BioScience, Lincoln NE) which automatically generates a gel image, and 8% polyacrylamide gels (SequaGel Kit, National Diagnostics, Atlanta GA) run on a V16-2 gel system apparatus (Labrepco, Horsham PA). The 8% gels were stained with SybrGold (Invitrogen Life Technologies, Carlsbad CA). Bands were visualized on the GEL DOC XR system and the Quantity One software Version 4.6 (Bio-Rad, Hercules CA). We ultimately chose to use the 8% gels due to the ease of excising the bands from the gel as opposed to the tedious and time consuming process of recovering PCR products from a gel run on the NEN Model 4300 DNA Analyzer system. Bands that showed clear differences in intensity were excised and eluted from gels after incubating the gel plugs overnight in water. The differentially expressed transcripts were then re-amplified using the non-selective primers. The resulting products were used as template for a second round of amplification with the selective primers. The PCR amplification products were gel purified (Qiagen, Valencia CA), cloned into the pCR
®
2.1 vector of the TOPO-TA cloning kit (Invitrogen Life Technologies, Carlsbad CA), and sequenced (SeqWright Inc., Houston TX). For each excised fragment, multiple clones were sequenced in order to assess the purity and thereby avoid analysis of uninteresting background fragments.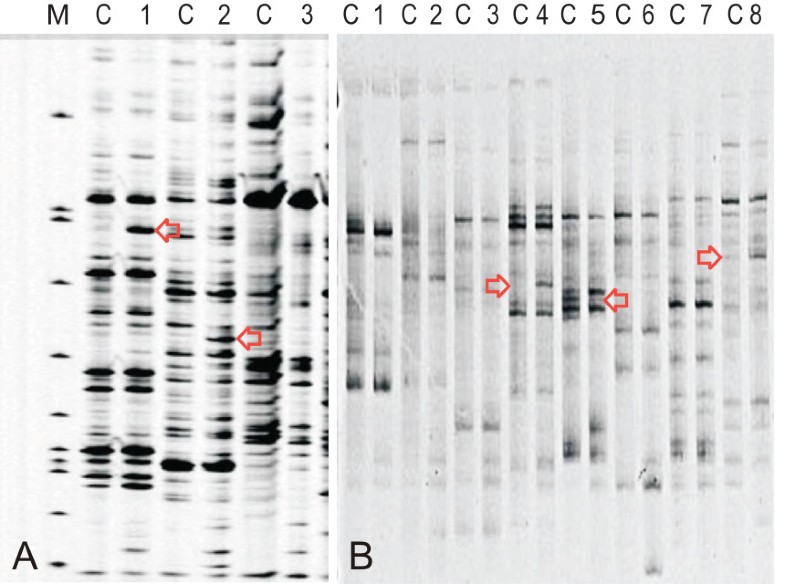 Bioinformatics
Candidate genes were compared to sequences in GenBank http://www.ncbi.nlm.nih.gov. tblastx and blastx searches were done against translated nucleotide databases and the non-redundant protein databases respectively. We have also determined the location of each candidate gene on the A. mellifera genome linkage groups using BeeBase dataset http://www.beebase.org/. The deduced amino acid sequences were analyzed using NCBI Conserved Domain Database (CCD) search service version v2.14 and NCBI Conserved Domain Architecture Retrieval (CDART) tool.
Quantitative gene expression analyses
Differentially expressed genes identified via cDNA-AFLP as well as other genes expected to be involved in the insect's immune responses were analyzed using qRT-PCR. A list of genes, primers, and annealing temperatures used in this study to examine the level of gene expression is provided in Table 1. The honey bee actin gene was selected as a reference gene to normalize qRT-PCR experiments since it was validated among the most stably expressed genes tested in various honey bee tissues and developmental stages [28, 29]. Furthermore, we validated the stability of actin expression during early larval development before using it in this study. The qRT-PCR reaction mix (20 μl) consisted of 1.0 U of GoTaq® Flexi DNA polymerase (Promega Co., Madison, WI) with the colorless 5× GoTaq® Flexi buffer, 0.25 mM dNTP mix, 2.5 mM MgCl2, 0.3 μM of each primer, 0.75 μl of a 1/1000 stock dilution of Sybr-Green (Invitrogen Corp.), and 1 μl of cDNA. Reactions ran for 40 cycles at 95°C (20 s), 60°C or 65°C (30 s) depending on the gene (Table 1), and 72°C (30 s) after initial denaturing at 95°C for 3 minutes. Negative control reactions were included in each run and contained all reaction components except the template. All reactions were done in triplicate. Fluorescence was measured at the end of the elongation stage of every PCR step. To quantitate gene expression, standard curves were amplified simultaneously with the experimental samples using a serial dilution of known amount of column purified (Qiagen, Valencia CA) gene-specific DNA template. The quantity (ng/μl) of the DNA template for the standard curves was determined with Eppendorf's BioPhotometer and validated by running the sample on an agarose gel prior to use. The templates for the standard curves were then diluted to either picograms (pg) or femtograms (fg) to ensure that the experimental samples amplified within the range of the standard curve. Furthermore, a melting curve analysis was performed subsequent to each qRT-PCR run to confirm specificity of the amplified product.
Data analysis
For each qRT-PCR run, the baseline was set to the point at which fluorescence was 10 times greater than the standard deviation of mean fluorescence of the cycle range from cycle one to cycle five. The standard deviation and average were calculated for each qRT-PCR run. The abundance of nucleic acid in each sample was normalized by dividing the calculated abundance of the gene of interest by the abundance of actin. Data was analyzed with the GraphPad Instat (GraphPad software, San Diego, CA) using a one-way ANOVA and Tukey's post-test with P < 0.05 being considered statistically significant.
Conclusions
Using a combination of cDNA-AFLP and qRT-PCR analyses, we were able to determine several key events that constitute the overall effort in honey bee larvae to fight natural fungal infection.
Among them, activation of immune signaling associated with down regulation of major storage proteins, and activation of cellular machinery dealing with general stress responses and progressive accumulation of abnormal proteins. We showed here that chalkbrood infection had a global effect on several physiological pathways in bee larvae and caused dramatic changes in the regulation of a number of genes. Some of these transcripts could be disease-specific and some of them could play a more general role in survival of the mycosed larvae in response to nutritional deprivation and stress in general.
Intracellular immune signaling
Despite extensive genomic and functional insect studies, there is still very little known regarding antifungal humoral immune defenses and specifically Toll signaling in the honey bee [5, 24]. Although many components of Toll pathway are up-regulated in other insects in response to fungal infection, we did not find up-regulation of Toll genes in this study. However, the lack of Toll genes expression activation here may be due to the fact that Tolls are expected to be up-regulated in only a subset of tissues. Since we isolated RNA from the entire larvae, a transcription activation occurring in specific tissues only might have been masked. Nevertheless, based on the activation of MyD88 transcription in infected larvae, we suggest that A. apis does activate Toll signaling. MyD88 is a universal Toll adaptor protein, interacting with Tolls via Toll/IL-1R (TIR) domain [11, 12, 46, 82, 83]. Since Toll signaling in insects is strictly MyD88-dependent [11, 46, 47, 82], MyD88 up-regulation implies activation of the Toll pathway. This provides the first evidence (albeit indirect) that fungal pathogenesis activates the Toll signaling pathway in the honey bee larvae.
In addition, the up-regulation of AMPs seen in this study is also consistent with activation of the Toll pathway. Granted, it is unknown which of the NF-κB pathways control expression of which AMP. However, a recent study by Schlüns and Crozier, 2007 [84] sheds some light on this question. By silencing IMD/Rel signaling, they showed that abaecin and hymenoptaecin (another AMP) expression is mostly regulated by the IMD pathway, whereas expression of defensin-1 was not effected in the Rel - cells [84], indicating its control by Toll signaling. Thus, insects appear to rely upon the highly coordinated activation of both NF-κB signaling pathways [10, 11, 85] leading to production of multiple AMPs with distinct activities [21]. It is also interesting to note that while septic injection of fungal spores also up-regulates expression of all antimicrobial peptides [14, 24], it is most likely induced by the mechanical injury.
Stress responses
In addition to direct damage by the fungus itself during infection, bee larvae suffer physiological side effects due to activation of the host immune system [86]. Here we show that activation of immune-related transcripts is temporally associated with significant down-regulation of major storage proteins (e.g., Hex 70b and Vg), which may serve as a source of amino acids for metabolism and development. This finding is consistent with recent report by Lourenco et al. [79], who showed a significant down-regulation of Hex70a and Vg in honey bees in response to bacterial infection.
Taken together, our findings showed that fungal infection had a profound effect on the overall health of bee larvae causing rapid decrease in the rate of larval feeding, and substantial decrease in transcription of storage proteins. In addition, competition for food between larvae and fungus further depleted larvae of the essential nutrients. Mycosis also affected expression of diverse families of genes, involved in critical functions related to transcriptional regulation, apoptotic degradation of ubiquitinated proteins, RNA processing, activation of immune signaling and up-regulation of AMPs' transcripts. Activation of multiple mechanisms in bee larvae dealing with fungal infection suggest that in addition to redundancy between different NF-κB signaling pathways, there is a crosstalk between immune and stress response mechanisms in insects. This combined effort of a wide variety of immune defenses and cellular stress response mechanisms are deployed to protect animals from damage inflicted by microbial pathogens. However, taking into account a high level of mortality of the infected larvae, it is apparent that insect innate immunity is no match for the impact of a massive mycosis. Clearly, behavioral adaptations in social insects provide more efficient mechanisms of protection against diseases at the colony level often at the cost of the individual colony members. Hopefully, development of new pathogen-specific pharmaceuticals and dietary supplements will assist honey bees in their struggle with this fungal pathogen.
While this study answers some questions, it brings up many more, and therefore provides the groundwork on which future studies of transcriptional and post-transcriptional responses of individual genes to fungal infection may build.
Declarations
Acknowledgements
We are indebted to Bob Cox and Arturo Cavazos for their expert beekeeping services and technical assistance in carrying out this study. This project is supported by the basic USDA-ARS Honey Bee Unit funds, CRIS Project #6204-21000-010-00D entitled "Pests, parasites, diseases and stress of managed honey bees used in honey production and pollination".
Authors' Affiliations
(1)
Honey Bee Research Unit, USDA-ARS, Weslaco, USA
Copyright
© Aronstein et al; licensee BioMed Central Ltd. 2010
This article is published under license to BioMed Central Ltd. This is an Open Access article distributed under the terms of the Creative Commons Attribution License (http://creativecommons.org/licenses/by/2.0), which permits unrestricted use, distribution, and reproduction in any medium, provided the original work is properly cited.